Traditions, folklore, history and more. If it's Irish, it's here. Or will be!
"People will not look forward to posterity who never look backward to their ancestors."
-Edmund Burke
---
Quotes

Library: Books, Movies, Music

Prints & Photos

Poetry

Jokes

---
---
Shops Ireland
---
Bunús na Gaeilge
(Basic Irish)

---
---
Did You Know?
---
Himself/Herself
Write to Us
Readers Write..
Links/Link to Us
---
Advertise with us
---
Awards & Testimonials

Submissions Guide
---

Today
in
Irish
History - December
1st to 7th | 8th to 14th | 15th to 21st | 22nd to 31st

---
December 15
1760 - John MacNaghten, a gambler, duellist and criminal, is hanged at Strabane jail for his involvement in the killing of Mary Anne Knox, daughter of Andrew Knox MP. At the first attempt to hang him, the rope breaks but, ignoring offers from the crowd to help him make his escape, he declares that he does not wish to be known for ever as 'half-hung McNaghten' and asks the hangman to proceed
1899 - Irish units of the Boer army face the Dublin Fusiliers, Connaught Rangers and the Inniskillings in the battle of Colenso
1930- Edna O'Brien, novelist and short story-writer, is born
1971 - Death of General Richard Mulcahy, Irish Volunteer and TD
1993 - Albert Reynolds and John Major sign the Downing Street Declaration: if the IRA stops its campaign for three months, Sinn Féin will be allowed to join all-party talks.
December 16


1653 - Oliver Cromwell becomes Lord Protector of Ireland
1780 - John Beresford is appointed Chief Commissioner of Revenue
1838 - John Gubbins, racehorse owner and breeder, is born in Kilfrush, Co. Limerick
1922 - Arthur Griffith and his ministers assume seat of government at Dublin Castle
1939 - Barney McKenna of the Dubliners is born
1969 - Swimmer and Olympic gold medalist Michelle de Bruin (née Smith) is born in Rathcoole, Co. Dublin
1987 - Fairytale of New York by the Pogues and Kirsty McColl reaches no. 2 in the British charts
1997 - Tom Parlon is elected President of the Irish Farmers' Association
1998 - More than 250 guests pay tribute to Gay Byrne at a surprise farewell party
1999 - Padraic Wilson, a senior republican tipped to represent the IRA in disarmament talks, is given an early release from Northern Ireland's top security Maze Prison
2002 - The 15 European Union Agriculture Ministers begin talks on the future of EU fish quotas amid calls for the toughest cutbacks ever.
December 17
1165 - John, the son of Henry II, returns to England after touring parts of southern Ireland. John de Courcy is appointed justiciar
1785 - Sir William Napier, general and historian, is born in Celbridge, Co. Kildare
1803 - Rebel leader Michael Dwyer, whose guerrilla attacks had maddened British colonial authorities since 1798, surrenders
1867 - Henry Harrison, nationalist politician and writer, is born in Holywood, Co. Down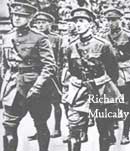 1885 - The results of newspaper reports of Gladstone's conversion to Home Rule, following the general election, gives Parnellites the balance of power
1971 - Soldier and politician General Richard Mulcahy dies in Dublin
1983 - An IRA car bomb kills 3 police officers and 3 shoppers outside Harrods in London's Knightsbridge; scores are injured
1997 - New regulations are unveiled which confer sweeping discretionary powers on Departmental officials responsible for processing asylum applications, including the authority to summarily deport foreigners
1997 - British Prime Minister Tony Blair makes a fleeting visit to Belfast in a bid to boost the faltering peace process
1998 - Danny McNamee's12-year campaign to clear his name of a terrorist conviction ends in triumph
1999 - The State announces the purchase of the 550 acre Battle of the Boyne site for about £9 million. The seller is an unidentified businessman.
December 18
1781 - Barry Yelverton introduces the bill that will become Yelverton's Act; the bill is an amendment of Poyning's Act and states that only bills passed by both Irish houses of Parliament would be forwarded to England for assent (see entry for July 27, 1782)
1798 - James Henry, physician and classical scholar, is born in Dublin
1801 - John Hely-Hutchinson Jr, MP for Cork Borough, is created Baron Hutchinson of Alexandria and Knocklofty for his military service
1850 - Birth in Bruff, Co. Limerick of James Bourchier, Times correspondent in the Balkan peninsula
1871 - The first ever rugby international is held in Ireland. The North are defeated by the West of Scotland
1878 - Joseph O'Neill, novelist and civil servant, is born in Tuam, Co. Galway
1964 - Sean O'Faolain's autobiography "Vive Moi" is published
1970 - Jockey Pat Taffe retires
1980 - Prisoners in Armagh and Long Kesh end their hunger strike on promises of political status. The promises are not kept
1998 - The Loyalist Volunteer Force becomes the first terrorist group in Northern Ireland to decommission some of its weapons
1999 - A limestone sundial built on a hilltop at the Dursey Sound in West Cork is set to capture Europe's last daylight of the second Christian millennium
2000 - A boating accident in Mexico claims the life of singer Kirsty MacColl. She was best known for her vocals alongside The Pogues' Shane McGowan on the 1987 Christmas No 1, Fairytale of New York
2000 - The first Diploma in Nursing students from Cork University Hospital graduate on this date. 178 students are awarded diplomas in nursing, and higher diplomas in midwifery and public health
2001 - The Conservative Party ends more than three decades of co-operation over Northern Ireland in protest at the British government's plans to allow Sinn Féin MPs to use offices at Westminster
2002 - The first section of the Dublin spire is lifted into place
2002 - According to the latest census figures, the prospect of a Catholic majority in Northern Ireland is fast becoming a reality
2002 - A study reveals that Ireland is the third worst country in Europe for traffic gridlock
2002 - The Irish and British governments issue firm assurances about the temporary nature of arrangements in operation during the current suspension of the elected Northern Ireland Assembly
In the liturgical calendar, today is the feast day of St. Flannan, first Bishop of Clare.
December 19
1751 - The Irish Parliament authorizes application of a revenue surplus to the reduction of the national debt which causes a dispute between the House of Commons and the Government


1813 - Thomas Andrews, scientist and research chemist, is born in Belfast
1877 - Land League organizer, Michael Davitt, is released from Dartmoor Prison
1922 - Birth in Dublin of Eamon Andrews, Ireland's first media superstar
1972 - Thin Lizzy reach no. 1 in the Irish charts with Whiskey In The Jar
1973 - The Supreme Court in Dublin decides by a majority of four to one that a ban on contraceptives is unconstitutional
1974 - Cearbhall Ó Dálaigh is inaugurated as the fifth president of the Irish Republic following the death of Erskine Childers
1999 - Sinn Féin says it has no knowledge that Gerry Adams and Martin McGuinness are to be given Westminster offices without having to swear an oath of allegiance
2001 - Experts at the National Museum of Ireland confirm that two pieces of gold jewellery discovered on a beach in Co. Mayo are priceless ribbon torcs which may be up to 3,200 years old
2002 - Unionist leader David Trimble walks out of talks aimed at restoring the North's government and parliament after documents leaked in Dublin say the IRA is still active
2002 - In Limerick, hundreds take part part in a candlelit peace march to express their sympathy and support for families who have lost loved ones through violence
2002 - Armed raiders get away with an estimated quarter of a million Euro after a raid on the Ulster Bank in Palmerstown in west Dublin.
December 20
1638 - Birth of Narcissus Marsh, provost of Trinity College Dublin and founder of Marsh's Library - the oldest public library in Ireland
1645 - Edward Worcester, Earl of Glamorgan, aristocrat and inventor, is sent to Ireland to raise troops for the king; he makes two secret treaties with the confederates - one on the 25 August and the other on this date
1769 - Sir Martin Shee, portrait painter and president of the Royal Academy, is born in Dublin
1780 - John Wilson Croker, politician and essayist, is born in Galway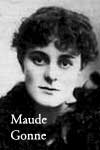 1799 - Nicholas Callan, priest, physicist, writer, and inventor of the induction coil, is born in Dromiskin, Co. Louth
1859 - Birth of Kuno Meyer, Irish Celtic scholar
1865 - Birth in Dublin of Maud Gonne McBride, revolutionary and patriot, who dedicates her life to the attainment of an independent Irish nation
1902 - The Dunraven land conference, representing landlords and tenants, opens at the Mansion House, Dublin
1909 - Ireland's first cinematographic theatre, the Volta, opens in Dublin, under the managership of James Joyce
1950 - The Industrial Development Authority is founded in the Republic
1961 - Robert McGladdery is hanged in Belfast for murder: his is the last judicial execution in Ireland
1998 - There is renewed speculation that the IRA will make a token gesture on the issue of decommissioning before 1998 passes into history
1999 - Another attempt to prevent Wicklow County Council building a controversial dual carriageway through the Glen of the Downs is rejected in the Supreme Court
2000 - The bomb making capacity of dissident terrorists is severely dented with the seizure of almost 400 sticks of Frangex commercial plastic explosive in Co. Kilkenny
2000 - A record 653 entries from 2,000 students is received for the Esat Young Scientist and Technology Exhibition
2000 - The Guinness Book of World Records confirms that an eight-inch egg laid by "Queen Maeve", a Belclare duck owned by the Costello family of Galway, is the world's largest
2001 - The first casualty of the proposed 250 job cuts at the Irish Times is the Chairman of the Trust, Major Thomas McDowell, who earns close to £500,000 a year.
December 21
1796 - A French fleet under General Hoche with Wolfe Tone, 43 vessels and 14,500 men sails from Brest in December and is scattered by storms; 36 ships arrive at Bantry Bay but do not attempt a landing and return to France, thus preventing what might have been an Irish/French victory over the English
1821 - Birth in Co. Carlow of Samuel Haughton, scientist, mathematician and doctor; he is "famous" for calculating the drop required to kill a hanged man instantly
1915 - Violet Martin, an Irish novelist who wrote under the pen name, Martin Ross, dies. Edith Somerville continues to list her as co-author
1919 - Dáil Éireann meets for the first time and elects Eamon de Valera as President of Ireland
1924 - Golfer Christy O'Connor is born in Knocknacarragh, Co. Galway
1934 - An Anglo-Irish 'cattle and coal' pact is signed
1948 - Republic of Ireland Act passed by Dáil
1985 - Progressive Democrats founded by Dan O'Malley, Mary Harney, and other former members of Fianna Fáil, following split within party
1998 - Clear skies over Co. Meath guarantee one of the best winter solstice displays ever witnessed at the Newgrange burial tomb
2001 - University College Cork is awarded a £62.2m research grant, the highest research funding ever secured under the Government's prestigious Programme for Research at Third Level Institutes
2001 - The pedestrian Ha'penny Bridge across Dublin's River Liffey is reopened after a multimillion pound restoration


In the Celtic Calendar, today is the Winter Solstice - the shortest day of the year. In Dublin, on this date, the sun will rise at 8:39 am and set at 4:09pm, giving just seven hours and 30 minutes of daylight. In Belfast, the day is even shorter. The sun will rise at 8:43 and set at 3:59.
Photo: A stream of sunlight passes through the window box and along the passage way leading into the burial chamber of Newgrange during the 2006 Winter Solstice.

Sources:
The Celtic League
This organization publishes the annual Celtic Calendar. To order your own copy, visit: The Celtic League.
Irish Abroad
Somewhat sporadic, but they often highlight an important date in Irish history. To visit, please click: Irish Abroad.
The Wild geese
They update Irish history weekly. To visit their keydates page, please click: The Wild Geese.



We also refer to an assortment of references. Among them are the Books of Days - see right margin on this page.


Wed, Jan 3, 2018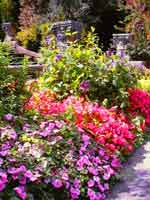 Ilnacullen, Co. Cork - an Island Garden
Located in the sheltered harbour of Glengarriff in Bantry Bay. Ilnacullin, which means island of holly, is a small island known to horticulturists and lovers of trees and shrubs all around the world as an island garden of rare beauty.
The vivid colours of Rhododendrons and Azaleas reach their peak during May and June, whilst the hundreds of cultivars of climbing plants, herbaceous perennials and choice shrubs dominate the midsummer period from June to August.
Because of its sheltered situation and the warming oceanic influence of the Gulf Stream, the climate is favourable to the growth of ornamental plants from many parts of the world.
Even for those who aren't particularly interested in gardens, there are many other scenic views, especially in the surrounding waters where seals frequent the rocks on the southern shore.
The cover photo on Bridget's book The Traditional Irish Wedding shows a wrought iron garden gate on Ilnaculen. I took that photo. To see it, go to the home page. It's part of the opening paragraph Failte.
—Russ
Resource: Copy and Image - Cork Guide

Click for More Culture Corner.
"Cahill's lovely prose breathes life into a 1,600-year old history." The L.A. Times
This is our most popular book. We understand why; the truth is fascinating.
Click here for Saved Civilization.
---