Traditions, folklore, history and more. If it's Irish, it's here. Or will be!
"People will not look forward to posterity who never look backward to their ancestors."
-Edmund Burke
---
Quotes

Library: Books, Movies, Music

Prints & Photos

Poetry

Jokes

---
---
Shops Ireland
---
Bunús na Gaeilge
(Basic Irish)

---
---
Did You Know?
---
Himself/Herself
Write to Us
Readers Write..
Links/Link to Us
---
Advertise with us
---
Awards & Testimonials

Submissions Guide
---

Today
in
Irish
History - December
1st to 7th | 8th to 14th | 15th to 21st | 22nd to 31st

---
December 8
1831 - Death of James Hoban, the Kilkenny architect who designed the White House
1896 - Death of Isabella Maria Susan Tod, Irish women's rights activist 1922 - Liam Mellows, Rory O'Connor, Joseph McKelvey and Richard Barrett, Irish patriots - one from each of the four provinces - are executed by the Free State forces
1881 - Birth in Longford of Padraic Colum playwright, poet and novelist


1939 - Birth of Belfast flutist* Sir James Galway. *Sir James has publicly stated on several occasions that he plays the flute - not the flaut
1945 - John Banville, novelist, is born in Wexford
1980 - Haughey and Thatcher meet in Dublin and agree to consider 'the totality of relationships within these islands'
1999 - The Government implements a 32-year old law banning the sale of turkeys, ducks and geese at livestock marts
2002 - Gardaí recover €100,000 in coins stolen from the Pennies from Heaven charity
2002 - Hundreds of anti-war demonstrators march on Shannon airport in protest at the continued use of the airport by the US Air Force in preparation for possible war in the Gulf
In the liturgical calendar, today is the Feast of the Immaculate Conception. If it falls on a week day, Roman Catholic schoolchildren get a holiday and in recent times, it has become the custom to go Christmas shopping in the city.
December 9
1791 - Sir Thomas Wyse, politician and diplomat, is born in St John, Co. Waterford
1861 - John O'Donovan, Irish language scholar, dies
1952 - The Irish Management Institute holds its inaugural meeting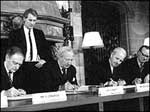 1973 - At Sunningdale, Berkshire, British Prime Minister Edward Heath, Irish premier Liam Cosgrave, and representatives of the Ulster Unionist Party, the Social Democratic and Labour Party and the Alliance Party of Northern Ireland, sign an historic agreement to set up a Council of Ireland
1994 - Sinn Fein, the Irish Republican Army's political wing, held its first formal talks with Britain in over 70 years.


2000 - Irish Prime Minister Bertie Ahern arrives for the third day of the European Summit in Nice. Leaders of the 15 EU states have convened in this heavily guarded city to tackle a tough agenda which centers on the future structure of the European Union and the integration of new member states
Photo Credit: REUTERS/Jean-Paul Pelissier
2002 - Carlow town wins first place in the inaugural all-Ireland anti-litter league. Accepting the award, Carlow's civic leader Mayor Michael Abbey said the town had enthusiastically embraced the competition which involved 29 towns, including three from Northern Ireland
2002 - Tourism Ireland and Bord Fáilte unveil plans to increase the number of tourists by 5% in 2003, despite the prospect of higher prices across the sector.

2005 - Nearly 150,000 people take to the streets as the Irish Ferries protest mushroomed into the largest public demonstration the country has seen for two decades.


2005 - President Mary McAleese and Queen Elizabeth II meet in Northern Ireland. According to President McAleese, this historic event could clear the way for an unprecedented State visit. No British monarch has made such a trip since George V visited Dublin in 1911, a decade before partition.


December 10
1479 - Garret More Fitzgerald of Kildare, the 'Great Earl', holds a parliament in Dublin from 10 December; it will run, with adjournments, into 1481
1690 - Sir John Dillon, MP for Co. Meath, fights a duel with the Earl of Anglesey
1920 - Martial law is imposed in Cork, Kerry, Limerick and Tipperary
1944 - The Dublin actor Wilfrid Brambell takes over from Jimmy O'Dea in the annual Christmas pantomime at the Gaiety Theatre
1960 - Kenneth Branagh, actor and director is born in Belfast
1977 - Mairead Corrigan and Betty Williams receive the Nobel Peace Prize
1998 - The Irish and British governments launch a fresh search for a breakthrough in the Northern Ireland peace process in the wake of the joint award of the Nobel Peace Prize to Ulster's political leaders David Trimble and John Hume
1999 - Taoiseach Bertie Ahern says that a lasting end to the Northern Ireland conflict is now well in sight
1999 - Tánaiste Mary Harney is in Ballyfermot to officially open the new manufacturing facility of Michael H, one of Ireland's most successful clothing companies
2000 - Following four days of marathon talks in Nice, Taoiseach Bertie Ahern defeats European Union efforts to directly influence Ireland's taxation policy
2002 - Loretta Brennan Glucksman, director of philanthropic organisation, the Ireland Funds, presents a €300,000 cheque to Gate Theatre director Michael Colgan towards the Dublin venue's redevelopment
2002 - The Government postpones the announcement of an expected 43% increase in the cost of an RTÉ licence fee.


2005 - Elizabeth Yensen, the oldest women in Ireland passes away at 110 years old. Born in Glasgow on 25 July 1895, Elizabeth spent more than 70 years in Northern Ireland.
December 11
1225 - Laurence O'Toole is canonized by Pope Honorius III. It will be 750 years before another Irish person is canonized
1650 - Ormond leaves for France, leaving Ulick Burke, 1st Marquis of Clanrickard, as Lord Deputy
1853 - Birth of H. Kingsmill Moore, educationist
1905 - Birth of Erskine Childers, Ireland's fourth president (1973-1974)
1920 - Martial law is declared in Ireland. Black and Tans and Auxiliaries go on a rampage of burning and looting in Cork
1931 - Statute of Westminster is passed by British Parliament giving Dominion parliaments, including the Free State, equal status of the Imperial Parliament at Westminster
1936 - In the wake of the abdication of Edward VIII, the Dáil passes legislation removing the King from the Irish Constitution and abolishing the position of Governor General
1956 - The Irish Republican Army (IRA) begins what it calls "The Campaign of Resistance to British Occupation"; it is also known as the 'Border Campaign'. As a result of the campaign, Internment is introduced in both Northern Ireland and the Republic. The campaign ends on 26 February 1962 because of lack of support
1979 - Charles Haughey is elected Taoiseach
1998 - Taoiseach Bertie Ahern and British Prime Minister Tony Blair meet in Vienna; they fail to find new ways of breaking the deadlock in the row over implementing the Good Friday Agreement
2001 - Customs and gardaí board a container ship in Dundalk, Co. Louth and seize up to 80 million smuggled cigarettes - the most in State history
2002 - The replica famine ship, the Jeanie Johnston, arrives in Dublin after final fittings in Cork.
December 12
1803 - Birth in Limerick of writer Gerald Griffin
1881 - Birth in Cork of James O'Flynn, also known as 'Father O'Flynn of the Loft'; priest; teacher of acting, singing and dancing
1883 - Birth in Dublin of Peadar Kearney, songwriter, revolutionary and house-painter; he is famous for writing the words of the Irish national anthem
1920 - Birth of Christy Ring in Cloyne, Co. Cork. His 24-year career record earned him a reputation as the greatest hurler of all time
1920 - Black & Tans continue their attacks in Cork
1955 - The Cork Opera House is destroyed by fire
1957 - The IRA begins a violent four-year campaign in Northern Ireland
1960 - Birth of Donegal superstar Daniel O'Donnell
1966 - Birth of Sinéad O'Connor
1975 - A six-day siege on Balcombe Street in London ends peacefully after four IRA gunmen free their two hostages and give themselves up to police
1993 - Ireland's first and Radio Éireann's own agony aunt, Frankie Byrne, whose legendary programme with its 'Dear Frankie' letters of advice was broadcast from 1963 to 1985, passes away at the age of 71
1997 - The Taoiseach and the British Prime Minister Tony Blair invite the key players in the talks into a 12-week negotiating blitz beginning in the New Year
2000 - At a farewell reception in Dundalk, US President Bill Clinton makes an emotional plea to the people of Ireland: "redouble your efforts for peace"
2001 - Intelligence agent William Stobie is gunned down in Belfast by former associates
2002 - The Minister for Arts, Sport and Tourism rules that Fossett's Circus is be recognised as an art form and is thus entitled to State funding. The recognition makes the 115-year old circus the oldest performing arts institution in the country, 30 years' older than the Abbey Theatre.
December 13
1779 - British goods are boycotted in Ireland; armed Volunteers parade in College Green, Dublin in November and demand 'a free trade or else' (i.e. the removal of restrictions on Irish trade with the colonies). This demand is granted on this date
1867 - An explosion at Clerkenwell gaol in London, intended to aid in the escape of two Fenians, causes several deaths and injuries
1904 - Sir William McCrea, mathematician and astronomer, is born in Dublin
1905 - Críostóir Mac Aonghusa, writer and promoter of the Irish language is born in Blackwater, Co. Offaly
1955 - Grace Gifford Plunkett, Irish patriot, dies
1960 - Aer Lingus' first jet, the Boeing 707 'St. Patrick' makes its inaugural flight
1997 - Over a thousand people take to the streets of Dublin in a theatrical spectacle called "Féile Fáilte".to protest racism, particularly against refugees
1999 - Taoiseach Bertie Aherns addresses the historic inaugural plenary meeting of the North South Ministerial Council in Armagh
2000 - Crowds roaring their approval greet Bill and Hillary Clinton on stage at the Odyssey Arena in Belfast, confirming the first couple's enduring popularity in Northern Ireland
2001 - Queen's University honours Manchester United legend, George Best, with an honorary doctorate in recognition of his services to football
2002 - For the eighth year, the only live Christmas crib in Ireland opens in the forecourt of the Mansion House on Dawson Street in Dublin. This year's nativity scene features two llamas as well as the usual donkeys, calves, goats and sheep
2002 - Rugby legend Mick Galwey receives an honorary degree from Trinity College in recognition of his services to Ireland, Munster and Shannon clubs.
December 14
1585 - Nicholas Walsh, Bishop of Ossory and a pioneer of printing in Irish type, is murdered by James Dullard, against whom he had proceeded in his court for adultery
1715 - Irish-born Thomas Dongan, soldier and colonial governor of New York, dies in Ireland
1791 - Charles Wolfe, poet and clergyman, is born in Blackhall, Co. Kildare
1822 - A 'bottle riot' takes place on this date. Missiles are thrown at the vice-regal box during a performance in a Dublin theatre as a result of Wellesley banning celebrations in memory of William III
1831 - A process server and 12 policemen are killed by tithe protesters at Carrickshock, Co. Kilkenny
1900 - Maud Gonne and Paul Kruger (former president of the Transvaal) are offered the freedom of Limerick by the city council
1918 - Sinn Féin, pledged to an Irish Republic, wins 73 of 105 Irish MP seats. Winners include Constance Markievicz who becomes the first woman elected to the Parliament of England
1921 - Dáil Éireann begins Anglo-Irish treaty debate
1955 - The Republic of Ireland becomes a member of the United Nations
1965 - An Anglo-Irish free trade agreement is signed; the UK and Ireland undertake to establish a free trade area by the mid-1970s
1982 - Garrett FitzGerald succeeds Charles Haughey as Taoiseach
1985 - Jack Charlton quits as Ireland manager
1998 - Farmers are to be banned from feeding antibiotic enhanced animal feed to pigs and poultry amid fears that drug residues in meat are a health risk for humans
2001 - Euro kits distributed by the Central Bank go on sale in post offices throughout the country. Demand for the packs, comprising of 19 coins and priced at £5 (€6.35), is brisk, with nearly all the big towns and cities selling out by evening
2001 - Garda technical experts examine 180 rounds of ammunition found on the outskirts of Cork city which they believe may be connected to the Real IRA.

Sources:
The Celtic League
This organization publishes the annual Celtic Calendar. To order your own copy, visit: The Celtic League.
Irish Abroad
Somewhat sporadic, but they often highlight an important date in Irish history. To visit, please click: Irish Abroad.
The Wild geese
They update Irish history weekly. To visit their keydates page, please click: The Wild Geese.



We also refer to an assortment of references. Among them are the Books of Days - see right margin on this page.


Wed, Jan 3, 2018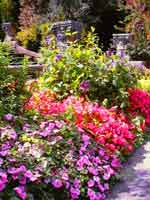 Ilnacullen, Co. Cork - an Island Garden
Located in the sheltered harbour of Glengarriff in Bantry Bay. Ilnacullin, which means island of holly, is a small island known to horticulturists and lovers of trees and shrubs all around the world as an island garden of rare beauty.
The vivid colours of Rhododendrons and Azaleas reach their peak during May and June, whilst the hundreds of cultivars of climbing plants, herbaceous perennials and choice shrubs dominate the midsummer period from June to August.
Because of its sheltered situation and the warming oceanic influence of the Gulf Stream, the climate is favourable to the growth of ornamental plants from many parts of the world.
Even for those who aren't particularly interested in gardens, there are many other scenic views, especially in the surrounding waters where seals frequent the rocks on the southern shore.
The cover photo on Bridget's book The Traditional Irish Wedding shows a wrought iron garden gate on Ilnaculen. I took that photo. To see it, go to the home page. It's part of the opening paragraph Failte.
—Russ
Resource: Copy and Image - Cork Guide

Click for More Culture Corner.
"Cahill's lovely prose breathes life into a 1,600-year old history." The L.A. Times
This is our most popular book. We understand why; the truth is fascinating.
Click here for Saved Civilization.
---