Traditions, folklore, history and more. If it's Irish, it's here. Or will be!
"People will not look forward to posterity who never look backward to their ancestors."
-Edmund Burke
---
Quotes

Library: Books, Movies, Music

Prints & Photos

Poetry

Jokes

---
---
Shops Ireland
---
Bunús na Gaeilge
(Basic Irish)

---
---
Did You Know?
---
Himself/Herself
Write to Us
Readers Write..
Links/Link to Us
---
Advertise with us
---
Awards & Testimonials

Submissions Guide
---

Today
in
Irish
History - November
1st to 7th | 8th to 14th | 15th to 21st | 22nd to 30th

---
November 8
1847 - Birth in Dublin of Bram Stoker, author of Dracula
1887 - Birth of Sir Arnold Bax, composer, writer and Hibernophile
1960 - An Irish peacekeeping force is ambushed in the Congo, causing the first overseas combat deaths of the Irish Republic. Nine are killed by Baluba tribesmen - one of these, Anthony Browne, will be awarded the Military Medal for Gallantry
1984 - Charles Mitchel, RTÉ's first newsreader, reads his last bulletin


1987 - Eleven people are killed after a bomb explodes during a Remembrance Day service at Enniskillen in Co. Fermanagh
1990 - The Republic elects their first woman president, Mary Robinson, who defeats Brian Lenihan and Austin Curry
1998 - A well-placed loyalist source claims that a renegade loyalist terror group, is plotting to target Government Ministers here and launch cross-border bombing raids in the run up to Christmas
1998 - The Provisional IRA announces that it will decommission large amounts of Semtex to allow Sinn Féin to take its seats in the new Northern Executive
1998 - Flights at Shannon Airport are brought to a standstill for several hours after a Boeing 767 jet, with 250 passengers and 11 crew aboard, leaves the runway and becomes stuck in soft ground shortly after landing
1998 - President Mary McAleese says it is time to acknowledge that the 50,000 Irishmen killed in the Great War came from all parts of the country and from both sides of the political divide
1998 - Finance Minister Charlie McCreevy declares war on farmers, telling them that he is not responsible for their problems
1999 - Northern Ireland Secretary, Peter Mandelson comes under fire as talks on the peace process enter another crucial phase
2001 - An EU survey shows dancing is the favourite pastime of young Irish people
2001 - Senior IRA leaders meet in Co. Louth to discuss further arms decommissioning
2001 - In a meeting at the White House, Taoiseach Bertie Ahern assures President Bush he will do everything possible to ensure Ireland's international banking services are not used to fund Osama Bin Laden and his followers
2001 - The Poulnabrone portal dolmen in the Burren, Co. Clare is bought for £300,000 by the State to protect it from vandalism
2002 - Mail in rural areas is delivered despite industrial action by the Irish Postmasters' Union which closes sorting facilities at over 500 sub post offices.
November 9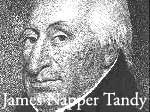 1711 - The first Irish parliament of Queen Anne is dissolved
1791 - Napper Tandy convenes the first meeting of Dublin's United Irishmen
1875 - Sir Hugh Lane, art collector and critic, is born in Ballybrack, Co. Cork
1926 - Birth in Dublin of Hugh Leonard, pseudonym of John Keyes Byrne, playwright
1935 - Nineteen Donegal islanders are drowned when their currach founders
1966 - Jack Lynch becomes leader of Fianna Fáil
1999 - Ireland's most accomplished mountaineer, Pat Falvey, conquers Ama Dablam in the Himalayas
2000 - The largest prison outside Dublin, the Midlands Prison in Portlaoise, goes into operation. It was built at a cost of £43m and boasts the most advanced technology and the highest standards of prisoner accommodation in the State
2000 - Martin McGuinness accuses David Trimble and Ulster Unionist cabinet colleagues of jeopardising the Good Friday Agreement's political institutions with their ban in a bid to force progress on IRA disarmament.
November 10
1728 - Birth in Pallas, Co. Longford of Oliver Goldsmith, playwright, novelist and poet
1783 - National Volunteer convention on parliamentary reform begins at the Rotunda in Dublin
1795 - Edward King, Viscount Kingsborough, student and promoter of Mexican antiquities, is born in Cork
1798 - Theobald Wolfe Tone tried and convicted of treason
1813 - Thomas Lloyd, son of John Lloyd, former MP for King's County and Innistiogue, is killed at the head of his regiment at the passage of Nivelle in south-west France
1832 - Charles Russell, 1st Baron Russell of Killowen; lawyer and Lord Chief Justice of England, is born in Newry, Co. Down
1841 - Death of Sister Catherine McAuley, founder of the order of the Sisters of Mercy
1861 - In Dublin, thousands turn out to view the coffin of Terence Bellew MacManus, Young Irelander who died in poverty in San Francisco
1879 - Padraig Pearse, Irish revolutionary and one of the leaders of the 1916 Easter Rebellion, is born
1896 - Lady Mary Heath, née Sophie Catherine Pierce, pioneer aviator and athlete, is born in Newcastlewest, Co. Limerick
1902 - Leon Ó Broin, writer and public servant, is born in Dublin
1966- Fianna Fáil's Jack Lynch replaces Seán Lemass as Taoiseach
2002 - Ireland and Sunderland soccer star Niall Quinn announces his retirement from club football.
November 11
1171 - Henry II holds his court in Dublin from this date to 2 February 1172
1718 - Birth of Thomas Waite , MP and Under Secretary for the Civil Department: pillar of the Irish administration 1747-80
1873 - Birth of Daniel Daly, double Medal of Honor winner in Glen Cove, NY


1880 - Ned Kelly, Australian bushranger and son of Tipperary transportee, is hanged in Melbourne
1887 - Birth of John M. Hayes in Murroe, Co. Limerick; priest and founder of Muintir na Tíre
1918 - World War I ends
1919 - The first edition of the Irish Bulletin is published
1923 - Birth of F.S.L. Lyons, historian and biographer
1941 - Birth of Eddie Keher, Kilkenny hurler and winner of six All-Ireland medals
1998 - Paddy Clancy, Irish folk musician dies
1999 - The peace process is on a knife edge after Ulster Unionist leader David Trimble fails to get his Assembly members to support the latest proposals for a route to devolution
1999 - Dublin confirms itself as Europe's most vibrant music capital as an estimated 300 million people tune in to the sixth MTV Europe Music Awards live from The Point
2000 - A massive fault on an ESB 110kv powerline results in a nationwide power surge, triggering the automatic shutdown sequence at the State's only oil refinery
2002 - IRA intelligence-gathering in Belfast is smashed open by one of the biggest police investigations in Northern Ireland in the last decade
2002 - A huge temple, once surrounded by about 300 huge posts made from an entire oak forest, is discovered directly beneath the Hill of Tara in Co. Meath.
November 12
1798 - In the early morning hours on the day he is due to be executed, it is discovered that Wolf Tone has inflicted a deep wound in his neck; a French emigrant surgeon is called in, closes the wound and reports that, "as the prisoner had missed the carotid artery, he might yet survive, but was in the extremest danger." Wolf Tone on hearing this prognosis is quoted as saying: "I am sorry I have been so bad an anatomist."



1934 - Birth of John McGahern, known primarily for his novel, The Dark
1971 - RTÉ bans several patriotic ballads including Dublin In The Green and The Patriot Game
1998 - The Loyalist Volunteer Force (LVF) announced it has made a commitment to an "act of decommissioning" within weeks. The announcement comes following the British Government decision to recognise the organisation's ceasefire
1998 - Prompted by the loss of more than £60m every year because of the negative impression created by the raucous vulgar nature of stag-hen parties in Temple Bar, the Dublin Chamber of Commerce announces plans to ban them
2000 - O´gra Fianna Fáil votes to support blanket ban on abortion
November 13
867 - Death of Pope Nicholas I
1643 - Charles I appoints James Butler, 1st Marquess of Ormond as Lord Lieutenant of Ireland
1726 - At Clonmel, Joseph Slattery, MP for Blessington, dies from wounds received in a duel with Stephen Moore, MP for Fethard
1923 - Leonard Boyle, priest and palaeographer, is born in Donegal
1998 - Paddy Clancy of the Clancy Brothers is laid to rest in Faugheen cemetary, Carrick-on-Suir
1999 - Environmentalists warn that Killarney's picture postcard Lough Lein is in danger from pollution
2000 - A report on the status of the Irish language in Loughrea Co. Galway indicates there are Irish speakers in 362 of the 500 households who returned questionaires. The report also shows 91% of the town's people want Irish language names for housing estates and 88% want more Irish used in signposts and public notices. All Irish education was also overwhelmingly accepted with 91% supporting the recently opened Gaelscoil Riabhach
2000 - Clamping of illegally parked vehicles goes into effect for the first time in Galway city centre


2000 - Former Secretary of State Dr Mo Mowlam is chosen Ireland's International Person of the Year. She secures the accolade for her enormous contribution to the quest for peace
Photo Credit: Joe Dunne/Photocall Ireland!
2001 - RTÉ announces it is to become the first broadcaster in Europe to provide an on-screen aid to warn viewers of programmes containing sex, violence or foul language
2001 - Irish troops walk out of the gates of Camp Shamrock - ending more than two decades of peacekeeping duty in Lebanon.The camp is handed over to a contingent of troops from Ghana
2002 - A major fire in a Dublin industrial complex continues to blaze more than 16 hours after flames are first spotted
2002 - The Irish and British governments invite the north's political parties to take part in talks at Stormont to try to ease the crisis in the peace process
In the liturgical calendar, it is the Feast day of St. Kilian of Aubigny. In the 7th century, he becomes the only Irish person in the entire history of the Church to be offered the Papacy; he declines the honour.
November 14


1669 - St. Oliver Plunkett becomes Archbishop of Armagh and Primate of All Ireland
Image: Head in bronze by Peter Grant
1832 - Birth near Letterkenny, Co. Donegal of Stopford Brooke, chaplain-in-ordinary to Queen Victoria, writer and literary critic
1873 - Michael Healy, stained-glass artist, illustrator and painter, is born in Dublin
1907 - Sir Francis Leopold McClintock, Irish arctic explorer, dies
1913 - Official founding date of the Provisional Committee of the Irish Volunteers
1918 - Seumas O'Kelly, playwright, novelist , short story writer , and journalist, dies
1921 - Roy McFadden, poet, is born in Belfast
1923 - W.B. Yeats receives the Nobel Prize for Literature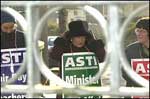 2000 - Teachers begin the first of eight planned days of industrial action. More than 4,200 teachers take to the picket lines in Dublin in pursuit of their 30% pay claim. Over 620 secondary schools are closed as a result of the strike
Image: Esther Griffin on picket line duty outside St. Marys Secondary School, Mallow, Co.Cork. Photo Credit: Dan Linehan
2000 - Irate business leaders renew calls for competition on the railways as up to 50,000 commuters are left stranded by the 24 hour strike involving 138 train signal staff
2002 - Restoration work on a fountain built near Dublin in memory of Queen Victoria is halted following threats made by suspected republican paramilitaries against men carrying out the job
2002 - Ireland's first cancer patient retreat and help centre opens outside Mullingar in Co. Westmeath
In the liturgical calendar, it is the feast day of St. Laurence O'Toole, the first Archbishop of Dublin and the city's patron saint. It is on this date in 1180 that he dies at Eu in Normandy.


Sources:
The Celtic League
This organization publishes the annual Celtic Calendar. To order your own copy, visit: The Celtic League.
Irish Abroad
Somewhat sporadic, but they often highlight an important date in Irish history. To visit, please click: Irish Abroad.
The Wild geese
They update Irish history weekly. To visit their keydates page, please click: The Wild Geese.



We also refer to an assortment of references. Among them are the Books of Days - see right margin on this page.


Wed, Jan 3, 2018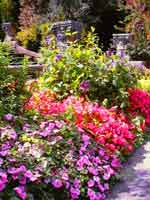 Ilnacullen, Co. Cork - an Island Garden
Located in the sheltered harbour of Glengarriff in Bantry Bay. Ilnacullin, which means island of holly, is a small island known to horticulturists and lovers of trees and shrubs all around the world as an island garden of rare beauty.
The vivid colours of Rhododendrons and Azaleas reach their peak during May and June, whilst the hundreds of cultivars of climbing plants, herbaceous perennials and choice shrubs dominate the midsummer period from June to August.
Because of its sheltered situation and the warming oceanic influence of the Gulf Stream, the climate is favourable to the growth of ornamental plants from many parts of the world.
Even for those who aren't particularly interested in gardens, there are many other scenic views, especially in the surrounding waters where seals frequent the rocks on the southern shore.
The cover photo on Bridget's book The Traditional Irish Wedding shows a wrought iron garden gate on Ilnaculen. I took that photo. To see it, go to the home page. It's part of the opening paragraph Failte.
—Russ
Resource: Copy and Image - Cork Guide

Click for More Culture Corner.
"Cahill's lovely prose breathes life into a 1,600-year old history." The L.A. Times
This is our most popular book. We understand why; the truth is fascinating.
Click here for Saved Civilization.
---