Traditions, folklore, history and more. If it's Irish, it's here. Or will be!
"People will not look forward to posterity who never look backward to their ancestors."
-Edmund Burke
---
Quotes

Library: Books, Movies, Music

Prints & Photos

Poetry

Jokes

---
---
Shops Ireland
---
Bunús na Gaeilge
(Basic Irish)

---
---
Did You Know?
---
Himself/Herself
Write to Us
Readers Write..
Links/Link to Us
---
Advertise with us
---
Awards & Testimonials

Submissions Guide
---

Today
in
Irish
History - January
1st to 7th | 8th to 14th | 15th to 21st | 22nd to 31st
---
January 22
1761 - Birth of Henry Welbore Agar (Ellis), 2nd Viscount Clifden, perhaps the only person to sit consecutively in four different Houses of Parliament - the two in Ireland and the two in England
1856 - Alfred Godley, classical scholar and writer, is born in Ashfield, Co. Cavan
1901 - Queen Victoria dies; Edward VII accedes to the throne
1913 - Cardinal William Conway, Primate of All Ireland from 1963-1977, is born
1925 - Raymond Crotty, radical economist, is born in Co. Kilkenny
1967 - Eleanor McEvoy, musician, singer and songwriter, is born in Dublin
1972 - Éamon Broy, agent for Michael Collins, and later Commissioner of the Garda Síochána, passes away
1972 - The Republic of Ireland signs a treaty of accession to the European Economic Community
1997 - Death of Lilly Kempson, aged 99, the last surviving participant in the Easter Rising
1998 - It is announced that up to 1 million ounces of high grade gold have been discovered in a mine in Co. Monaghan that will result in the country's biggest ever gold mine going into production in two years time
1999 - Pop concerts can be held at Lansdowne Road, Dublin, without the need for planning permission, the Supreme Court decides in a unanimous decision
2002 - It is announced that one of the British Army's main bases in Northern Ireland is to close and its 500 soldiers moved back to Britain. Ebrington barracks in the Waterside area of Londonderry is expected to be cleared by the end of next year
2003 - Amid much fanfare and brouhaha, quads Kelly, Katie, Shannon and Amy Murphy return to Cork's Erinville Maternity Hospital for their first birthday celebration


2011 - Cowen resigns but remains Taoiseach
Brian Cowen resigns as party leader of Fianna Fail He is expected to remain as Taoiseach until the election. Mr Cowen told reporters at his 2pm press conference in Dublin the decision would allow Fianna Fail to "elect a new leader and fight [the election] in a united and determined manner, free from internal distraction."
January 23
1774 - Dudley Cosby (Baron Sydney), former MP for Carrick, commits suicide: 'Our domestic news is first the death of Lord Sydney occasioned by a dose of Danish poison. His lordship to render himself agreeable to his lady upon their marriage stopped two issues he had in his thighs but found no ill effects until the 13th inst. when, after a night of great exercise by dancing, his temper and reason as appears since, was in some sort affected; however, not so much as to make those about him immediately suspect it or the consequence. He complained of indisposition and sent for a physician. He republished his will leaving his estate to Capt. Cosby of the Navy and added a codicil leaving the jewels he bought for his wife (whom in his delirium he was jealous of) and the family china to his sister Lady Farnham, after which being disappointed in an attempt to shoot himself and one to poison himself, he took on (this date) the dose which was sufficiently strong to carry him off in a few hours'
1803 - Arthur Guinness, founder of the Dublin brewery, dies
1881 - William O'Brien, trade unionist and Labour politician, is born near Clonakilty, Co. Cork
1898 - The United Irish League, a nationalist electoral organization, is founded by William O'Brien
1999 - Two blast bomb attacks target Catholic homes in the seaport town of Larne, Co Antrim
2000 - A historic show of Christian unity takes place as the Bishop of Cork and Ross, Dr John Buckley, appeals to parishioners at Cork Masses to make contributions to a multi million pound restoration programme of a Protestant cathedral in Cork city centre


2000 - Five grey Seals are released into the sea at Cullenstown Strand, Co. Wexford. The seals had been kept in the seal sanctuary in Co. Dublin while recovering from injuries. This the largest amount of seals to be released at one time
Photo Credit: P.J. Brown
2000 - More than 20,000 people gather on the streets of West Belfast in memory of IRA teenager, Tom Williams, who was hanged in 1942 for his part in the murder of an RUC man
2001 - Irish airport charges are among the cheapest in the world, the latest independent study of the sector has found
2001 - It is announced that the State is in negotiation with a private landowner to purchase the internationally renowned Poulnabrone dolmen in the Burren, Co. Clare
2003 - The Irish and British governments agree to plans for an all-out push to restore the North's power-sharing Executive.
January 24
1851 - Charles Plummer, Irish language scholar and editor of Lives of the Irish Saints, is born
1920 - Death of Percy French, writer of many popular Irish songs, including the Mountains of Mourne
1921 - Patrick Scott, artist, is born in Kilbrittain, Co. Cork
1933 - Fianna Fáil wins a general election
1969 - Brian Faulkner resigns from his position as Prime Minister Terence O'Neill's minister of commerce, furthering the split in the Unionist party
1973 - Death of piper and folklorist, Willie Clancy
1974 - The official Unionist Party is founded
1978 - Eddie Gallagher and Dr. Rose Dugdale, both jailed for their part in the kidnap of Tiede Herrema, are married in Limerick prison
1998 - In west Belfast, Loyalists kill taxi driver, John McColgan by shooting him in the back of the head. It is the sixth sectarian murder in a week
1999 - After months of negotiations and two special delegate conferences, Democratic Left merges with the Labour Party


2000 - Tánaiste Mary Harney warns the IRA to begin decommissioning or run the risk of derailing the Northern peace process
2001 - Government sources say the resignation of Northern Secretary Peter Mandelson is not a major setback to the peace process
2002 - Irish doctors are among the worst-paid in Europe and charge less than they need to run a viable business, according to the Irish Medical Organisation (IMO).
January 25
1356 - The 1st Earl of Desmond dies; Kildare is his replacement as justiciar
1627 - Robert Boyle, physicist, chemist and alchemist, is born in Lismore, Co. Waterford
1777 - The Earl of Buckinghamshire, who eventually conceded free trade and some relief from the Penal Laws to Catholics and Dissenters, is sworn in as lord lieutenant
1831 - Edmund Hogan, Jesuit and scholar, is born in Cork
1924 - Charles McCarthy, trade unionist, is born in Cork
1924 - Tomás Mac Giolla, republican and socialist, and later, Workers' Party leader, is born near Nenagh, Co. Tipperary
1998 - The Irish Seaspray plant in Lettermore, Co. Galway is extensively damaged after two explosions rip through the facility and start a major fire
1999 - The Government descends into chaos over allegations that European Commissioner Pádraig Flynn received a donation of £50,000 ten years ago and that the Taoiseach, Bertie Ahern, knew about it


1999 - Ireland's first day centre for refugees is opened in Dublin by Taoiseach Bertie Ahern
2001 - The new Northern Ireland Secretary, Dr. John Reid, pledges to carry forward the Good Friday Agreement
Photo Credit: Paul Faith
2001 - Thousands gather in Ballinamallard, Co. Fermanagh for the funerals of rally champion Bertie Fisher and two of his children, Emma, and Mark - also a renowned driver.
January 26
1316 - At the battle of Ardscull, Co. Kildare, Edward the Bruce defeats the army of Justiciar Edmund Butler. The Scottish dead are buried in the graveyard attached to the Dominican Priory in Athy which occupies the area on the east bank of the River Barrow. Among those buried are two Scottish chiefs, Lord Fergus Andressan and Lord Walter de Morrey
1699 - The second session of William III's second Irish parliament ends on this date
1716 - Birth of Lord George Sackville (-Germain), soldier, politician and MP for Portarlington
1799 - Thomas Charles Wright, officer in Bolivar's army and founder of the Ecuadorian naval school, is born in Drogheda, Co. Louth
1871 - Sir Arthur du Cros, pioneer of pneumatic tyre industry, is born in Dublin
1904 - Birth of Seán MacBride, IRA leader, politician, head of Amnesty International, and recipient of Nobel and Lenin peace prizes
1907 - Synge's Playboy of the Western World is performed for the first time at the Abbey Theatre, Dublin; the audience riots because of the bad language and negative perspective on Irish peasant life
1998 - Fears of a backlash heighten in the North due to the removal from the peace talks of the Ulster Democratic Party because of the recent spate of sectarian murders
1998 - The trial of a Dublin man accused of the murder of journalist, Veronica Guerin, is adjourned until June by the Special Criminal Court
1999 - Irish swimming takes its first step towards a fresh beginning following a series of child sex abuse scandals with the creation of a new identity, Swim Ireland
2000 - Tánaiste Mary Harney announces that the new minimum pay rate of £4.40 per hour will apply from April 1
2000 - Amid reports that Britain is drawing up emergency legislation to re-impose direct rule on Northern Ireland, the IRA faces renewed pressure to start decommissioning its arsenal
2000 - Supporters of ancient herbal remedies stage a wake in Dublin mourning the death of the free availability of the herb St John's Wort, which can now only be obtained on prescription
2001 - Motorists crossing Dublin's East and West Links will have to pay an extra 20p following a VAT hike
2001 - AN Bord Pleanála gives the go ahead for a £35 million leisure, residential and shopping development in Limerick.


2011 - Micheál Martin is elected leader of Fianna Fáil. Martin beat the competition of finance minister Brian Lenihan, tourism minister Mary Hanafin, and social protection minister Éamon Ó Cuív.He rplaces Brian Cowan who stepped down on January 22. During his accepytance speech, the new leader apologises for mistakes he and the Government made in managing the economy but said the most important thing was to learn from these mistakes.
January 27
1885 - Charles Stewart Parnell turns the first sod for the West Clare Railway
1944 - Birth of Mairead Corrigan-Maguire, founder of NI Peace Movement
1975 - Mother Mary Martin, founder of the Medical Missionaries of Mary, dies in Drogheda
1999 - The peace process and the IRA ceasefire are thrown into chaos following the mysterious death of ex-Provo killer turned supergrass Eamon Collins
2000 - Sinn Féin President Gerry Adams indicates that the IRA will not deliver arms ahead of the Ulster Unionists' February deadline.
January 28
1610 - The crown and the Irish Society of London, a consortium of city companies, agree to carry out the plantation of Derry (hence Londonderry), Coleraine and part of Tyrone
1635 - The City of London and the Irish Society of London are found guilty of mismanagement and neglect of Derry/Londonderry plantation; they are sentenced to a fine of £70,000 and forfeiture of Derry/Londonderry property
1742 - Clotworthy Skeffington, 2nd Earl of Massereene, is born in Co. Antrim
1786 - By charter, the Irish Academy becomes the Royal Irish Academy
1807 - Birth in Co. Wexford of Sir Robert McClure, polar explorer
and discoverer of the North-West Passage
1818 - The Iberno-Celtic Society is founded to preserve and publish the best ancient Irish literature
1852 - Louis Brennan, inventor, is born in Castlebar, Co. Mayo
1892 - Birth in Limerick of David Mary Tidmarsh , WWI Ace
1873 - Patrick Malley is killed by his son William Malley at Calla, a remote district of Errismore Co. Galway. J.M. Synge based his story The Playboy Of The Western World on the tragedy
1877 - George Fitzmaurice, Irish Renaissance playwright, is born
1935 - Laurence White Jr. is born in Brooklyn New York, USA.
1939 - Death of William Butler Yeats
1941 - The Emergency Powers Act provides for the censorship of press messages to places outside the Free State
1941 - Birth of Fublin artist, George Potter
1967 - Helena Moloney, republican and trade unionist, dies in Dublin.
1981 - Daniel O'Donnell makes his first professional appearance, at a club in Thurles as part of his sister Margo's band
1993 - The IRA bombs Harrods for the third time in 20 years. Four people are injured
2000 - Death of well known Irish actor, Tony Doyle, star of popular programmes such as Ballykissangel and The Riordans
2000 - Nobel Peace laureate, John Hume, issues a plea to the IRA for a last minute gesture on decommissioning to ensure the Northern Ireland peace process does not founder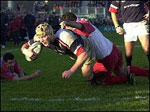 2001 - Mighty Munster moves a step closer to Heineken European Cup rugby glory when they defeat Biarritz 38 29 in the quarter final Photo credit: Des Barry
2002 - Winds of up to 90mph leave 3,000 homes in the west and north-west without power supply for several hours
2003 - It is announced that actor Peter O'Toole, nominated seven times for an Oscar for his work in films as diverse as the historical epic Lawrence of Arabia and the nostalgic comedy My Favourite Year, will receive an honorary Academy Award at this year's Oscar ceremonies.


2007 - Sinn Féin ardfheis votes overwhelmingly in favour of a leadership motion expressing support for the Police Service of Northern Ireland. Speaking moments after the vote is taken, party President Gerry Adams describes the decision as "truly historic" and says the potential had been created to change the political landscape of the island "forever."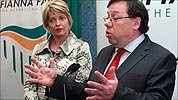 2011 - Taoiseach Brian Cowen announces he will seek to dissolve the Dáil next Tuesday at which time he will also announce the date of a General Election.

January 29
1768 - Oliver Goldsmith's The Good-Natured Boy is first performed at London's Covent Garden
1794 - Archibald Hamilton Rowan, United Irishman, tried on charge of distributing seditious paper
1967 - The Northern Ireland Civil Rights Association (NICRA) is formed
1976 - Explosions rock London's West End. One person is injured. The IRA later takes responsibility
1998 - The British government bows to pressure and announces a new judicial inquiry into the killing of 14 unarmed civil rights marchers in Derry on January 30, 26 years ago
1998 - Former Taoiseach Jack Lynch is rushed to Accident and Emergency at the Meath Hospital, Dublin shortly before 10pm. His condition is described as not life-threatening
1999 - The future of the Apple computer plant in Cork is thrown into doubt with the news that up to 600 jobs are expected to be lost
1999 - One of the youngest members of the Church of Ireland, Rev. Canon William Paul Colton, is elected Bishop of Cork, Cloyne and Ross. He succeeds the Rt. Rev. Roy Warke
2001 - Ulster Unionist deputy leader John Taylor pulls out of the running for the next General Election
2002 - Rock superstars U2 battle to save their Dublin recording studios from being pulled to the ground. The millionaire musicians tell a hearing at the Gresham Hotel in Dublin that the musical heritage of their Hanover Quay site should be enough to save it from demolition.
2011 - Irish finance bill passes final hurdle - the senate. The finance bill is a condition of Ireland's 85bn euro (£72bn) bailout package. The approval leaves the way clear for a general election to be called.
January 30
1845 - Birth of Kitty O'Shea, mistress and later, the wife of Parnell
1859 - Edward Martyn, playwright, co-founder of Irish Literary Theatre, and Sinn Féin president, is born in Tulira, Co. Galway
1864 - The National Gallery of Ireland opens
1865 - Birth of John Hughes, sculptor, in Dublin
1900 - The Irish Party reunites ten years after it split
1920 - Tomás MacCurtain is elected Lord Mayor of Cork for Sinn Féin
1947 - Jim Larkin, Irish labor leader dies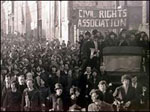 1972 - In what is to become known as Bloody Sunday, the British Army kills 13 civil rights demonstrators in the Bogside district of Londonderry. A 14th marcher later dies of his injuries
1984 - Death of Luke Kelly, lead vocalist and 5-string banjo member of the Dubliners
1990 - Haughey resigns as Taoiseach
1998 - Relatives of those killed during the Bloody Sunday massacre in Derry's Bogside, gather to remember their dead. It is a ritual observed every year, but this year it is given extra poignancy by the announcement of a new inquiry into the killing of 14 unarmed civilians by the Parachute Regiment
1998 - Thousands participate in a united peace rally to protest at recent sectarian killings
1998 - Buried in the sand at Lahinch for almost 100 years, the ship-wrecked Elizabeth McClean emerges to allow a salvage operation to take its valuable cargo. The 58-foot schooner, laden down with Liscannor stone, sank off the Clare coast in 1904, bound for Glasgow
2000 - Three RUC officers are injured and another man is in serious condition after mobs attack them in Derry and Belfast
2002 - Figures released by the Central Statistics Office show that Dubliners have more money to spend than everyone else in Ireland with people in Laois, Offaly and Kerry having the least
2002 - Publicans warn Health Minister Micheál Martin not to proceed with a proposed ban on smoking in pubs after he announces changes to tough anti-tobacco laws, which will allow him to ban smoking in all or part of licensed premises
2003 - Vintners claim that next year's ban on smoking in pubs will be unworkable and accuse Health Minister Micheál Martin of overreacting.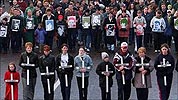 2011 - Thousands of people join what is intended to be the last Bloody Sunday march in memory of the fourteen people who lost their lives on 30 January 1972 when British paratroopers opened fire on a civil rights march in Derry's Bogside area. A number of options are now being considered to mark future anniversaries, including an annual gathering of remembrance at the Bloody Sunday monument, a remembrance Mass, a human rights weekend and an annual Bloody Sunday lecture.
January 31
1800 - William Pitt, 'the younger', Prime Minister of Britain, advocates the union of Britain and Ireland
1864 - Birth of Matilda Knowles, botanist
1881 - Anna Parnell sets up the Committee of the Ladies' Land League in Dublin
1913 - The Ulster Volunteer Force is founded by the Unionist Council, posing a threat to the legitimate government
1953 - The Princess Victoria, a British Railways car ferry steamer, bound for Larne in Northern Ireland, sinks in the Irish Sea in one of the worst gales in living memory, claiming the lives of 128 passengers and crew. Among the passengers who perish are the Northern Ireland Finance Minister and Deputy Prime Minister Major J. M. Sinclair, and Sir Walter Smiles, the Ulster Unionist MP for North Down
1998 - Two men are arrested as they transfer cannabis resin with an estimated valued of £5 million into a vehicle in a wooded area near Cahir, Co Tipperary
1999 - The end of an era in maritime history is reached as the high-tech world takes over from the old, manually-operated morse code radio services. For over 100 years, the dot-dash-dot system operated by radio officers served shipping well, but is now superseded by a state-of-the-art communications network. Marine Minister Michael Woods marks the historic occasion at at Valentia Coast Radio Station, Co. Kerry, as the use of Morse ends in this country, Belgium, Denmark and Iceland
1999 - Irish American business tycoon, Jay Michael Cashman splashes out a reported £250,000 to tie the knot with his film producer sweetheart, Christy Jean Scott, in a glittering ceremony in the 15th-century ruined Franciscan Abbey. It is the first wedding in the abbey in 500 years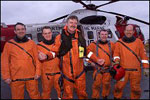 2000 - Seventeen fishermen from a blazing Spanish trawler off the Clare coast are rescued by the Irish Coast Guard
2000 - President Bill Clinton and Northern Ireland peace envoy George Mitchell are among those nominated for this year's Nobel Peace Prize
2003 - The coast guard remains on standby off the north-west coast for a major pollution incident as damage to the Panamanian-registered Princess Eva tanker, carrying 55,000 tonnes of oil, is assessed.

Sources:
The Celtic League
This organization publishes the annual Celtic Calendar. To order your own copy, visit: The Celtic League.
Irish Abroad
Somewhat sporadic, but they often highlight an important date in Irish history. To visit, please click: Irish Abroad.
The Wild geese
They update Irish history weekly. To visit their keydates page, please click: The Wild Geese.



We also refer to an assortment of references. Among them are the Books of Days - see right margin on this page.


Wed, Jan 3, 2018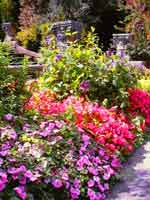 Ilnacullen, Co. Cork - an Island Garden
Located in the sheltered harbour of Glengarriff in Bantry Bay. Ilnacullin, which means island of holly, is a small island known to horticulturists and lovers of trees and shrubs all around the world as an island garden of rare beauty.
The vivid colours of Rhododendrons and Azaleas reach their peak during May and June, whilst the hundreds of cultivars of climbing plants, herbaceous perennials and choice shrubs dominate the midsummer period from June to August.
Because of its sheltered situation and the warming oceanic influence of the Gulf Stream, the climate is favourable to the growth of ornamental plants from many parts of the world.
Even for those who aren't particularly interested in gardens, there are many other scenic views, especially in the surrounding waters where seals frequent the rocks on the southern shore.
The cover photo on Bridget's book The Traditional Irish Wedding shows a wrought iron garden gate on Ilnaculen. I took that photo. To see it, go to the home page. It's part of the opening paragraph Failte.
—Russ
Resource: Copy and Image - Cork Guide

Click for More Culture Corner.
"Cahill's lovely prose breathes life into a 1,600-year old history." The L.A. Times
This is our most popular book. We understand why; the truth is fascinating.
Click here for Saved Civilization.
---