Traditions, folklore, history and more. If it's Irish, it's here. Or will be!
"People will not look forward to posterity who never look backward to their ancestors."
-Edmund Burke
---
Quotes

Library: Books, Movies, Music

Prints & Photos

Poetry

Jokes

---
---
Shops Ireland
---
Bunús na Gaeilge
(Basic Irish)

---
---
Did You Know?
---
Himself/Herself
Write to Us
Readers Write..
Links/Link to Us
---
Advertise with us
---
Awards & Testimonials

Submissions Guide
---

Today
in
Irish
History - January
1st to 7th | 8th to 14th | 15th to 21st | 22nd to 31st
---
January 8
1547 - Henry VIII suppresses the Chapter of St Patrick's Cathedral, Dublin; it will not be restored until 15 June 1555
1779 - Birth in Newry of actress Julia Glover
1860 - The Church of St Andrew in Suffolk Street, Dublin, is destroyed by fire
1871 - James Craig, Ist Viscount Craigavon, Unionist politician and PM of Northern Ireland from 1921 to 1940, is born in Belfast
1873 - Home Rule Confederation of Great Britain is founded
1876 - Lucien Bul, inventor of the electrocardiograph, is born in Dublin
1916 - Evacuation of Gallipoli Peninsula in the Dardanelles is completed; there are 100,000 casualties, mostly Australian, New Zealanders and Irish, in the eight-month campaign
1926 - Birth of international showjumper and equestrian Iris Kellett
1945 - Peggy Vonnaro grandaughter of Maggie Milligan and Jame Patrick Donlin is born.
1979 - An oil tanker explodes at Whiddy Island oil terminal on Bantry Bay, Cork, killing at least 50 people
1998 - The first licensed drug to treat mild to moderately severe Alzheimer's disease is launched in Ireland
1999 - French, Irish, English and Dutch relatives gather at the hilltop granite memorial sculpture in Bantry's Abbey Cemetery for a wreath-laying ceremony in memory of those who perished when the oil tanker Betelgeuse blew up at the Whiddy Island oil terminal
1999 - The British Government comes under pressure to stop the early release of prisoners in Northern Ireland after an upsurge in paramilitary shootings and beatings
2000 - Thousands of acres are still flooded, roads blocked and farmyards remain under water after the River Shannon bursts its banks
2001 - All schools are to receive a CD ROM of one of the masterpieces of Western art — the Book of Kells. On behalf of the schools, the Minister for Education and Science, Dr Michael Woods, accepts the CD ROMs from Trinity College Library in Dublin and leading internet company, X Communications
2002 - Thousands of commuters experience delays after fallen cables knock out DART services at some of Dublin's busiest stations
2002 - Former Soviet leader Gorbachev sinks a pint of Guinness with Dublin Lord Mayor Michael Mulcahy in the famous Doheny and Nesbitt pub in Baggot Street.


2007 - Northern ireland's Progressive Unionist Party leader David Ervine dies at age 53 after suffering a heart attack and later a stroke and a brain haemorrhage. A former UVF prisoner and a key figure in brokering the loyalist paramilitary ceasefire of 1994, a party statement is quoted as saying: "Unionism has lost the most progressive voice of this generation. Politics has lost a statesman. Our peace process has lost its most optimistic advocate and Ulster has lost a devoted son."


2008 - First Irish expedition arrives at South Pole. Team leader Pat Falvey and Clare O'Leary, Sean Menzies and Jonathan Bradshaw, journeyed for 58 days to reach their destination. Dr O'Leary is the first Irish woman to make the trip. She is also the first Irish woman to climb Mount Everest.
January 9
1642 - 30 Catholics are killed by the Scottish garrison and English settlers at Island Magee, Co. Antrim
1873 - John J. Flanagan, hammer-thrower and shot-putter, is born in Kilbreedy, Co. Limerick
1900 - Birth of Harry Kernoff in London, artist; resident of Dublin from the time he was 14 years old
1904 - George Buchanan, poet, novelist and journalist, is born in Kilwaughter, Co. Down
1922 - Arthur Griffith is elected Taoiseach of Dáil Éireann after Eamon de Valera steps down


1929 - Brian Friel, playwright and author of Dancing at Lughnasa, is born near Omagh, Co. Tyrone
1951 - The Northern and Southern governments agree on the running of the Great Northern Railway
1952 - Birth of Danny Morrison, former publicity officer for Sinn Féin, and now a novelist
1962 - Birth of Ray Houghton, footballer
1998 - Mo Mowlam, risks her political future in talks with loyalist paramilitaries inside the Maze prison in a desperate bid to save the troubled Northern Ireland peace process
2000 - Boy band Westlife retains their place at the top of the charts to become the first act in more than a year to hang on at number one for longer than three weeks
2001 - For the first time ever, electric power comes to the tiny islands of Inishgort and Inishlyre in Clew Bay
2002 - Former soviet leader, Mikhail Gorbachev, accepts the honour of being named the 71st Freeman of Dublin, following in the footsteps of Pope John Paul II, Nelson Mandela and members of U2
2002 - Police are attacked with bricks and bombs by rioters from both sides of the sectarian divide, as bigotry and violence flare again at the Holy Cross Primary School in Ardoyne, north Belfast.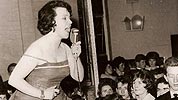 2012 - Singer Bridie Gallagher passes away at age 87.
Known professionally as the 'Girl from Donegal', over a 50-year career she played everywhere from the Royal Albert Hall in London to Carnegie Hall in New York and Sydney Opera House. Born in Creeslough, Co. Donegal, Bridie Gallagher made her home in Belfast almost 60 years ago and it was there she was discovered by a Decca talent scout in 1956. Her first single for them - A Mother's Love's a Blessing - was an instant hit and within a few short years she was performing on Sunday Night at the London Palladium. The late 50s and 60s saw tens of thousands of Irish people emigrating. In Britain, America and Australia, Bridie had ready-made audiences who packed out the venues she played. In one particularly memorable show at the Albert Hall mounted police had to be used to hold back fans who blocked the surrounding streets.
January 10
1751 - Cornelius Bolton, politician, Volunteer and improving landlord is born
1814 - Aubrey Thomas De Vere, a poet who adapted early Gaelic tales, is born
1922 - Arthur Griffith is elected second president of the Irish Free State by Dáil Éireann
1952 - An Aer Lingus aeroplane, the St Kevin, crashes in Wales with the loss of 23 lives. It is the airline's second fatal crash
1969 - Civil rights leaders in Northern Ireland defying police orders and refuse to abandon their planned march through Newry in Co. Down
2000 - The Lodge and Spa at Inchydoney Island, Clonakilty, County Cork, is the AA Hotel of the Year
2002 - A new chapter in Irish literary history is written with the publication of The Last Tango in Ibiza, which was penned by first-time authors who include a nun and several grannies
2003 - Farmers drive 300 tractors into the city and hold a two-hour rally in front of Government Buildings at Merrion Square
2003 - Feared loyalist paramilitary chief Johnny Mad Dog Adair is arrested and sent back to jail. Adair will not now be released from prison until January 2005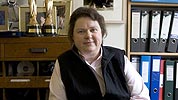 2012 - Journalist Mary Raftery passes away after a short illness. She was 54. Well known for her work on the 'States of Fear' documentary series that revealed the extent of physical and sexual abuse suffered by children in the Irish childcare system, she also produced and directed the 'Prime Time Investigates: Cardinal Secrets' programme which led to the establishment of the Murphy Commission of Investigation into child sex abuse in the Dublin Archdiocese. Colm O'Gorman of Amnesty International Ireland said Ms Raftery's work transformed Ireland. Without the work that Mary did as a journalist (on the abuse of children), I don't think much of this would have surfaced."
Photo Credit & related Details: RTE
January 11
1836 - George Sigerson, physician, professor and writer, is born near Strabane, Co. Tyrone
1921 - The British government announces that any unauthorised person found in possession of arms, ammunition or explosives is liable to be executed
1925 - Birth of David Wylie Bleakley, writer and Northern Ireland Labour Party politician
1970 - IRA splits into Officials and Provisionals (Provos)
1972 - Padraic Colum, Longford poet and playwright, dies
1998 - The Government plays down reports of a rift between Taoiseach Bertie Ahern and British Prime Minister Tony Blair
1999 - The Democratic Unionist Party warns that it would mount a legal challenge if Northern Ireland Secretary Mo Mowlam moves to announce a power-sharing Executive without the Assembly approving the new government structures
2000 - Furious farmers block the entrances to all the main meat processing plants in protest against the imposition of increased veterinary inspection charges
2002 - The country's population is set for another dramatic increase after Ireland records the highest birth rate and lowest death rate of all 15 EU member states in 2001.
January 12
1709 - Birth of Benjamin Burton, politician and Revenue Commissioner
1729 - Edmund Burke, orator, statesman and philosopher, is born in Arran Quay, Dublin
1765 - The Kinsale by-election caused by the death of John Folliott on this date is contested by Agmondisham Vesey and Richard Meade. Vesey wins by 64 votes to 48, but pays a price for being elected: William Dennis, vintner, receives £80 for Mr Vesey's entertainment. Three other innkeepers receive a total of £76 3s 6d for providing 'drink for Mr Vesey's health' and a further £14 9s for beer to the populace. His election agent, James Dennis, spends £46 12s 2d to send a coach and post-chaise to Dublin to collect voters. Vesey spends a further £12 7s 10d on 'a notice to disqualify John O'Grady as a Papist from voting'. Ben Hayes, fiddler, is paid £5 13s 9d. Vesey's election breakages bill amounts to £7 8s, exclusive of fines for 'a crowd of broke heads and crakt limbs'. James Kearney (a future MP for Kinsale) spends £16 4s 3d to bring voters to Kinsale on Vesey's behalf: this includes a post-chaise and hospitality on the four-day journey
1885 - Thomas Ashe, patriot and nationalist revolutionary, is born in Lispole, Co. Kerry
1887 - Molly Allgood, actress (stage name Máire O'Neill) and fiancée of Synge, is born in Dublin
1930 - Birth of Jennifer Johnston, author of How Many Miles to Babylon and The Railway Station Man
1947 - Matt Molloy of the Chieftains is born
1947 - Micheal O'Siadhail, poet and linguist, is born in Dublin
1951 - Birth of Steve Travers, surviving member of the Miami Showband massacre, and managing director of CAT Entertainments
1993 - A Fianna Fáil-Labour coalition government is formed, with Reynolds as Taoiseach
1998 - Political master strokes by Bertie Ahern and Tony Blair breath new life into the Northern peace process with a blueprint for peace which could replace the Anglo-Irish Agreement with a three-stranded government for the North
2000 - Despite the controversy over the book, Limerick people turnout in huge numbers to attend the sell out film premiere of Angela's Ashes.
January 13
1695 - Jonathan Swift becomes Dean of St Patrick's Cathedral, Dublin
1800 - Daniel O'Connell makes his first public speech, opposing Union with England
1880 - Alexander Brenon, film director, is born in Dún Laoghaire, Co. Dublin
1931 - Mary Clarke, Maryknoll nun and martyr is born of Irish parents in NYC
1935 - Eibhin Nic Choill (Eleanor Hill) Irish Celtic scholar dies
1941 - James Joyce, considered by many to be one of the most important modern authors in English because of his revolutionary approach to the novel, dies in Zurich
1964 - Ulster golfer Ronan Rafferty is born
1998 - Northern Ireland takes another giant step towards peace after the political parties at Stormont accept the British and Irish governments blueprint as the basis for negotiation
2000 - A record-breaking 55 people are presented with the President's Gold Awards at a special ceremony in A´ras an Uachtaráin
2000 - It is announced that a 1,000 year old treasure trove has been discovered by a tour guide cleaning up litter from a Co Kilkenny cave. The priceless Viking age silver and bronze jewellery is unique - nothing like them have been found in Ireland or elsewhere
2001 - One and a half copies of the most important piece of documentation of the 20th century in Ireland, the Declaration of Independence, is sold to a New York collector for £56,000
2003 - It is announced that the Government is to undertake a major review of Gaeltacht areas amid concerns of a dramatic fall-off in Irish language use in many areas.
2008 - After almost 60 years, Aer Lingus Service between Shannon and Heathrow comes to an end following a company decision in August 2007 to transfer its valuable Heathrow slots to Belfast.
January 14
1753 - Death of George Berkeley, Irish philosopher and Anglican
1775 - John Hely-Hutchinson, Provost of Trinity College, fights a duel with William Doyle over abusive newspaper articles. Doyle is ill and has to lean on a crutch at the duel; on being challenged he had initially complained of sore eyes, and 'objected to stand merely to be shot at, without the power of retaliation'. Neither party is injured. One of the Provost's sons wishes to fight a further duel with Doyle, but the authorities prevent this; they then go abroad and hold the duel, neither being injured
1871 - Alexander Sullivan, barrister and last King's Serjeant of Ireland, is born in Dublin
1937 - De Valera's new constitution, with its assertions of Ireland as a sovereign 32-county state, and its definition of Catholic morality and "women's place" is approved
1965 - Talks between Seán Lemass, Taoiseach, and Terence O'Neill, Northern Ireland Prime Minister, take place in Belfast
2000 - Unemployment drops to its lowest level in 19 years
2000 - Unionist politicians are furious after Sinn Féin president Gerry Adams claims that there could be a united Ireland by the year 2016, the centenary of the Easter Rising
2000 - Eco Warriors and the Green Party meet with members of Wicklow County Council in a last ditch attempt to get the local authority to abandon its controversial road widening scheme in the Glen of the Downs.

Sources:
The Celtic League
This organization publishes the annual Celtic Calendar. To order your own copy, visit: The Celtic League.
Irish Abroad
Somewhat sporadic, but they often highlight an important date in Irish history. To visit, please click: Irish Abroad.
The Wild geese
They update Irish history weekly. To visit their keydates page, please click: The Wild Geese.



We also refer to an assortment of references. Among them are the Books of Days - see right margin on this page.


Wed, Jan 3, 2018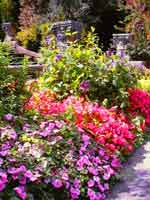 Ilnacullen, Co. Cork - an Island Garden
Located in the sheltered harbour of Glengarriff in Bantry Bay. Ilnacullin, which means island of holly, is a small island known to horticulturists and lovers of trees and shrubs all around the world as an island garden of rare beauty.
The vivid colours of Rhododendrons and Azaleas reach their peak during May and June, whilst the hundreds of cultivars of climbing plants, herbaceous perennials and choice shrubs dominate the midsummer period from June to August.
Because of its sheltered situation and the warming oceanic influence of the Gulf Stream, the climate is favourable to the growth of ornamental plants from many parts of the world.
Even for those who aren't particularly interested in gardens, there are many other scenic views, especially in the surrounding waters where seals frequent the rocks on the southern shore.
The cover photo on Bridget's book The Traditional Irish Wedding shows a wrought iron garden gate on Ilnaculen. I took that photo. To see it, go to the home page. It's part of the opening paragraph Failte.
—Russ
Resource: Copy and Image - Cork Guide

Click for More Culture Corner.
"Cahill's lovely prose breathes life into a 1,600-year old history." The L.A. Times
This is our most popular book. We understand why; the truth is fascinating.
Click here for Saved Civilization.
---