Traditions, folklore, history and more. If it's Irish, it's here. Or will be!
"People will not look forward to posterity who never look backward to their ancestors."
-Edmund Burke
---
Quotes

Library: Books, Movies, Music

Prints & Photos

Poetry

Jokes

---
---
Shops Ireland
---
Bunús na Gaeilge
(Basic Irish)

---
---
Did You Know?
---
Himself/Herself
Write to Us
Readers Write..
Links/Link to Us
---
Advertise with us
---
Awards & Testimonials

Submissions Guide
---

Today
in
Irish
History - January
1st to 7th | 8th to 14th | 15th to 21st | 22nd to 31st
---
January 15
1775 - Thomas Dermody, classical scholar and poet is born
1798 - Thomas Crofton Croker, antiquarian and folklorist, is born in Cork
1800 - The last session of the Irish parliament begins on this date
1821 - Thomas Clarke Luby, Fenian, is born in Dublin
1825 - Thomas, 2nd Viscount Newcomen, commits suicide after the failure of Newcomen's Bank
1835 - Birth of Patrick Guiney, soldier and politician, in Parkstown, Co. Tipperary
1860 - Eleanor Hull, Irish Celtic Scholar is born
1861 - Young Irelander Terence MacManus dies in San Francisco, CA
1939 - IRA Army Council and Republican survivors of 2nd Dáil Éireann declare war on England
1920 - Sinn Féin takes control of most borough and urban councils in local elections
1961 - Dave MacAuley, world flyweight boxing champion, IBF,1989-92, is born in Larne, Co. Antrim
1973 - Ireland joins the European Investment bank
1988 - Sean McBride, Irish patriot and human rights activist, dies.


2007 - Dublin-boorn actress Pauline Delaney, who is best known for her role in Circle of Friends and Into The West, passes away from complications caused by Parkinson's disease.
In the liturgical calendar, today is the feast of St. Ita.
January 16
1700 - Richard Levinge, an Irish MP and later a prominent Tory, is committed by the English House of Commons to the Tower of London until 11 April for speaking ill of his fellow Commissioners of Forfeited Estates
1707 - Robert Allen, a future MP, elopes with the daughter of Robert Johnson MP: Johnson writes to Ormonde on 16 January that Allen 'has stolen a marriage with my daughter; no consent or acquainting of him with me. I fancy they will find they have two very difficult fathers to persuade to part with anything to either of them.' In 1730 Allen will be satirized viciously by Jonathan Swift
1816 - Frances Browne, writer, is born in Stranorlar, Co. Donegal
1822 - Thomas Clark Luby, co-founder of the Fenian Brotherhood, is born
1900 - Frank Devlin, badminton player, is born in Dublin
1904 - In reaction to attacks on Jews in Limerick, Michael Davitt, a leader of the Irish Land League, protests "as an Irishman and a Catholic against this spirit of barbarous malignity"
1913 - Home Rule bill passes in the House of Commons
1920 - Percy French gives his last concert in Glasgow. He dies in Liverpool eight days later
1922 - Michael Collins takes over control of Dublin Castle from the British authorities on behalf of the new Irish state
1935 - Gobnaitt NiBhruadair (Albinia Broderick), Irish republican activist, dies


1981 - Northern Ireland civil rights campaigner and former Westminster MP, Bernadette McAliskey, is shot by gunmen who burst into her home at Coalisland in County Tyrone
2000 - For his adaptations of the work of William Shakespeare, Belfast born actor and director Kenneth Branagh becomes the youngest winner of the Gielgud award

2001 - Hough's Pub in Lorrha, Co Tipperary retains the title of "The Cheapest Pint" in Ireland. Earning the respect of drinkers everywhere, Pat Hough won't be raising the price of a pint of plain above £1.50
Photo Credit: Fergal Shanahan
2002 - Richard Haass, US President George Bush's special adviser on Northern Ireland, urges Sinn Féin to drop its objections to the new Police Board
2002 - Joe White of Rathmire, Co. Kerry becomes one of the oldest people in the country to pass the driving test. He began driving in Ireland more than 60 years ago, went to the USA and returned last year to find his Irish license had long lapsed. It took two attempts, but the sprightly 84-year-old proved age, bad roads or fast drivers need not be a barrier to passing the test.
January 17


1649 - Marquis of Ormond James Butler and the confederates sign a peace treaty which grants toleration for Catholics in exchange for troops
1815 - Marie-Louise O'Morphi, famous courtesan, dies in Paris
1856 - Joseph Hayden, Irish journalist, dictionary compiler and author of Dictionary of Dates, dies
1860 - Birth in Castlerea, Co. Roscommon, of Douglas Hyde, playwright, folklorist, founder of The Gaelic League and the first president of Éire
1861 - Lola Montez (Marie Gilbert), dancer and courtesan dies in New York
1866 - Death of George Petrie, folk music collector who is credited with preserving many of Ireland's irreplaceable harp tunes
1873 - T.C. Murray, playwright, is born in Macroom, Co. Cork
1964 - The Campaign for Social Justice (CSJ) is formed. It is the forerunner of the civil rights movement and begins a programme of publicising what it sees as widespread discrimination, in a number of areas of life, against Catholics in Northern Ireland
1992 - Seven Protestant constructions workers at a security base in Co. Tyrone are killed by an IRA bomb. The driver of their bus also dies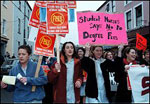 2000 - Galway city centre is brought to a standstill as hundreds of student nurses take to the streets to protest at plans to charge them to finish their nursing courses
Photo Credit: Andrew Downes/GreenGraph
2000 - A pair of King Billy's gloves, worn during the battle of the Boyne, and the dress worn by Sinéad de Valera at the second inauguration ceremony of her husband, President Éamon de Valera, are unlikely companions in The Way We Wore, a permanent exhibition of the clothing and jewellery worn by Irish people from the1760s to the 1960s which opens at the National Museum, Collins Barracks.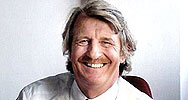 2012 - The editor of the Sunday Independent, Aengus Fanning, died this morning. He was 69 year old.The Tralee man began editing the Sunday Independent in 1984. He is survived by his wife Anne and three sons.
In a statement, the chief executive of Independent News and Media, Gavin O'Reilly, described him as "possibly the greatest and most instinctively brilliant editor that Irish journalism has ever produced".
He said that Mr Fanning will be a huge loss to Irish journalism, but an even bigger loss to his family.
January 18
1667 - Cattle exports to England are prohibited
1671 - Catholic gentry present petition to Charles II
1779 - Cement Patent No. 1207 is issued to Sligo-man Bryan Higgins
1811 - Charles Kean, actor, is born in Waterford
1821 - Built by Henry Harris at a cost of £50,000, the Albany New Theatre opens in Hawkins Street, Dublin. It can accommodate up to 2,000 patrons. In August, George IV attends a performance and, as a consequence, a patent is granted. The name of the theatre is changed to the "Theatre Royal" to reflect its status as a patent theatre
1831 - Daniel O'Connell is convicted of conspiracy


1882 - On a successful speaking tour of America, the young Irish playwright, Oscar Wilde, newly famous at home and abroad, visits 62-year-old Walt Whitman
1913 - The Irish Transport and General Workers' Union strike ends
1928 - Birth of Daniel Bradley, physicist
1930 - Breandán Ó hEithir, writer and broadcaster, is born in Cill Rónáin, Aran Islands
1934 - Joseph Devlin, Irish nationalist dies
1937 - Birth of John Hume, nationalist politician, in Derry/Londonderry
1997 - Death of Gerard Slevin, the Corkman who designed the EU flag
1998 - The fourth revenge killing of a Catholic by LVF murder squads since ruthless warlord Billy Wright was gunned down, is committed in Maghera, Co. Derry
2000 - The improvement in the hospitality scene in Ireland is proven by the addition of 54 hotels and 27 restaurants to the prestigious Michelin Guide
2001 - The right of Travellers to pursue their traditional lifestyle on their own land was yesterday rejected by the European Court of Human Rights
2002 - Taoiseach Bertie Ahern pays tribute to the former Fianna Fáil TD, Jim Tunney, who died yesterday. Mr Tunney, was a former minister of state and deputy in Dublin North-West for two decades. He also served a term as Lord Mayor of Dublin and was co-chairman of the British-Irish inter-parliamentary body. A stylish dresser, he always wore a flower in his lapel and was called the Yellow Rose of Finglas by friends and colleagues. He was 78
2002 - Political history is made today as the Fianna Fáil-Progressive Democrats coalition becomes the longest-serving government in the State. After taking office on June 26, 1997, Taoiseach Bertie Ahern's minority

government is serving its 1,666th day in office.
2008 - After well over half a century, the Rev Dr Ian Paisley steps down as Moderator of the Free Presbyterian Church He is succeeded by the Rev Ron Johnston.
January 19
1739 - Birth of Arthur Wolfe, 1st Viscount Kilwarden and Lord Chief Justice in Forenaghts, Co. Kildare
1787 - Birth in Cork of Mary Aikenhead, founder of the Irish Sisters of Charity and St. Vincent's Hospital Dublin
1793 - Hugh Cane, MP for Tallow, dies from a fall down stairs
1920 - IRA attacks Drombrane barracks, Co. Tipperary
1949 - Dennis Taylor, snooker player and world champion in 1985, is born in Coalisland, Co. Tyrone
1963 - Playwright Teresa Deevy dies
1964 - Birth of Richard Dunwoody, jockey, in Comber, Co. Down
1983 - The Minister for Justice, Michael Noonan, reveals that the previous Fianna Fáil administration was involved in tapping the phones of Journalists Geraldine Kennedy and Bruce Arnold
1985 - Death of Dublin-born actor Wilfrid Brambell, aka Old man Steptoe
1988 - Dublin writer Christopher Nolan, who cannot move or speak because of an accident at birth, wins the Whitbread Book of the Year
1998 - The Northern peace process are close to collapse after a 52-year-old Catholic taxi driver is killed in an attack which bears all the hallmarks of the UDA/UFF
2003 - Disgraced celebrity chef Tim Allen moves to protect his multi-million euro family business, announcing he is ceasing all connection with the Ballymaloe Cookery School and hotel.
January 20
1621 - Patents are granted for plantations in parts of Leitrim, King's County, Queen's County and Westmeath
1841 - James Armour, Presbyterian minister and political activist is born in Ballymoney, Co. Antrim
1902 - Kevin Barry, medical student and nationalist revolutionary, is born in Dublin
1902 - In the House of Commons, John Redmond criticizes the use of concentration camps by the British in South Africa
1908 - The Municipal Gallery of Modern Art opens in temporary premises in Harcourt Street, Dublin. It is the first known public gallery of modern art in the world and is later to become the Hugh Lane Gallery named after its founder
1916 - Secret negotiations result in alliance of the Irish Citizen Army with the Irish Republican Brotherhood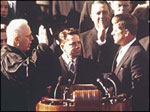 1961 - John F. Kennedy is inaugurated as president of the United States of America, becoming the first Irish Catholic to be elected to that office
1968 - Birth of Charlie Swan, jockey
1973 - Whiskey In The Jar by Thin Lizzy enters the British charts
1998 - Hope remain high that the IRA ceasefire will hold despite escalating violence in the North and Sinn Féin's implacable opposition to the Anglo-Irish blueprint
1999 - The Loyalist Volunteer Force announces plans for a second round of arms decommissioning which could include the handover of explosives
1999 - One of the world's biggest software piracy investigations identifies over 6,000 Internet sites in Ireland copying and promoting illegal software
2000 - According to a major international survey, Ireland is one of the least corrupt countries in the industrial world
2002 - Rioting erupts on the streets of north Belfast as angry mobs throw petrol bombs and blast bombs at police.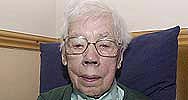 2010 - Ireland's oldest woman has died at the age of 107. Bride O'Neill from Kilbarry in Co Cork trained as a nurse in England but returned home during the second world war to work in Dublin. She kept active even after her 100th birthday, and never married, smoke or drank.
January 21
1600 - Charles Blount, 8th Lord Mountjoy, becomes Lord Deputy of Ireland
1684 - Chidley Coote, future MP for Kilmallock, is granted £500 for the upkeep of six lighthouses
1793 - Louis XVI is executed in Paris; he is attended by an Irish priest, Fr. Edgeworth. Lord Edward FitzGerald is the only member of the Irish parliament not to appear in mourning following the execution
1861 - Katherine Tynan, poet, novelist and journalist, is born
1876 - James Larkin, organizer of Irish Transport and General Workers' Union and socialist politician, is born in Liverpool
1919- Daíl Éireann, chaired by Sean T. O'Kelly meets for the very first time at Mansion House in Dublin. As part of this meeting, the adoption and the ritual of 'the Turning of the Seal' establishing the Sovereignty of the Irish Republic is begun.
1919 - Two members of Royal Irish Constabulary are shot dead by Irish Volunteers including Seán Treacy and Dan Breen in an ambush at Soloheadbeg, Co. Tipperary: this is regarded as the first incident in the 'War of Independence' (Anglo-Irish War). Attacks on policemen continue for the rest of the year
1998 - A controversialL deal is agreed by the British and Irish governments to transfer the IRA gang which carried out the Guildford and Woolwich bombings to Portlaoise prison
1998 - The North is plunged into a new crisis after Benedict Hughes, a Catholic, is shot dead in south Belfast in the latest murder aimed at wrecking the peace process
1998 - The IRA dramatically rejects the Anglo-Irish Stormont settlement plan
2002 - Sinn Féin MPs will never sit in the British parliament, Gerry Adams vows as they move into Commons offices for the first time. Party policy is also changed to allow MPs to sit in the Dáil.

Sources:
The Celtic League
This organization publishes the annual Celtic Calendar. To order your own copy, visit: The Celtic League.
Irish Abroad
Somewhat sporadic, but they often highlight an important date in Irish history. To visit, please click: Irish Abroad.
The Wild geese
They update Irish history weekly. To visit their keydates page, please click: The Wild Geese.



We also refer to an assortment of references. Among them are the Books of Days - see right margin on this page.


Wed, Jan 3, 2018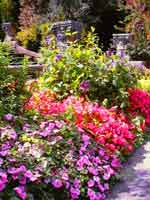 Ilnacullen, Co. Cork - an Island Garden
Located in the sheltered harbour of Glengarriff in Bantry Bay. Ilnacullin, which means island of holly, is a small island known to horticulturists and lovers of trees and shrubs all around the world as an island garden of rare beauty.
The vivid colours of Rhododendrons and Azaleas reach their peak during May and June, whilst the hundreds of cultivars of climbing plants, herbaceous perennials and choice shrubs dominate the midsummer period from June to August.
Because of its sheltered situation and the warming oceanic influence of the Gulf Stream, the climate is favourable to the growth of ornamental plants from many parts of the world.
Even for those who aren't particularly interested in gardens, there are many other scenic views, especially in the surrounding waters where seals frequent the rocks on the southern shore.
The cover photo on Bridget's book The Traditional Irish Wedding shows a wrought iron garden gate on Ilnaculen. I took that photo. To see it, go to the home page. It's part of the opening paragraph Failte.
—Russ
Resource: Copy and Image - Cork Guide

Click for More Culture Corner.
"Cahill's lovely prose breathes life into a 1,600-year old history." The L.A. Times
This is our most popular book. We understand why; the truth is fascinating.
Click here for Saved Civilization.
---