Traditions, folklore, history and more. If it's Irish, it's here. Or will be!
"People will not look forward to posterity who never look backward to their ancestors."
-Edmund Burke
---
Quotes

Library: Books, Movies, Music

Prints & Photos

Poetry

Jokes

---
---
Shops Ireland
---
Bunús na Gaeilge
(Basic Irish)

---
---
Did You Know?
---
Himself/Herself
Write to Us
Readers Write..
Links/Link to Us
---
Advertise with us
---
Awards & Testimonials

Submissions Guide
---
Due to severe time constraints brought on by pressing family demands, we are unable to fulfill orders for cards until the 2007 holiday season. We apologize for any inconvenience. Your support of our efforts in the past is greatly appreciated and we hope you will come back to see what we have on offer next year.
Brian & Lisa Pickens
The Wily Trout

Irish Greeting Cards for a worthy cause.
by Bridget Haggerty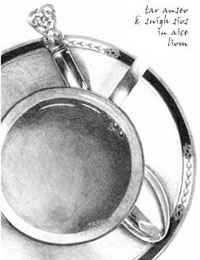 If you're looking for a novel way to send an Irish greeting – without shamrocks or leprechauns – you might consider sending a greeting in Irish* or a Christmas card. They make a unique alternative to ordinary commercial offerings, but best of all, they support the Children's Friendship Project for Northern Ireland (CFPNI) and proceeds from the sale of the cards go to support this very special cause.
*The greeting on the card shown translates: "Come sit down beside me."

The cards are created by a former Co. Galway resident, Brian Pickens. He and his wife Lisa researched a variety of organizations working in Northern Ireland, and chose to work with the New Mexico chapter of the CFPNI because it is non-sectarian and assists teenagers from all economic groups in all six counties.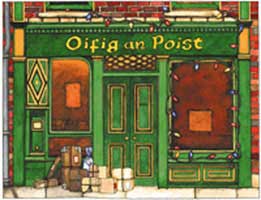 "People who stridently maintain that they are neutral on Northern Irish issues often say things to the kids that simply stun me. It's obvious they've chosen a "side", and terrifying that they have no idea what they are saying," Brian says. "But CFPNI is strictly non-sectarian and very well organized. I call it the "shut up and deal" approach. There is no political or religious agenda. Take some time matching kids with similar interests, then put them together, and get out of the way. It works. They may or may not be friends for life, but they have a chance to learn and understand just how much they have in common."

The CFPNI program is looking for people who would like to host two Northern Irish teenagers in their home for 4 weeks in the summer.

Host "parents" can be single people, retired couples, families with kids, or even two families sharing responsibility for the Northern Irish visitors. Only three requirements must be met:

*The home must be a politically and religiously neutral home in which the teens can explore their friendship;

*It must a safe home with day-long adult supervision;

*There must be a private bedroom for the teens to share with each other.

Many U.S. households have both adults working, so it can be difficult to find host families where there is always an adult around. Last year, the program reduced the teen visits from 6 weeks to 4 weeks, with the hope more families would be able to host.

The children and their families participate in a variety of activities in Northern Ireland, and as many as possible are selected for visits to the U.S. – although there are always children on the waiting lists who never get to come, due to the lack of host families. The CFPNI website says: "The friendships formed at home in Northern Ireland are aided and reinforced by the teenagers staying in a country where many differing cultures and religions live together in peace. From experience, it has been found that the young people who participate in our programme almost always learn that they have many more similarities in their lives, which bring them together, than the few minor differences, which too often keep them apart here."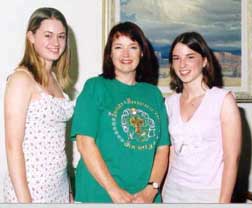 Participants are 15-18 years of age and come from all six counties of Northern Ireland, including the City of Belfast, and all socio-economic backgrounds; they are matched with a teen from the "other" religion who lives in their area, and together they participate in local activities. Their families are also involved, and attend local events to meet families of other CFPNI teens.

Host families can request girls or boys, and fill out applications which help Northern Irish coordinators match the children with families who share their interests. This year in New Mexico, we had two girls who love to hike and camp, and their very active host family took them up to Colorado and around New Mexico to experience our beautiful Southwestern scenery.

In general, host families are responsible for airfare for the kids, plus room and board for 4 weeks. If those rules were strictly applied, getting local host families could be extremely difficult; so the New Mexico branch raises money throughout the year to cover airfare, insurance and incidental expense money for special events. (Money earned from the sale of the greeting and Christmas cards is used for this.) All the kids raise their own spending money before they arrive.

For more information, and to locate your regional coordinator, you can visit the CFPNI website at www.cfpni.org. CFPNI is a registered non-profit organization, so cash donations are deductible, but sorry, purchases of these cards aren't, because you're getting something for your money.

To view the Irish greeting and Christmas card collection or to make a purchase, please click Irish Christmas Cards.

For more of our Holiday Stories click on the following links.
Advent/Christmas Holidays
Time at this Point in the Year
An Advent Memory
Yes, Kelsey and Maddie, there is a Santa Claus
Waiting for St. Nicholas
Christmas - Preparing the Puddings
Christmas - Food for the Feast
An Irish Christmas - Then & Now
An Irish Christmas - The Day Before
Memories of Christmas Eve Past
An Irish Christmas - Ding Dong Merrily On High
Irish Cards For Christmas
Seasons Greetings in Irish
St. Stephen's Day to New Year's Eve
New Year's Day to Epiphany
Many Years Ago by John B. Keane
Rowing to Christmas Mass
Burying the Baby Jesus
White Washed Walls
An East Cork Christmas


Wed, Jan 3, 2018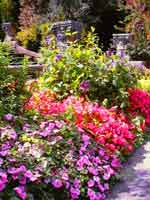 Ilnacullen, Co. Cork - an Island Garden
Located in the sheltered harbour of Glengarriff in Bantry Bay. Ilnacullin, which means island of holly, is a small island known to horticulturists and lovers of trees and shrubs all around the world as an island garden of rare beauty.
The vivid colours of Rhododendrons and Azaleas reach their peak during May and June, whilst the hundreds of cultivars of climbing plants, herbaceous perennials and choice shrubs dominate the midsummer period from June to August.
Because of its sheltered situation and the warming oceanic influence of the Gulf Stream, the climate is favourable to the growth of ornamental plants from many parts of the world.
Even for those who aren't particularly interested in gardens, there are many other scenic views, especially in the surrounding waters where seals frequent the rocks on the southern shore.
The cover photo on Bridget's book The Traditional Irish Wedding shows a wrought iron garden gate on Ilnaculen. I took that photo. To see it, go to the home page. It's part of the opening paragraph Failte.
—Russ
Resource: Copy and Image - Cork Guide

Click for More Culture Corner.