Traditions, folklore, history and more. If it's Irish, it's here. Or will be!
"People will not look forward to posterity who never look backward to their ancestors."
-Edmund Burke
---
Quotes

Library: Books, Movies, Music

Prints & Photos

Poetry

Jokes

---
---
Shops Ireland
---
Bunús na Gaeilge
(Basic Irish)

---
---
Did You Know?
---
Himself/Herself
Write to Us
Readers Write..
Links/Link to Us
---
Advertise with us

---

Help keep us free
Throughout the site you will see many items available for purchase from well-known merchants such as Amazon. Not interested in what we're featuring? It doesn't matter. Click on any link and then shop for whatever you wish - we will still get credit, if you buy something.
Thanks for your help.

---
Bunús na Gaeilge - Basic Irish Language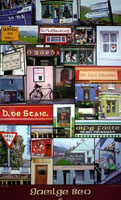 There is no other way to revive Irish than for a crowd of people to spread it.
- Douglas Hyde

Note: The spellings and pronunciations used are based on Aideen's own natural use of Connemara Irish but they have been kept simple, so as to be understood where there are differences in the language.
For example, the word 'feicfidh' is used only in Connemara Irish; in Leinster, Ulster and Munster the word is 'cífidh'. There are two pronunciations; Leinster/Munster - kee-fee; Ulster - chee-fee.

The biggest problem for people whose native language is English is that the soft 't' and 'd' are in Irish, but not in English; it's difficult to 'reproduce' them in writing. Where I use 'th' and 'dh' here, they are best achieved by putting your tongue gently behind your front upper teeth."

Click here for our words & phrases Index.

---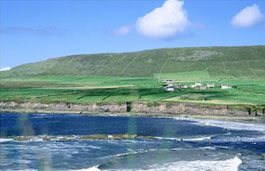 Lesson 64: Summertime

'Tis the season for fun in the sun! In this lesson, you'll find a slew of words and phrases related to everyone's favorite season - summertime!

Word: Summertime
Irish: ráithe an tSamhraidh
Pronunciation: raw-hyeh on thow-ree

Word: Summer
Irish: samhradh
Pronunciation: sow (as in cow)-rah

Word: Holidays/Vacation
Irish: saoire
Pronunciation: see-reh

Word: Beach
Irish: trá
Pronunciation: thraw

Word: Picnic
Irish: píoscrach
Pronunciation: pees-krahkh

Phrase: Picnic basket
Irish: ciseán píoscrach
Pronunciation: kish-awn pees-krahkh

Word: Swim/Swimming
Irish: Snámh
Pronunciation: snawv

Word: Swimmer
Irish: Snámhóir
Pronunciation: snawv-oh-ir

Phrase: Swimming costume/suit
Irish: culaith snámh
Pronunciation: kull-ah snawv

Phrase: Summer clothes
Irish: éide Samhraidh
Pronunciation: ay-djeh sow (as in cow)-ree

Word: Walk (verb)
Irish: siúl
Pronunciation: shool

Word: Walk (noun)
Irish: siúlóid
Pronunciation: shool-oh-idj

Word: Rain
Irish: báisteach
Pronunciation: baw-ish-tchukh

Word: Sky
Irish: spéir
Pronunciation: spare

Word: Boat
Irish: bád
Pronunciation: bawdh

Word: Yacht
Irish: luamh
Pronunciation: loov
Whether you say 'yacht' or 'luamh' racing or sailing yachts is a fun summertime pastime. Sailing enthusiasts can compare new and used Princess Yachts for sale with other models to find which Princess Yacht suits them best.

Word: Sailing
Irish: seol
Pronunciation: shohl

Word: Wind
Irish: gaoth
Pronunciation: gwee

Word: Sun
Irish: grian
Pronunciation: green

Word: Sunny
Irish: grianmhar
Pronunciation: green-wahr

Phrase: Sun hat
Irish: hata gréine
Pronunciation: hah-thah grayn-eh

Phrase: Sun burn
Irish: dóite gréine
Pronunciation: dhoh-tcheh grayn-eh

Word: Freckles
Irish: briciní
Pronunciation: brick-een-ee

Word: Sea/ocean
Irish: farraige
Pronunciation: fahr-ih-geh

Word: Seaside
Irish: cois fharraige
Pronunciation: kush ahr-ih-geh

Word: Shore
Irish: cladach
Pronunciation: klah-dhakh

Word: Sand
Irish: gaineamh
Pronunciation: gah-nyuv

Word: Dune
Irish: dumhach
Pronunciation: dhoo-ahkh

Word: Shell
Irish: sliogán
Pronunciation: shlug-awn

Word: Sandcastle
Irish: caisleán ghainimh
Pronunciation: kahsh-lawn ghah-nyiv (hard 'g')

Word: Waves/surf
Irish: tonnta
Pronunciation: thun-thah

Word: Wet
Irish: fluich
Pronunciation: flih-ukh

Word: Towel
Irish: tuáille
Pronunciation: thoo-awl-yeh

Seaweed
Irish: feamainn
Pronunciation: fah-min

Phrase: Blue sky
Irish: spéir ghorm
Pronunciation: spare ghurm (hard 'g')

Word: Ice
Irish: leac-oighre
Pronunciation: lahk-eye-reh

Word: Warm
Irish: bogthe
Pronunciation: bug-heh (an exception to the slender/broad spelling rule)

Word: Hot
Irish: te
Pronunciation: tcheh

Word: Heat
Irish: teas
Pronunciation: tchahs

Word: Heatwave
Irish: scallán teasa
Pronunciation: skah-lawn chasa

Word: Play (as in with toys or on the beach)
Irish: imirt
Pronunciation: im-irtj

Word: Fun
Irish: spraoi
Pronunciation: spree

Phrase: Summer bank holiday
Irish: Lá saoire bainc an tSamhraidh
Pronunciation: law see-reh bahnk on thow-ree

Phrase: We are going to Spain for our summer holidays
Irish: Béimíd ag dul go dtí An Spáin le haghaidh saoire an tSamhraidh
Pronunciation: by-midj egg dhull guh djee on spaw-in leh heye see-reh on thow-ree

Phrase: He was splashing about in the water
Irish: Bhí sé ag lapadáil san uisce
Pronunciation: vee shay egg lap-ah-dhaw-il sahn ish-keh

Phrase: The children love the beach
Irish: Is breá leis na páistí a beith cois trá.
Pronunciation: iss brah lesh na pawsh-tchee a veh kush thraw

Phrase: I'm going out to buy ice-cream
Irish: Táim ag dul amach chun uachtar reoite a cheannach
Pronunciation: thaw-im egg dul ah-mahkh khunn ookh-thahr-roh-cheh a khi-ahn-akh

Phrase: I hope we have fine weather next month
Irish: Tá súil agam go mbeidh aimsear breá againn an mhí seo chugainn
Pronunciation: thaw sool ah-gum gu mye eyem-shur braw ah-ginn (hard 'g') on vee shuh hug-inn

Phrase: It rarely gets very hot in Ireland
Irish: Ní minic a bhíonn aimsear ró-the in Éireann
Pronunciation: nee min-ik ah vee-un eyem-shur roh-heh in ay-run

Phrase: Can you swim?
Irish: Bhfuil snámh agat?
Pronunciation: will snawv ah-guth

Phrase: I can swim under water
Irish: Is féidir liom snámh idir dhá uisce. (literally: under two waters)
Pronunciation: iss fay-djir li-um snawv id-jir ghaw (hard 'g-) ish-keh

Phrase: We're going out sailing tomorrow
Irish: Táimid ag dul amach ag seoltóireacht amárach.
Pronunciation: thaw-meedj egg dhull ah-mahkh egg shohl-thor-ukhth ah-maw-rukh

Phrase: I sunbathe every morning
Irish: luím faoin ngrian gach maidin
Pronunciation: lee-im fween ngreen gahkh mah-djin

Image: Kerry Beach from AllPosters Posters and prints.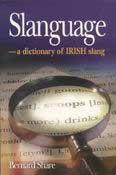 Note: This caught our eye. Yes, we know it isn't gaeilge, but it is fascinating. If nothing else, it is certainly language (and Irish language as well.)
Slanguage
by Bernard Share
...for all 'decent skins', 'crawthumpers', horse-protestants', 'hard chaws' and 'strong farmers'...a dictionary of Irish slang that's as amusing as it is informative.
Click here for Slanguage


For More Basic Irish please click here: Irish Index

Image: Gaeilge Beo from All Posters and Prints.


Mon, Oct 10, 2016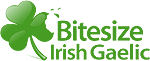 Start learning on line with a free trial!
Why Learn Irish with Bitesize Irish Gaelic?
Eoin is a native Irish speaker who you can listen to in the online lessons.
Sasa has helped develop the lessons from the perspective of a complete beginner.
Audrey has created conversation lessons to get you speaking Irish.
And last but certainly not least, they are proud of the Irish language and want more people to speak it.
Affordable, fun and effective - To learn more, Click Bitesize Irish


---
Irish Grammar
by Noel Mogonagle


This book is excellent for beginners who are wanting a book that gives basic grammar without all the extra information that confuses beginners. The book is well laid out, with information very easy to find. Amazon Reviewer

Here is a good follow-on to our words and phrases.
Click for Irish Grammar.

Irish - English
English - Irish
Dictionaries
Note: We have yet to see a dictionary with phonetic pronunciations for each word. We suspect this is partly due to the variations. Providing for all four 'green fields' (Connacht, Leinster, Ulster and Munster), would be cumbersome at best. Still, someone may do it some day. Until then, these are all very good and recommended. Serious students will have more than one; they are inexpensive.

These two (either or both) are the handy-references needed to go with a good grammar or 'teach yourself' course.
We would need both (and some other help) if found wandering in a Gaeltacht late at night.
Amazon has an offer of either one combined with a grammar for a reduced price.
Click for Collins Gem
Click for Oxford Pocket.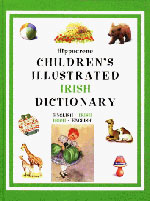 Children's Irish Dictionary
by Hippocrene Books
As a total beginner in Irish, this has taught me quite a few words. The illustrations are beautifully done, and best of all, each word is given a rough English spelling of its pronunciation. Edited from an amazon review.
Click here for Kid's Irish Dictionary.
---
Learning Irish
by Micheal O'Siadhail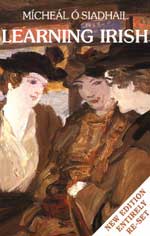 The Best Irish Course Available! Three years ago I decided to learn Irish, and in the next two years I bought three different courses. The first two were simply useless, (that's the obvious reason for my buying new courses) you could learn some phrases, but not construct sentences yourself. Learning Irish, on the other hand, is an excellent book, which gives you a thorough vocabulary and grammatical knowledge. It consists of 36 lessons, all containing vocabularies, grammar instructions, texts and excercises. Amazon Reviewer.

Click for Learning irish

---