Traditions, folklore, history and more. If it's Irish, it's here. Or will be!
"People will not look forward to posterity who never look backward to their ancestors."
-Edmund Burke
---
Quotes

Library: Books, Movies, Music

Prints & Photos

Poetry

Jokes

---
---
Shops Ireland
---
Bunús na Gaeilge
(Basic Irish)

---
---
---
Himself/Herself
Write to Us
Readers Write..
Links/Link to Us
---
Advertise with us

---

Help keep us free
Throughout the site you will see many items available for purchase from well-known merchants such as Amazon. Not interested in what we're featuring? It doesn't matter. Click on any link and then shop for whatever you wish - we will still get credit, if you buy something.
Thanks for your help.

---
Four

W.B. Yeats (b. June 13, 1865 - d. Jan. 28, 1939)


Read our small tribute to Yeats, click Tribute.

---
Among School Children
by William Butler Yeats

I walk through the long schoolroom questioning;
A kind old nun in a white hood replies;
The children learn to cipher and to sing,
To study reading-books and histories,
To cut and sew, be neat in everything
In the best modern way - the children's eyes
In momentary wonder stare upon
A sixty-year-old smiling public man.

I dream of a Ledaean body, bent
Above a sinking fire. a tale that she
Told of a harsh reproof, or trivial event
That changed some childish day to tragedy -
Told, and it seemed that our two natures blent
Into a sphere from youthful sympathy,
Or else, to alter Plato's parable,
Into the yolk and white of the one shell.

And thinking of that fit of grief or rage
I look upon one child or t'other there
And wonder if she stood so at that age -
For even daughters of the swan can share
Something of every paddler's heritage -
And had that colour upon cheek or hair,
And thereupon my heart is driven wild:
She stands before me as a living child.

Her present image floats into the mind -
Did Quattrocento finger fashion it
Hollow of cheek as though it drank the wind
And took a mess of shadows for its meat?
And I though never of Ledaean kind
Had pretty plumage once - enough of that,
Better to smile on all that smile, and show
There is a comfortable kind of old scarecrow.

What youthful mother, a shape upon her lap
Honey of generation had betrayed,
And that must sleep, shriek, struggle to escape
As recollection or the drug decide,
Would think her Son, did she but see that shape
With sixty or more winters on its head,
A compensation for the pang of his birth,
Or the uncertainty of his setting forth?

Plato thought nature but a spume that plays
Upon a ghostly paradigm of things;
Solider Aristotle played the taws
Upon the bottom of a king of kings;
World-famous golden-thighed Pythagoras
Fingered upon a fiddle-stick or strings
What a star sang and careless Muses heard:
Old clothes upon old sticks to scare a bird.

Both nuns and mothers worship images,
But thos the candles light are not as those
That animate a mother's reveries,
But keep a marble or a bronze repose.
And yet they too break hearts - O presences
That passion, piety or affection knows,
And that all heavenly glory symbolise -
O self-born mockers of man's enterprise;

Labour is blossoming or dancing where
The body is not bruised to pleasure soul.
Nor beauty born out of its own despair,
Nor blear-eyed wisdom out of midnight oil.
O chestnut-tree, great-rooted blossomer,
Are you the leaf, the blossom or the bole?
O body swayed to music, O brightening glance,
How can we know the dancer from the dance?

Broken Dreams
by William Butler Yeats

There is grey in your hair.
Young men no longer suddenly catch their breath
When you are passing;
But maybe some old gaffer mutters a blessing
Because it was your prayer
Recovered him upon the bed of death.
For your sole sake - that all heart's ache have known,
And given to others all heart's ache,
From meagre girlhood's putting on
Burdensome beauty - for your sole sake
Heaven has put away the stroke of her doom,
So great her portion in that peace you make
By merely walking in a room.
Your beauty can but leave among us
Vague memories, nothing but memories.
A young man when the old men are done talking
Will say to an old man, "Tell me of that lady
The poet stubborn with his passion sang us
When age might well have chilled his blood.'
Vague memories, nothing but memories,
But in the grave all, all, shall be renewed.
The certainty that I shall see that lady
Leaning or standing or walking
In the first loveliness of womanhood,
And with the fervour of my youthful eyes,
Has set me muttering like a fool.
You are more beautiful than any one,
And yet your body had a flaw:
Your small hands were not beautiful,
And I am afraid that you will run
And paddle to the wrist
In that mysterious, always brimming lake
Where those What have obeyed the holy law
paddle and are perfect. Leave unchanged
The hands that I have kissed,
For old sake's sake.
The last stroke of midnight dies.
All day in the one chair
From dream to dream and rhyme to rhyme I have
ranged
In rambling talk with an image of air:
Vague memories, nothing but memories.

To A Child Dancing In The Wind
by William Butler Yeats

Dance there upon the shore;
What need have you to care
For wind or water's roar?
And tumble out your hair
That the salt drops have wet;
Being young you have not known
The fool's triumph, nor yet
Love lost as soon as won,
Nor the best labourer dead
And all the sheaves to bind.
What need have you to dread
The monstrous crying of wind!

The Circus Animals' Desertion
by William Butler Yeats

I sought a theme and sought for it in vain,
I sought it daily for six weeks or so.
Maybe at last, being but a broken man,
I must be satisfied with my heart, although
Winter and summer till old age began
My circus animals were all on show,
Those stilted boys, that burnished chariot,
Lion and woman and the Lord knows what.

What can I but enumerate old themes,
First that sea-rider Oisin led by the nose
Through three enchanted islands, allegorical dreams,
Vain gaiety, vain battle, vain repose,
Themes of the embittered heart, or so it seems,
That might adorn old songs or courtly shows;
But what cared I that set him on to ride,
I, starved for the bosom of his faery bride.

And then a counter-truth filled out its play,
'The Countess Cathleen' was the name I gave it;
She, pity-crazed, had given her soul away,
But masterful Heaven had intervened to save it.
I thought my dear must her own soul destroy
So did fanaticism and hate enslave it,
And this brought forth a dream and soon enough
This dream itself had all my thought and love.

And when the Fool and Blind Man stole the bread
Cuchulain fought the ungovernable sea;
Heart-mysteries there, and yet when all is said
It was the dream itself enchanted me:
Character isolated by a deed
To engross the present and dominate memory.
Players and painted stage took all my love,
And not those things that they were emblems of.

Those masterful images because complete
Grew in pure mind, but out of what began?
A mound of refuse or the sweepings of a street,
Old kettles, old bottles, and a broken can,
Old iron, old bones, old rags, that raving slut
Who keeps the till. Now that my ladder's gone,
I must lie down where all the ladders start
In the foul rag and bone shop of the heart.

The Ballad Of Father Gilligan
by William Butler Yeats

The old priest Peter Gilligan
Was weary night and day;
For half his flock were in their beds,
Or under green sods lay.

Once, while he nodded on a chair,
At the moth-hour of eve,
Another poor man sent for him,
And he began to grieve.

"I have no rest, nor joy, nor peace,
For people die and die';
And after cried he, "God forgive!
My body spake, not I!'

He knelt, and leaning on the chair
He prayed and fell asleep;
And the moth-hour went from the fields,
And stars began to peep.

They slowly into millions grew,
And leaves shook in the wind;
And God covered the world with shade,
And whispered to mankind.

Upon the time of sparrow-chirp
When the moths came once more.
The old priest Peter Gilligan
Stood upright on the floor.

"Mavrone, mavrone! the man has died
While I slept on the chair';
He roused his horse out of its sleep,
And rode with little care.

He rode now as he never rode,
By rocky lane and fen;
The sick man's wife opened the door:
"Father! you come again!"

"And is the poor man dead?' he cried.
"He died an hour ago.'
The old priest Peter Gilligan
In grief swayed to and fro.

"When you were gone, he turned and died
As merry as a bird.'
The old priest Peter Gilligan
He knelt him at that word.

"He Who hath made the night of stars
For souls who tire and bleed,
Sent one of His great angels down
To help me in my need.

"He Who is wrapped in purple robes,
With planets in His care,
Had pity on the least of things
Asleep upon a chair.'


For more more W.B. Yeats poetry click Yeats Previous Page
or Yeats Next Page

For more Poetry Click the Poetry Index.

Four

Thu, Jul 9, 2015
No matter who does the collecting, the works stand on their own but this is an excellent compilation and well worth adding to your library.
Click here for Yeats.
---
1000 Years of Irish Poetry: The Gaelic and Anglo Irish Poets from Pagan Times to the Present
by Kathleen Hoagland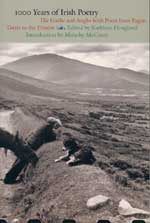 Interested in Irish Poetry?Here's the easy way to collect them all (well, almost all, anyway).
Malachy McCourt says in his introduction, "With the republication of this book, the Irish recover under their roof of stars all the great poets and writers who have been falsely claimed by the saxon crown and its minions - even our reprobates."
Amazon states this is out of stock. They still have used copies for almost nothing (except shipping - chuckle). If you would like a new edition, it was available at Powell's. We can't promise it's still there. Click here for Powell's 1000 Years.
Click here for used at Amazon.