Traditions, folklore, history and more. If it's Irish, it's here. Or will be!
"People will not look forward to posterity who never look backward to their ancestors."
-Edmund Burke
---
Quotes

Library: Books, Movies, Music

Prints & Photos

Poetry

Jokes

---
---
Shops Ireland
---
Bunús na Gaeilge
(Basic Irish)

---
---
---
Himself/Herself
Write to Us
Readers Write..
Links/Link to Us
---
Advertise with us

---

Help keep us free
Throughout the site you will see many items available for purchase from well-known merchants such as Amazon. Not interested in what we're featuring? It doesn't matter. Click on any link and then shop for whatever you wish - we will still get credit, if you buy something.
Thanks for your help.

---
Three

W.B. Yeats (b. June 13, 1865 - d. Jan. 28, 1939)


Read our small tribute to Yeats, click Tribute.

---

Under Ben Bulben
by William Butler Yeats

Swear by what the sages spoke
Round the Mareotic Lake
That the Witch of Atlas knew,
Spoke and set the cocks a-crow.

Swear by those horsemen, by those women
Complexion and form prove superhuman,
That pale, long-visaged company
That air in immortality
Completeness of their passions won;
Now they ride the wintry dawn
Where Ben Bulben sets the scene.

Here's the gist of what they mean.

Many times man lives and dies
Between his two eternities,
That of race and that of soul,
And ancient Ireland knew it all.
Whether man die in his bed
Or the rifle knocks him dead,
A brief parting from those dear
Is the worst man has to fear.
Though grave-diggers' toil is long,
Sharp their spades, their muscles strong.
They but thrust their buried men
Back in the human mind again.

You that Mitchel's prayer have heard,
"Send war in our time, O Lord!'
Know that when all words are said
And a man is fighting mad,
Something drops from eyes long blind,
He completes his partial mind,
For an instant stands at ease,
Laughs aloud, his heart at peace.
Even the wisest man grows tense
With some sort of violence
Before he can accomplish fate,
Know his work or choose his mate.

Poet and sculptor, do the work,
Nor let the modish painter shirk
What his great forefathers did.
Bring the soul of man to God,
Make him fill the cradles right.

Measurement began our might:
Forms a stark Egyptian thought,
Forms that gentler phidias wrought.
Michael Angelo left a proof
On the Sistine Chapel roof,
Where but half-awakened Adam
Can disturb globe-trotting Madam
Till her bowels are in heat,
proof that there's a purpose set
Before the secret working mind:
Profane perfection of mankind.

Quattrocento put in paint
On backgrounds for a God or Saint
Gardens where a soul's at ease;
Where everything that meets the eye,
Flowers and grass and cloudless sky,
Resemble forms that are or seem
When sleepers wake and yet still dream.
And when it's vanished still declare,
With only bed and bedstead there,
That heavens had opened.
Gyres run on;
When that greater dream had gone
Calvert and Wilson, Blake and Claude,
Prepared a rest for the people of God,
Palmer's phrase, but after that
Confusion fell upon our thought.
Irish poets, earn your trade,
Sing whatever is well made,
Scorn the sort now growing up
All out of shape from toe to top,
Their unremembering hearts and heads
Base-born products of base beds.
Sing the peasantry, and then
Hard-riding country gentlemen,
The holiness of monks, and after
Porter-drinkers' randy laughter;
Sing the lords and ladies gay
That were beaten into the clay
Through seven heroic centuries;
Cast your mind on other days
That we in coming days may be
Still the indomitable Irishry.

Under bare Ben Bulben's head
In Drumcliff churchyard Yeats is laid.
An ancestor was rector there
Long years ago, a church stands near,
By the road an ancient cross.

No marble, no conventional phrase;
On limestone quarried near the spot
By his command these words are cut:
Cast a cold eye
On life, on death.
Horseman, pass by!

The Fisherman
by William Butler Yeats

Although I can see him still.
The freckled man who goes
To a grey place on a hill
In grey Connemara clothes
At dawn to cast his flies,
It's long since I began
To call up to the eyes
This wise and simple man.
All day I'd looked in the face
What I had hoped 'twould be
To write for my own race
And the reality;
The living men that I hate,
The dead man that I loved,
The craven man in his seat,
The insolent unreproved,
And no knave brought to book
Who has won a drunken cheer,
The witty man and his joke
Aimed at the commonest ear,
The clever man who cries
The catch-cries of the clown,
The beating down of the wise
And great Art beaten down.
Maybe a twelvemonth since
Suddenly I began,
In scorn of this audience,
Imagining a man,
And his sun-freckled face,
And grey Connemara cloth,
Climbing up to a place
Where stone is dark under froth,
And the down-turn of his wrist
When the flies drop in the stream;
A man who does not exist,
A man who is but a dream;
And cried, "Before I am old
I shall have written him one
poem maybe as cold
And passionate as the dawn.'

The Second Coming
by William Butler Yeats

Turning and turning in the widening gyre
The falcon cannot hear the falconer;
Things fall apart; the centre cannot hold;
Mere anarchy is loosed upon the world,
The blood-dimmed tide is loosed, and everywhere
The ceremony of innocence is drowned;
The best lack all conviction, while the worst
Are full of passionate intensity.

Surely some revelation is at hand;
Surely the Second Coming is at hand.
The Second Coming! Hardly are those words out
When a vast image out of Spiritus Mundi
Troubles my sight: somewhere in sands of the desert
A shape with lion body and the head of a man,
A gaze blank and pitiless as the sun,
Is moving its slow thighs, while all about it
Reel shadows of the indignant desert birds.
The darkness drops again; but now I know
That twenty centuries of stony sleep
Were vexed to nightmare by a rocking cradle,
And what rough beast, its hour come round at last,
Slouches towards Bethlehem to be born?


The Stolen Child
by William Butler Yeats

Where dips the rocky highland
Of Sleuth Wood in the lake,
There lies a leafy island
Where flapping herons wake
The drowsy water-rats;
There we've hid our faery vats,
Full of berries
And of reddest stolen chetries.
Come away, O human child!
To the waters and the wild
With a faery, hand in hand,
For the world's morefull of weeping than you
can understand.

Where the wave of moonlight glosses
The dim grey sands with light,
Far off by furthest Rosses
We foot it all the night,
Weaving olden dances,
Mingling hands and mingling glances
Till the moon has taken flight;
To and fro we leap
And chase the frothy bubbles,
While the world is full of troubles
And is anxious in its sleep.
Come away, O human child!
To the waters and the wild
With a faery, hand in hand,
For the world's morefully of weeping than you
can understand.

Where the wandering water gushes
From the hills above Glen-Car,.
In pools among the rushes
That scarce could bathe a star,
We seek for slumbering trout
And whispering in their ears
Give them unquiet dreams;
Leaning softly out
From ferns that drop their tears
Over the young streams.
Come away, O human child!
To to waters and the wild
With a faery, hand in hand,
For to world's morefully of weeping than you
can understand.

Away with us he's going,
The solemn-eyed:
He'll hear no more the lowing
Of the calves on the warm hillside
Or the kettle on the hob
Sing peace into his breast,
Or see the brown mice bob
Round and round the oatmeal-chest.
For be comes, the human child,
To the waters and the wild
With a faery, hand in hand,
from a world more full of weeping than you.


For more more W.B. Yeats poetry click Yeats Previous Page
or Yeats Next Page

For more Poetry Click the Poetry Index.

Three

Thu, Jul 9, 2015
No matter who does the collecting, the works stand on their own but this is an excellent compilation and well worth adding to your library.
Click here for Yeats.
---
1000 Years of Irish Poetry: The Gaelic and Anglo Irish Poets from Pagan Times to the Present
by Kathleen Hoagland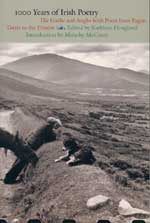 Interested in Irish Poetry?Here's the easy way to collect them all (well, almost all, anyway).
Malachy McCourt says in his introduction, "With the republication of this book, the Irish recover under their roof of stars all the great poets and writers who have been falsely claimed by the saxon crown and its minions - even our reprobates."
Amazon states this is out of stock. They still have used copies for almost nothing (except shipping - chuckle). If you would like a new edition, it was available at Powell's. We can't promise it's still there. Click here for Powell's 1000 Years.
Click here for used at Amazon.