Traditions, folklore, history and more. If it's Irish, it's here. Or will be!
"People will not look forward to posterity who never look backward to their ancestors."
-Edmund Burke
---
Quotes

Library: Books, Movies, Music

Prints & Photos

Poetry

Jokes

---
---
Shops Ireland
---
Bunús na Gaeilge
(Basic Irish)

---
---
---
Himself/Herself
Write to Us
Readers Write..
Links/Link to Us
---
Advertise with us

---

Help keep us free
Throughout the site you will see many items available for purchase from well-known merchants such as Amazon. Not interested in what we're featuring? It doesn't matter. Click on any link and then shop for whatever you wish - we will still get credit, if you buy something.
Thanks for your help.

---
Five

W.B. Yeats (b. June 13, 1865 - d. Jan. 28, 1939)


Read our small tribute to Yeats, click Tribute.

---
The Host Of The Air
by William Butler Yeats

O'Driscoll drove with a song
The wild duck and the drake
From the tall and the tufted reeds
Of the drear Hart Lake.

And he saw how the reeds grew dark
At the coming of night-tide,
And dreamed of the long dim hair
Of Bridget his bride.

He heard while he sang and dreamed
A piper piping away,
And never was piping so sad,
And never was piping so gay.

And he saw young men and young girls
Who danced on a level place,
And Bridget his bride among them,
With a sad and a gay face.

The dancers crowded about him
And many a sweet thing said,
And a young man brought him red wine
And a young girl white bread.

But Bridget drew him by the sleeve
Away from the merry bands,
To old men playing at cards
With a twinkling of ancient hands.

The bread and the wine had a doom,
For these were the host of the air;
He sat and played in a dream
Of her long dim hair.

He played with the merry old men
And thought not of evil chance,
Until one bore Bridget his bride
Away from the merry dance.

He bore her away in his arms,
The handsomest young man there,
And his neck and his breast and his arms
Were drowned in her long dim hair.

O'Driscoll scattered the cards
And out of his dream awoke:
Old men and young men and young girls
Were gone like a drifting smoke;

But he heard high up in the air
A piper piping away,
And never was piping so sad,
And never was piping so gay.


An Irish Airman Forsees His Death
by William Butler Yeats

I know that I shall meet my fate
Somewhere among the clouds above;
Those that I fight I do not hate,
Those that I guard I do not love;
My county is Kiltartan Cross,
My countrymen Kiltartan's poor,
No likely end could bring them loss
Or leave them happier than before.
Nor law, nor duty bade me fight,
Nor public men, nor cheering crowds,
A lonely impulse of delight
Drove to this tumult in the clouds;
I balanced all, brought all to mind,
The years to come seemed waste of breath,
A waste of breath the years behind
In balance with this life, this death.


A Prayer For My Daughter
by William Butler Yeats

Once more the storm is howling, and half hid
Under this cradle-hood and coverlid
My child sleeps on. There is no obstacle
But Gregory's wood and one bare hill
Whereby the haystack- and roof-levelling wind.
Bred on the Atlantic, can be stayed;
And for an hour I have walked and prayed
Because of the great gloom that is in my mind.

I have walked and prayed for this young child an hour
And heard the sea-wind scream upon the tower,
And-under the arches of the bridge, and scream
In the elms above the flooded stream;
Imagining in excited reverie
That the future years had come,
Dancing to a frenzied drum,
Out of the murderous innocence of the sea.

May she be granted beauty and yet not
Beauty to make a stranger's eye distraught,
Or hers before a looking-glass, for such,
Being made beautiful overmuch,
Consider beauty a sufficient end,
Lose natural kindness and maybe
The heart-revealing intimacy
That chooses right, and never find a friend.

Helen being chosen found life flat and dull
And later had much trouble from a fool,
While that great Queen, that rose out of the spray,
Being fatherless could have her way
Yet chose a bandy-legged smith for man.
It's certain that fine women eat
A crazy salad with their meat
Whereby the Horn of plenty is undone.

In courtesy I'd have her chiefly learned;
Hearts are not had as a gift but hearts are earned
By those that are not entirely beautiful;
Yet many, that have played the fool
For beauty's very self, has charm made wisc.
And many a poor man that has roved,
Loved and thought himself beloved,
From a glad kindness cannot take his eyes.

May she become a flourishing hidden tree
That all her thoughts may like the linnet be,
And have no business but dispensing round
Their magnanimities of sound,
Nor but in merriment begin a chase,
Nor but in merriment a quarrel.
O may she live like some green laurel
Rooted in one dear perpetual place.

My mind, because the minds that I have loved,
The sort of beauty that I have approved,
Prosper but little, has dried up of late,
Yet knows that to be choked with hate
May well be of all evil chances chief.
If there's no hatred in a mind
Assault and battery of the wind
Can never tear the linnet from the leaf.

An intellectual hatred is the worst,
So let her think opinions are accursed.
Have I not seen the loveliest woman born
Out of the mouth of plenty's horn,
Because of her opinionated mind
Barter that horn and every good
By quiet natures understood
For an old bellows full of angry wind?

Considering that, all hatred driven hence,
The soul recovers radical innocence
And learns at last that it is self-delighting,
Self-appeasing, self-affrighting,
And that its own sweet will is Heaven's will;
She can, though every face should scowl
And every windy quarter howl
Or every bellows burst, be happy Still.

And may her bridegroom bring her to a house
Where all's accustomed, ceremonious;
For arrogance and hatred are the wares
Peddled in the thoroughfares.
How but in custom and in ceremony
Are innocence and beauty born?
Ceremony's a name for the rich horn,
And custom for the spreading laurel tree.


September 1913
by William Butler Yeats

What need you, being come to sense,
But fumble in a greasy till
And add the halfpence to the pence
And prayer to shivering prayer, until
You have dried the marrow from the bone?
For men were born to pray and save:
Romantic Ireland's dead and gone,
It's with O'Leary in the grave.

Yet they were of a different kind,
The names that stilled your childish play,
They have gone about the world like wind,
But little time had they to pray
For whom the hangman's rope was spun,
And what, God help us, could they save?
Romantic Ireland's dead and gone,
It's with O'Leary in the grave.

Was it for this the wild geese spread
The grey wing upon every tide;
For this that all that blood was shed,
For this Edward Fitzgerald died,
And Robert Emmet and Wolfe Tone,
All that delirium of the brave?
Romantic Ireland's dead and gone,
It's with O'Leary in the grave.

Yet could we turn the years again,
And call those exiles as they were
In all their loneliness and pain,
You'd cry, "Some woman's yellow hair
Has maddened every mother's son':
They weighed so lightly what they gave.
But let them be, they're dead and gone,
They're with O'Leary in the grave.


Red Hanrahan's Song About Ireland
by William Butler Yeats

The old brown thorn-trees break in two high over Cummen Strand,
Under a bitter black wind that blows from the left hand;
Our courage breaks like an old tree in a black wind and dies,
But we have hidden in our hearts the flame out of the eyes
Of Cathleen, the daughter of Houlihan.

The wind has bundled up the clouds high over Knock- narea,
And thrown the thunder on the stones for all that Maeve can say.
Angers that are like noisy clouds have set our hearts abeat;
But we have all bent low and low and kissed the quiet feet
Of Cathleen, the daughter of Houlihan.

The yellow pool has overflowed high up on Clooth-na-Bare,
For the wet winds are blowing out of the clinging air;
Like heavy flooded waters our bodies and our blood;
But purer than a tall candle before the Holy Rood
Is Cathleen, the daughter of Houlihan.

The Magi
by William Butler Yeats

Now as at all times I can see in the mind's eye,
In their stiff, painted clothes, the pale unsatisfied ones
Appear and disappear in the blue depth of the sky
With all their ancient faces like rain-beaten stones,
And all their helms of silver hovering side by side,
And all their eyes still fixed, hoping to find once more,
Being by Calvary's turbulence unsatisfied,
The uncontrollable mystery on the bestial floor.


For more more W.B. Yeats poetry click Yeats Previous Page

For more Poetry Click the Poetry Index.

Five

Thu, Jul 9, 2015
No matter who does the collecting, the works stand on their own but this is an excellent compilation and well worth adding to your library.
Click here for Yeats.
---
1000 Years of Irish Poetry: The Gaelic and Anglo Irish Poets from Pagan Times to the Present
by Kathleen Hoagland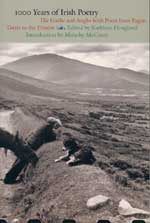 Interested in Irish Poetry?Here's the easy way to collect them all (well, almost all, anyway).
Malachy McCourt says in his introduction, "With the republication of this book, the Irish recover under their roof of stars all the great poets and writers who have been falsely claimed by the saxon crown and its minions - even our reprobates."
Amazon states this is out of stock. They still have used copies for almost nothing (except shipping - chuckle). If you would like a new edition, it was available at Powell's. We can't promise it's still there. Click here for Powell's 1000 Years.
Click here for used at Amazon.