Traditions, folklore, history and more. If it's Irish, it's here. Or will be!
"People will not look forward to posterity who never look backward to their ancestors."
-Edmund Burke
---
Quotes

Library: Books, Movies, Music

Prints & Photos

Poetry

Jokes

---
---
Shops Ireland
---
Bunús na Gaeilge
(Basic Irish)

---
---
Did You Know?
---
Himself/Herself
Write to Us
Readers Write..
Links/Link to Us
---
Advertise with us

---

Help keep us free
Throughout the site you will see many items available for purchase from well-known merchants such as Amazon. Not interested in what we're featuring? It doesn't matter. Click on any link and then shop for whatever you wish - we will still get credit, if you buy something.
Thanks for your help.

---
Potatoes

---
Boxty Pancakes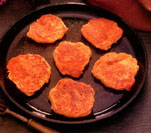 Boxty was traditionally eaten with freshly churned butter on St. Brighid's Day - February 1st. The word is from the Irish "Bacstai" and refers to the traditional method of grilling over an open fire. There's also a popular old rhyme associated with the term:
"Boxty on the griddle, Boxty in the pan,
if you can't make a Boxty, you'll never get your man."
The following recipes serve four to six.
Boxty
Ingredients:
8 oz potatoes freshly cooked in their jackets
8 oz peeled raw potatoes
2 cups white flour
1/4 teaspoon baking soda
1 to 1 1/2 cups buttermilk
Salt (optional)
Butter for frying.
Method:
Peel the cooked potatoes while still hot and mash.
Grate the raw potatoes and add to the mashed potatoes.
Add flour and soda. Add salt if desired.
Mix well and add enough buttermilk to make a stiff batter.
Heat a heavy frying pan and grease with butter.
Drop batter by spoonfuls onto heated pan and cook until crispy and golden brown on both sides.


Irish Farmhouse Potatoes
Contributed by Hartson Dowd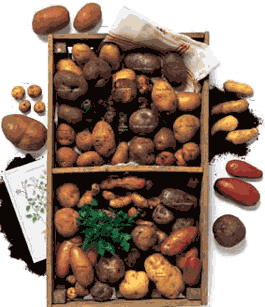 Irish raw materials are so good, we don't like to dress them up in fancy sauces that would mask their natural, wholesome taste. And what better way to treat our national vegetable, the potato, than to serve it simply.

There is a long established belief that Sir Walter Raleigh introduced the potato into Ireland in 1588, planting the first crop in his garden in Myrtle Grove, in Youghal, Co. Cork. They soon became a common item in the Irish diet.

The potatoes beloved of the Irish are not the waxy varieties, but the dry ones, whose skins crack towards the end of cooking – referred to as 'balls of flour', or 'smiling spuds.' Favorite varieties of potato are Home Guard, Aran Banners, Kerr's Pink, Golden Wonders, and British Queens.

Potatoes were easily grown in Ireland and with only an acre or two of land, a farmer could grow enough potatoes to support his whole family.

Scalloped Potatoes
Serves 8 to 10

Thinly sliced potatoes layered with cream and baked until they are bubbling and browned are a classic accompaniment to a holiday ham or roast beef. Although the supermarket shelves are lined with "add water, heat, and serve" versions of scalloped potatoes, making them from scratch doesn't have to take much time, and the differences in flavor and texture are tremendous. For the fastest and most consistent results, slice the potatoes in a food processor.

Ingredients:
2 tablespoons unsalted butter
1 small onion, minced
2 medium garlic cloves, minced (about 2 teaspoons)
3 cups heavy cream
1 cup whole milk
4 sprigs fresh thyme
2 bay leaves
2 teaspoons salt
1/2 teaspoon ground black pepper
4 pounds russet potatoes, peeled and cut into 1/8-inch-thick slices
1cup shredded cheddar cheese (about 4 ounces)

Method:
1. Heat oven to 350 degrees. Meanwhile, melt butter in large Dutch oven over medium-high heat until foaming subsides, about 1 minute. Add onion and sauté until it turns soft and begins to brown, about 4 minutes. Add garlic and sauté until fragrant, about 30 seconds. Add cream, milk, thyme, bay leaves, salt, pepper, and potatoes and bring to simmer. Cover, adjusting heat as necessary to maintain light simmer, and cook until potatoes are almost tender (paring knife can be slipped into and out of center of potato slice with some resistance), about 15 minutes.
2. Remove and discard thyme sprigs and bay leaves. Transfer potato mixture to 3-quart gratin dish and sprinkle with cheese. Bake until cream has thickened and is bubbling around sides and top is golden brown, about 20 minutes. Cool for 5 minutes before serving.


Scallop Pie with Potato Crust
This Irish version is extremely tasty for holiday dinners as the potato crust gives it a wholesome touch. It's nice served as a main-dish casserole or in individual baking shells as a first course.

Ingredients:
3 boiling potatoes, peeled and cut into 1-inch pieces
1 pound of bay scallops
1-1/4 cups of milk
2 tablespoons butter
1 tablespoon all-purpose flour
Salt and freshly ground pepper to taste
8 ounces of white mushrooms, sliced
One-quarter cup of dry sherry

Method:
Preheat the oven to 350F
1. Cook the potatoes in boiling salted water until tender, 12 to 15 minutes.
Drain and mash. Set aside.
2. Rinse the scallops and pat dry with paper towels. In a small skillet, bring the milk to a simmer over medium heat and then add the scallops, and cook until the scallops are opaque, 12 to 15 minutes. Strain and reserve the scallops and liquid.
3. In a small saucepan, melt 1 tablespoon of the butter over medium heat. Stir in the flour, then gradually whisk in the reserved liquid. Cook 2 to 3 minutes. Season with salt and pepper. Reduce heat to a simmer, add the mushrooms and cook until the sauce thickens, about 10 minutes. Stir in the sherry and the scallops.
4. Pour the mixture into an ovenproof casserole dish or spoon into 8 ovenproof scallop shells and cover with the mashed potatoes, making sure they cover the mixture right to the edges
5. Dot with the remaining 1-tablespoon butter
6. Bake until the top begins to brown, 15 to 20 minutes.

Image: Potatoes Print from All Posters


---
St. Paddy's Green Potato Cakes With Pale Green Horseradish Drizzle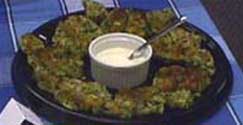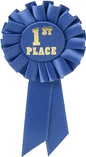 St. Patrick's Day may be long gone by, but we were delighted to learn that our resident Irish recipe collector and developer, Hartson Dowd, was just awarded first place in the "All Things Green & Yummy Contest" on the 50Plus website. So, you can tuck this one away for next year - or, better yet, why not try it now?

"The Irish-American custom of serving green food on St. Patrick's Day can be taken to extremes, with most of the green coloring coming from chemical dyes, or food coloring. But this variation of those traditional Irish Potato Cakes blends in naturally green spinach with a touch of tarragon for zest. Drizzle these Irish cakes with the pale green Horseradish-Sour Cream Sauce and your family will be asking for seconds." H. Dowd

Ingredients:
1-1/2 pounds boiling potatoes, cut into 2-inch pieces
2 teaspoons salt for boiling
1 (10-ounce) package of frozen chopped spinach
3 tablespoons unsalted butter
2 tablespoons cream
3 tablespoons all-purpose flour
1/2 teaspoon dried tarragon
salt and pepper
2 tablespoons vegetable oil

Method:
1. Heat oven to 200 degrees F
2. Line a baking sheet with paper towels
3. Bring a large pot of water (about 4 quarts) to a boil. Stir in 2 tablespoons salt.
4. Add the potatoes and cook until tender, about 12 minutes. Drain. Place the potatoes in a large bowl.
5. While the potatoes are cooking, thaw the spinach in a microwave. Place the spinach in a sieve over a bowl and press out as much water as possible. Reserve the spinach water for the Pale Green Horseradish Drizzle
6. Heat the butter and cream gently until melted. (A heatproof measuring cup in a microwave on low setting works well for this. Check every minute or so until the butter is melted.)
7. Mash the potatoes together with the spinach, butter mixture, flour, tarragon, and salt and pepper to taste.
8. On a lightly floured surface, pat the mixture into 1-inch cakes, about 3-1/2-inches across. This mixture makes about 12 cakes.
9. Heat the oil in a large heavy skillet on medium-high until hot. Brown the cakes on both sides, about 2 minutes per side, making sure they don't burn.
10. Drain the cooked cakes on the paper towel-lined baking sheet. Keep the potato cakes warm in the oven until all the cakes are made.

Pale Green Horseradish Drizzle
Mix together 4 teaspoons spinach water (reserved from the pancake recipe), 2 teaspoons sour cream and 1/2 teaspoon prepared horseradish until smooth. The mixture will be thin.
Drizzle it over the pancakes right before serving if using as a dinner entrée. If using the pancakes as an appetizer, drizzle a small amount on the plate and set 2 pancakes on top Serve pancakes hot with the Pale Green Horseradish Drizzle. Yield: About twelve 3 to 3-1/2-inch pancakes.

Image: Platter of Potato Cakes from the 50plus.com website
---
Maple Sweet Potato Casserole
Ingredients:
Sweet potatoes
Butter
Brown sugar
Maple syrup
Peel the sweet potatoes and cut into one inch pieces. Steam over boiling water for about 10 minutes, until not completely tender. Arrange in a buttered gratin dish and dot with pieces of butter. Sprinkle lightly with brown sugar and drizzle with maple syrup. Bake at 350 F for 30 to 45 minutes, until the potatoes are tender and glazed with the sugar and syrup.
Recipe adapted from one created by Irish chefs, Herb and Christine Quigley, of Ballycormac House, Co. Tipperary.
---
Colcannon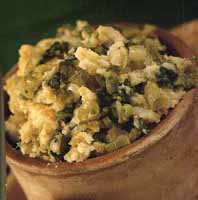 Traditionally eaten on Hallowe'en, this dish is so popular that poems have been written and songs sung in its honor. The Black Family has a really great version of the famous Colcannon song; in fact the entire CD is outstanding (See our Music Library - The Black Family). Here are the main verses:
Did you ever eat Colcannon
When t'was made with yellow cream,
And the kale and the praties blended
Like the picture in a dream?
Did you ever take a forkful
And dip it in the lake
Of heather-flavoured butter
That your mother used to make?

While there are a number of ways to make it - some made with kale, some with a combination of both, and some with cabbage, we like the one that follows which is adapted from Darina Allen's Festive Foods of Ireland cookbook.

Ingredients:
2-2 1/2 lbs of floury potatoes
1 small head of green cabbage
1 cup milk
2 or more tablespoons chopped green onions
1/2 stick butter
Salt and pepper to taste Method:
1. Scrub potatoes and leave skins on. Place in cold water with a generous pinch of salt, cover and bring to a boil.
2. When the potatoes are about half done, (about 15 minutes), strain off two thirds of the water. Replace lid and place on a gentle heat and allow potatoes to steam until they are cooked.
3. Discard the dark outer leaves of the cabbage. Wash the rest and cut into quarters; remove the core and cut finely across the grain. Cook in a little boiling salted water until soft. Drain, then season with salt and pepper and a little of the butter.
4. When the potatoes are cooked, put the milk into saucepan with the green onions and bring to the boil. Pull the skins off the potatoes, mash quickly and beat in enough of the hot milk to make a fluffy purée.
5. Stir in the cooked cabbage and taste for seasoning.
6. Serve in a heated dish; make a well in the center and add the remaining butter. Note: Today, many an Irish mother persuades her children to eat their colcannon by wrapping coins in heat-proof paper and hiding them in the dish; in the old days, the rural folk often placed a wedding ring in the colcannon; the first single person to get the ring would marry within the year. It was also customary, before going to bed on Hallowe'en, to put out a plateful of colcannon with a lump of butter in the center for the fairies and the ghosts.
For another traditional Halloween treat, please click Barmbrack.



Champ: A Traditional Alternative to Colcannon
by Bridget Haggerty

While Colcannon is most-often mentioned when considering a menu for Hallowe'en, Champ is just as authentic. The main difference is the substitution of scallions or other greens for the kale or cabbage.

In her fascinating book, The Cookin' Woman*, Florence Irwin gives no less than five versions of this dish - Champ made with nettles, chives, parsley, peas, as well as scallions. She concludes her recipes with the following observation: "The main thing about Champ is it must be kept very hot while being made and served on very hot plates, and accompanied with good butter, and milk or buttermilk to drink."

In contemporary Irish cookbooks, both Colcannon and Champ are often relegated to the realms of side-dishes, but in the old tomes, such as Irwin's work, they're meals in themselves. That comes as no surprise to this writer. On a dreary, often damp and cold evening in Ireland, nothing surpasses either Champ or Colcannon for comfort food at its best.

Of course, you can also get a bit fancy and add other ingredients. Ms. Irwin follows the main recipes with Champ and Scrambled Eggs, as well as Champ and Poached Eggs. "Make a "dunt" in the center of the potatoes and place the eggs in the hole."

For an even more elaborate version with the poached eggs, we suggest sprinkling the dish with grated sharp cheese and broiling it until the cheese is melted and the potatoes are crusty and flecked with brown. Served with Irish pork sausages or rashers of bacon and you have not just a meal but a banquet!

Ingredients:
Serves 2 as a meal or 4 as a side dish

1-1/2 lbs. potatoes
Greens for flavoring
About 1 cup milk
Salt and black pepper

Method:
1. Peel the potatoes and set in a pot with a tight lid. Mix a half teaspoon of salt into a cup of water and pour over the potatoes. Bring to a boil, lower the heat until the water's simmering, and cook for about twenty minutes, or until the water is gone and the potatoes are cooked through. Experience will teach the exact amount of water to use; the trick is to catch the potatoes just before they scorch.

2. Meanwhile, prepare the milk and greens mixture.
Scallions: 1 bunch (6 to 8), minced, including the part of the green that isn't wilted or damaged. While those who love scallions can mash them into the potatoes uncooked in the traditional Irish fashion, Irwin suggests that anyone bothered by their acrid aftertaste (and digestive effects) not only cook them in the milk but first put them into a bowl, sprinkle them with a little salt, and pour boiling water onto them. Drain this away and add the scalded scallion bits to the milk. Bring this just to a simmer and hold it there for five minutes until the flavour has suffused through the milk.

Chive: One quarter cup, minced. Again, these are traditionally beaten into the potatoes uncooked, but those who would like them a little tamer should simmer them in the milk for five minutes before working the mixture into the potatoes.

Peas. One cup baby peas. Cook in the milk until tender, about six minutes. Then, as you prefer, either mash these into the champ with the milk or strain out and reserve to be stirred in whole just before serving.

Parsley. A quarter cup, finely minced. Heat for three minutes in the milk and proceed.

Nettles. Choose only the tender tops; wash and chop finely. Simmer for ten minutes in the milk.

3. When the potatoes are ready, mash them by hand until they are smooth. Then, over the heat so that the champ remains piping hot, work in the milk and greens mixture. The consistency should be thick but creamy - add more milk if necessary. Season well with salt and black pepper. Eat your bowl of champ with plenty of fresh butter (Irish, if possible) and wash it down with a tall glass of cold buttermilk.

NOTE: The Cookin' Woman: Irish Country Recipes by Florence Irwin is out of print but we did find copies available in amazon's marketplace.

For more on the potato and more recipes click Potatoes 2.



Thu, Jul 9, 2015
---
"...the freshest of food and
the oldest of drink"
- Irish Proverb
The New Irish Table
by Margaret Johnson



Margaret Johnson's love of Ireland permeates page after glorious page of mouthwatering Irish dishes, from Smoked Salmon Chowder to Raspberry Buttermilk Tarts. Lavish color photographs of the food, the landscapes, and the people are woven through the text, making The New Irish Table the next best thing to sitting down to dinner in Ireland itself.
Click here for New Irish Table.