Traditions, folklore, history and more. If it's Irish, it's here. Or will be!
"People will not look forward to posterity who never look backward to their ancestors."
-Edmund Burke
---
Quotes

Library: Books, Movies, Music

Prints & Photos

Poetry

Jokes

---
---
Shops Ireland
---
Bunús na Gaeilge
(Basic Irish)

---
---
Did You Know?
---
Himself/Herself
Write to Us
Readers Write..
Links/Link to Us
---
Advertise with us

---

Help keep us free
Throughout the site you will see many items available for purchase from well-known merchants such as Amazon. Not interested in what we're featuring? It doesn't matter. Click on any link and then shop for whatever you wish - we will still get credit, if you buy something.
Thanks for your help.

---
---
Breads - page One

---
Barm Brack.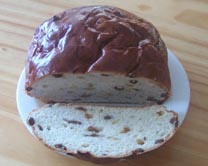 This recipe comes from Aideen, the generous soul who provides the translations and pronunciations for our Irish language pages. Traditionally baked for Hallowe'en, some of the 'lucky' ingredients used and their 'significance' vary from house to house and region to region, so I've given the ones we always used. Two never change - the ring and the coin! Some houses use a pea and a bean for wealth and poverty, a thimble for spinsterhood etc. I have read of a religious medal, to forecast a life in Holy Orders, but I can honestly say I can never remember it being used!

If you're in the USA, you may be used to children having pumpkins for their lanterns.That's not a usual vegetable in Ireland and a hollowed-out turnip is always used. Apart from the Barm Brack, we don't really have any special foods but apples and nuts are always on the table, usually for playing games like 'bob-apple', where apples are put in a big basin of water and the kids have to bite them with their hands behind their backs. It's really only children who celebrate Hallowe'en and the main meal for them in the early evening is more of a 'High Tea' than dinner, with the Barm Brack being the centrepiece and the finding of the 'lucky charms' in it being the high point of the fun.


Barm Brack - Arán Breac (Speckled Bread)
Ingredients:
1 lb flour
6 oz sugar
1 lb mixed dried fruit
1 tsp baking powder
1 egg
1 tsp all spice/mixed spice
Pot of hot Irish tea

The 'lucky' ingredients
- a 'gold' ring, to foretell marriage within a year
- a small coin, to forecast wealth
- a small piece of cloth to forecast poverty
- a little piece matchstick to forecast the husband will beat his wife
- a thimble to forecast spinsterhood
- a button to forecast bachelorhood

Method:
Wrap each 'lucky' item carefully in greaseproof and/or tissue paper.
The trick to making a Barm Brack is the soaking of fruit overnight in the
tea. While this makes the dried fruit softer and more appealing in general,
one must be careful when mixing the dough not to over-knead or the
rehydrated fruit will break too much. Add the sugar and egg to the fruit mix the next day. Sift in the remaining dry ingredients. Mix gently. Stir in the wrapped 'lucky' items and try to distribute them evenly. Use a 7" round
baking tin at 350°F for 80 minutes. Cool on a wire rack.

The Brack can be made up to a week in advance and stored in an air-tight
container. It is traditional that only he/she who has baked the cake should
cut and serve the slices, as only he/she may know where are the 'lucky'
items and will distribute them equitably!!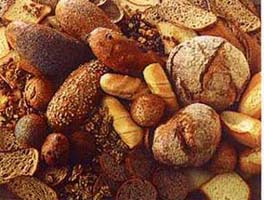 Old-Fashioned Potato Bread
If you live in Ireland or have ever visited, you already know that there's far more to Irish baking than the traditional Soda Bread. From Barm Brack to St. Brigids's Oat cakes, our Irish kitchen bread section offers a wide variety of recipes to accommodate the custom of serving bread at every meal. For example, this recipe for Old Fashioned Potato Bread is the perfect accompaniment to Irish Stew.

Ingredients:
1-1/2 cups water
1 medium potato, peeled and cubed
1 cup buttermilk or sour milk
3 tablespoons sugar
2 tablespoons margarine or butter
2 teaspoons salt
6 to 6-1/2 cups all-purpose flour
2 packages active dry yeast
All-purpose flour


Method:
1. In a saucepan combine the water and potato. Bring to boiling. Cook,
covered, about 12 minutes or until very tender. Do not drain. Mash potato in the water. Measure the potato-water mixture. If necessary, add additional water to make 1-3/4 cups total. Return mixture to saucepan. Add buttermilk, sugar, margarine or butter, and salt. Heat or cool as necessary to 120 to 130 degrees F.
2. In a large bowl combine 2 cups of the all-purpose flour and the yeast. Add the potato mixture. Beat with an electric mixer on low to medium speed for 30 seconds, scraping bowl. Beat on high speed for 3 minutes. Using a spoon, stir in as much of the remaining 6 to 6-1/2 cups of all-purpose flour as you can.
3. On a lightly floured surface, knead in enough of the remaining 6 to 6-1/2 cups of all-purpose flour to make a moderately stiff dough that is smooth and elastic (6 to 8 minutes total). Shape into a ball. Place in a greased bowl; turn once to grease surface. Cover and let rise in a warm place until double (45 to 60 minutes).
4. Punch dough down. Turn out onto a lightly floured surface. Divide in half.
Cover and let rest for 10 minutes. Lightly grease two 8x4x2-inch loaf pans. Shape each half of dough into a loaf. Lightly dip tops of loaves in the
additional all-purpose flour. Place in prepared loaf pans, flour side up.
Cover and let rise until nearly double (about 30 minutes).
5. Bake in a 375 degrees F oven for 35 to 40 minutes or till done (if necessary, cover with foil the last 15 minutes of baking to prevent over-browning). Remove bread from pans and cool on a wire rack. Makes 2 loaves


Paddy O'Tool's Guinness Beer Bread
(Fine texture, good taste Paddy says people who don't like licorice can use dill or caraway seeds instead of fennel, but it would be a real shame.)
Photo Credit: Lien's Notes - for illustration purposes only

Ingredients

1/4 cup warm water
2 tablespoons dry yeast
1-3/4 cups Guinness, which finishes a small bottle; Paddy points out that if you open a quart, you've got some to finish yourself.
1/4 cup melted shortening
1/4 cup molasses
1 teaspoon salt
1 tablespoon fennel seeds
3-1/2 cups rye flour
2 or 2-1/2 cups white flour

Method
First he puts the warm water in a cup and stirs in the yeast. Then he beats the beer and shortening together in a little saucepan till they're warm. He pours this into the big bowl with the red roses on it that used to be the washbowl in Grandmaw's bedroom, then adds the molasses, salt, seeds, and the yeast mix. After he's stirred it some, he starts in on the flour - adds all the rye, beats it good, adds enough white flour so he can handle it, and kneads it for ten minutes. Good for the biceps and the bread too. Next, he puts it in a warm, greased bowl, covers it, lets it rise an hour, punches it down, and lets it rise again for forty minutes. Then he shapes a round loaf to put in a greased casserole dish, and a long skinny loaf to put on a greased cookie sheet, and bakes at 400 degrees F. The skinny one is done in about thirty-five minutes; the round loaf takes about an hour.

Paddy O'Tool's Sour Milk Bread
This is one form of soda bread; good to know about if you're out of yeast and the milk's gone west. This is a good dependable loaf. If the milk isn't sour yet, add a good spoonful of vinegar to sweet milk and use that. Or use a mixture of yoghurt and sweet milk. You can also use all white flour, if you like, or all whole-wheat, though a mixture of both is better.

Ingredients
1-1/2 cups white all-purpose flour
1-1/2 cups whole-wheat flour
1 teaspoon baking soda
1 teaspoon salt
3 tablespoons butter
1-1/2 cups sour milk

Method
Mix well till it's soft and not-too-wet dough, then put it in a greased loaf tin (making a little trough down the middle so it will rise evenly) or put it in a round heap on a baking sheet. Bake at 375 to 400 degrees for about an hour.

The O'Douds tell us that we wouldn't believe what they learned from staying at the O'Tools Bed and Breakfast in An Rinn, a small village in Co. Waterford on the southeast coast of Ireland. At least, they didn't know this till they tried it. You know how you grew up not putting bananas in the refrigerator? Well anytime you're "overbananad", freeze them. That's right, wrap them separately in aluminum foil and they'll keep for weeks without the skins turning black, and, frozen, they taste exactly like banana ice cream.

Tillie O'Tool's Fast Banana Bread
(Rich and cakelike; fine toasted.)

Ingredients
1 egg beaten
1/2 cup milk
3 cups biscuit mix
1 cup mashed ripe bananas
1 cup sugar
3/4 cup chopped nuts

Method
Beat the egg, add the milk, then add everything else. Mix it up, pour it into a good-sized greased loaf pan. Bake for an hour at 350 degrees. Or use two smaller pans and bake 45 minutes.

Tillie O'Tool's Easy Banana Jam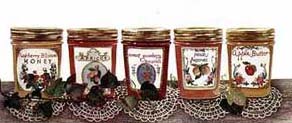 (Good on toast or ice cream, excellent in peanut butter sandwiches.)

Ingredients
6 very ripe bananas, mashed and the juice of 6 lemons.
Now add 1 cup sugar to every cup of banana-juice mixture and set it on low heat. Cook it about an hour, stirring frequently. If it turns pink, don't be upset; it depends on what kind of bananas they are.
Skim off the froth as the jam cooks. Then refrigerate it if you are going to eat it pretty soon, as you probably will. Or pour it into sterilized jars and seal it with paraffin.

"Bread without jam ain't bread" - Paddy O'Tool

Image: Breads from All Posters and Prints.
More Bread Recipes - Page Two

Thu, Jul 9, 2015
---
"...the freshest of food and
the oldest of drink"
- Irish Proverb
The New Irish Table
by Margaret Johnson



Margaret Johnson's love of Ireland permeates page after glorious page of mouthwatering Irish dishes, from Smoked Salmon Chowder to Raspberry Buttermilk Tarts. Lavish color photographs of the food, the landscapes, and the people are woven through the text, making The New Irish Table the next best thing to sitting down to dinner in Ireland itself.
Click here for New Irish Table.