Traditions, folklore, history and more. If it's Irish, it's here. Or will be!
"People will not look forward to posterity who never look backward to their ancestors."
-Edmund Burke
---
Quotes

Library: Books, Movies, Music

Prints & Photos

Poetry

Jokes

---
---
Shops Ireland
---
Bunús na Gaeilge
(Basic Irish)

---
---
Did You Know?
---
Himself/Herself
Write to Us
Readers Write..
Links/Link to Us
---
Advertise with us

---

Help keep us free
Throughout the site you will see many items available for purchase from well-known merchants such as Amazon. Not interested in what we're featuring? It doesn't matter. Click on any link and then shop for whatever you wish - we will still get credit, if you buy something.
Thanks for your help.

---
---
Potatoes 2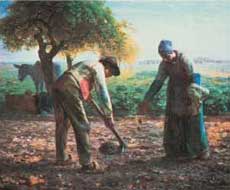 Spiced Roasted Potatoes for Sunday Dinner
Contributed by Hartson Dowd

The tradition of Sunday Dinner in Ireland is still upheld in many families. It is usually eaten in the middle of the day and should consist of a roasted joint of meat, with gravy and roast potatoes, one or two vegetables, and dessert. Apple tart with lots of cream is always a popular choice. The Sunday dinner is considered a good opportunity to have the entire family in one place at the same time, to sit down, eat, and natter in a hopefully civilized manner.

My Grandfather had a theory based on the simple tenet that the entire production of Sunday dinner revolved around the roasting of potatoes. He often mentioned that the marvelous smell of them reminded him of those roasted potatoes being cooked and sold in the streets of Mellick.

Different varieties of potatoes lend themselves to different cooking methods. Golden Wonders are perfect for roasting; as they become crispy on the outside with a nice, floury inside. They must be cooked in drippings (the fat that has been collected over a period of roast dinners and stored in the fridge) in a preheated oven in a roasting pan, with the meat in the center. If the joint is larger than 3 pounds, then that must be put in on its own first. The potatoes will take 1 hour to 1 hour and twenty minutes to achieve the golden brown effect, and they must be turned over and basted half way through.

When you have transferred the cooked meat and the potatoes onto serving dishes and put them in the oven to keep warm, it is time to make the gravy in the roasting pan on the top of the stove. Dinner should be served as soon as the gravy is made, otherwise the potatoes will be like those served in hotel dining rooms, which are awful.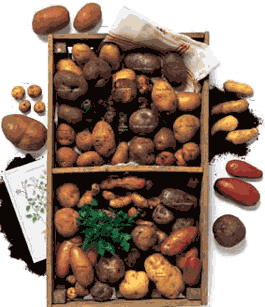 Spiced Roast Potatoes

Ingredients:
8 medium potatoes - Golden Wonders, if available
3 tablespoons sunflower oil
2 cloves garlic-crushed
1 tsp. ground cumin
2 tsp. ground turmeric
Salt and black pepper

Method:
1. Peel the potatoes and halve if necessary so that they are roughly the one size
2. Put into a pot of cold water and bring to the boil
3. Boil briskly for 5 minutes only, then drain well
4. Mix the spices with the garlic and 1 tablespoon sunflower oil. Put this mixture back into the pot with the drained potatoes
5. Put on the lid, then shake the pot to roughen the outsides of the potatoes and coat them with the oil, garlic and spices
6. Heat the oven to Gas 6, 200 C, 400 F
7. Heat a roasting pan in the oven until very hot
8. Pour on to it 1 tablespoon of sunflower oil and then spoon on the potatoes
9. Dribble over another tablespoon of the oil and then put the potatoes in the oven. Test them after 45 minutes.They should be crisp and crusty on the outside and soft and floury in the middle

Notes on Irish Potatoes

The potato is still an integral part of our culture, our folklore and our civilization. Nowadays, it's not unusual to be served potato cooked in three different ways as part of a meal in a country hotel - mashed, roasted and as chips (French Fries).

Yet the search for a really good potato as we once knew it becomes ever more difficult; many old varieties have been lost beause their low yields meant that they were not commercially viable. Consequently, they were disregarded in an ever intensifying battle to compete against cheap imports. Sadly, many Irish potato growers got locked into an impossible Catch 22 situation. In a desperate effort to boost yields, they increased the nitrogen levels, but the resulting potatoes, although bigger, had less flavour, and kept less well. The Irish housewife has increasingly turned to pasta and rice, fed up with having to discard a percentage of almost every bag of potatoes she bought.

It's like everything else, if we want potatoes like 'they used to be' we need to seek out old varieties, and farmers who use little or no nitrogen. Most importantly, we need to to be willing to pay more for them because really good Irish potato varieties yield less but taste better. Look out for British Queens, Kerrs' Pink in August, and floury Golden Wonders in the Autumn. If you are fortunate enough to have a farmers' market in your area, you may find a passionate grower with small quantities of splendid old varieties.

And if you're lucky enough to live in Ireland, The Ballycotton area has long been famous for its potatoes. If you'd like to taste an almost forgotten flavour, call to Patrick Walsh's farm in Shanagarry, Co Cork, or join the queue around Willie Scannell's stall in the Midleton Farmers' Market every Saturday from 9am-1.30pm.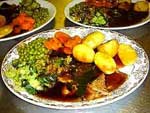 When Bridget was growing up in England, her mother roasted a potato variety called King Edwards. We don't know if they're still available, but they made for delicious roasters.

Images:
Roast beef dinner - Oakdene Cafe
Planting Potatoes by Jean-Francois Millet and Potato varieties art print Are available from Barewalls Photos & Prints.

Any purchase made helps to support our site (and Bridget's fondness for tea towels). Thank you.


Thu, Jul 9, 2015
---
"...the freshest of food and
the oldest of drink"
- Irish Proverb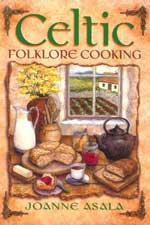 Celtic Folklore and Cooking
by Joanne Asala

Feast days, festivals, and informal gatherings all have something in common--food. But choosing the right food for the occasion can be difficult. Celtic Folklore Cooking takes the guesswork out of planning a feast, with plenty of sumptuous ideas for an entire meal, from soup to dessert and even drinks. Joanne Asala gathers generations-old recipes from Wales, Cornwall, Scotland, Ireland, and England, associates them with appropriate festivals and times of the year, then sprinkles a dash of folklore between them. Perhaps you would like to learn the 400-year-old "Song of Harvest Home" while making Marigold Buns? Celtic Folklore Cooking is like having centuries of Celtic tradition in your kitchen, and it will help you find just the right flavor for your festivities. Review by Brian Patterson
Click here for Folklore & Cooking.
The New Irish Table
by Margaret Johnson



Margaret Johnson's love of Ireland permeates page after glorious page of mouthwatering Irish dishes, from Smoked Salmon Chowder to Raspberry Buttermilk Tarts. Lavish color photographs of the food, the landscapes, and the people are woven through the text, making The New Irish Table the next best thing to sitting down to dinner in Ireland itself.
Click here for New Irish Table.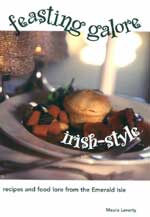 Feasting Galore Irish-Style:
Recipes and Food Lore from the Emerald Isle
by Maura Laverty, Robert Briscoe

With simple ingredients and easy to follow instructions, these recipes will help the home chef create a rich, plentiful feast! Among the 200 recipes are classics like Irish Stew, as well as Mince Pie, which Oliver Cromwell unsuccessfully attempted to ban because of its then-religious Irish shape. Each of the eleven chapters that puts the food into its context - whether its prepared for a celebration, to welcome guests - or even to seduce! Info' from back cover.
Click here for Feasting Galore.