Traditions, folklore, history and more. If it's Irish, it's here. Or will be!
"People will not look forward to posterity who never look backward to their ancestors."
-Edmund Burke
---
Quotes

Library: Books, Movies, Music

Prints & Photos

Poetry

Jokes

---
---
Shops Ireland
---
Bunús na Gaeilge
(Basic Irish)

---
---
Did You Know?
---
Himself/Herself
Write to Us
Readers Write..
Links/Link to Us
---
Advertise with us

---

Help keep us free
Throughout the site you will see many items available for purchase from well-known merchants such as Amazon. Not interested in what we're featuring? It doesn't matter. Click on any link and then shop for whatever you wish - we will still get credit, if you buy something.
Thanks for your help.

---
---
Breads - Page Two

---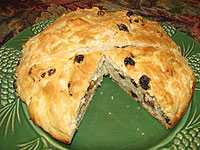 Irish Bannock
Contributed by Ruth

Ingredients:
2 cups all-purpose flour
2 tablespoons white sugar
1/2 teaspoon baking powder
1/2 teaspoon baking soda
1/2 teaspoon salt
2 tablespoons butter
1 cup buttermilk
1/2 cup currants

Method:
1. Combine flour, sugar, baking soda, baking powder, and salt. Cut butter into flour mixture with pastry cutter. Add buttermilk until dough is soft. Stir in currants.
2. Turn dough out onto a lightly floured surface. Knead for 5 minutes, or until smooth. Form dough into a 7 inch round. Place on a lightly oiled cake pan or cookie sheet. Cut 1/2 inch deep cross side to side. Score with cross 1/2 inch deep on the top.
3. Bake in a preheated 375 degrees F (190 degrees C) oven for 40 minutes.
Makes 1 round loaf.
Photo Credit: Better Recipes


B&B Potato Buns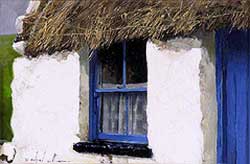 Contributed by Hartson Dowd

In Ireland, alongside the ubiquitous soda bread, potato breads are commonly served with the traditional Irish breakfast of bacon, sausages, eggs, and black or white pudding; while this is a larger breakfast than even most Irish eat, nowadays it's still served at B&Bs because it's what the tourists expect - and want. In any event, these soft, flavorful buns would definitely be a pleasing addition to whatever you're having for breakfast.

Ingredients:
2 packages active dry yeast
One-quarter cup warm water
1 cup warm mashed potatoes, processed through a ricer or food mill
1 cup lukewarm potato water (reserved from boiling the potatoes)
One-half cup unsalted butter, cut into one-half inch pieces
1-1/2 teaspoons salt
One-quarter cup granulated sugar
6 to 7 cups all-purpose flour, plus more for kneading
2 teaspoons olive oil
1 teaspoon cornmeal
1 large egg, beaten
One-half cup poppy seeds

Method:
1. Sprinkle the yeast over the warm water. Stir to combine well, and allow the mixture to sit for 10 minutes.
In a large bowl combine the potatoes, potato water, butter, salt, and sugar and mix well.
2. Stir in the yeast mixture. Slowly stir in the flour, 1 cup at a time, and continue stirring until the dough forms a ball, about 5 minutes.
3. Place the dough on a lightly floured surface and knead until the dough is soft, about ten minutes.
4. Brush a bowl with olive oil. Place the dough in the bowl and rotate the dough to coat it with oil. Cover the bowl with plastic wrap and leave the dough to rise in a warm place until it has doubled in volume, about 1-1/2 hours.
5. Line a baking sheet with parchment paper and dust its surface with cornmeal.
6. Remove the plastic wrap from the bowl of dough, punch the dough down, recover, and allow the dough to rest for ten minutes.
7. Divide the dough into 8 equal pieces and form into balls. Pat each ball into a baking ring 3 to 4-inches in diameter. Arrange the rings on the baking sheet, cover with plastic wrap, and leave to rise in a warm place for 45 minutes.
8. Preheat oven to 350 degrees F.
9. Remove the plastic wrap from the baking sheet, and use the heel of your hand to compress the buns gently. Brush the buns lightly with the beaten egg, sprinkle with poppy seeds, and bake until golden brown, about 20 minutes.
10. Remove from the oven, allow to cool slightly, and cut the buns in half horizontally. Makes 8 buns.

Image: "Thatch & Lace" by Edmund Sullivan is reprinted with permission. To view more of his works, please click Edmund Sullivan.


Oaten Yeast Bread
Contributed by Hartson Dowd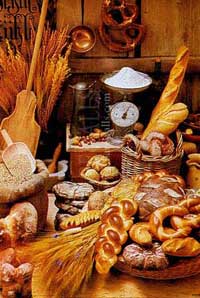 Sure cure for boredom is baking a loaf of bread - there is pure delight in watching the leaven work and all the perfumes of Araby cannot compare with the fragrance that attends the baking.

Oaten Yeast Bread combines rolled oats and whole-wheat and white flours in a firm, compact loaf that is as delicious as any we have ever tasted. It also freezes beautifully.

Ingredients:
4 cups all-purpose flour
4 cups whole-wheat flour
4 cups quick-cooking rolled oats (not instant)
One-quarter cup sugar
2 tablespoons salt
One-half cup butter or margarine
2-1/2-cups milk
2 packages active dry yeast
One-half cup warm water

Method:
In a large bowl, mix flours and oats.
Combine sugar, salt, butter and milk in a saucepan and heat until the butter melts; cool to lukewarm.
Dissolve the yeast in the warm water.
Add milk mixture and yeast to the flours and mix well. Don't worry if the liquid does not absorb all the flour mixture.
Turn the dough out on board and knead excess flour mixture into the moist mixture. Knead 10 to 15 minutes, then put the dough in a greased bowl and turn to grease top.
Cover with a towel and let rise in a warm place free from drafts 2 hours, or until doubled.
Punch dough down and divide into 3 portions. Cover and let rest for 10 minutes.
Shape in loaves and put in 3 greased 9 x 5 x 3-inch loaf pans.
Cover and let rise in warm place for 1-1/2 hours, or until doubled.
Bake in a preheated 400-degree F. oven for about 35 minutes.
Remove from pans and cool on rack.
If desired, brush hot bread with butter.

The fragrance of fresh-from-the-oven bread is the fragrance of family life, of fireside and home. It is the fragrance of hospitality and contentment.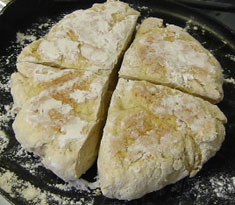 St. Brigid's Oatcakes
These chewy bread-cakes have been fed to children in Ireland for years, in the belief that vigorous chewing would strengthen their young jaws. The children of today like them because they are fun to eat. And because they are low in fat and high in fiber, they are definitely healthful. The loaf is cut in quarters, or "farls" before it is baked.

Ingredients:
2 cups uncooked, old-fashioned rolled oats (not instant)
1-1/4-cups buttermilk
2-1/2-cups sifted bread flour
1-teaspoon baking soda
One-half teaspoon baking powder
1-teaspoon salt
Vegetable oil spray

Method:
A day ahead, combine the oats and buttermilk in a small bowl. Blend thoroughly, cover and refrigerate overnight.
The next day, preheat the oven to 350 degrees F. Remove the oat mixture from the refrigerator.
Combine the bread flour, baking soda, baking powder, and salt in a large bowl. Slowly add the oat mixture and stir with a wooden spoon 20 to 30 times, or until you have a smooth dough.
Grease a baking sheet with the oil spray. Turn the dough onto the baking sheet, and use your hands to form a round, cake-shaped loaf about 1-inch thick. Use a sharp knife or pizza cutter to cut the dough into 4 quarters. Move the quarters apart slightly, but keep them in the original round shape. Bake until the cakes are light golden brown and firm to the touch, 30 to 35 minutes. Cool slightly on a rack, and serve with butter and jam or preserves.
Makes 1 quartered loaf (4 farls), serving 4-8.


Anois teacht an Earraigh beidh an la dul chun sineadh
Is tar ets na Feil Brighde ardoidh me mo shel.
O chuir me I mo cheann e ni stopfaidh me chotiche
Go seasfaidh me sios t Ias Chontae Mhutgheo.

Now with the coming of spring, the day is beginning to stretch
And after the feast of St. Brigid I'll rise up and go.
Since the notion came into my head I'll not even stop for a second,
Till I set my foot down in the middle of County Mayo.
Antoine ÓReachtabhra (Raifteiri) 1784-1835

Bread is the staff of life, lean on it. Jonathan Swift

Image Source: Breads from Barewalls prints and photographs. This print is available as an e-card and also for purchase.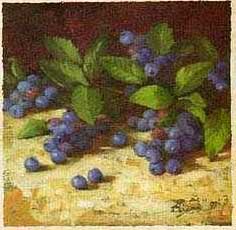 Oatmeal-Cornmeal Blueberry Bread
Contributed by Hartson Dowd

Just in time for fresh blueberries! This is a perfect, not too sweet bread, great for tea, breakfast, maybe even dessert.

Dry ingredients:
1 1/2 cup unbleached white flour
1/3 cup stone ground yellow cornmeal
1/4 tsp baking soda
1 tsp baking powder
1/2 tsp salt

Wet ingredients:
3 tbsp mild oil, such as corn, canola, or peanut
2 eggs
1/2 cup plus 2 tbsp buttermilk
3/4 cup sugar
finely grated rind of 1 lemon

Mix-Ins:
1 cup blueberries, washed and picked over
2 to 4 tbsp walnuts, toasted and chopped, optional
1/4 cup rolled oats

Method:
Preheat oven to 350 degrees. Spray 1 large, 2 medium or 3 small loaf pans with non-stick spray. Sift the dry ingredients together into a large bowl. Combine the mix-ins in a second bowl, and sprinkle 1 tbsp of the flour mixture over them. In a third bowl, beat together the wet ingredients. Quickly combine dry and wet mixtures, using as few strokes as possible. Gently stir in the mix-ins. Batter should be stiff. Spoon batter into prepared pan/pans. Bake 45 to 55 minutes (large pans), 35 to 50 (mediums), and 35 to 40 (smalls). Check 2/3 of the way through the baking period; if loaves are browning excessively, tent loosely with foil. Let baked breads cool 10 minutes in pan, run knife around the edge of pan, and turn loaves out. Let finish cooling on a rack.

Image: Blueberries by Richard Boyer. Art Print from AllPosters

Any purchase made helps to support our site (and Bridget's spice collection). Thank you.

More Bread Recipes - Page One | Page Three

Sun, Sep 20, 2015
---
"...the freshest of food and
the oldest of drink"
- Irish Proverb
The New Irish Table
by Margaret Johnson



Margaret Johnson's love of Ireland permeates page after glorious page of mouthwatering Irish dishes, from Smoked Salmon Chowder to Raspberry Buttermilk Tarts. Lavish color photographs of the food, the landscapes, and the people are woven through the text, making The New Irish Table the next best thing to sitting down to dinner in Ireland itself.
Click here for New Irish Table.