Traditions, folklore, history and more. If it's Irish, it's here. Or will be!
"People will not look forward to posterity who never look backward to their ancestors."
-Edmund Burke
---
Quotes

Library: Books, Movies, Music

Prints & Photos

Poetry

Jokes

---
---
Shops Ireland
---
Bunús na Gaeilge
(Basic Irish)

---
---
Did You Know?
---
Himself/Herself
Write to Us
Readers Write..
Links/Link to Us
---
Advertise with us

---

Help keep us free
Throughout the site you will see many items available for purchase from well-known merchants such as Amazon. Not interested in what we're featuring? It doesn't matter. Click on any link and then shop for whatever you wish - we will still get credit, if you buy something.
Thanks for your help.

---
---
Breads - page Three

---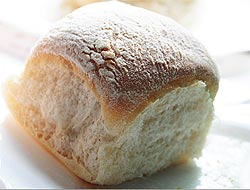 The Waterford Blaa
A blaa' is a soft-crusted floury roll exclusive to Waterford City which is eaten mainly at breakfast time. According to tradition, the name comes from a word used by French Huguenots who settled in the the city in the 17th century. When asking for white flour, they used the French word for flour which is blé and over time, the natives attached the word to the roll. Whether or not that is really where the name comes from, blaas are available in most Waterford bakeries and the locals relish them with a 'rasher' of bacon at breakfast or with some 'Red Lead' (luncheon sausage) in the middle as a mid morning snack. Other popular fillers include cheese and onion crisps and sliced ham, which the locals pronounce 'hang'. It is common for locals to eat hang blaas on the side of the road before the big match.*
INGREDIENTS
3 lbs bread flour
2 oz fresh yeast or 1 oz active dried yeast
1 tsp sugar
1 1/4 cups warm water
2 1/4 pints water
1 tsp salt
METHOD
1. Dissolve yeast and sugar in warm qater
2. When the yeast is frothy and the sugar is dissolved, add to the flour with salt and remaining water
3. Knead for five minutes until smooth and elastic
4. Put dough into a large oiled bowland covered with oiled cling wrap and put in a warm place for about an hour or until doubled
5. Punch dough down, cover, and leave to rise again for about a half hour
. 6. Punch down again gently and turn out onto a floured board. Divide dough into 24 even sized buns, slightly flattened (approx 3 oz each) and place on a lightly floured baking sheet. Allow to rise at room temperature until double in size - 2 to 3 hours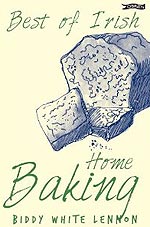 7. Heat oven 425F. Dust rolls lightly with all purpose flour and bake for about 15 minutes until or until they sound hollow when tapped on the bottom. Ideally, rolls should not be too brown on top.
Makes 24

*Sources:
Intro: Picture the Experience/Waterford City
Recipe: Best of Irish Home Baking by Biddy White Lennon -available on Amazon
Photo: The Daily Spud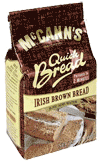 Quick Traditional Irish Brown Bread
Ingredients:
1 1lb package of McCann's Brown Bread Mix*
1 1/2 cups cold water
1 well-greased 4-1/2 x 8-1/2 loaf pan
Method:
1. Pre-heat oven to 400 degrees F
2. Grease loaf pan.
3. Empty contents of package into a mixing bowl and add cold water. Mix thoroughly with a spoon.
4. Spoon dough into loaf pan and spread evenly. Make a cut 3/4 deep lengthwise along center.
5. Bake for 40-45 minutes or until golden brown.
6. Turn out onto a wire rack and allow to cool completely before slicing.
Store in a cool, dry place. For best results, Traditional Irish Brown Bread should be baked in a conventional oven.
*To buy it, please click Amazon.

From scratch Traditional Irish brown bread
This is for those cooks who prefer to do things the way our mothers and grandmothers did. It's very easy and almost as fast as using a mix.
Ingredients:
2 cups Buttermilk
4 cups whole wheat flour (stoneground, if possible)
2 cups all purpose flour
1 teaspoon baking soda
1/2 teaspoon salt
Method:
1. Preheat oven to 450 degrees F
2. Mix together dry ingredients in a large bowl
3. Make a well in the center and add most of the buttermilk
4. Working from the center, mix with your hands into a dough, adding more milk if necessary. The dough should be soft but not too sticky 5. Turn out onto a floured board and pat lightly into a round. Flatten slightly to about 2 inches thick and place on a baking sheet
6. Mark with a deep cross and bake for 15-20 minutes
7. Reduce heat to 400 degrees F and bake for an additional 20-25 minutes or until the bread is cooked and sounds hollow when tapped on the bottom.
*Note: to make a richer bread, add 1 oz. fine oatmeal, 1 egg, and 1 oz. butter to the mixture.
*Kerrygold Irish Butter
Contented Cows. Better Butter.
As with the ancient cows of of Eire, Kerrygold herds happily graze on the lushest pastures irrigated by crystal clear water. Call it cow heaven if you will. It's the key behind Kerrygold's golden, sweet cream butter. Experience its distinctive natural taste and you'll know why it's a favorite all over the world.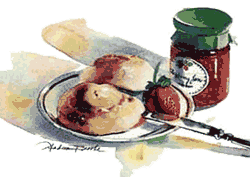 Basic Irish Scones
From the Haggerty Collection

If you've ever enjoyed tea in an Irish farm-house, the chances are excellent your hostess offered fresh-made scones served with lashings of butter or clotted cream and a choice of jams. After hours of walking through the woods or hiking the hills on a damp winter's day, these warm, moist morsels washed down with a steaming cup of "tay" are as good or better than a royal banquet.

Ingredients:
3 cups all purpose flour
3 Tbsp sugar
1 tsp baking soda
1/2 tsp salt
6 Tbsp chilled unsalted butter, cut into pieces
1 egg, beaten
3/4 cup plus 3 Tbsp buttermilk
1/3 cup dried currants, cherries or cranberries (optional)

Method:
Preheat oven to 425 F (218.3 C).
1. Mix 3 cups flour, sugar, baking soda & salt in a large bowl.
2. Add butter & mix until mixture resembles fine meal.
3. Mix in dried fruit then egg & enough buttermilk to form soft dough.
4. Turn out onto floured surface. Press dough into 3/4" thick round.
5. Cut out rounds using 2 1/2" cookie cutter. (Don't twist as you cut as this will distort the scone shape)) Reassemble scraps & cup out additional rounds.
6. Lightly flour large baking sheet. Transfer scones to baking sheet & brush tops with milk.
7. Bake until scones are golden brown & cooked through, about 18 minutes.
8.Serve warm with butter, whipped cream & jam.
note: Scones are alway best baked fresh as they become stale very quickly.

Image: Title: Apricot and Pecan Scones by Jennifer Blume
Type: Art Print, Size: 10 x 8 in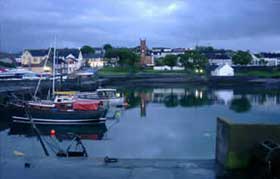 Guinness & Malt Wheaten Bread
This recipe is adapted from one that originated in Margaret Waterworth's Adelbone Country Lodge and Kitchen, located in the coastal town of Groomsport, Co. Down. Guinness and Malt Wheaten Bread. An adaptation also appears in Margaret Johnson's Cooking with Irish Spirits. She says "It's a lovely bread to enjoy anytime of year."

Hints before starting:
1. Guinness from a bottle will produce a "flatter" loaf.
2. Guinness from a can/tin will produce a "fluffier" loaf because the nitrogen in the capsule that is enclosed in the can helps raise the bread.
3. Pour the Guinness about 1 minute before you need it to get an accurate measurement and to let the foam rise as the dark ale settles.
4. Over-mixing will result in a pancake-like loaf.

Ingredients:
1 cup coarse wholemeal flour
1 cup fine wholemeal flour
1/2 cup caster/granulated sugar
1 tsp. baking soda
1 tsp. salt
1/4 cup butter
1 tsp. malt extract (if you can't find malt extract, substitute 1 tsp. vanilla)
1 1/4 cups buttermilk
1 1/4 cups Guinness

Method:
Preheat oven to 425F
1. Place wholemeal flours, sugar, baking soda and salt in a large mixing bowl.
2. Blend in butter, lifting well to give the mixture air.
3. Stir in malt, buttermilk and Guinness. Mix until the bread is a porridge-like consistency. Do no over mix.
4. Turn into a well-greased 8 x 8 square baking pan that has been sprinkled heavily with wholemeal flour. Sprinkle additional flour on top.
5. Bake for 30 minutes in a pre-heated 425F degree oven. Turn down oven to 400F and bake a further 30 minutes. Bread is done when it springs back after gently pressing the top.
6. Turn off the oven and allow the bread to cool slowly with the door open for 30 minutes. Turn out onto a wire rack. Can be served immediately.
Serves 10

Image: Groomsport Harbour

More Bread Recipes - Page Two

Thu, Jul 9, 2015
---
"...the freshest of food and
the oldest of drink"
- Irish Proverb
The New Irish Table
by Margaret Johnson



Margaret Johnson's love of Ireland permeates page after glorious page of mouthwatering Irish dishes, from Smoked Salmon Chowder to Raspberry Buttermilk Tarts. Lavish color photographs of the food, the landscapes, and the people are woven through the text, making The New Irish Table the next best thing to sitting down to dinner in Ireland itself.
Click here for New Irish Table.