Traditions, folklore, history and more. If it's Irish, it's here. Or will be!
"People will not look forward to posterity who never look backward to their ancestors."
-Edmund Burke
---
Quotes

Library: Books, Movies, Music

Prints & Photos

Poetry

Jokes

---
---
Shops Ireland
---
Bunús na Gaeilge
(Basic Irish)

---
---
Did You Know?
---
Himself/Herself
Write to Us
Readers Write..
Links/Link to Us
---
Advertise with us

---

Help keep us free
Throughout the site you will see many items available for purchase from well-known merchants such as Amazon. Not interested in what we're featuring? It doesn't matter. Click on any link and then shop for whatever you wish - we will still get credit, if you buy something.
Thanks for your help.

---
---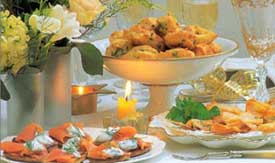 Starters for the Holiday Feast
We've covered the dinner and dessert, but what about a festive starter? While a nice array of Irish cheeses served with crackers, water biscuits or thin slices of brown bread is the simplest, if you're feeling a bit more ambitious, here's a selection of appetizers to tempt the palates of your family and guests.

Smoked Salmon Canapés
This one is in the file but we don't have a source. If it sounds familiar and you know who created it, please let us know.

Ingredients:
8-oz smoked salmon (4 oz. chopped, 4 oz. in slices)
8-oz cream cheese, softened
2 teaspoons fresh lemon juice
1/2 teaspoon white pepper
2 teaspoons chives
1/2 teaspoon salt
5 tablespoons heavy cream
1/2 teaspoon Worcestershire Sauce
Optional: 1 teaspoon horseradish

Method:
1. In a mixing bowl, place the cream cheese, heavy cream, lemon juice, white pepper, chives, salt and Worcestershire Sauce. Mix until smooth.
2. Chop 4 oz. of the smoked Salmon. Add it to the mixing bowl. Mix until well blended. Set aside.
3. Slice Irish brown bread (or other favorite bread) into thin slices. Toast, if desired. Cut the bread into wedges. Spread the salmon mixture on top of each wedge. Place a ribbon slice of smoked salmon on top of the spread. Sprinkle a little chopped chive and lemon juice on top of each canapé.

Bantry Bay Shrimp Toast
This recipe (and the two that follow) are adapted from one of our favorite cookbooks, Cooking with Irish Spirits by Margaret Johnson

Ingredients:
1 8-oz package softened cream cheese
1 4-oz can shrimp, rinsed and drained
1/4 cup Hellman's Mayonnaise
2 tablespoons Irish Mist Liqueur
1 tablespoon lemon juice
1 tablespoon finely minced parsley
1 package sliced party rye bread (the small rounds)
8-oz cooked fresh shrimp

Method:
1. Combine first six ingredients in a medium bowl and mix well.
2. Toast bread, spread with shrimp mix, and brown lightly under the broiler
3. Place 1 whole fresh shrimp on top of each bread round and serve immediately.
Makes 20 to 25 hors d'oeuvres. Recipe can be doubled.

Avocado with Guinness Mayonnaise
If you're having a formal sit-down dinner, this makes for a lovely starter. The recipe serves two. Multiply ingredients to accommodate the number of guests.

Ingredients:
2/3 cup Hellman's Mayonnaise
1/4 cup heavy cream, whipped
1/3 cup Guinness
1 large avocado
2-4 leaves of good quality lettuce
Sprigs of parsley for garnish

Method:
1. Mix mayonnaise, whipped cream and Guinness together and refrigerate.
2. Cut avocado in half, lengthwise, remove pit and peel.
3. Arrange lettuce on 2 serving plates.
4. Slice avocado from narrow end to wide end and fan the slices on top of the lettuce.
5. Spoon Guiness mayonnaise over the avocado slices and garnish with the parsley.
Note: This recipe originated in the Ante Room Restaurant in Dublin.

Mushroom Salad with Bunratty Meade
Another favorite from Cooking with Irish Spirits. This serves 4.

Ingredients:
2 tablespoons lemon juice
3 tablespoons Bunratty Meade
1 cup fresh mushrooms, sliced very thinly
4 stalks celery, sliced very thin
2 cups shredded good quality lettuce
Finely chopped parsley
Fresh ground pepper
Lemon slices for garnish

Method:
1. Combine lemon juice and Bunratty Meade in jar. Screw on lid and shake the jar well. Set aside.
2. Place mushrooms and celery in a shallow dish and pour on the dressing. Refrigerate for several hours.
3. Arrange shredded lettuce on 4 salad plates and spoon the marinated mushrooms and celery over the top.
Sprinkle each salad with chopped parsley and pepper. Garnish with lemon slices.
Optional: Many people like extra dressing with their salads. Simply double the ingredients for the dressing and divide in half. Use half for the marinade and half presented in a nice salad dressing carafe at the table.

To read our article about the origins of Bunratty Meade, please click Only a Fortress Could Hold Such Treasures

In addition to these recipes, we have 2 other pages of appetizers, many of them contributed by our resident recipe collector and gourmand, Hartson Dowd:
Starter Page 1

Starter Page 2

Image: Perfect Party Food - Favorite Recipes for Party Success

Any purchase made helps to support our site (and Bridget's fondness for tea towels). Thank you.


Thu, Jul 9, 2015
---
"...the freshest of food and
the oldest of drink"
- Irish Proverb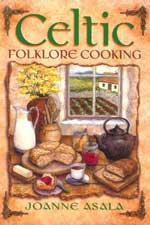 Celtic Folklore and Cooking
by Joanne Asala

Feast days, festivals, and informal gatherings all have something in common--food. But choosing the right food for the occasion can be difficult. Celtic Folklore Cooking takes the guesswork out of planning a feast, with plenty of sumptuous ideas for an entire meal, from soup to dessert and even drinks. Joanne Asala gathers generations-old recipes from Wales, Cornwall, Scotland, Ireland, and England, associates them with appropriate festivals and times of the year, then sprinkles a dash of folklore between them. Perhaps you would like to learn the 400-year-old "Song of Harvest Home" while making Marigold Buns? Celtic Folklore Cooking is like having centuries of Celtic tradition in your kitchen, and it will help you find just the right flavor for your festivities. Review by Brian Patterson
Click here for Folklore & Cooking.
The New Irish Table
by Margaret Johnson



Margaret Johnson's love of Ireland permeates page after glorious page of mouthwatering Irish dishes, from Smoked Salmon Chowder to Raspberry Buttermilk Tarts. Lavish color photographs of the food, the landscapes, and the people are woven through the text, making The New Irish Table the next best thing to sitting down to dinner in Ireland itself.
Click here for New Irish Table.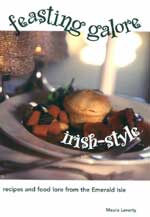 Feasting Galore Irish-Style:
Recipes and Food Lore from the Emerald Isle
by Maura Laverty, Robert Briscoe

With simple ingredients and easy to follow instructions, these recipes will help the home chef create a rich, plentiful feast! Among the 200 recipes are classics like Irish Stew, as well as Mince Pie, which Oliver Cromwell unsuccessfully attempted to ban because of its then-religious Irish shape. Each of the eleven chapters that puts the food into its context - whether its prepared for a celebration, to welcome guests - or even to seduce! Info' from back cover.
Click here for Feasting Galore.