Traditions, folklore, history and more. If it's Irish, it's here. Or will be!
"People will not look forward to posterity who never look backward to their ancestors."
-Edmund Burke
---
Quotes

Library: Books, Movies, Music

Prints & Photos

Poetry

Jokes

---
---
Shops Ireland
---
Bunús na Gaeilge
(Basic Irish)

---
---
Did You Know?
---
Himself/Herself
Write to Us
Readers Write..
Links/Link to Us
---
Advertise with us

---

Help keep us free
Throughout the site you will see many items available for purchase from well-known merchants such as Amazon. Not interested in what we're featuring? It doesn't matter. Click on any link and then shop for whatever you wish - we will still get credit, if you buy something.
Thanks for your help.

---
---
Appetizers & Starters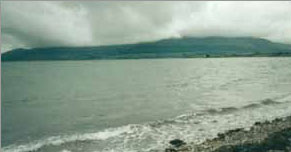 Starter: Mussels in Garlic and Guinness

Sitting pretty between the mountains of Mourne and the Cooley peninsula is lovely Carlingford Lough. It's from these waters that many of the mussels served in Ireland's best retaurants come from. For example, the famous Brazen Head in Dublin makes a point of saying their mussels come from Carlingford. If you have the luck of the irish, you may be able to get them as well. However, in our own humble opinion, it's the Guinness and garlic that gives this recipe its unique robust flavor.

Ingredients:
2 lbs. fresh mussels, scrubbed, debearded and rinsed in cold water
1 shallot, minced
3 cloves garlic, minced
1 Tbsp. minced fresh flat-leaf parsley, plus extra for garnish
1 1/2 tsp. minced fresh thyme
1/2 cup Guinness
1/2 cup half and half
2 Tbsp. unsalted Irish butter*
Lemon wedges for serving
Fresh bread for serving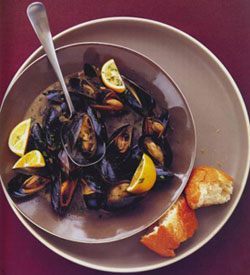 Method:

1. Put a stockpot or Dutch oven over medium heat. When the pot is hot, add the mussels and remaining ingredients and cover immediately.
2. Cook, stirring once or twice, for 6 to 8 minutes or until the mussels open. Discard any that don't open.
3. To serve, divide mussels among shallow bowls and ladle the broth over them. Sprinkle with parsley and serve with a wedge of lemon and slices of bread to sop up the juice.
Serves 4.

Source: Edited and adapted from a recipe that was once featured on the menu of the Brazen Head, a traditional pub in Dublin and one of the oldest pubs in Ireland. The recipe also appears in The irish Pub Cookbook by Margaret Johnson.

Photo Credit: Leigh Beisch
Carlingford Lough - Henning Fish Company

*Irish butter and many other irish foods are available here: Food ireland.

Dublin Bay Prawn Cocktail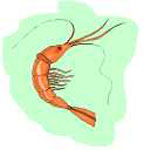 In the United States, prawns are called shrimp. As in the U.S., Ireland is particularly fortunate in that large, succulent 'prawns' are readily available. While I've seen several different recipes for this appetizer, the one that follows is my own adaptation as it appears in my book, The Traditional Irish Wedding.
Ingredients
4-5 lbs cooked, deveined medium or large shrimp
I head of top-quality lettuce, chopped and shredded
8 tablespoons real mayonnaise
8 tablespoons whipped cream
1/2 teaspoon Worcestershire Sauce
2 teaspoons grated fresh horseradish
Salt and pepper to taste
Chopped parsley
Method
Chill shrimp and heap on shredded lettuce bed in a large salad bowl. Make sauce by thoroughly mixing all remaining ingredients together. Serve sauce in bowl on side.
Note: If served individually, use stemmed glasses and pile shrimps on lettuce beds. Serve sauce poured over or on the side. Serves about 20.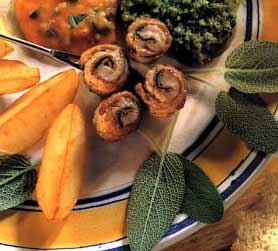 Appetizers for an elegant or casual gathering
by Bridget Haggerty

If my research into Irish Culture and Customs has proven anything, it's something I already knew. We Irish love to enjoy ourselves and will use just about any excuse to get together for an evening of story-telling, music, singing and dancing. A wedding was always a major event, but then so were wakes, christenings, first communions, confirmations, festivals, fairs, harvests and literally hundreds of other reasons for revelry. In addition to the standard fare of smoked salmon and Irish brown bread or farmhouse cheeses and crackers, here are three recipes that will work well as starters for a meal or as hors d'oeuvres.

Angels on Horseback
Adapted from Classic Irish Recipes by Georgina Campbell.

Ingredients:
24 oysters in their shells
24 slices of smoked bacon
Fresh lemon juice
Freshly ground pepper

Method:
Shuck oysters by inserting the blade of a blunt ended knife between the shells and working it in until you cut the muscle that holds the shells together. Catch the oyster liquid in a bowl and discard shells. Strain the oyster liquid and put it into a pan along with the oysters. Bring to a boil over gentle heat, simmer very gently for two minutes, then drain. Trim bacon and stretch the slices by pressing with the back of a spoon Sprinkle oysters with a little lemon juice and pepper. Roll each oyster up in a bacon slice and thread them onto skewers. Broil until the bacon is crisp and sizzling, turning half way through so both sides are cooked. Push off skewers and serve with cocktail picks.

Malted Whiskey Pate
This is adapted from Cooking with Irish Spirits by Margaret Johnson.

Ingredients:
1/2 cup butter
1 onion, finely chopped
1 clove garlic, peeled and crushed
1.10lbs (500grams) chicken livers, well trimmed
Salt and freshly ground pepper
1 tablespoon heavy cream
2 tablespoons tomato paste
1/4 cup Irish Whiskey
Chopped parsley

Method:
Saute onions and garlic in melted butter without browning until soft and transparent. Add chicken livers and cook for 5 to 7 minutes. Centers should still be pink. Remove from heat and add remaining ingredients. Put in blender and process until smooth. Turn into a small mold or bowl. Sprinkle with chopped parsley. Serve with water biscuit, toast or crackers.
Serves 8 to 10.

Cheese Fondue with Garlic Roast Potatoes
Contributed by Hartson Dowd

Ingredients:
1 pound new potatoes, scrubbed
1 tablespoon olive oil
1 tablespoon balsamic vinegar
2 cloves garlic, smashed
One-quarter pint white wine
One-quarter pint double cream
6 ounces Gruyere or any hard cheese
One-half tablespoon chopped tarragon
One-half tablespoon chopped parsley

Method:
1. Preheat the oven to 425F
2. Par-boil the potatoes until soft but not cooked completely. Drain well
3. Place the oil, garlic and vinegar in a large ovenproof frying pan over a medium heat. Toss the potatoes into the pan and cook for 2-3 minutes.
Transfer to the oven and bake for 10 minutes.
4. Meanwhile, place the wine in a small pan and reduce by one third. Add the cream and cheese and continue cooking for 2-3 minutes, stirring continuously.
5. Pour the fondue mixture into a bowl and scatter with the chopped herbs.
Serve the hot potatoes on the side to dip into the fondue.
Serve immediately.
NOTE: Other vegetables, such as sautéed mushrooms and par-boiled and seasoned broccoli or cauliflower flowerets are also tasty with cheese fondue

Image Source:
Fondue by Petra Casparek (Editor)


Thu, Jul 9, 2015
---
"...the freshest of food and
the oldest of drink"
- Irish Proverb
The New Irish Table
by Margaret Johnson



Margaret Johnson's love of Ireland permeates page after glorious page of mouthwatering Irish dishes, from Smoked Salmon Chowder to Raspberry Buttermilk Tarts. Lavish color photographs of the food, the landscapes, and the people are woven through the text, making The New Irish Table the next best thing to sitting down to dinner in Ireland itself.
Click here for New Irish Table.