Traditions, folklore, history and more. If it's Irish, it's here. Or will be!
"People will not look forward to posterity who never look backward to their ancestors."
-Edmund Burke
---
Quotes

Library: Books, Movies, Music

Prints & Photos

Poetry

Jokes

---
---
Shops Ireland
---
Bunús na Gaeilge
(Basic Irish)

---
---
Did You Know?
---
Himself/Herself
Write to Us
Readers Write..
Links/Link to Us
---
Advertise with us

---

Help keep us free
Throughout the site you will see many items available for purchase from well-known merchants such as Amazon. Not interested in what we're featuring? It doesn't matter. Click on any link and then shop for whatever you wish - we will still get credit, if you buy something.
Thanks for your help.

---
---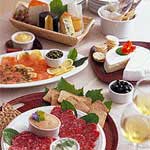 Appetizers, Part Two
Contributed by Hartson Dowd

More tasty morsels with an Irish flair. Serve as a prelude to a meal or with drinks at your next "hooley."

According to Hartson, "it's the appetizers that set the stage for the food that comes after. Call them canapés, hors d'oeuvres or snacks, these savory concoctions are designed to whet the appetite. They are teasers to make you hungry; they serve to put you in a pleasant mood of anticipation.
Anything from a Tayto (potato chip) piled with zesty dip to a tiny sausage on a pick serves as an appetizer. They are contrived bits of goodness that should taste as good as they look. They can be hot or cold, simple or exotic. As a starter, I'm reminded of this little verse - Of this were I wiser, I'd never lose sight, the more appetizer, the less appetite!

Spreads
Spreads and dips that can be made ahead are the joy of every hostess. Who wants to be out in the kitchen concocting mixtures when the party is getting interesting in the living room? Most crackers and toasted bits go soft when covered with moist spreads. So, if you don't want last minute spreading chores, make your dips and spreads ahead and let everyone fix their own. This is particularly appropriate if the party is small.

Set up a table with trays of assorted crackers, melba toast, crisp rye curls, potato chips, etc. Have a few bowls of spreads and dips augmented with chilled raw vegetables sticks and bites, olives and pickles. A mixture of salt and pepper in an extra shaker saves several hundred extra motions a year. (6 to 7 parts salt to 1 part pepper)

Cheese and Ale Spread
Cheese making has become a restored art in Ireland, with a number of serious entrepreneurs raising it to the ranks of fine wine making. Here is a dip or a spread to serve with assorted crackers and crisp breads.


Ingredients:
16 oz. cream cheese, softened
8 oz. Cashel Blue
or other blue cheese, softened

One-half cup (1 stick) unsalted butter, softened
2-tablespoons of brown ale
2-tablespoons honey
One-half teaspoon cracked black pepper
One-quarter teaspoon cayenne pepper
1 cup coarsely chopped walnuts, toasted and completely cooled

Method:
A day ahead, combine the cream cheese, blue cheese, and butter in a large bowl. Use an electric mixer at medium-high speed to blend until smooth and creamy. Stir in the ale, honey, and black and cayenne peppers and blend with the mixer. Fold in the walnuts. Spoon the mixture into a 4-cup decorative serving bowl, cover, and refrigerate overnight.
Serves about16 for a party.

More Easy Spreads:
1. Mix cream cheese, crisp bacon crumbled, chopped onions or onion juice and moisten with mayonnaise.

2. Mix cream cheese, chutney, chopped peanuts and a dash of Tabasco.

3. Mix crab meat with mayonnaise and season with grated onion and a dash of curry, also add some chopped celery hearts for crunch.

4. Mix chopped hard-cooked eggs, chopped chives, crumbled bacon bits, prepared mustard to moisten.

5. Mix chopped ripe olives with cream cheese.

6. Mix cooked chicken, toasted and slivered almonds, a dash each of celery and onion salt, mayonnaise to moisten.

Hot Ham Puffs

Ingredients:
One tin devilled ham
6-tablespoons mayonnaise
Dash of garlic
3-drops Tabasco
1-tablespoon dry mustard

2 egg whites

Method:
Blend the ham, 2 tablespoons of the mayonnaise and the Tabasco. Spread toast rounds with about a teaspoon of the mixture.
Beat the egg whites until stiff but not dry. Blend in the remaining mayonnaise mixed with the mustard. Cover each ham-spread toast round with the egg white mixture. Arrange on a baking sheet. Place in a preheated broiler, 4 inches from the heat for 1 minute or until the egg white is puffy and golden. Makes 36 puffs. Serve at once.

Sheep Dip
Cheeses made from sheep's milk are quite popular in Ireland, and this tasty concoction uses two - feta and ricotta. Whether your feta and ricotta come from the milk of sheep, cows, or goats, the mixture will be delicious.

Ingredients:
8 oz. (1-1/3 cups) feta cheese
One-quarter cup green onions, minced
1-cup whole milk ricotta cheese
One-quarter cup pine nuts, toasted
2-tablespoons brandy
3-tablespoons snipped fresh dill

Method:
In the bowl of a food processor combine the cheeses and process until smooth. Add the brandy and puree. Fold in the green onions, pine nuts, and dill and continue to fold until the mixture is well blended. Spoon into a 2-cup decorative serving bowl. Cover and chill at least 2 hours.
Serve with French bread, crackers or crisp breads. Serves 10-12 for a party.

Particularly popular are appetizers that can be made ahead and re-heated just before serving. A chafing dish is invaluable for keeping them hot. Chafing dish snacks can be as varied as your imagination. . . tiny sausages, midget meat balls, shrimp or miniature kabobs or savories, to name only a few.

Cocktail Beef Bits

Ingredients:
1 egg slightly beaten
Dash of pepper
One-half teaspoon instant minced onion
One-quarter teaspoon chili powder
One-half pound minced round steak
One-half teaspoon salt
3-tablespoons fine cracker crumbs
Cooking Oil

Method:
In a mixing bowl combine the egg and the next 6 ingredients
Add the beef and toss lightly with two forks until the ingredients are evenly mixed. Form into small balls about an inch in diameter. Pour cooking oil in a skillet to a depth of 1 inch and heat to 375 F.
Fry the balls about 2 minutes or until brown. Drain and place in a chafing dish with enough dry sherry to prevent sticking. Supply toothpicks for spearing.

A few more tasty tidbits from my Sligo-born grandmother
Her recipe file tells me that if you have a lively imagination you'll enjoy being inventive with appetizers. Here are a few she enjoyed serving:

Snug Sardines
Simply whole sardines (wiped free of oil) and wrapped in soft bread slices, brushed with melted butter and broiled.

Sherry Rolls
Soften a 4-oz. package of cream cheese with sherry. Add a pinch of salt and a dash of Tabasco and spread on thin slices of cooked chicken breast. Roll. Chill, then cut in bite- sized pieces and serve on picks.

Bacon Bits
Cut rashers of bacon in half, wrap each piece around chunks of pineapple, stuffed olives, pitted prunes or cubes of cheese. Broil.

Pigs in Blankets
Cut brown and serve sausages in half, wrap each in soft bread slices and secure with toothpicks, brush with melted butter. Place on a shallow pan and toast under the broiler. You may wrap the sausage pieces in pastry instead of bread. Bake these in a hot oven 425 F. until golden

Deviled Dills
Blend deviled ham with mayonnaise and a little finely diced celery. Cut the end from two jumbo-sized dills and scoop out the centers (use an apple corer), wipe the cavities dry and pack tightly with the filling. Chill at least a few hours. Cut in thin slices.


Any purchase made helps to support our site (and Bridget's fondness for tea towels). Thank you.


Thu, Jul 9, 2015
---
"...the freshest of food and
the oldest of drink"
- Irish Proverb
Set a lovely tea table with Bewley's!

Bewleys Tea Pot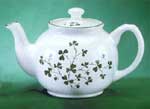 Bewley's Shamrock Sugar and Creamer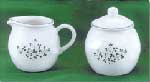 Bewleys Shamrock Mug Set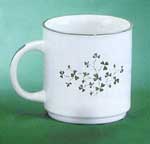 Click picture for individual items. click here for
Complete Set
.
---
Bewley's Biscuits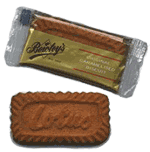 For teatime - or anytime, the same original carmelized biscuits served in Bewley's world-famous Dublin cafe!
Click here for Biscuits
---
The New Irish Table
by Margaret Johnson



Margaret Johnson's love of Ireland permeates page after glorious page of mouthwatering Irish dishes, from Smoked Salmon Chowder to Raspberry Buttermilk Tarts. Lavish color photographs of the food, the landscapes, and the people are woven through the text, making The New Irish Table the next best thing to sitting down to dinner in Ireland itself.
Click here for New Irish Table.