Traditions, folklore, history and more. If it's Irish, it's here. Or will be!
"People will not look forward to posterity who never look backward to their ancestors."
-Edmund Burke
---
Quotes

Library: Books, Movies, Music

Prints & Photos

Poetry

Jokes

---
---
Shops Ireland
---
Bunús na Gaeilge
(Basic Irish)

---
---
Did You Know?
---
Himself/Herself
Write to Us
Readers Write..
Links/Link to Us
---
Advertise with us
---
Awards & Testimonials

Submissions Guide
---
Fáilte
Welcome to Irish Culture and Customs, a labor of love we began several years ago. What started as a surprise milestone birthday trip to Ireland became the beginning of a journey through time. A 2,000-year voyage on a quest to learn as much as we can about everything Irish. So here's where we are so far - more than 700 pages that range from Irish poetry, superstitions , Kids Stories and recipes to specific Irish calendar celebrations such as St. Patrick's Day , Beltane, Samhain and the Feast of St. Brigid. Whether it's an Irish symbol such as the shillelagh, the Shamrock and the Book of Kells or an Irish craft like Aran Isle knitting, you'll discover a wide range of topics in our index. We hope you find the little bit of Ireland you may be looking for and we encourage you to share what you discover with your loved ones on your family website, blog, or social network.



---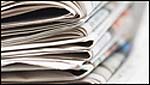 Today's Irish headlines
We comb the newspapers and web sites to find news to start your day with a positive spin. In this section you will also find links to stories from the past two weeks as well as links to the major Irish newspapers, the current time in Ireland and a link to the weather forecast.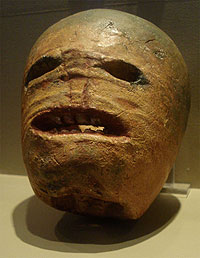 An Irish Hallowe'en - Part 2
by Bridget Haggerty
As in many other parts of the world, commercialism has crept into an Irish Hallowe'en, so that nowadays, you're just as likely to hear kids yelling "Trick or Treat" as you will "Help The Hallowe'en Party", and most of them now receive candy instead of the traditional apples and nuts. It's also fairly certain that many of them will be disguised as their favorite TV or video heroes and heroines and that they'll pester their moms and dads to outdo the neighbors when it comes to decorations. Still, many of the old customs are still observed, especially in the more rural areas.
[Continue]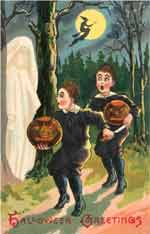 Ghosts
by Wm. B Yeats
Ghosts, or as they are called in Irish, Thevshi or Tash (taidhbhse, tais), live in a state intermediary between this life and the next. They are held there by some earthly longing or affection, or some duty unfulfilled, or anger against the living. "I will haunt you", is a common threat; and one hears such phrases as, "She will haunt him, if she has any good in her". If one is sorrowing greatly after a dead friend, a neighbour will say, "Be quiet now, you are keeping him from his rest; or, in the Western Isles, according to Lady Wilde, they will tell you, "You are waking the dog that watches to devour the souls of the dead". Those who die suddenly, more commonly than others, are believed to become haunting Ghosts. They go about moving the furniture, and in every way trying to attract attention.




[Continue]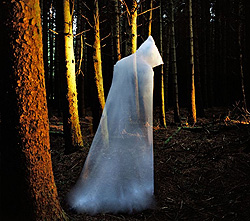 The Legend Of The Churchyard Bride
by Father James E. McKenna

A very interesting legend connected with Errigal graveyard in Co. Monaghan would have probably perished with the other folklore of the locality had not Carleton enshrined it in his beautiful ballad, "The Churchyard Bride".
It was commonly believed in the neighborhood a century ago, that Errigal graveyard was haunted by an amourous spirit which appeared occasionally to young people whose relatives were buried here; and its appearance was always an omen of death to those who had the misfortune to encounter it. When a funeral took place it accosted the young person who remained last in the graveyard, over whom it exercised a fascinating influence. If that person was a young man, it appeared as a charming maiden, inspired him with an irresistible affection and extracted a promise that he should meet her there, on that day a month later. When, on the contrary, it appeared to a girl, it assumed the appearance of a graceful and attractive young man and secured a similar promise.

[Continue]


Creepy Irish Castles and Houses
by Bridget Haggerty

Only in Ireland will you hear terrifying tales of shots still being heard in the execution yard of St. John's Castle in Co. Limerick; of a Cistercian monastery and graveyard where a strange ball of fire is sometimes seen; of Cuffesborough House with its phantom horse; of Castleboro House where Lady Carew still tries to rescue her needlepoint from fire; and then, there's Aughanure, where the Hangman Hempenstall still walks, and let's not overlook Mullingar and Lord Belvedere's "jealous wall"....

With a history steeped in violence and bloodshed, it should come as no surprise that Ireland can claim dozens of locations where grisly deeds have given rise to ghastly hauntings. Come with us as we explore a few of the more notorious haunts - places where spine-tingling tales of murder and mayhem will make the blood run cold.

[Continue]



Poetry Corner: Patrick Kavanagh (b. Oct. 21 (23?), 1904 - d. Nov. 30, 1967)

"Literary Adventure": In tribute to Patrick Kavanagh

Having just heard from the agent representing the Patrick & Katherine Kavanagh Trust that we can't publish any of the poet's works without paying a fee, we have tried to come up with an alternative which might actually prove to be of more value to those readers who want to know about the man. His works are well represented in books, so herewith, is an essay from the official web site. It captures something of who he was and how or why his poetry came to be.

[Continue]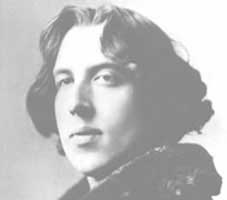 Oscar Wilde Remembered
by Bridget Haggerty

"My wallpaper and I are fighting a duel to the death. One or the other of us has got to go." Those were the last words of Oscar Fingal O'Flahertie Wills Wilde who died on November 30, 1900, in the Hotel D'Alsace, a Left Bank flophouse.

Biographers attribute his death to meningitis caused by syphilis, but on November 24th, 2000, it was reported by Reuters that South African researchers now believe his death was due to a chronic and destructive middle ear disease.

According to Dr. Ashley Robins, a psychiatrist and pharmacologist with the University of South Africa, the disease spread to the brain and eventually killed him. In a report in the Lancet Medical Journal, Robins and his colleague, Dr. Sean Sellars, propose that, despite the lack of medical evidence, the syphilis rumor persisted because it suited the scandal and controversy that surrounded the writer during and after his sensational trial for "gross indecency."

[Continue]


The Irish Kitchen: Colcannon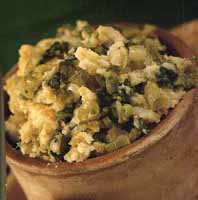 Traditionally eaten on Hallowe'en, this dish is so popular that poems have been written and songs sung in its honor. The Black Family has a really great version of the famous Colcannon song; in fact the entire CD is outstanding (See our Music Library - The Black Family). Here are the main verses:
Did you ever eat Colcannon
When t'was made with yellow cream,
And the kale and the praties blended
Like the picture in a dream?
Did you ever take a forkful
And dip it in the lake
Of heather-flavoured butter
That your mother used to make?

[Continue]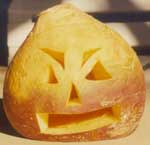 Basic Irish: Halloween and Samhain

It's Trick or Treat in the USA and Help The Hallowe'en Party in Ireland, but wherever you are, this week's lesson focuses on words and phrases associated with the day before the Celtic New Year - Samhain (sow-en).



[Continue]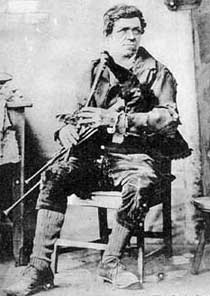 Kids' Ireland: The Piper's Tale
by Grainne Rowland

"Collin, how did you ever learn to play the pipes* like that? For years, you've only known one tune. Now you've played for more than an hour, and every tune is different. What happened?"

"Well," said Collin, "do you remember the party on All Hallow's Eve? They asked me to play my one tune, 'The Black Piper', and to tell some jokes."

"I started home just before midnight. I hadn't gone far. There was no moon. Suddenly, I heard the sound of galloping behind me. The hoofbeats were coming closer and closer. They were getting louder and louder. I whipped around and saw bursts of fire coming from a huge, black horse's nostrils. His hooves were kicking up fiery sparks from the stones on the road."


[Continue]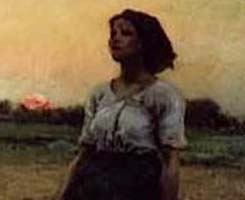 Sean-nůs: The music of what happens
by Bridget Haggerty

When the warrior Finn mac Cumaill was being questioned by a druid, the druid asked him what was the most beautiful music. 'Is it,' the druid asked, 'the waves of the sea crashing against the Cliffs of Moher? Is it the sound of the skylark rising over the Dingle Peninsula at dawn? Is it the sound of a butterfly hovering above daffodils on the Aran Isles in the springtime?' 'No,' said mac Cumaill. 'Well, what is it then?' And mac Cumaill answered, 'It is the music of what happens.'

[Continue]




Live Music from Mayo

A link to the internet service from Midwest Radio out of Mayo. Broadcasting from their state of the art studios; Midwest Irish Radio plays nothing but the best Irish music. No matter where you are in the world, you are never too far from Ireland when you listen in.
Click here for: Irish Midwest radio.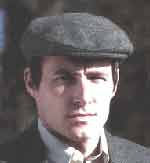 Shop for the best of Irish products from the comfort of your home

We combed the internet to find reliable resources for the most popular Irish products: Aran Isle sweaters, Guinness glasses, Waterford Crystal, genuine blackthorn walking sticks, the flag of the Republic and more. Some of these shops have become friends; others we trust from their reputations and some offer products that are completely unique. We hope you enjoy browsing through what's on offer and we are confident you will find gifts for any occasion or person, all with an Irish flair.





Notices

Did you get your Newsletter?
We try to send one out once or twice a month. If you aren't receiving it, something is wrong. Let us know and we'll try to solve the problem. Note: subscribers are automatically deleted from the data base if the newsletter bounces back multiple times. Full or disabled mailboxes will also cause a subscription to be cancelled. If you have any questions, please contact Bridget.

---
Authentic Irish clothing from Aran Sweaters Direct

---
Graduate students use Dissertation Geek - the best thesis writing company.
Math homework problems? Visit mathprepa.com for free help.
---
Wed, Oct 26, 2016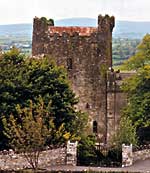 Ireland's Most Haunted Castle
South-east of Birr between Kinnity and Roscrea, in Co. Offaly are the remains of Leap Castle. Originally an O'Carroll fortress, it guarded the pass from the Slieve Bloom into Munster. Said to have more than 50 ghosts, its dark and mysterious past includes the murder of a priest by his brother in the "Bloody Chapel" and the slaughter by their Irish employers of more than 50 Scots mercenaries in order to avoid payment. It has always had a reputation of being haunted and locals have described seeing the windows at the top of the castle "light up for a few seconds as if many candles were brought into the room" late at night. For more details read our article Creepy Irish Castles & Houses.

Click for More Culture Corner.
Sunday Blessing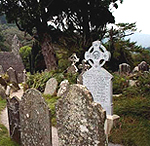 Bless us oh Lord, You who are
the peace of all things calm
the place to hide from harm
the light that shines in dark
the heart's eternal spark
the door that's open wide
welcoming all to come inside.
We ask this blessing
God be willing.
Adapted from the Celtic oral tradition - 1st millennium
Photo Credit: Scott Atherton, Irish Corner


---
Weekly Quote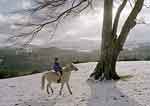 The rick is thatched
The fields are bare,
Long nights are here again.
The year was fine
But now 'tis time
To hear the ballad-men.
Boul in, boul in and take a chair
Admission here is free,
You're welcome to the Rambling House
To meet the Seanachi.
Eamon Kelly's prologue to his storytelling programme on Radio Eireann. To read our article, please click In My Father's Time.
Photo credit: Smarter Travel.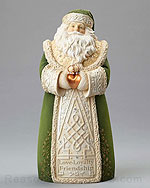 Christmas is right around the corner
---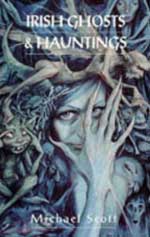 Irish Ghosts & Hauntings
by Michael Scott

What is it about Ireland's past that so haunts the imagination? More than one answer can be found in Michael Scotts's powerful new collection of 29 tales. In a newly Christianized Ireland, monks do battle with a devilish monster that has killed a river. In fact, all the water in these stories - from rivers to lakes, conceal dangers that men and women would best avoid. Adapted from an intro by the publisher.
Click here for Irish Ghosts.

---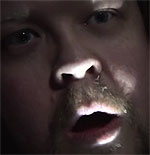 The Last Light: An Irish Ghost Story
Don't be afraid of the dark. Be afraid of what is in the dark. A handy man is hired to brick up an abandoned mansion along the Irish coast. But he feels like he is not alone. From a small independent film company in Northern Ireland it won its star Robert Render the best actor award at the Freak show film festival in Florida and it is his performance that keeps the whole story believable.
Click here for The Last Light.

---