Traditions, folklore, history and more. If it's Irish, it's here. Or will be!
"People will not look forward to posterity who never look backward to their ancestors."
-Edmund Burke
---
Quotes

Library: Books, Movies, Music

Prints & Photos

Poetry

Jokes

---
---
Shops Ireland
---
Bunús na Gaeilge
(Basic Irish)

---
---
Did You Know?
---
Himself/Herself
Write to Us
Readers Write..
Links/Link to Us
---
Advertise with us
---
Awards & Testimonials

Submissions Guide
---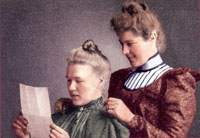 Letters
Next Page: Letters of the month 2008

We receive many lovely letters from visitors to our web site and subscribers to our newsletter. As we're fond of saying, your feedback helps to make all of the time and effort worth while. While we have a Readers Write Page where we post comments from time to time, we've decided to also select a Letter - one that for whatever reason, tickled our fancy. So,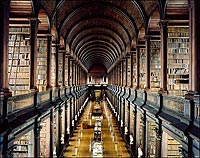 Dear Mr. & Mrs. Haggerty,

I must begin by telling you how much I truly love your website. I was fortunate to have stumbled across it by accident a few days ago and I have spent most of my time searching and reading through it since my discovery. There is so much information to absorb. I wish I was a sponge.
My 14 year-old daughter and I have been teaching ourselves Irish for the past several months. We aren't doing all that well, but we are certainly enjoying it. We do have Irish heritage somewhere way down our family tree but not really enough to brag about. However, I claim it every chance I get.
We are hoping to visit Ireland one day. If not, then maybe we'll at least make it to Dublin, Texas since it's only about 6 hours away. Ha! Ha!
Once again, I love your site. Thank you for sharing so much with those of us who are truly interested in the Irish culture.

God Bless you both.
Slán anois!

Stephanie Roberson
Deer Park, Texas
Ná glac pioc comhairle gan comhairle ban
Never take advice without a woman's guidance
Old Irish Proverb

ED. NOTE: We asked Stephanie what she would like to see when she visits Ireland. Here's what she said:
"Here is a pic that I found of the Trinity University Library in Dublin. I love books and am trying to learn to speak Irish and I think it would be awesome to visit this place. Also, the Eagle Island Lighthouse in County Mayo. The scenery just looks so breathtaking. "
Photo Credit: Candida Hofer's book "Libraries" which is available on amazon and features gorgeous photographs of the world's most stunningbookshelves!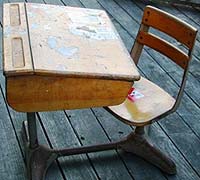 " This is a wonderful and all encompassing web site of all things Irish. My husband (and consequently, children) are Irish. We are a home schooling family and this web site has allowed me to steep my children in the culture and history of their relations. I love your content, thank you for all your hard work.

Alison Rice"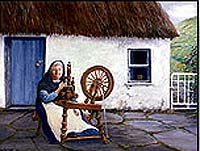 Dia duit!
Couldn't help but respond to your first newsy letter of 2010!
Can't begin to tell you how much I enjoy your mailings. I'm an artist who paints Ireland so am quite familiar with the back-roads and the 'News of the Counties' always is a favourite read!

Best of luck and many blessings to the both of you!

A fan,
Beverly Faulkner

ED. NOTE: We visited Beverly's site and her paintings are delightful. We show one here that Bridget particularly liked - Grace & Roses. To see more of her work, please click Eire by Faulkner.


Image: The Letter by Kirsten Soderlind, Note card from All Posters
Caption: We lost a lot when we stopped writing letters. You can't reread a phone call.
To read our previous letters, please click Letters


Next Page: Letters

Image: The Letter by Kirsten Soderlind, Note card from All Posters
Caption: We lost a lot when we stopped writing letters. You can't reread a phone call.



Wed, Jan 3, 2018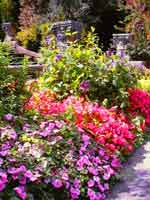 Ilnacullen, Co. Cork - an Island Garden
Located in the sheltered harbour of Glengarriff in Bantry Bay. Ilnacullin, which means island of holly, is a small island known to horticulturists and lovers of trees and shrubs all around the world as an island garden of rare beauty.
The vivid colours of Rhododendrons and Azaleas reach their peak during May and June, whilst the hundreds of cultivars of climbing plants, herbaceous perennials and choice shrubs dominate the midsummer period from June to August.
Because of its sheltered situation and the warming oceanic influence of the Gulf Stream, the climate is favourable to the growth of ornamental plants from many parts of the world.
Even for those who aren't particularly interested in gardens, there are many other scenic views, especially in the surrounding waters where seals frequent the rocks on the southern shore.
The cover photo on Bridget's book The Traditional Irish Wedding shows a wrought iron garden gate on Ilnaculen. I took that photo. To see it, go to the home page. It's part of the opening paragraph Failte.
—Russ
Resource: Copy and Image - Cork Guide

Click for More Culture Corner.
Elegant bookmark is made of silver over pewter. It measures 3" x 1". When in use, the pretty Celtic design sticks out of your book. Or choose Trinity Knot or Celtic Heart.

Click for Celtic Book mark.

---
All contents copyright © 2001 through 2011 inclusive - all rights reserved.
March 4, 2011

Rollover button Images:
Wedding LaRose, Kids Reading & Kitchen Apples and Tea from All Posters prints.
The information provided on this site is offered as-is, without warranty. This site's owners, operators, authors and partners disclaim any and all liability from the information provided herein.
Any trademarks or registered trademarks on this site are the property of their respective owners.

This Web Site Bashed, Kicked & Glued together by Russ Haggerty.