Traditions, folklore, history and more. If it's Irish, it's here. Or will be!
"People will not look forward to posterity who never look backward to their ancestors."
-Edmund Burke
---
Quotes

Library: Books, Movies, Music

Prints & Photos

Poetry

Jokes

---
---
Shops Ireland
---
Bunús na Gaeilge
(Basic Irish)

---
---
Did You Know?
---
Himself/Herself
Write to Us
Readers Write..
Links/Link to Us
---
Advertise with us
---
Awards & Testimonials

Submissions Guide
---
St. Patrick's Day Around the World - 2003
by Bridget Haggerty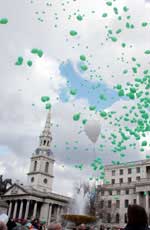 One day of celebration just isn't enough! In many locales, St. Patrick's Day has become a 'season!' Parades have already been held in Rockaway, New York - one of the largest parades in the state, and second only to the biggest of them all in New York city itself. Perhaps it's because the saint's day falls on a Monday this year - which lends itself to at least a long weekend of celebrations - before and beyond.

In any event, we took a look at how the world is, or will be, observing what has become the only international holiday on the planet. From Seoul to New Zealand and Birmingham to Grenada, the 'wearin' o' the green' is now a world-wide event embraced by dozens of nationalities.

Across the Globe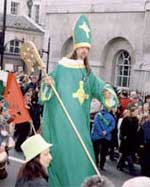 London: After the resounding success of last year's St. Patrick's Day Festival, an even bigger and better parade and festival is planned for 2003. On the Southbank, Irish song and dance will begin at 12noon and run until 6pm between Jubilee Gardens and the National Theatre. There will be several marquees along the Queen's Walk area showcasing Irish food and drink, Arts & Crafts, Music and dance workshops and a Tourism Ireland village. Also, several bars, community stalls, food outlets and a large Children's Zone will be on hand to quench the thirst, appease the appetite and amuse the kiddies.

Seoul: Korea's largest gathering of expatriates and locals will be celebrating life and helping those in need from Saturday, March 8, through March 17, including the main event on Sunday, March 16 - the street parade of thousands down Itaewon street.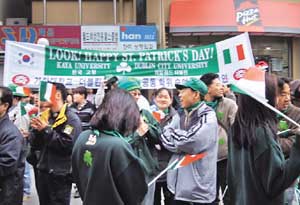 Begun in 2001 with an enthusiastic parade of roughly 250 throughout Myeongdong, its popularity exploded a year later, with an estimated 3,000 expats and Koreans alike marching together. 2003 promises to be just as popular with an estimated 5,000 or more expected to view and/or participate in "O'Kim's St. Patrick's Day Parade!"

Uganda: This year marks the 50th anniversary of the Irish Society in Uganda and a week-long celebration is under way. Uganda Breweries has already flown in a huge quantity of Guinness for the big do.

Grenada: Celebrations take place in Sauteurs, St. Patrick's. Exhibits include local arts and craft, agricultural produce, food, drinks and a cultural extravaganza.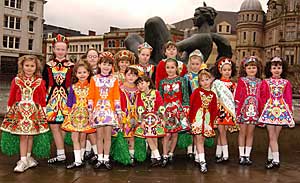 France: An audience of 70,000 plus is expected to attend the "Nuit Celtique" on Saturday, March 15th at the Stade de France. Twenty thousand will be able to dance on the stadium's playing field, while more than 100 Irish, Scottish, Gaelic and Breton singers, dancers and musicians will perform on four stages, with images projected on two giant screens behind them. Star performers include Sinéad O'Connor, Alain Stivell, Denez Prigent and Carlos Nunez.

Rome: The fountains will not run green for the day nor will there be a la dolce vita style parade down central Via Veneto. However, the Irish community will come together at the Irish Augustinian Church of St. Patrick's on Via Boncompagni for a Mass early Monday morning which will be said and sung in Irish.

Milan: "Weekend Irlandese", promoted by the Irish Tourist Board, will be held at Ippodromo del Trotto (racecourse) and promises food, song and dance for all ages. By night and day, the festival offers a Guinness bar, an Irish beef barbecue and bands playing both rock and traditional Irish music, as well as face painting and a treasure hunt for children.

Sardinia: Hibernophile Italo Siddu is the organizer of the week-long "Irlanda in Festa" which is held in Cagliari and includes all of the prerequisite Irish singing, drinking and dancing.

New Zealand: Auckland's Irish Festival and St Patrick's Parade has turned into the largest Irish celebration in the Southern hemisphere. 2003 - the ninth year of the Irish Festival - promises to live up to expectations. Events begin on Thursday, March 13, with a film premiere, followed by a wide variety of festivities - from the Guinness Irish Music & Dance Festival in Aotea Square on Saturday, to Sunday's Irish Society Fair Day with Gaelic sports. Climaxing the festivities will be Monday's St. Patrick's Day Mass - and yes, more celebrations!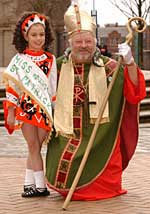 Birmingham, England: St. Patrick's Festival is one of the city's premier community events, with the Irish community numbering around 140,000 people. This year's festival is set to encompass all aspects of Irish culture including, Irish dancing, gaelic sports tournaments and a civic reception. The highlight will be the annual St. Patrick's Day Parade which will be followed by a major Irish music festival, to be held in the prestigious Centenary Square.

Moscow: Aside from the many Moscow Irish pubs that will be offering two-for-one Guinness deals on St. Patrick's Day, local Irish cultural groups, such as the Irish dance school Irdian and the Russian Celtic Society, will be staging events. Since 1992, when Moscow held its first annual St. Patrick's Day Parade, the Russian capital has taken to the Irish national holiday with gusto. This year's parade will be held on Saturday beginning at 1 p.m. It will begin on Kutuzovsky Bridge and proceed along Novy Arbat, ending at the Arbatskaya metro station. Novy Arbat will be closed to traffic during the parade.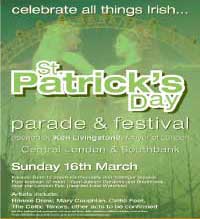 Monserrat: In 1985, St Patricks Day was declared a public holiday, and has grown to become a week-long celebration. This year's festivities will take place from Monday March 10 – Monday March 17. There will be national exhibitions, depicting historical artifacts, and local arts and crafts, during the entire week. Other activities will include a lecture, poetry reading, a Garden Party and Flower Show, a Cultural Show, and a Boat Cruise to view the southern volcanic regions, including the famous village of St. Patrick's. Monserrat is currently the only country outside Ireland, which celebrates St Patricks Day as a National Holiday.

And a word or two about a special parade in Ireland...
Galway
This year Galway celebrates not just any St Patricks day parade, but its one hundreth anniversary. The first St Patrick's Day parade in Galway, according to Peter Rabbitte of the Galway Library, was held in 1903. Two hundred and fifty shops closed for trade, and up to 10,000 spectators were estimated present. This year the parade will take place on March 17th at 12:30pm, starting at University College Hospital, over the Salmon Weir Bridge, and finishing in Eyre Square.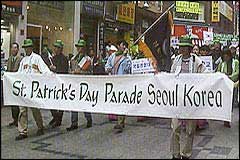 Besides the aforementioned cities and countries, there will be celebrations in just about every major city on the map. To give you an idea, here's where the Irish Members of Parliament are going:

Brazil, China, Japan, Hong Kong and the US are on the itinerary as well as 7 other nations:

The President, Mrs McAleese - Sydney, Australia
The Taoiseach, Mr Ahern - Washington, DC
Minister for Transport - Boston
Minister for Foreign Affairs, Mr Cowen - San Francisco
Tánaiste and Minister for Enterprise, Trade and Employment, Ms Harney - San Jose, California
Minister for Defence, Mr Smith - Savannah
Minister of State at the Department of Foreign Affairs, Mr Dick Roche - Chicago
Minister of State at the Department of Transport, Dr McDaid - Philadelphia Minister of State for Labour Affairs, Mr Frank Fahey - San Diego
Minister of State for Foreign Affairs, Mr Tom Kitt - New Zealand
Minister of State at the Department of Agriculture, Mr Noel
Treacy - Hong Kong
Minister of State at the Department of Finance, Mr Tom Parlon - South Korea
Minister for Justice, Mr McDowell - China
Minister of State at the Department of Agriculture, Mr Liam Aylward - Japan.
Minister for Community, Rural and Gaeltacht Affairs, Mr Ó Cuív - Johannesburg
Minister for the Environment and Local Government, Mr Cullen - Brazil.

The Minister of State for Health and Children, Mr Ivor Callely - Manchester and Birmingham, England
Minister for Arts, Sport and Tourism, Mr O'Donoghue - Scotland
Attorney General, Mr Rory Brady SC - London
Minister for Agriculture, Mr Joe Walsh - Paris
The Minister for Social and Family Affairs, Ms Coughlan - Oslo

Many of Ireland's political leaders, including the Taoiseach, will be back in time to spend the big day, March 17th, at home in Ireland.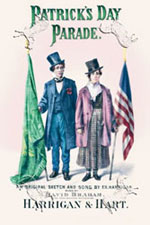 No-one has ever tried to estimate just how many people participate every year in St. Patrick's Day festivities - certainly it has to be approaching an astronomical number. But then, given that there are more than 300 parades in the USA alone, (with all but four states represented)*, one shouldn't be surprised - and it certainly lends credence to the old saw that everyone is Irish on March 17th! But, given all of the hoopla surrounding today's mammoth celebrations, this writer is drawn to the shenanigans of a tiny village in Co. Leitrim.

Keshcarrigan has less than 20 residents. But, in 1996, that small detail didn't stop them from wanting to stage a St. Patrick's Day Parade! The response to the idea was so huge it became apparent that the single street through the village would be too small to accommodate the proposed number of floats and bands. Undeterred, they decided to turn conventional protocol on its head and hold Ireland's first ever "stationary" parade. They parked all of the floats and bands and forced the crowds to move and mingle among them. It captured the imagination of the general public and drew the attention of the national media - with only the Dublin and New York celebrations receiving greater prominence!

When March 17 rolled around again, the public was once more turning to Keshcarrigan for something a bit different. "We were under pressure to come up with something even better the second time around," says Des Foley, Chairman of the Parade Committee, "so we decided to hold a backwards parade through the village". Horses, goats, dogs and bands all marched backwards, machinery reversed and the snakes even chased St Patrick out of the village!

The next year, when the locally-based Kiltubrid Pipe Band agreed to lead the New York St Patrick's Day Parade, it looked like Keshcarrigan would be parade-less as Foley and most of the organizing committee were members of the band. However, they simply issued a press release questioning the legitimacy of March 17 as the anniversary of St Patrick and promptly held their parade in mid-February!

Then in 2000, they outdid themselves. The committee's offering was an invisible parade through the village. Amazingly a couple of thousand people turned up to witness a parade that no-one could see! Visitors allegedly included Boris Yeltsin, Pamela Anderson and a herd of African elephants with Foley claiming that all were present, but were only visible to residents of Keshcarrigan.

What of 2001 and 2002 - or the plans for 2003? Long searches on the internet have yielded nary a word about the past two years or what's on tap for 2003. Perhaps some of our Irish readers could help us out and let us know? In any event, and for this writer at any rate, a tiny village in rural Ireland sounds like the best place to be this March 17th, or any other St. Patrick's Day!

*US states not holding parades this year are: Idaho, Wyoming, Vermont, and West Virginia.
For more Saint Patrick's Day around the world, click here for our article for 2002. Other countries and cities are represented.

Resources:
St. Patrick's Day Festival, Dublin, 2003
The Seoul Times
My St Pat's Day
Irish Emigrant

To view the USA parade list: The Wild Geese.
Images: St. Patrick's Day Parade Poster from Barewalls prints.


Wed, Jan 3, 2018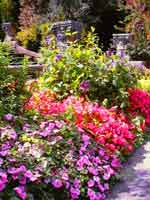 Ilnacullen, Co. Cork - an Island Garden
Located in the sheltered harbour of Glengarriff in Bantry Bay. Ilnacullin, which means island of holly, is a small island known to horticulturists and lovers of trees and shrubs all around the world as an island garden of rare beauty.
The vivid colours of Rhododendrons and Azaleas reach their peak during May and June, whilst the hundreds of cultivars of climbing plants, herbaceous perennials and choice shrubs dominate the midsummer period from June to August.
Because of its sheltered situation and the warming oceanic influence of the Gulf Stream, the climate is favourable to the growth of ornamental plants from many parts of the world.
Even for those who aren't particularly interested in gardens, there are many other scenic views, especially in the surrounding waters where seals frequent the rocks on the southern shore.
The cover photo on Bridget's book The Traditional Irish Wedding shows a wrought iron garden gate on Ilnaculen. I took that photo. To see it, go to the home page. It's part of the opening paragraph Failte.
—Russ
Resource: Copy and Image - Cork Guide

Click for More Culture Corner.