Traditions, folklore, history and more. If it's Irish, it's here. Or will be!
"People will not look forward to posterity who never look backward to their ancestors."
-Edmund Burke
---
Quotes

Library: Books, Movies, Music

Prints & Photos

Poetry

Jokes

---
---
Shops Ireland
---
Bunús na Gaeilge
(Basic Irish)

---
---
Did You Know?
---
Himself/Herself
Write to Us
Readers Write..
Links/Link to Us
---
Advertise with us
---
Awards & Testimonials

Submissions Guide
---
St. Patrick's Day Around the World - 2002
by Bridget Haggerty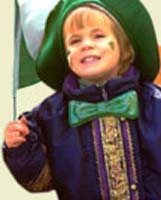 In 2001, St. Patrick's Day in Ireland was more like it used to be in the old days. The threat of hoof and mouth disease led to the cancellation or postponement of the big parades in Dublin, Belfast, Cork, Armagh and Limerick. So, while the Irish in Ireland still celebrated the feast of their patron saint, many did so where they always have - in the local pub. For the old-timers, Mass in the morning and a pint or two at the pub afterwards was, and always will be, the only way to celebrate.

Not so in 2002. Dublin is pulling out all the stops with a four-day festival culminating in a spectacular fireworks display. And, in far-flung lands thousands of miles away, millions will be celebrating what has become one of the biggest holidays anywhere in the world!
USA
From Atlanta, Georgia to Shamrock City in Texas, dozens of cities in as many or more states are hosting a St. Patrick's Day Parade. The places that usually spring to mind are Boston, New York and Chicago. Here's a look at two others:
San Francisco will be celebrating its 150th annual tribute to St. Patrick. The traditional Mass takes place before the parade at 10.30 a.m. in St. Patrick's Church on Mission Street. All the Irish pubs have finalized their plans for the grand craic ahead, including Johnny Foley's, Kate O'Brien's. The Field, O'Reilly's, Durty Nelly's, Ireland's 32, Pat O'Shea's, An Bodhran and many others.
New Orleans. In most parades, participants staidly walk the parade route - with, perhaps, an occasional display of Irish dancing. Not so, in New Orleans. Strongly influenced by Mardi Gras, the parade features floats, jazz bands and colorful costumed characters. This year, there are actually two parades, one in the city itself and the other in nearby Matairie; both are expected to attract huge crowds who reach out to catch various Irish-related goodies thrown from the floats; instead of plastic beads as in Mardi Gras, there's liable to be the makings of Irish stew and parade-goers need to be careful they don't get conked on the noggin by a head of cabbage! After the parade, the crowds head for their favorite watering holes including Parasols, Pete's, Kerry Irish Pub, Monaghan's Erin Rose, O'Flaherty's Pub and Ryan's Irish Pub, all located in the French Quarter.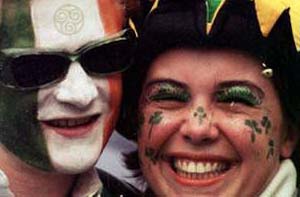 Across the Globe
Florence, Italy. Around St. Patrick's Day, the city hosts 'Festa Irlandese' - ten days of live music, food and drink. The event takes place in a huge tent and attracts thousands of visitors who avidly consume the Italian interpretation of Irish food and drink, including potato soup, beef in Guinness, smoked salmon and gallons of stout.
Tokyo, Japan. About 2,000 participants march down fashionable Omotesando Avenue, lined for the occasion by Irish and Japanese flags, cheered on by as many as 7,000 spectators. The Irish Ambassador to Japan leads the kilt-wearing, bag-pipe playing participants and it doesn't seem to matter that very few of them are from the ould sod. The Japanese love a good party and they are particularly fond of all things Irish - including Guinness at about $7.00 a pint! However, there are a growing number of Irish pubs that send attractive young ladies to the parade for the sole purpose of handing out free beer vouchers. Not surprisingly, the 'voucher girls' are a parade highlight!
Australia. Since March is festival season down under, the entire month's calendar is full of events, many of them with an Irish theme. Revelers will be able to celebrate their Irish heritage at breakfasts, lunches, dinners, balls, race days, golf days, and concerts. And, of course, there'll be rounds aplenty in Australia's more than 150 Irish pubs. It's not (quite) all about drink, however. The traditional Saint Patrick's Day Mass will be held at St Mary's Cathedral in Sydney.
Toronto, Canada. The Toronto St. Patrick's Day Parade is one of the largest in North America. Since it began in 1988, the parade has grown to include 100 organizations, 32 Irish county associations, 2,000 marchers, 30 floats, 14 bands as well as an assortment of wolfhounds, leprechauns and talking shamrocks.
Oslo, Norway . The Irish community in Oslo celebrates with a lively parade through the city. Nearly a thousand people join in the fun as the parade steps off through shopping streets, past Oslo cathedral, on to Town Hall Square for some entertainment. Accompanying the pipe band are St Patrick, driven by a red-bearded chauffer in a horse and cart, and a host of other colourful Irish characters. Dressing up is encouraged! Brian Boru and Molly Malone are joined by walking whiskey bottles, and a full Irish breakfast has been known to join the parade. The most original participant wins a weekend for two in Dublin, with a special prize for the kids.



Sao Paulo, Brazil.The 150-strong Irish community in Sao Paulo, Brazil celebrates with a St Patrick's Day shindig at the Bridge Restaurant, Rua Ferreira De Araújo, 741, Pinheiros. Traditional Irish stew is on the menu, to be washed down with generous volumes of Guinness and Irish whiskey.
Seattle, Washington. Seattle celebrates St Patrick's Day in grand style, with a full week of activities. Festivities kick off with the proclamation of Irish Week. Later, there's a mini-parade to prepare the parade route with the ceremonial painting of a green stripe down the center of 4th Avenue. The day of the parade begins with a Catholic Mass for peace.
Manchester. Manchester is celebrating St Patrick's Day with gusto this year. More than 100,000 people are expected to enjoy 70 events around the city, as part of the seventh annual Manchester Irish Festival. The city's Town Hall at Albert Square will even glow festivally greenish, thanks to special lighting effects. A spectacular parade on the 17th will feature more than 60 floats, Irish wolfhounds, ponies and traps, brass and samba bands, flutes and fiddles. The parade will kick off from the Irish World Heritage Centre and travel to the Town Hall steps.
Rome. The Irish Club in Rome will host the 11th Annual Celtic Ball. The black-tie event will benefit Alone in Dublin, a charity working with elderly people, and the Multiple Sclerosis Centre of Young Adults in Rome. The event will be held at the Sheraton Hotel and will feature a champagne reception, followed by a sit-down dinner and dancing all evening. Prizes will include flights from Aer Lingus, a Stephen Pearse bowl, and meals at Irish restaurants.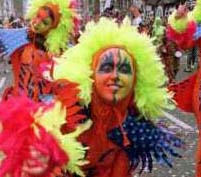 Malaysia. St Patrick's Society of Selangor, which has been in existence since 1925, will host the highlight of Kuala Lumpur's social season - a black-tie ball for over 1000 people. This year, Society President Darina Walsh will welcome Minister Dermot Ahern to the event. No doubt the event will be abuzz with talk of Eddie Jordan's possibility for winning the Formula One racing event taking place in Malaysia during the weekend.
So there you have it - just a brief look at what's happening around the world on this glorious St. Patrick's Day. As always, here in Cincinnati, our parade will begin at noon - and, of course, it's cold and wet! But that won't dampen the spirits of participants who have learned to laugh at our "Irish Sunshine" on March 17th!
Note: For everything you ever wanted to know about parades all over the world and then some, please click here: The Wild Geese.You can even find out the number of parades that are planned state by state in the US!
Resources: Images were gathered from all over the map and include photos from: BBC News
Irish Abroad
The Irish Emigrant St. Patrick's Day Edition
Wed, Jan 3, 2018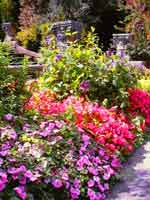 Ilnacullen, Co. Cork - an Island Garden
Located in the sheltered harbour of Glengarriff in Bantry Bay. Ilnacullin, which means island of holly, is a small island known to horticulturists and lovers of trees and shrubs all around the world as an island garden of rare beauty.
The vivid colours of Rhododendrons and Azaleas reach their peak during May and June, whilst the hundreds of cultivars of climbing plants, herbaceous perennials and choice shrubs dominate the midsummer period from June to August.
Because of its sheltered situation and the warming oceanic influence of the Gulf Stream, the climate is favourable to the growth of ornamental plants from many parts of the world.
Even for those who aren't particularly interested in gardens, there are many other scenic views, especially in the surrounding waters where seals frequent the rocks on the southern shore.
The cover photo on Bridget's book The Traditional Irish Wedding shows a wrought iron garden gate on Ilnaculen. I took that photo. To see it, go to the home page. It's part of the opening paragraph Failte.
—Russ
Resource: Copy and Image - Cork Guide

Click for More Culture Corner.