Traditions, folklore, history and more. If it's Irish, it's here. Or will be!
"People will not look forward to posterity who never look backward to their ancestors."
-Edmund Burke
---
Quotes

Library: Books, Movies, Music

Prints & Photos

Poetry

Jokes

---
---
Shops Ireland
---
Bunús na Gaeilge
(Basic Irish)

---
---
Did You Know?
---
Himself/Herself
Write to Us
Readers Write..
Links/Link to Us
---
Advertise with us
---
Awards & Testimonials

Submissions Guide
---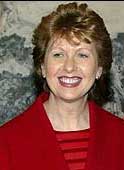 President's St. Patrick's Day Message - 2005
by Mary McAleese

St Patrick's Day is a day of national joyful celebration treasured by the people of Ireland both at home and in their many adopted homelands throughout our world. Wherever we are, this day reminds us of our shared heritage and our membership of a remarkable global family.

We are the adopted children of St Patrick, the outsider whose great gift to Ireland and her people was his exhortation to love one another. Each generation has interpreted his message in very different circumstances. Many left Ireland with very little; yet no matter how poor or oppressed they were, they remembered those who were even worse-off at home and they created vital networks of care for each other.

Today we honour our patron saint in very exciting times. Modern Ireland is economically successful and culturally vibrant as never before. It has made a huge contribution to the ongoing Peace Process and is a respected, dynamic partner in the European Union. It is a home to newcomers of many cultures, faiths, nationalities and identities. A land of opportunity now, the changing face of Ireland grows more fascinating each day. Behind this welcome, peace and progress is a traditional value system which links us to St Patrick. It continues to infuse our restless ambition for a fully inclusive society where all participate in life's banquet and none are mere spectators. Wherever Irishmen and women gather this day I know they share that ambition and take pride in it.

As our global Irish family and friends celebrate this day through the expression of our culture and heritage in our language, literature, games, poetry, music and dance, I hope that the legacy of St Patrick will long encourage us to treasure our strong community spirit and tradition of welcome and care for one another.
Enjoy St Patrick's Day
2005.




Mary McAleese
President of Ireland


President's St. Patrick's Day Message - 2004
by Mary McAleese

Beannachtaí na Féile Pádraig ar chlann mhór domhanda na nGael, sa bhaile agus ar fud na cruinne, ar an lá náisiúnta ceiliúrtha seo.

A Happy St. Patrick's Day to Ireland's sons and daughters, and indeed to our adopted brothers and sisters, throughout the world.

This St Patrick's Day is a particularly special time for Ireland. Today our national day is celebrated during Ireland's Presidency of the European Union, when the European family of nations is about to adopt many new members. These are times of great hope for the nations of Europe and this great project will surely be a beacon to the other nations of the world. We welcome those new members and look forward to a future of friendship and fellowship with them and their peoples. St Patrick himself was, of course, a great European whose vision was not bounded by narrow horizons.

Around the world, on this day, we come together to celebrate the music and song, the wit and humour, the friendship and fellowship that is our heritage and our pride. Many friends will join in the festivities here in Ireland and abroad, and will carry with them the richness of fluent and open friendship that signifies our Irishness. Our greatest gift as a people is our openness to new experiences and genuine curiosity about other cultures, while we continue to inspire other nations with our legacy of resilience, versatility, and enthusiasm for whatever the future holds. That great capacity to adapt underlies much of our economic and cultural successes over the past decade. These shared gifts have sustained and encouraged us through every challenge we have faced throughout history.

I am delighted to join with all members of the Irish family and our many friends throughout the world in honouring St Patrick on this special day.

Go mbainimís ar fad sult agus aoibhneas as an lá speisialta seo.





Mary McAleese - Uachtatán na hÉireann


A Brief Biography
Ireland's President was born Mary Leneghanon 27 June, 1951. She married Martin McAleese in 1976 and they have three children, Emma, Saramai and Justin.
After graduating from Queen's University Belfast, Mary was called to the Northern Ireland Bar and practised mainly in criminal and family law.
In 1975 she was appointed Reid Professor of Criminal Law, Criminology and Penology in Trinity College Dublin, a position she held until 1979 when she joined RTÉ as a journalist and presenter. She returned to the Reid Professorship at Trinity in 1981, while still continuing part-time with RTÉ.
In 1987, Mary McAleese was appointed Director of the Institute of Professional Legal Studies which trains barristers and solicitors for the legal profession in Northern Ireland. In 1994, she was appointed a Pro-Vice Chancellor of Queen's University Belfast.
On 11 November, 1997, Mary McAleese was inaugurated as the eighth President of Ireland.
Resources: Photo and bio from Irish Government Online
The President's Speech from The Irish Emigrant

Click here for President McAleese's 2003 & 2002 speeches.


Wed, Jan 3, 2018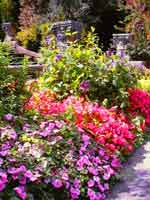 Ilnacullen, Co. Cork - an Island Garden
Located in the sheltered harbour of Glengarriff in Bantry Bay. Ilnacullin, which means island of holly, is a small island known to horticulturists and lovers of trees and shrubs all around the world as an island garden of rare beauty.
The vivid colours of Rhododendrons and Azaleas reach their peak during May and June, whilst the hundreds of cultivars of climbing plants, herbaceous perennials and choice shrubs dominate the midsummer period from June to August.
Because of its sheltered situation and the warming oceanic influence of the Gulf Stream, the climate is favourable to the growth of ornamental plants from many parts of the world.
Even for those who aren't particularly interested in gardens, there are many other scenic views, especially in the surrounding waters where seals frequent the rocks on the southern shore.
The cover photo on Bridget's book The Traditional Irish Wedding shows a wrought iron garden gate on Ilnaculen. I took that photo. To see it, go to the home page. It's part of the opening paragraph Failte.
—Russ
Resource: Copy and Image - Cork Guide

Click for More Culture Corner.