Traditions, folklore, history and more. If it's Irish, it's here. Or will be!
"People will not look forward to posterity who never look backward to their ancestors."
-Edmund Burke
---
Quotes

Library: Books, Movies, Music

Prints & Photos

Poetry

Jokes

---
---
Shops Ireland
---
Bunús na Gaeilge
(Basic Irish)

---
---
Did You Know?
---
Himself/Herself
Write to Us
Readers Write..
Links/Link to Us
---
Advertise with us
---
Awards & Testimonials

Submissions Guide
---
St Patrick's Greetings from President Mary McAleese - 2003
by Mary McAleese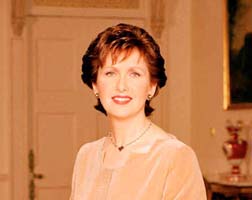 Every year the President shares St Patrick's Day wishes with the Irish around the world. This is her 2003 greeting:

Beannachtaí na Feile Pádraig oraibh go leir. Warmest greetings to Irish people around the world on St. Patrick's Day.

On this day of celebration we honour Ireland's great patron St. Patrick and remember with gratitude the legacy of a man who came among us as an unwelcome stranger. Today his name carries our island's culture and identity to virtually every corner of the earth and in his name people around the world, with and without Irish ancestry, will gather as we do, to commemorate his Feast Day. Through our annual celebrations we confirm the importance of those unique links of friendship which Ireland is privileged to have, the care of which falls to each successive generation. St. Patrick's Day challenges us to focus on the qualities and values that make us proud to be Irish. Our celebrations around the world with such a huge shared effort exemplify our love of country, culture, heritage and hospitality. May they lift hearts, create happy memories and inspire us to renew Patrick's vision for Ireland as a generous, tolerant, inclusive and peaceful place.

I extend my very best wishes to Irish people everywhere for a most enjoyable celebration of this special day. Go neirí go geal libh.

MARY McALEESE
PRESIDENT OF IRELAND

We thought you might be interested in her greeting from last year. So we leave it here.

2002 St Patrick's Greetings from President Mary McAleese
by Mary McAleese

Beannachtaí na Féile Pádraig ar chlann mhór dhomhanda na nGael, sa bhaile agus ar fud na cruinne, ar an lá náisiúnta ceiliúrtha seo.
Warmest St Patrick's Day greetings to every member of our global Irish family and to our many friends around the world.
On this famous day of celebration we gather together drawn by the deep affection and pride which the name of Ireland evokes. It is a day of fun, of music, laughter and joy and it is a day to bring to mind memories some of which lift our hearts and others that weigh us down with grief and sadness.
The tragic memory of September 11th still haunts our minds and thinking back to that dreadful day we can see clearly how much we needed the strength and comfort of friends, how much we depended on each other for reassurance that we would and could transcend this darkness and find again the light of hope.
On that day the thoughts of Irish people everywhere turned to their loved ones far away. We were grateful for those who were safe and our hearts broke for those who suffered loss and injury. Today, as on every St. Patrick's Day we turn our hearts and minds again to each other across seas and continents and we affirm our deep bonds of affection and care for one another, bonds which time and tides cannot weaken.
Irish men and women have brought the name of Ireland to countless lands. They brought with them our culture and our unique history and they introduced many strangers to St Patrick and his people. They earned respect and admiration for the way in which they enriched their new homelands, often overcoming huge obstacles and difficulties. Today Ireland, the land that people once routinely left to seek opportunity is itself a land of opportunity and we too are being enriched by the cultural diversity brought by immigrants to our shores.
On this day we remind ourselves again of the many gifts brought to Ireland by our most famous immigrant, St Patrick. Although he first arrived among us over fifteen hundred years ago there is still a remarkable timeless integrity about his message of love, patience, forgiveness and tolerance. He believed these virtues could work miracles in transforming human relationships from conflict to harmony.
May his generous spirit inspire us today and every day and may you all enjoy a celebration on this day.
MARY MCALEESE
PRESIDENT OF IRELAND
A Brief Biography
Ireland's President was born Mary Leneghanon 27 June, 1951. She married Martin McAleese in 1976 and they have three children, Emma, Saramai and Justin.
After graduating from Queen's University Belfast, Mary was called to the Northern Ireland Bar and practised mainly in criminal and family law.
In 1975 she was appointed Reid Professor of Criminal Law, Criminology and Penology in Trinity College Dublin, a position she held until 1979 when she joined RTÉ as a journalist and presenter. She returned to the Reid Professorship at Trinity in 1981, while still continuing part-time with RTÉ.
In 1987, Mary McAleese was appointed Director of the Institute of Professional Legal Studies which trains barristers and solicitors for the legal profession in Northern Ireland. In 1994, she was appointed a Pro-Vice Chancellor of Queen's University Belfast.
On 11 November, 1997, Mary McAleese was inaugurated as the eighth President of Ireland.
Resources: Photo and bio from Irish Government Online
The President's Speech from The Irish Emigrant

Click here for President McAleese's 2004 & 2005 speeches.


Fri, Feb 2, 2018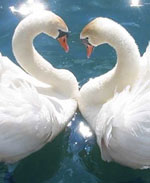 Irish God and Goddess of love
Oengus is the Irish God of love, beauty and youth. According to the old folklore, his kisses became birds. It is also said that he dreamed of a beautiful maiden, named Caer, for whom he searched all over Ireland. Eventually, he found her chained to 150 other maidens, destined to become swans at the time of Samhain. Legend has it that Oengus transformed himself into a swan and was united with his love.
Aine of Knockaine is the Irish Goddess of love. She is also known as the Fairy Queen of Munster and as a goddess of fertility beause she has control and command over crops and animals, especially cattle. Another name by which she is known is Aillen. To learn more about Irish mythology, please click Irish Myths & Legends.
Photo Credit: Wikipedia

Click for More Culture Corner.