Traditions, folklore, history and more. If it's Irish, it's here. Or will be!
"People will not look forward to posterity who never look backward to their ancestors."
-Edmund Burke
---
Quotes

Library: Books, Movies, Music

Prints & Photos

Poetry

Jokes

---
---
Shops Ireland
---
Bunús na Gaeilge
(Basic Irish)

---
---
Did You Know?
---
Himself/Herself
Write to Us
Readers Write..
Links/Link to Us
---
Advertise with us

---

Help keep us free
Throughout the site you will see many items available for purchase from well-known merchants such as Amazon. Not interested in what we're featuring? It doesn't matter. Click on any link and then shop for whatever you wish - we will still get credit, if you buy something.
Thanks for your help.

---
---
Desserts 2
Click here for Desserts 1

Click here for Desserts 3
(Next)
A pre-Lenten decadent dessert

by Bridget Haggerty

In the old days, Shrove Tuesday was when Irish families used up all of their eggs, butter and other dairy products in anticipation of abstaining from these foods for the Lenten season. Hearkening back to these old ways, many of us who are Roman Catholic still practise giving up something for Lent; when we were children, it might have been sweets. As adults, it's more likely to be our favorite libation or, saints preserved, chocolate! For one last indulgence before the weeks of austerity set in, we found a recipe that incorporates all of the traditional forbidden foods, as well as two contemporary favorites - Baileys Irish Cream Liqueur and chocolate chips!

Baileys Chocolate Chip Cheesecake
Adapted from a recipe on Food Ireland; it is also attributed to a Chef Dean Fearing whose very similar recipe appeared in Bon Appetit.

Ingredients:
Crust
Non-stick vegetable oil spray
2 cups crushed McVities digestives*
1/4 cup sugar
6 tablespoons Irish butter* melted

Filling
2 1/4 pounds cream cheese, room temperature
1 2/3 cups sugar
5 eggs, room temperature
1 cup Baileys Irish Cream Liqueur
1 tablespoon vanilla extract
1 cup semisweet chocolate chips

Topping
1 cup chilled whipping cream
2 tablespoons sugar
1 teaspoon instant coffee powder

Garnish
Chocolate curls or shavings

Method:
1. Pre heat oven to 325 degrees
2. Coat 9-inch diameter spring-form pan with non-stick vegetable oil spray
3. Combine digestives and sugar in pan; stir in the butter
4. Press the mixture into the bottom and 1 inch up sides of pan
Bake until light brown about 5 minutes. Remove from oven (keep oven turned on to 325 degrees)
5. Using an electric mixer, beat cream cheese until smooth
6. Gradually mix in sugar, then beat in eggs 1 at a time. Add Baileys and vanilla
7. Sprinkle half of chocolate chips over crust
8. Spoon filling into crust; sprinkle with remaining chocolate chips
9. Bake until puffed, springy in the center and golden brown - about 1 hour and 20 minutes. Cool completely
10. Beat cream, sugar and coffee powder until peaks form; spread mixture over top and sides of cooled cake. Garnish with chocolate curls or shavingsfrom a bitter-sweet chocolate bar. Refrigerate until serving time. Refrigerate any leftovers.

*McVities Digestives are available from The Irish Food Shoppe

Irish butter is available from Food Ireland

Image:
Irish cheesecake: A Cook's Wares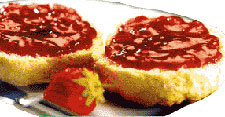 Strawberry Scones
In reviewing our recipe index, we were surprised at the absence of an Irish tea-time favorite - scones! So, to make amends, here is an easy recipe adapted from the "Hen Party" menu in Bridget's Traditional Irish Wedding book.

Ingredients:
1 cup strawberries
2 1/3 cups of flour
3 tablespoons sugar
2 teaspoons baking powder
1/4 teaspoon salt
6 tablespoons Irish Butter*
2/3 cup milk

Method:
Preheat oven to 425°F
1. Cut strawberries in 1/2 inch pieces and set aside
2. In large bowl, sift the flour, sugar, baking powder and salt
3. Add butter. With pastry blender or two knives, cut in butter until mixture resembles coarse crumbs
4. Stir in reserved strawberries and toss well to coat
5. Add milk all at once. With a fork, lightly toss until mixture holds together
6. With floured hands, gently form into a ball. Gently roll out dough on floured board until 1/2 inch thick
7. Cut into two-and-a-half-inch circles with floured cookie cutter or upside down plastic tumbler
8. Place on greased cookie sheet and bake until golden - about 12 minutes.
Serve warm with either strawberry preserves and/or whipped cream

*Real Irish butter and a wide variety of other food products from Ireland are available from Food Ireland

Image: Food Ireland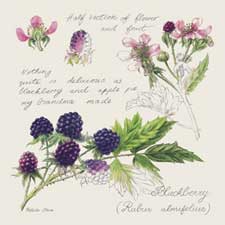 Michaelmas Pie
Contributed by Aideen

We spent a great deal of time looking for a recipe, but while many mentions of Michaelmas Pie can be found on the internet and in cook books - especially in reference to the Irish custom of hiding a ring in it - we've yet to find a source that lists the ingredients. Is it savory or is it sweet?

Determined to to solve the mystery, we asked our resident Irish speaker, Aideen, if she knew. She belongs to an internet recipe exchange club and gave them the challenge; but even this group of foodie fanatics was unable to come up with a definitive answer.

Reading through all of the information about Michaelmas day and the traditions associated with it - eating goose, for example, as well as carrots in some of the Celtic nations, we agree with Aideen's suggestion that the Michaelmas meal would most likely have ended with pie for dessert. And, since blackberries and apples are plentiful this time of year, we think it's just as likely the Michaelmas Pie would have been made with these ingredients.

There's another reason we believe blackberries would have been an ingredient. According to old folklore, at Michaelmas, the devil spits on the blackberries (or worse!), so it's considered ill-advised to eat them after September 29th.

If you happen to live where blackberries grow wild, why not take advantage of their abundance at this time of year and gather as many as you can for making crumbles, jam....and Michaelmas Pie!

Go raibth maith agat Aideen!

Ingredients:
12 oz plain flour, sifted
1/2 tsp ground cinnamon
3 oz white vegetable fat or lard
3 oz chilled butter, diced
3 fl oz chilled water
pinch salt
2 lbs cooking apples
2 oz sugar
1 tsp ground cloves
1 tsp ground nutmeg
12 oz) blackberries
1 egg, beaten

Method:

Pre-heat the oven to 180 C, 350 F, Gas 4.
1. Prepare the pastry. Place the flour in a large bowl and stir in the cinnamon and salt. Rub in the butter and white fat with your fingertips until the mixture resembles fine breadcrumbs. Make a well in the centre and add the chilled water. Bring the mixture together using a round bladed knife. Once it has come together, knead for a brief moment and place in a plastic bag in the fridge. Leave to rest for 30 minutes.

2. Peel and core the apples. Cut them into large chunks and place them in a saucepan with the sugar, cloves and nutmeg. Cover with a lid and gently cook for 5 minutes, until the apples have softened. Fold in the blackberries and remove the saucepan from the heat. Cool completely.

3. Remove the pastry from the fridge and roll out two thirds on a lightly floured surface. Line an 8-inch metal pie plate. Prick the base of the pastry with a fork. Strain the fruit, reserving the juices and spoon the fruit mixture over. Roll out the remaining pastry. Lay the pastry over the fruit. Lift back the edge and brush the base with a little egg and seal the edge. Trim and crimp the pastry edges. Brush the surface with the remaining egg and make a couple of slits in the top. Scatter a little more sugar over the pastry and bake for 35 minutes. Serve hot or cold with ice cream or fresh double (whipping) cream.


Image:
Blackberry by Petula Stone from All Posters Photos & Prints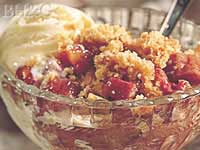 Irish Rhubarb Crumble
A luscious concoction, simple and homey, from The Abbey in Clonmel.

Ingredients:
14 oz. unbleached white flour
14 oz. brown sugar
6 oz. butter, cut into bits
1 lb. rhubarb, cut into small pieces
2 1/2 Tbsp. lemon juice
1/2 tsp. grated lemon rind
1/2 cup sugar
1/2 tsp cinnamon
pinch cloves

Method:
Combine flour and brown sugar in mixing bowl. Cut in butter until mixture resembles coarse crumbs. Place rhubarb in bottom of 9" pie plate, sprinkle lemon juice and rind over top, along with sugar and spices. Pile the crumble mixture on top of fruit, pressing down so that fruit is covered. Bake in a 300 deg. F. oven for 20 minutes or until top is golden and filling begins to bubble around edges. May be served hot or cold with a dollop of cream.


Curach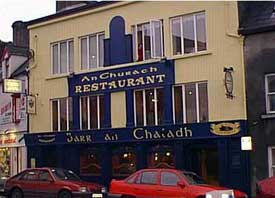 Contributed by our resident Irish speaker, Aideen

Recently, a reader asked us if we could determine the meaning of the name of a restaurant in Galway called An Churach. Aideen is just back from a trip home to see her family and while she was there she did some investigating.

"I consulted several more knowledgeable Irish-speakers than I and dictionaries were perused - all to no avail. The word, with that spelling, does not seem to exist. In desperation, I called the restaurant and spoke to an Assistant Manager who told me that it is just "a different spelling of Currach." I know it's not but I couldn't argue with him and hope to win! I suspect there are so many places in Galway with the name 'Currach' that they thought it would stand out when spelt that way! Co-incidentally, while I was over last week, the Irish Times was running a promotion for a 25% discount at many of the leading, expensive restaurants in Ireland and An Curach was one of them, so it must be a classy place."

Call it serendipity, but when we asked Aideen for the translation, she had just come across the following recipe. Apparently, there's a very similar dish in Scotland called "Cranachan" (without the rhubarb) - and we don't know what that means either! But we do know that fresh rhubarb is back in season and what better way to serve it than in this elegant dessert!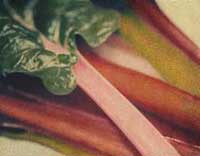 Ingredients:
1 1/2 cups oatmeal
1 cup chopped rhubarb
2 cups raspberries
3 tablespoons honey
2 cups whipping cream (heavy cream)
4 tablespoons whiskey

Method:
Preheat the oven to 400 degrees. Spread the oatmeal out on a baking tray (cookie sheet) and bake until golden brown, approx 15 minutes, stirring frequently.

In a medium saucepan, add the rhubarb and half of the raspberries with 2 tablespoons honey. Cook gently over a medium heat until the rhubarb is tender but not mushy. Cool. In a large bowl whip the cream until stiff. Fold in the remaining honey and whiskey. Layer in a trifle bowl or individual glasses some of the cream mixture, some toasted oatmeal, the rhubarb mixture, and some fresh raspberries. Then repeat. Garnish with fresh raspberries and mint leaves if desired. Serve at room temperature or chilled.

Serves 6

Images:
Rhubarb by Jennifer Kennard from Barewalls Photos & Prints

An Churach Restaurant, 3 Daly Place, Woodquay, Galway, Ireland

Desserts 2
Click here for Desserts 1 (Previous)
Click here for Desserts 3 (Next)

Any purchase made helps to support our site (and Bridget's fondness for tea towels). Thank you.


Thu, Jul 9, 2015
---
"...the freshest of food and
the oldest of drink"
- Irish Proverb
Set a lovely tea table with Bewley's!

Bewleys Tea Pot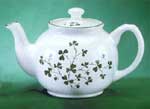 Bewley's Shamrock Sugar and Creamer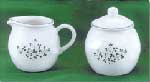 Bewleys Shamrock Mug Set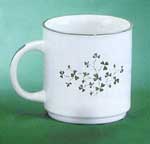 Click picture for individual items. click here for
Complete Set
.
---
Salad Plates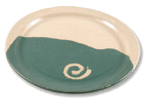 Celtic pottery, made in Ireland. Two shades of green. Bridget is determined to have the lot!
Click here for Pottery Salad plates.
---
The New Irish Table
by Margaret Johnson



Margaret Johnson's love of Ireland permeates page after glorious page of mouthwatering Irish dishes, from Smoked Salmon Chowder to Raspberry Buttermilk Tarts. Lavish color photographs of the food, the landscapes, and the people are woven through the text, making The New Irish Table the next best thing to sitting down to dinner in Ireland itself.
Click here for New Irish Table.