Traditions, folklore, history and more. If it's Irish, it's here. Or will be!
"People will not look forward to posterity who never look backward to their ancestors."
-Edmund Burke
---
Quotes

Library: Books, Movies, Music

Prints & Photos

Poetry

Jokes

---
---
Shops Ireland
---
Bunús na Gaeilge
(Basic Irish)

---
---
Did You Know?
---
Himself/Herself
Write to Us
Readers Write..
Links/Link to Us
---
Advertise with us

---

Help keep us free
Throughout the site you will see many items available for purchase from well-known merchants such as Amazon. Not interested in what we're featuring? It doesn't matter. Click on any link and then shop for whatever you wish - we will still get credit, if you buy something.
Thanks for your help.

---
---
Desserts 1
Click here for Desserts 2 (Next)


Crunchy Apple & Blackberry Crumble
Contributed by Hartson Dowd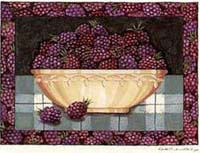 "In autumn the hedgerows are bursting with juicy, plump blackberries. Apples are the perfect flavor partner to blackberries, and now is the time when local varieties are in season. Crumbles are a classic and so easy to make. Here is one to welcome in the autumn!"

Ingredients:
For the filling:
2lb Bramley or Granny Smith cooking apples
1lb blackberries
6oz brown sugar
2 lemons

For the topping
8oz plain flour
6oz butter
2oz brown sugar
4oz muesli or a mixture of oats, seeds and chopped nuts

Method:
1. Pre-heat the oven to 400F.
2. Peel, core and chop the apples into small chunks. Cut the lemons in half and squeeze the juice over the apple and mix well. This not only adds flavour but prevents the freshly peeled apples from discoloring.
3. Layer the apples, blackberries, and sugar in a large pie dish
4. Place the flour in a large bowl and then rub in the butter until it resembles breadcrumbs - leave a few lumps of butter so that the topping is not too fine. Add the muesli or oat/seed/nut mixture and the sugar and mix through.
5. Use a spoon to sprinkle the crumble topping evenly over the fruit. Bake for 45 minutes or until the fruit is cooked and bubbling juices seep through the topping.
6. Cool for a few minutes and then serve with custard or fresh cream.
Serves 6 to 8

Blackberries Image from All Posters.

---

Apple Duff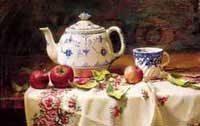 Ingredients:
4 dessert apples
2 oz. brown sugar
2 oz raisins
Cinnamon to taste
Beaten egg
1/2 pint heavy cream, whipped
Puff pastry - either purchased or home-made.

Method:
1. Preheat the oven to 400'F.
2. Peel and core the apples.
3. Mix brown sugar, raisins and cinnamon.
4. Stuff the centers of the cored apples.
5. Roll out the pastry and cut out 4 circles approximately 8" in diameter, depending on the size of the apples.
6. Place an apple in the center of the pastry circle and brush the edge with beaten egg; draw up the pastry to enfold the apple, pressing the edges firmly to seal.
7. Brush the tops of the pastry "parcels" with the remaining egg to glaze.
8. Bake in a shallow, oven-proof dish for 40 minutes. Serve with whipped cream.

Serves 4.

Apples and tea Image from All Posters.

---

"Biscuits for the Lunch Box"
Contributed by Hartson Doud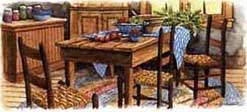 All of these recipes for Irish biscuits, i.e. cookies, came from Irish farmhouse wives and B & B caterers. They are served mainly at tea times, or packed in lunch boxes to help sustain guests during hikes in the countryside.

Irish Soda Biscuits
Type: rolled; makes: 3 dozen

Ingredients:
2 cups all-purpose flour
3/4 cup granulated sugar
1/2 teaspoon baking powder
1/2 teaspoon baking soda
pinch of salt
1/2 cup butter
1/2 cup currants or raisins
1/4 cup buttermilk
1 egg, slightly beaten
1 teaspoon caraway seeds
Method
Preheat oven to 350°F
Lightly grease cookie sheets or line with parchment paper.
1. Combine flour, sugar, baking powder, baking soda, and salt.
2. Cut in butter until mixture resembles coarse meal.
3. Stir in currants.
4. Blend in egg.
5. Add buttermilk and mix to make a soft dough, use more buttermilk if needed.
6. Knead 5 to 6 times.
7. Roll out on a lightly floured board until 1/4" thick.
8. Cut into triangles and place on cookie sheet 2" apart.
9. Bake 12-14 minutes or until golden brown.
Transfer to wire racks to cool.

Irish Lace Biscuits
Type: drop; makes: 2 dozen

Ingredients
3 tablespoons vegetable shortening
1-1/2 cups granulated sugar
3 eggs
1/2 teaspoons salt
1-1/2 teaspoons almond extract
3 cups rolled oats, not instant

Method
Preheat oven to 350°F
Lightly grease non-stick cookie sheets or line with parchment paper.
1. Cream shortening and sugar until fluffy.
2. Beat in the eggs, salt, and almond extract.
3. Slowly add oats.
4. Drop by the spoonful on to cookie sheet about 2" apart.
5. With the heel of your hand, gently flatten the balls.
6. Bake 12-15 minutes or until golden brown.
7. Transfer to wire racks to cool.

Magical Moments
Type: refrigerator, formed; makes: 2 dozen

Ingredients
1 cup butter, room temperature
3/4 cup cornstarch
1 teaspoon baking powder
1/3 cup powdered sugar
1 cup all-purpose flour
1/2 cup butter, melted
2 cups powdered sugar
1/4 teaspoon raspberry puree
1 teaspoon lemon juice

Method
1. Cream 1 cup butter.
2. Gradually add cornstarch, baking powder, and 1/3 cup powdered sugar.
3. Beat until light and fluffy.
4. Stir in flour with wooden spoon. Dough will be very soft.
5. Cover and refrigerate 1 hour.
6. Preheat oven to 350°F.
7. Roll dough into 1" balls and place on ungreased cookie sheets about 2" apart.
8. With the heel of your hand gently press balls into a 1 1/2" round.
9. Bake 10-12 minutes or until firm but not brown.
10. Transfer to wire racks to cool. The cookies are very fragile so move gently. 11. Let cool and firm up prior to frosting.


Frosting
Whisk butter and powdered sugar together. Add the lemon juice and raspberry puree. Spread on cookies.



---
Brownies with Irish Cream Icing
Contributed by Hartson Doud

Ingredients
4 oz. bittersweet chocolate
1 oz. unsweetened chocolate
1/2 C butter
3/4 C sugar
2 tsp. vanilla extract
1/4 tsp. salt
3 large eggs
1 C flour
Icing Ingredients 1/3 C Irish Cream liqueur (such as Baileys)
8 oz. white chocolate, chopped

Method
Pre-heat oven to 325° F.
1. Line a 8" x 8" baking pan with aluminum foil , leaving at least 2 inches of foil overhanging on all sides (this will help you life the finished brownies out of the pan and eliminate messy pan clean-up). Set aside.
2. Melt chocolate and butter together in a heavy saucepan over medium heat, stirring constantly. Remove from heat and cool slightly.
3. Whisk sugar, vanilla and salt into chocolate mixture, followed by the eggs, one at a time. Continue whisking mixture until it is shiny and smooth. Add flour and whisk just until blended.
4. Pour batter into prepared pan and level top. Bake for about 35 minutes, or until cake tester comes out with a few moist crumbs clinging to it. Cool completely in pan.
Icing
Heat liqueur to a boil, remove from heat and whisk in white chocolate until it is completely melted and mixture is smooth. Refrigerate until mixture becomes thick enough to spread, stirring occasionally, about 30 minutes. Spread topping over brownies and refrigerate until cold. Let stand at room temperature for 30 minutes before serving. To serve, simply lift brownies, foil and all out of pan, peel off foil and cut!


---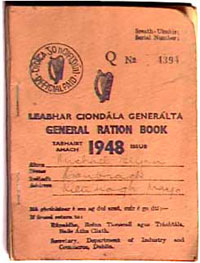 Aunt Hettie's War Cake
contributed by Hartson Dowd

To those from Northern Ireland - and Belfast in particular, a "War Cake" usually means one that doesn't have any eggs. Perhaps the hens got nervous and forgot to lay, or maybe the chicken farmers got nervous and dropped the eggs? No, of course the real reason was rationing during war time. "No matter", Auntie says, "it's fast, easy to make, and easy to double in the event of a larger war."

Ingredients
1 cup raisins
2 cups water
1/2 cup margarine
1-3/4 cups flour
1 cup sugar
1/2 teaspoon salt
1 teaspoon soda
1/2 teaspoon cinnamon
1/2 teaspoon nutmeg

Method
First, Aunt Hettie finds her big saucepan because it's the mixing bowl too, and she boils the raisins in the water for ten minutes. Then she adds the margarine and lets it cool.
Then, without sifting, she adds everything else - some chopped nuts are good but aren't essential - mixes it up, and bakes it in a greased ten-by-ten-inch pan for thirty-five minutes in a 350 degree oven.
If you'd rather use a loaf pan, bake it fifty-five minutes to an hour, same temperature, and test it with a broom straw.

Images and content:
The Kiltimagh Museum of Mayo



---
My Mother's Irish Bread Pudding
Contributed by Bridget Haggerty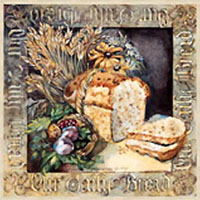 I have the fondest memories of my mother's bread pudding; warm, sweet and oh, so filling. That was long before the days of counting calories or worrying about cholesterol!
She herself would have told you that she wasn't much of a cake-maker - "too heavy-handed" she'd say. But, her skill at whipping up an old-fashioned bread pudding was unsurpassed. It's been one of my biggest regrets that I didn't write her recipes down and I'd encourage you not to make the same mistake; if you're fortunate to have your mother and/or grandmother still with you, begin compiling those recipes now. Your children and grandchildren will be forever grateful to you.
In the meantime, through trial and error, here is a recipe that comes close to the one I remember. A word of caution - do use top-quality bakery bread. We didn't have refrigeration when I was growing up, so my mother shopped every day. In retrospect, what a luxury it was to have the freshest of foods! Any left-over bread from each day was saved until there was enough for a pudding.

Ingredients:
3 eggs
2 cups milk (be sure to use whole milk)
1 teaspoon vanilla
2 tablespoons sugar
1/2 loaf of good-quality white bread
(I like the texture of French)
2 tablespoons golden raisins.
Optional: 1 tablespoon Irish whiskey; we didn't have this when we were kids, but it's a nice addition if you'll be serving adults.

Method:
1. Preheat oven to 350 degrees.
2. Combine eggs, milk, vanilla, and sugar in a mixing bowl.
3. Break bread into chunks or cut into cubes. Add bread to egg mixture along with the raisins.
4. Pour mixture into a buttered 1 1/2-quart baking dish. Bake until top is golden-brown and puffy (Approximately 40 minutes).
5. Serve warm with a custard sauce.
My mother didn't make her custard from scratch - she always used good old reliable Birds Eye custard mix. It's readily available or you can substitute your own favorite custard sauce.
Optional: As with the pudding, you can add a jigger of whiskey to the sauce. Enjoy!



---
Traditional Irish Toffee - Yellowman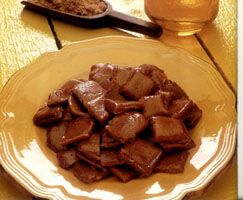 "Did you treat your Mary-Ann
To dulse and yellow man
At the old Lammas Fair at Ballycastle-oh?"

Until recently, we didn't know where this verse or lyric originated, but thanks to a lovely Welshman, we do now. He kindly sent us the following:

The Lammas Fair, or as Mr. John McAuley wrote in his famous song '"the Oul' Lammas Fair", takes place on the last Monday and Tuesday in August in Ballycastle, Antrim, Northern Ireland. The town also had a vibrant weekly market day which was founded in 1612, though it is virtually non existent today. The Lammas Fair is also famed for having an 'unbroken history', having taken place annually for the past 300 years but it origins go back to the legends and myths of Ireland. McAuley died in 1937.

The Ould Lammas Fair
At the ould Lammas Fair in Ballycastle long ago
I met a pretty coleen who set me heart a-glow
She was smiling at her daddy buying lambs from Paddy Roe
At the ould Lammas Fair in Ballycastle - O!
Sure I seen her home that night
When the moon was shining bright
From the ould Lammas Fair in Ballycastle - O!

======= CHORUS =======
At the ould Lammas Fair boys were you ever there
Were you ever at the fair in Ballycastle - O!
Did you treat you Mary Ann
To some Dulse and Yellow man
At the ould Lammas Fair in Ballycastle - O!
=====================

In Flander's field afar while resting from the War
We drank Bon Sante to the Flemish lassies O!
But the scene that haunts my memory is kissing Mary Ann
Her pouting lips all sticky from eating Yellow Man
As we passed the silver Margy and we strolled along the strand
From the ould Lammas Fair in Ballycastle - O!
=====================
CHORUS
=====================
There's a neat little cabin on the slopes of fair Knocklayde
It's lit by love and sunshine where the heather honey's made
With the bees ever humming and the children's joyous call
Resounds across the valley as the shadows fall
Sure I take my fiddle down and my Mary smiling there
Brings back a happy mem'ry of the Lammas Fair
=====================
CHORUS
=====================
In any event, Yellow Man Toffee was definitely always served at the old Lammas Fair at Ballycastle in Co. Antrim. As for the dulse - that's seaweed. One has to assume that the dulse was served as a savory before the sweet?
For these taste buds, we sure hope so!


Ingredients:
1 heaping teaspoon butter
1 cup brown sugar
4 cups corn syrup
1 teaspoon baking powder
2 tablespoons distilled white vinegar.

Method:
1. Melt butter in a sauce pan; coat the inside of the pan with the melted butter.
2. Add sugar and syrup and then the vinegar. Stir over low heat until the sugar and syrup have melted together.
3. Bring the mixture to a boil and simmer without stirring.Test by dropping a little into cold water to see if it sets.
4. Add the baking powder which will make the mixture foam up.
5. Stir well and then turn into a greased pan. Cut into squares.
Toffee as it used to be made: In the old days, the mixture would have been turned out onto a slab and pulled until it became pale yellow. When it hardened, it was broken into pieces with a small hammer.


---
Rhubarb Pie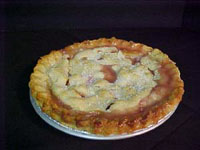 Ingredients
2 sticks butter
1/4 cup sugar
2 eggs
3 cups flour
1 lb rhubarb
3/4 cup sugar
1 beaten egg with pinch of salt for glazing

Method
1. Preheat oven to 350 degrees F. Make pastry: Cream butter and 1/4 cup of sugar together; add the eggs and beat for several minutes. Mix in the flour, little by little, to create a stiff dough. Chill for at least an hour. This is important because otherwise the pastry will be difficult to handle.
2. When the dough is thoroughly chilled, divide in half. Roll out half to about a quarter inch thick and line a 9-inch pie plate.
3. Slice the rhubarb into 1/2inch rounds, place in pastry lined pie plate and sprinkle with the 3/4 cup of sugar.
4. Roll out the remaining dough, cover the rhubarb, trim and crimp the edges to form a seal.
5. Use left over pastry to make pastry leaves. Decorate top of pie and then paint top with the beaten egg.
6. Bake in preheated oven until the pie is golden and the rhubarb is soft - 45 minutes to 1 hour.
To serve: Sprinkle warm pie with sugar and serve with lightly whipped cream. Makes 8 to 12 servings.


---
Fraughan Fool with Sweet Biscuits
In her book The Festive Food of Ireland, Darina Allen explains that fraughans, herts or billberries are the names used in different parts of Ireland for wild blueberries which grow on the acid hilltop soil. They were traditionally picked on the first Sunday of August - during Lúgnasa - and eaten mashed with sugar or in pies. If there was an abundance, they would also be made into jams.

Ingredients:
Fraughans (blueberries)
Granulated sugar
Whipped cream

Method:
1. Crush the berries with a potato masher and sweeten to taste with sugar
2. Fold in an amount of whipped cream that equals about half the volume of the berries
3. Chill and serve with sweet biscuits.

Sweet Biscuits

Ingredients:
1 1/2 cups flour
1 stick of butter
1/4 cup granulated sugar

Method:
1. Rub the butter into the flour and add the sugar. Gather together and knead lightly.
2. Roll out to a 1/4 inch thickness and cut into rounds with a 2 1/2 cutter.
3. Bake in a 350 degrees F oven until pale brown - about 15 minutes. Remove and cool on a rack. Serve with fruit fools, compotes or ice cream.


---
Spotted Dog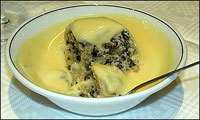 Depending on what part of Ireland you're in, this traditional Irish fruit bread is also called Sweet Cake, Curnie Cake or Railway Cake.
-But (ahem) not so long ago it was called Spotted Dick. Here is a sign of recent times from the BBC.
A traditional pudding which was renamed after hospital managers thought patients would be too embarrassed to ask for it, is being restored to Gloucestershire's hospital menus.
'Spotted Dick' will replace 'Spotted Richard' after it was decided patients are capable of overcoming their blushes long enough to ask for it.
The name change was originally introduced three years ago by the Gloucestershire Hospitals NHS Trust.
It was thought patients might feel uncomfortable asking for the dessert.
It's not even as though people have to ask for it - they tick a box on a menu card to order their food
Now it has been decided that Spotted Dick will make a return when new menus are printed in the next few months.
Catering manager Mike Byrne said: "This is one of those things that was changed several years ago.
"I don't think there's really any particular reason not to change it back.
"The traditional puddings are very popular with patients and always have been and I don't think people get embarrassed by the name.
So, here we go:

Ingredients:
4 cups plain white flour
2 teaspoons sugar
1/2 teaspoon salt
1/2 teaspoon baking soda
1/2 cup raisins or currants
1 1/4-1 1/2 cups sour milk or buttermilk
1 egg (Optional - if you use the egg, you won't need as much milk).

Method:
1. Preheat oven to 450 degrees F.
2. Sieve the dry ingredients into a large mixing bowl; add the fruit and mix well.
3. Make a well in the center; add the egg if you are using it, and most of the milk. Using one hand, mix in the flour from the sides of the bowl, adding more milk if necessary. The dough should be soft, but not too wet and sticky. When it all comes together, turn it out onto a floured board and knead lightly for a few seconds - just long enough to 'tidy it up.'
4. Pat the dough into a round and 1 1/2 inches high. Cut a deep cross on the top - to let the 'good people' out! Allow the cuts to go over the sides.
5. Bake for 15 minutes, then turn down the oven to 400 degrees F and bake for a further 30 minutes or until cooked. Tap it on the bottom. If it is cooked, it will sound hollow.
6. Serve freshly baked, cut into thick slices and spread with lashings of butter.


---
Irish Apple Cake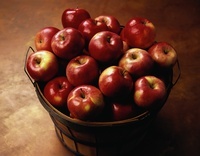 In the old days, this traditional recipe would have been baked in an iron bastible or pot oven beside an open fire.

Ingredients
2 cups white flour
1/4 teaspoon baking powder
1 stick butter
1/2 cup sugar
1 egg, beaten
1/2 cup milk
3 to 4 cooking apples
1 egg beaten with a pinch of salt for glazing.

Method
1. Sieve flour and baking powder into a bowl; cut butter up into pieces and then rub into the flour. Add 2/3 of the sugar, beaten egg and enough milk to form a soft dough.
2. Divide dough in two. Put one half onto a greased ovenproof plate; gently pat our with fingers to cover the plate.
3. Peel and chop apples. Arrange apples on the dough and sprinkle with remaining sugar.
4. Roll out remaining dough and cover the apples. Press sides together, cut a slit in top, and brush with beaten egg. Bake for about 40 minutes in a 350 degree oven.
5. Dredge with sugar. Serve warm with brown sugar and whipped cream.
Makes six servings.



Desserts 1

Click here for Desserts 2 (Next)


Thu, Jul 9, 2015
---
"...the freshest of food and
the oldest of drink"
- Irish Proverb
The New Irish Table
by Margaret Johnson



Margaret Johnson's love of Ireland permeates page after glorious page of mouthwatering Irish dishes, from Smoked Salmon Chowder to Raspberry Buttermilk Tarts. Lavish color photographs of the food, the landscapes, and the people are woven through the text, making The New Irish Table the next best thing to sitting down to dinner in Ireland itself.
Click here for New Irish Table.

---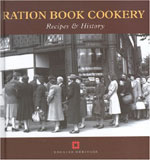 Ration Book Cookery
by Loyd Grossman Gill Corbishley & Emily Allison

Rationing was introduced into Britain and Ireland in the early years of the Second World War and lasted for nearly a decade after it was over. Rural Ireland was fortunate in that it could rely on home-grown meat and vegetables to provide most of the meals. But there were shortages of "luxuries" like tea and sugar. Illustrated with colour and black & white photographs as well as many contemporary advertisements, the book provides a true taste of the time. Adapterd from an editorial review on amazon.
Click here for Ration Book Cookery

---