Fáilte
Welcome to Irish Culture and Customs, a labor of love we began several years ago. What started as a surprise milestone birthday trip to Ireland became the beginning of a journey through time. A 2,000-year voyage on a quest to learn as much as we can about everything Irish. So here's where we are so far - more than 700 pages that range from Irish poetry, superstitions , Kids Stories and recipes to specific Irish calendar celebrations such as St. Patrick's Day , Beltane, Samhain and the Feast of St. Brigid. Whether it's an Irish symbol such as the shillelagh, the Shamrock and the Book of Kells or an Irish craft like Aran Isle knitting, you'll discover a wide range of topics in our index. We hope you find the little bit of Ireland you may be looking for and we encourage you to share what you discover with your loved ones on your family website, blog, or social network.





---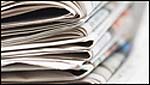 Today's Irish headlines
We comb the newspapers and web sites to find news to start your day with a positive spin. In this section you will also find links to stories from the past two weeks as well as links to the major Irish newspapers, the current time in Ireland and a link to the weather forecast.
Just want entertaining facts about Ireland? Please click here for
Did you Know?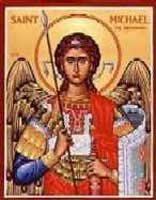 Celebrating St. Michael's Day in Old Ireland
by Bridget Haggerty
Throughout the Celtic lands, Michaelmas - September 29, marked the end of the harvest. This was the time that farm folk calculated how many animals they could afford to feed over the winter and how many would have to be sold or slaughtered and salted down in order to preserve the meat.
In addition to livestock fairs, rural folk attended hiring fairs which were especially important for farm laborers looking for winter employment after the harvest.
Michaelmas was also one of the regular quarter-days for settling rents and accounts; often, since this was also the time of the "geese harvest", many a farmer paid off his accounts with a brace or more of plump birds from the flock hatched in the spring. Traditionally, on St. Michael's Day, Irish families sat down to a roast goose dinner.
[Continue]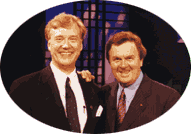 We miss you, Frank
by Malley Keelan
Perhaps the tenor who most-deserves the title of successor to John McCormack, was the late Frank Patterson. As with McCormack, he was a winner of the prestigious Fesh Coil competition in Dublin. Born in Clonmel in County Tipperary, Frank trained in Paris (McCormack studied in Italy) on scholarship in his 20's with Janine Micheau. Working with top conductors such as Sir Colin Davis and with the best orchestras in Europe, Frank earned a fine reputation in the 1960's, 1970's and early 1980's as a classical singer of Handel, Mozart, and Bach oratorios and German, Italian and French song. Indeed, his singing of the role of the Evangelist in J.S. Bach's St. John Passion was given fine reviews.
[Continue]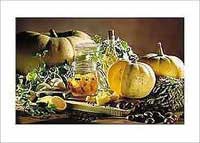 How the Irish invented Hallowe'en
by Brendan Sharkie
The Celts celebrated Hallowe'en as
Samhain, the Feast of the Dead
, when the deceased revisited the mortal world. This Oiche na Sprideanna (Spirit Night) marked the end of summer.
During the 8th century, the Catholic Church designated the first day of November as All Saints Day - all Hallows. Thus All Hallows Eve became Hallowe'en. It was an occasion of family reunion after booleying. (Booley - a milking place). Booleying was a system of moving cattle and sheep to summer pastures on higher ground or distant moorland. Young folk and even whole families left the village after the crops were sown and migrated to the booley area. Small homes were built with turf or sods, or of wicker work, and roofed with branches or heather. A chair or two, the cast iron pot, a creel and a few household items would have been strapped to the donkey's back. The little churn was slung on one side of the animal, into which the youngest child was often thrust, its head being the only part visible.
[Continue]
An Irish Halloween - Part 1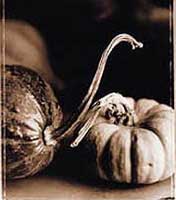 by Bridget Haggerty
Ever since the time of the Druids, many customs and traditions have evolved in celebration of
Samhain
, which is New Year's Day in the Celtic Calendar. When Christianity came to Ireland, the church took a dim view of Druidic festivals and created the vigil of All Soul's Evening, (or All Hallow's Eve) on October 31st, the Feast of All Saints on November 1st, and All Souls Day on November 2nd.
All three days were regarded as one of the most important times of the year and were celebrated throughout Ireland with feasting, merrymaking and divination games on Halloween, the completion of farming activities by Samhain, and rituals out of respect and remembrance for departed kinfolk on All Souls Day.
[Continue]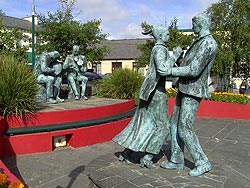 Making a Match in Lisdoonvarna
Matchmaking is one of Ireland's oldest traditions and, for the last couple of hundred years, a good deal of it has taken place in Lisdoonvarna during September and early October.
The name Lisdoonvarna comes from 'Lios Duin Bhearna', which means the lios or enclosure of the fort in the gap. The town developed into a tourist centre as early as the middle of the 18th-century when a top Limerick surgeon discovered the beneficial effects of its mineral waters. People travelled from near and far to bathe in, and drink, the mineral waters. Rich in iron, sulphur and magnesium, the waters gave relief from the symptoms of certain diseases including rheumatism and glandular fever.
[Continue]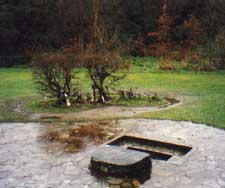 The Holy Wells of Ireland
by Bridget Haggerty
About 60 years ago, a survey claimed there were as many as 3,000 holy wells in Ireland - more than in any other country in the world. Where once a pagan sacrifice may have taken place, today a bride might look into the waters for good luck - or a cripple might bathe in them, hoping for a cure.
In Irish myth, wells and springs are depicted as originating in the Otherworld - that parallel dimension whose inhabitants have the power to control the natural forces of this world. From sources in the Otherworld, water flows into our world to fill springs or gush forth as rivers such as the Boyne and Shannon. These bodies of water and others are closely identified with goddesses - Bóann and Sionann, for example, who are thought to be part of the water's flow. Such sacred water sources are also often linked to the fruit of certain trees, such as the hazelnut.
[Continue]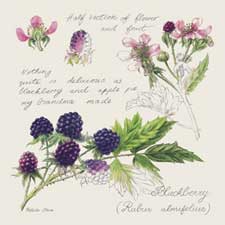 The irish Kitchen: Michaelmas Pie
Contributed by Aideen
We spent a great deal of time looking for a recipe, but while many mentions of Michaelmas Pie can be found on the internet and in cook books - especially in reference to the Irish custom of hiding a ring in it - we've yet to find a source that lists the ingredients. Is it savory or is it sweet?
Determined to to solve the mystery, we asked our resident Irish speaker, Aideen, if she knew. She belongs to an internet recipe exchange club and gave them the challenge; but even this group of foodie fanatics was unable to come up with a definitive answer.
[Continue]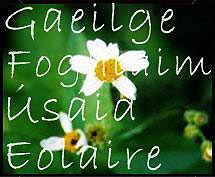 Basic Irish: Starters
Unless you can arrange to spend a year or so living in the Gaeltacht - an Irish speaking part of the country - learning the language will probably be nigh on impossible for most people. That said, in our basic Irish section, we have attempted to share with you simple words and phrases we think you will find both fun and useful.
Photo credit:
Cluiche
[Continue]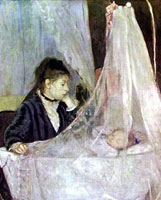 Kids' Ireland: The Changeling
Once upon a time in Ireland, there lived a woman called Shiela. Shiela had a small baby whom she loved above all else.
One Saturday morning, she noticed that her baby did not look right. Her baby boy was fat, healthy, and happy. This "thing" in her baby's crib was thin and looked like a skeleton. It was ugly and had shifty eyes, not at all like Shiela's baby. This baby "thing" never stopped crying. Shiela was at wit's end. Where was her son? What was in her son's crib? And would it never stop wailing?
Shiela's neighbors came and tried to comfort her. They told her that what was in her baby's crib was certainly a changeling. She must ask the wise woman what to do.
[Continue]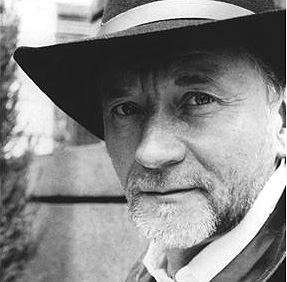 Music Review: Phil Coulter - A Master Class in Musical Landscapes
by William Ramoutar

He was born in 1942, in Derry, Northern Ireland to a Catholic policeman in the Royal Ulster Constabulary - a predominantly Protestant organization; that was probably hard enough in those days in the North. But to give up the piano because he hated both the instrument and the teacher was almost a losing stroke. Fortunately for the world, he came back to it and formed a musical partnership with Bill Martin, which lasted ten years and brought about a string of hit records with bands from many disparate genres.
[Continue]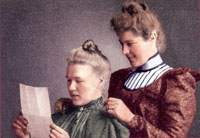 Letters
We receive many lovely letters from visitors to our web site and subscribers to our newsletter. As we're fond of saying, your feedback helps to make all of the time and effort worth while. While we have a Readers Write Page where we post comments from time to time, we've decided to also select a Letter - one that, for whatever reason, tickled our fancy.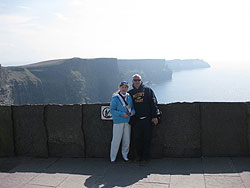 This past spring I went to Ireland with my son and his wife & her family. What a wonderful experience - way too short a time. I would have loved to sit and plan my days in a much more leisurely fashion but what we saw was all too wonderful This was my first time there - did a bit of checking on my grandmother's birth place: Roscommon. I would so love to return.
Thank you for this opportunity to be a part of your wonderful home page. Thank you, too, for "Irish Culture & Customs" - it gives us the chance to know more about Ireland and its people.
Bonnie Hirschler
Photo Caption: This is Bonnie and her son Michael Hirschler at the Cliffs of Moher.
ED. NOTE: When we asked Bonnie to send us a photo, she very kindly sent us two. We choose the one of her and her son at the Cliffs of Moher because it is such an iconic image of Ireland and one that is immediately recognizable. Standing more than 500 feet at the highest point and ranging for nearly five miles over the Atlantic Ocean, on a clear day one can see the Aran Islands, Galway Bay, as well as The Twelve Pins, the Maum Turk Mountains in Connemara and Loop Head to the South. The cliffs take their name from a ruined promontory fort "Mothar" which was demolished during the Napoleonic wars to make room for a signal tower
Live Music from Mayo
A link to the internet service from Midwest Radio out of Mayo. Broadcasting from their state of the art studios; Midwest Irish Radio plays nothing but the best Irish music. No matter where you are in the world, you are never too far from Ireland when you listen in.
Click here for:
Irish Midwest radio
.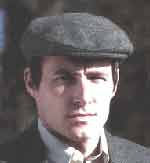 Shop for the best of Irish products from the comfort of your home
We combed the internet to find reliable resources for the most popular Irish products: Aran Isle sweaters, Guinness glasses, Waterford Crystal, genuine blackthorn walking sticks, the flag of the Republic and more. Some of these shops have become friends; others we trust from their reputations and some offer products that are completely unique. We hope you enjoy browsing through what's on offer and we are confident you will find gifts for any occasion or person, all with an Irish flair.
Notices

Did you get your Newsletter?
We try to send one out once or twice a month. If you aren't receiving it, something is wrong. Let us know and we'll try to solve the problem. Note: subscribers are automatically deleted from the data base if the newsletter bounces back multiple times. Full or disabled mailboxes will also cause a subscription to be cancelled. If you have any questions, please contact
Bridget
.