Traditions, folklore, history and more. If it's Irish, it's here. Or will be!
"People will not look forward to posterity who never look backward to their ancestors."
-Edmund Burke
---
Quotes

Library: Books, Movies, Music

Prints & Photos

Poetry

Jokes

---
---
Shops Ireland
---
Bunús na Gaeilge
(Basic Irish)

---
---
---
Himself/Herself
Write to Us
Readers Write..
Links/Link to Us
---
Advertise with us
---
Awards & Testimonials

Submissions Guide
---
Fáilte
Welcome to Irish Culture and Customs, a labor of love we began several years ago. What started as a surprise milestone birthday trip to Ireland became the beginning of a journey through time. A 2,000-year voyage on a quest to learn as much as we can about everything Irish. So here's where we are so far - more than 700 pages that range from Irish poetry, superstitions , Kids Stories and recipes to specific Irish calendar celebrations such as St. Patrick's Day , Beltane, Samhain and the Feast of St. Brigid. Whether it's an Irish symbol such as the shillelagh, the Shamrock and the Book of Kells or an Irish craft like Aran Isle knitting, you'll discover a wide range of topics in our index. We hope you find the little bit of Ireland you may be looking for and we encourage you to share what you discover with your loved ones on your family website, blog, or social network.





---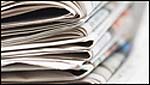 Today's Irish headlines
We comb the newspapers and web sites to find news to start your day with a positive spin. In this section you will also find links to stories from the past two weeks as well as links to the major Irish newspapers, the current time in Ireland and a link to the weather forecast.
The Borrowed Days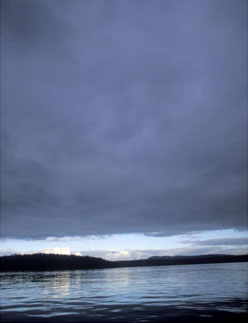 Edited and adapted by Bridget Haggerty
According to the old story 'An tSean-Bhó Riabhach' , the old brindled cow boasted that even the rigours of March could not kill her, whereupon March borrowed three days from April and using these with redoubled fury, killed and skinned the poor old cow. Henceforth, the first three days of April traditionally bring very bad weather and are known as as Laethanta na Riabhaiche, The Reehy Days, the Borrowed or Borrowing Days, the Skinning Days, and other names.
Some people reckoned the days in the Old Style, thus Amnhhlaoibh O Súlleabháin wrote the following in 1827:
"This the 12th day of April, is the first of the three days of the old brindled cow, namely three days in which the weather of March took from the beginning of Old April.'
[Continue]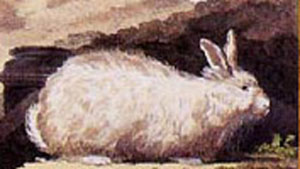 April Fool's Day
by Bridget Haggerty

'Pinch, punch, first day of the month, white rabbit.' This was the phrase my mother taught us to say on the first day of every month - not just April. I have no idea what it means, except that it gave my brothers and I a grand excuse to get into some good-natured scuffles.
According to my mother, it was lucky if you saw a white rabbit and, to ensure good fortune, she always wore the rabbit's foot she'd brought from Ireland.
[Continue]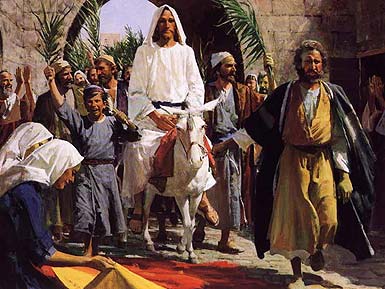 Palm Sunday in old Ireland
by Bridget Haggerty
Irish speakers once referred to Palm Sunday as Domhnach an Iúir - Yew Sunday. That's because the "palm" was most often a sprig from the yew tree or some other conifer such as a silver fir, spruce or cypress. In County Fermanagh, early on every Palm Sunday morning, a Protestant cut down sprigs of yew and placed them on his garden wall.
In the old days, families brought their own fronds of "palm" to the church to be blessed. While he didn't have a Palm Sunday ceremony in his own church, it's on record that this very considerate Protestant soul offered palms to his less than fortunate Catholic neighbors on their way to chapel.
[Continue]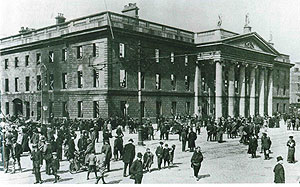 The 1916 Proclamation - Have you read it?
by Seamus Cashman
At 12.45 pm on 24 April 1916, Easter Monday, on the steps of the General Post Office (the GPO) on Sackville Street, now O'Connell Street, Dublin, Patrick Pearse read the following Proclamation:

POBLACHT NA h-ÉIREANN
THE PROVISIONAL GOVERNMENT
OF THE IRISH REPUBLIC
TO THE PEOPLE OF IRELAND


[Continue]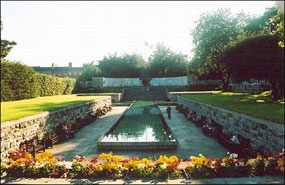 Landmarks commemorating The 1916 Rising
by Bridget Haggerty

The Garden of Remembrance
At the northern end of Parnell Square in Dublin is a small, peaceful park, dedicated to the men and women who have died in pursuit of Irish freedom.

The Garden of Remembrance marks the spot where several leaders of the 1916 Easter Rising were held overnight before being taken to Kilmainham Gaol, and where the Irish Volunteers movement was formed in 1913.

[Continue]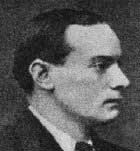 Poetry Corner: Padraic Pearse (b. Nov. 10,(?) 1879 - d. May 3, 1916)

The son of an Irish mother and an English father, he was born at 27 Gt. Brunswick St., (now Pearse St.) in Dublin and educated at the Christian Brothers' School. He graduated from the Royal University and became a barrister, but he was an enthusiastic student of the Irish language. He became a writer in both English and Gaelic. Pearse envisioned a free Gaelic Ireland and founded St. Enda's College, a school for boys.
After visiting the United States he joined the Irish Volunteers and was commander-in-chief of the Irish rebel forces in the Easter Rebellion of 1916. He realised the rebel situation was hopeless and ordered his troops to surrender to the British. He was arrested with several other leaders (including his brother) and shot.
Too often, we discover that one of Irelands timelessly well known writers was part of the rebellion. Of course, too often, they were executed. What works may have been created that would delight us today; had they only lived to write them.

[Continue]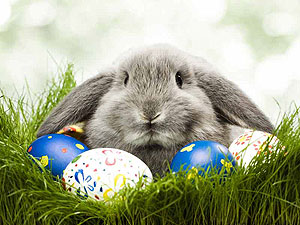 The irish Kitchen: An Irish Easter

In old Ireland, Easter Sunday was a day of great celebration, not the least of which was the blessed relief from the abstinence of meat for nearly two months. Here, you can take your pick from lamb or ham. Following the main dish recipes is a perfect vegetable accompaniment to any spring-time dinner menu. And for "afters" - the Irish word for dessert - our resident Irish recipe collectors and contributors offer a delightful suggestion.


[Continue]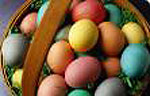 Basic irish: Lent & Easter
This lesson features words and phrases related to giving up favorite foods like chocolate for Lent. Is Easter imminent? Our lesson covers appropriate words and phrases from Palm Sunday to Easter Monday.



[Continue]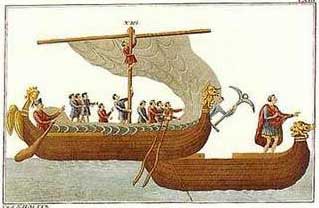 Kids' Ireland: St. Patrick: From Slave to Saint
by Grainne Rowland

"Watch out! Hide! Here come the raiders!" My family's servants were screaming and running for cover. I watched in horror as my father's land and house were overrun. The raiders came with the Irish king, Niall of the Nine Hostages.

Suddenly, I was grabbed from behind, tied up, and roughly pushed towards a waiting ship. I, Succat, was being taken as a slave!

I struggled to get free. I thought of how angry my father would be when he learned that his son had been kidnapped. My father was the most powerful man in that part of Britain. Surely he would rescue me!

[Continue]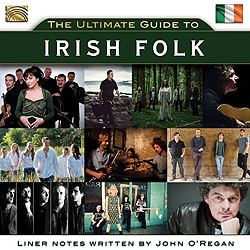 Music Review: The Ultimate Guide to Irish Folk
by William Ramoutar

I can honestly say there is no way I would have been the person to compile this collection of songs or artists. In my mind there are too many tunes that whizz around my head every week of my life that I sometimes obsess about– I would have needed 5, 6, or even 10 cd's. And, as for artists, well, that is another entirely different horse. Older songs and Artists pop into my recollections without invitations or indeed reason! Although I have to say the liner notes are so well done and really a quite comprehensive explanation of where the music came from (compiled by John O'Regan, a presenter on Limerick radio in Ireland), he also compiled the collection, and it is a clue to his own radio show's format. He is, as I say on Limerick Community Radio with a show called The Eclectic Celt. The tunes from the musicians on the cd are truly excellent. Mind you, probably everybody would have different tunes they would have chosen for a collection named as this, but what a package to promote our heritage and the great tradition of Irish music.

[Continue]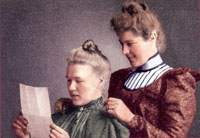 Letters
We receive many lovely letters from visitors to our web site and subscribers to our newsletter. As we're fond of saying, your feedback helps to make all of the time and effort worth while. While we have a Readers Write Page where we post comments from time to time, we've decided to also select a Letter - one that, for whatever reason, tickled our fancy.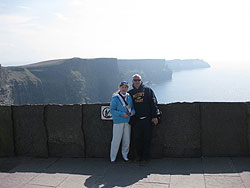 This past spring I went to Ireland with my son and his wife & her family. What a wonderful experience - way too short a time. I would have loved to sit and plan my days in a much more leisurely fashion but what we saw was all too wonderful This was my first time there - did a bit of checking on my grandmother's birth place: Roscommon. I would so love to return.

Thank you for this opportunity to be a part of your wonderful home page. Thank you, too, for "Irish Culture & Customs" - it gives us the chance to know more about Ireland and its people.

Bonnie Hirschler
Photo Caption: This is Bonnie and her son Michael Hirschler at the Cliffs of Moher.


ED. NOTE: When we asked Bonnie to send us a photo, she very kindly sent us two. We choose the one of her and her son at the Cliffs of Moher because it is such an iconic image of Ireland and one that is immediately recognizable. Standing more than 500 feet at the highest point and ranging for for nerly five miles over the Atlantic Ocean, on a clear day one can see the Aran Islands, Galway Bay, as well as The Twelve Pins, the Maum Turk Mountains in Connemara and Loop Head to the South. The cliffs take their name from a ruined promontory fort "Mothar" which was demolished during the Napoleonic wars to make room for a signal tower




Live Music from Mayo

A link to the internet service from Midwest Radio out of Mayo. Broadcasting from their state of the art studios; Midwest Irish Radio plays nothing but the best Irish music. No matter where you are in the world, you are never too far from Ireland when you listen in.
Click here for: Irish Midwest radio.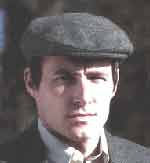 Shop for the best of Irish products from the comfort of your home

We combed the internet to find reliable resources for the most popular Irish products: Aran Isle sweaters, Guinness glasses, Waterford Crystal, genuine blackthorn walking sticks, the flag of the Republic and more. Some of these shops have become friends; others we trust from their reputations and some offer products that are completely unique. We hope you enjoy browsing through what's on offer and we are confident you will find gifts for any occasion or person, all with an Irish flair.





Notices

Did you get your Newsletter?
We try to send one out once or twice a month. If you aren't receiving it, something is wrong. Let us know and we'll try to solve the problem. Note: subscribers are automatically deleted from the data base if the newsletter bounces back multiple times. Full or disabled mailboxes will also cause a subscription to be cancelled. If you have any questions, please contact Bridget.

---
Mon, Mar 30, 2015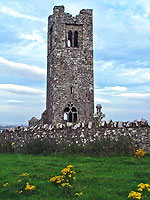 The Hill of Slane
It had long been known as sacred ground when St. Patrick visited the hill on the eve of Easter in 433 A.D. He lit a Paschal or Easter fire which could be seen from the nearby hill of Tara, the royal seat of power. There, a fire also burned to celebrate the pagan feast of Beltane. Since it was against the law to light any fire in the area while this was taking place, Laoghaire, the king at that time, was furious and rode off with his retinue to arrest the mystery rebel. Miraculously - some say through an earthquake, others by holding up a shamrock- St. Patrick convinced the king of his belief in Christianity and the power of the Holy Trinity. It was a power that St. Patrick thought would be useful to the king who only wished that his soldiers could be as brave as St. patrick and his followers. He took the group prisoner and marched them back to the Hill of Tara. The next day, they were spared and were allowed to preach Christianity to the pagan army. Today, at the top of the hill are the ruins of a Franciscan Monastery built in 1512.
Photo Credit: Katie Simpson


Click for More Culture Corner.
Sunday Blessing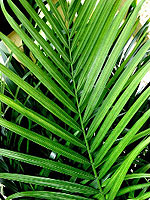 Palm Sunday Blessing
May the Sunday palms line your path
And the Seder bread unite your clan;
May the Paschal Lamb set you free
And the candle fire renew our land;
May this Passion tide heal all pain
May we be close to God this Holy Week,
In baptismal water, may we live again
And find the One for whom we seek.
Adapted and edited from Irish-American Blessings, by Fr. Andrew M. Greeley
Photo Credit: Stanford University


---
Weekly Quote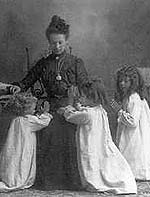 "All that praying you made us do," complained Maggie. "And making us go to Mass. And starving us on Good Friday...And making us feeling ashamed of our bodies and guilty about absolutely everything. No, Ma, you were the pits." Nuala glowed with pride, truly she had been the best of Catholic mothers.
Late Opening at The Last Chance Saloon by Marian Keyes
Photo Credit: Light Planet

---
The author's mother - an otherwise devout Roman Catholic - would often rant about the treatment of the Irish by the Brits and she would always end the rant with "if you only knew the half of it." This led the author on a quest to find out what she meant. The result is a thorough yet thoroughly entertaining retelling of Ireland's history and its unfortunate and luckless relationship with England (with no aplogy to the English, that is). Available in both paperback and Kindle editions on Amazon. Please click The Half of it.

---