Fáilte
Welcome to Irish Culture and Customs, a labor of love we began several years ago. What started as a surprise milestone birthday trip to Ireland became the beginning of a journey through time. A 2,000-year voyage on a quest to learn as much as we can about everything Irish. So here's where we are so far - more than 700 pages that range from Irish poetry, superstitions , Kids Stories and recipes to specific Irish calendar celebrations such as St. Patrick's Day , Beltane, Samhain and the Feast of St. Brigid. Whether it's an Irish symbol such as the shillelagh, the Shamrock and the Book of Kells or an Irish craft like Aran Isle knitting, you'll discover a wide range of topics in our index. We hope you find the little bit of Ireland you may be looking for and we encourage you to share what you discover with your loved ones on your family website, blog, or social network.



---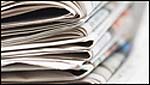 Today's Irish headlines
We comb the newspapers and web sites to find news to start your day with a positive spin. In this section you will also find links to stories from the past two weeks as well as links to the major Irish newspapers, the current time in Ireland and a link to the weather forecast.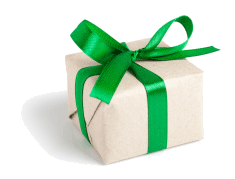 Hurry - time is running out for the Biddy Murphy gift box drawing!
Biddy Murphy has joined our collection of Irish shops and to celebrate the new partnership, the shop is offering visitors to our web site and subscribers to our newsletter the opportunity to win a gift box filled with products from Ireland valued at nearly $150. NO PURCHASE NECESSARY. To enter the drawing, please send an email to
bhaggerty@irishcultureandcustoms.com
Please put the words with the words 'Gift Box' in the subject line. Entries must be received by January 31st and the drawing will be held on February 1st.
To visit the shop, please click
Biddy Murphy
.
Receive 15% off all purchases when you use the promo code IRISHCULTURE at check out.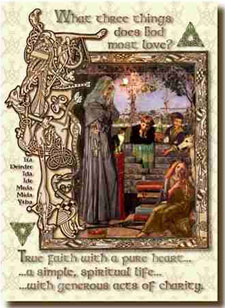 St. Ita, foster-mother to the saints of Ireland
by Bridget Haggerty
After St. Brigid, St. Ita is the most famous woman saint in Ireland. Her birth of noble Christian parents, Kennfoelad, a Déise Chieftain and Necta his princess wife, is said to have taken place around 470 near Faithlegg outside Waterford.
From her baptism on she was filled with the Holy Spirit. All marvelled at her childhood purity and behaviour, and her abstinence on the days she had to fast. She was prudent, very generous, kind toward everyone, and gentle as well as chaste in her language. As she grew up, it quickly became apparent that she wished to devote her life to God.
[Continue]
The Turning Of The Sovereign Seal
by Bridget Haggerty

"On the morning of the 21st January, in Vaughans Hotel on Parnell square, a man named Tom McGuire elevated and turned the Sovereign Seal of Dáil Éireann, from the rising sun to the setting sun, from north to south and from east to west, and from Pagan to Christian to Sovereign; As in the 1916 Proclamation, claiming sovereignty over the elements, earth, air, fire and water and all there in and there of, on behalf of the Sovereign people and the Sovereign Republic of Éire."
That caption appears on the base holding the seal and it describes what happened in the year 1919 at Vaughan's Hotel - a haunt of Michael Collins and other revolutionaries of the War of Independence. It was also the secret headquarters of the first Dáil Éireann.
[Continue]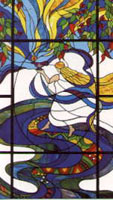 St. Brigid - The Giveaway
by Bridget Haggerty
Known variously throughout Ireland as St. Brigid, Brighid, Brigit, Bridget or Bride, it was believed that she travelled around the countryside on the eve of her festival, blessing both the people and their livestock.
To show that her visit was welcome, families would place a cake or pieces of bread and butter on the windowsill. In some parts of Ireland, the bread would be an
oatmeal loaf in the shape of a cross
which was specially baked for the occasion. A sheaf of corn was often placed beside it as refreshment for the saint's favorite white cow which accompanied her. In some places, the offering was left to be taken by a hungry, homeless person.
[Continue]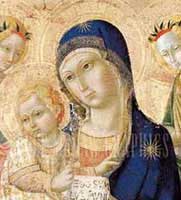 Celebrating Candlemas in Old Ireland
by Bridget Haggerty
Candlemas - February 2nd - celebrates the Presentation of Jesus in the Temple and the Purification of the Virgin Mary. As with many festivals in the liturgical calendar, this one has its origins in ancient Rome.
In Roman times, candles were carried through the streets and women observed purification rites. Even today, in many countries, women who had borne children the year before participate in candlelit processions - an activity the Church gladly welcomes as it symbolizes the purification of the Virgin Mary.
In ancient Celtic cultures, the period between February 1st and 2nd is called Imbolc - the first day of spring, midway through the dark half of the year. It was a time when the stirring of new life manifested itself in the first flow of milk in the udders of pregnant ewes - a sure sign that the lambing season was about to begin. The Church tried to replace Imbolc which was dedicated to the Goddess of Youth and Fertility - Bride. Thus, in the 5th century, February 1st became St. Brighid's Day and February 2nd became Candlemas.
[Continue]

Poetry Corner: Katharine Tynan
(b. Jan. 21, 1861 - d. April 2, 1931)
Also Katharine Hinkson, or Hinkson-Tynan, was born at Whitehall dairy farm, Clondalkin, County Dublin. She was one of 12 children of Andrew Cullen Tynan and Elizabeth Reilly Tynan.
She attended the Dominican Convent of St Catherine of Siena, Drogheda for 6 years (to age 14) and considered a religious novitiate.
She suffered chronic eye ulcers in childhood and was myopic from then onwards.
Her first poem appeared in Graphic in 1878 and she subsequently contributed poems to Irish Monthly, Hibernia and Dublin University Review from 1880 to 1885.
She first met W. B. Yeats ('all dreams and gentleness') in June 1885, in connection with C. H. Oldham's Dublin University Review.
Thus began a life-long correspondence with Yeats, who described her as 'very plain' though always affectionate towards her. He advised her in early correspondence to make a speciality of her Irish Catholicism.
Her first book, Louise de la Valliere and Other Poems, was heavily influenced by Christina Rossetti and called by Yeats 'too full of English influence to be quite Irish'.
Her second volume, Shamrocks, contained exclusively Irish subject-matter.
Her suggestion to Yeats that he should try an Irish subject resulted in Wanderings of Oisin.
[Continue]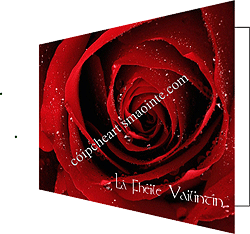 The Irish Link to St. Valentine
by Bridget Haggerty
As a young girl growing up in England in the 50s, I loved sending and receiving Valentine cards - messages that were always unsigned. As the sender, one would go to great lengths to disguise the source of the card. As the recipient, the fun was in trying to figure out the identity of your secret admirer.
When I came to the United States in the early 60s, imagine my surprise to learn that the custom here was to identify the sender. Not only that, cards were often sent to relatives, such as your mom and dad! It didn't seem very appropriate to me, then or now. In fact, I still think it's very odd and, while I have capitulated to custom and sign the card I give to my husband, there's a part of me that still wishes Valentine's Day could be like it once was - shrouded in romantic mystery.
[Continue]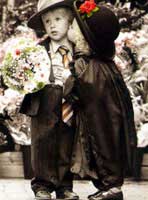 The Irish In Love
by Bridget Haggerty
'The Realm of Romance' is bigger than West Virginia and smaller than Ohio. But for such a tiny place, Ireland is a magnificent, multi-faceted gem, blessed with an abundance of details and differences. Majestic mountains sweep down to the sea. Miles of stone walls line fields filled with black-faced sheep. Tall, flowering hedges shade narrow, winding roads. Ancient castles and mystical abbeys dominate pastoral vistas. And, pastel-hued cottages dot river valleys strewn with wild flowers. What a magical place to begin a romance or married life together!
[Continue]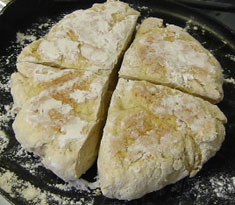 The Irish Kitchen: St. Brigid's Oatcakes
These chewy bread-cakes have been fed to children in Ireland for years, in the belief that vigorous chewing would strengthen their young jaws. The children of today like them because they are fun to eat. And because they are low in fat and high in fiber, they are definitely healthful. The loaf is cut in quarters, or "farls" before it is baked.
[Continue]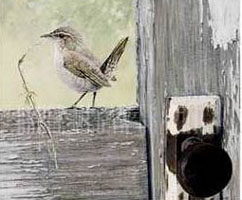 Kids' Ireland: The Day After
by Grainne Rowland


It was December 26, St. Stephen's Day, Wren Day. Anthony and Joseph were jumping with excitement.

"Is it time yet?" asked Joseph for the hundredth time. Their mother was preparing breakfast in the early morning dawn.

"Will you two please calm down!" she exclaimed. "You can't go anywhere until you have something warm in your stomach. It will likely be hours before you come back and it is cold outside."

Joseph and Anthony gulped down their breakfasts. Why did they have to eat oatmeal, eggs, rashers, toast, and a pot of tea today of all days? They had other things to do this day!

[Continue]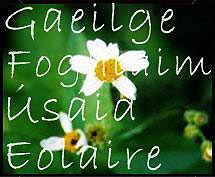 Basic Irish: Starters
Unless you can arrange to spend a year or so living in the Gaeltacht - an Irish speaking part of the country - learning the language will probably be nigh on impossible for most people. That said, in our basic Irish section, we have attempted to share with you simple words and phrases we think you will find both fun and useful.
Photo credit: Cluiche


[Continue]





Live Music from Mayo

A link to the internet service from Midwest Radio out of Mayo. Broadcasting from their state of the art studios; Midwest Irish Radio plays nothing but the best Irish music. No matter where you are in the world, you are never too far from Ireland when you listen in.
Click here for: Irish Midwest radio.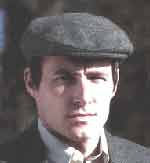 Shop for the best of Irish products from the comfort of your home

We combed the internet to find reliable resources for the most popular Irish products: Aran Isle sweaters, Guinness glasses, Waterford Crystal, genuine blackthorn walking sticks, the flag of the Republic and more. Some of these shops have become friends; others we trust from their reputations and some offer products that are completely unique. We hope you enjoy browsing through what's on offer and we are confident you will find gifts for any occasion or person, all with an Irish flair.





Notices

Did you get your Newsletter?
We try to send one out once or twice a month. If you aren't receiving it, something is wrong. Let us know and we'll try to solve the problem. Note: subscribers are automatically deleted from the data base if the newsletter bounces back multiple times. Full or disabled mailboxes will also cause a subscription to be cancelled. If you have any questions, please contact Bridget.

---
Authentic Irish clothing from Aran Sweaters Direct

---
Graduate students use Dissertation Geek - the best thesis writing company.
Math homework problems? Visit mathprepa.com for free help.
---