Fáilte
Welcome to Irish Culture and Customs, a labor of love we began several years ago. What started as a surprise milestone birthday trip to Ireland became the beginning of a journey through time. A 2,000-year voyage on a quest to learn as much as we can about everything Irish. So here's where we are so far - more than 700 pages that range from Irish poetry, superstitions , Kids Stories and recipes to specific Irish calendar celebrations such as St. Patrick's Day , Beltane, Samhain and the Feast of St. Brigid. Whether it's an Irish symbol such as the shillelagh, the Shamrock and the Book of Kells or an Irish craft like Aran Isle knitting, you'll discover a wide range of topics in our index. We hope you find the little bit of Ireland you may be looking for and we encourage you to share what you discover with your loved ones on your family website, blog, or social network.





---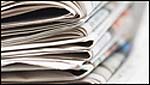 Today's Irish headlines
We comb the newspapers and web sites to find news to start your day with a positive spin. In this section you will also find links to stories from the past two weeks as well as links to the major Irish newspapers, the current time in Ireland and a link to the weather forecast.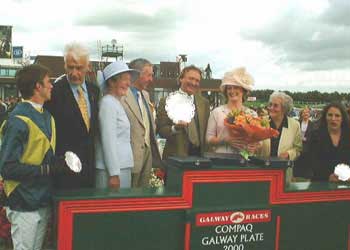 Galway Races - Where the Pint is the Unit of Currency!
by Gerard McLoughlin
The Galway Races, traditionally run in the last week of July, represent one of Ireland's most enduring and most characteristic festivals.
Throughout Ireland people of all ages and occupations prepare for the Galway Races with a fervour that is almost religious in its intensity. Budgets are planned, holidays are arranged and business is scheduled to conform with the sacrosanct dates of the annual week-long festival.
More significantly, perhaps, commemorative coups are prepared, often with horses that have abstained reverentially from victory for the obligatory twelve months. Horses will piously avail of the special dispensation permitting them to triumph twice in the one week at this exceptional venue.
On Monday, traditionally the opening evening, the turnstiles begin to rotate and the devotional crowds stream in regardless of prevailing economic or meteorological constraints. Mohair suits, elegant silks and clerical collars commingle spontaneously with cloth caps, braces (suspenders) and stout brown boots.
[Continue]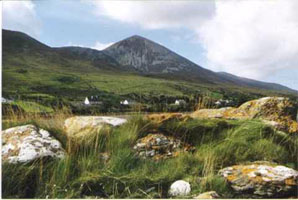 He Came To Mock - But Stayed to Pray
by Bridget Haggerty
The title for this article is an old Irish saying about "The Reek" - Croagh Patrick. It was once known as Crochan Aigh, the mount of the eagle, before it became associated with Ireland's best-loved saint.
According to legend, St. Patrick retired to the summit of Croagh Patrick for contemplation, fasting and prayer. He remained there for forty days and forty nights during which he was tormented by demons who assumed the form of black birds. He rang his bell so loudly that the men of Ireland heard it; finally he threw the bell at the demons so hard that it broke and the blackbirds departed. Patrick wept and an angel came to console him. As the story goes, he asked the angel to intercede on behalf of the Irish people and secure special dispensations for them.
[Continue]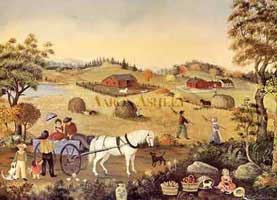 Lughnasa - Celebrating the Harvest
by Bridget Haggerty
Traditionally, August marked the beginning of the Harvest season and it was a time of great celebration in rural Ireland.
The season began on the first of the month with the festival of Lughnasa, the Irish word for August. Since it was impractical to take farm folk away from their work during the week, it was generally celebrated on the first or second weekend. The weather was usually fine and it was traditional for entire communities to gather at a chosen meeting place in the hills, by a river or lake, or perhaps at a holy well. Of the four great Celtic festivals - Imbolc, Beltane and Samhaine, Lugnasa was the most joyeous because, after 'Hungry July', when stores were being rapidly depleted, farm folk could look forward to the fruits of all their hard work during the previous months.
[Continue]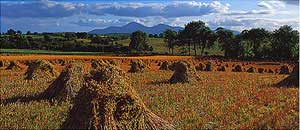 Putting out the hare, putting on the harvest knots
by Bridget Haggerty
Small animals retreated from advancing harvesters by hiding in the remaining crop, and in the old days, every farmer went to great lengths to ensure that his last field would be harvested before a next door neighbor or other man in the village. Thus the call..."Have you put the hare out yet?"
How it worked was that a small portion of the crop - usually enough to make one sheaf - was left standing while the rest of the last field was finished. Before the final piece was cut, the workers raised a shout or made a noise to "put out the hare." If a farm nearby still had a standing crop, the workers would then say : "we sent you the hare."
[Continue]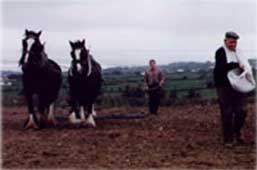 Season of the Corn
by Bridget Haggerty
While we were surfing the net, we came across a fascinating story about a group of Donegal farmers who stepped back in time and used the old ways to raise and harvest the crops. Here, in the first two paragraphs, they describe what they do. At the end, there is information on how to order a videotape.
"We are a group of five farmers from the Inishowen Peninsula in Co. Donegal, Ireland, who have come up with a novel way to raise funds to provide a local facility for mentally challenged adults."
[Continue]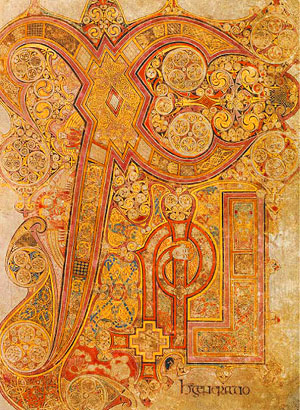 Emblems of Ireland:The Book of Kells
by Michael Carroll
Almost as synonymous with the Emerald Isle as St. Patrick and the Shamrock, The Book of Kells is probably the most famous example of medieval illumination and calligraphy still in existence. Guest author, Michael Carroll, has uncovered some fascinating facts about this national treasure. For example, did you know that the book was written and decorated not by one hand, but several?
Scholars have detected the work of at least three different artists, who may or may not have been the calligraphers as well. Subtle variation in the lettering reveals something of the personality of each individual scribe. One seems to have preferred rounded letterforms written in a dignified hand, while another left evidence of his extroverted nature in his use of brilliant red ink and flamboyant pen flourishes.
[Continue]
The irish Kitchen: Fraughan Fool with Sweet Biscuits
In her book The Festive Food of Ireland, Darina Allen explains that fraughans, herts or billberries are the names used in different parts of Ireland for wild blueberries which grow on the acid hilltop soil. They were traditionally picked on the first Sunday of August - during Lúgnasa - and eaten mashed with sugar or in pies. If there was an abundance, they would also be made into jams.
[Continue]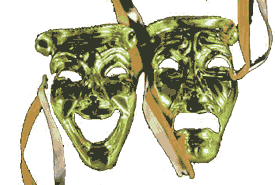 Basic Irish: When Irish Eyes are Smiling.
It's common knowledge that Irish people, in general, are emotional. So we were surprised to see that we had done very little to cover "heart-scalded"
occasions. While we've seen this phrase in a good many Maeve Binchy novels, according to our native Irish speaker, "it's a real' Dubbelin' English expression that you'd hear down with the barrow-women in Moore Street and it doesn't easily translate!" (But she gave it a go).
[Continue]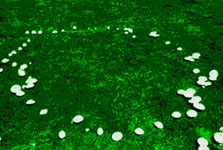 Kids' Ireland: Leary's New House
by Grainne Rowland


Leary was wild with excitement! He had just married the most beautiful wife, Aine. Better yet, he had bought six acres of the best land in the county. He would build the prettiest house for Aine.
Leary, his wife, and some friends walked over the six acres searching for the best spot on which to build the home. Leary looked at a spot in the middle of a large field. It had a ring of mushrooms and many wild flowers growing in it. It was a well-favored spot!
[Continue]
Music Review: The Wolfe Tones: A Celtic Symphony of Unity, Still "Singing Out for Ireland"
by William Ramoutar


Well... to say the late 1950's and early 1960's were a hotbed for Irish folk groups and singers in Dublin has to be one of the biggest understatements of all time. In those days, young lads went away to camp and on outings to the mountains and campfire sing songs were the last thing you did before your weary head hit the sleeping bag. Many a career was started from the dreams and visions of those fledgling performers, not least of all, one of the longest running and biggest promoters of the Irish struggle, The Wolfe Tones.
[Continue]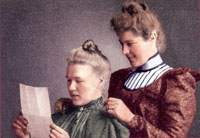 Letters
We receive many lovely letters from visitors to our web site and subscribers to our newsletter. As we're fond of saying, your feedback helps to make all of the time and effort worth while. While we have a Readers Write Page where we post comments from time to time, we've decided to also select a Letter - one that, for whatever reason, tickled our fancy.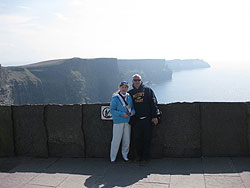 This past spring I went to Ireland with my son and his wife & her family. What a wonderful experience - way too short a time. I would have loved to sit and plan my days in a much more leisurely fashion but what we saw was all too wonderful This was my first time there - did a bit of checking on my grandmother's birth place: Roscommon. I would so love to return.
Thank you for this opportunity to be a part of your wonderful home page. Thank you, too, for "Irish Culture & Customs" - it gives us the chance to know more about Ireland and its people.
Bonnie Hirschler
Photo Caption: This is Bonnie and her son Michael Hirschler at the Cliffs of Moher.
ED. NOTE: When we asked Bonnie to send us a photo, she very kindly sent us two. We choose the one of her and her son at the Cliffs of Moher because it is such an iconic image of Ireland and one that is immediately recognizable. Standing more than 500 feet at the highest point and ranging for for nerly five miles over the Atlantic Ocean, on a clear day one can see the Aran Islands, Galway Bay, as well as The Twelve Pins, the Maum Turk Mountains in Connemara and Loop Head to the South. The cliffs take their name from a ruined promontory fort "Mothar" which was demolished during the Napoleonic wars to make room for a signal tower
Live Music from Mayo
A link to the internet service from Midwest Radio out of Mayo. Broadcasting from their state of the art studios; Midwest Irish Radio plays nothing but the best Irish music. No matter where you are in the world, you are never too far from Ireland when you listen in.
Click here for:
Irish Midwest radio
.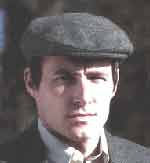 Shop for the best of Irish products from the comfort of your home
We combed the internet to find reliable resources for the most popular Irish products: Aran Isle sweaters, Guinness glasses, Waterford Crystal, genuine blackthorn walking sticks, the flag of the Republic and more. Some of these shops have become friends; others we trust from their reputations and some offer products that are completely unique. We hope you enjoy browsing through what's on offer and we are confident you will find gifts for any occasion or person, all with an Irish flair.
Notices

Did you get your Newsletter?
We try to send one out once or twice a month. If you aren't receiving it, something is wrong. Let us know and we'll try to solve the problem. Note: subscribers are automatically deleted from the data base if the newsletter bounces back multiple times. Full or disabled mailboxes will also cause a subscription to be cancelled. If you have any questions, please contact
Bridget
.