Traditions, folklore, history and more. If it's Irish, it's here. Or will be!
"People will not look forward to posterity who never look backward to their ancestors."
-Edmund Burke
---
Quotes

Library: Books, Movies, Music

Prints & Photos

Poetry

Jokes

---
---
Shops Ireland
---
Bunús na Gaeilge
(Basic Irish)

---
---
Did You Know?
---
Himself/Herself
Write to Us
Readers Write..
Links/Link to Us
---
Advertise with us
---
Awards & Testimonials

Submissions Guide
---
Announcement
My sister did not receive my last Newsletter. I recently sent my second Newsletter. If you did not receive the newsletter please send me an E-Mail message and let me know. Send the message to: rhaggerty@irishcultureandcustoms.com.
Thank you
—Russ

---
Green is significant to Ireland and the Irish. More so than any other country. But in today's world it has become significant to every country on the planet. Even my youngest son has started a small company called Green Streets. Its purpose is to provide ways to manage water. Governments and even large private Institutions are doing much but it still comes down to each and every one of us. What we do for ourselves improves all of us. We can help the environment and save money at the same time. So... I present here a page of resources to give us guidance and information to help us do just that. Please click Green Home Resources and I hope you will find what you need.

—Russ

---
Fáilte
Welcome to Irish Culture and Customs, a labor of love we began several years ago. What started as a surprise milestone birthday trip to Ireland became the beginning of a journey through time. A 2,000-year voyage on a quest to learn as much as we can about everything Irish. So here's where we are so far - more than 700 pages that range from Irish poetry, superstitions , Kids Stories and recipes to specific Irish calendar celebrations such as St. Patrick's Day , Beltane, Samhain and the Feast of St. Brigid. Whether it's an Irish symbol such as the shillelagh, the Shamrock and the Book of Kells or an Irish craft like Aran Isle knitting, you'll discover a wide range of topics in our index. We hope you find the little bit of Ireland you may be looking for and we encourage you to share what you discover with your loved ones on your family website, blog, or social network.



---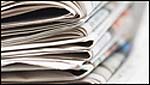 Today's Irish headlines
We comb the newspapers and web sites to find news to start your day with a positive spin. In this section you will also find links to stories from the past two weeks as well as links to the major Irish newspapers, the current time in Ireland and a link to the weather forecast.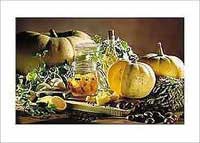 How the Irish invented Hallowe'en
by Brendan Sharkie
The Celts celebrated Hallowe'en as
Samhain, the Feast of the Dead
, when the deceased revisited the mortal world. This Oiche na Sprideanna (Spirit Night) marked the end of summer.
During the 8th century, the Catholic Church designated the first day of November as All Saints Day - all Hallows. Thus All Hallows Eve became Hallowe'en. It was an occasion of family reunion after booleying. (Booley - a milking place). Booleying was a system of moving cattle and sheep to summer pastures on higher ground or distant moorland. Young folk and even whole families left the village after the crops were sown and migrated to the booley area. Small homes were built with turf or sods, or of wicker work, and roofed with branches or heather. A chair or two, the cast iron pot, a creel and a few household items would have been strapped to the donkey's back. The little churn was slung on one side of the animal, into which the youngest child was often thrust, its head being the only part visible.
[Continue]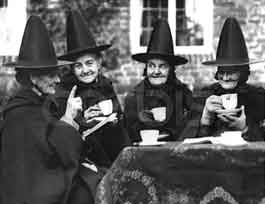 A Triple Treat for Halloween
by Bridget Haggerty
"One often hears of a horse that shivers with terror, or of a dog that howls at something a man's eyes cannot see, and men who live primitive lives where instinct does the work of reason are fully conscious of many things that we cannot perceive at all. As life becomes more orderly, more deliberate, the supernatural world sinks farther away."
William Butler Yeats.
Three Irish ghost stories that are so well documented, they'll make a believer out of you!
[Continue]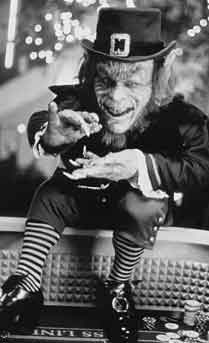 Creepy Irish Creatures
by Bridget Haggerty
The lore of supernatural beings in Ireland is unlike that of the rest of Europe in one very important respect: spirit powers in the Emerald Isle have been endowed with names and personalities.
Of all the unearthly phenomena associated with Erin, two of the most famous are the
Leprechaun
and the Banshee. Always solitary, it is erroneous to ever consider a company of Leprechauns, or a group of Banshees. However, according to folklore, the Leprechaun was once part of a community called "Luchor-pan or the wee bodies. Over time, the name became corrupted and this corruption gave rise to the notion that "brog " or shoe was part of the name. Thus, Leprechauns became shoemakers to the Good People, as well as the protector of their treasures. And, for whatever reason, Leprechauns were identified with some very anti-social personality traits, including irascibility, cunning, doubletalk and a liking for their own company.
[Continue]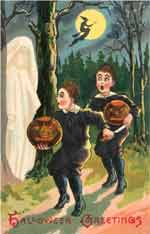 Ghosts
by Wm. B Yeats
Ghosts, or as they are called in Irish, Thevshi or Tash (taidhbhse, tais), live in a state intermediary between this life and the next. They are held there by some earthly longing or affection, or some duty unfulfilled, or anger against the living. "I will haunt you", is a common threat; and one hears such phrases as, "She will haunt him, if she has any good in her". If one is sorrowing greatly after a dead friend, a neighbour will say, "Be quiet now, you are keeping him from his rest; or, in the Western Isles, according to Lady Wilde, they will tell you, "You are waking the dog that watches to devour the souls of the dead". Those who die suddenly, more commonly than others, are believed to become haunting Ghosts. They go about moving the furniture, and in every way trying to attract attention.

[Continue]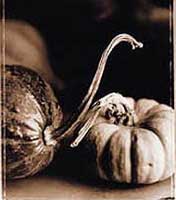 An Irish Halloween - Part 1
by Bridget Haggerty

Ever since the time of the Druids, many customs and traditions have evolved in celebration of Samhain, which is New Year's Day in the Celtic Calendar. When Christianity came to Ireland, the church took a dim view of Druidic festivals and created the vigil of All Soul's Evening, (or All Hallow's Eve) on October 31st, the Feast of All Saints on November 1st, and All Souls Day on November 2nd.

All three days were regarded as one of the most important times of the year and were celebrated throughout Ireland with feasting, merrymaking and divination games on Halloween, the completion of farming activities by Samhain, and rituals out of respect and remembrance for departed kinfolk on All Souls Day.

[Continue]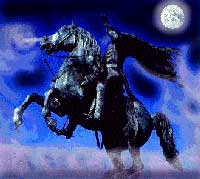 The Dullahan - Ireland's Headless Horseman
by Bridget Haggerty

It is said that after sunset, on certain festivals and feast days, one of the most terrifying creatures in the spirit world, the Dullahan, can be seen riding a magnificent black stallion across the country side.

Wherever he stops, a mortal dies.

Clad in flowing black robes, the Dullahan has no head on his shoulders. He carries it with him in his hand, and because he is endowed with supernatural sight, he will hold the head up high. This allows him to see great distances, even on the darkest night.

[Continue]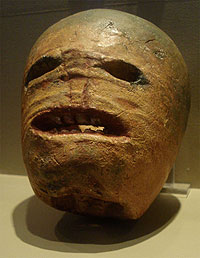 An Irish Hallowe'en - Part 2
by Bridget Haggerty

As in many other parts of the world, commercialism has crept into an Irish Hallowe'en, so that nowadays, you're just as likely to hear kids yelling "Trick or Treat" as you will "Help The Hallowe'en Party", and most of them now receive candy instead of the traditional apples and nuts. It's also fairly certain that many of them will be disguised as their favorite TV or video heroes and heroines and that they'll pester their moms and dads to outdo the neighbors when it comes to decorations. Still, many of the old customs are still observed, especially in the more rural areas.

While Pokemon and other contemporary characters may be the latest fad in costumes, the old-fashioned ones like witches, ghosts and goblins are still the most popular. Wearing costumes dates back to the time of the Druids who believed that the living and the dead were at their closest on the night before Samhain and that evil spirits would attempt to collect as many souls as they could. By disguising themselves as members of the spirit world, the people of ancient Ireland hoped to confuse any devils that might be abroad and thus, avoid being carried off. Another way to make an evil spirit release any souls held captive was to throw the dust from under your feet at it! And if you've ever wondered where we get the tradition of carving pumpkins, it dates back to 18th-century Ireland, when a mean and nasty blacksmith named Jack was denied entry into heaven.

[Continue]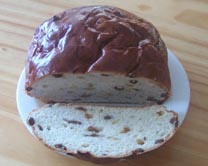 The Irish Kitchen: Barm Brack

This recipe comes from Aideen, the generous soul who provides the translations and pronunciations for our Irish language pages. Traditionally baked for Hallowe'en, some of the 'lucky' ingredients used and their 'significance' vary from house to house and region to region, so I've given the ones we always used. Two never change - the ring and the coin! Some houses use a pea and a bean for wealth and poverty, a thimble for spinsterhood etc. I have read of a religious medal, to forecast a life in Holy Orders, but I can honestly say I can never remember it being used!

If you're in the USA, you may be used to children having pumpkins for their lanterns.That's not a usual vegetable in Ireland and a hollowed-out turnip is always used. Apart from the Barm Brack, we don't really have any special foods but apples and nuts are always on the table, usually for playing games like 'bob-apple', where apples are put in a big basin of water and the kids have to bite them with their hands behind their backs. It's really only children who celebrate Hallowe'en and the main meal for them in the early evening is more of a 'High Tea' than dinner, with the Barm Brack being the centrepiece and the finding of the 'lucky charms' in it being the high point of the fun.

[Continue]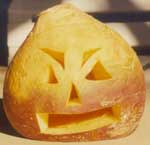 BasicIrish: Halloween and Samhain

It's Trick or Treat in the USA and Help The Hallowe'en Party in Ireland, but wherever you are, this week's lesson focuses on words and phrases associated with the day before the Celtic New Year - Samhain (sow-en).

Word: Hallowe'en
Irish: oíche shamhna
Pronunciation: ee-heh how-nah

[Continue]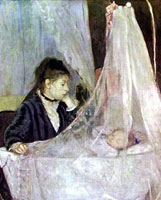 Kids' Ireland: The Changeling

Once upon a time in Ireland, there lived a woman called Shiela. Shiela had a small baby whom she loved above all else.

One Saturday morning, she noticed that her baby did not look right. Her baby boy was fat, healthy, and happy. This "thing" in her baby's crib was thin and looked like a skeleton. It was ugly and had shifty eyes, not at all like Shiela's baby. This baby "thing" never stopped crying. Shiela was at wit's end. Where was her son? What was in her son's crib? And would it never stop wailing?

Shiela's neighbors came and tried to comfort her. They told her that what was in her baby's crib was certainly a changeling. She must ask the wise woman what to do.

[Continue]


Live Music from Mayo

A link to the internet service from Midwest Radio out of Mayo. Broadcasting from their state of the art studios; Midwest Irish Radio plays nothing but the best Irish music. No matter where you are in the world, you are never too far from Ireland when you listen in.
Click here for: Irish Midwest radio.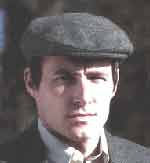 Shop for the best of Irish products from the comfort of your home

We combed the internet to find reliable resources for the most popular Irish products: Aran Isle sweaters, Guinness glasses, Waterford Crystal, genuine blackthorn walking sticks, the flag of the Republic and more. Some of these shops have become friends; others we trust from their reputations and some offer products that are completely unique. We hope you enjoy browsing through what's on offer and we are confident you will find gifts for any occasion or person, all with an Irish flair.



---
Authentic Irish clothing from Aran Sweaters Direct

---
Graduate students use Dissertation Geek - the best thesis writing company.
Math homework problems? Visit mathprepa.com for free help.
---
Sun, Oct 22, 2017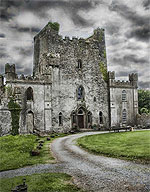 Ireland's Most Haunted Castle
South-east of Birr between Kinnity and Roscrea, in Co. Offaly are the remains of Leap Castle. Originally an O'Carroll fortress, it guarded the pass from the Slieve Bloom into Munster. Said to have more than 50 ghosts, its dark and mysterious past includes the murder of a priest by his brother in the "Bloody Chapel" and the slaughter by their Irish employers of more than 50 Scots mercenaries in order to avoid payment. It has always had a reputation of being haunted and locals have described seeing the windows at the top of the castle "light up for a few seconds as if many candles were brought into the room" late at night. For more details read our article Creepy Irish Castles & Houses.
Photo Credit & More Details: H. J. Moncrieff


Click for More Culture Corner.
Sunday Blessing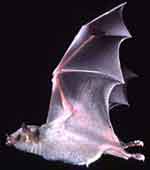 Halloween Prayer
From tinker and pooka and black-hearted stranger
From harm of the water and hurt of the fire
From the horns of the cows going home to the byre
From teasing the ass when he's tied to the manger
From stones that would bruise and from thorns of the briar
From evil red berries that waken desire
From hunting the gander and vexing the goat
From depths o' seawater by Danny's old boat
From cut and from tumble, from sickness and weeping
May God have your loved ones this day in His keeping.
Edited and adapted from the poem "A Prayer for a Child" by Winifred M. Letts

---
Weekly Quote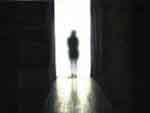 "Midnight has come and the great Christ Church bell
And many a lesser bell sound through the room;
And it is All Souls' Night.
And two long glasses brimmed with muscatel
Bubble upon the table. A ghost may come;
For it is a ghost's right..."
William Butler Yeats, in All Souls' Night
Photo Credit: Project Muse

---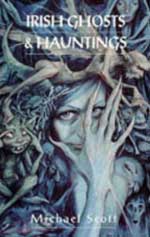 Irish Ghosts & Hauntings
by Michael Scott

What is it about Ireland's past that so haunts the imagination? More than one answer can be found in Michael Scotts's powerful new collection of 29 tales. In a newly Christianized Ireland, monks do battle with a devilish monster that has killed a river. In fact, all the water in these stories - from rivers to lakes, conceal dangers that men and women would best avoid. Adapted from an intro by the publisher.
Click here for Irish Ghosts.

---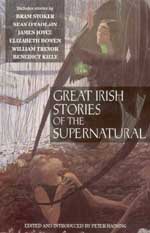 Great Irish Stories of the Supernatural
Edited by Peter Haining

No country is more richly endowed with faerie folk and restless spirits than Ireland, and Irish folklore contains hundreds of tales of ghosts, devils and witches. This collection includes chilling tales by writers ranging from Brams Stoker to W.B. Yeats with stories grouped according to the type of spirit. Intriguing titles include The Spectre Lovers by Le Fanu, The Fairy Goose by Liam O'Flaherty, The Eyes of the Dead by Daniel Corkery and many more.
Click here for Stories of the Supernatural.

---