Fáilte
Welcome to Irish Culture and Customs, a labor of love we began several years ago. What started as a surprise milestone birthday trip to Ireland became the beginning of a journey through time. A 2,000-year voyage on a quest to learn as much as we can about everything Irish. So here's where we are so far - more than 700 pages that range from Irish poetry, superstitions , Kids Stories and recipes to specific Irish calendar celebrations such as St. Patrick's Day , Beltane, Samhain and the Feast of St. Brigid. Whether it's an Irish symbol such as the shillelagh, the Shamrock and the Book of Kells or an Irish craft like Aran Isle knitting, you'll discover a wide range of topics in our index. We hope you find the little bit of Ireland you may be looking for and we encourage you to share what you discover with your loved ones on your family website, blog, or social network.





---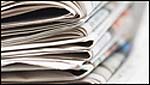 Today's Irish headlines
We comb the newspapers and web sites to find news to start your day with a positive spin. In this section you will also find links to stories from the past two weeks as well as links to the major Irish newspapers, the current time in Ireland and a link to the weather forecast.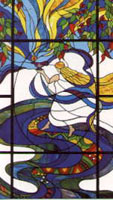 St. Brigid - The Giveaway
by Bridget Haggerty
Known variously throughout Ireland as St. Brigid, Brighid, Brigit, Bridget or Bride, it was believed that she travelled around the countryside on the eve of her festival, blessing both the people and their livestock.
To show that her visit was welcome, families would place a cake or pieces of bread and butter on the windowsill. In some parts of Ireland, the bread would be an
oatmeal loaf in the shape of a cross
which was specially baked for the occasion. A sheaf of corn was often placed beside it as refreshment for the saint's favorite white cow which accompanied her. In some places, the offering was left to be taken by a hungry, homeless person.
This feast day(February 1st) heralded the first day of Spring(Imbolc). Similar to the United States groundhog tradition, if a hedgehog came out of his burrow on St. Brigid's Day, it was a sign that mild weather was coming. If he went back into his burrow, it was a sign that bad weather would continue.
[Continue]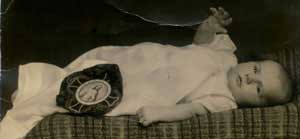 Celebrating A Name Day in Old Ireland
by Bridget Haggerty
Yes, it's me. According to my mother, on the day I was born, my dad cradled me in his arms and said "My little Bridget." And so, that is the blessing - and the burden - I've carried all of my life.
The burden was being given a very different first name from what was popular in England during the late 1940s or early 1950s. Elizabeth or Margaret, after one of the princesses, would have been great. I think every school mate was one or the other. Mary might have been ordinary, but for a child, that wouldn't have been so terrible. The worst part was marrying the first name to the last - Bridget O'Flaherty. No matter what - I stuck out. And it was the last name that did it. My parents could have given me any first name they wanted to - but, joined with O'Flaherty, it wouldn't have mattered. I was Irish.
[Continue]
Brigid of the Songs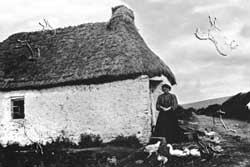 by Pádraic H. Pearse
Brigid of the Songs was the most famous singer in Rossnageeragh, not only in my time but in my father's time. It's said that she could wile the song-thrush from the branch with the sweetness of the music that God gave her; and I would believe it, for it's often she wiled me and other lads besides from our dinner or our supper. I'd be a rich man to-day if I had a shilling for every time I stopped outside her door, on my way home from school, listening to her share of songs; and my father told me that it's often and often he did the same thing when he was a lad going to school.
It was a tradition among the people that it was from Raftery himself that Brigid learned Conntae Mhuigheó (The County of Mayo), and isn't it with the Conntae Mhuigheó that she drew the big tears out of the eyes of John MacHale one time he was on a visit here, along with our own Bishop, a year exactly before I was born?
[Continue]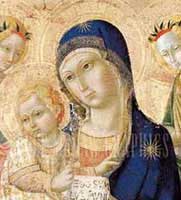 Celebrating Candlemas in Old Ireland
by Bridget Haggerty
Candlemas - February 2nd - celebrates the Presentation of Jesus in the Temple and the Purification of the Virgin Mary. As with many festivals in the liturgical calendar, this one has its origins in ancient Rome.
In Roman times, candles were carried through the streets and women observed purification rites. Even today, in many countries, women who had borne children the year before participate in candlelit processions - an activity the Church gladly welcomes as it symbolizes the purification of the Virgin Mary.
In ancient Celtic cultures, the period between February 1st and 2nd is called Imbolc - the first day of spring, midway through the dark half of the year. It was a time when the stirring of new life manifested itself in the first flow of milk in the udders of pregnant ewes - a sure sign that the lambing season was about to begin. The Church tried to replace Imbolc which was dedicated to the Goddess of Youth and Fertility - Bride. Thus, in the 5th century, February 1st became St. Brighid's Day and February 2nd became Candlemas.
[Continue]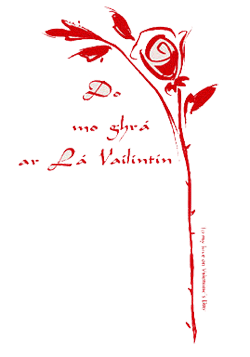 The Irish Link to St. Valentine
by Bridget Haggerty
As a young girl growing up in England in the 50s, I loved sending and receiving Valentine cards - messages that were always unsigned. As the sender, one would go to great lengths to disguise the source of the card. As the recipient, the fun was in trying to figure out the identity of your secret admirer.
When I came to the United States in the early 60s, imagine my surprise to learn that the custom here was to identify the sender. Not only that, cards were often sent to relatives, such as your mom and dad! It didn't seem very appropriate to me, then or now. In fact, I still think it's very odd and, while I have capitulated to custom and sign the card I give to my husband, there's a part of me that still wishes Valentine's Day could be like it once was - shrouded in romantic mystery.
[Continue]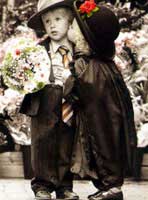 The Irish In Love
by Bridget Haggerty
'The Realm of Romance' is bigger than West Virginia and smaller than Ohio. But for such a tiny place, Ireland is a magnificent, multi-faceted gem, blessed with an abundance of details and differences. Majestic mountains sweep down to the sea. Miles of stone walls line fields filled with black-faced sheep. Tall, flowering hedges shade narrow, winding roads. Ancient castles and mystical abbeys dominate pastoral vistas. And, pastel-hued cottages dot river valleys strewn with wild flowers. What a magical place to begin a romance or married life together!
[Continue]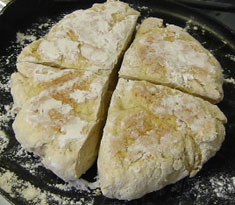 The Irish Kitchen: St. Brigid's Oatcakes
These chewy bread-cakes have been fed to children in Ireland for years, in the belief that vigorous chewing would strengthen their young jaws. The children of today like them because they are fun to eat. And because they are low in fat and high in fiber, they are definitely healthful. The loaf is cut in quarters, or "farls" before it is baked.
[Continue]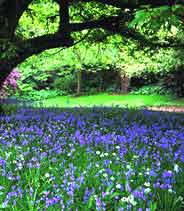 Basic Irish: - Saint Brigid & Spring
In Ireland long ago,
the first day of Spring fell on February 1. Back then, it was called Imbolc - the feast of the Goddess Brigit (
see our Article St. Brigid - the giveaway
). When Christianity came to Ireland, the goddess was transformed into the saint. Today, Lá Fhéile Bríde - St. Brigit's Feast Day - is more commonly used than Imbolc. So, this lesson is in honor of the saint and the coming of spring.
[Continue]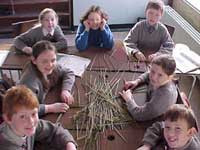 Kids' Ireland: Making Saint Brigid's Crosses
by the 4th class of Holy Family Senior School
The children of 4th Class Holy Family Senior School in Ennis, Co. Clare have been busy making St. Brigid's Crosses. If you'd like to make a St. Brigid's Cross, they have kindly given us their permission to reprint the instructions from their website - and also publish a couple of photos.
We've some pictures below showing the crosses being made. You will need some rushes or reeds picked from marsh land or by your local river. The reeds can be used to tie the ends of the cross or you may use elastic bands or cord if you prefer.

[Continue]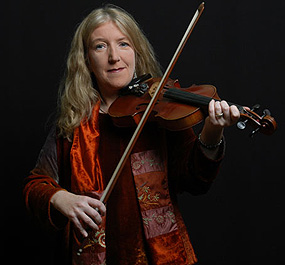 Music Review: Celtic Lovers - Máire Breatnach
by Bridget Haggerty

Máire Breatnach's third solo album takes us on a journey through Irish mythology, with great romances as its central theme. While the music would be a pleasure to listen to without any knowledge of Irish myths and sagas, the details that Máire provides about the various couples in the accompanying booklet adds considerably to one's appreciation of the work.

From the opening enchantments of Mannan's polkas, to the blandishments of Grainne's slip jigs, to the tender evocations of lost love on Fand's air, the melodies and rhythms hold the listener spellbound.

[Continue]




Live Music from Mayo

A link to the internet service from Midwest Radio out of Mayo. Broadcasting from their state of the art studios; Midwest Irish Radio plays nothing but the best Irish music. No matter where you are in the world, you are never too far from Ireland when you listen in.
Click here for: Irish Midwest radio.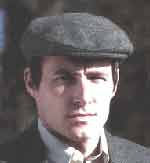 Shop for the best of Irish products from the comfort of your home

We combed the internet to find reliable resources for the most popular Irish products: Aran Isle sweaters, Guinness glasses, Waterford Crystal, genuine blackthorn walking sticks, the flag of the Republic and more. Some of these shops have become friends; others we trust from their reputations and some offer products that are completely unique. We hope you enjoy browsing through what's on offer and we are confident you will find gifts for any occasion or person, all with an Irish flair.





Notices

Did you get your Newsletter?
We try to send one out once or twice a month. If you aren't receiving it, something is wrong. Let us know and we'll try to solve the problem. Note: subscribers are automatically deleted from the data base if the newsletter bounces back multiple times. Full or disabled mailboxes will also cause a subscription to be cancelled. If you have any questions, please contact Bridget.

---
Graduate students use Dissertation Quest for helpful thesis writing guides.
Math homework problems? Visit mathprepa.com for free help.
---