Fáilte
Welcome to Irish Culture and Customs, a labor of love we began several years ago. What started as a surprise milestone birthday trip to Ireland became the beginning of a journey through time. A 2,000-year voyage on a quest to learn as much as we can about everything Irish. So here's where we are so far - more than 700 pages that range from Irish poetry, superstitions , Kids Stories and recipes to specific Irish calendar celebrations such as St. Patrick's Day , Beltane, Samhain and the Feast of St. Brigid. Whether it's an Irish symbol such as the shillelagh, the Shamrock and the Book of Kells or an Irish craft like Aran Isle knitting, you'll discover a wide range of topics in our index. We hope you find the little bit of Ireland you may be looking for and we encourage you to share what you discover with your loved ones on your family website, blog, or social network.





---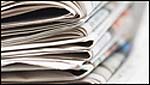 Today's Irish headlines
We comb the newspapers and web sites to find news to start your day with a positive spin. In this section you will also find links to stories from the past two weeks as well as links to the major Irish newspapers, the current time in Ireland and a link to the weather forecast.
And last, but not least, once a week we post the Regional County News
.
The current edition is for Saturday, October 20th.


Trivia Think you're Irish?
This is our monthly trivia contest which is designed to test your knowledge of Irish history, legends, superstitions, arts, politics and more.
October's contest is posted, - Oooo, scary.
Just want entertaining facts about Ireland?
Then click here for
Did you Know?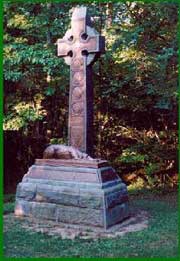 The Irish Soldiers in the American Civil War
by Bridget Haggerty
"His cavalry is numerous but can't ride and his infantry, except the Irish, can't fight." Confederate Col. E. P. Alexander commenting on the Union forces.
It is estimated that approximately 360,000 Union soldiers died as a direct result of the war. The Confederacy lost 133,000 dead. Many more soldiers were wounded; some maimed for life. One source has said that one in nine who served were either Irish born, or of Irish descent. Based on these numbers, nearly 50,000 Irish soldiers gave their lives in battle, and countless others were injured.
About 190,000 Irishmen contributed to both sides of the cause. It is estimated that 150,000 served on the side of the Union and that about 40,000 served the Confederacy. After the conflict was over, more than 130 Irish soldiers had been awarded the Medal of Honor.
[Continue]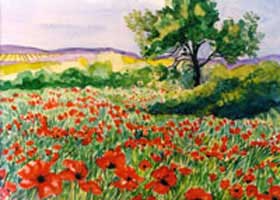 The Irish Soldiers in WWI
by Bridget Haggerty
My dad fought in Africa during WWI. I know very little of his experience as he preferred not to talk about it. What I do know is that he lied about his age in order to enlist, that his boots rotted off his feet in the trenches and that he contracted malaria - a condition which was to afflict him for the rest of his life.
It's possible that he was reluctant to discuss his role as an Irish soldier in the British army because he was from Galway and on his return home, he may have been treated as a traitor. In my own time, I remember how returning vets who fought in Vietnam were vilified by protesters. In any event, I'll never know how my father fared, but it's interesting to note that just a few years after the war, he left Ireland and never went back.
[Continue]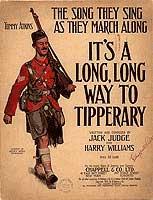 It's a long way to Tipperary
by Bridget Haggerty
The Daily Mail correspondent, George Curnock, first heard the tune in Boulogne in August, 1914 - "a company of the 2nd* Battalion Connaught Rangers passed us singing, with a note of strange pathos in their rich Irish voices, a song I had never heard before…"
It's a long way to Tipperary,
It's a long way to go,
It's a long way to Tipperary,
To the sweetest girl I know!
Goodbye Piccadilly! Farewell Leicester Square!
It's a long, long way to Tipperary,
But my heart's right there!
One of the most popular songs among the British, German and Russian armies during World War I, it sold a million copies in 1914 and was later recorded by John McCormack. But what of its origins?
[Continue]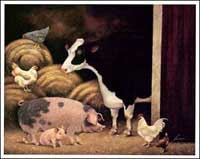 Irish Celebrations & Feast Days - Martinmas
by Bridget Haggerty

Ready to scatter the blood of a fresh-killed animal on your threshold and in the four corners of the house? It's what they did in old Ireland on November 10th, which is Martinmas - the eve of the feast of St. Martin.
Autumn in Ireland often brings a cold snap followed by some mild, lovely weather. Similar to Indian Summer in the United States, this brief interlude before winter sets in is called Martinmas Summer.
[Continue]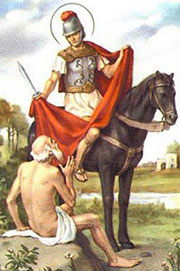 Irish Celebrations - The Feast of St. Martin
by Bridget Haggerty
A legend from Co. Wexford says that the fishing boats were out on the morning of one November 11th, when an apparition of St Martin was seen walking on the waves. He admonished them to put their oars into the water and return to their harbors. All those who ignored his warning perished in a storm that came up in the afternoon. Since then, no Wexford boat would put out to sea on St. Martin's Day.
It was also the custom in Wexford on November 11th, that if a sheep or goat was ill and seemed likely to die, the farmer would put a slit in one ear and devote the animal to the saint. If it recovered, it would be killed and eaten on a future St. Martin's Day. It would not be sold in the interim - not even for ten times its value.
[Continue]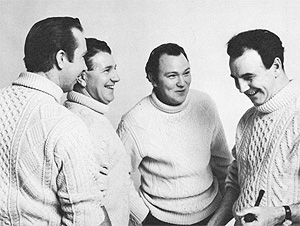 Aran knitwear - From plain and practical socks to one of Ireland's most popular souvenirs
by Bridget Haggerty
I first saw a traditional Aran sweater when I watched the Clancy Brothers & Tommy Makem perform on the Ed Sullivan show - a popular TV program in the United States. What I didn't know back then was that when the three brothers became professional and very popular folk singers – along with their countryman, the great Tommy Makem – their mother, worrying about her boys' health in the freezing New York winters, sent them the thick sweaters which became their trademark. Almost overnight, the sweaters were in high demand. According to Liam Clancy, after their performance on the show, sales of Aran sweaters rose by 700%. During the 1960s, even with all available knitters recruited from the three Aran islands and from other parts of Ireland, there was difficulty in fulfilling orders from around the world.
[Continue]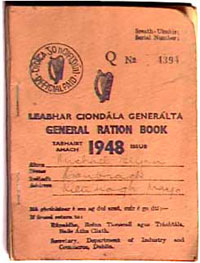 The irish Kitchen: Aunt Hettie's War Cake
contributed by Hartson Dowd
To those from Northern Ireland - and Belfast in particular, a "War Cake" usually means one that doesn't have any eggs. Perhaps the hens got nervous and forgot to lay, or maybe the chicken farmers got nervous and dropped the eggs? No, of course the real reason was rationing during war time. "No matter", Auntie says, "it's fast, easy to make, and easy to double in the event of a larger war."


[Continue]
Basic Irish: The Big Dinner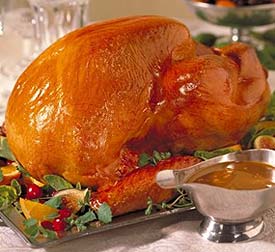 With the holidays right around the corner, this month's lesson focuses on the all-important festive feast. Our resident Irish speaker gave this offering a most appropriate title: An Dinnéar Mór - The Big Dinner.
Photo Credit:
Ivan Elsas
[Continue]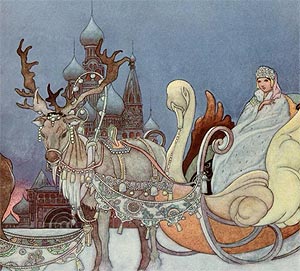 Kids' Ireland: The Remarkable Rocket
adapted from a story by Oscar Wilde by Bridget Haggerty
ED. NOTE:
The original story was very long and included archaisms which would be difficult to understand today, especially by children. Thus, with all due respect to Oscar, his tale is now shorter and we hope easier for parents or grandparents to read to the children or for young people to read for themselves.
[Continue]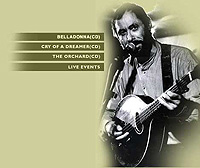 Music Review: Seán Tyrrell - The Voice of a Dreamer
by William Ramoutar


I often find it hard to figure out how the price of some cds, have skyrocketed and how others have plummeted to nearly nothing - this man's music is no exception. Sure, you can find great bargains now and then, and sometimes on the Internet, but will you ever find a better deal than Seán? NO!
His songs range from the poetry of W.B. Yeats, Host of the Air, on Davy Spillane's cd, "Shadow Hunter", to songs of the beauty of Ireland, people, places, war, peace and curses. Yes, curses! His song "Skin the Goat", will have you delirious with its scathing attack on an enemy who is quite simply, not going to make it after this!
[Continue]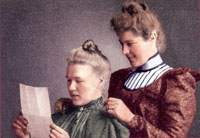 Letters
We receive many lovely letters from visitors to our web site and subscribers to our newsletter. As we're fond of saying, your feedback helps to make all of the time and effort worth while. While we have a Readers Write Page where we post comments from time to time, we've decided to also select a Letter - one that, for whatever reason, tickled our fancy.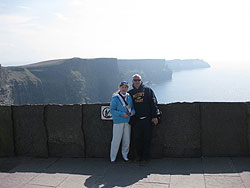 This past spring I went to Ireland with my son and his wife & her family. What a wonderful experience - way too short a time. I would have loved to sit and plan my days in a much more leisurely fashion but what we saw was all too wonderful This was my first time there - did a bit of checking on my grandmother's birth place: Roscommon. I would so love to return.
Thank you for this opportunity to be a part of your wonderful home page. Thank you, too, for "Irish Culture & Customs" - it gives us the chance to know more about Ireland and its people.
Bonnie Hirschler
Photo Caption: This is Bonnie and her son Michael Hirschler at the Cliffs of Moher.
ED. NOTE: When we asked Bonnie to send us a photo, she very kindly sent us two. We choose the one of her and her son at the Cliffs of Moher because it is such an iconic image of Ireland and one that is immediately recognizable. Standing more than 500 feet at the highest point and ranging for for nerly five miles over the Atlantic Ocean, on a clear day one can see the Aran Islands, Galway Bay, as well as The Twelve Pins, the Maum Turk Mountains in Connemara and Loop Head to the South. The cliffs take their name from a ruined promontory fort "Mothar" which was demolished during the Napoleonic wars to make room for a signal tower
Live Music from Mayo
A link to the internet service from Midwest Radio out of Mayo. Broadcasting from their state of the art studios; Midwest Irish Radio plays nothing but the best Irish music. No matter where you are in the world, you are never too far from Ireland when you listen in.
Click here for:
Irish Midwest radio
.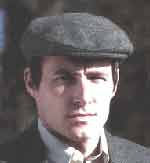 Shop for the best of Irish products from the comfort of your home
We combed the internet to find reliable resources for the most popular Irish products: Aran Isle sweaters, Guinness glasses, Waterford Crystal, genuine blackthorn walking sticks, the flag of the Republic and more. Some of these shops have become friends; others we trust from their reputations and some offer products that are completely unique. We hope you enjoy browsing through what's on offer and we are confident you will find gifts for any occasion or person, all with an Irish flair.
Notices

Did you get your Newsletter?
We try to send one out once or twice a month. If you aren't receiving it, something is wrong. Let us know and we'll try to solve the problem. Note: subscribers are automatically deleted from the data base if the newsletter bounces back multiple times. Full or disabled mailboxes will also cause a subscription to be cancelled. If you have any questions, please contact
Bridget
.