Traditions, folklore, history and more. If it's Irish, it's here. Or will be!
"People will not look forward to posterity who never look backward to their ancestors."
-Edmund Burke
---
Quotes

Library: Books, Movies, Music

Prints & Photos

Poetry

Jokes

---
---
Shops Ireland
---
Bunús na Gaeilge
(Basic Irish)

---
---
---
Himself/Herself
Write to Us
Readers Write..
Links/Link to Us
---
Advertise with us
---
Awards & Testimonials

Submissions Guide
---
Fáilte
Welcome to Irish Culture and Customs, a labor of love we began several years ago. What started as a surprise milestone birthday trip to Ireland became the beginning of a journey through time. A 2,000-year voyage on a quest to learn as much as we can about everything Irish. So here's where we are so far - more than 700 pages that range from
Irish poetry
,
superstitions
,
Kids Stories
and
recipes
to specific Irish calendar celebrations such as
St. Patrick's Day
,
Beltane
,
Samhain
and the
Feast of St. Brigid
. Whether it's an Irish symbol such as the
shillelagh
, the
Shamrock
and the
Book of Kells
or an Irish craft like
Aran Isle knitting
, you'll discover a wide range of topics in our
index
. We hope you find the little bit of Ireland you may be looking for and we encourage you to share what you discover with your loved ones on your family website, blog, or social network.
---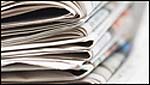 Today's Irish headlines
We comb the newspapers and web sites to find news to start your day with a positive spin. In this section you will also find links to stories from the past two weeks as well as links to the major Irish newspapers, the current time in Ireland and a link to the weather forecast.
And last, but not least, once a month, we gather bits and bobs from all 32 counties.
The current edition of the Regional County News is for March 2014.

Just want entertaining facts about Ireland? Please click here for
Did you Know?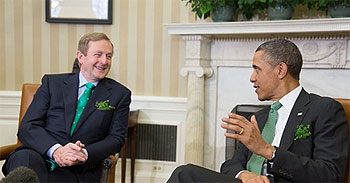 Presidential Proclamation -- Irish-American Heritage Month, 2014
A PROCLAMATION
Centuries after America welcomed the first sons and daughters of the Emerald Isle to our shores, Irish heritage continues to enrich our Nation. This month, we reflect on proud traditions handed down through the generations, and we celebrate the many threads of green woven into the red, white, and blue.

Irish Americans have defended our country through times of war, strengthened communities from coast to coast, and poured sweat and blood into building our infrastructure and raising our skyscrapers. Some endured hunger, hardship, and prejudice; many rose to be leaders of government, industry, or culture. Their journey is a testament to the resilience of the Irish character, a people who never stopped dreaming of a brighter future and never stopped striving to make that dream a reality. Today, Americans of all backgrounds can find common ground in the values of faith and perseverance, and we can all draw strength from the unshakable belief that through hard work and sacrifice, we can forge better lives for ourselves and our families.

The American and Irish peoples enjoy a friendship deepened by both shared heritage and shared ideals. On the international stage, we are proud to work in concert toward a freer, more just world. As we honor that enduring connection during Irish-American Heritage Month, let us look forward to many more generations of partnership. May the bond between our peoples only grow in the centuries to come.

NOW, THEREFORE, I, BARACK OBAMA, President of the United States of America, by virtue of the authority vested in me by the Constitution and the laws of the United States, do hereby proclaim March 2014 as Irish-American Heritage Month. I call upon all Americans to observe this month with appropriate ceremonies, activities, and programs.

IN WITNESS WHEREOF, I have hereunto set my hand this twenty-eighth day of February, in the year of our Lord two thousand fourteen, and of the Independence of the United States of America the two hundred and thirty-eighth.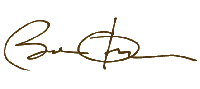 BARACK OBAMA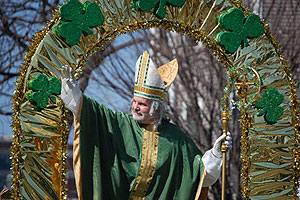 St Patrick gets the party, but there are many saints to honour in Ireland
By Helen O'Neill

St Patrick may have banished snakes and brought Christianity to Ireland, but perhaps his greatest feat was one of sheer endurance. After all, there were hundreds of other future saints roaming Ireland at the time, but Patrick is the one who gets the party.

On March 17, Guinness will flow from Malin to Moscow, the Chicago River will run green and parades will be held worldwide to celebrate the fifth-century preacher and patron saint of Ireland.

[Continue]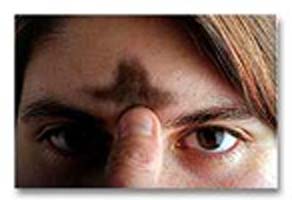 The Lenten Season in Old Ireland
by Bridget Haggerty

Ash Wednesday marks the beginning of the holiest time of the Christian year in Ireland. For centuries, the faithful have gone to church on this day to have their brow symbolically marked with a cross of ashes. Traditionally, the ashes came from burning the palms saved from the previous Palm Sunday, but, in some areas, the custom was for people to bring ashes from their turf fire into the church to be blessed.


[Continue]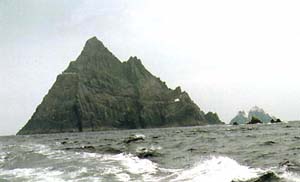 What if you were still single by Ash Wednesday?
by Bridget Haggerty

According to the Julian Calendar, it won't be Lent for a week. Why is this? Well, in 1751, King George II decreed that Great Britain would switch over from the Julian Calendar to the Gregorian Calendar - the one we use today. The switch went into effect in September, 1752. The day after September 2nd of that year became September 14th. There were riots in the streets because people believed that the king had stolen 12 days out of their lives. Meanwhile, in Ireland, the monks kept what came to be known as Old Time.


[Continue]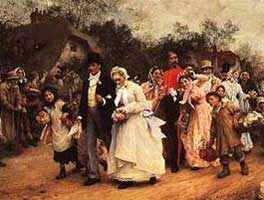 Shrovetide - The Marrying Season
by Bridget Haggerty

Well into the 20th century, the busiest time for match-making in Ireland began right after Epiphany - January 6th. This was because the Irish had misinterpreted a Church ruling set forth in November, 1563 which prohibited weddings during Lent. The popular reasoning that evolved from this decree was that if you could not marry during Lent, then you had to marry before. Thus, it was taken for granted that Shrovetide was the proper time to marry and Shrove Tuesday - the day before Ash Wednesday - became the most favored day of all.



[Continue]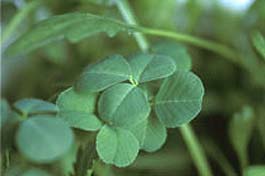 Emblems of Ireland: The Shamrock
by Bridget Haggerty

According to the Concise Columbia Encyclopedia, the identity of the true shamrock has long been debated, but the plants most often designated as the emblem of Ireland are the white clover, the small hop clover, and the wood sorrel, or oxalis.

It's likely that some or all of this information was provided by the botanist, Nathaniel Colgan, who endeavored to identify "the real shamrock" at the turn of the 20th century.
He asked people all over Ireland to send him living, rooted specimens which he carefully planted and labelled. When the plants matured and blossomed, he was able to identify four different plants - the three already mentioned and one called Black Medick.


[Continue]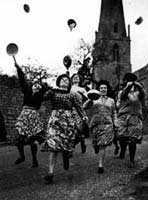 Shrove Tuesday Pancakes!
by Bridget Haggerty

Throughout the British Isles the day before Ash Wednesday - Shrove Tuesday - is commonly known as Pancake Day. In Ireland, It's called Pancake Tuesday. As the child of Irish parents living in London, I loved watching the Pancake Races. Usually, the contestants were housewives. Each of them carried a skillet which contained a large, very thin pancake. The idea was for the women to race to the finish line, tossing their pancakes as they ran. It was hilarious - especially when a stray pancake landed where it wasn't supposed to!


[Continue]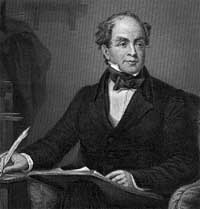 Poetry Corner: Thomas Moore (b. May 28, 1779 - d. Feb. 25, 1852)

Irish poet and lyricist. Here's a good example of the blurry line between poem and song. Moore is best known for his sweet lyrical songs. The best example being Believe Me If All Those Endearing Young Charms. He was most popular for his Irish Melodies which appeared in ten parts between 1807 and 1835 (...Endearing Young Charms was 1808). Moore was a skillful writer and a musician. He took the easy path and set many of them to Irish tunes.

Thomas Moore was born in Dublin; the son of a grocer. He was educated at Trinity College, Dublin and London.
In 1813 Moore wrote The Two Penney Post Bag, a collection of satires against the prince regent. He was paid the huge sum of £3000 for his poem Lalla Rookh, published in 1817.
Few of those familiar with his songs and poems realize he was a brilliant satirist. His biting poems on such subjects as the public debt and the corn laws, were of interest to politicians and businessmen. Although dripping wry humour, these poems were not likely to evoke sighs from young lovers.
We have included one here (All in the Family Way, on the public debt), for those scant few who will enjoy it.

[Continue]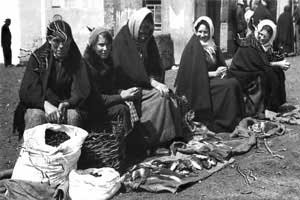 The Irish Kitchen: Recipes for the Lenten Season
Contributed by Hartson Dowd

Herring or smelts have always been a mainstay on the Irish table, especially during Lent. But, to enjoy them to the fullest, they have to be as fresh as possible and preferably eaten on the day they are caught - or bought.




[Continue]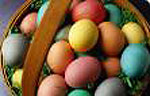 Basic Irish: Lent & Easter
This lesson features words and phrases related to giving up favorite foods like chocolate for Lent. Is Easter imminent? Our lesson covers appropriate words and phrases from Palm Sunday to Easter Monday.



[Continue]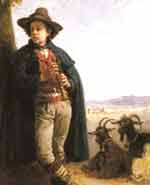 Kids' Ireland: The Young King
By Oscar Wilde
Edited and adapted by Bridget Haggerty*

Note: Why did we edit it? Oscar, as we all know, was a master of the language and had an enormous vocabulary. To help the parents reading this story to their children we felt it was necessary to simplify some of Oscar's writing.
This avoids the need to run for the dictionary every few minutes (also, it's pretty scary as Oscar did it).

It was the night before the day of his coronation, and the young King was sitting alone in his beautiful chamber. His courtiers had all taken their leave of him. The lad - for he was only a lad, being but twelve years of age - was not sorry at their departure, and had flung himself back with a deep sigh of relief on the soft cushions of his embroidered couch, lying there, wild-eyed like a brown woodland Faun, or some young animal of the woodlands newly snared by the hunters.


[Continue]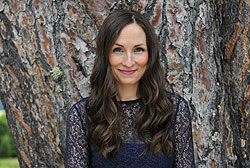 Music Review: Julie Fowlis -- From Uist to West and Beyond!
by William Ramoutar

It is very hard for me to understand the older I get, how time seems to fly, either in days, weeks or years, but it does. And how some voices I have come to think of as being around for a long time are really very recent on the scene. One such is the incredibly glorious Gaelic voice of Julie Fowlis. She guested on an album by a group of wonderful Scottish artists called Brolum in the year 2000, and from then on she has gone from strength to strength, and will do so for many moons to come.


[Continue]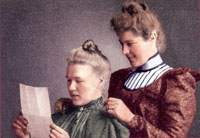 Letters
We receive many lovely letters from visitors to our web site and subscribers to our newsletter. As we're fond of saying, your feedback helps to make all of the time and effort worth while. While we have a Readers Write Page where we post comments from time to time, we've decided to also select a Letter - one that, for whatever reason, tickled our fancy.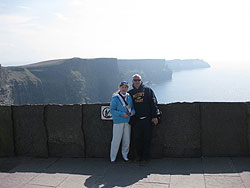 This past spring I went to Ireland with my son and his wife & her family. What a wonderful experience - way too short a time. I would have loved to sit and plan my days in a much more leisurely fashion but what we saw was all too wonderful This was my first time there - did a bit of checking on my grandmother's birth place: Roscommon. I would so love to return.
Thank you for this opportunity to be a part of your wonderful home page. Thank you, too, for "Irish Culture & Customs" - it gives us the chance to know more about Ireland and its people.

Bonnie Hirschler
Photo Caption: This is Bonnie and her son Michael Hirschler at the Cliffs of Moher.


ED. NOTE: When we asked Bonnie to send us a photo, she very kindly sent us two. We choose the one of her and her son at the Cliffs of Moher because it is such an iconic image of Ireland and one that is immediately recognizable. Standing more than 500 feet at the highest point and ranging for nearly five miles over the Atlantic Ocean, on a clear day one can see the Aran Islands, Galway Bay, as well as The Twelve Pins, the Maum Turk Mountains in Connemara and Loop Head to the South. The cliffs take their name from a ruined promontory fort "Mothar" which was demolished during the Napoleonic wars to make room for a signal tower




Live Music from Mayo

A link to the internet service from Midwest Radio out of Mayo. Broadcasting from their state of the art studios; Midwest Irish Radio plays nothing but the best Irish music. No matter where you are in the world, you are never too far from Ireland when you listen in.
Click here for: Irish Midwest radio.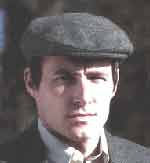 Shop for the best of Irish products from the comfort of your home

We combed the internet to find reliable resources for the most popular Irish products: Aran Isle sweaters, Guinness glasses, Waterford Crystal, genuine blackthorn walking sticks, the flag of the Republic and more. Some of these shops have become friends; others we trust from their reputations and some offer products that are completely unique. We hope you enjoy browsing through what's on offer and we are confident you will find gifts for any occasion or person, all with an Irish flair.





Notices

Did you get your Newsletter?
We try to send one out once or twice a month. If you aren't receiving it, something is wrong. Let us know and we'll try to solve the problem. Note: subscribers are automatically deleted from the data base if the newsletter bounces back multiple times. Full or disabled mailboxes will also cause a subscription to be cancelled. If you have any questions, please contact Bridget.

---
Sat, Mar 8, 2014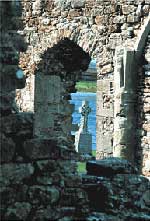 Clonmacnoise
Founded in 545 AD by St Ciaran, Clonmacnoise monastery became between the 7th and 12th centuries a religious, literature and arts center for monks all over Europe. They came to study and pray in the "Island of saints and scholars" when the rest of Europe was still in the Dark Ages. Clonmacnoise was totally devastated by fire as well as successive raids but the site retains its stunning features. The view captured in this image has remained relatively unchanged for 1500 years. Clonmacnoise lay in decay until the Office of Public Works began the arduous task of turning this sacred place into one of Ireland's most famous visitors' centres. Interestingly - and we have yet to find out why - for centuries, courting couples have stood on each side of the arch whispering their words of love to each other.
For a print of this photograph, click Clonmacnoise

Click for More Culture Corner.
Sunday Blessing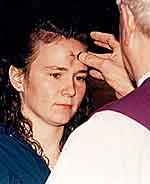 Blessing for Lent
Merciful God, you called us forth from the dust of the earth;
you claimed us for Christ in the waters of baptism.
Look upon us as we enter these Forty Days bearing the mark of ashes,
and bless our journey through the desert of Lent to the font of rebirth.
May our fasting be hunger for justice;
our alms, a making of peace;
our prayer, the chant of humble and grateful hearts.
All that we do and pray is in the name of Jesus.
For in his cross you proclaim your love for ever and ever.
From Catholic Household Blessings and Prayers
Photo Credit: Catholic Herald


More Blessings

---
Quote of the Week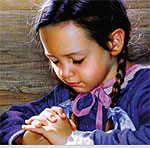 Here bring your wounded hearts, here tell your anguish; Earth has no sorrow that Heaven cannot heal.
Thomas Moore
Photo Credit: Parish of Donagh, Clogher Diocese Ireland