Fáilte
Welcome to Irish Culture and Customs, a labor of love we began several years ago. What started as a surprise milestone birthday trip to Ireland became the beginning of a journey through time. A 2,000-year voyage on a quest to learn as much as we can about everything Irish. So here's where we are so far - more than 700 pages that range from Irish poetry, superstitions , Kids Stories and recipes to specific Irish calendar celebrations such as St. Patrick's Day , Beltane, Samhain and the Feast of St. Brigid. Whether it's an Irish symbol such as the shillelagh, the Shamrock and the Book of Kells or an Irish craft like Aran Isle knitting, you'll discover a wide range of topics in our index. We hope you find the little bit of Ireland you may be looking for and we encourage you to share what you discover with your loved ones on your family website, blog, or social network.



---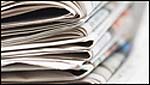 Today's Irish headlines
We comb the newspapers and web sites to find news to start your day with a positive spin. In this section you will also find links to stories from the past two weeks as well as links to the major Irish newspapers, the current time in Ireland and a link to the weather forecast.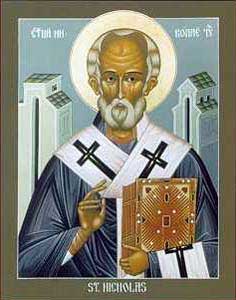 An Irish Christmas - Waiting for St. Nicholas
by Bridget Haggerty
On December 5th, we put our shoes on the hearth, hoping St. Nicholas would come.
According to my mother, it was what she always did as a little girl and, while I have found no references to any special celebrations surrounding this feast day in Ireland, curiously, I did find the following toast: "May yours be the first house in the parish to welcome St. Nicholas."
While the first Sunday in Advent always initiated the spiritual season of Christmas, i.e. my mother insisted on extra Our Father's and Hail Mary's at bedtime prayers, December 5th marked the beginning of the fun and festivities.
[Continue]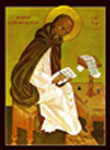 St. Columcille of Iona
by Bridget Haggerty
Around the same time that St. Patrick was taken to Ireland as a slave, Columcille (who was also known as Columba, Colum, Columbus, Combs, and Columkill), was born on December 7th 521 AD in Gartan, Co. Donegal. He came from a race of kings who had ruled in Ireland for six centuries and was himself in close succession to the throne.
At an early age, he was given in fosterage to a priest. After studying at Moville under Saint Finnian and then at Clonard with another Saint Finnian, he surrendered his princely claims, became a monk at Glasnevin under Mobhi, and was ordained.
[Continue]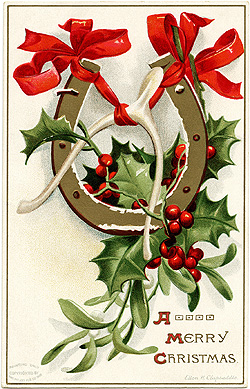 Irish Superstitions for the Christmas Season
by Bridget Haggerty
This article was inspired by a reader who asked us if we knew about an Irish superstition that said it was lucky to receive a Christmas card which pictured the Three Wise Men. Our research led us to a veritable cornucopia of beliefs...
...but we never did find one related to the Magi. We're still looking - and if you're familiar with this superstition, please tell us about it. In the meantime, here are many beliefs which have not been included in our other Christmas articles - at least, if memory serves, they haven't!
In the old days, children were usually charged with the responsibility of gathering the Yule-tide decorations and finding a holly bush loaded with berries was considered very lucky. Holly is a symbol commonly associated with Christmas and has been used in Yule-tide celebrations for almost two thousand years.
To the Druids, it was holly's evergreen nature that made it special. They believed that it remained green to help keep the earth beautiful when the other trees shed their leaves. It was also their custom to wear it in their hair when they ventured into the forests to watch the priests collecting mistletoe. Holly was also once used for protection, and in ancient times, people would decorate doors and windows with it, in hopes that it would capture, or at least dissuade, any evil spirits before they could enter the house.
[Continue]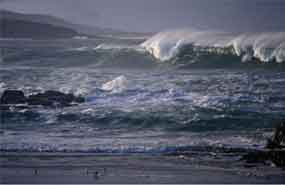 Time at this Point of the Year
by Cormac MacConnell
Time changes at this point of the year. These are Limbo days, hours, minutes, seconds. Time elasticates itself. It seems to stop. Or to move jerkily forward like an old clockwork grandfather's minute hand. Or to even run backward on a silent tick-tockery of Memory. Or to fast forward to a Christmas we may never see. Or to pulse feverishly on some frequency not related to our Time at all.
Time, at this point of the year, is as much of images as of fractions of our realities. It is a mewling Infant, cold and with dead yellow straws sticking to newborn arms and legs. It is the harsh, hard, metronomic breathing of an exhausted young Mother, the perfect circle of the muzzle of an Uzi this night in Bethlehem, the measured throbbing of great bronze-throated bells, the sharp prick of the holly leaf born in the dead Autumn, the ruby perfection of its berries, the whorling of turf smoke from a cottage chimney, the blanched spiked frozen spines of December'd hedgerows, green Atlantic breakers killed on Moher flagstones in their own good tidal Time; their eternal whitespray Resurrections.
[Continue]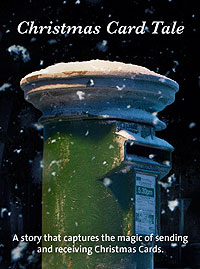 A Christmas Card Tale
by Sebastian Barry
My great aunt Annie Dunne spent the last few years of her life in a nursing home, on Longford Place in Monkstown. It was just beside where we lived, on Longford Terrace. It was literally a stones throw. She was a precious person for me, I had known her as a little boy in the townland of Kelsha, near Kiltegan in Wicklow, where she had shared the little subsistence farm of her cousin Sara Cullen. My sister Siuban and I had been sent down there for a whole summer, lengthening into autumn, while our parents tried to set themselves up in London.
For a few months, those long months of childhood, she had been mother to us, herself a most wonderful woman who had never married because of the fact that her back was slightly bowed from polio. Then when we were sent on to London after our parents, we didn't see Aunty Anne as we called her for about four years. I often thought of her in her polka-dotted dress, making her unsalted butter in the dairy, taking the sour milk to the bread bowl, petting and spoiling her favourite laying hen, and also, on one interesting occasion, wring the neck of a hen and plucking it with extravagant gestures for the pot. A whole world, that stayed in my imagination as a little boy in a very different London.
[Continue]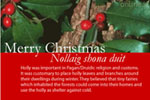 Beannachtaí an tSéasúir (BAN-ock-tee on Tay-zure) - Season's Greetings
by Bridget Haggerty
In Ireland, one of the most commonly used phrases around the holidays is "Happy Christmas." We thought you might enjoy learning how to say it in Irish as well as a few other phrases you'll hear this time of year.
If you were to say Happy Christmas to just one other person, you would say:
"Nollaig Shona Duit"
(NO-Lihg HO-nuh ghwich).
However, if you were to be addressing the same greeting to two or more persons, you would say:
"Nollaig Shona Daoibh"
(NO-Lihg HO-nuh JEEV)
This literally means "You have a Happy Christmas."
[Continue]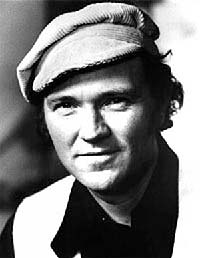 Music: In tribute to Liam Clancy, RIP
by William Ramoutar
Liam Clancy was a star. No two ways about it. After the news of his passing on December 4th, I searched for the news on Yahoo or Google or some such search engine and found an interview by the "new" replacement host for The Late Late Show on Irish television, Ryan Tubridy and said man, Liam Clancy. I noticed it was a two year old piece. Liam at that time was 72 years old, but the sparkle in his eye was still evident.
When he and his brothers hit the shores of Amerikay and found their way to Greenwich Village in the late 1950's, it was all happening. Very shortly thereafter the Clancy Brothers and Tommy Makem, in their gleaming white bainin Aran sweaters, were belting out raucous Irish tunes from celebrated stages throughout this land. The biggest venue back then was Carnegie Hall and they even recorded the concert. Over the next fifteen years there were probably few, if any, homes of Irish heritage that did not have a Clancy Brothers album or two in their record collection. They were "The Beatles" of Irish folk, and make no mistake about it, they were larger than life too. Hard drinking, rollicking through the towns, bringing the Irish "message" to the masses.
[Continue]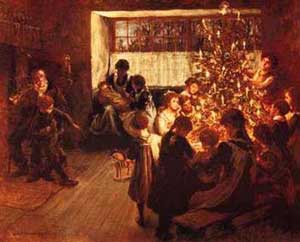 Holiday Trims from The Irish Kitchen
Contributed by Hartson Dowd
For many of us, Christmas means a return to the family homestead and the cheer of Grandmother's kitchen. Her tree and home were garnished with apple wreaths, candied citrus peels, and popcorn garlands. These customs she brought from her mother's home in Ireland. We continue the tradition in ours.
When our children were small, we decorated a spruce tree near our front porch. The tree was young then (like us) and we could reach it with a step ladder. We used popcorn and cranberries with a scattering of other fruits. My memory tells me we added some nuts for the squirrels. It was a treat to watch the birds enjoying their Christmas tree as much as we enjoyed ours.
- Bridget & Russ

[Continue]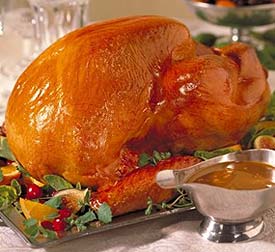 Basic Irish: The Big Dinner
With the holidays right around the corner, this month's lesson focuses on the all-important festive feast. Our resident Irish speaker gave this offering a most appropriate title: An Dinnéar Mór - The Big Dinner.
Photo Credit:
Ivan Elsas
[Continue]
K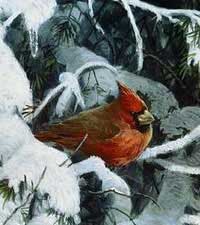 ids' Ireland: Little Red Bird
by Grainne Rowland
"Poor bird," exclaimed the boy. He picked up the small, ugly creature. Its ruffled gray feathers were torn and ragged. The cold, trembling bird snuggled close to the boy's rough tunic.
"I wonder where you slept last night. You are so cold," worried the boy.
"I tried to sleep in a gorse bush," replied the bird. "But the rain fell so hard. I was wet and freezing all night. But thank you for letting me warm up," said the bird. Then off he flew.
Early the next morning, the lad again cuddled the shivering gray bundle of feathers. Cuts and bruises covered the tiny body.
"Where did you sleep last night?" wondered the boy.
[Continue]
Live Music from Mayo
A link to the internet service from Midwest Radio out of Mayo. Broadcasting from their state of the art studios; Midwest Irish Radio plays nothing but the best Irish music. No matter where you are in the world, you are never too far from Ireland when you listen in.
Click here for:
Irish Midwest radio
.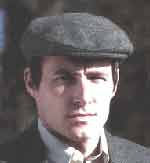 Shop for the best of Irish products from the comfort of your home
We combed the internet to find reliable resources for the most popular Irish products: Aran Isle sweaters, Guinness glasses, Waterford Crystal, genuine blackthorn walking sticks, the flag of the Republic and more. Some of these shops have become friends; others we trust from their reputations and some offer products that are completely unique. We hope you enjoy browsing through what's on offer and we are confident you will find gifts for any occasion or person, all with an Irish flair.
Notices

Did you get your Newsletter?
We try to send one out once or twice a month. If you aren't receiving it, something is wrong. Let us know and we'll try to solve the problem. Note: subscribers are automatically deleted from the data base if the newsletter bounces back multiple times. Full or disabled mailboxes will also cause a subscription to be cancelled. If you have any questions, please contact
Bridget
.
---
Authentic Irish clothing from Aran Sweaters Direct

---
Graduate students use Dissertation Geek - the best thesis writing company.
Math homework problems? Visit mathprepa.com for free help.
---