Announcement
My sister did not receive my last Newsletter. I recently sent my second Newsletter (two days ago). If you did not receive the newsletter please send me an E-Mail message and let me know. Send the message to: rhaggerty@irishcultureandcustoms.com.
Thank you
—Russ

---
Green is significant to Ireland and the Irish. More so than any other country. But in today's world it has become significant to every country on the planet. Even my youngest son has started a small company called Green Streets. Its purpose is to provide ways to manage water. Governments and even large private Institutions are doing much but it still comes down to each and every one of us. What we do for ourselves improves all of us. We can help the environment and save money at the same time. So... I present here a page of resources to give us guidance and information to help us do just that. Please click Green Home Resources and I hope you will find what you need.

—Russ

---
It is with great sadness that I have to announce: Bridget Nancy Margaret O'FlahertyHaggerty, founder, and controller of Irish Culture and Customs (and me), passed away on Sunday June 4th. She was 70 years of age but that was just chronology; in her thoughts and everything she did she was still a teenager. Russ (that's me) will continue to maintain this site and perhaps even put out an occasional newsletter. Please be patient, right now I can't think at all.
In more boring issues - any E-Mails should be sent to rhaggerty@irishcultureandcustoms.com and those of you who make donations should make any checks out to Russell Haggerty - bless you and thank you

Russ


---
Fáilte
Welcome to Irish Culture and Customs, a labor of love we began several years ago. What started as a surprise milestone birthday trip to Ireland became the beginning of a journey through time. A 2,000-year voyage on a quest to learn as much as we can about everything Irish. So here's where we are so far - more than 700 pages that range from Irish poetry, superstitions , Kids Stories and recipes to specific Irish calendar celebrations such as St. Patrick's Day , Beltane, Samhain and the Feast of St. Brigid. Whether it's an Irish symbol such as the shillelagh, the Shamrock and the Book of Kells or an Irish craft like Aran Isle knitting, you'll discover a wide range of topics in our index. We hope you find the little bit of Ireland you may be looking for and we encourage you to share what you discover with your loved ones on your family website, blog, or social network.



---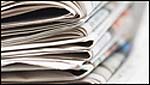 Today's Irish headlines
We comb the newspapers and web sites to find news to start your day with a positive spin. In this section you will also find links to stories from the past two weeks as well as links to the major Irish newspapers, the current time in Ireland and a link to the weather forecast.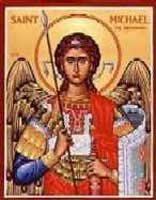 Celebrating St. Michael's Day in Old Ireland
by Bridget Haggerty
Throughout the Celtic lands, Michaelmas - September 29, marked the end of the harvest. This was the time that farm folk calculated how many animals they could afford to feed over the winter and how many would have to be sold or slaughtered and salted down in order to preserve the meat.
In addition to livestock fairs, rural folk attended hiring fairs which were especially important for farm laborers looking for winter employment after the harvest.
Michaelmas was also one of the regular quarter-days for settling rents and accounts; often, since this was also the time of the "geese harvest", many a farmer paid off his accounts with a brace or more of plump birds from the flock hatched in the spring. Traditionally, on St. Michael's Day, Irish families sat down to a roast goose dinner.
[Continue]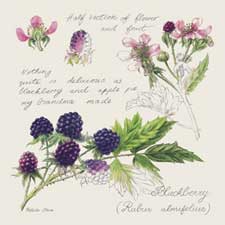 The irish Kitchen: Michaelmas Pie
Contributed by Aideen
We spent a great deal of time looking for a recipe, but while many mentions of Michaelmas Pie can be found on the internet and in cook books - especially in reference to the Irish custom of hiding a ring in it - we've yet to find a source that lists the ingredients. Is it savory or is it sweet?
Determined to to solve the mystery, we asked our resident Irish speaker, Aideen, if she knew. She belongs to an internet recipe exchange club and gave them the challenge; but even this group of foodie fanatics was unable to come up with a definitive answer.
[Continue]
The Galway Races are traditionally run at the end of July. But, they are having an Autumn festival, the first, this year on September 18th and 19th. I love horses, not just racehorses, and I wish I could go. Those of you who are lucky to be able to attend, please do and let me know if it was as good as I expect.
—Russ
Galway Races - Where the Pint is the Unit of Currency!
by Gerard McLoughlin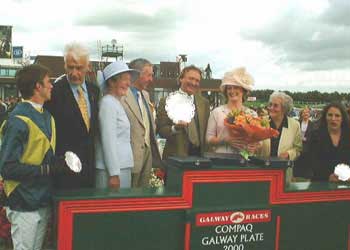 The Galway Races, traditionally run in the last week of July, represent one of Ireland's most enduring and most characteristic festivals.
Throughout Ireland people of all ages and occupations prepare for the Galway Races with a fervour that is almost religious in its intensity. Budgets are planned, holidays are arranged and business is scheduled to conform with the sacrosanct dates of the annual week-long festival.
More significantly, perhaps, commemorative coups are prepared, often with horses that have abstained reverentially from victory for the obligatory twelve months. Horses will piously avail of the special dispensation permitting them to triumph twice in the one week at this exceptional venue.
On Monday, traditionally the opening evening, the turnstiles begin to rotate and the devotional crowds stream in regardless of prevailing economic or meteorological constraints. Mohair suits, elegant silks and clerical collars commingle spontaneously with cloth caps, braces (suspenders) and stout brown boots.
[Continue]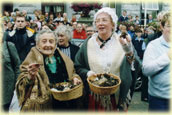 The Galway International Oyster Festival - a joyous celebration of a native aristocrat
by Bridget Haggerty
Co. Galway is very fortunate to have the best oyster beds in Ireland. In the unpolluted waters of Brady Bay and Clarenbridge, the oysters lie waiting to be harvested at the beginning of the oyster season on September 1st.
This aristocrat of the sea is generally about three years old, and has been maturing and fattening - ready for its first - and last - encounter with the locals and tourists. Paired up with homemade brown bread and washed down with pints of Guinness, Galway oysters are a gourmet treat not to be missed - especially during the annual festivals in Clarenbridge and Galway City.
[Continue]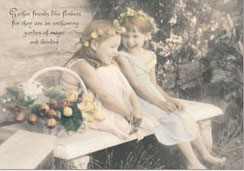 Anam Cara
by Gayla Templeton
As we grow older, we cherish our friends more and more. And we also realize how few stay friends for life. Although we swore to be friends forever with all our high school chums, most of us can think of only one or two special people who fit the description of a friend for life. No matter how many miles separate us, or how long it has been since we have seen one another, when we are together, it is as if we have never parted. We can take up a conversation right where we were when we parted and within minutes are laughing again about something so funny the rest of the world will never get the joke.
[Continue]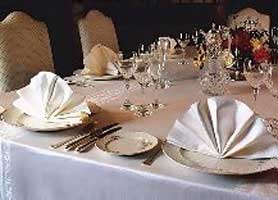 Irish Linen - The Cloth of Kings
by Bridget Haggerty
Did you know that linen is the oldest fabric known to man and even pre-dates the invention of the wheel? But, while it was prehistoric man who created the first-ever fabric from the fibres of the flax plant, it was probably the Egyptians who, in recognizing it as a noble fabric, pioneered the industrial production of what was to become the cloth of kings.
Three thousand years before Christ was born, linen was the favored fabric of the Pharaohs and the Egyptian aristocracy in both life and death. Indeed, mass production of linen was essential because it would have taken approximately 1000 yards of linen to wrap around an Egyptian king, as part of the mummifying process.
It was to be several thousand years before linen made its way to Ireland. It is thought to have arrived in early Christian times and it is said that St. Patrick is buried in a shroud of Irish Linen.
[Continue]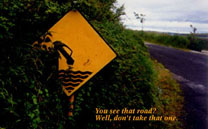 Driving in Ireland Part One
by Russ Haggerty
This is the story of our first trip to Ireland. More than just a story; it has a purpose. This is a, not very well, camouflaged guide to driving a rental car in Ireland. I say rental car because otherwise you already know all about it or you brought your own over on the ferry and you may have problems I can't help you with. The story helps explain why I was driving in the first place and sometimes explains how. Besides, it's not as boring this way. So...
My wife Bridget is 100% Irish and for many years she has dreamed of going 'home'. When I turned 50 (sigh) she arranged a surprise birthday party - I didn't forgive her and plotted my revenge. She was adamant, "you won't do that to me; when it's my turn I'll be out of the country". OK, I thought, I'll get her 'out of the country'. I secretly planned to take her to Ireland and surprise her there.
The details were troublesome enough; what I never considered was Irish travel. I started with "wouldn't it be pleasant to use trains?" Well, they don't seem to go where we wanted to go. Okay, how about just renting a car? And off we went...
[Continue]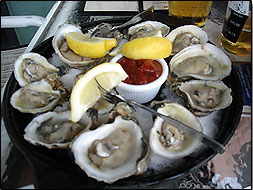 The Irish kitchen: Irish Oyster Recipes
Contributed by Hartson Dowd

In honour of the annual Oyster Festivals in Galway, our Irish Kitchen offers tempting recipes contributed by our resident recipe collector, Hartson Dowd. We like our oysters raw on the half-shell with a dash of lemon and hot sauce - but we are equally as fond of these tender mollusks fried, sautéed, or simmered in stews.
Photo Credit:
Old Recipe Book
[Continue]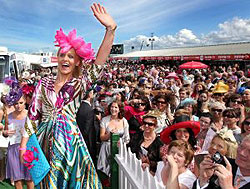 Basic irish: Horse Racing
Horse-racing is extremely popular in Ireland. To give an example - the attendance for Ladies' Day at the Galway Races is always in the tens of thousands, rain or shine.So, whether or not you fancy an occasional flutter, we hope you enjoy our latest lesson.
Photo Credit & Related Story about the Galway Races:
Pat Martin
[Continue]
Kids' Ireland: Irish children learning through film
Adapted from an article by Apple UK
Teaching through film is helping Ireland's children learn key skills in communication, teamwork, problem solving and critical thinking. The Government's FÍS film project has proved such a success that all of Ireland's 3,500 primary schools will soon be using film right across the teaching curriculum.

[Continue]









Live Music from Mayo

A link to the internet service from Midwest Radio out of Mayo. Broadcasting from their state of the art studios; Midwest Irish Radio plays nothing but the best Irish music. No matter where you are in the world, you are never too far from Ireland when you listen in.
Click here for: Irish Midwest radio.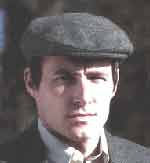 Shop for the best of Irish products from the comfort of your home

We combed the internet to find reliable resources for the most popular Irish products: Aran Isle sweaters, Guinness glasses, Waterford Crystal, genuine blackthorn walking sticks, the flag of the Republic and more. Some of these shops have become friends; others we trust from their reputations and some offer products that are completely unique. We hope you enjoy browsing through what's on offer and we are confident you will find gifts for any occasion or person, all with an Irish flair.



---
Authentic Irish clothing from Aran Sweaters Direct

---
Graduate students use Dissertation Geek - the best thesis writing company.
Math homework problems? Visit mathprepa.com for free help.
---