Traditions, folklore, history and more. If it's Irish, it's here. Or will be!
"People will not look forward to posterity who never look backward to their ancestors."
-Edmund Burke
---
Quotes

Library: Books, Movies, Music

Prints & Photos

Poetry

Jokes

---
---
Shops Ireland
---
Bunús na Gaeilge
(Basic Irish)

---
---
---
Himself/Herself
Write to Us
Readers Write..
Links/Link to Us
---
Advertise with us

---

Help keep us free
Throughout the site you will see many items available for purchase from well-known merchants such as Amazon. Not interested in what we're featuring? It doesn't matter. Click on any link and then shop for whatever you wish - we will still get credit, if you buy something.
Thanks for your help.

---

Two
Miscellaneous
As the title says, a collection of those we have failed to put in a category.

---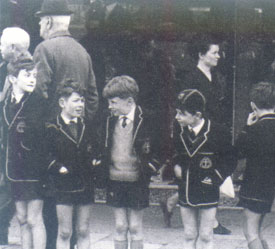 A Noble Boy
by Mary Dow Brine 1878
(Sometimes miscalled Somebody's Mother)

The woman was old and feeble and grey,
And bent with the chill of the winter's day;
The street was wet with the recent snow,
And the woman's feet were weary and slow.
She stood at the crossing and waited long,
Alone,uncared for,amid the throng.
Down the street with laughter and shout,
Glad in the freedom of 'school let out'
Came the boys, like a flock of sheep,
Hailing the snow, piled white and deep.
Past the woman,so old and grey,
Hastened the children on their way;
Nor offered a helping hand to her,
So meek, so timid, afraid to stir.

At last came one of the merry troop
The gayest boy of all the group;
He paused beside her and whispered low,
'I'll help you across if you wish to go';
He guided the trembling feet along,
Proud that his own were firm and strong,
Then back again to his friends he went,
His young heart happy and well content,
'She is somebody's mother boys you know,
Although she is old and poor and slow,
And I hope some fellow will lend a hand,
To help my mother - you understand
If e'er she be poor and old and grey,
When her own dear boy is far away.'

And 'somebody's mother' bowed low her head,
In her home that night and the prayer she said,
Was 'God be kind to the noble boy,
Who is somebody's son and pride and joy.'

From The Little Illustrated Favourite Poems We Learned in School
Edited by Thomas F. Walsh

This Irish import is illustrated with black-and-white photographs from the last century. Children may be captivated by the vintage images and the pounding rhythms of some poems, but the appeal of this little book will be for much older readers looking back on school days and memorizing many of the old familiar verses.
Click here for The Little Illustrated Favorite Poems we Learned in School.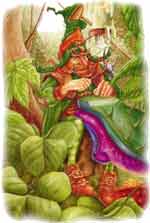 The Leprahaun
by Robert Dwyer Joyce
In a shady nook one moonlit night,
A leprahaun I spied
In scarlet coat and cap of green,
A cruiskeen by his side.
'Twas tick, tack, tick, his hammer went,
Upon a weeny shoe,
And I laughed to think of a purse of gold,
But the fairy was laughing too.

With tip-toe step and beating heart,
Quite softly I drew nigh
There was mischief in his merry face,
A twinkle in his eye;
He hammered and sang with tiny voice,
And sipped the mountain dew;
Oh! I laughed to think he was caught at last,
But the fairy was laughing, too.

As quick as thought I grasped the elf,
"Your fairy purse," I cried,
"My purse?" said he, "'tis in her hand,
That lady by your side."
I turned to look, the elf was off,
And what was I to do?
Oh! I laughed to think what a fool I'd been,
And, the fairy was laughing too.

Image: http://library.thinkquest.org/C005417/Lep.htm
For more Miscellaneous poetry click Miscellaneous Previous Page

For more Poetry Click the Poetry Index.

Two


Thu, Jul 9, 2015
No matter who does the collecting, the works stand on their own but this is an excellent compilation and well worth adding to your library.
Click here for Yeats.
---
1000 Years of Irish Poetry: The Gaelic and Anglo Irish Poets from Pagan Times to the Present
by Kathleen Hoagland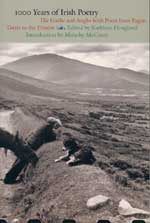 Interested in Irish Poetry?Here's the easy way to collect them all (well, almost all, anyway).
Malachy McCourt says in his introduction, "With the republication of this book, the Irish recover under their roof of stars all the great poets and writers who have been falsely claimed by the saxon crown and its minions - even our reprobates."
Amazon states this is out of stock. They still have used copies for almost nothing (except shipping - chuckle). If you would like a new edition, it was available at Powell's. We can't promise it's still there. Click here for Powell's 1000 Years.
Click here for used at Amazon.