Traditions, folklore, history and more. If it's Irish, it's here. Or will be!
"People will not look forward to posterity who never look backward to their ancestors."
-Edmund Burke
---
Quotes

Library: Books, Movies, Music

Prints & Photos

Poetry

Jokes

---
---
Shops Ireland
---
Bunús na Gaeilge
(Basic Irish)

---
---
---
Himself/Herself
Write to Us
Readers Write..
Links/Link to Us
---
Advertise with us

---

Help keep us free
Throughout the site you will see many items available for purchase from well-known merchants such as Amazon. Not interested in what we're featuring? It doesn't matter. Click on any link and then shop for whatever you wish - we will still get credit, if you buy something.
Thanks for your help.

---
One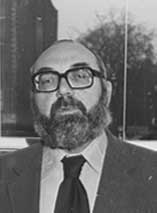 Thomas Kinsella (b. May 4, 1928 - present)

...born in Dublin, to a family traditionally employed at the Guinness Brewery. Educated at the Model School, Inchicore followed by the O'Connell Schools (Christian Brothers). He abandoned a Science Scholarship at UCD and entered the Civil Service, where he stayed for 19 years, reaching post of assistant Principal officer in the Dept. of Finance.
He kept on, completing an Arts degree at UCD through night-classes. He published "Poems" in 1956 and "Another September" in 1958. Sometime later (1963?) he came to the United States. After many more papers and poetry collections, a Guggenheim Fellowship, and a Professorship of English at Temple University; he founded Peppercanister to publish his own verse,he returned to Ireland in 1976.
Peppercannister Press was finally subsumed in J. F. Deane's Dedalus Press.
There's a documentary on Kinsella made by Seán Ó Mordha with an appearance from Nuala Ní Dhomhnaill.

Another September
by Thomas Kinsella

Dreams fled away, this country bedroom, raw
With the touch of dawn, wrapped in a minor peace,
Hears through an open window the garden draw
Long pitch black breaths , lay bear its apple trees,
Ripe pear trees, brambles, windfall-sweethened soil,
Exhale rough sweetness against the starry slates.
Nearer the river sleeps St.Johns, all toil
Locked fast inside a dream with iron gates.
Domestic autumn, like an animal
Long used to handling by those countrymen,
Rubs her kind hide against the bedroom wall
Sensing a fragrant child come back again
- Not this half tolerated consciousness
That plants its grammar in her unyielding weather
But that unspeaking daughter, growing less
familiar where we fell asleep together.
Wakeful moth-wings blunder near a chair
Toss their light shell at the glass and go
To inhabit the living starlight,Stranded hair
Stirs on the still linen. It is as though
The black breathing that billows her sleep, her name,
Drugged under judgement, waned and - bearing daggers
And balances - down the lampless darkness they came,
Moving like women: Justice, Truth, such figures.


Mirror in February
by Thomas Kinsella

The day dawns, with scent of must and rain,
Of opened soil, dark trees, dry bedroom air.
Under the fading lamp, half dressed - my brain
Idling on some compulsive fantasy -
I towel my shaven jaw and stop, and stare,
Riveted by a dark exhausted eye,
A dry downturning mouth.

It seems again that it is time to learn,
In this untiring, crumbling place of growth
To which, for the time being, I return.
Now plainly in the mirror of my soul
I read that I have looked my last on youth
And little more; for they are not made whole
That reach the age of Christ.

Below my window the wakening trees,
Hacked clean for better bearing, stand defaced
Suffering their brute necessities;
And how should the flesh not quail, that span for span
Is mutilated more? In slow distaste
I fold my towel with what grace I can,
Not young, and not renewable, but man.


For more Poetry Click the Poetry Index.

One

Thu, Jul 9, 2015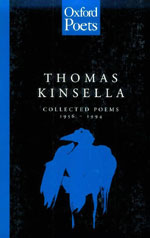 Collected Poems of Thomas Kinsella
1956 - 1994

This Collection contains virtually all his own poems, written over the past forty years. His early books, of the 1950s and 1960s, include occasional poems, lyrics in traditional forms, and longer poems and sequences on themes ranging from history to politics. There are speculative narratives in local settings and family poems of close observation. There is also much public poety, including "Butcher's Dozen," on the Bloody Sunday shootings in Derry. His books since the 1980s continue with poems of public and literary comment, and a growing body of personal and private poetry. This offers an intriguing glimpse into the evolution of a fascinating poet.
Click here for Collected Kinsella.

---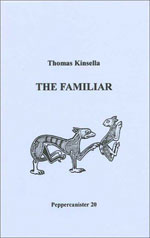 The Familiar
by Thomas Kinsella

1000 Years of Irish Poetry: The Gaelic and Anglo Irish Poets from Pagan Times to the Present
by Kathleen Hoagland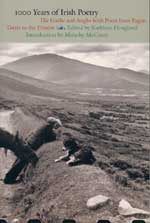 Interested in Irish Poetry?Here's the easy way to collect them all (well, almost all, anyway).
Malachy McCourt says in his introduction, "With the republication of this book, the Irish recover under their roof of stars all the great poets and writers who have been falsely claimed by the saxon crown and its minions - even our reprobates."
Amazon states this is out of stock. They still have used copies for almost nothing (except shipping - chuckle). If you would like a new edition, it was available at Powell's. We can't promise it's still there. Click here for Powell's 1000 Years.
Click here for used at Amazon.