Traditions, folklore, history and more. If it's Irish, it's here. Or will be!
"People will not look forward to posterity who never look backward to their ancestors."
-Edmund Burke
---
Quotes

Library: Books, Movies, Music

Prints & Photos

Poetry

Jokes

---
---
Shops Ireland
---
Bunús na Gaeilge
(Basic Irish)

---
---
---
Himself/Herself
Write to Us
Readers Write..
Links/Link to Us
---
Advertise with us

---

Help keep us free
Throughout the site you will see many items available for purchase from well-known merchants such as Amazon. Not interested in what we're featuring? It doesn't matter. Click on any link and then shop for whatever you wish - we will still get credit, if you buy something.
Thanks for your help.

---
Flann O'Brien/Myles na gCopaleen/Brian O'Nolan
(b. Oct. 5, 1911 - d. April 1, 1966)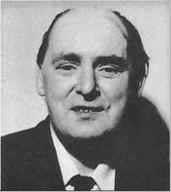 Born in Bowling Green, Strabane, Co. Tyrone; he was a great Irish Novelist & Poet. He described and immortalized the Irish love of life and "craic" in his writing.
The refrain "A pint of plain is your only man" from his poem "The Workman's Friend" has become a famous quotation and means a pint of stout will solve all your problems.

"The Workmans Friend"
When things go wrong and will not come right,
Though you do the best you can,
When life looks black as the hour of night -
A pint of plain is your only man.

When money's tight and hard to get
And your horse has also ran,
When all you have is a heap of debt -
A pint of plain is your only man.

When health is bad and your heart feels strange,
And your face is pale and wan,
When doctors say you need a change,
A pint of plain is your only man.

When food is scarce and your larder bare
And no rashers grease your pan,
When hunger grows as your meals are rare -
A pint of plain is your only man.

In time of trouble and lousey strife,
You have still got a darlint plan
You still can turn to a brighter life -
A pint of plain is your only man.
by Flann O'Brien (Brian O'Nolan)

---
Another little ditty (a limerick to our eyes) is based on O'Brien/Nolans disregard for the Irish language pundits prevalent in his time.
He was a native irish speaker, not speaking english until he was seven years old or so.
But, as with everything, if the cow was sacred, he shot it.

Said a Sassenach back in Dun Laoghaire
"I pay homage to nationalist thaoghaire,
But wherever I drobh
I found signposts that strobh
To make touring in Ireland so draoghaire."

For more Poetry Click the Poetry Index.



Thu, Jul 9, 2015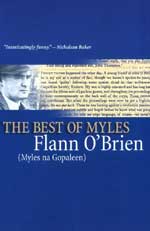 The Best of Myles
by Flann O'Brien

Aka Brian O'Nolan, aka Myles na Gopaleen, the great Irish humorist and writer Flann O'Brien also wrote a newspaper column called "Cruiskeen Lawn" for the Irish Times. This book collects the best and funniest, covering such subjects as plumbers, the justice system, and improbable inventions. According to one reviewer: "I envy anyone who has not yet read this book - the outrageous details of the Ventriloquists' War, the intricacies of the Catechism of Cliché, and the wisdom of the Brother all await your delighted discovery."
Click here for Best of Myles.

1000 Years of Irish Poetry: The Gaelic and Anglo Irish Poets from Pagan Times to the Present
by Kathleen Hoagland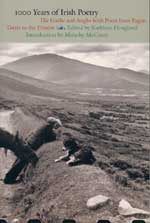 Interested in Irish Poetry?Here's the easy way to collect them all (well, almost all, anyway).
Malachy McCourt says in his introduction, "With the republication of this book, the Irish recover under their roof of stars all the great poets and writers who have been falsely claimed by the saxon crown and its minions - even our reprobates."
Amazon states this is out of stock. They still have used copies for almost nothing (except shipping - chuckle). If you would like a new edition, it was available at Powell's. We can't promise it's still there. Click here for Powell's 1000 Years.
Click here for used at Amazon.