Traditions, folklore, history and more. If it's Irish, it's here. Or will be!
"People will not look forward to posterity who never look backward to their ancestors."
-Edmund Burke
---
Quotes

Library: Books, Movies, Music

Prints & Photos

Poetry

Jokes

---
---
Shops Ireland
---
Bunús na Gaeilge
(Basic Irish)

---
---
---
Himself/Herself
Write to Us
Readers Write..
Links/Link to Us
---
Advertise with us

---

Help keep us free
Throughout the site you will see many items available for purchase from well-known merchants such as Amazon. Not interested in what we're featuring? It doesn't matter. Click on any link and then shop for whatever you wish - we will still get credit, if you buy something.
Thanks for your help.

---
Frederick Robert Higgins (b. April 24, 1896 - d. Jan. 8, 1941)

F.R. Higgins was born in Foxford in 1896 and while he grew up in Co. Meath he is still mainly associated with Mayo and Foxford. This was probably because he loved Mayo with a passion.
There are many tributes in his poems to the beauty he observed and rich Irish culture he experienced in Mayo at the time.
He had little formal schooling and by the age of 14 he was already working in the office of a builders provider.
W.B. Yeats was a mentor to the young Higgins and he soon became an accepted member of the literary circle in and around Dublin, having his poetry published in papers and magazines of the time.
He was a founding member and secretary of The Irish Academy of Letters. A friend of Austin Clarke he affirmed the interest in Gaelic tradition and wrote an elegy, 'Padraic Ó Conaire, Gaelic Storyteller' for him. He was employed at the BBC, London. Where he likely met Louis MacNiece. MacNeice eulogised him as Reilly in his 'Autumn Sequel'. Higgins was even a character in the London BBC production of Anthony Cronin's Life of Riley (1964). Frank O'Connor called him 'Falstaffian' . His papers are in the National Library of Ireland.
Russ' note: We've tried to find poetry books by F.R. The only one we could track was on ALibris. It was a first edition with an inscription from the author for the price of $153.42 - too rich for my blood.

The've paid the last respects in sad tobacco
And silent is this wakehouse in its haze"
From 'Padraic O'Conaire Gaelic Storyteller' (see below)

He published four volumes of poetry:
Island Blood (1925)
The Dark Breed (1927)
Arable Holdings (1933)
The Gap of Brightness (1940)

Father and Son
by F.R. Higgins

Only last week, walking the hushed fields
Of our most lovely Meath, now thinned by November,
I came to where the road from Laracor leads
To the Boyne river--that seems more lake than river,
Stretched in uneasy light and stript of reeds.

And walking longside an old weir
Of my people's, where nothing stirs--only the shadowed
Leaden flight of a heron up the lean air--
I went unmanly with grief, knowing how my father,
Happy though captive in years, walked last with me there.

Yes, happy in Meath with me for a day
He walked, taking stock of herds hid in their own breathing;
And naming colts, gusty as wind, once steered by his hand,
Lightnings winked in the eyes that were half shy in greeting
Old friends--the wild blades, when he gallivanted the land.

For that proud, wayward man now my heart breaks--
Breaks for that man whose mind was a secret eyrie,
Whose kind hand was sole signet of his race,
Who curbed me, scorned my green ways, yet increasingly loved me
Till Death drew its grey blind down his face.

And yet I am pleased that even my reckless ways
Are living shades of his rich calms and passions--
Witnesses for him and for those faint namesakes
With whom now he is one, under yew branches,
Yes, one in a graven silence no bird breaks.

O You Among Women
by F.R. Higgins

When pails empty the last brightness
Of the well, at twilight-time,
and you are there among women --
O mouth of silence,
Will you come with me, when I sign,
to the far green wood, that fences
A lake inlaid with light?

To be there, O, lost in each other,
While day melts in airy water,
And the drake-headed pike -- a shade
In the Waves' pale stir!
For love is there, under the breath,
As a coy star is there in the quiet
Of the wood's blue eye.

Elopement
by F.R. Higgins

Now that the grey wet of the road makes quiet
Each step we take, ah, there can float
No stir in the air, but the stir of a cuckoo
Hopping its double note!
So hurry, black darling; from this sharp parish
We'll swiftly walk, with love as our fare
Until the far blue walls of the mountains
Are gapped with yellow air

It's down the hazy pale slabs of water,
Through the bushy towns we'll quietly go -
Just telling each hour by the passing colour
On the mountains of Mayo!
And soon on Bailassa you'll grow quite happy:
Its river gardens will shelter none
Who eyed your secret, where barren valleys
Were harvesting the sun

O maybe we'll live a while in Killala,
Where few things change with tide and tree,
Where love has been weaned and the streets in mildew
Just hobble to the lean sea!
There even my jealousy would believe you -
Were you ever so dreamy after the men
Of a town that yawned as the French marched through it
And never woke since then!

So hurry, my love, sunset may be shadowed
By one cloud roosting on a hill wind!
Ah hurry, black darling, and near the lake water -
With Lahardaun behind -
By moonlight we'll rest and maybe love's hunger
We'll break to the nod of a shy bulrush;
So may tonight pull sleep on our senses
In the spilt shadow of a bush.

Muineen Water
by F.R. Higgins

I know a small lake that sails the palest shadows,
Trailing their frail keels along its waveless sand;
And when isles of grey turf are sunning in its shallows
The far hill is a blue ghost on that land.

Down there my wild heart is startled by the quiet:
The very stones are spying; each tree is a pry;
The light declares against me and exiled from brightness
I stray from those waters invaded by the sky.

But when the sedges fling their bridge of whispers
On waves no moon has hooked, then surely I find,
As that lake into its own dim presence,
A dark calm sinks into my mind.

Padraic O'Conaire Gaelic Storyteller
by F.R. Higgins

They've paid the last respects in sad tobacco
And silent is this wakehouse in its haze;
They've paid the last respects; and now their whiskey
Flings laughing words on mouths of prayer and praise;
And so young couples huddle by the gables.
O let them grope home through the hedgy night -
Alone I'll mourn my old friend, while the cold dawn
Thins out the holy candlelight.

Respects are paid to one loved by the people;
Ah, was he not - among our mighty poor -
The sudden wealth cast on those pools of darkness,
Those bearing, just, a star's faint signature;
And so he was to me, close friend, near brother,
Dear Padraic of the wide and sea-cold eyes -
So, lovable, so courteous and noble,
The very west was in his soft replies.

They'll miss his heavy stick and stride in Wicklow -
His story-talking down Winetavern Street,
Where old men sitting inthe wizen daylight
Have kept an edge upon his gentle wit;
While women on the grassy streets of Galway,
Who hearken for his passing - but in vain,
Shall hardly tell his step as shadows vanish
Through archways of forgotten Spain.

Ah, they'll say, Padraic's gone again exploring;
But now down glens of brightness, O he'll find
An alehouse overflowing with wise Gaelic
That's braced in vigour by the bardic mind,
And there his thoughts shall find their own forefathers -
In minds to whom our heights of race belong,
in crafty men, who ribberd a ship or turned
The secret joinery of song.

Alas, death mars the parchment of his forehead;
And yet for him, I know, the earth is mild -
The windy fidgets of September grasses
Can never tease a mind that loved the wild;
So drink his peace - this grey juice of the barley
Runs with a light that ever pleased his eye -
While old flames nod and gossip on the hearthstone
And only the young winds cry.


For more Poetry Click the Poetry Index.


Thu, Jul 9, 2015
The Collected Works of W.B. Yeats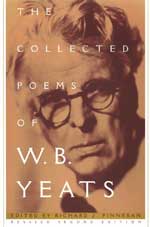 No matter who does the collecting, the works stand on their own but this is an excellent compilation and well worth adding to your library.
1000 Years of Irish Poetry: The Gaelic and Anglo Irish Poets from Pagan Times to the Present
by Kathleen Hoagland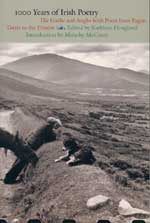 Interested in Irish Poetry?Here's the easy way to collect them all (well, almost all, anyway).
Malachy McCourt says in his introduction, "With the republication of this book, the Irish recover under their roof of stars all the great poets and writers who have been falsely claimed by the saxon crown and its minions - even our reprobates."
Amazon states this is out of stock. They still have used copies for almost nothing (except shipping - chuckle). If you would like a new edition, it was available at Powell's. We can't promise it's still there. Click here for Powell's 1000 Years.
Click here for used at Amazon.