Traditions, folklore, history and more. If it's Irish, it's here. Or will be!
"People will not look forward to posterity who never look backward to their ancestors."
-Edmund Burke
---
Quotes

Library: Books, Movies, Music

Prints & Photos

Poetry

Jokes

---
---
Shops Ireland
---
Bunús na Gaeilge
(Basic Irish)

---
---
Did You Know?
---
Himself/Herself
Write to Us
Readers Write..
Links/Link to Us
---
Advertise with us
---
Awards & Testimonials

Submissions Guide
---


Ireland's favourite Dubliner to lead St. Patrick's Festival 2006
by Bridget Haggerty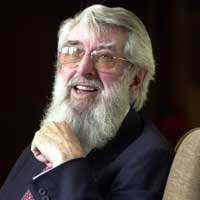 Ronnie Drew, everyone's favourite Dubliner, will lead the St. Patrick's Festival parade in Dublin this year as Grand Marshal. Ronnie was given the honour by the Chair of the Festival, Ms. Mary Davis, in recognition and appreciation of his unique contribution to Dublin and Irish culture.

Ronnie's gravely voice and deadpan humour have endeared him to audiences of all ages. Since forming "The Dubliners" in 1962 to his recent duet at the Meteor Awards with Shane McGowan, Ronnie has sung and charmed his way into the hearts of many generations.

Now, as Grand Marshal of the largest parade in Ireland, Ronnie personifies the sprit of St. Patrick's Festival Parade and the Festival is delighted that he has accepted the invitation.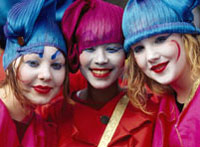 Close to 700,000 people are expected to attend this year's Festival parade and the worldwide television audience is likely to be over seven million. Ronnie himself is chuffed with the honour. "This is a great day for all the family. I'll be joined by my children and grandchildren on the parade route. See you there".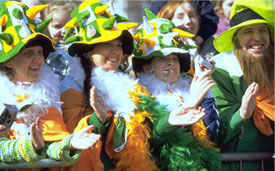 More than 3,000 participants will take part in the festivities which has been created in response to the theme of Wishful Thinking. Starting on Dublin's North side, the parade leaves Parnell Square North at 12noon before running down O'Connell Street and ending at St. Patrick's Cathedral.

The five-day, five-night St. Patrick's Festival runs from March 15th – 19th, 2006. The 100-hour carnival atmosphere lets audiences savour a wide-ranging artistic programme of street theatre, music, dance, comedy, and film, which encapsulates the very best in Irish traditional and contemporary talent.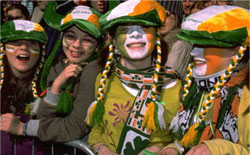 With a sensational opening night event GE Money Oíche, an interactive day through Irish, a city-wide Denny Treasure Hunt, a Liffey boat race, national debates at the Festival Symposium and the family favourite Denny Big Day Out, Festival-goers will have the chance to participate in dozens of unique activities.

With more than 70% of this year's events free of charge, there's no reason why everyone can't celebrate the world's favourite patron saint in true Festival style. The whole world will be green with envy.

For complete details on the entire programme and every event, please click St Patrick's Day.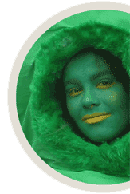 It will be altogether different in Galway

There will be no cars or trucks carrying displays. Instead it is going to be a "walking parade" with the emphasis on noise and colour.

"We want groups to make as much noise as possible and dress in the boldest colours possible," said parade director Breandán Ó hEaghra. "It's always great fun to be part of the Galway city parade, with more than 60,000 spectators lining the route each year to cheer the groups on."
Mr Ó hEaghra believes the Galway parade to be the most intimate parade experience in the country for both the participating groups and the spectators.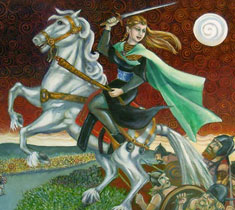 The 'themed section' has been the mainstay of the parade over the past few years and has been very popular with the Galway public. Last year's section, directed by Diarmuid de Faoite, told the story of St. Patrick himself, and included a 15-foot tall 'exploding Croagh Patrick'! In charge of it this year is well-known Galway based artist, Morgan Cooke. who has chosen the story of Queen Maedhb and the Táin as the theme.

Morgan, who is one of the busiest actors/musicians on the Galway circuit at the moment. says that he is relishing the challenge of directing the themed section and has a few surprises in store for the Galway public!

"Expect lots of mayhem!" says Cooke. "Expect to see a lot of unsavoury characters roaming the streets and the armies of Connaught and Leinster tearing lumps out of each other! The story of 'The Táin' is perfect for street pageantry with its emphasis on heroism and villainy - not to mention the fact that it will include a great brown bull!"

The Galway Youth Theatre, Na Crosáin/Dordáin (from An Taibhdhearc na Gaillimhe), and the Galway School of Performing Arts are among the groups who will take part and it is set to be the largest themed section of any St Patrick's Day Parade in the city so far. They have also been assisted by Macnas and Galway Early Music.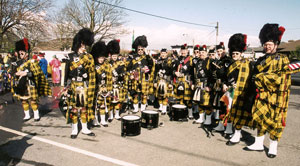 In addition to Queen Maeve of Connaught leading duelling stilters, a giant size bull, and dozens of angry crows, other highlights include the return of the Isle of Lewis Pipe Band from Scotland and many other visiting bands. Visiting groups include St Finbarr's Pipe Band from Cork City, Cercle Brizeau from Brittany, and the Ulster Youth Ensemble. Other cultures in Galway will also showcase their finest song and dance tradition such as the Galway Filipino Society, the African Music Society, and the Nigerian Association of Galway. The parade will also receive a shot of colour and music from other local groups such as Colours Street Theatre, Galway Circus Project, St Patrick's Brass Band, the Galway Musical Society, and many others.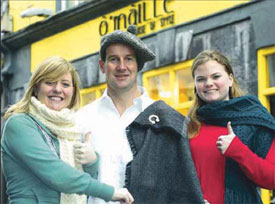 The parade will be led by the newly formed Galway City Pipe Band. For years Galway has been without a representative pipe band and finally this has been put to right by the establishment of this new group. In a break with the normal kilt uniforms of pipe bands, the Galway City Pipe band will wear a costume more traditional to Galway, sponsored by Ó Máille's of High Street, with special emphasis on the tweed and woollen tradition of the Aran Islands.

This year's Guest of Honour will be Richard Donovan, the Galway native who has made a name for himself world wide as an adventure runner par excellence. Last year Richard completed a week long run from Malin Head to Mizen Head for charity and regularly leads marathon expeditions to the North Pole.

Some 60 groups will take part in the parade which starts at the Fire Station on Fr Griffin Road at 12.30pm and move through Dominick Street, over O'Brien's Bridge, through Shop Street, and down Eglinton Street, ending up in front of the reviewing stand in Woodquay.


Photo: Richard Donovan in the Galway Pipe Band costume (with helpers) - Mike Shaughnessy.

Queen Maeve


Fri, Feb 2, 2018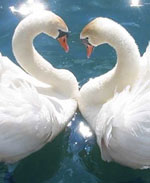 Irish God and Goddess of love
Oengus is the Irish God of love, beauty and youth. According to the old folklore, his kisses became birds. It is also said that he dreamed of a beautiful maiden, named Caer, for whom he searched all over Ireland. Eventually, he found her chained to 150 other maidens, destined to become swans at the time of Samhain. Legend has it that Oengus transformed himself into a swan and was united with his love.
Aine of Knockaine is the Irish Goddess of love. She is also known as the Fairy Queen of Munster and as a goddess of fertility beause she has control and command over crops and animals, especially cattle. Another name by which she is known is Aillen. To learn more about Irish mythology, please click Irish Myths & Legends.
Photo Credit: Wikipedia

Click for More Culture Corner.