Traditions, folklore, history and more. If it's Irish, it's here. Or will be!
"People will not look forward to posterity who never look backward to their ancestors."
-Edmund Burke
---
Quotes

Library: Books, Movies, Music

Prints & Photos

Poetry

Jokes

---
---
Shops Ireland
---
Bunús na Gaeilge
(Basic Irish)

---
---
Did You Know?
---
Himself/Herself
Write to Us
Readers Write..
Links/Link to Us
---
Advertise with us
---
Awards & Testimonials

Submissions Guide
---
Party Down in Dublin Town - 2003
by Bridget Haggerty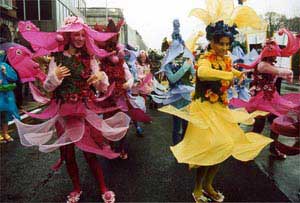 It hasn't been that many years since Ireland looked on while country after country throughout the world made March 17th an all-out celebration.
St. Patrick's Day is, perhaps, the only holiday that's celebrated all over the globe - proof-positive that Ireland wields a remarkable influence in far-flung lands many thousands of miles away.

Meanwhile, back on the Emerald Isle.
Green beer? Corned Beef and Cabbage? Huge parades? These symbols, now so readily associated with international St. Patrick's Day celebrations, were never a part of Irish festivities in the past. That doesn't mean the Irish weren't paying attention to the often baffling and bemusing goings-on in other places on St. Patrick's Day. For while Irish-Americans and others may view dancing leprechauns, rainbows and pots o'gold as authentically Irish, the Irish themselves often vocally disclaimed and disdained these "oirish icons." And still do.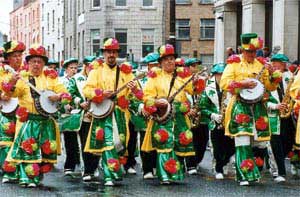 Enter the era of the Celtic Tiger. For so many years, except for things such as tourism, Guinness, Aran sweaters, and the like, Ireland didn't have much to brag about. As recently as the 1970s, sons and daughters were leaving - just as so many had before them. Then, through whatever providence led to the turn-around in the economy, in the 1980s and 1990s there were jobs, there was money, there was a future. And there was a huge upsurge in Irish pride.

The growl of the Celtic Tiger has been a bit subdued of late, but the fallout from a decade or so of incredible growth and prosperity continues to fuel a long-belated interest in all things Irish. Since Riverdance, it's been an amazing phenomenon everywhere. Now, it's finally come home.

The St. Patrick's Festival in Dublin was established by the Government of Ireland in November, 1995. The principle aim was to "develop a major annual international event around the national holiday over which the 'owners' of the festival - the Irish people, would stand proud."

The first event was held over one day, and night, on March 17th, 1996. In 1997, it became "St. Patrick's Festival", and it went on for three days. Spurred on by the success of succeeding festivals, the one planned for 2003 will span a full week. What once used to take just five months to plan now requires a full year and a half because that's what it takes to organize Ireland's biggest annual celebration!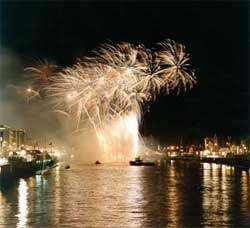 The feast of fun and entertainment begins on Tuesday, March 11th and culminates on the 17th with a spectacular parade. The theme this year is Voyages and Visions and with a huge increase in participants - from 2000 last year to 3500 this year - there will be bigger presentations from top street theatre groups such as Bui Bolg and Inishowen Carnival Group. They will be joined by new companies from Cork, Omagh and Kildare as well as collaborations with Fatima Mansions, Emmet 200 and a new cross border initiative. The end result will be a truly nationwide event!

In addition to the regular festival fare of music, exhibitions, caelis, and fireworks, 2003 will see the introduction of the Talking Irish Symposium which will be held in Dublin Castle on March 11th. It's open to the public and will be a rare opportunity to mix and mingle with key figures in the arts, society and business to "Talk Irish" and explore the phenomenon of Irish success, how the Irish perceive themselves, whether they are happy and what is in store for the future. To learn more and also see the line-up of speakers, please click St. Pat's Symposium.

Another new feature of this year's festival is Music Village which will showcase some of Ireland's favourite musicians in a number of city centre venues, including The National Concert Hall and the Bank of Ireland Arts Centre.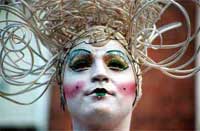 Back this year, and undoubtedly one of the festival favourites, is the HB Big Day Out on Sunday, March 16th. As in past years, it promises to be a wonderful day of carnival in the city centre. Merrion Square will be over-run with performance artists, inflatable activity areas, singing, dancing and aerial spectacles. Three sides of the square will be packed with fun and games for all the family, with further activities in the park and inside the square, including Geal agus Gall, a Viking craft Village; Irish History Live, Viking history demonstrations; and the Irish Basket Makers Association making baskets and handing out samples of willow. For more details, click here St. Patrick's Festival Big Day Out.


In short, the best of Irish talent, ingenuity and flair will ensure that St. Patrick's Festival 2003 is going to be one amazing Irish hooley...and, praise be, all without green beer, corned beef and cabbage, or even one dancing leprechaun!



Check out the prizes page on the St. Patrick Festival Site!
You could win a bottle of Baileys, a week's stay in Clifden, Co. Galway, or dinner for two at Prima Donna - one of Dublin's hottest Sicilian restaurants; there are also many other great giveaways on offer, but you have to enter!
Click here for St. Pat's Competition Entry.





Resources and images: St. Patrick's Day Festival, Dublin, 2003



Thu, Dec 7, 2017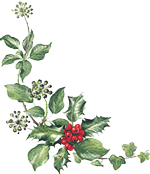 Holly and Ivy hanging up and
something wet in every cup*
Not so long ago, Irish Christmas decorations were much simpler than they are now. The children gathered holly and ivy for adorning, windows, doorways, mantles and pictures, and the father would carve out a turnip in which would be placed a large red candle. This would go in the window to light the way for the Holy Family on Christmas Eve. Only in relatively recent times did an Irish family have a Nativity scene and a decorated tree in the house. As for Mistletoe, it's quite rare in ireland and is generally associated with ancient Celtic and Druidic fertility celebrations; this is most likely where the custom of kissing under the mistletoe comes from.
*Old Irish Christmas toast
Image: Pashley Manor Gardens.