Traditions, folklore, history and more. If it's Irish, it's here. Or will be!
"People will not look forward to posterity who never look backward to their ancestors."
-Edmund Burke
---
Quotes

Library: Books, Movies, Music

Prints & Photos

Poetry

Jokes

---
---
Shops Ireland
---
Bunús na Gaeilge
(Basic Irish)

---
---
Did You Know?
---
Himself/Herself
Write to Us
Readers Write..
Links/Link to Us
---
Advertise with us

---

Help keep us free
Throughout the site you will see many items available for purchase from well-known merchants such as Amazon. Not interested in what we're featuring? It doesn't matter. Click on any link and then shop for whatever you wish - we will still get credit, if you buy something.
Thanks for your help.

---
---
Soups, Stews & Broth - page two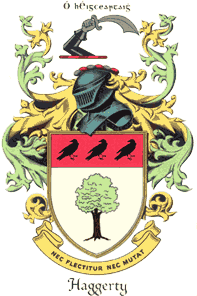 Beef Hotpot Haggerty
Contributed by Aideen

Aideen, Our resident Irish speaker, is a self-confessed "foodie" who belongs to an international recipe list; as she says in her message to us, her eyes "popped" when this recipe showed up. Naturally, we couldn't resist including it in the Irish Kitchen!
Inspired by the Northern fried pan Haggerty (which we have never heard of); if anyone has info', please send it to us. Go raibh maith agat!

Ingredients:
1 lb lean minced/ground beef
1 small onion, peeled and finely chopped
2 oz chestnut mushrooms1, sliced
2 tsp Marmite
1 tbsp gravy granules
1 tsp fresh thyme
2 oz butter
1 lb potatoes, peeled and very thinly sliced
1 onion thinly sliced
4 oz Lancashire Cheese2

Method:
1. Dry fry the beef, onion and mushrooms until browned. Add the Marmite and thicken with the grave granules. Sprinkle with fresh thyme.

2. Heat butter in a 10" non-stick oven proof frying pan.
Place half the potatoes and onions on the bottom of the pan. Add half the mince/ground beef mixture and half of the 50g (2oz) Lancashire cheese, crumbled or grated, then the final layer of mince and potatoes.

3. Cover with lid or baking sheet and cook on a moderate heat for 30 minutes or until the potatoes are soft. Uncover, top with remaining cheese, place the frying pan under a pre-heated grill and brown until golden in colour.
Serve immediately with braised red cabbage, beetroot, apple and gravy.
Serves 4

1Lancashire cheese is a moist, crumbly English cow's milk cheese made in Lancashire, England. When young, the cheese has a mild tangy flavor, which becomes stronger and richer when aged. Lancashire is a good cooking cheese, and is a favorite for Welsh rabbit. For this recipe, you could probably substitute a medium sharp Cheddar.

2The Chestnut mushroom has a firmer texture and a more distinctive flavour than its white cousin. They have a Creamy brown flakey cap with dark gills and are very versatile, excellent roasted. Large sizes are often known as Portabello mushrooms and buttons are known as Crimini.


Shared Recipes of Paul & Jeanne Rankin
Contributed by Hartson Dowd

As well as regular television appearances, husband and wife team Paul and Jeanne Rankin run a successful restaurant and food business in Belfast. Their first restaurant, Roscoff, won Northern Ireland's first Michelin star. They now run Cayenne, a restaurant with a more informal feel. They appeared together in their television culinary journey 'Gourmet Ireland' in the mid-1990s and now run a successful food business of the same name selling luxury food hampers with local honey, jams, chocolates, cakes and biscuits all sourced from their native land.

Clam Chowder with Potatoes and Dulse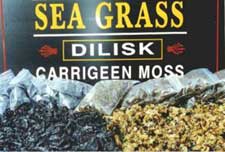 Ingredients:
2lb 4oz fresh live clams
1 oz dried dulse*
2 tbsp onion, chopped
2 tbsp leek, chopped
2 tbsp carrot, chopped
1 sprig of fresh parsley
1 sprig of fresh thyme
14 fl oz water
6 fl oz dry white wine
1 medium onion, finely chopped
7 oz streaky bacon, (rind removed) and chopped
2 tbsp unsalted butter
8 fl oz fish stock, light chicken stock or water
2 large potatoes, roughly diced
7 fl oz double cream (optional)
1 tbsp chopped fresh parsley

Method:
1. To prepare and cook the clams, wash them under cold running water. Finely slice or chop the dulse with a sharp knife and put into a large pan with the chopped onion, leek, carrot, parsley and thyme. Add the water, bring to the boil and simmer for 10 minutes to infuse the flavors. Add the wine and return to the boil.
2. Add the clams; cover and boil vigorously for 1 to 2 minutes until the clams open. Drain them in a colander, being sure to catch the cooking liquid in a bowl underneath. This will be used in the chowder. Set liquid aside while you pull the clams from their shells. Discard the shells and the sprigs of parsley and thyme. Place clams in the reserved broth with the dulse, chopped onion, leek, and carrot.
3. To make the chowder, fry the onion and bacon in the butter over a medium heat in a large pan until soft and transparent. Add the stock or water and bring to a simmer. Add the potatoes to the pan and simmer gently until cooked.
4. Remove half this mixture and blend in a blender/food processor or mash. This will give you a thick, creamy soup, which will thicken the whole chowder.
5. Combine with the rest of the potatoes, the clams in their juices and cooking broth, and the cream, and bring to a simmer. Taste for seasoning, garnish with the chopped parsley and, if desired, a dollop of whipped cream, and serve at once.
Serves 4 to 6
*Irish dried dulse can be purchased here: IOL.ie.

Farmhouse Soups from the O'Doud File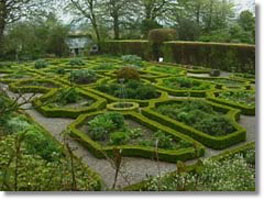 Most of my soup information was given me while we were visiting at the Ballymaloe Cookery School in Co Cork, Ireland. Located in one of the most beautiful parts of Ireland, the school is run by Tim and Darina Allen and is set on an organic working farm with its own cows, pigs and chickens.
Most of the vegetables and herbs used in the school are grown organically in the adjoining gardens and greenhouses. There is also an ornamental fruit orchard, a water garden, a Celtic Maze and a pleasure garden. We could have spent a week enjoying all the sights but our time was limited.
Anyway - here are are some soups we sampled while we were there - but first, a little background information and some tips on soup-making.
Soup has always been important in the Irish diet. Originally, soup was basic maintenance - a daily pot of warming nourishment that brought the family together in communion around the hearth where it was made. Soup was a meal in itself; and although nowadays it is more often served in small quantity as a first course, soup continues to represent the main body of a meal for many people.
One of the earliest soups in Ireland was made from ground oatmeal, boiled in water, with chopped vegetables. When meat was added to it, it was referred to as broth. The predominant flavor of a broth may come from beef, chicken, game, vegetables or fish. Stocks are made in the same way as broths. A stock is meant to serve as a sauce base and it should give richness and body to a dish without masking the flavors of the basic ingredients. Cream soups are simply purees with cream added. Bread soups use bread as a central ingredient and are nourishing enough to make meals in themselves.
On the whole, soup-making is a relaxed process and mercifully free of rules and dictums. But many a soup has been ruined in the name of improvement. Vegetable soups, in particular; the traditional belief that vegetables should be precooked in fat and simmered in beef broth has been responsible for masking and altering many a fresh garden flavor. You should never salt or pepper at the beginning of cooking , but add it just prior to serving, when it is freshly ground into the soup at the last moment, it enhances the flavor of the other ingredients, but if pepper is cooked in the liquid for any length of time, it becomes harsh and acrid.
The seasoning of cream soups is also very important:
Potato Soup - Onion juice, salt, pepper, celery salt, cayenne and parsley.
Tomato Soup - Onion, peppercorns, celery or celery seed and bay leaf.
Asparagus Soup - Salt, Pepper, Paprika, and a grating of cheese.
Celery, Corn and Carrot Soups - Salt, Pepper, Paprika and Onion juice.
Serve soup either hot or cold - never warm. Most soups freeze well. Cubed vegetables tend to go mealy, especially potatoes. Better results are obtained when vegetables are shredded.
And now, to the recipes!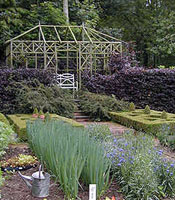 Parsnip & Apple Soup - serves 6
Ingredients:
1lb butter
1 lb parsnips, thinly sliced
1 lb apples, peeled, cored and sliced
1 onion, chopped
2 tsps curry powder
1 tsp each ground mace, coriander, cardamom
1 clove garlic, crushed
1-1/4 cups chicken stock
1 cup cream
Chopped chives or parsley for garnish.
Method:
Heat 1 pound of butter, and when foaming, add the parsnips, apples and chopped onion. Soften them but do not let them color.
Add curry powder, mace coriander and cardamom; then add crushed garlic.
Pour in chicken stock and stir till well mixed. Cover and simmer gently for about an hour, or until the parsnips are quite soft. Taste for seasonings. Sieve or liquify, and if it seems too thick, dilute with a little stock or water. Add 1 cup of cream and reheat, but do not let it boil. Serve garnished with chopped chives or parsley.
Patrick's Irish Lamb Soup - serves 8
Ingredients:
2 pounds lamb (leg or shoulder), cut into 3/4-inch cubes
1 tbsp. olive oil
1 medium onion, coarsely chopped
1 bottle beer (12 ounces) or water
2 cans (14-1/2 oz.) beef broth
1 package brown gravy mix
3 cups cubed potatoes
2 cups thinly sliced carrots
2 cups shredded green cabbage
1 teaspoon seasoned pepper
1/3 cup chopped fresh parsley for garnish.
Method:
Heat oil over medium-high heat in a large saucepan. Add lamb cubes and onion. Cook and stir in the hot oil until lamb is brown; drain off fat.
Stir in beer (or water) and seasoned pepper. Bring to boiling; reduce heat and cover and simmer for 45 minutes. Stir in beef broth and gravy mix. Add potatoes and carrots. Cover and simmer for 15 to so minutes or until vegetables are tender. Stir in cabbage and cook just until the cabbage turns bright green. Ladle into soup bowls and sprinkle with parsley, if desired.
Dried Apple and Ham Soup and Dumplings
Ingredients:
1 quart dried apples
3 pounds ham
2 cups brown sugar (If sweet dried apples are used, use less sugar).
Method:
Wash apples, cover with water, let soak overnight. In the morning, cover ham with cold water and boil for three hours. Add apples and the water in which they have soaked and continue cooking for another hour. Add brown sugar.
Prepare dumplings as follows:
2 cups sifted flour
4 teaspoons baking powder
3 tablespoons melted butter
1 teaspoon salt
1 egg, well beaten
2/3 cup milk (about).
Sift dry ingredients together, add milk, egg and butter to make a moist stiff batter. Drop in spoonfuls onto boiling ham and apple liquid. Cover kettle tightly and cook for 20 minutes. Serve piping hot.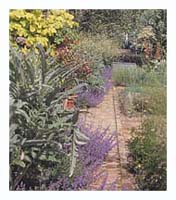 More about Soups

Soup has always been important in the Irish diet. It was often served at every meal or as the basis of the meal itself, when it was so thick and rich with meat, vegetables and potatoes, that it was called an "atin and drinkin" soup. Soups were made from whatever ingredients were available: wild herbs, vegetables, seeds, nuts, and grains, along with meat, fish, shellfish, game, and poultry. One of the earliest soups was made from ground oatmeal, boiled in water, with chopped vegetables. When meat was added to it, it was referred to as broth.
Brotchen
In some of the small inns behind the hedgerows in County Cork or in Killarney or even at the table of a hospitable farmhouse you may be lucky enough to get a bowl of good "Brotchen."

Made with oatmeal, this dish was probably the forerunner of broth made with meat. This was probably the earliest form of broth and, according to historians, formed a large part of the diet of the ancient Irish. The broth was made from oats which were not only home grown but home ground.

The oatmeal was boiled with water and chopped vegetables and was made very thick, thicker than modern porridge. Leeks seem to have been the most popular vegetable, and when they were combined with oatmeal the broth was known as 'Brotchen Roy.'

Ingredients:
Butter
4 tablespoons old fashioned Irish oats
2 cups milk, meat stock or vegetable stock
4 Leeks
Powdered mace or nutmeg
Salt & pepper
Method
1. Chop coarsely or slice the white part of the leeks.
2. Heat 1 tablespoon of butter in a skillet.
3. Sprinkle in oats and fry till nicely toasted.
4. Stir in 2 cups milk, chicken broth or vegetable broth. Stir until boiling.
5. Add the leeks.
Season with a pinch of powdered mace or nutmeg. Add 1 teaspoon salt, 1/8 teaspoon of pepper.
6. Cook, stirring occasionally, for one half to three quarters of an hour.
At serving time, add 1 or 2 tablespoons chopped parsley. Cover for a minute or two to let the parsley flavor permeate the broth. Serve with Irish soda bread and salad.
Spinach & Oatmeal Broth
Ingredients
1/4 cup butter
1 onion, chopped
2 tablesppons oatmeal
3/4 lbs spinach
3 1/2 cups chicken stock
1/4 cup diced potatoes
Grated nutmeg
Salt & Pepper
1 to 1 1/4 cups whole milk or cream
Method
1. Melt 1/4 cup butter in a large saucepan and fry chopped onion until soft, not brown.
2. Stir in 2 tablespoons oatmeal and continue to cook until the oatmeal is beginning to color slightly.
3. Wash 3/4 pound of spinach and remove any tough stems and chop the leaves roughly.
4. Add 3-1/2 cups of chicken stock and a pinch of grated nutmeg to the pan along with one quarter cup of diced potatoes; season to taste with salt and pepper.
5. Bring to a boil and then reduce the heat and simmer gently for 10 to 20 minutes until the spinach is just cooked.
6. Purée in a blender and then return it to the pan and add 1-1/4 cups of milk or cream.
7. Taste and adjust the seasoning if necessary. Bring to a boil and serve immediately, sprinkled with a little nutmeg and oatmeal.
Serves 4 - 6.
Farmhouse Broth
Ingredients 1 lb beef shank or brisket of beef on the bone
8 cups water
1 oz. split green oeas 1 oz red lentils 1 oz pearl barley 4 oz leek - white and green parts finely chopped 4 oz carrots finely chopped 2 oz turnip finely chopped 1 onion finely chopped 1 celerey stalk finely chopped Salt and pepper to taste Parsley for garnish
Method
1. Put the meat into a large saucepan with the water and bring to a boil.
2. Skim the foam from the surface, then add all other ingredients except parsley.
3. Reduce heat and simmer gently for 2 - 3 hours until the meat is tenderand the soup is thick.
4. Lift the meat from the pot, remove from the bone, discard the excess fat, and cut the meat into thin strips. Return the meat to the soup, taste, and adjust the seasoning if necessary. 5. Stir in 2 tablespoons finely chopped parsley to garnish.


In parting, I'd like to share the following ditty which was copied from my Grandmothers recipe file:
Irish Knepp Soup and Dumplings
"I am a man well up in years with simple tastes and few,
But I would like to eat again a dish my boyhood knew,
A rare old dish that Mother made that filled us all with pep,
This generation knows it not - we called it Irish Knepp.
I patronize all restaurants where grub is kept for sale,
But my search up to the present has been without avail,
For that glorious concoction was better far than pie.
Dried apple snits, a slab of ham and mammoth balls of dough
Were the appetizing units that filled us with a glow,
When mother placed the smoking dish upon the dinner table,
And we partook of its delights as long as we were able.
My longing for that boyhood treat I simply will not shelf;
If I cannot find it anywhere, I'll make the soup myself."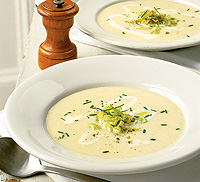 Darina Allen's Winter Leek and Potato Soup

Darina is famous for using only the freshest, locally grown products in her recipes. No doubt, when she makes this delicious soup, it will be created from leeks grown in the garden at her Ballymaloe Cooking School in Shanagary, Co. Cork and the other ingredients will have been purchased from farms and dairies in the area. No farm or dairy nearby? Not to worry - most modern supermarkets offer top quality products that are almost as good as home-grown!

Ingredients:
3 oz butter (reserve 1 oz for garnish)
1 lb potatoes peeled and cut into 1/4 inch pieces
1 small onion cut the same size as the potatoes
1 lb white parts of leeks, sliced (reserve a few slices for garnish)
2 pints light chicken or vegetable stock
6 oz whipping cream (reserve 2 oz for garnish)
4 oz whole milk
Finely chopped chives and chopped white leek for garnish
Salt & freshly ground pepper to taste.

ED. NOTE: Measurements are adapted from metric and are approximate. Metric measurements are included at the end of the recipe.

Method:

1. Melt 2-oz butter in a heavy saucepan. When it foams, add the potatoes, onion and leeks and toss them in the butter until they are well coated. Season well with salt and freshly ground pepper and toss again. Put a disc of greaseproof paper (called a cartouche by chefs) on top of the vegetables to keep in the steam), then cover the pan with its lid. Cook over a gentle heat for 10 minutes, or until the vegetables are soft but not coloured.

2. Uncover the pan and discard the paper. Pour in 1 1/2 pints of the stock, bring to the boil and simmer until the vegetables are just cooked - about 5 minutes. Do not overcook or the soup will lose its fresh flavour.

3. Purée in a blender until silky smooth, in batches if necessary, then taste and adjust the seasoning. Return the soup to a clean pan and stir in 4 oz of the cream and all of the milk.

4. To finish the soup, finely shred the reserved white leek and gently cook it in hot butter for a few minutes until it is softened but not coloured. Reheat the soup to a gentle simmer (add some extra stock at this point if the soup is too thick for your liking), then pour into warmed bowls. Drizzle the remaining cream over each serving, top with a little pile of buttered leeks and a scattering of chives and black pepper and serve at once.

Serves 6 to 8

Metric measurements:
50g butter
450g potatoes, peeled and cut into 1cm pieces (try Golden Wonders or Kerr Pinks)
1 small onion, cut the same size as the potatoes
450g white parts of leeks, sliced (save the green tops for another soup or stock)
850ml-1.2litres light chicken or vegetable stock
142ml carton whipping cream
125ml full-fat milk

Source: Good Foods Magazine 2003
Photo: BBC


Soups Page One


Thu, Jul 9, 2015
---
"...the freshest of food and
the oldest of drink"
- Irish Proverb
The New Irish Table
by Margaret Johnson



Margaret Johnson's love of Ireland permeates page after glorious page of mouthwatering Irish dishes, from Smoked Salmon Chowder to Raspberry Buttermilk Tarts. Lavish color photographs of the food, the landscapes, and the people are woven through the text, making The New Irish Table the next best thing to sitting down to dinner in Ireland itself.
Click here for New Irish Table.