Traditions, folklore, history and more. If it's Irish, it's here. Or will be!
"People will not look forward to posterity who never look backward to their ancestors."
-Edmund Burke
---
Quotes

Library: Books, Movies, Music

Prints & Photos

Poetry

Jokes

---
---
Shops Ireland
---
Bunús na Gaeilge
(Basic Irish)

---
---
Did You Know?
---
Himself/Herself
Write to Us
Readers Write..
Links/Link to Us
---
Advertise with us

---

Help keep us free
Throughout the site you will see many items available for purchase from well-known merchants such as Amazon. Not interested in what we're featuring? It doesn't matter. Click on any link and then shop for whatever you wish - we will still get credit, if you buy something.
Thanks for your help.

---
---
Recipes for Shrove Tuesday
contributed by Hartson Dowd

In the old days there were many foods that observant Christians would not eat during Lent, including meat and fish, fats, eggs, and milk products. So that no food was wasted, families would have a feast on Shrove Tuesday (the day before Ash Wednesday) and consume what couldn't last the 40 days of Lent.
A dish that would finish all the eggs, fats and milk could be conjured up by adding some flour and making pancakes!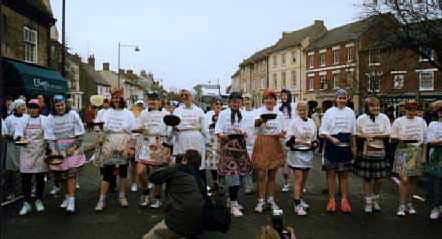 The Origin of Pancake Racing
Pancake races are thought to have begun in 1445. A woman had lost track of the time on Shrove Tuesday, and was busy cooking pancakes in her kitchen. Suddenly she heard the church bell ringing to call the faithful to church for confession1. The woman raced out of her house and ran all the way to church - still holding her frying pan and wearing her apron.

Since 1950, Olney in England has competed with Liberal in Kansas, which holds an identical race, to see which town can produce the fastest competitor. After the 2002 race, Liberal was leading with 28 wins to Olney's 24.

Pancakes around the world
The relative ease of baking on hot stoves or on griddles has resulted in a variety of pancakes around the globe. Old English batter was mixed with ale. German and French pancakes, leavened by eggs and much beating, are baked very thin and served with sweet or savory fillings. The French crêpe is thin and crispy - a crêpe suzette is folded or rolled and heated in a sauce of butter, sugar, citrus juice, and liqueur.2

Russian blinis, usually prepared with buckwheat, are thin, crisp pancakes, and commonly served with caviar and sour cream or folded over and filled with cream cheese or jam. Mexico has its tortilla, which is often served folded over a bean or meat filling and topped by tomato sauce. American pancakes are thicker. They are sometimes called battercakes, griddlecakes, or flapjacks and are usually leavened with baking powder or baking soda and served with syrup.

The ingredients and consistency of the pancakes varies from house to house in Ireland, mainly because no one ever knows how many pancakes they have to make. What you have with the pancakes is whatever you fancy - virtually anything!

Irish Pancakes #1

Ingredients
4 oz. plain flour
One-quarter teaspoon sugar
2 eggs, beaten
8 fluid oz. milk
Corn Oil

Method:
Sieve the flour into a mixing bowl, and make a well in the center. Add the salt and beaten eggs to the well, then a little milk. Whisk together until thick and creamy, making sure there are no lumps. Add the remaining milk, whisk again, and then leave to stand for 30 minutes.

To cook the pancakes, you will need a good heavy-based non-stick pan, a pot of boiling water with a plate on top and a lid, to keep your pancakes hot. Paint a very thin coating of oil on your pan (best done with a basting brush). Pour 3 to 4 tablespoons batter into the center of the pan. Tilt the pan until it is completely covered. Cook for a minute, or until set, then turn the pancake over (flip it if you can), and cook for 30 seconds. Lift out of the pan and place flat on the plate on top of the boiling water, and cover with the lid. Repeat this process until all the batter is gone.

Roll up with lemon juice and a sprinkling of sugar inside, or with ice cream as a dessert, or for tea, with butter, jam or honey.

Honey-Drizzled Pancakes with Orange
makes 10 to 12 pancakes

Ingredients:
3 oz plain flour
1 medium egg
1 pint whole milk
2 tbsp clear honey
2 oranges, peeled and segmented
unsalted butter, for frying

Method:

1. In a medium bowl mix together the flour, egg and milk until you have a smooth batter the consistency of double cream.
2. Grease a pancake pan with a little butter, then place on the heat
3. Fry a ladleful of the pancake batter until cooked through and golden on both sides. Set aside on a plate with a piece of kitchen paper on top.
4. Repeat step 3 until you have six pancakes.
5. Lay three pancakes on top of each other on a serving plate. Drizzle over half of the honey and scatter over half of the orange segments.
6. Repeat step 5 with the remaining pancakes, honey and orange segments and serve.

Guinness Pancakes with Crispy Bacon and Cheese
makes 8 to 10 pancakes

Ingredients:
5 oz. plain flour
1 tsp baking powder
2 eggs
9 fl oz. Guinness (approximately)
1/2 tsp fresh thyme leaves
1 tbsp vegetable oil

For the topping:
4-6 rashers of dry-cured bacon
knob/pat of butter
1 tbsp vegetable oil
4 heaped tbsp. grated sharp mature cheddar
2 tbsp chopped fresh herbs (eg: chives, parsley, basil)

Method:
1. Mix the flour, baking powder, eggs and thyme with enough Guinness to create a thickish batter with a drop scone consistency.
2. Heat a little oil in a large, flat non-stick frying pan. When the oil is almost smoking pour in 2-3 ladlefuls of the batter.
3. Cook over a medium heat until bubbles appear on the surface and the underside is brown (3-5 minutes). Turn over and brown the other side. Continue until you have 8-10 pancakes and keep warm.
4. Fry the bacon with a little butter and oil until crisp. Mix together the cheese and chopped herbs.
5. Arrange the pancakes on a warm plate, scatter with the cheese mixture and top with the hot bacon. Serve at once.
Editorial Note: On Shrove Tuesday, pancakes were the main dish for the children in my parent's house; but, my dad always had his favorite pork chops, as well. After supper, he went out to the pub to bend his elbow for one last time until St. Patrick's Day.

Editorial Notes: 1This is quite likely, as much as it may sound like an over-reaction. Shrove Tuesday was the confession of the year. The last chance to be absolved before the start of Lent.
2Russ insists that, to be a true Crepe Suzette, the sauce must be prepared with lemon rind & tangerine rind - both cut very thinly. To carry the concept ad absurdum, one should avoid orange liqueurs (e.g. Gran Marnier), and use tangerine liqueur (Mandarine Napoléon). Although Charpentier, he believes, did use orange liqueur.
Russ' very fond of Crepes Suzette.

Image: Pancake Race from the Unofficial Olney Web Site

Any purchase made helps to support our site (and Bridget's fondness for tea towels). Thank you.


Thu, Jul 9, 2015
---
"...the freshest of food and
the oldest of drink"
- Irish Proverb
The New Irish Table
by Margaret Johnson



Margaret Johnson's love of Ireland permeates page after glorious page of mouthwatering Irish dishes, from Smoked Salmon Chowder to Raspberry Buttermilk Tarts. Lavish color photographs of the food, the landscapes, and the people are woven through the text, making The New Irish Table the next best thing to sitting down to dinner in Ireland itself.
Click here for New Irish Table.