Traditions, folklore, history and more. If it's Irish, it's here. Or will be!
"People will not look forward to posterity who never look backward to their ancestors."
-Edmund Burke
---
Quotes

Library: Books, Movies, Music

Prints & Photos

Poetry

Jokes

---
---
Shops Ireland
---
Bunús na Gaeilge
(Basic Irish)

---
---
Did You Know?
---
Himself/Herself
Write to Us
Readers Write..
Links/Link to Us
---
Advertise with us

---

Help keep us free
Throughout the site you will see many items available for purchase from well-known merchants such as Amazon. Not interested in what we're featuring? It doesn't matter. Click on any link and then shop for whatever you wish - we will still get credit, if you buy something.
Thanks for your help.

---
---
Irish Pork Entrées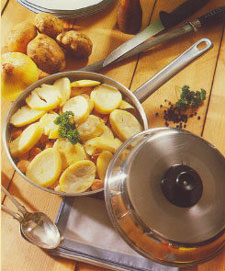 Dublin Coddle
by Bridget Haggerty

The savior of many a Dubliner who'd spent a little too much time 'on the jar,' this dish was traditionally eaten when the men got home from the pub on a Saturday night. It might also be appropriate after too many St. Patrick's Day Pots!

We've heard of many variations, most with potatoes, one without, another with tomatoes, yet another that calls for quail's eggs! We finally decided that simplest is best, so based on classic ingredients,we came up with the following recipe which serves four.

Ingredients:
1/2 lb. thick bacon slices
1 lb. pork sausages
1 1/2 lbs. potatoes
1 lb. onions
salt and pepper to taste

Method:
Boil a kettle of water. Put the bacon and sausages in a saucepan with enough boiling water to cover. Bring back to the boil, then reduce heat and simmer for five minutes. Remove the bacon and sausages and carefully pour off the liquid from the saucepan into a bowl. Set aside. Peel and slice the potatoes and onions and place them with the bacon and sausages into a heavy saucepan or greased oven-proof casserole. Cover with the reserved liquid, season with salt and pepper and cover with a tight-fitting lid. Simmer on top of the stove or in a 350°F oven for about one hour.

Image: Fom a postcard inscribed "Produced by Lakeland Design, Bailieborough."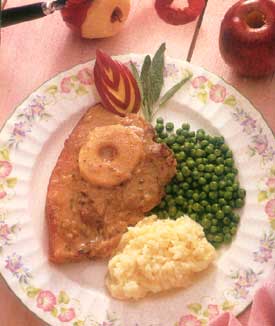 Marinated Pork Chops

St. Martin's Day is November 11 and it was customary to eat fresh pork for the main course. With apples also plentiful at this time of year and the weather turning chilly in the Northern hemisphere, the following entree makes for a great marriage of ingredients as well as a hearty, satisfying meal.

Ingredients:
4 pork chops
1 onion, finely chopped
1/2 tsp thyme
1 cup cider
2 tbsps oil
1 tbs butter
1/2 cup flour, seasoned with salt and pepper
1 or 2 apples, peeled, cored and sliced
3/4 cup beef or chicken stock
1 tsp honey
1 tsp Dijon style mustard

Method:
1. Place chops in oven-proof dish
2. Add the onion and herbs to the cider and pour over the chops
3. Leave for several hours, turning the chops from time to time
4. Drain the chops and dredge them in the seasoned flour, lightly coating both sides
5. Heat the oil and butter in a heavy skillet; sear the chops in the pan, lightly browning on both sides
6. Strain the marinade into a bowl; rinse the baking dish, dry, and then grease. Place a layer of sliced apples on the bottom and put the chops on top
7. Add the onion from the marinade to the fat in the pan, cook until soft and stir in the remaining seasoned flour
8. Allow mixture to brown slightly, stirring constantly. Gradually add the liquid from the marinade and the stock, then sir in the honey and the mustard. Bring to a boil and pour over the chops
9. Preheat oven to 350F degrees. Cover dish with foil and bake for 45 minutes
10. Serve with baby peas, creamed potatoes and a garnish of fresh apple slices and sage leaves.

Resources:
Recipe & Image: From the book Irish Cooking, compiled by Helen Walsh and photographed by Peter Barry. We have tried without success to locate a retailer for this book. If you know of one, please contact us. Many thanks!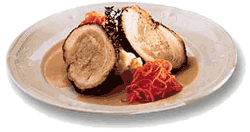 Spiced Pork Roast with Apple & Thyme Cream Sauce
Contributed by Hartson Dowd

Belly of pork, also known as "lap" of pork, makes a tender, flavoursome roasting joint; cooked simply on the bone it has the advantage of a large area of skin to make "crackling". This dish is the creation of Gerry Galvin Drimcong House Restaurant, Moycullen, Co. Galway.

Ingredients:
1 pork belly, about 3 lb

Stuffing
1 medium onion, finely chopped
3 cloves garlic, crushed
3 oz butter
A bunch of mixed fresh herbs, finely chopped
8 oz fine breadcrumbs
1 egg, beaten
Salt & freshly ground pepper

Spicy Paste
2 tablesp. melted butter
2 tablesp. chutney
1 tablesp. lemon juice
2 cloves garlic, crushed
2 tablesp. Guinness flavoured mustard

Sauce
2 large cooking apples, peeled, cored & chopped
1 medium onion, peeled & chopped
2 garlic cloves
2 sprigs thyme
4 to 5 ounces medium/sweet white wine
4 to 5 ounces chicken stock
8 ounces cream

Method:
Preheat oven to 350 degrees F
Prepare the stuffing: Cook the onion and garlic in butter until soft, then add the herbs and breadcrumbs. Cool a little and then mix in the egg and season well with salt and freshly ground pepper.
Prepare the meat: Trim off any excess fat and prick the centre of the meat with a kitchen fork, then combine all the Spicy Paste ingredients together and brush the meat with this mixture. Spread the stuffing over the meat, then roll it up and tie firmly with cotton string.
To Cook: Brown the meat with a little oil in a hot roasting pan and then cook in the preheated oven, seam side up - preferably on a rack - for three hours. Halfway through cooking, remove the joint from the oven and brush liberally with the Spicy Paste; return to the oven seam side down and continue cooking.
To make the sauce: Bring everything to the boil and simmer for 15 minutes, then discard the thyme, liquify the mixture, strain and season to taste. If it seems too thick, adjust the texture with extra stock.
Slice the meat and serve with the sauce.
Suggested accompaniments: Mashed potatoes, pickled carrots, salad.

Pork Chops with Scalloped Sweet Potato and Apples
by Hartson Dowd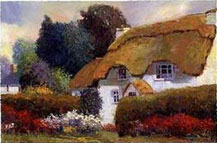 Never enough time to cook? You'll love the speed and ease of preparing this delicious all-in-one-pot dinner!

Ingredients:
4 pork chops, 1-1/4 inches thick
2 large sweet potatoes, peeled and sliced
2 large apples, cored and sliced
1 large onion, peeled and sliced
1/2 cup melted butter
1 tablespoon brown sugar
1/2 cup all purpose flour
1 teaspoon salt
1/2 teaspoon nutmeg
1/2 teaspoon freshly ground pepper
12 ounces Guinness stout

Method:
1. In a fry pan, brown pork chops evenly on both sides.
2. Layer sweet potatoes, apples, and onions, alternately in a greased 12-cup shallow casserole.
3. Sprinkle with half the butter and brown sugar.
4. Lay pork chops on top in a single layer, if possible.
5. Mix flour, salt, nutmeg, and pepper into the remaining butter.
6. Stir in the beer.
7. Pour over top of the pork chops.
8. Cover and cook in a 350 F oven 1-1/2 hours.
Serves 4.

Image: Cottage Image Print from All Posters.


West Cork Pork with Cranberry Meade Apple Sauce


If you'd rather have something other than Corned Beef and Cabbage this St. Patrick's Day, here's an alternative menu. The truth is, Bridget grew up in an Irish family and never even tasted what has become synonymous with Irish-American celebrations until her first year in the states. The menu in the O'Flaherty family on March 17th was usually "a nice bit of boiled bacon." While the following recipes are much more elegant than she was used to as a child, the main course is pork - and that's a lot more authentic than salted beef!

Ingredients:
4 to 6 pork chops, 3/4 inches thick
1/4 cup sifted flour
2 teaspoons salt
1/8 teaspoon pepper
1 tablespoon Dijon mustard
1 tablespoon brown sugar
4 to 6 onion slices
1/2 cup pineapple juice
1/4 cup honey
1/4 cup Bunratty Meade
Method:
Preheat oven to 350 degrees
Trim excess fat from pork chops
Coat chops in mixture of flour, salt and pepper
Melt the fat trimmed from chops in a heavy skillet Brown chops
Place browned chops in a shallow, ovenproof baking dish
Mix brown sugar and mustard and spread on chops
Top each chop with a slice of onion
Mix together pineapple juice, honey and Meade and pour on chops
Cover and bake for 30 minutes
Uncover and bake an additional 30 minutes.

Cranberry Meade Applesauce

Ingredients:
4 Granny Smith apples
3/4 cup whole cranberries
1/2 cup Bunratty Meade
1/4 cup water
1/2 cup sugar
Method:
Wash, core and quarter apples. Combine with cranberries in saucepan. Add Meade and water, cover and cook over low heat until apples are mushy. Stir often to prevent sticking. Add sugar and cook further until sugar? absorbed. Remove from heat and cool about a half hour. Blend in processor for about ten seconds or so. Refrigerate for one to two hours.



Pork Loin Stuffed with Apples and Raisin

We have yet to meet an Irishman who doesn't like pork, so we hope this recipe will go down well. As usual, it was contributed by our resident recipe collector and developer - Hartson Dowd.

Ingredients
1/4 C butter
1 C dry white wine
juice of 1 lemon
4 Granny Smith apples, peeled, cored, and cut into wedges
1/4 C applejack brandy
1 C seedless dark raisins
1/2 C unseasoned breadcrumbs
3-pound boneless, center-cut pork loin, butterflied
salt and pepper to taste

Method
Preheat oven to 450°F.
1. Heat the butter in a large pan over medium-high heat.
2. When it has melted, add the white wine, sugar, and lemon juice, and bring to a boil.
3. Cook until the liquid is reduced by half, then add the apples and applejack. Cook, gently stirring occasionally, until the apples are tender but still firm, 5 to 7 minutes, depending on the thickness of the wedges.
4. Add the raisins and breadcrumbs, and stir. Transfer the mixture to a bowl. Set aside to cool slightly.
5. Generously season the pork loin with salt and pepper. Lay the pork flat on a clean work surface and spread the apple/raisin mixture evenly down the center, stopping 1 1/2 to 2 inches before reaching the ends. Fold the sides of the meat over the filling to make a tight roll, securely tying with kitchen string.
6. Transfer the stuffed pork roll to a medium roasting pan and place on the middle rack of the oven. After 15 minutes, reduce the oven temperature to 350°F.
7. Roast for 1 more hour, then check the temperature with a meat thermometer. It is cooked when the thermometer registers 150°F.
8. Remove the pan from the oven and transfer the pork to a plate to rest for 10 minutes before slicing.
Serves 6-8




Carrigaline Thatched Pork Chops
Adapted from iGourmet

Three of Ireland's favorite foods are combined in this recipe to produce a hearty, satisfying supper.

Ingredients:
4 pork loin chops
Salt & black pepper, to taste
2 cooking apples, peeled, cored and chopped
1 1/4 cups shredded Carrigaline cheese

Method:
1. Season chops and grill for 10-15 minutes on each side.
2. Meanwhile, place apples in a saucepan with 3 tablespoons of water. Cover and cook gently until the apples form a thick pulp. Mix in half the cheese.
3. Spread the apple mixture over the cooked chops. Sprinkle the remaining cheese over the top.
4. Return the chops to the grill and cook until the cheese melts.
Serves 4.




Irish Pork Pie
Contributed by Hartson Dowd

Pork pie and a pint - now there's a pub lunch for you! And if you're lucky enough to live in Ireland, the real thing - the pie, that is - is available at Tescos. However, a home-made version isn't that difficult to make - and it's a dish that goes sublimely well with the black stuff. (A few slices of sharp Irish cheddar and some pickled onions on the side are also nice accompaniments.)

Ingredients for pastry:
3 cup all-purpose flour
1 large egg yolk
1/2 cup water
4 oz butter
1/2 tsp salt
beaten egg for glaze

Ingredients for filling:
1 lb ground pork
1/4 cup cracker crumbs
1/4 cup water
1 tsp salt
1 tsp sage
1/2 tsp thyme
1/2 tsp oregano
1/2 tsp parsley
1/4 tsp fresh ground pepper
pinch crushed cloves
NOTE: For a more authentic pie, instead of using ground pork, use your food-processor to finely chop 1lb pork shoulder and a few rashers of uncooked Irish bacon.


Method:
1. To make pastry, slowly heat water and butter in a saucepan. Once the butter is melted, simmer for 2 minutes. Put flour in a bowl and make a well in the center. Add the seasoning and egg yolk into the well, cover with some flour and quickly pour in the contents of the saucepan, stirring continuously. Once cooled, kneed into a dough then leave covered for 30 minutes in a warm place. Separate about two thirds of the dough into five balls, each about the size of a billiard ball. The other third of the dough will be used later for the lids. Make each pie casing by molding a ball around the outside of the bottom of a pint glass. Stretch the dough up the glass for about 1 1/2 inches so that the pastry is reasonably thin. (The pastry is easier to remove if the glass is coated in flour first)

2. Mix all the filling ingredients together. Fill the pastry casings with the mixture. Roll out the remainder of the pastry. Cut out lids using the top of a pint glass as a pastry cutter. Place lids on pies, sealing around the edges with some water. Using the point of a knife, make a hole in the center of each lid to allow steam to escape.

3. Cook at 350F in the center of the oven for about 1 hour, glazing with the beaten egg yolk from time to time. When the pies are nicely browned, remove from oven and leave to cool on baking racks.

4. For extra authenticity, after the pies are completely cooled, pour a small amount of warmed, reduced stock into the holes and then store in the refrigerator to allow the stock to set into a jelly. To make the stock, boil some pork bones with pepper corns, cloves and a bouquet garni of celery, bay leaf, thyme and parsley for a few hours until most of the water evaporates. After cooling, a jelly should form on the surface, which can be scooped off and warmed to reliquefy before pouring into the pies.

NOTE: Irish pork pie is served cool - not hot.

Image: Google images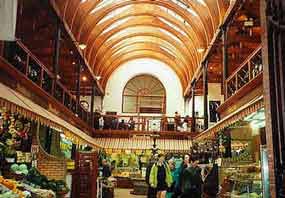 Crubeens
by Hartson Dowd

Crubeens became popular with the establishment of the commercial factories in Belfast, Cork, Dublin, Limerick and Waterford in the late 19th century. Cork was a major port and crubeens were exported to the West Indies in huge quantities. As late as the 1940s it was quite common to see women selling cooked crubeens from baskets in the city streets around Ireland. On Saturday nights and market or fair days, big pots of crubeens were cooked up and sold.

Crubeens were eaten with the fingers – very greasy and messy – and washed down with copious amounts of beer or porter. The grease proved to be quite difficult to remove from the glasses, however, and was one of the reasons that some of the up-scale classier pubs discontinued their "Irish Pub grub."

Crubeens, though still available, are not nearly as popular as they once were, but they can still be found at the stalls of the Old English Market in Cork. The O'Flynns of Marlboro Street with true Cork wit, label the crubeens in the window of their butcher shop as "Low Mileage Pig's Trotters".

Ingredients:
6-7 crubeens
1 large onion quartered
6 cloves (optional)
1 large carrot cut into chunks
5 or 6 parsley stalks
3 good sprigs of thyme
12 peppercorns
Bay Leaf
Vinegar

Method:
Wash and scrape the crubeens clean. Take off the horny shell on the feet if the butcher has not removed it.
Place the crubeens in a skillet and cover them with cold water to which a good drop of vinegar was added.
After the water has boiled pour it off.
Place the crubeens in a large pot. Add 1 large onion, quartered; ~ (my grandmother used to insert 6 cloves into the onion. That's optional.)
Add 1 large carrot, cut into chunks;
Add A touch of salt and pepper; 1 bay leaf; 5 or 6 parsley stalks; 3 good sprigs of Thyme; and 12 peppercorns
Cover with cold water.
Bring to the boil and skim off the scum on top.
Reduce the heat and simmer gently for 2 or 3 hours or until the meat is soft and very tender.

By dinner time the crubeens will be beautifully soft, white pink and juicy and flavoured with the vegetables.
Serves 2

To serve hot: Lift out of the liquor and serve with soda bread.
To serve cold: Cover and leave to cool in the liquor which will set to jelly. They are great with a bit of Colman's mustard on them.

Supply your guests with plenty of paper towels or a bib. Crubeens lose their magic if you attack them with a refined fork and knife!

Image: The English Market Princes Street, Patrick Street and the Grand Parade, Cork City, Ireland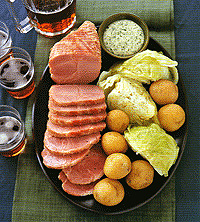 Traditional Bacon and Cabbage

Comfort food at its best, and second only to Irish stew, bacon and cabbage is one of Ireland's most traditional dishes. Parsley Sauce or Whole-Grain Mustard Sauce is the usual accompaniment, along with boiled potatoes and often turnips and carrots.

Ingredients:
3 pounds Irish boiling bacon (shoulder or collar)*
1 small head cabbage, cored and quartered
Parsley Sauce Boiled potatoes for serving

Parsley Sauce:
4 tablespoons unsalted Kerrygold Irish butter
3 tablespoons all-purpose flour
1/4 cup bacon cooking liquid
1 1/4 cups hot milk
Salt and freshly ground pepper to taste
1/2 cup minced fresh flat-leaf parsley

Whole-Grain Mustard Sauce:
2 tablespoons unsalted Kerrygold Irish butter
1 Small onion, chopped
1 clove garlic, minced
2 Teaspoons whole-grain mustard
2/3 cup dry white wine
1 1/4 cups bacon cooking liquid, plus more as needed
1 1/4 cups half-and-half, plus more as needed
Salt and freshly ground pepper to taste

Method:
1. Put the bacon in a large saucepan and cover with cold water. Bring the water slowly to a boil, then cover and reduce the heat to medium-low. Simmer, skimming the water occasionally to remove the foam, for 1 1/2 hours (about 30 minutes per pound), or until the meat is tender when pierced with a fork.
2. About 20 minutes before the bacon is cooked, add the cabbage. Cook for 15 to 20 minutes, or until the cabbage is tender, but not soggy. Transfer the bacon to a serving dish, and let cool for so minutes before slicing. Drain the cabbage, reserving 1/4 cup of the cooking liquid for the Parsley Sauce or 1/2 cups for the Whole-Grain Mustard Sauce, and transfer to a serving dish.
3. To serve, slice the meat and serve it with the cabbage, potatoes, and sauce.
SERVES 4 TO 6
To make parsley sauce:
In a small saucepan over medium heat, melt the butter. Gradually stir in the flour. Cook for 1 to 2 minutes, or until blended. Slowly stir in the cooking liquid, then the milk. Bring to a boil and cook, whisking constantly, for 3 to 5 minutes, or until slightly thickened. Add the salt, pepper, and parsley and cook, whisking constantly, for 3 to minutes more, or until the sauce is smooth. Serve warm.
To make whole grain mustard sauce:
In a saucepan, melt the butter over medium heat. Add the onion and garlic and cook for minutes, or until soft. Stir in the mustard and wine and cook for 2 minutes. Add the cooking liquid and half-and-half and cook, whisking constantly, for 5 to 7 minutes, or until reduced by half. Add the salt and pepper and cook for 5 minutes, or until the mixture has a creamy consistency. Add more boiling liquid or half-and-half, if needed, to make a smooth sauce. Serve warm.

*Traditional Irish Bacon
All bacon is not created equal. For many years, the most important meat in Ireland was pork, either fresh, or cured as bacon, and even today the popularity of pork and pork products is unwavering. In Ireland, only the leg of the pig is called "ham" (it's also called "gammon"); otherwise, the cured meat is bacon.
Back bacon, from which rashers come, is actually cut from the loin and cured in spices. It can be cooked as a joint or roast (often glazed with a sweet red currant or tangy mustard sauce), cut into chops, or added to dishes like Roast Chicken with Bacon and Leeks. Streaky rashers, which are the most flavorful cut because they have a bit more fat, are fried crisp at breakfast, used in sandwiches and soups, in salads such as Bibb, Bacon, and Apple Salad, and in seafood dishes like Roasted Monkfish Wrapped in Bacon. The shoulder or collar of bacon (also called "boiling bacon") is the traditional cut for Bacon and Cabbage, but it is also is ideal for a wide range of other dishes. Cut into chunks, it adds flavor to casseroles like Dublin Coddle, bean dishes, and pasta dishes.

Recipe source and photo credit: Margaret M. Johnson's The Irish Pub Cookbook.




Thu, Jul 9, 2015
---
"...the freshest of food and
the oldest of drink"
- Irish Proverb
The New Irish Table
by Margaret Johnson



Margaret Johnson's love of Ireland permeates page after glorious page of mouthwatering Irish dishes, from Smoked Salmon Chowder to Raspberry Buttermilk Tarts. Lavish color photographs of the food, the landscapes, and the people are woven through the text, making The New Irish Table the next best thing to sitting down to dinner in Ireland itself.
Click here for New Irish Table.