Traditions, folklore, history and more. If it's Irish, it's here. Or will be!
"People will not look forward to posterity who never look backward to their ancestors."
-Edmund Burke
---
Quotes

Library: Books, Movies, Music

Prints & Photos

Poetry

Jokes

---
---
Shops Ireland
---
Bunús na Gaeilge
(Basic Irish)

---
---
Did You Know?
---
Himself/Herself
Write to Us
Readers Write..
Links/Link to Us
---
Advertise with us

---

Help keep us free
Throughout the site you will see many items available for purchase from well-known merchants such as Amazon. Not interested in what we're featuring? It doesn't matter. Click on any link and then shop for whatever you wish - we will still get credit, if you buy something.
Thanks for your help.

---
---
Listen to the river,and you will get a trout
by Helen & Hartson O'Doud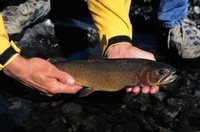 The O'Douds promised to send us this recipe and true to their Irish word, here is the Secret of Irish Cured Trout. They tell us that they make it often where they live (British Columbia) "where the finest trout fishing (second only to Ireland) is found."

The Secret of Irish Cured Trout or Salmon
The smoked salmon we ate in Ireland, sweeter and more bland than the Scottish, will stay in our memory forever. With the luxury prices of imported Irish salmon, we don't have it very often. However, the Cured Trout is a substitute with a similar, though individual, flavor. We learned the secret of making it while we were in Ireland. The process takes 7 days but requires little work and just a few minutes of attention each day.

Ingredients:
1 four-pound trout or salmon trout, butterflied and bones and head removed
4-1/2 teaspoons salt, divided
6 tablespoons olive oil, divided
1 tablespoon brown sugar

Day 1
Place fish skin side down on platter.
Rub flesh with 1-1/2 teaspoons salt; cover lightly with waxed paper, plastic wrap or foil.
Refrigerate for 24 hours.

Day 2
Drain off any liquid.
Wipe fish dry with paper towel.
Rub flesh with 2 tablespoons olive oil.
Refrigerate for 24 hours.

Day 3
Repeat-alternate -processes for each day
Day 4
Day 5
Day 6
Repeat as above, but on day 6 also rub brown sugar onto fish.

Day 7
Hang fish in a cool, dry, airy place for 24 hours.

To serve, cut the fish in paper-thin slices against the grain.
Makes 12 appetizer servings.

Our Irish Host told us - Listen to the sound of the river and you will get a trout!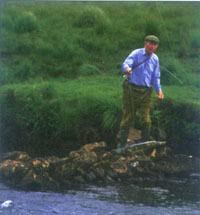 Note: From where the Haggerty's sit, listen to the O'Douds and you'll net an Irish appetizer that's unforgettable. They also sent us several quotations, proverbs and sayings which we hope you'll enjoy as much as their recipe. As they said so eloquently, "Picked up in an Ireland visit. Too good to leave there!"

An Irishman's Life Philosophy: "In life, there are only two things to worry about, either you are well, or you are sick. If you are well, there is nothing to worry about, but if you are sick, you have two things to worry about; either you will live, or you will die. If you live, there is nothing to worry about, if you die, you have two things to worry about; either you will go to heaven or to hell. If you go to heaven, there is nothing to worry about, but if you go to hell, you'll be so busy shaking hands with your friends, you won't have time to worry!"

Good as drink is, it ends in thirst.

A drink precedes a story.

It is sweet to drink but better to pay for it.

It is better to exist unknown to the law.

A silent mouth is melodious.

If you want to be criticized, marry.

A lock is better than suspicion.

Patience is a poultice for all wounds.

May your troubles be less, and your blessings be more.
And nothing but happiness, come thru your door.

Any purchase made helps to support our site. Thank you.


Thu, Jul 9, 2015
---
"...the freshest of food and
the oldest of drink"
- Irish Proverb
The New Irish Table
by Margaret Johnson



Margaret Johnson's love of Ireland permeates page after glorious page of mouthwatering Irish dishes, from Smoked Salmon Chowder to Raspberry Buttermilk Tarts. Lavish color photographs of the food, the landscapes, and the people are woven through the text, making The New Irish Table the next best thing to sitting down to dinner in Ireland itself.
Click here for New Irish Table.