Traditions, folklore, history and more. If it's Irish, it's here. Or will be!
"People will not look forward to posterity who never look backward to their ancestors."
-Edmund Burke
---
Quotes

Library: Books, Movies, Music

Prints & Photos

Poetry

Jokes

---
---
Shops Ireland
---
Bunús na Gaeilge
(Basic Irish)

---
---
Did You Know?
---
Himself/Herself
Write to Us
Readers Write..
Links/Link to Us
---
Advertise with us

---

Help keep us free
Throughout the site you will see many items available for purchase from well-known merchants such as Amazon. Not interested in what we're featuring? It doesn't matter. Click on any link and then shop for whatever you wish - we will still get credit, if you buy something.
Thanks for your help.

---
---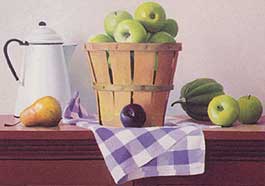 Irish Winter Pudding
Contributed by Aideen

Paul Rankin is a wonderful chef from Northern Ireland and he features regularly on TV cookery programmes on both sides of the border as well as in the UK. I don't know if he's known in the US but (if he isn't), he should be.

Ingredients:
14 oz Bramley or Granny Smith apples (or other green cooking apple)
14 oz plums
9 oz fresh or frozen blackberries
4-1&Mac218;2oz golden brown sugar
l/4fl oz dry red wine
4 tbsp crème de cassis (blackcurrant liqueur)
About 10-12 slices of white bread, crusts removed
Fresh mint sprig, to decorate (optional)
Cream or crème fraïche, to serve
For the Berry Sauce:
1lb fresh or frozen blackberries or mixed berries
Juice of one lemon, or to taste
5 oz sugar, or to taste

Method:
1. Peel, core and roughly chop the apples. Aim to make the pieces about the same size so that they cook evenly.
2. Halve and stone the plums and roughly chop them.
3. Place the apples and plums in a medium-sized pan along with the blackberries, sugar and wine and place over medium heat.
4. Bring to the boil and then simmer gently for about 15 minutes, or until apple pieces are soft and rather mushy.
5. Take off the heat and add the crème de cassis. Leave to cool.
6. Line the inside and base of a one litre bowl or mould with the slices of bread.
7. Overlap the slices slightly on the sides to ensure that the filling does not leak through. Any leftover bits of bread can be used to cover the filling (this will be the bottom of the pudding when it is turned out).
8. Place the cooked, cooled fruit carefully in the lined mould and press it down quite firmly.
9. Fill it nearly to the top, then cover it completely with the remaining bread. Weigh this down with a can on a plate and place in the fridge overnight.
10. To make the berry sauce, simple pureé the berries with the lemon juice and sugar in a food processor. Pass through a fine sieve and taste for flavour. Adjust with more sugar or lemon juice as necessary.
11. To serve, carefully turn the pudding out onto a serving plate. Brush any uncoloured bits of bread with a little sauce and decorate with a mint sprig on op, if you wish.
12. Cut the pudding into wedges and serve with a dollop of fresh cream or crème fraïche, and some of the berry sauce on the side.

Note: We're really happy that Aideen has brought Paul to our attention as we were not familiar with him or his prowess in the kitchen. Here's a little bit of back ground on the Rankins from the BBC website:

As well as appearing on a number of television shows, Paul Rankin runs a successful restaurant and business in his native Belfast. His wife Jeanne is also a familiar face, cooking alongside him.

Paul left Belfast to travel the world in 1980, meeting Jeanne on the way. They journeyed together, often working in kitchens to earn some cash. In 1984 they ended up at Le Gavroche, the Roux Brothers' restaurant in London. There they worked their way up the kitchen ladder, learning the tricks of the trade. The couple then travelled again, working in Canada before returning to Belfast and setting up Roscoff Bakery & Cafe. The restaurant won Northern Ireland's first Michelin star which they kept for eight years running. They closed Roscoff in 1999, but refitted the premises and opened Soulfull Kitchen/Cayenne, a restaurant with a more informal feel.

Paul and Jeanne appeared together on their television culinary journey Gourmet Ireland in the mid-1990s and The Rankin Challenge towards the end of the decade. Two successful books* also came out of this project. Since then, Paul has become a regular on the BBC. Shows include MasterChef, Who'll Do the Pudding? and Ready, Steady, Cook. For more information, please click BBC.

Note: Two of Paul's more recent titles have been added to the Kitchen Library.

Image: Basket Of Green Apples by Peter Colvin from All Posters and Prints

Any purchase made helps to support our site (and Bridget's fondness for tea towels). Thank you.


Thu, Jul 9, 2015
---
"...the freshest of food and
the oldest of drink"
- Irish Proverb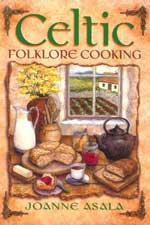 Celtic Folklore and Cooking
by Joanne Asala

Feast days, festivals, and informal gatherings all have something in common--food. But choosing the right food for the occasion can be difficult. Celtic Folklore Cooking takes the guesswork out of planning a feast, with plenty of sumptuous ideas for an entire meal, from soup to dessert and even drinks. Joanne Asala gathers generations-old recipes from Wales, Cornwall, Scotland, Ireland, and England, associates them with appropriate festivals and times of the year, then sprinkles a dash of folklore between them. Perhaps you would like to learn the 400-year-old "Song of Harvest Home" while making Marigold Buns? Celtic Folklore Cooking is like having centuries of Celtic tradition in your kitchen, and it will help you find just the right flavor for your festivities. Review by Brian Patterson
Click here for Folklore & Cooking.
The New Irish Table
by Margaret Johnson



Margaret Johnson's love of Ireland permeates page after glorious page of mouthwatering Irish dishes, from Smoked Salmon Chowder to Raspberry Buttermilk Tarts. Lavish color photographs of the food, the landscapes, and the people are woven through the text, making The New Irish Table the next best thing to sitting down to dinner in Ireland itself.
Click here for New Irish Table.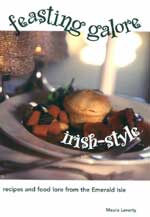 Feasting Galore Irish-Style:
Recipes and Food Lore from the Emerald Isle
by Maura Laverty, Robert Briscoe

With simple ingredients and easy to follow instructions, these recipes will help the home chef create a rich, plentiful feast! Among the 200 recipes are classics like Irish Stew, as well as Mince Pie, which Oliver Cromwell unsuccessfully attempted to ban because of its then-religious Irish shape. Each of the eleven chapters that puts the food into its context - whether its prepared for a celebration, to welcome guests - or even to seduce! Info' from back cover.
Click here for Feasting Galore.