Traditions, folklore, history and more. If it's Irish, it's here. Or will be!
"People will not look forward to posterity who never look backward to their ancestors."
-Edmund Burke
---
Quotes

Library: Books, Movies, Music

Prints & Photos

Poetry

Jokes

---
---
Shops Ireland
---
Bunús na Gaeilge
(Basic Irish)

---
---
Did You Know?
---
Himself/Herself
Write to Us
Readers Write..
Links/Link to Us
---
Advertise with us

---

Help keep us free
Throughout the site you will see many items available for purchase from well-known merchants such as Amazon. Not interested in what we're featuring? It doesn't matter. Click on any link and then shop for whatever you wish - we will still get credit, if you buy something.
Thanks for your help.

---
The Salmon of Knowledge
by Grainne Rowlan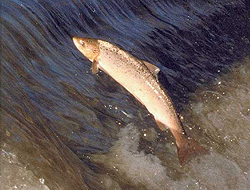 "I got him! I got the Salmon of Knowledge!" yelled Finegas, dancing up and down for joy.

Finn came running when he heard his master shout. The Salmon of Knowledge! Finegas had been fishing in the Boyne River for years and years. His only dream had been to catch this well-known fish. Whoever ate THIS salmon would gain all the knowledge in the world! Finn knew now that old Finegas could die happily.

Finn had been studying with Finegas for a year. He had already learned many things from other teachers, and now he was learning poetry from Finegas. He had learned to love old Finegas, even if he was crabby sometimes.

For even if Finegas cuffed Finn's ear or yelled at him at times, Finn always saw the twinkle in his eyes that Finegas tried to hide. So Finn was excited that Finegas had caught the fish at long last.

"Finn! Take this!" growled Finegas. Grinning, Finn took the salmon from his master. He held it at arm's length so the water wouldn't drip on his bare feet. The salmon was obviously a magic fish. Its scales were the colors of the rainbow. They sparkled brightly in the morning sun.

"Take the salmon and cook it over the fire. Make sure it is well-done, but not burned. I want the skin crackly, but not black. Be sure that you spoon the juices over it to improve its flavor. And whatever you do, DON'T take even one small bite of it!" warned Finegas.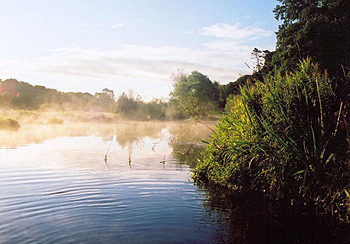 Finn's blue eyes were laughing as he put the fish on the spit over the fire. Every day Finegas told him how to cook the meals. Finn could repeat the directions in his mind exactly as Finegas said them every time. The instructions never changed. That is, they had never changed until today. Not take a bite of it! Finn guessed it must have something to do with this being the Salmon of Knowledge.

Finn turned the spit over the fire as he thought about the salmon. He wondered if or how Finegas would change after he had eaten the fish. Would Finegas still want to teach him poetry or would he make him leave and find another teacher? Finn hoped he would not have to leave, for he would miss his old teacher when their time together was finished.

"Finn! Stop your daydreaming and mind the fish!" ordered Finegas. Finn, startled out of his thoughts, checked the fish. Oh! There was a bubble on the skin. Without thinking about it, Finn broke the bubble with his thumb. Ow! That burned, thought Finn. He quickly stuck his thumb in his mouth and sucked the burned spot.

Finn's head spun! He slowly sunk to the ground. He seemed to be in a cloud. What were these pictures he was seeing? People were doing things he only slowly began to understand. They were making wonderful golden jewelry. There were crowds of people listening to a man called Patrick. Men called monks were making wonderfully colored pictures in a book called a Bible. Finn saw people leaving Ireland by the thousands. He saw people celebrating freedom. Slowly his mind cleared and he saw Finegas staring at him in wonderment.

"Well," said Finegas sadly, "I guess the Salmon of Knowledge wasn't for me after all. You are the one the old stories spoke of as he who would know all things. You no longer need me to teach you, Finn."

From that day on, whenever Finn needed to know what was happening at a distance or what was about to happen, he simply had to put his thumb in his mouth. One gentle bite would tell Finn all he needed to know. Finn became a great hero in Ireland. Stories are still told of Finn today!

Image:
Leaping Salmon
Rosnaree. Finn Mac Cumhail is said to have cooked the legendary Salmon of Knowledge here.

Index of All Children's Stories


Wed, Jan 3, 2018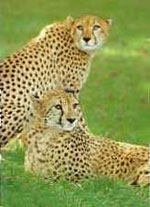 FOTA Wildlife Park
Only 10,000 cheetahs remain in their natural habitat and Fota Wildlife Park in Co. Cork, Ireland, is the world's leading breeder of this endangered species. Fota is among the most modern wildlife parks in Europe. It was opened in 1983 and has more than 70 species living in natural open surroundings with no obvious barriers. Only the cheetahs are behind fences.
Another species which is being saved from extinction at Fota is the white tailed sea eagle. It disappeared from Ireland in the early 1900's, but is now being bred at the park and re-introduced to the wild in Co. Kerry.
Fota is open to the public in the summer and is very popular with Irish families, as well as tourists.

---
"No man ever wore a cravat as nice, as his own child's arm around his neck."
- Irish Proverb

---