Traditions, folklore, history and more. If it's Irish, it's here. Or will be!
"People will not look forward to posterity who never look backward to their ancestors."
-Edmund Burke
---
Quotes

Library: Books, Movies, Music

Prints & Photos

Poetry

Jokes

---
---
Shops Ireland
---
Bunús na Gaeilge
(Basic Irish)

---
---
Did You Know?
---
Himself/Herself
Write to Us
Readers Write..
Links/Link to Us
---
Advertise with us

---

Help keep us free
Throughout the site you will see many items available for purchase from well-known merchants such as Amazon. Not interested in what we're featuring? It doesn't matter. Click on any link and then shop for whatever you wish - we will still get credit, if you buy something.
Thanks for your help.

---

A Visit With Nessie
by Grainne Rowland



The following is an interview between Irish Television (ITV) and Nessie, the Lough Ness Monster:

ITV: Well, Nessie, you're looking well today. The last time I saw you, you appeared to be very stressed.

Nessie: Yes, life was difficult in Lough Ness.

ITV: Tell me about it, please.

Nessie: There was never any privacy! If my family and I went up for air, there were thousands of people gawking at us. Flashbulbs were constantly exploding in our faces. Our eyes are very sensitive, you know. Sometimes we couldn't see well for hours afterwards.

Then there were the rude humans who threw trash at us. Lough Ness was becoming a trash dump. Even worse, some people threw things at us to see how thick-skinned we are. We are extremely delicate.

ITV: That must have been very annoying.

Nessie: Yes! But we couldn't get any peace underwater, either. Reporters and tourists raced around in boats, stirring up the waves. Or they would sit for hours in boats, hoping that we would surface near-by. How many were the times we had anchors dropped on our humps! Oh, the pain!

Even worse were the divers. My family couldn't eat a single meal without someone swimming by to watch. Once, to our horror, a yellow submarine drifted slowly by, full of people partying and blasting loud music. Of course, they were all wide-eyed to see us! Oh, no privacy at all!

ITV: Nessie, how did your life compare to other legends?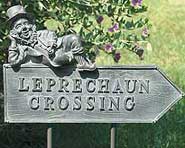 Nessie: Of course, the leprechauns have it made. They're in every book of folklore. But the leprechauns are very small and hard to catch. They can hide more easily than we can.

The Abominable Snowman is hard to bother. Who wants to go into all that cold and snow just for a glimpse of a big, hairy, smelly creature?

They say the unicorns are all gone because they couldn't swim during the big flood, you know.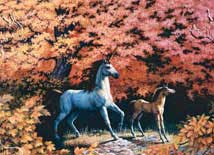 But my family and I were stuck in Lough Ness. We were nothing but a money-making scheme for Scotland. Can you believe it? Once when I came up for air, there was a man from the Tourist Board standing on shore. He had a big sign. It said, "Nessie, please stay in this area for a while. There is a rich Texan coming to see you and your family. If he sees you, he may stay for a month and spend a LOT of money. That would be very good for Scotland. I know you are a patriotic monster!"

ITV: What did you do?

Nessie: That's when I knew something had to be done. We couldn't take any more bruised and bumped humps. My youngest daughter was becoming afraid to stay by herself. My son was starting to get aggressive. He wanted to bite every human he saw. He was becoming a juvenile delinquent monster! We had to make a change.

ITV: Please tell our audience what that change was.

Nessie: I had a friend in Ireland, another of those so-called "imaginary" beings. He is a Tunnel-Bunnel. His specialty is tunneling through anything--ice, dirt, water, anything! So, he paid us a visit. We made a plan. While my family and I swam to the far end of the lake, the Tunnel-Bunnel went to the other end. We played and splashed all day, while the tourists, including the Texan, watched gleefully. The Tunnel-Bunnel was tunneling as fast as he could. After three days of being tourist attractions, we dove. The Tunnel-Bunnel was waiting for us.

He led us through a well-constructed tunnel. We swam and swam. We didn't know exactly where we were going, only that it was out of Scotland. But the Tunnel-Bunnel knew. We followed him gladly.

He led us here, to Lough Ree in Ireland. And we have had peace and quiet ever since. The Irish people give us respect and privacy. Sometimes, a family will come and bring us a snack. They will stay and visit, but only if we invite them. My children are now well-behaved, and we are all much calmer.

ITV: Have you a message for the Irish people?

Nessie: Thank you! Thank you!

ITV: This is ITV wishing you all a good evening.


This story is based on a song written by Patrick and Danny O'Flaherty entitled "Nessie". Used with permission.

Editorial Note: Many sightings of "Nessie" have been recorded, going back at least as far as St. Columba, the Irish monk who converted most of Scotland to Christianity in the 6th century. Columba apparently converted Nessie, too; for it is said that until he went out on the waters and soothed the beast, she had been very violent.

So, did the "Tunnel-Bunnel" really lead Nessie from Scotland to Ireland? In June 2000, an international team of monster hunters went to Ireland in search of a fabled serpent with the body of a giant eel and a horse-like head. Possibly the best-documented claim of a sighting was made in 1960 by three Catholic priests. Fathers Richard Quigly, Matthew Burke and Daniel Murray were fishing on Lough Ree, the Republic's largest lake and often described as an inland sea. The priests spotted a large black animal swimming up the lough. The creature rose and fell beneath the surface, forming a loop as it travelled. They estimated that it was about six feet in length. The fact that it was seen by what the local community asserted were credible witnesses prompted more people to come forward with similar sightings.

However, Daithi O hOgain, professor of Irish Folklore at University College Dublin doubts the existence of an 'Irish Nessie.' "I've read accounts of these things going back many years but my research tells me this is a culturally-based phenomenon rather than a scientifically based one. Tales of great reptilian monsters inhabiting Irish lakes had their roots in apocalyptic stories of "great beasts being cast into fiery lakes'' as told to Irish pagans by Christian missionaries in the 6th and 7th centuries."

Team leader and veteran monster-hunter, Jan Sundberg refused to be deflected. "We've talked to a lot of people about these eel creatures over the years and I can tell you there is great consistency in the stories.''


Images:
Loch Ness Monster from All Posters Prints.
Autumn Unicorn by David Jermann from Barewalls photos and Prints.
Kids Reading from All Posters.

Index of All Children's Stories


Fri, Feb 2, 2018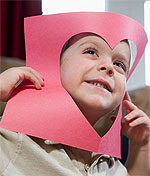 Valentine's Day in Ireland
All over the world, Valentine's Day is celebrated with flowers, chocolates and cards. But in Ireland, it's even more special. In 1836, a relic of St. Valentine was sent by Pope Gregory to the Carmelite Church in Dublin. Every year since then, on Valentine's Day, a casket containing the relic is carried in a procession to the high altar for a special Mass dedicated to young people and those in love. If you're lucky enough to be there, this little known Dublin church also sells Valentine's Day cards. But if you're like most young people, it's much more fun to give cards you've made yourself.
Photo Credit: Early Childhood Ireland

---
"No man ever wore a cravat as nice, as his own child's arm around his neck."
- Irish Proverb

---