Traditions, folklore, history and more. If it's Irish, it's here. Or will be!
"People will not look forward to posterity who never look backward to their ancestors."
-Edmund Burke
---
Quotes

Library: Books, Movies, Music

Prints & Photos

Poetry

Jokes

---
---
Shops Ireland
---
Bunús na Gaeilge
(Basic Irish)

---
---
Did You Know?
---
Himself/Herself
Write to Us
Readers Write..
Links/Link to Us
---
Advertise with us

---

Help keep us free
Throughout the site you will see many items available for purchase from well-known merchants such as Amazon. Not interested in what we're featuring? It doesn't matter. Click on any link and then shop for whatever you wish - we will still get credit, if you buy something.
Thanks for your help.

---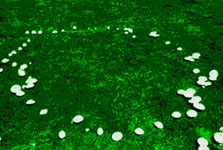 Leary's New House
by Grainne Rowland

Leary was wild with excitement! He had just married the most beautiful wife, Aine. Better yet, he had bought six acres of the best land in the county. He would build the prettiest house for Aine.

Leary, his wife, and some friends walked over the six acres searching for the best spot on which to build the home. Leary looked at a spot in the middle of a large field. It had a ring of mushrooms and many wild flowers growing in it. It was a well-favored spot!

"There!" whooped Leary. "What do you think, wife? Isn't that a pretty place to build our home?"
"No!" interrupted his friend. "Don't you see that ring of mushrooms? This is the fairies' dancing ground. You can't disturb this place. It will only bring bad luck to you!"
"Oh," scoffed Leary, "who's afraid of the fairies? They don't even exist. It's just an old story to frighten children. Shall we build here, wife?"
Aine whispered, "If you think it is safe, husband, then we will build here."
The next day Leary began to build the house. It was a strong house. The walls were built of stone. The roof was thatched. A newly-painted blue door was put up. It took a week, but the house was perfect!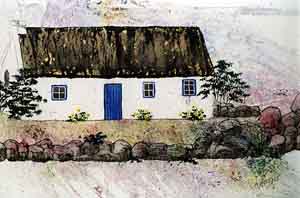 When the house was finished, Leary and Aine decided to give a party for their friends. They bought food and drink. Leary hired fiddlers, a harpist, and one who played the whistle.
The party began in the afternoon with an excellent dinner. Everyone ate until they were full. Then the music began. People danced in the house and spilled out into the yard. The music was so cheerful that even the animals in the field danced!
The guests were still dancing when the sun went down. But suddenly everyone stopped! What was that noise? It sounded as if thousands of people were working on the roof. The sounds of grunting, panting, tearing, pushing, and heaving were heard clearly. Then there was scratching at the door. Finally the scrape of stone on stone was heard. But no one was seen.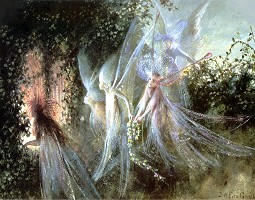 "It's the fairies," whispered a woman.
"I told you they would be angry," said Leary's friend.
"Will they tear down our beautiful home?" Aine asked tearfully.
Leary went outside. He looked all around the house and up to the roof. He saw no one, but he spoke to the invisible visitors.
"I am sorry if I have offended you," he said.
"Leary, you have built your home on our dancing field. The house must come down by midnight!" replied a small voice, but one easily heard.
"Wait," said Leary, "if you will stop tearing apart my house, I promise I will take it down myself tomorrow. I will leave you plenty of room to dance."
A thousand small hands began to clap. Tiny voices cheered.
"Well, then, since you agree to give us back our space, we will stop. Do you see that spot over there between those two trees?"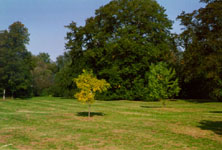 "Yes," answered Leary.
"Then build your house there. And if you will leave us a bowl of milk every night on your doorstep, we will not trouble you."
"That is a good deal," replied Leary. "It will be done."
The next day, Leary tore down his house. He began to dig the foundation of the new house where the fairies had told him.
Suddenly his shovel hit something hard. Leary dug it up with his fingers. It was a huge black pot. And the pot was full of gold coins!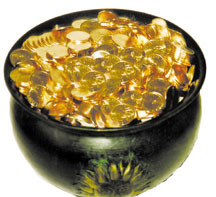 Leary and Aine lived happily ever after, and they never were bothered by the fairies again!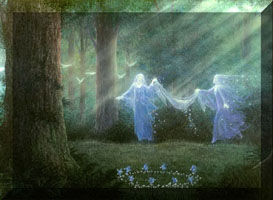 Images: House with blue door from a painting called Glimpses of Ireland by Loretta B. Wenger. Loretta was born in North Carolina and has lived with her family in the Philippines, China and Hungary. She loves animals and the great outdoors and wants her paintings to give people a feeling of harmony and peace with nature, as well as an abiding respect for our diminishing resources. Her paintings and limited edition prints can be found in many private collections throughout the world. We are very grateful that she has given us permission to feature Glimpse of Ireland in this story. To view this work and other paintings in her gallery, please click here: Blue Door
Other Images from google.com

Index of All Children's Stories


Fri, Feb 2, 2018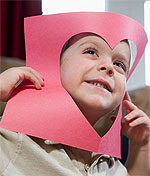 Valentine's Day in Ireland
All over the world, Valentine's Day is celebrated with flowers, chocolates and cards. But in Ireland, it's even more special. In 1836, a relic of St. Valentine was sent by Pope Gregory to the Carmelite Church in Dublin. Every year since then, on Valentine's Day, a casket containing the relic is carried in a procession to the high altar for a special Mass dedicated to young people and those in love. If you're lucky enough to be there, this little known Dublin church also sells Valentine's Day cards. But if you're like most young people, it's much more fun to give cards you've made yourself.
Photo Credit: Early Childhood Ireland

---
"No man ever wore a cravat as nice, as his own child's arm around his neck."
- Irish Proverb

---