Traditions, folklore, history and more. If it's Irish, it's here. Or will be!
"People will not look forward to posterity who never look backward to their ancestors."
-Edmund Burke
---
Quotes

Library: Books, Movies, Music

Prints & Photos

Poetry

Jokes

---
---
Shops Ireland
---
Bunús na Gaeilge
(Basic Irish)

---
---
Did You Know?
---
Himself/Herself
Write to Us
Readers Write..
Links/Link to Us
---
Advertise with us

---

Help keep us free
Throughout the site you will see many items available for purchase from well-known merchants such as Amazon. Not interested in what we're featuring? It doesn't matter. Click on any link and then shop for whatever you wish - we will still get credit, if you buy something.
Thanks for your help.

---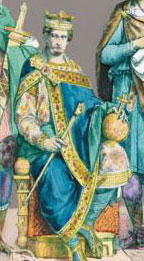 The King Has....?

Once upon a time in Ireland, there lived a king named Breas. Breas had a secret, a terrible secret! Only the king's barbers knew the secret, and as soon as the king had his yearly haircut, he had the barber thrown in jail. That way, he thought, his awful secret would never be revealed.

One spring, young Seamus was chosen by lot to cut the king's hair. Seamus' knees knocked and his hands trembled as he entered the king's room. What secret could be so horrible that knowing it would cause him to be thrown in jail?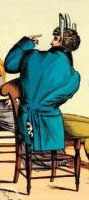 Slowly, Seamus set to work. He carefully and perfectly cut the king's hair. But as Seamus trimmed the hair on the sides of King Breas' head, he discovered the king's terrible secret! Seamus dropped his scissors and jumped back in fright. Oh, he thought, this is truly a horrible secret!

"Continue, and quickly!" roared Breas, turning red with embarrassment at having his secret found out once more. "Then you will be sent to prison like the others so that no one will ever know my secret."

At that moment, pushing past the guards, Seamus' old mother pleaded with the king.

"Please, King Breas, do not send my son to jail. He is my only child and my only support. Please do not leave me alone in the world!"

King Breas, remembering his own kind and gentle mother, looked at Seamus.

"Do you promise NEVER to reveal my secret?"

"Oh, yes!" stammered Seamus. "I will never tell what I have seen!"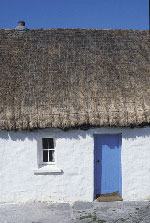 "Then you may go," said King Breas. "But if you ever tell my secret, you will be severely punished."

"Oh, thank you, sir," cried Seamus' mother, as they left the room.

Seamus returned to his cottage and cared for his mother as before. But he could not forget the king's secret. The memory of what he had seen haunted his dreams. During the day, the memory frightened him so much that he was soon ill.

"I must tell this secret," thought Seamus. "I cannot keep it to myself any longer. It is too horrible. But I will not tell a person. I will tell a tree. Then the secret will be kept."



So off hurried Seamus to the forest. He went to the very center of the woods to the tallest tree. Placing his lips very close to the tree's rough bark, he whispered as quietly as he could, "The king has donkey's ears." Immediately Seamus felt much better!

Not long afterwards, the king's harpist was in the same forest. He was searching for the very best wood for a new harp he was planning to build. As he unknowingly examined the very tree to which Seamus had told the secret, the harpist shouted, "This is the best tree in the forest! I must have the wood from this very tree for my new harp!"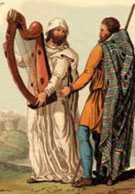 So the tree was chopped down and taken to the palace.

Several months later, the new harp was ready to be played. The king held a great dinner for all the people in the area. The harpist stepped into the king's presence and bowed low.

"This music was written especially for you, my king!"

As the harpist sat down and began to pluck the strings, everyone became very quiet. But the only sound that came from the harp was a melody that sounded very much like "The king has donkey ears! The king has donkey ears!"

King Breas leaped to his feet, shouting, "Where is the barber? He has broken his promise!"

But before the guards could find Seamus, one of the king's best friends came near.

"My king and dear friend," he smiled, "most of your people have known about your secret for years. But we knew how embarrassed you were, so we said nothing."

From that day on, King Breas was a very good king. He set free all the barbers in prison. He was surprised and pleased that none of his people minded his terrible secret. And so it was that King Breas lived happily ever after - donkey ears and all!


Images:
Les Chevaliers Gentil by Reverend F. O. Morris from Barewalls
King Carle of Cahle by Richard Brown from Barewalls
Morning Light by Tan Chun from Barewalls
Heraldic Harp from Barewalls
Cottage with blue door from Something Irish.

All Images shown are available for purchase. Any purchase made helps to support our site (and the Irish Culture & Customs fairytale). Thank you.



Wed, Jan 3, 2018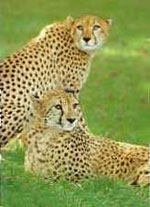 FOTA Wildlife Park
Only 10,000 cheetahs remain in their natural habitat and Fota Wildlife Park in Co. Cork, Ireland, is the world's leading breeder of this endangered species. Fota is among the most modern wildlife parks in Europe. It was opened in 1983 and has more than 70 species living in natural open surroundings with no obvious barriers. Only the cheetahs are behind fences.
Another species which is being saved from extinction at Fota is the white tailed sea eagle. It disappeared from Ireland in the early 1900's, but is now being bred at the park and re-introduced to the wild in Co. Kerry.
Fota is open to the public in the summer and is very popular with Irish families, as well as tourists.

---
"No man ever wore a cravat as nice, as his own child's arm around his neck."
- Irish Proverb

---