Traditions, folklore, history and more. If it's Irish, it's here. Or will be!
"People will not look forward to posterity who never look backward to their ancestors."
-Edmund Burke
---
Quotes

Library: Books, Movies, Music

Prints & Photos

Poetry

---
---
Shops Ireland
---
Bunús na Gaeilge
(Basic Irish)

---
---
Did You Know?
---
Himself/Herself
Write to Us
Readers Write..
Links/Link to Us
---
Advertise with us
---
Awards & Testimonials

Submissions Guide

---

Todays' Irish News



Yes, there are many news items not included here. We deliberately avoid: politics, death, disaster and other mayhem.

Sunday, August 2, 2015

---
Legendary TV host and singer Cilla Black, RIP
Spanish police have confirmed that Ms Black appears to have died of natural causes at her home. She was 72. Ms Black was born on 27 May 1943. Her real name was Priscilla Maria Veronica White and she became a popular singer before turning her hand to TV presenting. She hosted Blind Date on ITV from 1985-2003 and Surprise Surprise from 1984-2001. In an interview with the Mirror last year, the entertainer said: "Seventy five is a good age to go. If things are starting to drop off – like the hearing – and I've got twinges in the morning, I do think that." For more details and video clip, please click
Journal Ireland
.
Féile 1990: Trip to Tipp 25 years on
It was the year Ireland went to the World Cup in Italy and the country turned upside down and inside out. It was the year Nelson Mandela was released from prison in South Africa, the year the Berlin Wall was officially demolished, the year Saddam Hussein sent Iraqi troops into Kuwait and the US went in to get them out. And it was the year when a generation of Irish youngsters began to associate Semple Stadium, in Thurles, with live music rather than hurling. The Féile festival changed Irish music forever. For more details, please click
Irish Times
.
Northern Ireland top tourism attractions revealed
The Giant's Causeway came top, with 790,000 visits, followed by Titanic Belfast the Ulster Museum and Derry's Walls. In a survey of overnight stays in local government districts, one in four stays were in Belfast, with Causeway Coast and Glens coming in second. Castlereagh and Lisburn was the least popular area for overnight trips. Tourism Ireland CEO Niall Gibbons said the growth in holidaymakers coming to Northern Ireland from overseas was encouraging. For more details and graphs, please click
BBC
.
Belfast Pride 2015: sea of colour and party atmosphere
Thousands of people joined in the fun of the 25th annual Pride parade in Belfast on Saturday. The parade began at Custom House Square at 12 noon. The 2015 theme is "25 years building equality. It's time." Organisers said they expected a bigger turnout than usual at the parade following the Yes vote in the Republic's referendum on same-sex marriage and subsequent push for marriage equality in Northern Ireland. For more details, photo gallery and video clip, please click
Belfast Telegraph
.
50% of Irish people use cars for travel under 2km
Half of all Irish people use a car to travel journeys of less than 2km, (1.24 miles) while nearly three quarters of journeys outside the capital are by car. The CSO's national travel survey includes information from 10,382 respondents and gives a detailed look at the travel habits of people in Ireland. The most common reasons for making a journey in 2014 were to travel to and from work or to go shopping. The average journey distance was 14.6km ( nearly 10 miles) and on average took 22.7 minutes to complete. For more details, please click
Irish Examiner
.
Photo Credit & Related Story:
Irish Independent/Bray People
Irish war hero you probably never heard of
A Doctor's Sword' is a movie that tells the story of Dr Aidan MacCarthy, an Irish war hero. The film directed by Gary Lennon traces the story of the doctor during his time with the British air force in Europe, Singapore and Japan. Some few years before his death in 1995, Dr Aidan MacCarthy, a proud son of the Beara peninsula, mused upon his extraordinary experiences in the second World War. For more details, please click
Irish Times
.
Team Ireland celebrates 86 medal tally in LA
On the final day of competition yesterday, the team won another 16 medals. Overall, Irish athletes won a total of 26 gold medals, 29 silver medals and 31 bronze. Irish team members also won a further 43 placing ribbons and recorded 31 personal bests. The closing ceremony takes place in the early hours of tomorrow morning Irish time at the Coliseum stadium in Los Angeles. Team Ireland is expected to be welcomed home at Dublin Airport at around 8am on Tuesday morning. For more detaphotos, and video clip, please click
RTÉ
.
Irish win four medals so far at British Transplant Games
Mike Keohane from Clonakilty, Co Cork, won a gold medal in the 5km Race Walk event and Peter Heffernan, from Skerries, Co Dublin, secured a bronze in the 50m backstroke event. Yesterday James Nolan (pictured) from Kilcullen, Co Kildare, won a silver medal in golf and Tony Byrne, from Artane, Co Dublin, also picked up a bronze medal in 10-pin bowling. There are nine Irish athletes in total competing at the annual games,which are hosting 800 athletes from countries all over the world. For more details, please click
Irish Independent
.
Photo Credit: Irish Kidney Association
NI's Jonathan Rea close to winning World Superbike Championship
Jonathan Rea is on the brink of winning the World Superbike Championship after taking a win and a second place in the Malaysian round at Sepang on Sunday. The Kawasaki rider came from seventh on the grid to win race one but was edged out by Chaz Davies in the second race. The Northern Ireland rider enjoys a 144-point lead over nearest rival Chaz Davies, with six races still to go. Rea is now poised to secure the title at the next round of the series at Jerez in Spain on 20 September. For more details, please click
BBC
.
Photo Credit: Getty Images
---
Past Two Weeks
August 1

Pearse's oration delivered at O'Donovan Rossa funeral centenary
A re-enactment of the oration by Pádraig Pearse at the funeral of Fenian leader O'Donovan Rossa has been delivered at the centenary event in Glasnevin Cemetery in Dublin. President Michael D Higgins led the official State commemoration, which is the first event of the national 2016 commemorative programme. It marked 100 years since the funeral of Jeremiah O'Donovan Rossa in 1915, which was one of the largest of its kind in Ireland. President Higgins laid a wreath on behalf of the Irish people and the famous oration, which Pearse gave at the graveside 100 years ago, was delivered by Jim Roche. For more details, photos and video clips, please click RTÉ.


Queen's University astronomers find Earth-like planet
This new-found rocky world has been named HD219134b and is orbiting a star only 21 light years from our planet in the nearby Cassiopaeia galaxy. According to Dr Chris Watson from the Astrophysics Research Centre at Queen's, the planet is "another of these super-Earths basically in our backyard with an almost Earth-like orbit". It is so significant because of the millions of stars. Only a few hundred are within sight of Earth. For more details, please click Belfast Telegraph.


Wildlife is as much a part of Ireland's heritage as its castles
The need to appreciate "where we came from" and to pass on Irish identity and tradition to the next generation have been intensifying steadily, from a 12 per cent endorsement in a 1999 survey to 50 per cent this year. Trailing after the 80 per cent for castles, wildlife may be slow to rank as heritage in popular regard – only 39 per cent counted it in – but this doesn't mean it lacks interest in its own right. For more details, please click Irish Times.
Illustration: Michael Viney


Beluga whale seen off Antrim coast
Marine researchers have said a beluga whale has been sighted off the County Antrim coast near Dunseverick. It is believed to be the first time the Arctic species has been recorded in Northern Irish waters. Dr Peter Evans, director of the Seawatch Foundation, said a fall in sea temperatures could be why the whale strayed so far from its usual habitat. "A beluga whale is extremely unusual," he said. "It's the first record that we know for Northern Ireland and in fact there's only been about a dozen in 50 years for the whole of Britain and Ireland. For more details, please click BBC.


It's officially summer when Graham Norton returns to Cork
The Bandon native spends a large portion of his summer in his native county where he owns a holiday home near Bantry on the Sheep's Head peninsula. Joined by his two cherished dogs Bailey and Madge, the chat show king has been keeping fans on Instagram up to date of his return to home soil.Graham returns to Cork for two and a half months every summer during a break from his BBC hosting duties. For more details and pics please click Irish Independent.


Festival fever grips Ireland over bank holiday weekend
It's a bumper bank holiday festival weekend around the country. Over 100,000 visitors are expected at the Waterford Spraoi International Street Arts Festival. Music, acrobatics, pyrotechnics, comedy, urban circus, science and the acclaimed Festival Parade are part of the line-up of street shows, with those attending told to "expect the unexpected around every corner". For more details pics and video clip, please click RTÉ.


After a glorious week, it came - rain in biblical proportions
There have been quite a few famous weather years in Galway and Friday of 2015 took the biscuit. After so much drinking, punting and carousing, it was like the Gods decided it was time to put a stop to the debauchery and opened the heavens. Not that it stopped the crowds. Defying all logic and reason, out they came. Hats, high heels the works. Umbrella sellers were out in force and at a fiver a pop, they cleaned up. For more photos and details, please click Irish Examiner.


Team Ireland smash record medal haul
Team Ireland claimed an amazing haul of 37 gold medals on day six of the Special Olympic World Games in Los Angeles. It was Ireland's best ever day with athletes from Antrim, Carlow, Cork, Dublin, Galway, Kerry, Kildare, Louth, Mayo, Meath, Tipperary, Tyrone, Waterford, Westmeath and Wexford winning either medals or merit ribbons.Once again it was the gymnasts who lead the way picking up four gold, seven silver and three bronze. Team Ireland now has an overall medal haul of 70. For more details, please click RTÉ.
Photo Credit & Related Story: Journal Ireland/SportsFile


Co Antrim make Milk Cup history
Cou Antrim beat Club America 3-2 on penalties, after the match ended 1-1, to become the first team from Northern Ireland to win the Premier section of the Milk Cup youth football tournament. Jack McAlister saw his initial shot saved but Ryan Nimick headed in on the rebound after just 26 seconds. Ricardo levelled with a clinical left-foot finish in the 56th minute. Antrim goalkeeper Jack Ferguson was the hero for his side in the shoot-out, making three crucial saves. For more details and video clip. -please click BBC.
Photo Credit & Related Stpry: Belfast Telegraph

July 31

President Higgins to lead patriot's 'funeral'
The funeral of Fenian patriot Jeremiah O'Donovan Rossa in August 1915 will be remembered a century later in Dublin tomorrow in the first State ceremonial event of the Ireland 2016 Centenary Programme. President Michael D Higgins will lead the official representation at the graveside of the Cork-born rebel at Glasnevin Cemetery. After the President lays a wreath, there will be a minute's silence followed by a piper's lament and, before a volley of shots is fired over the grave. For more details, please click Irish Examiner.
Photo Credit & Related Story: War Talk


NI man first in the world to be fitted with pioneering heart pump
A golf ball-sized heart pump could transform thousands of dying patients' lives after a Co Down man became the first person in the world to have it fitted. Harry Chivers, from Bangor, received the £80,000 miniaturized ventricular assist device (MVAD) two weeks ago. His health was failing after he suffered a heart attack in last August.and he was waiting for a heart transplant when the possibility of pioneering the pump arose. Experts have said the new pump is a "huge step forward" for heart patients.For more details, please click BBC.


300 new jobs for Tipperary
A new occupier has been found for the former Johnson & Johnson plant in Cashel. Amneal Pharmaceuticals bought the 200,000-square-foot facility with plans to manufacture inhalers and other generic, specialty medicines. When the factory is fully operational, the company said it will require between 250 and 300 staff. Jobs Minister Richard Bruton welcomed thenews saying that in the past three years the South East "has seen the fastest rate of jobs growth in the country". For more details, please click Journal Ireland.
Photo Credit: Shutterstock


It's official! Ireland's favorite alcoholic drink is Guinness
The old mainstay accounts for 34% of the total volume share of the market in the Republic of Ireland, and 19.8% share in Northern Ireland. This information, which comes in newly released sales data from umbrella company Diageo Ireland, shows steady sales figures for a number of the company's other products. Internationally, Guinness has seen growth in the United States market, where it grew by 3%, and Western Europe, where it grew by 2%. For more details, please click Journal Ireland.
Photo Credit: PubFinder Ireland


Goodbye hipsters - hello yuccies
It's official - the hipster is no more. Young, urban creatives are the latest tribe to take over Ireland's cities. After years of pop-culture dominance characterised by full beards, tight jeans and a fondness for craft beer, artisan coffee and lumberjack chic, drinks are now served in jam jars everywhere from Kerry to Killybegs, brunch is ubiquitous and thanks to Spotify, we've all heard of that obscure band whose early stuff is awesome. For more details, please click Irish Independent.


Colossal Game Of Thrones ice wall could become a permanent fixture
The 300-mile barrier defending the realm from Wildlings, White Walkers and giants in the popular fantasy series is actually a disused cement works in Co Antrim overlooking the Irish Sea. It has been transformed into a barricade of ice manned by the Night's Watch military order. Now local councillors want HBO to leave the set behind once filming ends. East Antrim DUP MP Sammy Wilson said: "It is a magnificent site and it would be a massive tourist attraction…" For more details, please click Belfast Telegraph.


Irish film Room joins Oscars race
Room, the Lenny Abrahamson film adaptation of the Emma Donoghue bestseller, is to be released in the US in October, a key month in the build-up to awards season. The film tells the story of Jack a five-year-old boy growing up with his mother in a shed which he believes is the whole world, while she hides from him the fact that they are captives. Room will be released in New York and Los Angeles on October 16 before nationwide US release on November 6. It will also screen at the Toronto International Film Festival in September. For more details, please click RTÉ.


Third time's the charm for best-dressed Alex at the Galway Races
Racing took a back seat in Galway yesterday as folk with a passion for fashion flocked to Ballybrit. The big winner was Alex Butler from Ballyedmond, Midleton, Co Cork, who scooped the Kilkenny Best Dressed Lady title and a prize worth over €10,000. The Cork woman took the prize for a stunning one-shoulder mid-length red dress by Teria Yabar and headpiece by acclaimed Leitrim milliner Jennifer Wrynne. She accessorised her outfit with nude Louboutins — a present from her boyfriend. For more details, please click Irish Examiner.
Photo Credit. More Pics & Related Story: Irish Herald


33 medals for Team Ireland at Special Olympics… so far
At the end of day five at the 2015 Special Olympics World Games in the United States, Ireland had increased its haul of medals to 33. The team has won an extra four gold, two silver and five bronze medals in disciplines including athletics, equestrian, table tennis, badminton and bowling. The Irish kayakers were in action on Long Beach, with Nuala Browne from Tyrone taking silver with bronze for Rita Quirke from Co Kildare in the 500 metres. They added to a bumper day in LA! For more details, please click RTÉ.

July 30

Legendary commentator Peter O'Sullevan, RIP
Known to many as simply the 'Voice of Racing', Sir Peter has died at the age of 97. O'Sullevan was the commentator for the BBC for 50 years, a tenure stretching from 1947 until his retirement in 1997. Known for his sharp mind, even well into his later life, he had a delivery like no other and his description of the 1977 Grand National, which was Red Rum's famous third success, and Desert Orchid's popular Cheltenham Gold Cup victory in 1989 will never be forgotten. For more details, please click RTÉ.


Ireland's most popular surnames
The Central Statistics Office has compileda list of Ireland's most popular surnames and results show that Murphy is still the most common surname — a trend that remains unchanged for more than 100 years. Another quintessentially Irish surname, Kelly, comes a close second followed by Byrne and Ryan. The top 10 was compiled using the surnames of babies registered in 2014. The top 10 is completed by Walsh, O'Sullivan, Connor, Doyle and McCarthy . Surnames falling just outside the top 10 include O'Neill, Lynch and O'Reilly. For more details, please click Irish Examiner.


An Post issue stamp for centenary of rebel O'Donovan Rossa's funeral
The centenary commemorations of a pivotal moment in Irish history continue today with the unveiling in Rosscarbery, Co Cork of An Post's new 70c stamp, featuring a photograph of Pádraig Pearse delivering his historic oration at the graveside of Jeremiah O'Donovan Rossa on August 1, 1915. The speech at the graveside after the funeral is credited with lighting the fuse for the 1916 revolution. One hundred years ago this Saturday, Pearse began his speech by explicitly claiming to represent the new generation of Irish Volunteers. For more details, please click Irish Examiner.


Belfast scientists design method to reduce costs of purifying natural gas
The system reduces the carbon dioxide content using a mixture of technology and ionic liquid salts. The new process is aimed at reducing the global environmental and economic costs of purifying natural gas, which is by far the cleanest burning fuel available in large amounts, developers from Queen's University Belfast (QUB) said. In comparison to current conventional purifying systems, which use volatile and corrosive materials, the new system is safer, more efficient, and more environmentally friendly, they added. For more details, please click Belfast Telegraph.
Photo Credit & Related Story: Science Daily


New York fashion week to showcase 10 Irish designers
Ten Irish fashion brands are to be showcased on the first day of New York fashion week in September as part of a €50,000 promotional effort. The event will be held in the Irish Consulate in Manhattan as part of Irish Design 2015. Details were announced yesterday by Minister for Diaspora Affairs Jimmy Deenihan, event promoter Marietta Doran and Orla Diffily, co-founder of Kerry fashion week. It is the first of what they hope will be a regular annual showcase for Irish fashion in New York. For more details, please click Irish Times.
Photo Credit: Sara Freund


Liam Gallagher namechecks Noel in new song performed in Irish pub
Liam Gallagher performed an unknown song during an impromptu set last Sunday at a pub in Charlestown, Co Mayo. The former Oasis frontman surprised punters at JJ Finan's pub by joining local musicians in the bar where he played a few songs on his guitar. Gallagher is believed to be holidaying in Charlestown with his son Lennon, brother Paul and other family members. The singer is no stranger to the town with his mother Peggy hailing from the locality. To watch him perform the song, please click NME.
Photo Credit & Related Story: Irish Herald.


President recalls Galway heyday
President Michael D Higgins may be a Galway regular, but since taking the top office in the land he's keeping mum on his wilder days at the track. The Galway Races are a favourite of the President, who in days gone by would spend much of the week in Ballybrit. "There is always a great atmosphere. Obviously, in my changed position, I can't tell you anything about the evenings of the Races - but I'm sure you're more than capable of finding those out for yourself," he laughed. For more details, please click Irish Independent.


Team Ireland's winning streak continues
Team Ireland has secured a further seven medals on day four of the 2015 Special Olympics to bring their current total up to 22 medals. Fifteen-year-old Déarbháil Savage from Mowhan, Co Armagh, won gold as part of the equestrian team. Caroline Brennan, Head Equestrian Coach, said that Déarbháil was a very popular figure at the games in Los Angeles. "Déarbháil is thriving on all of the attention out here at the games – everyone loves her," Ms Brennan said. For more details, please click Irish News.
Photo Credit & Related Story: BBC


Carl Frampton's luxury home for sale
World boxing champion Carl Frampton and his wife Christine are selling their palatial home in Banbridge to move closer to family in Belfast. Speaking from Galway, where he was enjoying a well earned break with his wife and their two children Frampton said they both loved the house and the area. However, his training schedule, which sees him spend a lot of time away from home, has meant that Christine is finding the rural idyll just too much on her own. For more details, please click Belfast Telegraph.

July 29

Incredible photographs show impact of the Rising
Trinity College Dyblin has compiled a selection of rare photographs and letters documenting the havoc wreaked on Dublin city centre during the Easter 1916 Rising. In a new blog, Changed Utterly (inspired by the WB Yeats poem Easter 1916), the university will highlight an item or collection each week such as diaries, letters, photographs and items of clothing. Estelle Gittins, Assistant Librarian at Trinity, said the blog showcases as yet unpublished records written by ordinary people. For more details, please click Journal Ireland.
Photo Credit: Digital Resources & Imaging Services


Wild Atlantic Way destinations most popular for Irish holidaymakers
That's according to a new survey by Easytrip which reveals that Ireland's beautiful Atlantic coast is the biggest draw for Irish people holidaying at home. The research showed that Kerry continues to attract 28pc of Irish people holidaying in the country, while Cork and Mayo place third and fourth on the list respectively. Ahead of the August Bank Holiday, the research found that some of the most popular tourist hubs will be Connemara and Dingle. For more details, please click Irish Independent.
Photo Credit: Getty Images/National Geographic


Anne Enright makes Man Booker Longlist
Irish author Anne Enright's The Green Road features on this year's Man Booker Longlist which has just been announced. Cris Murdoch was the first Irish writer to win the prize in 1978 with The Sea, the Sea. In 1993 Roddy Doyle won for Paddy Clarke Ha Ha Ha. In 2005 John Banville's The Sea gained the accolade and Anne Enright won for her novel The Gathering in 2007. The shortlist will be announced on Tuesday September 15 and the winner will be announced on Tuesday October 13. For more details, please click RTÉ.
Photo Credit: Getty Images


Strong Irish line-up for Toronto Film Festival
New films starring Gabriel Byrne, Colin Farrell, Domhnall Gleeson and Saoirse Ronan, and directed by Lenny Abrahamson and John Crowley, are part of the line-up for the Toronto International Film Festival in September. Brooklyn, the John Crowley-directed adaptation of the Colm Tóibín bestseller, which stars Saoirse Ronan and Domhnall Gleeson, will receive its Canadian premiere, as will Room, Lenny Abrahamson's film of Emma Donoghue's award-winning book. For more details, please click RTÉ.


Cork's largest hotel on the market for €30 million
The four star Clarion Hotel is going on the market today. The 191-bedroom hotel which opened in 2005 has a waterfront position within the City Quarter development on Lapps Quay. The hotel is being sold through joint agents JLL and Savills, Savills stated that: "The sale comes as recent reviews show that the Cork hotel market has recorded five consecutive years of growth and is outperforming UK cities such as Birmingham, Bristol, Cardiff and Glasgow." For more details, please click Journal Ireland.


Belfast groom shocks bride with hilarious wedding dance routine
Belfast groom Daniel Ryder had a little something extra special to surprise his new wife on their big day. Daniel wanted to give his bride Daniele Rooney a little something extra to remember their big day, so he choreographed a special dance routine. Daniel and his six friends shocked Daniele when they started to bust a move to a whole medley of songs during the couple's wedding reception at Galgorm Resort and Spa, Ballymena. To watch the video, please click Belfast Telegraph.
Photo Credit & Related Story: Mirror


Tiny Donegal calf could be world's smallest
Shorty, as farmer James Vance's family are calling her, is the daughter of Ruby and granddaughter of Ella which last year competed for entry in the Guinness Book as the world's shortest cow Ella, at 78cm, was hailed as the world's shortest for several months before she was beaten to the title by Manikyam at 61.5cm on a farm in Kerala, India. James and his wife Laura believe their Shorty, when she is fully grown, could win the title back for Ireland. For more details, please click Belfast Telegraph.


Double gold for Belfast gymnast at Special Olympics
Kirsty Devlin has won two gold medals and two silver at the the 2015 Special Olympics World Summer Games in Los Angles. The 20-year-old won gold in the Ribbon and Rope events with silver coming in the Ball and All Round categories. "I'm so proud - the tears are in my eyes watching Kirsty. She's just amazing," said her mum Elizabeth. "The whole family is so proud of her. There are four of us out here in LA supporting Kirsty - myself, my brother and his wife and my son," she added. For more datails, please click BBC.
Photo Credit & Related Story: The Irish News


Army of Irish volunteers bring experience to bear at LA games
They are marshalling the stadiums, serving the dinners and even directing the buses. A small army of volunteers from all over Ireland are using the expertise they gained during the 2003 Special Olympics in Dublin to help ensure the Los Angeles Games run smoothly. More than 150 people signed up to help the local organisation. They had to raise €4,000 each before being assigned a variety of duties at venues across the City of Angels. For more details, please click Irish Independent.

July 28

Irish whiskey must be made on the island of Ireland
The Irish government has brought in tighter regulations to prevent other countries making their own whiskey. Under European law, Irish whiskey, poitín and cream have "protected geographical indications" that recognise their regional importance and distinctive characteristics. It means that the spirits must be produced on the island of Ireland and annual verification checks will now be carried out to ensure Irish distillers meet the required specifications. For more details, please click BBC.
Photo Credit & Related Story: FSR Magazine


Uber promises 150 jobs for Limerick
The international transportation network company Uber is to establish a customer services hub on Thomas Street in Limerick city centre (pictured), which it says will create 150 jobs by the end of the year and around 300 when it is fully operational. General Manager of Uber Ireland Kieran Harte outlined the type of jobs that will be on offer: "Some will be managerial, some will be administrative. We will be looking for data analysts and process engineers. The majority of the roles, though, we are looking for tech savvy problem solvers…" For more details, please click RTÉ.
Photo Credit & Related Story: Limerick Leader


Young Irish lad makes medical history
Luke Martindale of Dromahaire, Co Leitrim, needed an urgent liver transplant. But he became so unwell that doctors at King's College Hospital in London who had a suitable organ to give him, could not operate because he would not survive. However, medics experimented by hooking him up to an extracorporeal membrane oxygenation (ECMO) machine which supports the heart and lungs when a patient's own organs start to fail. It proved a miracle for Luke, who was able to buy time and within two hours he was strong enough to have the transplant. For more details, please click Irish Independent.


The Cliffs of Moher - why you shouldn't stand on the edge
On the Cliffs of Moher, there's a sign that reads: 'Please do not go beyond this point'. It's ignored by absolutely everyone, as tourists crawl out to the edge for a photo. However, photographer Jan Mlázovský captured a dramatic photo to remind us that the Cliffs are the site of constant erosion - and portions of the rock face collapse without warning. For a full view of the photo, which was taken last May, please click Breaking News Ireland.


The summer party better known as the Galway Races
With the Galway Arts Festival just ending and the Ballybrit extravaganza just started, these are always a heady few weeks in the West. There may be more prestigious racing festivals, but you can't argue with the numbers. Galway is simply huge. It is the second-biggest Irish racing festival in betting terms by some distance — only Cheltenham is ahead for Irish punters. An estimated €60m will be wagered over the week. Paddy Power said that, in the hour before the Galway Plate and Galway Hurdle, around 60,000 bets will be placed online. For more details, video clip and pics, please click Irish Examiner.
To read our article, please click The Galway Races
Photo Credit & Related Story: Irish Times/Cyril Byrne


Irish cinematographer back on Game of Thrones
Kerry cinematographer PJ Dillon has rejoined the crew of Game of Thrones for its upcoming sixth season, which is currently filming in Belfast. He previously served as Director of Photography on the Game of Thrones season two episode What Is Dead May Never Die. His other credits include the series Vikings, Penny Dreadful and Ripper Street, which are all made in Ireland; and the Irish films The Runway, 32A and Kings. To read this news item and many others, please click RTÉ.


Irish model lands job as body double for Kim Kardashian
Galway model Shahira Barry's latest job was standing in for the reality star as they were fliming set-up shots for promos of the new season of their E! reality show. Shahira didn't have to audition for the role as a production assistant spotted her while filming a "Subway commercial" a few months beforehand. "I was booked as Kim's stand-in - I was very flattered and it was definitely a confidence boost," she said. For more details, please click Irish Herald.


Sarah Jane Johnston wins second World Special Olympics medal
Co Armagh swimmer Sarah Jane Johnston has secured a second bronze at the 2015 Special Olympics World Summer Games in Los Angles. The 35-year-old from Lurgan followed up her bronze in the 100m backstroke on Sunday by finishing third in the 100m freestyle event. "I am very happy and proud of my performances and I am really enjoying the World Games," she said. Sarah is one of 12 Ulster athletes in the 88-strong Ireland team competing in Los Angeles until next Sunday. For more details, please click BBC.
Photo Credit & Related Story: Sport Northern Ireland


The Cork man running the world's toughest race
Padraig Mullins is a self-employed electrician who is originally from Rathpeacon in Cork, but has been living in Boston since 2004. He's is not entirely sure how the running bug bit in the first place, though it may well having something to do with watching his father, Tommy, running ten marathons when he was younger. This evening, Mullins puts his love for ultra-running to the ultimate test when he takes part in the Badwater 135 mile (217km) race from Death Valley to Mount Whitney in California. For more details, please click Journal Ireland.

July 27

Pilgrims persevere and climb Ceoagh Patrick despite bad weather
When high winds whisked the glass oratory off the tiny church on Croagh Patrick's summit, John Cummins knew the mountain was in trouble. Cummins, who once had his wedding up there, phoned Westport parish priest Fr Charlie McDonnell at 4.45am yesterday, and told him he hadn't seen anything like it in 47 years. "One man who had decided to make the climb during the night had to lie flat on the ground when he reached the top, "Fr McDonnell was told. Yet the car park at Murrisk still began to fill. For more details, please click Irish Times.
Photo Crdit Dara Mac Dónaill


Biopharmaceutical firm to create 130 jobs in Dublin
PAREXEL is to create the jobs at its new "global decision-making hub" in Kilmainham, Dublin, it was announced today. The biopharmaceutical services firm is recruiting over the next 12 to 18 months across all areas of their business. Welcoming PAREXEL's announcement, Martin Shanahan, CEO, IDA Ireland said "PAREXEL's decision to locate in Ireland is an endorsement of the skills available to biopharmaceutical companies here. For more details, please click Breaking News Ireland.
Photo Credit: On Line Media


Charts show how much Irish jobs have changed in less than one generation
It was less than forty years ago that manufacturing overtook farming and fishing as Ireland's biggest employer. A few years later jobs in commerce, insurance and finance also leapfrogged those in the country's long-dominant agriculture industry, which in the mid 1900s had accounted for over four in every 10 workers. But you don't need to look back that far to see major changes in how Irish people have earned a crust, with a huge shift from the farm and the factory into offices and customer service. For more details, please click Journal Ireland.
Photo Credit: RollingNews.ie


People are loving these three lads Irish dancing at UCC
You wouldn't exactly expect University College Cork (UCC) to be the scene of a hip dance video that goes viral but three Irish dancers have managed to make that happen. Choreographer Kieran Hardiman teamed up with dancers Alan Kenefick and Ciaran Plummer for the video. It is set to the iconic speech given by Charlie Chaplin in The Great Dictator and the music of Mind of a Beast by The Glitch Mob. Since it was posted on Facebook over the weekend it has been shared more than 5,000 times. To watch the video, please click Journal Ireland.


Lady Gaga joins U2 onstage in New York
U2 were joined onstage by Lady Gaga as the band continued their series of concerts at New York's Madison Square Garden on Sunday night. Gaga, in her famously high Alexander McQueen heels, joined the group for a performance of Ordinary Love, the track which was written in honour of Nelson Mandela and which was on the soundtrack to the film Mandela: Long Walk to Freedom. Hugging and kissing the singer, Bono said: "It's yourself. Her Ladyness, Her Gaganess is here this evening. That's a treat." For more details, please click RTÉ.
To watch the video, please click Lady Gaga


Irish student wins bronze medal at International Linguistics Olympiad
Luke Gardiner from Gonazaga College in Dublin, came third in the international problem-solving contest, which challenges students to test lateral thinking skills by decoding some of the world's toughest problems in logic, language and linguistics. Dr. Cara Greene, who led the Irish delegation noted that this is Ireland's first medal after seven years of competing in the contest. "This makes Luke's performance very noteworthy," she said. Gardiner is planning to study Mathematics at university next year. For more on this story please click Irish Independent.


At the venerable age of 90, Hugh Gallagher wins gold
Hugh Gallagher is up every morning at 8am to begin a rigorous three-hour training regime, which includes 200 sit-ups and 200 push-ups daily. His medal haul includes gold in more than 150 All Ireland track and field competitions. And the father-of-12 shows no sign of slowing down as he competed in the GloHealth National Master Track and Field Championships in Tullamore, Co Offaly, yesterday, where he won the over-90's Long Jump event. For more details, please click Irish Independent.


Watch Colin Farrell just being one of the lads at the Special Olympics
Colin Farrell is a long-time supporter of Special Olympics Ireland, and was on hand last night to accompany Team Ireland at the opening ceremony in Los Angeles. And he had great fun doing so, it seems. Interviewed by photo agency Sportsfile for Special Olympics Ireland, Colin was prepped ahead of a quick segment wishing the athletes good luck. The chat was so good, though, the photo agency decided to release the uncut footage of Colin just being a sound Dublin lad. To watch the video, please click Breaking News Ireland.


Team Ireland swimmers blazing a trail at Special Olympics
As the first day of competition got under way at the 2015 Special Olympics World Summer Games in Los Angeles (LA2015) yesterday, Team Ireland are blazing a trail, winning three medals – one silver and two bronze with a host of personal bests achieved. Team Ireland swimmer, Sean Coleman from Youghal, Co. Cork won a silver medal in the 25m backstroke; Gary McEnroe from Tallaght, Dublin bagged a bronze medal in the 25m backstroke and Sarah Jane Johnston from Lurgan, Co. Armagh won a bronze medal in the 100m backstroke. For more details, please click Irish Herald.
Photo Credit, Related Story & Videp Clips: Irish Examiner.

July 26

Holy mountain climb on Croagh Patrick cancelled
The annual pilgrimage to Ireland's holiest mountain - Croagh Patrick in County Mayo - has been cancelled due to bad weather. Up to 30,000 pilgrims traditionally climb the mountain on the last Sunday in July, known as "Reek Sunday". Some complete the climb barefoot and in the dark, commemorating St Patrick's ascent to the summit. The tradition of climbing the 764m high mountain on the last Sunday in July stretches back to 441 AD. For more details, please click BBC.
Photo Credit & Story: Irish Times/Dara MacDonald
Related Article: Irish Culture & Customs


Corkman named auxiliary bishop of Los Angeles
Monsignor David G O'Connell was one of three new auxiliary bishops recently announced for the archdiocese of Los Angeles, which has about 5m members and is the largest archdiocese in the US. Bishop-elect O'Connell's appointment was welcomed by Archbishop José H Gomez who praised the Irish priest at a press conference in LA: "He is one of the most respected leaders in the church and in the local community," Archbishop Gomez said. For more details, please click Irish Examiner.


Plans announced for annual famine commemoration
Plans have been announced for the annual famine commemoration, which pays tribute to those who suffered through death and emigration in Ireland between 1845 and 1849.For the first time since the event was established in 2008 the commemoration is to be held in Northern Ireland. The programme includes a series of lectures and musical events at the Ulster American Folk Park near Omagh, and other venues including Warrenpoint Harbour in Co Down, where thousands of emigrants left for Canada in mid 1840s. For more details, please click RTÉ.


Fáilte Ireland releases shortlist of top 15 tourism towns
According to Fáilte Ireland, the towns selected will now be subject to unannounced inspections by 'secret shoppers' over the coming weeks. The list then gets narrowed down to 10, then both the best large and small tourism town will be announced in November. Co Kerry has the most towns featured on the list with five entries, while Co Cork has three This is the fourth year the awards have been held. For more details, please click Irish Times.
Photo Credit: Dara Mac Donail


Reviving the fortunes of a small historic village in Sligo
A bright new cafe has just opened in Easky, the latest in a series of local ventures reviving the fortunes of this small historic village whose rugged coastline is popular with surfers. Dervla James, better known for her Pepper Pot cafe and its famous bagels in the Powerscourt Centre which she runs with Marion Kilcoyne, returned home to open the cafe and bakery named after a street where she lived when a student at the National Bakery School in Dublin. For more details, please click Irish Times.


Fewer church bells ring out for weddings, report shows
According to the Annual Report of the Registrar General, Kieran Feely, traditional church weddings are still the ceremony of choice for most Irish couples, accounting for 14,972 marriages in 2014. However, the proportion of civil marriages is on the increase and the rate of religious marriages fell from about 71pc of the total in 2009 to 68pc last year. "There has been a marked increase in the number of civil marriages over a lengthy period," the report said. A further 4pc of marriages were defined as "secular". For more details, please click Irish Independent.


Ed Sheeran - every inch the honorary Irishman
Wearing his trademark check shirt, runners, and a slightly more straggly beard, Ed Sheeran dazzled tens of thousands of devoted fans in Croke Park last night (Friday). He took to the stage with an explosion of colour behind him. "My name is Ed and you have to sing along, and dance along, and clap along," he encouraged. He didn't need to, as every lyric was sung right back at him. He assured everyone everything was live and that "hand on heart", Ireland is his favourite place to play in the world. For more details, please click Irish Examiner.
Photo Credit & Related Story: Irish Independent


Ireland's 2018 World Cup qualifier schedule released
The Republic of Ireland's 2018 World Cup qualifying campaign will commence in Serbia and conclude in Wales, it has been revealed. The qualifying draw for the first World Cup to be held in Russia, which was held in St Petersburg on Saturday, has pitted Ireland against Wales, Serbia, Austria, Moldova and Georgia. The winners of each of the nine European qualifying groups will gain automatic progress to the finals stage of the World Cup. For more details, please click RTÉ.
Photo Credit & Related Story: Irish Independent

July 25

President Barack Obama anxious to visit Ireland to play some golf
That's according to Taoisech Enda Kenny who said "I've spoken to the President on a number of occasions and to the vice-President, I know they're anxious to come to swing the clubs, and the invitation is wide open." The American president's eighth cousin Henry Healy said that talks were underway to make the visit happen. "When we were over in Washington in March, President Obama's chief speechwriter Cody Keenan said the President was interested in coming back to Ireland before his Presidency ends." For more details, please click Irish Independent.
Photo Credit: Pete Souza


Drumcliffe grave yard still a draw for Yeats fans
Students arriving for the Yeats International Summer School in Sligo this weekend will continue to visit the poet's grave in Drumcliffe, according to Yeats Society president who stressed, "nothing will change". Martin Enright said a visit to the grave remained a highlight for students attending the school, despite the emergence of new documents that cast doubt over whether his remains are buried there. "If you were trying to select one place to commemorate Yeats, Drumcliffe would be the number one," Mr Enright said. For more details, please click Irish Times.
Photo Credit: JFH/Find a Grave


Exploring the heritage sites of Co Carlow
Huntington Castle was first constructed by Sir Laurence Esmonde in 1625. Sir Laurence was an experienced soldier in the service of Elizabeth I, who later became major-general of King James I's forces in Ireland, and governor of Duncannon Fort. He was rewarded for his loyal service with a peerage, becoming Lord Esmonde. He caused quite a family scandal, when he married Ailish O'Flaherty, a devout Catholic and granddaughter of the Pirate Queen Gráinne Mhaol. For more details, please click Journal Ireland.


West Cork's Skibbereen enacts O'Donovan Rossa inspired parade
Apart from the sea of smartphones capturing every moment, and the occasional teen in denims, you could be forgiven for thinking you'd just stepped out of Back to the Future's DeLorean and straight into the 1800s. The brainchild of UCC historian Gabriel Doherty and local man Declan McCarthy, the Jeremiah O'Donovan Rossa torchlit parade was held to celebrate the centenary of the death of Irish patriot O'Donovan Rossa, a native of Skibbereen. For more details, please click Irish Examiner.


Merchants Hotel launches Ireland's first dedicated water menu
The five-star Belfast hotel has been home to the world's most expensive cocktail and now it has turned its attention to water by launching Ireland's first dedicated water menu. The handpicked selection has been curated to include some of the world's purest waters, with bottles originating from 10 countries including Italy, Iceland, Finland, the Faroe Islands and Fiji. Prices start from £4.95 and go right up to £26.45 per bottle. For more details, please click Belfast Telegraph.
Photo Credit & Related Story: Journal Ireland/Matt Mackey/Press Eye


Colin Farrell says Conor McGregor is phenomenal
Colin Farrell has praised the "phenomenal" drive and strength of character of fellow Dubliner, UFC Featherweight champion Conor McGregor. The actor was quizzed by US website TMZ on his way into a recording of Jimmy Kimmel Live and was gushing in his praise of the Crumlin native, saying it "was amazing the way he has galvanised all the people at home". Meanwhile Farrell was left startled after a besotted 'fan' ran on stage during his interview with Jimmy Kimmel For more details and video clip, please click RTÉ.


World Cup draw: Best & worst scenarios for Ireland
Martin O'Neill will be hoping for some welcome respite from the Euro 2016 campaign in Saturday's World Cup 2018 draw in St Petersburg. There are 14 European places up for grabs at the Russian event in 2018 and with the hosts already guaranteed their place in the tournament, the other 13 berths will be filled by the top side in each of the nine groups alongside the four play-off winners. With well over a year before the first qualifier takes place, it is much too early to get into the predicting game, but Ireland's chances will become much clearer after Saturday's draw.For more details, please click RTÉ.


Ciara Mageen earns impressive mile win at Morton Games in Dublin
Portaferry runner Ciara Mageean continued her return to form by earning a superb mile victory at the Morton Games at Santry on Friday evening. Mageean, tracked the pacemaker for the first two laps and then took the lead before holding off American Heather Wilson to win in 4:30.64. Mageean ran her second fastest ever 1500m time of 4:08.32 in Belgium last weekend as she demonstrated that she has recovered from the heel injury which cut short her indoor season in March. Foe more details, please click BBC.


Irish fighter taking Thaiboxing world by storm
A few weeks ago a martial arts fighter from Ireland fought in a packed 20,000 seater stadium. His bout was watched by 200,000 people on television. No. It wasn't Conor McGregor. His title fight in Las Vegas was small fry compared to the buzz in China when Aaron Browne fought Zhao Chunyang. Browne travelled to Jiyuan in the Henan Province as the first Irishman to hold a prestigious World League of Fighters (WLF) belt. He was expecting to fight Hu Yafei, the fighter he'd defeated to clinch the title. He was in for a shock. For more details, please click Irish Herald.
Photo Credit & related story: Irish Sun

July 24

Historic Irish videos released
The Associated Press and the British Movietone have released hours of archival footage which shows when town criers were still the daily newspapers and donkey drawn carts were a common mode of transport. Videos include the Irish Cinema Ball at Jury's Hotel, Dublin, various shots of Ireland's Marines, the aftermath of the burning of Cork, De Valera meeting Countess Markievicz and the St Patrick's Day parade in New York. To watch the videos, please click Breaking News Ireland.


Surprising mammy: Why homecoming videos pack such an emotional punch
One of the aftershocks of the economic collapse was the return to high levels of emigration, with more than 200,000 Irish-born people leaving the country between 2009 and 2015. While mass emigration has long been part of the Irish experience, the current wave is set against a backdrop of the impact of the previous 15 years of rapid (if highly unequal) wealth accumulation, and the arrival of new media and digital technologies including social media. For more on this story, please click Irish Times.


Could the Jedi be returning to Skellig Michael?
Speculation has increased that Skellig Michael, off the coast of Kerry, will once again act as a set for the continuing Star Wars franchise after it emerged no regular sailings to the Unesco World Heritage site are planned for the week beginning September 14. Furthermore, it has been learned that boatmen are not available that week, fueling talk the uninhabited island will once again act as backdrop in scenes in a future Star Wars film. For more details and video clip, please click Irish Examiner.


Irish rock 'n' roll museum opens in Temple Bar
A blank cheque signed by U2 frontman Bono for an autograph hunter is one of the exhibits at the new Irish Rock 'n' Roll Museum Experience in Dublin's Temple Bar. The museum houses a permanent exhibition of personal artefacts and memorabilia including instruments, ticket stubs, stage clothing and photographs from an array of Irish acts including Phil Lynott, U2, Rory Gallagher, and The Script. For more details, please click RTÉ.
Photo Credit & Related Story: Irish Times Gareth Chaney Collins


Irish pub in NYC has been named the best bar in the world
What do you see when you think of Irish pubs abroad? An abundance of tricolours, dodgy Guinness, and a hefty spoonful of diddledy-aye, right? The Dead Rabbit in New York, which was recently named the World's Best Bar, takes all those stereotypes and throws them out the window. Belfast natives Jack McGarry and Sean Muldoon set up the 'cocktail pub' in 2010, and have been racking up the accolades ever since. McGarry said they wanted to take "the best of every single pub in Ireland" and present it to New Yorkers. For more details, please click Journal Ireland.


10 off the beaten track things tourists will love about Dublin
Being a two-month tourist in Dublin meant doing the touristy things first, and finding the real adventures second. Here's ten things that Claire Roney found for the tourists who like to go off the beaten track. They include The Long Room at Trinity College. While The Book of Kells is one of Dublin's most popular and historic attractions The Long Room doesn't seem to get nearly enough attraction abroad as it deserves. For the complete list and accompanying photos, please click Irish Independent.


Thrones role for Dublin actor Eddie Jackson
Adding to the show's sizeable Irish contingent, Dublin actor Eddie Jackson has been cast in Game of Thrones for the sixth season. There are no details at present on the character he will play in the HBO series, which resumes shooting in Belfast this week. However, Jackson's agency, Alex Cusack Management, tweeted: "Congrats to my man Eddie Jackson who has landed a role in Game of Thrones. Belfast this week and Spain in October!" For more details, please click RTÉ.


Newry craft brewery bought by US firm Alltech
A craft brewery in Newry, County Down, has been bought by the Irish entrepreneur Pearse Lyons, who owns the US-based firm Alltech. Alltech's main business is animal nutrition but it is also developing a brewing and distilling division. It has bought the Station Works brewery from the Haughey family, better known as the owners of Norbrook Laboratories. Alltech produces craft beers at its US facility in Kentucky and said this deal will give it a platform for expansion in Europe. For more details, please click BBC.
Photo Credit: Belfast Vibe


Hole-in-one helps Michael Hoey to opening 65 in Switzerland
Michael Hoey posted a hole-in-one on his way to an opening round of five-under-par 65 at the European Masters at the Crans-sur-Sierre course. Hoey holed his tee shot with an eight iron at the 177-yard third hole. He then went on to record five birdies and two bogeys in the remainder of his round at Crans Montana. The Northern Irishman is one of a host of players tied for third place in Switzerland, two behind leader Gregory Havret and one adrift of Lasse Jensen. For more details, please click BBC.
Photo Credit: Getty Imahes

July 23

When Irish statues moved, and the world came to stare
New toilets, new footpaths. Brand new public payphones. Within eight weeks of the statue's first movements, the tiny village of Ballinspittle had seen a raft of improvements – and business was booming. Hotels and B&Bs were booked out. 'Grotto Burgers' were flying out of the fast-food vans parked up in the tiny Cork village. As one local noted to a BBC Newsnight crew sent to investigate the phenomenon, it was great for the area, but the religious miracle wasn't something locals had exploited. "As yet," he added, with a barely perceptible grin. For more details, pics and video clips, please click Journal Ireland.


Colm Tóibín scoops Hawthornden Literature Prize
Author Colm Tóibín has been announced as the winner of the Hawthornden Prize for his novel Nora Webster. The Wexford author received the award at a ceremony in the London Library on Wednesday (July 22). Tóibín's win follows Costa Award and Folio Prize nominations for the book, which tells the story of a young widow in 1960s Ireland. Established in 1919, the Hawthornden Prize differs from other literary awards in that there is no shortlist and authors receive no notice that they are under consideration. For more details, please click RTÉ.
Photo Credit & Related Story: Irish Times/Frank Miller


Lost in translation? This Irish language tech startup is here to help
In a world that is becoming more connected by the day, languages are big business. Language-learning app Duolingo recently completed a funding round that valued the company at a healthy $470 million (€428 million), while the machine translation industry is expected to be worth nearly $1 billion by 2022. Dublin startup Iconic Translation Machines is joining the push into the market for business customers, offering cloud-based automatic translation software. For more details, please click Journal Ireland.


Nine new Irish plays for Dublin Theatre Festival
Nine new Irish plays including new works from Enda Walsh and Conor McPherson and a revival of Dancing at Lughnasa are among the highlights of this year's Dublin Theatre Festival which was launched today. The festival runs from September 24 until October 11 and features 28 productions across the capital. Eleven new Irish works will premiere alongside productions from France, Belgium, Portugal, the Netherlands, the UK and Denmark. Conor McPherson's The Night Alive opens the festival at the Gaiety theatre in a new co-production with the Lyric Theatre Belfast. For more details, please click RTÉ.
Photo Credit: Disover Ireland


Today is Dublin's biggest-ever for cruise tourism
That's because four giant ships have docked in the city. The ships are Princess' Royal Princess , Celebrity Silhouette (pictured), Pullmantur's MV Horizon and Cruise & Maritime Voyages' Magellan. All four vessels arrived at the mouth of the Liffey between 3:30am and 7am, allowing passengers and crew a day's sightseeing in the capital. Passengers on the ships hail mainly from the US, France and Great Britain, the Port company says, and are expected to spend an average of €100 each while visiting. For more details, please click Irish Independent.


New naval ship to be called LÉ William Butler Yeats
The ship is due to be delivered in July of next year and will be the same as the LÉ Samuel Beckett delivered in 2014 and LÉ James Joyce, which arrived in the Naval Base at Haulbowline in Co Cork last Friday. Defence Minister Simon Coveney said it's appropriate to mark the 150th anniversary of the birth of W.B. Yeats by making this announcement in Lissadell House. Pictured is the LÉ Samuel Beckett. To read this news item and many others, please click Breaking News Ireland.


Bridge in Fermoy to be named after patriot Thomas Kent
One of the largest bridges over the River Blackwater in Co Cork is set to be renamed after the only man executed outside of Dublin following the 1916 Rising. An iconic picture exists of Thomas Kent walking over the bridge in Fermoy escorted by armed British troops after being captured following a gun battle with the RIC in the nearby village of Castlelyons. Ironically, according to his grand nephew, Eamonn Walsh, the bridge was actually built the same year Kent was born. For more details, please click Irish Examiner.


Tyrone man soon to be Northern Ireland's newest billionaire
A Northern Ireland man is well on his way to becoming a billionaire having landed huge financial backing in the United States for his highly successful online sports fantasy game. Nigel Eccles founded FanDuel six years ago and his company is now valued at a staggering $1.3bn (£0.84bn) courtesy of a $275m (£176m) injection from private equity investors The Cookstown man co-founded and launched FanDuel with his wife Lesley only six years ago. For more details, please click Belfast Telegraph.


Cork-based engineer among last 100 candidates for Mars mission
A Cork-based engineer is one of the last 100 candidates for the Mars One mission. Steve Menaa, who lives in Cobh, is vying to be the only Irish-based person on board for the one-way journey to the red planet. He is the last remaining Irish-based candidate from an initial 200,000 people from around the world who applied. Menaa will now battle to be among the next 40 candidates, before they are whittled down to 30 and then the final 24 who will begin training for the trip to Mars. For more details & video clip, please click Breaking News Ireland.
Photo Credit & Related Story: Evening Echo

July 22

President Higgins on state visit to Britain
President Michael D Higgins makes an official visit to Britain today where he is attending events in Liverpool and Warrington. The President is to meet the parents of Tim Parry who was killed by an IRA bomb in Warrington in 1993. He will also deliver an address at the Tim Parry - Jonathon Bell Foundation for Peace. Later today President Higgins will also receive an honorary Degree from the University of Liverpool. To read this news item and many others, please click Breaking News Ireland.


Hero medic 'over the moon' at Irish Navy's first birth at sea
Dubliner Corporal Conor Kilbride cut the chord after baby Destiny was born on the ship which is in the Mediterranean on a mission to rescue desperate migrants attempting to cross to Europe in makeshift boats from Africa. "It was a hectic time on the deck but everything went well. There were no complications," he said. "I'm over the moon. It took me a long time to calm down and actually get some sleep afterwards," he added. For more details, please click Irish Herald.


Pramerica announces 330 new jobs in Letterkenny, Donegal
Pramerica Systems Ireland is creating the jobs over the next three years, and said there is potential for further growth. The company, which currently employs 1,200 people in Letterkenny, is building a new campus that could accommodate 1,800 staff. Pramerica is a subsidiary of US based Prudential Financial Inc and provides the parent company with software and business support. The company opened its Letterkenny office 15 years ago with a staff of eight. For more details, please click Breaking News Ireland.
Photo Credit & Related Story: Belfast Telegraph


The stone circle that freaked out a psychic
Drombeg is one of the finest of Ireland's stone circles and certainly the most popular, attracting large numbers of tourists due to its picturesque setting. The site has long been imbued with folklore and mythology, with the large recumbent stone being called 'The Druid's Altar'. In his book A Guide to the Stone Circles of Britain, Ireland and Brittany, archaeologist Aubrey Burl records the story of Boyle Somerville who returned to the site in September 1935, accompanied by a psychic, Miss Geraldine Cummings. For more details, please click Journal Ireland.


Jesuit priest pays 10 times estimate for Harry Clarke window
An un-named Jesuit priest was the top bidder in a fiercely-contested auction on Tuesday night of stained glass church windows made by the renowned Harry Clarke Studios. The Dublin-based representative of the Catholic order, also known as the Society of Jesus, paid €31,000 – 10 times the estimate — for a single stained glass panel depicting 'Saint Francis Xavier preaching in the Orient' . St Francis Xavier was the Spanish co-founder of the Jesuits. For more details, please click Irish Times.
Photo Credit: Fonsie Mealy Auctioneers


'Quiet Man' cottage is made a protected building
A dilapidated cottage made famous by 'The Quiet Man' movie has been granted protected status by Galway County Council. White O' Morn, in Maam, Connemara, was officially placed on the council's Register of Protected Structures this week following a long campaign. The process to put the remote dwelling under State protection began earlier this year. It was completed this week when councillors voted unanimously to add the structure to the register. For more details, please click Irish Independent.


Thumbs up for the honesty of Belfast good Samaritan
A Chinese tourist who lost his entire holiday savings of almost £7,000 has praised a Good Samaritan who handed it over to the police. Bin Zhou misplaced his bag containing the cash after returning from a visit to the Giant's Causeway on Monday. The money was to cover a month-long holiday for Mr Zhou, his partner and child. Without it — and having not brought a credit card — the family was left with just £5 in loose change. For more details, please click Belfast Telegraph.


Auction of Irish soldier's possessions - intact after 100 years
The complete collection of the personal belongings of an Irishman serving in the British army during World War One, is to be auctioned later. The items belonged to Major Edward Francis Farrell, an officer with the Leinster Regiment. The collection was recently rediscovered, having been stored away since the 1930s. It has been described as "rare and exceptionally complete". "Individual items often turn up, but it is very rare to get an entire collection," said auctioneer George Fonsie Mealy. For more details, please click BBC.


VIDEO: Team Ireland jets off to LA in search of gold
The Irish Special Olympics team departed for Los Angeles yesterday on a quest for glory at the World Summer Games, which get under way on Saturday. The Games will run from July 25, when events get under way with a spectacular Opening Ceremony, until Sunday, August 2. According to the chief executive of Special Olympics Ireland, Matt English, the event marks the culmination of four years of training and strenuous effort for all the competitors taking part. For more details and to watch the video, please click Irish Examiner.

July 21

Former US president applauds festival in honur of Brian Friel
Former American President Bill Clinton has applauded plans for a major new cross-border festival in Belfast and Co Donegal to honour one of his favourite writers, Omagh-born Brian Friel. In a message to organisers, President Clinton said the 86-year-old Derry-educated playwright's work was an "Irish treasure for the entire world". The festival runs from August 20-31 and is organised by Belfast-born artistic director Sean Doran. To read this news item and many others, please click Belfast Telegraph.
Photo Credit & Related Story: The Guardian/Julien Behal/PA


Ashford Castle voted world's third-best hotel by US travel bible
Ashford Castle has been voted the world's No.3 hotel by readers of Travel + Leisure, the influential US magazine. Hailing "a 784-year-old stone castle with 20th century additions that recently re-opened after a $75 million restoration", the publication ranks the iconic Mayo resort as third on its annual list of the world's Top 100 Hotels. The 350-acre estate is described as entertaining "a discerning clientele" - little wonder, given that rooms are priced from €495 per night going to press. For more details, please click Irish Independent.


Ireland's 100 Best Places to Stay
McKennas' Guides has published its 100 Best Places to Stay in Ireland, with some fascinating inclusions... and exclusions. The influential guide features 12 new entries this year, ranging from Dublin's five-star Marker Hotel to Glencarrig Farmhouse B&B on Co. Clare's Loop Head peninsula. Ard Na Sidhe in Co. Kerry – recently voted one of the world's best affordable places to stay by Condé Nast Traveler - also makes the cut for the first time. For more details, please click Irish Independent.


Artefacts of Spanish Armada ship recovered off Sligo coast
The latest recoveries include six bronze cannons, one gun carriage wheel and a ship's cauldron which have been displayed today on twitter by Fadó Archaeology. Recovery efforts are currently focused around the wreck of a ship called the La Juliana, which was built in 1570. A number of cannons from the merchant vessel have been found in sands off Streedagh in Co Sligo since timbers from the exposed wreck began washing ashore in April. For more details, please click Breaking News Ireland.


More proof that Irish postmen are miracle workers
Last week, we marvelled over the fact that a letter addressed to "Your man Henderson" was delivered to the right person in Donegal. We've seen that An Post will deliver anything with a stamp and some sort of address on it – anything – but this is taking the biscuit. RTÉ reporter Sinéad Hussey recently discovered this letter 'addressed' to her father, Sean, which managed to make its way to his home in Longford. This envelope is even more scanty with the details than the Buncrana letter. For more on this story, please click Journal Ireland.


Search begins for People of the Year
The annual search for individuals and groups who have heartened and inspired the nation is under way, as nominations open for the 2015 People of the Year Awards. Anyone can be nominated — from a local hero to an international icon — and anyone can submit a nomination once they explain why they believe their nominee deserves the accolade. Recipients have been as diverse as comedian Tommy Tiernan and economist TK Whitaker, ploughing championship organiser Anna May McHugh and champion of Vietnamese street children, Christina Noble. For more details, please click Irish Examiner.


Domhnall Gleeson joins DiCaprio in The Revenant
Domhnall Gleeson has a very busy few months ahead, what with the Colm Tóibín adaptation Brooklyn out in November; the small matter of Star Wars: The Force Awakens a month later and The Revenant, his Western revenge thriller with Leonardo DiCaprio. Directed by Oscar winner Alejandro González Iñárritu (Birdman, Babel) and inspired by true events, The Revenant tells the story of explorer and adventurer Hugh Glass (DiCaprio), who is attacked by a bear and is then left for dead by some of his own hunting colleagues. For more details & to watch the trailer, please click RTÉ.


Butterfly hunt to take place on 68 islands in Strangford Lough
A nature-loving father and son will be hunting for butterflies on the islands off Strangford Lough as they take part in Butterfly Count - one of the largest ever citizens' conservation projects in the world. Cadogan Enright and nine-year-old Cad Og start on their ecological adventure today and will spend the next seven days canoeing between 68 islands on the lough in search of butterflies. They aim to count as many butterflies on each island as they can over a 15-minute period. For more details, please click Belfast Telegraph.


Irish Tennis Open gets under way in Dublin
The FBD Men's Irish Open, Ireland's only professional tennis event, begins today at Fitzwilliam LTC and will run all week, with the finals taking place on Saturday. There is plenty of Irish involvement along with an excellent entry of international players. Limerick's Sam Barry, the tournament's second seed and a semi-finalist last year, is expected to lead the Irish charge. Barry will also team up with fellow Davis Cup player David O'Hare as they look to secure a first title together on home soil. For more details, please click RTÉ.

July 20

Ireland ranked as one of the best in terms of reputation
Ireland has been ranked in 11th place out of 55 countries in a new survey ranking nations by their reputation. The Republic was ranked ahead of the UK, Italy, Germany, Spain, Portugal and France and the US in the Country RepTrak study, which was compiled by the Reputation Institute and its Irish counterpart, the Reputations Agency, Ireland moved up two spots in the latest study, having been ranked in 13th place last year. In addition, it improved its score by 5.2 per cent, from 68.5 out of 100 in 2014 to 72 this year. For more details, please click Irish Times.


Irish scrambling to save the most prized part of their culture
One of Ireland's most prized cultural components is at risk of being taken from the Irish people. Considered "definitely endangered" by the UNESCO Atlas of the World's Languages in Danger, the Irish language is in a dire state. Even though learning Irish is required in all schools across the nation, only 1.8 percent of its population speak Irish daily, and only 40.6 percent say they have the ability to speak the language. For more details & video clip, please click Huffington Post.


Neglected Famine graveyard becomes 'a fitting memorial'
As a child, artist Mary Nolan O'Brien passed the old Famine graveyard every day on her way to school — and, at the request of her mother, always murmured a prayer as she walked by. So it was fate that must have brought an elderly American man to knock on her studio door in September 2012. Now in his 70s, engineer and amateur genealogist Bob Murphy from Boston, Massachusetts, had spent decades researching his family tree. His search brought him to the West Cork village of Innishannon. For more details, please click Irish Examiner.
Photo Credit: Jacqueline LaRocca/For illustration purposes only


Abtran announces 100 jobs for Dublin
Abtran - which provides customer management consultancy - is expanding its operations at the IFSC in the capital. The company already employs 2000 people in Ireland and the new jobs are through support from Enterprise Ireland. The 100 new posts announced today include positions for Business, Technical and Data Analysts, Applications Developers, Digital Media Specialists, Programme Managers, Project Managers, Training Managers and change management professionals. To read this news item and many others, please click Breaking News Ireland.
Photo Credit & Related Story: RTÉ


Depp pens foreword for Ginger Man 60th edition
Hollywood actor Johnny Depp has penned the foreword for the new edition of the classic Irish novel The Ginger Man which this year celebrates its sixtieth anniversary. Over 40 million copies of the novel by JP Donleavy have been sold since its first publication in 1955. The story follows the social and sexual adventures of a footloose American student on the streets and the pubs of Dublin in the early 1950s. Brendan Behan predicted that JP Donleavy's classic novel was destined to "go around the world, and beat the bejaysus out of the Bible". For more details, please click RTÉ.


Bray Air Display made Sunday spectacular
Yesterday's event had a bit of everything, from a romantic marriage proposal to feats of derring-do in the skies. An estimated 90,000 people turned out to have a gawk at the best the Irish Air Corps and Swiss Air Force (the Patrouille Suisse) could come up with, while one lucky lady was subject to an aerial proposal prior to the event kicking off. Conditions were perfect for the display as onlookers gathered on the beach and seaside promenade to take in the display of aerial prowess. For more details, photos and video clips, please click Journal Ireland.


Sinead O'Connor becomes a granny
The Nothing Compares 2 U star's eldest son Jake and his girlfriend Lia welcomed a baby boy on Friday (July 17). O'Connor announced the happy news on Facebook, posting a cartoon which said "It's A Boy", along with the caption "Don't mess with Abuelita!!" On Thursday she posted about her excitement about becoming a grandmother, writing: "OMG! " Am literally hours away from the greatest dream of my life coming true!". To read this news item and many other, please click RTÉ.
Photo Credit & related Story: Sky News


Amateur Paul Dunne shares Open lead at St Andrews
Irish amateur Paul Dunne is joint leader of The Open Championship heading into the final day at St Andrews, alongside former winner Louis Oosthuizen and Australia's Jason Day. On a day of benign weather and spectacular scoring, Dunne, 22, carded a six-under-par 66 for 12 under overall. South Africa's Oosthuizen, who won on the Old Course in 2010, carded a 67, as did world number nine Day.
American Jordan Spieth remained on course to win the first three major titles of the year after a third-round 66 left him 11 under. For more details, please click BBC.
Photo Credit & Related Story: RTÉ


Cricket: Ireland book India berth and end Jersey hopes
Ireland booked a place at next year's World Twenty20 and ended Jersey's qualification dreams with a dominant seven-wicket win at Malahide. Jersey captain Peter Gough hit 42 but they collapsed from a promising 106-2 to 122 all out, with John Mooney's hat-trick wrapping up the innings. Paul Stirling's half-century set the hosts on their way to victory. With Papua New Guinea and Namibia both losing on Sunday, Ireland won Group A to qualify for Saturday's semi-finals. For more details, please click BBC.

July 19

NI's new churches: The impact of immigration on religious life
Immigration has brought huge changes to Northern Ireland over the last decade, and religious life has been impacted as well. Migrants are not only joining local congregations, but setting up their own churches too. The number of churches in Northern Ireland led by migrants has risen to more than 30 in recent years. These new churches are not only attracting people from ethnic minorities, but intriguing locals. For more details, please click BBC.


Defence Forces members remembered at Dublin service
Members of the 7th Infantry Battalion in Cathal Brugha Barracks and the Air Corps in Baldonnel participated in the ceremony on Saturday, as well as buglers and drummers from the army band, current and retired members of the Defence Forces, and members of the public. During the service, the flag was lowered to half mast and there was a minute of silence followed by unit commanders and members of the public laying wreaths at the base of the monument. For more details, please click Irish Times.
Photo Credit: Aidan Crawley


Shannon Airport celebrates 70th anniversary with first airshow in 25 years
Up to 40,000 people attended the first airshow at Shannon Airport in 25 years to commemorate the anniversary of the first commercial trans-Atlantic flight there 70 years ago. Up to 20 performances and over 30 aircraft took part the show, including some of the world's leading aerobatic performers. The first ever scheduled commercial passenger flight landed in Shannon on 24 October 1945. The aircraft was the Flagship London which flew from Gander airport in Newfoundland and Labrador in Canada. The flight took eight hours and twenty minutes. For more details, please click RTÉ.


Campaign to have a US military ship named after Irishman from Ballyhaunis
If you're in Dublin Airport this summer you might come across a photo of Patrick Gallagher. Gallagher, an Irish immigrant from Ballyhaunis, County Mayo, left Ireland when he was just 18 years old and became a marine. On this day in 1966 Patrick Gallagher was serving with the US Marine Corp in Vietnam. His squads position was attacked with grenades thrown into their trench. One exploded just after Gallagher had kicked it away. He picked up the second and threw it away also. When a third one infiltrated their area, Gallagher jumped on it. For more details, please click Journal Ireland.
Photo Credit: Martin Durkan


Funeral Mass for Duffy's Cut cholera victim in her native Clonoe
Catherine Burns, who was denied care and died of cholera in the United States 183 years ago is to be laid to rest in her native land. Catherine eft Clonoe, Co Tyrone for America in 1832 to begin a new life, but within six weeks she was dead. A funeral Mass and burial will take place at Clonoe Chapel, near Coalisland. In the parish bulletin, parish priest Father Benny Fee said..."She was one of 57 vicims of disease and violence at a place that would be infamously known as Duffy's Cut..." For more details, please click Belfast Telegraph.


Molly Malone's cleavage gets thumbs up as Facebook ban reversed
The image of the beloved Dublin statue, deemed too racy for the social media giant this week, has now been 'reprieved'. She appeared on the cover of a book - Diary of the Wolf - which Dublin author Frank Whelan (31) wished to advertise on Facebook. The first-time author did not expect any problems when he submitted the book cover featuring the buxom fishmonger so beloved by Dubliners and tourists alike. However, Facebook declared Molly's appearance broke its rules on decency. For more details, please click Irish Herald.
Photo Credit: Fine Art America


Big-hearted Donal gives away Communion cash
A West Cork boy who donated €100 of his Holy Communion money to charity has been identified following an appeal. During the week on irishexaminer.com, we wrote about Glandore schoolboy Donal O'Donovan's donation to Clonakilty-based charity Just-one, which helps children in Nepal. As well as giving €100 — or 10,000 Nepali rupees — he wrote a lovely note to Just-one founder Declan Murphy, who had visited his school and inspired the boy to help in the best way he could. For more datails, please click Irish Examiner.
Photo Credit, Related Story & More Pics: Breaking News Ireland


NI's Carl Frampton retains IBF super-bantamweight title
Carl Frampton recovered from being knocked down twice in the opening round to retain his IBF super-bantamweight title with a unanimous points decision over Alejandro Gonzalez Jr in El Paso. Frampton, 28, was forced to drop to his knee twice but gradually gained control over his dangerous Mexican opponent. Two judges scored the fight 116-108 in the Belfast fighter's favour, with the other awarding him the contest 115-109. For more details, please click BBC.
Photo Credit & Related Story: Belfast Telegraph/Jorge Salgado-Prees Eye


Ireland beat France in Eurohockey Championships II opener
Ireland secured a convincing 7-1 win over France in the first match of their Eurohockey Championships II campaign. Megan Frazer and Naomi Carroll scored two goals apiece, with Katie Mullan, Nicci Daly and Deirdre Duke also getting their names on the scoersheet. The Irish need to finish in the top two in the tournament to earn promotion to the top flight of European competition. The match was the first in charge for new coach Graham Shaw who has taken over from New Zealander Darren Smith.For more details, please click BBC.

July 18

Papers confirm W.b. Yeats not buried in Sligo grave
There were doubts about the authenticity of WB Yeats's bones even before they were transferred from France for reburial in Drumcliffe churchyard in September 1948. Aware that the poet's remains had been scattered in an ossuary in 1946, Yeats's friends attempted to dissuade his widow, George, from going through with the repatriation. Recently discovered French documents comfirm their doubts. For more details & video clip, please click Irish Times.


Upwards of 2,500 new citizens sworn in
Candidates from 112 countries gathered to receive Irish citizenship at three ceremonies in the Dublin Convention Centre on Friday. Minister for Health Leo Varadkar, attending on behalf of the Government, described his own childhood growing up in west Dublin, the son of an Indian migrant father and an Irish mother, who had herself been a migrant worker in England where they met. "Growing up in west Dublin, I was the only child in school with sallow skin and a funny surname," he said. For more details & video clip, please click Irish Times.


LÉ Eithne arrives home
The tugboat Gerry O'Sullivan sprayed arcs of water, other Navy ships sounded their horns in salute and families cheered and waved flags on the quayside as the LÉ Eithne pulled into base. There were hugs and kisses, a few tears of joy and bundles of pride yesterday as the sailors disembarked from the Naval Service flagship following a nine-week humanitarian operation which saw them save the lives of 3,377 migrants from the Mediterranean Sea. For more details & video clip, please click Irish Examiner.


Irish movie The Stag getting Hollywood remake
The 2014 Irish comedy The Stag is getting a Hollywood remake at a major movie studio. The film, which was the directorial debut of John Butler, is being remade at Warner Bros. for American audiences. Co-written by Peter McDonald, the film follows groom-to-be Fionnán who would rather go on his fiancée Ruth's hen party than partake in any mad shenanigans, but is reluctantly persuaded to go on a quiet stag weekend to the countryside. However, the peace is interrupted by the arrival of his wild brother-in-law Richard. For more details & video clip, please click RTÉ.


TV drama Game of Thrones contributes £110m to NI economy
That's according to new figures from Northern Ireland Screen, which has provided production funding for the HBO series The programme, some of which is filmed in Northern Ireland, has been nominated for 24 Emmy awards. Two of those nominations are for Northern Ireland production crew members. Ronan Hill, who won an Emmy in 2012, has been nominated again for outstanding sound mixing for a drama, while Carla Stronge has been nominated for outstanding casting for a drama. For more details, please click BBC.


Old skills to help 18th century Ardress House look like new
An 18th century National Trust farmhouse in Co Armagh is to get a £120,000 facelift using traditional lime plaster. It will take a year to complete the lime re-rendering of the outside of Ardress House in Annaghmore to restore the building to its original glory. The project will be carried out by local craftspeople and will help to keep traditional building skills alive, said the National Trust. More than 8,000 people visit the house and working traditional farmyard and orchard each year. For more details, please click Belfast Telegraph.


An island girl's insight into growing up on Inis Mór
Megan Roantree was born and raised on Inis Mór, the largest of the Aran Islands off the coast of Galway in Ireland which has a population of about eight hundred. While she has always ways loved being from here, it was only in recent years after leaving for college that she began to appreciate the little things about life on a nine mile isle. Here are a few. Including you don't take things for granted. For more details, please click Irish Independent.


Ireland's Paul Dunne shoots another superb 69 at the Open
The Irish amateur says he hopes to take the increasing attention in his stride after making the cut at the Open Championship for the first time with another excellent 69 at St Andrews. The 22-year-old amateur from Greystones ensured involvement over the weekend at St Andrews by matching his first-round 69 on the second day to move to six under par for the tournament. Dunne, who came through final qualifying at Woburn for a second year in succession, said: "It'll be a new experience, I'm not 100% sure how I'll handle it." For more details, please click RTÉ.


The inspiring story behind one Irishman's 4 round-the-world cycle
Cycling roughly 18,000 miles (29,000 km) in 490 days all around the world clearly takes incredible individual willpower, but Breifne Earley cites other people as being key to his successful round-the-world cycle. It is quite an achievement for the 34-year-old Leitrim man, who says that as recently as five years ago, he was overweight, bitterly unhappy and working in a job he drew little satisfaction from. For more details, please click Journal Ireland.

July 17

It's official: Irish are happy, satisfied and feel life's worthwhile
How happy are they? Despite water charges, property taxes and the universal social charge, it seems they're an impressively upbeat bunch of people, the Irish. A Central Statistics Office survey on wellbeing shows more than three-quarters of the population ranked their overall satisfaction with life as "high" or "very high". When asked about day-to-day emotions, a similar proportion rated their happiness the previous day as "very high" or "high". For more details, please click Irish Times.
Photo Credit: Getty Images


JP Donleavy's The Ginger Man at 60
In 1946 a young American arrived in Dublin to study natural sciences at Trinity College. Finding a land untouched by the worst excesses of the second World War and a prevailing mood of conviviality among its inhabitants, he set about his studies. However, it was in the pubs and boltholes of bohemian Dublin that this education was to take place, and the resulting thesis was The Ginger Man. Brendan Behan was the first to read (and amend) the manuscript after breaking into the author's cottage. Viewed as obscene, it was rejected by nearly 50 publishers but has now sold over 40 million copies. For more details, please click Irish Times.
Photo Credit: Dermot Barry


Young Irish writer signs dream two-book deal in US
Irish writer Sarah Griffin has secured a two-book deal in the United States with GreenWillow Books, an imprint of HarperCollins. Griffin was first rejected by a publisher at the tender age of 11. Now aged 27, the Dubliner eventually released her first book Not Lost with New Island publishers in 2013, which detailed the ups and downs of living 5,000 miles away from home in San Francisco, and now she is preparing to put pen to paper once again to produce two young-adult books, with the first to be released in autumn 2016. For more details, please click RTÉ.


Why marvellous Maud is in great shape at 106
Marvellous Maud Nicholl, at 106, is amazingly still living alone at home and doing much for herself despite being one of Northern Ireland's oldest people. Although she was born in 1909 and already had three decades behind her when Hitler's army invaded Poland to kick off the Second World War, she still gets herself up in the morning at 6.30am and can walk up and down stairs. She is in good health and has not been to the doctor for 20 years. Never married, Maud has put down the secret of a long life to "no smoking, no drinking... and no men". For more details, please click Belfast Telegraph.


Letter to 'your man Henderson' actually delivered to right person
The Republic of Ireland's An Post have to put up with plenty of challenges in their day-to-day post delivering lives – but they probably don't come across addresses like this too often. The letter was intended for Roisin Henderson's husband, and proved once again that the postal service of Ireland will go above and beyond to get your letters to you – no matter the comical address.To view the envelope. please click Journal Ireland.



Lotto winner: If parking spot wasn't there, I wouldn't have bought ticket
An overjoyed lady and her family have collected a cheque for €2m at the National Lottery Offices in Dublin. The winning ticket was bought on Saturday, June 27, in the village of Adare, Co. Limerick. As the lucky lady celebrated her win with a glass of champagne, she said: "I was driving through Adare and a spot was free outside the shop, so I popped in and bought an ice cream and a Lotto ticket. If the spot wasn't there, I would have driven on past." For more details, please click Breaking News Ireland.


1851 gate lodge on Belfast to Bangor road saved from demolition
A stunning, yet sadly neglected, gate lodge seen by thousands of commuters every morning has been saved. Craigowen Lodge in Seahill has survived the threat of a proposed road widening scheme on the Bangor to Belfast dual carriageway, and now - after a decade-long campaign - its future has been secured. The listed lodges is a single-storey, three-bay lodge in an Italianate style and was designed by Thomas Turner, a Dublin-born pupil of prominent architect Charles Lanyon. For more details, please click Belfast Telegraph.


Sun comes out in time at Killarney races
The sun came out just in time to show up a dazzling array of colours and style on Ladies' Day at rainy Killarney Races. Elegant Edel Crowley, winner of the Dawn Dairies Queen of Fashion competition, proclaimed herself "surprised and delighted'' and looked forward to enjoying her prize — a trip for two to Paris. Fashion judge and TV3 presenter Glenda Gilson was impressed with standards, remarking on the array of colour, the nice mix of style and, of course, the hats. "There are some great milliners down here and they were certainly busy in the last few weeks," she said. For more details, please click Irish Examiner.


The Irish At The Open: Day 2 at St Andrews
Amateur Paul Dunne made a rip-roaring start on Thursday with four birdies in his first nine holes. He went to the turn at four under after birdie putts of 12 feet and five feet kick-started his round. Hepicked up another shot at the par-five fifth and then, having hacked his approach out of the rough at the ninth, holed from 45ft to turn in 32. He dropped a shot at 11 but made a solid end to his round to finish a three-under. For more details, please click RTÉ.



Sun, Aug 2, 2015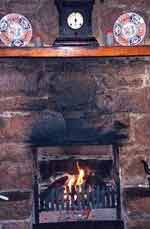 From Bog Land to Turf Fire
Ireland contains more bog land, relatively speaking, than any country in Europe, except Finland. For people in rural areas, turf cut from the bog is still a natural source of heat. Turf cutting begins in spring and then the turf is spread and rickled . Rickled means to pile the turf up in small mounds. By summer, the turf is dry and it's time to bring it home. Everything has to be prepared before the winter comes, or even earlier, because the rain would wet the turf too much. It has to be dry and in the shed before Autumn. Then and only then, can an irish country family look foreward to the cozy warmth of "a turf fire in the cabin."

Resources: The Atlas of the Irish Rural Landscape
Image: Spirited ireland

Click for More Culture Corner.
---
---
Local Time in
---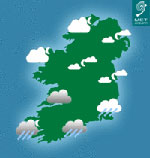 The Weather
Up the minute forecasts provided by Ireland's official source for all weather-related news. Please click Met Eireann.

---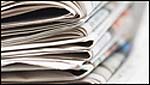 Links to the latest news from Ireland
Here you will find all the stories making headlines throughout the Republic of Ireland and the six counties to the north. This is not intended to be an all-inclusive list. These are the main sources we check every day to bring you those headlines we think you will enjoy reading.

BBC Northern Ireland
Belfast Telegraph
Breaking News Ireland
Irish Emigrant
Irish Examiner
Irish Herald
Irish Independent
Irish News
Irish Times
Irish Post
RTE
The Irish World
The Journal Ireland
Inside Ireland


---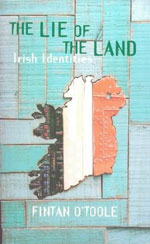 Lie of the Land
by Fintan O'Toole
A regular contributor to the irish Times and The Guardian, O'Toole applies his eagle journalistic eye to the state of ireland at the end of the 20th century. It's a riveting read as O'Toole examines with in-insight, humour and a bit of the blarney, the repercussions of a booming economy which has thrust ireland into the ranks of the richest European countries.
Click here for Lie of the land.

---