Traditions, folklore, history and more. If it's Irish, it's here. Or will be!
"People will not look forward to posterity who never look backward to their ancestors."
-Edmund Burke
---
Quotes

Library: Books, Movies, Music

Prints & Photos

Poetry

---
---
Shops Ireland
---
Bunús na Gaeilge
(Basic Irish)

---
---
---
Himself/Herself
Write to Us
Readers Write..
Links/Link to Us
---
Advertise with us
---
Awards & Testimonials

Submissions Guide

---

Todays' Irish News



Yes, there are many news items not included here. We deliberately avoid: politics, death, disaster and other mayhem.

Saturday, March 28, 2015

---
3,300 jobs on way for Limerick in massive city centre development
The biggest city centre real estate project outside of Dublin over the next 10 years has received the green light today. Announcing the move, chief executive of Limerick City and County Council Conn Murray said that it will be "transformational for the city".The re-developed 50,000sq metre area will be home to 3,000 jobs and a further 300 employed in the construction stage. For more details, please click
Breaking News Ireland
.
Photo Credit & Related Story:
Irish Examiner
.
How would you like to live in Ireland's most historical villa?
Bellamont in Co Cavan is still magnificent, water damage notwithstanding. Agent Ganly Walters foresees strong interest internationally, describing it as "quite simply the finest and yet most practical piece of living history that has come to the market in Ireland in recent years". The house was completed in 1730 by Judge Thomas Coote and designed by the talented architect Edward Lovett Pearce. And it's on offer for €1.3m. For more details and photos,, please click
Irish Independent
.
Northern Ireland galleries celebrate link to Tate Plus
Three Northern Ireland art galleries, Golden Thread Gallery, the Mac, both in Belfast, and the Centre for Contemporary Art (CCA) in Londonderry, are to join Plus Tate, a prestigious UK-wide contemporary visual arts network. In 2010, Plus Tate was launched to share collections and expertise and build a network using Tate's resources to strengthen the UK's contemporary visual arts network. For more details, please click
Belfast Telegraph
.
Photo Credit& Related Story:
Brick Development Association/The Mac, Belfast
WATCH: Trinity Orchestra play Gorrilaz
The Trinity Orchestra group, who brought us the awesome Daft Punk and Pink Floyd arranged for Orchestra in previous years, are back - with the Gorillaz. The student-run orchestra staged the concert in the gorgeous surroundings of Trinity's Public Theatre back in November, but released the video cut of the live show - complete with beautifully edited sound. To watch and listen, please click
Breaking News Ireland
.
Cork communities uniting to commemorate Lusitania
The people of Kinsale, Cobh and Courtmacsherry in Co Cork, have organised a series of events to commemorate the 100th anniversary of when the RMS Lusitania, which was on route from New York to Liverpool, was sunk by a torpedo fired from a German U-boat off Cork on May 7 1915. The ship sank 11 miles due south of the Old Head Lighthouse. Among the events will be a wreath laying ceremony in Cobh, which will be attended by President Michael D Higgins.For more details, please click
Irish Examiner
.
Meet Nellie Cashman – Irishwoman, philanthropist and prospector
Nellie Cashman (born Ellen Cashman) had a caring heart, hard-working nature and entrepreneurial mind. While she was born in Co Cork, she spent most of her life in North America following her passion for mining, at a time when gold fever had taken over. She was a prospector, with a vast knowledge of mining, who operated businesses in order to fund her exploits. She endeavoured to take care of people in need of help, leading to her being affectionately known as the Angel of the Yukon. For more details, please click
Journal Ireland
.
Photo Credit & More Details:
Wikipedia
Ireland's Paul O'Connell named Six Nations Player of the Championship
Ireland captain Paul O'Connell has been named as this season's RBS 6 Nations player of the championship. The 35-year-old Munster lock, who led Ireland to a gripping Six Nations title triumph last Saturday, secured more than 26% of a public vote., Wales forward Alun-Wyn Jones was second, with Ireland centre Robbie Henshaw pipping Wales fly-half Dan Biggar for third place. O'Connell becomes the first Irishman to gain the accolade since his current team-mate Tommy Bowe five years ago.mFor more details, please click
RTÉ
.
Photo Credit:
Journal Ireland/Billy Stickland/INPHO
Bethany Firth sets world best at Glasgow meeting
Bethany Firth set a new world record on her way to winning the 100 metres breaststroke at the British Para-Swimming International Meet in Glasgow. The 19-year-old from Northern Ireland set the mark with her winning time of one minute 14.40 seconds in the morning heats of the multi-category event. The County Down girl was unable to repeat that in the final but a swim of 1:15.04 was inside the old record. That was enough for to take victory at the event.For more details and video clip, please click
BBC
.
Photo Credit & related Story:
BBC
.
Blue plaque honor for legendary NI football player
One of east Belfast's favourite sons has been honoured with a blue plaque celebrating his remarkable sporting achievements. The Ulster History Circle tribute was unveiled yesterday at the first home of Northern Ireland international and Tottenham Hotspur legend Danny Blanchflower, who died in 1993. The football hero's daughter Gayle said she was thrilled his contribution to sport had been recognised in this way.. "It's an honour for dad and for the whole family." For more details & photos, please click
Belfast Telegraph
.
---
Past Two Weeks
March 27

Overseas visitors up 10% in first two months of the year
Almost 1.5m trips were made to Ireland by overseas visitors in the first two months of the year, figures show. In the region of 1.44m trips were made to Ireland between December 2014 and February of this year, according to the latest study by the Central Statistics Office. This figure shows an increase of 10.3% on the corresponding period 12 months ago. The rise in tourism numbers is expected to bolster the Government's efforts to grow the sector substantially over the coming decade. For more details, please click Irish Examiner.
Photo Credit: TripAdvisor/Killarney


Daffodil Day taking place around the country
The annual event is the biggest fundraiser on the Irish Cancer Society's calendar. This year, the Society hopes to raise €3.5m, and will have street sellers in towns and cities across the country selling daffodil pins and merchandise. Head of fundraising with the Irish Cancer Society Mark Mellet said "Daffodil Day is so important to make sure we can give (patients) the best possible support and services." For more details, please click Breaking News Ireland.


Survey shows Irish shoppers go bananas for fruit and vegetables
If an apple a day keeps the doctor away then people in Cavan must be as fit as fiddles. A recent study by Tesco has revealed that Cavan shoppers buy a larger proportion of apples than the rest of the country. The supermarket analysed weekly data collected in stores in the Republic of Ireland over 12 months to discover national and regional five-a-day fruit and veg preferences, and it makes for an interesting read. For more details and several video clips, please click Breaking News Ireland.
Photo Credit & Related Story: Irish Independent


A history of Brendan Behan in 20 quotations
A new book celebrates the greatest Irish wit since Oscar Wilde. The Brendan Behan Quotation Book was compiled by Andrew Russell and published by Somerville Press to mark the anniversary of the author's death on March 20th, 1964. Included in the compilation is this gem: I enjoy smoking expensive cigars made in Cuba by Castro. You can feel radical and bourgeois at the same time. To enjoy reading more, please click Irish Times.
Photo Credit: Matt Kavanagh


Broadcasting great Donncha Ó Dúlaing to retire
In the course of his career with RTÉ since 1954, Ó Dúlaing interviewed, among others, Presidents Patrick Hillery and Éamon de Valera, Pope John Paul II, Mick Jagger, Gene Kelly, Siobhán McKenna, Maureen O'Hara, Christy Ring and John Steinbeck. Paying tribute to the Cork great, Tom McGuire, Head of RTÉ Radio 1, said "The compendium of story, song and chat which Donncha brought to a national and international audience was unrivalled." For more details, please click RTÉ.


Co Clare man wins this year's @Budweiser Dream Job competition
Clare man Mark Griffin is hoping to reach dizzy new heights in the film or theatre industries after securing €50,000 in Budweiser's Dream Job competition. Since his college days, when he had joined UCC's Drama Society, Mark harboured the dream of working as an actor and director. In tandem with his medical skills, the talented young Ardnacrusha man has also been working with various theatre companies since his graduation three years ago. For more details, and video clip, please click Irish Examiner.


Restored Gobbins cliff path to open for first time in over 60 years
Puffins, eerily carved cliffs and crashing waves - it's only a matter of months now until the spectacular Gobbins cliff path opens to the public for the first time in more than 60 years. The final work to revive the Edwardian tourist attraction on Island magee is now taking place. Once drawing more visitors than the Giant's Causeway, the restored attraction is strictly for thrill-seekers and those who can handle a bracing climb. For more details, photos and video clip, please click Belfast Telegraph.


Ireland's U17s qualify for European finals
Ireland will compete at this year's Uefa U17 Championship after booking their place in the finals today. Tom Mohan's men went into the final set of fixtures in the Elite Phase qualifier in pole position having drawn 2-2 with Greece and beaten Belarus 3-1. " It's a massive group effort from staff, players – four lads couldn't come here this week through injuries – but the lads on the pitch did fantastic work. Everybody has just been fantastic" said manager Tom Mohan. For more details, please click Journal Ireland.


20 Irish athletes to get highest level of Sports Council funding
Twenty of Ireland's Rio hopefuls have been granted "podium" level funding to help their medal challenge at the 2016 Olympics and Paralympic Games. The Irish Sports Council today released details of the 2015 International Carding Scheme which will invest €1.57 million in direct funding to athletes. London Olympic medallists Katie Taylor, Michael Conlan and Paddy Barnes are among those who will receive top level grants of €40,000. For more details, please click Journal Ireland.

March 26

Oldest Irish woman to make history at midnight
In just a few hours, the oldest living person born in Ireland will make history and become the longest living Irish person ever. Kathleen Hayes Rollins Snavely turned 113 last month, making her the oldest Irish person alive today. Tonight, she will break a record by becoming the oldest person ever to be born in Ireland, overtaking Annie Scott, who was 113 years and 37 days old when she died in 1996. For more details, please click Irish Examiner.


Titanic letter goes on display
A letter reputed to be the last written on board the Titanic has gone on display in the visitor attraction Titanic Belfast. The historic artefact, written by a mother and daughter who survived the ship's sinking, was never sent and was recently bought by a Scottish couple for almost £120,000. Edinburgh businessman Garreth Wood and his wife Nicola, both long-time Titanic enthusiasts, have loaned the letter to the visitor attraction. For more details and video clip, please click Belfast Telegraph.


"Inspirational humanitarianism" of students recognized at a special reception
President Michael D Higgins and Adi Roche praised the "inspirational humanitarianism" of three students at a special reception in Áras an Uachtaráin yesterday. Ciara Judge, Sophie Healy-Thow and Emer Hickey won a global science research competition at the GoogleScience Fair in San Francisco last year. Ciara donated €1,000 of her prize money to Adi Roche's Chernobyl Children International, helping to save the life of a 14-month-old infant in vital need of cardiac surgery. For more details, please click Irish Independent.


This is the smile of a man who just shared in a €115 million payday
Fifteen years after founding his online-payments company Realex Payments, Irish entrepreneur Colm Lyon is reaping the rewards. Yesterday it was announced that New York-listed Global Payments had bought the Dublin-based firm in a deal worth €115 million – most of which will flow to the chief executive. As of the end of last year, Lyon and his wife Niamh owned nearly 75% of the company's shares, putting the pair in line for a potential €85-million plus return. For more details, please click Journal Ireland.


Time is money - in this case, a lot of money
Pictured is a watch sold at Keane's Jewellers in Cork; it will remain in store until it is collected later this week by its new Irish owner. The timepiece is a Patek Philippe Grand Complication Celestial watch — known simply as "The Celestial". Made from solid 18ct white gold, set with more than 5.5ct of diamonds and secured with an alligator strap and a sapphire-crystal case back, part of the monumental cost stems from the fact each one takes a painstaking 18 months to make. For more details, please click Irish Examiner.


What happens when the capital's rental bikes and cobbled streets collide
Never mind spin classes. For the ultimate, bicycle-based workout, what you need is a Dublin rental bike and a circuit chosen from the city's extensive collection of cobbled streets. God knows, even on tarmac, the bikes bespeak a design intended for durability rather than comfort. But it's on a stretch of cobbles that their masochistic exercise potential is best experienced. For more details, please click Irish Times.
Photo Credit: Frank Miller


Knights hitchhike to Galway battle site
A pair of knights in shining armour are making their way on foot to the ancient battle site of Knockdoe in Co Galway in an attempt to raise awareness of the first Irish medieval combat team in recent history. Brendan Halpin and his companion Jack Pinson an expert in longbow making, set out from Waterville, Co Kerry, on Monday each wearing 25kg of armour – all fully authentic. Mr Halpin, who has a masters degree in combat archaeology, is a founder member of Irish Medieval Combat. For more details, please click Irish Examiner.
Photo Gallery & Related Story: Irish Independent


Impeccably restored Victorian seaside house in Clontarf on offer
Estate agents often describe houses as being in walk-in or turnkey condition, but it's rare that they live up to the hype. So 31 Hollybrook Road is refreshing, in that it has been restored with good taste by owners with the resources not to cut corners. The handsome, bay-fronted, semi-detached house was built around 1890 is a protected structure and features 2600 sq ft of living space, a reasonably sized garden with rear access, and a large double garage. For more details and video clip, please click Irish Independent.


Kilkenny legend Henry Shefflin retires
Kilkenny legend Henry Shefflin has announced his retirement from inter-county hurling. He will continue to play with his club, Ballyhale Shamrocks. Long-recognised as one of the finest hurlers in history, Shefflin retires with 10 All-Ireland titles, 13 Leinster SHC titles, six national league titles and 11 All Star awards. Shefflin was named Hurler of the Year on three occasions. The Ballyhale Shamrocks player made his inter-county debut with the Cats in 1999 and has been part of Kilkenny's glittering period since then. For more details, please click RTÉ.

March 25

Praise cheeses! Pope accepts pizza delivery
Pope Francis, who recently lamented being unable to slip out and get a pizza like he used to, finally got a pie – albeit one hand-delivered to his Popemobile. Pizza maker Enzo Cacialli had a pie on hand as Francis sped by the Naples waterfront during his one-day visit to the city famous for its pizza. In a video made by a colleague at the Don Ernesto pizzeria, Mr Cacialli is seen getting close enough to the Popemobile to make the delivery as the crowd behind him cheers. To watch the video, please click Breaking News Ireland.


TripAdvisor reveals top 10 destinations in Ireland
Did your favorite place make it? Trip Advisor's Annual Travellers' Choice Awards are based on user reviews and ratings. Killarney has been voted as the top destination for the first time, overtaking Dublin. Meanwhile, Marrakech took the top spot for the first time in the list of the top 10 global destinations. Half of the ten cities located are in Europe and New York failed to make it in for the second year in a row. To view a list of the top ten Irish destinations, please click Journal Ireland.
Photo Credit: Tirasmisu Studios


The Defence Forces to deliver an Irish flag to every school
Every school in the Republic of Ireland is to get an Irish flag in the run up to the 1916 centenary commemorations next year. A member of the Defence Forces will deliver a tricolour to the estimated 4,000 primary and post-primary schools in the State between now and the 100th anniversary of the Easter Rising. The initiative will be unveiled in detail when the government formally launches its plans for the centenary celebrations in Dublin next week. For more details, please click Journal Ireland.
Photo Credit: Shutterstock/esfera


Three Irish siblings ring the Nasdaq bell
Catriona, Colm and Cormac Barry were given the opportunity to do this after winning a competition at South by Southwest festival for tech start ups. The Start-Up Village Pitch competition was sponsored by Nasdaq and Enterprise Ireland Pitching and was won by the Barry's 'Trakax' product. Company CEO, Catriona Barry, said, "I am a combination of excited, terrified and delighted… to be here in New York today, ringing the Nasdaq opening bell, is just an amazing feeling. We intend to enjoy every minute". For more details, please click Journal Ireland.


Wildlife colonizing Ireland's major towns and cities
Foxes competing with domestic cats for food, and peregrine falcons plummeting from buildings in pursuit of dinner show how wildlife is colonising Ireland's major towns and cities. And now a television production company wants the public to help paint a picture of how the Irish share their urban spaces. 'Wild Cities' is a new four-part TV series which will focus on urban wildlife in Dublin, Belfast, Galway and Cork, going behind the scenes to capture an extraordinary world of activity that goes largely unseen. For more details, please click Irish Independent.


Hollywood bites after seeing Irish director's trailer
Irish film-maker Ruairí Robinson's latest project The Leviathan has been picked up by X-Men writer and producer Simon Kinberg and Chappie director Neill Blomkamp. The move by Robinson and Blomkamp comes a week after a spectacular teaser Robinson created achieved 1.2 million plays on Vimeo and hundreds of thousands of views on YouTube. The teaser features men with harpoons hunting massive flying space whales in order to use their eggs as starship fuel. What's not to love about that? For more details, please click Irish Times.


Co Tyrone company to create 200 new jobs
Dungannon-based food processor Dunbia is to create 209 jobs through a £27m investment over the next three years. The investment will see the creation of a new boning hall as well as upgraded production lines at its Dungannon headquarters. Jim Dobson (pictured), managing director of Dunbia Group, said "Innovation has been at the heart of Dunbia's success and this investment in new production technology will create a centre of excellence… " For more details and video clip please click BBC.


Hundreds of new jobs to be created in the Republic
Malin, the Irish-based global life sciences company, is to base 10 companies in the country employing 200 people after it secured funds from the State bank and floated on the stock market. And Lagan Brick is to create 30 jobs in Kingscourt in Co Cavan at one of its old manufacturing facilities following an upturn in industries in the Irish and British markets. Meanwhile, Sun Life in Waterford announced plans to expand its workforce from 350 to 400. For more details, please click Irish Herald.


How much would you have won backing Tony McCoy?
Tony McCoy has been the dominant jockey of a generation and is expected to be crowned champion jockey for an extraordinary 20th time before he retires next month. If you could go back in time armed with the knowledge that AP McCoy would be the top jockey for two decades, what could you win? You'd have done very well on an accumulator betting that he would be champion jockey 20 times, but you would have had to wait ages for the money. For more details, please click BBC.

March 24

Freedom of Derry for Bloody Sunday bishop
A retired Catholic bishop who waved a blood-stained white handkerchief during Bloody Sunday is to be awarded the freedom of the city where the shootings took place. Dr Edward Daly provided one of the grimly iconic images of the Troubles as he brandished the rag while attempting to help a fatally injured civil rights protester in Derry on January 30, 1972. Dr Daly was then a curate at St Eugene's Cathedral in Derry. For more details, please click Belfast Telegraph.


The AIB art collection: here's one the bankers got right
Far from being a corporate bauble, the AIB Art Collection, featuring Sir John Lavery, Jack B Yeats and Roderic O'Conor among others, is an exceptional showcase of 20th-century Irish work. It was, and remains, one of the very few informed, systematic attempts to build a representative collection of 20th-century Irish art on the part of any institution, public or private, and one that succeeded admirably.For more details, please click Irish Times.


Ireland to enter the Junior Eurovision for first time
The competition will be held in November in Bulgaria and TG4 will broadcast it in Ireland. The Irish-language broadcaster is also looking for an act and a song but there's a proviso: the song must be as Gaeilge. Also, acts must be aged between 10 and 15 on the day of the show, but can receive help from an adult to write the song. According to EurovisionIreland.net, Ireland did perform in Irish once, in 1972, when Sandie Jones performed "Ceol an Ghrá" ("The Music of Love"). For more details, & video clip, please click Journal Ireland.


Irish art and history to go on show in London
The first major exhibition of Irish Art to be held in London for more than 30 years will open at the Mall Galleries on May 13 until May 31. Entitled The Art of a Nation, the selected works celebrate the rich story of Irish art from 1880 to the present day and will include works by Sir William Orpen, Jack B Yeats, Aloysius O'Kelly and Paul Henry, as well as those of modern artists William Crozier, Séan Scully, William Scott and Shane Blount. For more details and images of several works, please click Irish Examiner.


DocuSign to create 100 jobs in Dublin
The digital transaction management company has announced the creation of up to 100 jobs with the establishment of its European hub in Dublin. DocuSign said it chose the city as the location for the hub because Ireland is a key market for technology talent. The company will hire up to 100 sales and technical staff to provide support to its growing customer base in Ireland. These include the mobile network Three Ireland and the finance solutions firm Future Finance. DocuSign helps companies go fully digital by automating manual, paper-based processes. To read this news item and many others, please click RTÉ.


Music festival returns to Kenmare
Following on from the success of last year's event, Féile Neidín, Kenmare's Irish music festival, returns this year April 9 - 12. As with the first festival, the weekend features instrument workshops with visiting artists. Matt Cranitch and Jackie Daly (pictured) will give an afternoon talk on their formative musical influences with particular reference to the Sliabh Luachra tradition interspersed with a few polkas and slides played by the boys themselves. For more details, please click RTÉ.
Photo Credit: Roaringwater Journal


Gaeltacht brewery produces Ireland's first gluten-free beer
Ballyvourney-based 9 White Deer Brewery, in Cork's Múscraí Gaeltacht launched a year ago with Stag Bán and added Stag Rua in December. Now, it has pioneered the innovative gluten-free craft beer Saor. Brewery proprietor Don O'Leary of the Mills Inn explained that he is gluten intolerant. "There is no Irish-made gluten-free beer," he said. "We had a look at the market and we said there was definitely a niche for us there." For more details and video clip, please click Irish Examiner.


VIDEO: Pint explodes in Louth pub, resident ghost blamed
A patron at Barney Mac's in Drogheda got an unpleasant surprise when his pint of Smithwick exploded while it was unattended on a table. He seems to blame the two lads at the next table, but the CCTV footage shows nobody touched his pint. The publicans blame the ghost of former patron, Joe Murphy. Joe was a Beamish drinker, so perhaps his spirit took offence at the pint of choice that particular day. To watch the video, please click Breaking News Ireland.


Modern pentathlon silver for Ireland in Cairo
After their modern pentathlon silver medal in the mixed relay event at the Sarasota World Cup in Florida last month, Irish Olympians Natalya Coyle and Arthur Lanigan-O'Keeffe have made it two in a row by winning the silver medal in the Cairo World Cup on Monday. Ireland scored 27 victories in fencing to get off to a great start and finished in fifth place. The Irish duo then swam a second faster than their time in Sarasota to win the swim in a time of 1:57.70 and moved up into third place overall. For more details, please click RTÉ.

March 23

Sir Roger Casement's WWI mission
Sir Roger Casement's role in securing the release of three Irishmen interned in Germany during the First World War has been recalled exactly 100 years on. A granddaughter of one of the WW1 internees Casement helped has uncovered new details about the turbulent period. Maureen Waugh has carried out extensive research on the fate of the wartime internees while delving into her own family history, trying to find the truth behind claims that her grandfather later "betrayed" the man who secured his release. For more details, please click BBC.


Mary Robinson: The person Irish women find most inspirational
That's according to a new survey which revealed that more than a quarter of Irish women believe Ms Robinson is the Irish figure they most respect. The former resident of Áras an Uachtaráin pipped Olympic gold medallist Katie Taylor to the post in the inspirational stakes. The athlete came a close second nabbing 17pc of the vote. The research was conducted by Cleanmarine Krill Oil. For more details, please click Irish Independent.


Historian honoured for 'magisterial and essential' work
The 24th Christopher Ewart-Biggs memorial prize has been won by Charles Townshend for his book The Republic: the Fight for Irish Independence 1918-1923, published by Allen Lane. The winner was announced at a reception at the Irish Embassy in London, and the prize was presented by Sir Christopher Bland. The prize was set up in memory of Christopher Ewart-Biggs, British ambassador to Ireland, who was murdered by the IRA in 1976. For more details, please click Irish Times.


Poet Michael Longley to be honoured with freedom of Belfast
The honour is in recognition of his contribution to literature and to the cultural life of his native city. Longley was born in 1939 and published his first collection of poetry, No Continuing City, when he was 30. His notable accolades to date include the Whitbread Poetry Award, the TS Eliot Prize and the Queen's Gold Medal for Poetry. He held the post of Professor of Poetry for Ireland from 2007 to 2010. For more details, please click BBC.


Former teacher wins first Seamus Heaney poetry prize
A teacher whose career was ended by a debilitating and painful condition has told of her joy after she won the first ever Seamus Heaney Award for New Writing for her poem - Lavender Fields. Stephanie said her winning poem was inspired by a trip to Tasmania a few years ago. When she returned home, she further researched the island off the south coast of Australia and images of lavender fields caught her imagination. For more details, please click Belfast Telegraph.
Photo Credit: ABC Rural


Belfast writer St John Ervine honoured with blue plaque
A historical blue plaque has been being unveiled in memory of the east Belfast writer and playwright St John Ervine. Ervine was born in poverty close to the Albertbridge Road. The writer was a lifelong friend of George Bernard Shaw, a drama critic and wrote plays that were performed on Broadway and London's West End. He wrote seven novels and biographies, including studies of Craigavon, Parnell, Carson, William Booth, Oscar Wilde and George Bernard Shaw. For more details, please click Belfast Telegraph.
Photo Credit: Movies/Pictures


Six Nations heroes land home to rapturous welcome
Supporters of all ages turned out at Dublin Airport to give the back-to-back Six Nations champions a warm welcome home. Joe Schmidt's side wrapped up the Six Nations title on an incredible day of rugby - and the public were keen to show their appreciation. Autograph and selfie requests were the order of the day and the heroic squad obliged. Ireland captain Paul O'Connell says this year's dramatic Six Nations title was even more enjoyable than the one (they) won last year in Paris. For more details, photos and video clips, please click Irish Independent.
Photo Credit: Journal Ireland/ Stickland/INPHO


Women's Six Nations: Ireland hammer Scotland to clinch title
Ireland crushed Scotland by 70 points to emulate the men's team and secure the Women's Six Nations title on points difference from France. Needing to win by at least 27 points, the Irish were 34 up by half-time. They exploited their dominant pack to secure the victory, which delivered the Triple crown as well as the title. It is a second Six Nations success in three seasons for Ireland, who landed the Grand Slam when they first won the title in 2013. For more details, please click BBC.


O'Connor scoops leading rider prize in Florida
Meath's Cian O'Connor was awarded the $10,000 leading rider prize in Florida on Sunday after taking two wins and a second place at the Live Oak International show over the weekend. O'Connor and America's world-ranked number eight Beezie Madden made it through to the jump-off in the Live Oak international Grand Prix in Florida on Saturday, but O' Connor snatched the trophy when Madden faulted once in the final round. For more details, please click RTÉ.

March 22

President of Ireland leads tributes to Six Nations heroes
The President of Ireland, sports-mad Michael D Higgins, has led the tributes as Ireland secured back-to-back Six Nations titles following a sensational day of rugby. In one of the most dramatic day of sports ever witnessed, Ireland clinched the title on points difference after England failed to beat France by more than 26 points - but it went right to the wire in Twickenham before the final whistle blew with England winning 55-35. For more details, photos, and video clips, please click Irish Independent.
Photo Credit & Related Video: RTÉ


Thousands witness burning of Temple in Derry
More than 15,000 people attended as the structure in the Waterside area of Derry was set alight on Saturday evening. The aim behind Temple was to bring together the people of Derry and the artist at the centre of the USA's Burning Man Festival in Nevada, David Best. Members of the public have used Temple for the past week as a space for contemplation and remembrance and many left messages and memorabilia inside the wooden structure. For more details, photos and video clip, please click BBC.
Photo Credit: Getty Images


Customers book Good Friday session in world's first inflatable pub
The world's first inflatable pub has been launched with customers already booking it out for Good Friday. Two of the pubs will be open this Good Friday - one in Oranmore, Co Galway and one in Dunfanaghy, Co Donegal. Former drinks industry rep Caitriona Mulhern who commissioned two bars - The Pub and The Barrel - from a specialist company in the UK, has been inundated with so many queries, she had already ordered three more of the pop-up bars. For more details, please click Irish Independent.


Meet the man who thinks there's a big future in Irish beef jerky
Except it's a bit different to jerky – and he's not calling it that. Ross McDowell is under no illusion that converting Irish stomachs to jerky-style cured beef will be a hard sell. "There is a bit of an education required for this type of product, especially in Ireland," he admits. But the former engineer is hoping to ride the wave of the protein-is-good movement and make a mark on the multibillion-dollar global industry with a little help from the reputation of premium Irish beef. For more details, please click Journal Ireland.


St. Patrick's Day inspires huge spike in watching leprechaun films
The number of people tuning into adult movies featuring 'leprechauns' increased by almost 10,000pc on St. Patrick's Day as people throughout the world indulged themselves in some Irish-themed alone time. New figures released by an adult film giant offered insight into their user's St Patrick's Day habits and found that searches on the website for 'leprechaun' increased by 9325pc on Tuesday. For more details, please click Irish Independent.


Cork princesses set for crowning glory in record books
Ballincollig is set to be crowned with a special Guinness world record after 771 princesses paraded along its main street on St Patrick's Day. One of the parade organisers, Emer Cassidy, said they could have registered more, but were under pressure to start the parade on time. "There were lots more princesses gathered on the town's Time Square for registration but we just didn't have the time to register everyone. The previous world record of 351 princesses held by a leisure park in England. For more details, please click Irish Examiner.
Photo Credit & Related Story: Evening Echo


Meet the band that blends Irish folk and heavy metal
You might think the genres are diametrically opposed. But these forms of music have been combined by an Irish group that enjoys huge success abroad – and whose members wonder why they don't hear the same applause at home. Cruachan was formed by brothers Keith and John Fay in 1992. Taking their cues from Celtic mythology – Cruachan Aí was the home of Warrior Queen Medb – they embraced Irish legend. Signed to Trollzorn Records, they're working on their seventh album. For more details and video clips. please click Journal Ireland.


Co Antrim school does quirky animated take on the Elements Song
It's certainly one way to remember the periodic table come exam time. A host of pupils from St Killian's College in Carnlough, Co Antrim have put their own spin on the Elements Song by Tom Lehrer. It lists the then 102 chemical elements at the time of writing. The stop-motion video and tune was put together by physics teacher Keely McBride and her pupils as part of British Science Week which runs until March 22. To read this news item and many others, please click Belfast Telegraph.


Annual Irish road bowling tournament held
No, it wasn't on a rural road in Ireland, but on an island in Savannah, Georgia, USA that the annual tournament was held on March 2st. Sponsored by Savannah's Ancient Order of Hibernians, "It looks like a fun game, and it is a fun game," said Daniel Bendig, a Hibernians secretary. "But there's a lot of history to it." According to the Irish Times, road bowling came to Ireland in the 1600s when, so it's said, bored soldiers of King William of Orange started throwing cannonballs to take up the time.For more details, please click Savannah Now.

March 21

Animation Ireland and An Post team up for Stamp Launch
Animation Ireland have teamed up with An Post to release a four stamp set celebrating the Irish animation industry. In a first for An Post, the stamps feature Augmented Reality technology to virtually bring them to life. When scanned by a Smartphone with the CEE App installed, a specially produced film featuring 'Roy', 'Give Up Yer Aul Sins', 'The Secret of Kells', 'Nelly & Nora' and other animated works can be seen. For more details, please click IFTN.
Photo Credit & Purchase Details: An Post


Artist David Best on burning his temple
Take the path up beyond the top of the hill in Londonderry's Waterside, follow the winding country road up and up and, suddenly, you come upon it. It seems alien - a white, light balsa wood temple of curlicues and spires and impossible twirls. It is as if some giant hand plucked up a strange Balinese temple and whisked it across the globe, perching it gently on Kelly's Field high above the city of Derry looking down on the River Foyle. Even in the stillness of early morning, there is a steady trickle of pilgrims. For more details, please click BBC.
Photo Credit & Related Story: Belfast Telegraph


Game of Thrones stars hail 'immensely beautiful' Northern Ireland
Scenes from the show have been filmed around beauty spots on the coast as well as in the Paint Hall studios in Belfast. Alfie Allen, who plays Theon Greyjoy in the TV phenomenon, said: "I love the accent. I just love the coast line you know. We filmed a lot on the coast line. If Northern Ireland had better weather, it would be like New Zealand. "It's an immensely beautiful country." For more details, photos and video clips, please click Belfast Telegraph.


Fancy owning a castle?
Well, this spectacular castle close to Cullybackey has just gone on the market for a cool £795,000. The fairy-tale castle of Craigdun in Co Antrim is thought to have been designed by famous architect Charles Lanyon. It was built in the Scottish baronial style during the 1860s by Ronald's father, 'Long Eddie' McNeill. The original Craig's Castle had been built on site in the early 17th century under grant from the crown in the reign of James I, but was knocked down by the McNeills who used the masonry for the current structure. For more details, please click Belfast Telegraph.
More photos: Irish Independent


Couple say 'I Do' in 38 countries, including Ireland
During their whistle stop stay, Cheetah Platt and his bride Rhiann Woodyard were married outside of Malahide Castle in North County Dublin, in Glendalough Cathedral, and at the standing stones of Boleycarrigeen. "We cannot say enough about the place, it was wonderful . "We got to stand in the middle of a thousand year old mystery, it was so special, we were blown away by the magic and enormity - we felt the Irish magic." For more details, please click Irish Idependent.


Six Nations Preview: Ireland vs Scotland
Just how much of an opportunity do Ireland have of winning the 2015 Six Nations title? Ireland have not won outright back-to-back titles since 1948/49, and this is a clash on which events in Rome and London will have a huge bearing. Wales are still in the running and may manage to knock France out and set a target for the other two when they play Italy prior to kick-off in Murrayfield. But, in the most likely scenarios, it is current front-runners England that Ireland have to think about most. For more details, please click RTÉ.
Photo Credit: Rugby Ireland


Rory McIlroy charges up leaderboard at Arnold Palmer Invitational
Rory McIlroy charged up the leaderboard at the Arnold Palmer Invitational after a second-round 66 but is still five shots behind leader Morgan Hoffmann. The Northern Irishman's first-sub 70 round on this year's PGA Tour included a run of five birdies on his back nine. World number one McIlroy's compatriot Graeme McDowell missed the cut after a second 72 left him on level par while Paul Casey also exited on one under. For more details, please click BBC.
Photo Credit: Getty Images


Davy's donkey leaves them trailing in his wake
The fourth annual Celebrity Donkey Derby took place on the streets of Youghal last night. Youghal native, Davy Russell, the local favourite, was joined by some of Ireland's finest jockeys who have just returned from their exploits in Cheltenham. The fun race was a fundraiser for the forthcoming 'Queen Of The Sea' Festival which takes place this coming July and that festival will this year aid the Cork Cancer Research Centre and Youghal RNLI. For more details, please ckick Irish Examiner.
Video Clip: You Tube


Denis Lynch returns to form with win in Germany
Tipperary's Denis Lynch showed a return to top form on Friday night at the four-star show at Braunschweig in Germany with a win in the Grand Prix qualifier. Riding Thomas Straumann's bay gelding Abbervail van het Dingeshof, whose last victory was a jump-off class three weeks ago ago in Sweden, Lynch came home exactly one second ahead of Dutch rider Leopold van Asten and the dark bay gelding VDL Groep Zidane, collecting €8,750 for his win. For more details, please click RTÉ.

March 20

Partial solar eclipse takes place across Ireland
Ireland experienced a partial solar eclipse this morning, although cloud cover obscured the skies across much of the country. Broken cloud offered close to ideal viewing conditions of the eclipse at the Blackrock Castle Observatory in Cork city. A large crowd gathered at the castle where Cork Astronomy Club and Blackrock Castle astronomers set up a number of solar stations to observe the eclipse. For more details and photos, please click RTÉ.
Photo Gallery: Irish Times


Manuscript returns to Dublin after 400 year absence
Trinity College Library paid more than €250,000 at Christie's auction last November for the document on more than 200 pages of vellum in a relatively modern binding — added in the early 1600s. It was produced by monks of the Cistercian Abbey of St Mary's in the centre of medieval Dublin. Among the texts which their scribes copied into the manuscript are an account of the Trojan War and works by Gerald of Wales on the topography and conquest of Ireland. For more details, please click Irish Examiner.


RTÉ to take over O'Connell St for 'Road to the Rising' event
O'Connell Street will be closed to traffic on Easter Monday as RTÉ stages a celebration of everyday life 100 years ago, with the aid of hundreds of volunteer actors in period costume, High Nelly bicycle demonstrations, silent movies and high teas. The street will be pedestrianised for the day and will feature a restored open-front tram which will serve as a platform for readings and performances, an oversized gramophone, a vintage carousel, a steam engine and – weather permitting – a hot-air balloon. For more details, please click Irish Times.
Photo Credit, Moew Photos & Related Story: RTÉ


Watch: A nostalgic look at Ireland
The video follows the plot of a Snapchat story from a friend being watched by an Irish lad in Australia. He gets very nostalgic about home. "It's funny, the things you miss when you think about it. It's the little things." He describes a number of everyday things that are lacking in his new home. So. settle down with some taytos and a mug of tae, and watch the best bits of Ireland. We promise it has a lovely ending. Please click Breaking News Ireland.


Irish researh on breast cancer test finds reduced need for chemotherapy
Irish research on a new high-tech test on early-stage breast cancer has found that it has reduced the need for chemotherapy in 58% of patients. Of the 583 patients who underwent the test, over 330 avoided chemotherapy. The study was conducted by the All Ireland Co-operative Oncology research group, led by Dr Janice Walshe, Medical Oncologist at St Vincent's University Hospital and supported by the National Cancer Control Programme. In October 2011, Ireland became the first country in Europe to publicly fund the test. For more details, please click RTÉ.


Irish Rock Story: BBC documentary charts Belfast and Dublin scenes
"I think we are preoccupied with the past because we are trying to get to transcending mundane existence." Van Morrison's words are stitched into the middle of a new music documentary The Irish Rock Story: A Tale of Two Cities and they have a resonance for both Belfast and Dublin, the programme's focal points. The past is everywhere in both cities and with it the heavy weight of centuries of history. For more details, please click BBC.
ED. NOTE: The documentary will be broadcast on BBC One Northern Ireland on Monday, 23 March at 21:00 GMT and is also available on the BBC iPlayer.


Belfast wins vote for spot in Monopoly's global edition
Belfast will feature on a global edition of the board game Monopoly after it was voted in the top 10 most popular destinations. Belfast will be placed on the red property spaces after it came ninth in a worldwide crowd-sourced competition marking Monopoly's 80th birthday. London, Moscow and Sydney are among other cities on the game. Inga Norvilyte fronted the campaign to get Belfast on the board. "I'm so proud to be part of it and can't wait to play the new Monopoly: Here and Now game," she said. For more details, please click Irish Herald.
Photo Credit & Related Story: Belfast Telegraph


Padraig Harrington off to a flyer in Florida
Padraig Harrington carded a flawless round of four under par to lie just two shots off leader Morgan Hoffman at the Arnold Palmer Invitational in Florida. Harrington carded four birdies and saw his putt at the final hole just lip out to miss out on number five. Rory McIlroy carded a two-under-par 70 while Graeme McDowell shot an even par 72 and Shane Lowry finished on three over par. For more details, please click RTÉ.


The points race for the Six Nations title
As well as contesting individual Test matches this weekend, Ireland, England and Wales are all involved in a race for the Six Nations title that will be decided by points difference. France are also in with a chance of securing the title. But Les Bleus would need all the other teams involved to lose. England have the advantage of playing at home, but Ireland and Wales take on the two weakest sides in the Championship in the shape of Scotland and Italy. For more details, please click RTÉ.

March 19

Solar eclipse set to darken the sky over Ireland on Friday morning
People have a chance tomorrow to see a rare phenomenon of nature as a near-total eclipse of the sun tracks across Ireland. It will become noticeably cooler, and sunlight will dim as up to 95 per cent of the sun will be blocked out by the moon. "It is a fantastic spectacle of nature and we won't see another eclipse like this until 2026,"said David Moore, editor of Astronomy Ireland magazine. "It is a very rare event and people are always fascinated about natural events." For more details, please click Irish Times.
Photo Credit & Related Story: Irish Independent


Cork woman two steps away from sainthood
Mary Aikenhead, born in Daunt's Square in Cork in 1787, was one of seven people to be declared venerable yesterday by Pope Francis. Mary was first recognised in 1921. Now, she is only two more steps away from becoming a saint. Her beatification, the next step, would be followed by canonisation. Mary founded the Religious Sisters of Charity in 1815 to provide services to "the suffering poor". The order is known for its work caring for those in need and operates in Ireland, the UK, Zambia, California, Nigeria, Malawi, and Australia. For more details, please click Irish Examiner.


Changed utterly – An Irishman's Diary about revisionism and 1916
In fairness to Edward Kelly, he stopped short of pretending to have been in the GPO during Easter Week. But recalling those turbulent events half a century later, he put himself very close to the action – Nelson's Pillar, to be exact – and suggested it was only a lack of bravery by his companions that prevented him joining Pearse and Connolly inside. Kelly and three friends from Monaghan had, he said, been attending the Fairyhouse Races as the Rising broke out. Later, travelling into the city en route home, they saw the emerging stand-off. For more details, please click Irish Times.


Speed limits in the Republic of Ireland are changing
The Department of Transportation is to release new guidelines on speed limits that will see sweeping changes to how country roads and urban areas are governed. Speaking on RTÉ's Morning Ireland, Transport Minister Pascal Donohoe said that the changes will see new signage on country roads and within housing estates within the next two years and will include the provision of "slow zones" in housing estates as well as reviews of speed limits every five years. For more details, please click Journal Ireland.
Photo Credit & Related Story: Got Ireland


Campaign to save Ireland's most famous lifeboat
Adventurer Bear Gryllis is among those backing new campaign to restore an Irish lifeboat that was involved in the attempt to save his great-grandfather's life. The television presenter's relation, Sir Walter Smiles, was among 130 people who died in the Princess Victoria tragedy of 1953. The Royal National Lifeboat Institution's (RNLI) volunteer crew at Donaghadee in Northern Ireland, aboard the Sir Samuel Kelly, risked their lives to save 33 passengers in the incident. For more details, please click Journal Ireland.


Taoiseach presents St Patrick's Day science medal to Massachusetts professor
Taoiseach Enda Kenny has presented the Science Foundation Ireland St. Patrick's Day Science Medal to Professor Katherine Fitzgerald, Professor of Medicine at the University of Massachusetts Medical School. Mr Kenny praised Professor Fitzgerald for her work in the field of immunology, particularly infectious diseases. Professor Fitzgerald has helped to define a group of inflammatory activators that lead to diseases such as gout, asbestosis, and potentially Alzheimer's disease. For more details, please click Breaking News Ireland.
Photo Credit & Related Story: Irish Times


Ulster racing car to be auctioned
Auctioneers say an Aston Martin sports car modified for racing in Northern Ireland in the 1930s could fetch a price of more than £2m. The LM19 Ulster car is one of a series of cars that were produced to take part in the gruelling Le Mans 24-hour race. This particular model was modified to be eligible to compete in the Ards TT race, an event that brought the world's leading drivers to Co Down every year between 1928 and 1936.For more details, please click BBC.


Bringing one of Ireland's greatest heroes to life
It took two years of hard work piecing tiny coloured tiles together, but yesterday schoolchildren brought one of Ireland's greatest heroes to life. Students of St Columba's National School were delighted to see their mosaic unveiled in the grounds of Croke Park. Titled 'Conas a fuair Cú Chulainn a ainm' (How Cú Chulainn got his name) the artwork depicts ancient hero Cú Chulainn brandishing his hurley in the air as he strides through a field. The piece was unveiled by GAA president Aogán Ó Fearghail. For more details, please click Irish Independent.
Photo Credit & Related Story: GAA


Rory McIlroy to take break before Masters
Rory McIlroy will use his first appearance in the Arnold Palmer Invitational as his last competitive outing before attempting to complete the career grand slam in next month's Masters. The Invitational tournament starts at Bay Hill this Thursday with the 2015 Masters kicking off on 9 April, three weeks later. The world number one spent part of last week practising at Augusta National with his father Gerry and New England Patriots quarterback Tom Brady. For more details, please click RTÉ.

March 18

In tribute to The Dude
It was the final playlist of the man know affectionately to his friends as The Dude. Tony Fenton had choreographed his funeral from start to finish and the hundreds who attended the Church of the Sacred Heart in Donnybrook yesterday (Monday) were treated to a string of the DJ's favourite hits, ending with his own personal number one — Say A Little Prayer, the Burt Bacharach song made famous by Aretha Franklin and Dionne Warwick. For more details, pics and video clip, please click Irish Examiner.


Northern Lights turn Irish skies green
Tthe timing couldn't have been more perfect. On the evening of St Patrick's Day, the Northern Lights lit up the Irish sky with a stunning display of colour and light. The phenomenon occurs when explosions caused by a coronal mass ejection (CME) on the Sun cast magnetically charged particles into space. Most of these particles are deflected by the Earth's magnetic field but as it is weaker at the poles, some of those particles then collide with gas in the atmosphere creating the light display. For more pics and details, please click Breaking News Ireland.
Photo Credit: Patrick Duddy


Celebrating all things green from Dublin to Dusseldorf
After meeting in an Irish pub in Germany 20 years ago, Margot and Pascal Dittmann marked their anniversary this year with a visit to Ireland for St Patrick's Day. "We have a St Patrick's Day parade in Dusseldorf every year — it is very big and very loud," said Margot. "The parade in Dublin is very different. "It is not as noisy as the one in Dusseldorf but it is very colourful and we like it very much." Margot and Pascal were among half a million people on the streets of the capital, including Lord Mayor Christy Burke, who arrived for the parade in a state coach built in 1791 and drawn by six white horses. For more details, pics and video clips, please click Irish Examiner.


Belfast streets packed for St Patrick's Day parade
Belfast was enveloped in a green blanket as thousands turned out for the annual St Patrick's Day parade. Six-hundred participants weaved their way from the City Hall in formation on dozens of floats festooned with green sequins and feathers and banners of every hue. Spectators with green hair, facepaint, flags and regalia followed the procession, revelling in a carnival atmosphere which culminated in an open-air concert at Custom House Square. For more details and photo gallery, please click Belfast Telebraph.
Photo Credit: Mark Marlow/pacemaker press


St Patrick's Day, from the archives
St Patrick's Day has been portrayed in as many ways as there are myths about his life and times. To experience how it used to be, the BBC has reached back into the archives and discovered three films depicting places where he is thought to have lived, and looking at how he should be remembered. While modern-day advertisements to promote tourism are slick and often voiced by Hollywood stars, one of the films from the 1962 Tourist Board promotes the St Patrick pilgrimage and is very much of its era. To watch all three films, please click BBC.


Thousands expected to take lessons online in Trinity's Irish history class
One of the biggest classes of Irish history has started and Trinity College Dublin hopes to match the 17,000 who signed up for its free online programme first time round.The university's Massive Open Online Course (MOOC) on the turbulent period experienced by Ireland in the early 20th century attracted worldwide interest last year. Anyone with internet access can still register for the course, Irish Lives in War and Revolution: Exploring Ireland's History 1912-1923. For more details, please click click Irish Examiner.
Photo Credit: My Holiday Ireland


Stunning photo voted one of Ireland's very best
A Kildare photographer has claimed the Irish national prize in the world's largest photography competition. A photo of a pink grasshopper taken by Chris Connolly from Clane was today announced as the Irish national winner in the 2015 Sony World Photography Awards. Connolly wins a new camera and will be flown to London for the awards gala in April, while the photo will hang in Somerset House in the English capital from 24 April to 10 May. Describing the image, Connolly said that the colour of the insect attracted him as he took pictures in Kilkenny. For more details, please click Journal Ireland.


Tribute to Kingdom of Kerry men who helped rebuild Ground Zero
Scores of Kerrymen working on rebuilding the Twin Towers site in New York feature in a radio programme Kingdom Rising. The Irish are synonymous with construction in the city. "Back to when the unions started in New York, Kerry men had a strong presence in 18 A, the concrete union in New York," said programme producer and research Audrey Galvin. "There were so many of them working in Tower 1, it was nicknamed 'The Kerry tower'." For more details, please click Irish Examiner.
Photo Credit & Related Story: Irish Central


Anything but the shamrock: gardening experts name their Irish favourites
Columnist Fionnuala Fallon writes about the thousands of wonderful garden plants that have earned the right to be called Irish by virtue of their significant connections to a host of green-fingered Irish gardeners and nurserymen, both past and present. Some – such as the Irish yew, Taxus baccata 'Fastigiata', discovered growing on the slopes of a Fermanagh mountainside in the mid-18th century by an Irish farmer called George Willis, or the dainty Victorian variety of daffodil known as 'Rip Van Winkle' – are rightfully famous throughout the world. For more details, please click Irish Times.
Photo Credit: Paddy Tobin

March 17

Famous landmarks turn green in honour of St Patrick
Many famous landmarks and sites across the world have been 'going green' to mark St Patrick's Day. It is part of Tourism Ireland's annual global greening campaign, and this year, the landmarks include The Leaning Tower of Pisa, Italy, Edinburgh Castle, Scotland, Christ the Redeemer statue, Rio de Janeiro, Brazil, The London Eye, England. and the Sacré-Cœur Basilica, Paris, France. To view the photo gallery, please click BBC.
Photo Credit: Tourism Ireland
More photos: Breaking News Ireland
And more photos: Journal Ireland


Irish artist goes global with Google doodle
Eamonn O'Neill created today's special St Patrick's Day doodle and Everyone who uses the tech giant's search engine in the United States, UK and Ireland over the next 24 hours will see his trio of traditional instrument-wielding happy shamrocks. The Irishman was enlisted to create today's Google doodle after the firm's 'doodle' head Ryan Germick saw the illustrator's work on his website, eamonnoneill.ie Although they annually celebrate St Patrick's Day, this is the first time Google has had an Irish artist helped them go green. For more details, please click Irish Independent.


Cathedral offering free admission to Patricks and Patricias
St Patrick's Cathedral will turn green for St. Patrick's Festival, and is also offering free admission to anyone called Patrick, Patricia, Padraig, Pat, Paddy (or any other derivative) on March 17. Built in honour of Ireland's patron saint, the storied cathedral has been at the centre of Dublin and Ireland's history for over 800 years. Constructed on the site of an ancient well - said to have been used by St. Patrick himself - it is the largest Cathedral in the country and the final resting place for Jonathan Swift, who served as its Dean from 1713 to 1745. For more on this news item, please click Irish Independent.
Photo Credit & Related Story: Journal Ireland/Leon Farrell/Photocall Ireland


Irish literary tips for St Patrick's Day
Ireland's cricketers and rugby team may have fallen short at the weekend but Ireland's horses can always be relied upon to lift the Irish nation as they did at Cheltenham. And in addition to the magnificent Irish equines are the Irish writers, rare thoroughbreds blessed with two literary traditions, a unique way of seeing, a mercurial feel for language, a grasp for the poetry of the ordinary and a tension between the rural and the urban. For more details, please click Irish Times.
Photo Credit: Frank Miller


St Patrick's Day pictures and videos from all over
Bright spring weather across much of Northern Ireland and the Republic should help this St Patrick's Day to be the best in years with tourism bosses hopeful the annual celebration of all things Irish could draw in hundreds of thousands of extra tourists this year. Celebrations includeThe Duchess of Cambridge presenting shamrocks to soldiers from the Irish Guards at the century-old ceremony in Mons Barracks, Aldershot, Hampshire. For more details, please click Belfast Telegraph.
Photo Credit & Related Story: Royal Fans


Emerald Isle is the place to be as thousands jet in
It's the country's most internationally renowned celebration, and everybody knows it. All across the world, people with itchy feet are making bucket lists — Brazil for Carnivale, India for Holi, and Ireland for St Patrick's Day. While the sheer opulence and splendour of New York on this feast day is a force to be reckoned with, the Emerald Isle is surely the best place to be on the national feast day for the most authentic ceoil agus craic. For more details and video clip, please click Irish Examiner.
Photo Credit & Live coverage: RTÉ


14 things you probably didn't know about St Patrick's Day
Did you know that Ireland's patron saint was never actually Canonised by a pope? This isn't exceptional though. For most of Catholicism's first millennium, canonisations were done on the diocesan or regional level. He was given the title 'saint' by popular acclaim and it has stuck to this day. And did you know Patrick's real name wasn't even Patrick? It was actually Maewyn Succat. Doesn't have quite the same ring to it, does it? For the complete list, please click Journal Ireland.


St Patrick's Day twist for 'fluke' Loch Ness meteor photo
A breathtaking photo of a meteor passing over Loch Ness has gone viral, with many rushing to praise the once-in-a-lifetime shot - and Irish people spotting something else in the image. The meteor is reflecting green, white, and gold on to the lake. The spectacular photo was taken by amateur snapper John Alasdair Macdonald, who posted the shot on his Facebook page, The Hebridean Explorer. "It was an absolute fluke," he says. For more details, please click Breaking News Ireland.


17 things you don't need to do this St Patrick's Day…
but everyone does. First and foremost, you don't need to…embrace the diddly-eye. Unfortunately, today begorrah and bejaysus, there are bodhrans everywhere. The Dubliners and Christy Moore are on repeat in every pub, to be sure, to be sure (we'll stop now). Indeed, the official soundtrack to Paddy's Day in Dublin comes fully equipped with tin whistles, banjos and accordions galore. Do us all a favour and try to remember that you wouldn't tolerate this sort of dated paddywhackery on any other day of the year. So, please, stop trying to sing along. Especially if you don't know the words. For the complete list of not to dos, please click Irish Herald.

March 16

St Patrick's Day: Parades ready to launch in the south
Dublin has gone green for Patrick's Day, with festivities culminating in a street party tomorrow, expected to attract more than 500,000 spectators. The fun began at the weekend with buildings and landmarks turning green for the occasion, including the GPO, the Four Courts, Guinness Storehouse and even the Spire. The main event occurs tomorrow, of course, with Dublin's St Patrick's Day parade, brought to life by Ireland's leading pageant companies. Bands from Ireland, the US, and Germany will perform. For more details, please click Irish Examiner.
Photo Credit & Related Story: Irish Independent/Seamus Farrelly


St Patrick's Day: The top ten parades and parties in NI
St Patrick's Day celebrations are getting ready to hit the streets across the world, with shamrocks on show, rivers dyed green, and some of the world's most recognisable buildings lit up in a distinctively emerald hue. In Northern Ireland, there are parades and parties aplenty, and the Belfast Telegraph has tracked down 10 of the best, including a carnival parade which leaves Belfast City Hall at noon tomorrow, with drummers, dancers, and St Patrick himself taking part. For more details, photo gallery and video clip, please click Belfast Telegraph.


Taoiseach opens new Irish consulate in Austin, Texas
Taoiseach Enda Kenny said the move marked a major new phase in Ireland-Texan relations. "The decision by my Government to open the new Ireland House in Austin demonstrates Ireland's commitment to Texas and the strong value that we attach to Ireland-Texan relations both now and into the future." Mr Kenny has embarked on a massive investment drive in the United States ahead of his annual St Patrick's Day visit to the White House. To read this news item and many others, please click Breaking News Ireland.


Thirty seven signs that you might be Irish
At this time of the year, everyone is claiming to be Irish. And with an estimated 70 million of us out there, sure they might as well. But how Irish are you, really? Here are 37 signs that you might be Irish, as opposed to "Irish". The list of things you are least likely to do on St Patrick's Day starts with pouring green food dye in the toilet bowl in order to persuade the young people of the household that a leprechaun visited overnight. To read the rest of this feature article, please click Irish Times.
Photo Credit: Mrs Fields


Ireland's brightest rising stars 2015
To celebrate being Irish this St Patrick's Day the RTÉ TEN team have chosen some of the rising stars from the world of Film, Fashion, Sport, Literature and Music, including Bertram Allen. While other sports such as football, gaelic games and even cricket grab most of the headlines, there's no denying that a) Ireland is traditionally up there with the global best as equestrians and b) the most promising Irish sports person of the moment is Bertram. For more details, please click RTÉ.
Photo Credit & Related Story: Noelle Floyd


Paris audience in "group hallucination" at 'Beckett's 'Not I'
In a pitch black theatre, a disembodied mouth spews Samuel Beckett in a breathless, non-stop monologue over a Paris theatre audience, in English, without subtitles. On the face of it, Beckett's 'Not I' appears designed to be as indigestible as it is possible for a play to be: just eight minutes long, no other point of focus other than the floating mouth surrounded by blackness, and a galloping, demented text that is stream-of-consciousness with no obvious structure. For more details, please click Journal Ireland.


The man who spent his entire adult life walking around Ireland
Dubliner George Victor du Noyer was given the job of visiting every rock exposure on the island and recording the details on six-inch sheets of paper. He did it as part of the great Victorian geological survey that began in 1845. As well as charting the landscape, Du Noyer took the opportunity to capture Irish life as it was more than 150 years ago. His exquisite drawings and watercolours record the relationship between the people and the land - something he was the first to document. For more details, please click BBC.
Photo Credit & Related Details: Geological Survey of Ireland


Belfast eighth on world's 50 gourmet trends list
Belfast's food scene has beaten some of London's best-known eateries to grab a place at the top table in a list of the world's top gourmet trends in 2015. 'Belfast's Food Scene' was number eight in a list of 50 in the Observer Food Monthly's annual list, which singled out St George's Market and Ox restaurant for particular praise. "Until recently, outside of Northern Ireland, there was probably more awareness of Boney M's cheesy 1977 hit Belfast than of the city's food and drink scene," the Observer said. To read this news item and many others, please click Belfast Telegraph.
Photo Credit: Twitter


'Thriller' on the streets of Limerick as 24 marching bands battle it out
More than 40,000 people gathered for the International Band Parade, which saw musicians from across the world perform on the streets of Limerick. Always a highlight of the St Patrick's Day festivities, this year's event saw the University of Southern Mississippi crowned overall winners. The final performance of the day, the 160-strong band proved they were certainly worth the wait as they enthralled spectators with a rousing version of Michael Jackson's classic hit 'Thriller'. Band members put down their instruments to join in with majorettes and flag bearers as they performed a colourful routine for judges on the review stand. For more details, please click Irish Independent.
To watch their routine, please click You Tube

March 15

Watch: Young patients on why they love their mothers
For Mother's Day, Temple Street Children's University Hospital asked their young patients to describe what they love most about their mothers. And the answers they give are honest, funny and very touching - showing just how important mums are to little people when they're ill. Temple Street also spoke to the mums themselves, asking them what the best thing about being a mother is - and (no surprise) it's all about the little things. This is an emotional watch so get the tissues ready. To watch the video, please click Breaking News Ireland.


Irish men love their mams more than their partners
The Irish mam is an iconic symbol in Irish culture and it's a well known fact that Irish men can have an untouchable soft spot for their old dear but now there's research to prove it. A new study has found that Irish men shell out more money on presents for their Mams on Mother's Day than they do for their partners on Valentine's Day which says a lot for the state of romance in Ireland. The research conducted by Tesco found that Irish men spend 7pc more on flowers on Mother's Day than they do prior to the most romantic day of the year. For more details, please click Irish Independent.
Photo Credit & Related Story: Irish Herald


Nostalgia: The foods that say you're Irish
The same brand names popped up again and again: Tayto, Barry's tea, Kerrygold butter, Clonakilty sausages and Ballymaloe relish. But another dominant theme was the connection made between great Irish food and the people who put it on the family table. Fittingly enough this weekend, when Ireland celebrates Mothers' Day, memories of home and wonderful Irish food are inexorably linked with the great Irish mammy. For more details, please click Irish Times.


Watch! Hozier talks fame on Other Voices special
Wicklow-man Andrew Hozier-Byrne took another step on his journey towards stardom when he appeared on the Other Voices stage in Dingle, Co Kerry just over 14 months ago. Now he is enjoying international acclaim - but what does he make of his fame? In Sunday night's very special edition of Other Voices, Aidan Gillen takes a trip down memory lane and recounts Hozier's first appearance on the show. For a link to the interview, please click RTÉ.


Tam O'Braan's prized White Smoked Tea ...
but at £10 a cup it's not to everyone's taste! The world's finest tea isn't growing on the lowlands of Assam or the slopes of the Himalayas - but on a former sheep farm in Scotland. The best brew in the world is being grown by Northern Irish grower Tam O'Braan in Perthshire and it has just been awarded the prestigious Salon du The award in Paris. The White Smoked Tea is so highly prized that he is selling it for £1,150 per lb which is 200 times the usual price, making it the second most expensive tea in the world. For more details, please click Belfast Telegraph.


NI teenager wins Young Engineer of the year accolade
Eighteen year old Colum McNally from Newry has designed and built a safe and low-cost hydraulically-operated agricultural machine which can be used to drive in fence posts and split logs. His award was among those announced at the Big Bang UK Young Scientist & Engineers Fair in Birmingham by judges including Nobel Prize winner Sir Tim Hunt and first British astronaut Helen Sharman. For more details, please click Belfast Telegraph.


You might never have heard of him, but he's one of Ireland's most popular musicians
Having tens of millions of views on your YouTube videos would usually put you in the realm of at least 'well known' in Irish music circles. But this Cork-based musician is pushing way past those figures for his songs – 50 million on last count – and most people aren't even aware. His name is Gavin Dunne, and he works as a solo artist under the title of Miracle of Sound. He's not just a regular acoustic-style Youtuber, though – he does something completely different, and makes a decent living from it. For more details, please click Journal Ireland.


Dublin SPCA reunites dog with his owner after a year apart
A Yorkshire terrier has had a heart-warming reunion with its owner after it was stolen more than a year ago. The Dublin SPCA has shared a video showing when Bruno the dog was returned to his owner, and it is clear, despite the 12 months apart, that he remembers his best friend. Upon hearing his old master's voice, the tiny terrier practically explodes with joy and runs straight into his arms. To watch the video, please click Irish Examiner.


Former Manchester United captain honoured with walkway in his native Cork
The family of an Irish sporting legend said they are deeply moved after a walkway near his childhood home was named in his honour. The Noel Cantwell Walk, named after the Cork-born former Manchester United skipper and Republic of Ireland international who also played cricket for Ireland, was unveiled on the city's Mardyke — a kick of a ball from where he sported and played as a child. His widow, Maggie, said Noel, who was one of Ireland's first big international soccer stars, was always very proud of his Cork roots. For more details, please click Irish Examiner.
Photo Credit: Denis O'Connell

March 14

President's St Patrick's Day Message
In his message, President Michael D Higgins urged the public to look to the future with "optimism and confidence" amid indications that an economic recovery is occurring in Ireland. He also said he hoped for a future "underpinned by solidarity, community and the fundamental values which must lie at the heart of any just and ethical society". "St Patrick's Day also marks a season of regeneration and hope," he said. For more details, please click Irish Times.
Photo Credit: Breaking News Ireland


'Recovery has taken hold' in Ireland
That's according to Taoiseach Enda Kenny who is in in Atlanta, Georgia, at the beginning his St Patrick's Day, week-long visit in the United States. He was pointing out that Brussels had predicted the country would be Europe's fastest growing economy for the second year running. "And that's why I'm here this week – in Atlanta, in Austin and in Washington D.C. – to do business. Business which benefits both countries. Which creates jobs here in the US and in Ireland." For more details, please click Breaking News Ireland.


The history of the shamrock at the White House
On March 17 every year, the Taoiseach travels to Washington DC to present the current President of the United States with a bunch of Shamrock. But where did this tradition begin? On March 17, 1952, Irish Ambassador to the US, John J. Hearne took an unexpected trip to Pennsylvania Avenue where he left a box of shamrock for President Harry Truman. The following year, the presentation of the Shamrock began to look like the delivery we know today as it was presented to President Eisenhower in person. For more details and photos, please click Breaking News Ireland.


Dublin's Spire lights up for St Patrick's Festival
The Spire in Dublin city centre has been illuminated in green for the first time. The project is in collaboration with the UNESCO International Year of Light and timed to coincide with this year's St Patrick's Festival, which gets under way tomorrow. The public lighting on the €4m Grafton Street Improvement Scheme has also been officially switched on. This showcases a feature which allows Dublin City Council to change the colour of street lights on Grafton Street to mark special occasions. For more details, please click RTÉ.
Photo Credit& Related Story: Breaking News Ireland
ED. NOTE: Himself says it looks more like St. Patrick's Blue than green - which might be more appropriate!


Watch: Astoundingly beautiful footage of the Wild Atlantic Way
Peter Cox, a landscape photographer from Cork, is capturing a number of images for a new book of aerial photographs of Ireland called 'Atlantic Light: The West Coast of Ireland in Photographs', and he has been filming some drone footage at the same time for over a year. "..."I've been fortunate enough to fly out to and even land on some of the most isolated spots on the Irish coast, the offshore lighthouses perched on dramatic crags, wave lashed by the Atlantic..." To watch the video, please click Breaking News Ireland.


Van Morrison: "Modern R&B is robotic"
NI singer Van Morrison says he is not a fan of the modern incarnation of the musical genre that inspired his career, dismissing today's R&B as "terrible" and "robotic". Morrison, who is releasing his 35th studio album this month, grew up listening to jazz and blues, music that was "esoteric, stuff that you had to think about." "It's about jazz and blues as opposed to rock. I didn't grow up on Top Of The Pops. It wasn't like, turn on the radio and get the Top 10. So that is where I am coming from - jazz, blues, folk, the beat thing." For more details, please click Belfast Telegraph.


Six Nations Preview: Wales v Ireland
Once again, Ireland find the route to RBS 6 Nations glory blocked by Wales. In the final match in 2009, it looked like Irish dreams of a first Grand Slam since 1948 had been ended when Stephen Jones struck his last-minute penalty towards the posts. Famously, the kick fell short and Ireland had claimed a first clean sweep in 60 years. The possibility that another might follow so soon seemed absolutely remote as recently as two seasons ago. But the remarkable turnaround that has taken place under Joe Schmidt means that having already beaten France and England, a Grand Slam is once again tantalisingly close. For more details, please click RTÉ.


Stephanie Roche scores another wonder goal
She's at it again - Ireland's Stephanie Roche scored another beauty of a goal during the week. This time the Puskas Award nominee scored in an Ireland jersey - playing in the Istria Cup against Costa Rica. The striker controlled a cross-field pass with her chest before unleashing a powerful volley into the back of the net from more than 20 metres out. Her fantastic goal helped Ireland to a 2-1 victory. All in a day's work for Roche, who was narrowly beaten by James Rodriguez in January to the FIFA Goal of the Year. To watch her score, please click Breaking News Ireland.


Rory McIlroy announces Dubai Duty Free as Irish Open sponsor
Taking place at one of golf's iconic venues, Royal County Down Golf Club from May 28 – 31, the Dubai Duty Free Irish Open will see McIlroy play the role of tournament host on behalf of his charitable foundation. The world number one golfer made the announcement via a video message saying "It's great news that Dubai Duty Free has come on board as the title sponsor for this year's Irish Open. Dubai Duty Free is a strong global brand with great experience in sports sponsorship through golf, tennis and horse racing." For more details and video clip, please click Belfast Telegraph.

March 13

Radio legend, Tony Fenton, RIP
Tributes have been pouring in over the past 24 hours for radio legend Tony Fenton as the nation was saddened at the news of his death. The DJ passed away after a four-year battle with cancer yesterday morning, aged just 53. Fenton spent his entire adult life working in radio, starting where most Irish DJs have – at the pirates. Fenton's first stop was at ARD (Alternative Radio Dublin) where he teamed up with a number of now-household names including Ian Dempsey, Brendan O'Connor, Gareth O'Callaghan and Marty Whelan. For more details, please click Journal Ireland.
Photo Credit: David Reddy


'King of Ireland' law to be repealed by Irish government
A 1542 law stating that the Queen is "king of Ireland" is among thousands of obsolete statutes to be repealed by the Irish government. It is one of 5,782 regulations and orders dating from before the Republic of Ireland became independent that are being cleared from the statute books. It is the largest repeal of outdated laws carried out in any country. Among the other orders listed for removal is a proclamation of 1561 declaring Ulster king Shane O'Neill to be a traitor. For more details, please click BBC.
Photo Credit: Deborah Titus


Groundbreaking research to establish chronology of Medieval Irish literature
Prof David Stifter of Maynooth University has been awarded an €1.8m grant from the European Research Council (ERC) for a project that will date a large number of 7th–10th Century Irish texts and develop methodologies for dating languages that will be applicable across the world. It is hoped that this research will, in turn, shed new light on Medieval literature, history, and culture. "Linguistic dating is about to take a huge leap forward…" Prof Stifter said. For more details, please click Irish Times.


Belfast Lord Mayors mark the end of an era
Belfast's current Lord Mayor Nichola Mallon and many others who held the privileged title as the city's first citizen were re-united today. They gathered at the City hall for a unique event to mark the end of Belfast City Council in its present guise. Mayor Mallon said The contentious times we came through should not take away from the achievements of the various incarnations of the council, which played a pivotal role in bringing the city to where it is today." For more details, please click Belfast Telegraph.


Ireland's 100 best places to stay – and they're surprisingly affordable
McKennas' Guides has published its 100 Best Places to Stay in Ireland, with some fascinating inclusions... and exclusions. The influential guide features 12 new entries this year, ranging from Dublin's five-star Marker Hotel to Glencarrig Farmhouse B&B on Co. Clare's Loop Head peninsula. And, Ard Na Sidhe in Co. Kerry – recently voted one of the world's best affordable places to stay by Condé Nast Traveler - also makes the cut for the first time. But Harvey's Point in Donegal – recently voted TripAdvisor's No.1 hotel in Ireland for the third year running - is conspicuous by its absence. For more details, please click Irish Independent.
Photo Credit & Related Story: Irish Independent


Co Waterford syndicate win Euromillion lottery prizes twice in one week
A group of 22 staff from GlaxoSmithKline in Dungarvan, Co. Waterford have picked up a cheque for €500,000 at National Lottery offices in Dublin. On Tuesday, March 3, The lucky group, calling themselves 'Two Little Ducks' matched four numbers to win €2,000 and then on the following Friday night they went one big step better – matching all five numbers in the EuroMillions Plus draw to win the top prize of €500,000. They will split their winnings equally, each taking home €22,727.27. For more details, please click Breaking News Ireland.


AP McCoy notches up emotional win at his final Cheltenham Festival
St Patrick's Thursday' didn't bring with it much in the way of Irish-trained successes, but it did at least deliver a victory for a son of Ireland that was greeted with unequivocal glee by racing folk on both sides of the Irish Sea. AP McCoy's retirement at the end of the current jumps season was always going to lend a touch of wistfulness to this year's gala, and the win everyone craved for the perennial champion jockey duly arrived with his victory on Uxizandre in the Ryanair Chase. For more details, please click Irish Examiner.
Photo Credit & Related Story: Irish Herald


Paul O'Connell: The fourth man to reach 100 caps
The mighty Munster man will cement an already iconic career by becoming the fourth man, after Brian O'Driscoll, Ronan O'Gara and John Hayes, to reach 100 caps in an Irish rugby jersey this weekend in the Six Nations clash against Wales. To mark the occasion, Irish rugby sponsors Three have released #AllitTakes — Paul O'Connell — a short documentary giving some unique insights about the man himself. To watch. please click Irish Examiner.


WATCH: Mayo school kids belt out Ireland's Call as gaeilge
The third and fourth class pupils of Scoil Phadráig in Westport came up with a novel way of combining support for the Ireland rugby team and Seachtain na Gaeilge - by learning to sing Ireland's Call in Irish. The song, written by Phil Coulter, is sung before Ireland's international Rugby Union fixtures to represent the whole island of Ireland. The children worked very hard to learn the lyrics 'as Gaeilge'," said teacher Ms Timlins. "And obviously the melody was one they know very well already which made the process a lot easier!" To watch the video, please click Breaking News Ireland.

March 12

Seamus Heaney poem voted Ireland's favourite
The poem "When All The Others Were Away at Mass" by Seamus Heaney has been named Ireland's favourite poem of the last 100 years. The poem, which recalls a morning shared between the young author and his mother, peeling potatoes, topped an RTÉ poll to identify the best loved Irish poem of the past century. Other works on the shortlist included A Christmas Childhood by Patrick Kavanagh, A Disused Shed in Co Wexford by Derek Mahon and Dublin by Louis MacNeice. For more details, please click Irish Times.
Photo Credit: Bryan O'Brien


Enda will be the 'most popular man in the world' next week
The Taoiseach is jetting off to the US today for his annual St Patrick's week visit. Mr Kenny's trip will kick off in Atlanta, where he will act as the grand marshal of the parade there on Saturday. Dave Fitzgerald, chairman of the Atlanta parade, said "The Irish Prime Minister is the most popular man in the world on St. Patrick's Day. Out of the tens of thousands of St. Patrick's Day parades around the world, we're absolutely delighted, and extremely honored, that Enda Kenny has chosen to come to Atlanta to be Grand Marshal of the 133rd St. Patrick's Day Parade." For more details, please click Journal Ireland.
Photo Credit: PA Archive/Press Association Images


National Botanical Gardens most popular state owned tourist attraction
The National Botanical Gardens was the most popular state-owned heritage site last year, attracting more than 540,000 visitors and generating revenue of almost €120,000, according to provisional data released by the Office of Public Works (OPW). Farmleigh Estate in Castleknock was the second-most popular heritage site in 2014 with 402,773 visitors, although its numbers were down by almost 8pc compared to the previous year. The number of visitors to Kilmainham Gaol increased slightly to 328,886 last year, making the former prison the third-most popular heritage site. For more details, please click Irish Herald.


Dublin 4 house for as little as €300 a month?
Indeed! Camelot Property Management – a company that offers property guardian contracts – has launched a recruitment drive to find new tenants. They are advertising accommodation in a five-bed D4 property for €300 per month, including all bills. The company, which installs "live-in guardians" in vacant properties, says the business continues to grow in Ireland with a 50pc increase in the number of people signing up in the past two years. For more details, please click Irish Independent.


The Meath man who would be president
Think Macra Na Feirme business was the farthest thing from viral video material? Think again. Meath man Eamon Cassells is a well-regarded member of the Athboy Macra branch, but this year he wants to go all the way to the top and claim the presidency. He's created an excellent campaign video (which looks to be inspired by a recent Lucozade ad) that spells out the skills that make him the right man for the job. To watch the video, please click Journal Ireland.


Irish make up largest proportion of foreign directors in UK
New figures out today show Irish people make up the largest proportion of foreign directors in the UK. The figures show there are almost 55,000 Irish people on boards of companies throughout the UK. The fifth annual Foreign Directors in the UK report shows 17% of all foreign directors in the country are Irish, making Ireland by far the largest group represented. The statistics were compiled from business data at Companies House in London. For more details, please click RTÉ.


Irish chef Donal Skehan lands international book deal
The future of Irish chef Donal Skehan is in safe hands after the signing of his new book deal which will see his books in shops worldwide. Publishers Hodder and Stoughton purchased the international rights to Donal's new cookbook set to hit shelves this October. Featured in this cookbook are recipes for home-cooked and healthy 'eating for energy' dishes which could see him make it big stateside. For more details, please click Irish Independent.


Watch: Irish mammy's homecoming surprise for Mother's Day
One Irish mammy has had an amazing early Mother's Day surprise when her son - and baby grandson - flew over from Australia without her knowing. Matthew Hislop from Whitehall, Santry has been living with his family in Perth for the past few years. Matthew was last home three years ago for his brother's funeral and has not been back to Ireland since. His 13 month old son, Anderson, has never met his granny or touched Irish soil. To watch the video, please click Breaking News Ireland.


Cheltenham: Lovely Leitrim lady wins in best dressed style stakes
Leitrim's Jennifer Wrynne held off some stiff local competition to win the annual Best Dressed competition on Ladies Day. Wrynne wowed the judges and her racegoing peers, the latter playing their part in her triumph in a competition that was held via social media for the first time, and it was thanks in no small part to a 'stunning' green dress from the Powerscourt Centre in Dublin. For more details, please click Irish Examiner.




Sat, Mar 28, 2015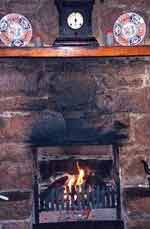 From Bog Land to Turf Fire
Ireland contains more bog land, relatively speaking, than any country in Europe, except Finland. For people in rural areas, turf cut from the bog is still a natural source of heat. Turf cutting begins in spring and then the turf is spread and rickled . Rickled means to pile the turf up in small mounds. By summer, the turf is dry and it's time to bring it home. Everything has to be prepared before the winter comes, or even earlier, because the rain would wet the turf too much. It has to be dry and in the shed before Autumn. Then and only then, can an irish country family look foreward to the cozy warmth of "a turf fire in the cabin."

Resources: The Atlas of the Irish Rural Landscape
Image: Spirited ireland

Click for More Culture Corner.
---
---
Local Time in
---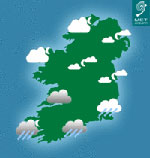 The Weather
Up the minute forecasts provided by Ireland's official source for all weather-related news. Please click Met Eireann.

---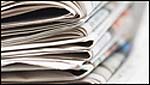 Links to the latest news from Ireland
Here you will find all the stories making headlines throughout the Republic of Ireland and the six counties to the north. This is not intended to be an all-inclusive list. These are the main sources we check every day to bring you those headlines we think you will enjoy reading.

BBC Northern Ireland
Belfast Telegraph
Breaking News Ireland
Irish Emigrant
Irish Examiner
Irish Herald
Irish Independent
Irish News
Irish Times
Irish Post
RTE
The Irish World
The Journal Ireland
Inside Ireland


---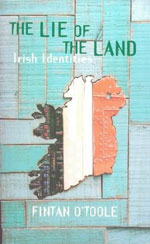 Lie of the Land
by Fintan O'Toole
A regular contributor to the irish Times and The Guardian, O'Toole applies his eagle journalistic eye to the state of ireland at the end of the 20th century. It's a riveting read as O'Toole examines with in-insight, humour and a bit of the blarney, the repercussions of a booming economy which has thrust ireland into the ranks of the richest European countries.
Click here for Lie of the land.

---