Traditions, folklore, history and more. If it's Irish, it's here. Or will be!
"People will not look forward to posterity who never look backward to their ancestors."
-Edmund Burke
---
Quotes

Library: Books, Movies, Music

Prints & Photos

Poetry

---
---
Shops Ireland
---
Bunús na Gaeilge
(Basic Irish)

---
---
Did You Know?
---
Himself/Herself
Write to Us
Readers Write..
Links/Link to Us
---
Advertise with us
---
Awards & Testimonials

Submissions Guide

---

Todays' Irish News



Yes, there are many news items not included here. We deliberately avoid: politics, death, disaster and other mayhem.

Monday, October 5, 2015

---
Brian Friel's funeral takes place in Co Donegal
The Northern Ireland-born playwright died at his home in Greencastle, Co Donegal, on Friday at the age of 86. Mr Friel, a quiet man who shunned the limelight, was buried in Glenties, where his mother was born. A crowd of more than 200 mourners were addressed by the author and poet Tom Paulin and the playwright Thomas Kilroy. Mr Friel was buried in a coffin woven from wicker. Earlier, a private family service took place in Mr Friel's home. For more details and video clip, please click
BBC
.
Photo Credit, More Pics & Related Story:
Belfast Telegraph
Donegal scientist shares Nobel Prize
The Nobel Prize for physiology or medicine has been split two ways for groundbreaking work on parasitic diseases. Donegal born William C Campbell and Satoshi Omura developed a new drug against infections caused by roundworm parasites. Youyou Tu shares the prize for her discovery of a therapy against malaria. The Nobel committee said the work had changed the lives of the hundreds of millions of people affected by these diseases. For more details, please click
BBC
.
Photo Credit & Related Story:
RTÉ
Brewing firm announces 150 jobs for Kildare
The jobs are coming on stream over the next three years through The Rye River Brewing Company in Celbridge, which is building a new brewery and visitor centre. Positions will be spread across a range of areas including manufacturing, customer service, brewing, export and general operatives. Management hope the €4m project will be worth an extra €12.5m to the local economy. To read this news item & many others, please click
Breaking News Ireland
.
Photo Credit & More Details:
Rye River Brewing Co
Haunted houses to come alive with jobs
Ireland's age-old addiction to a good fright has led to an economic boom for haunted houses and castles nationwide. Almost 1,000 jobs will be created this month as Irish fright fans flock to a host of Halloween attractions ranging from US-style themed spook shows to tours of Ireland's most haunted houses. Loftus Hall in Wexford, famed as the country's most haunted building, attracts more than 40,000 people each year. Its permanent workforce of four will expand to 35 this month to cater for the flood of "spook tourists". "The reaction has been absolutely incredible," said a Loftus Hall spokesman. "We will run an average of eight tours a day and this year we will have catered for around 40,000 visitors." For more details, please click
Irish Herald
.
Photo Credit & Details about Loftus Hall: ©
Nõel Byrne/Trek Earth
'I never thought at 62 I'd be joining a boyband'
Séamus Begley has put his accordion away for his new album, The Bold Kerryman, on which he finally gets to sing his heart out. He has long been known for his boisterous box playing and his bawdy wit but as a young singer, skirting around the periphery of sean nós singing competitions, he was initially dismayed to be told "tá do guth ró bhinn" (your voice is too sweet). In his heart, he knew he wasn't a sean nós singer. For more details, please click
Irish Times
.
Photo Credit: Clare Keogh/Cork City Council/TG4
Dublin man proposes with a big flash mob on Grafton Street
Dublin man Bob Keating pulled off the romantic gesture of a lifetime yesterday to propose to his girlfriend of ten years, Kelly McDonnell. A local dance group was performing on Grafton Street, looking for all the world like any other buskers – then, the music changed to Bruno Mars' Marry You, and Keating joined in. He e danced along before scooping up their daughter, Summer, and getting down on one knee to propose to Kelly. For more details and video clip, please click
Journal Ireland
.
Cork engineer crowned Ireland's potato growing champion
Siobhan Magner came out on top from a field of 15 regional winners in the national "Spud Off" contest. The judges were impressed by her Colleen potatoes, grown in her back garden in Cork City. The Spud Off competition was launched by GIY (Grow it Yourself) and Bord Bia in May of this year to "reconnect Irish people with their inner Spudlove" and encourage people from all across the country to grow, cook and eat spuds. For more details & video clip, please click
Breaking News Ireland
.
Runher: Record 1,650 runners pound streets of Titanic Quarter
The pavements of the Titanic Quarter were turned neon as well over 1,000 women and girls donned their lycra and trainers to take part in the biannual Belfast Telegraph Runher race yesterday. In total, 1,650 women competed in both races - the biggest turnout Runher has had to date. The event, which was previously held at Stormont, is now in its second year at its new location at the Titanic Quarter. For more details, pics and video clips, please click
Belfast telegraph
.
Ireland win over Italy evokes sighs of relief from green army
Phew… that was the general consensus at the end of a too-close for comfort match which put Ireland in the quarter-final of the Rugby World Cup once more. Amid the celebratory singing and chanting as the fans poured out of London's Olympic Stadium last night, there were more than a few who were aware Ireland cannot play like that next week. "At least we won, but it was definitely not a fantastic performance," said Danny Glavin from Tralee. "It just will not do against France…" For more details & video clip, please click
Irish Examiner
.
Photo Credit & Related Story:
RTÉ
---
Past Two Weeks
October 4

Did you know The Pope spent eight weeks in Ireland learning English?
There wasn't a fuss made about the last time Father Jorge Bergoglio – the name by which the pope was originally known – was in Ireland in early 1980. The Argentinian spent eight weeks studying English at the Jesuit Milltown Institute in Ranelagh, south Dublin, following an intense period of civil unrest in his own country. The 44-year-old had finished as provincial superior of the Jesuits in Argentina, and his visit to Ireland is thought to have doubled as some rest and recuperation. For more details, please click Journal Ireland.


One of NI's oldest citizens, Amy Ferris, RIP
Amy Ferris has been laid to rest in Derry City Cemetery after Requiem Mass at Our Lady of Lourdes Church, Steelstown. Amy spent her last few years at Brooklands Nursing home. She is survived by daughters Delma, Astrid, Ann, and predeceased by son Ivor and husband Andy. Amy lived through some memorable moments in Derry history. They included Amelia Earhart's record-breaking transatlantic flight when she touched down in a field in Ballyarnett; Derry's significant role in the Battle of the Atlantic and the U-Boat surrender. For more details, please click Belfast Telegraph.
Photo Credit & Related Story: NewsLetter


Fintan O'Toole: The truth according to Brian Friel
A boyhood memory about fishing with his father by a lake in the Donegal village of Glenties was as important to Brian Friel as it is his first enduring dramatic creation, Gar O'Donnell, in the 1964 play Philadelphia, Here I Come! Glenties, disguised as Ballybeg in almost every Friel play, remained the imagined setting of much of his work. Those childhood holidays there, in his mother's old home remained so vivid for him that he seemed to remember the shape of cups hanging in the scullery. To read this feature article, please click Irish Times.
Image Credit: One of Colin Davidson's portraits of the late playwright
Related Story: RTÉ - The funeral of Brian Friel takes place today


Ireland's International Culture Programme launched
The Minister of State at the Department of Arts, Heritage and the Gaeltacht, Aodhán Ó Ríordáin TD has announced Culture Ireland's International Culture Programme as part of Ireland 2016. Entitled I Am Ireland, it will enable many Irish artists and companies to present their work in countries such as the USA, Great Britain, Canada, Australia, with a special focus on key cultural dates such as St Patrick's Day, Bloomsday and dates of historic relevance. For more details, please click RTÉ.


Belle Isle - one of Ireland's grand homes
The Anglo-Irish aristocracy left many grand homes. A significant number of these estates have been turned into hotels, spas and golf courses. Some are held in trust for the people in the hands of the state or the National Trust and a very small number remain as private residences. Belle Isle castle in Fermanagh was bought and saved by the Duke of Abercorn in 1991 and the family continue to invest in the property, recently renovating the Hamilton Wing adding another five double en-suite bedrooms. The 17th century castle can now accommodate up to 26 people. For more details, please click Irish News.


Guinness family heirlooms up for auction
Family heirlooms belonging to the Guinness family are set to go on sale at an upcoming auction. In total a total of more than 700 lots will be going up for sale. These items are being auctioned off by Patrick, who is the seventh generation in direct succession to Arthur Guinness, and Louise Guinness.Patrick is the son of Desmond Guinness, a renowned author on Georgian art and architecture. Along with his wife Mariga, they founded the Irish Georgian Society. For more details, please click Journal Ireland.
Photo Credit: Meath Chronicle


Bono presents Ali Hewson and Adi Roche with Princess Grace Humanitarian Award
Adi, the founder and CEO of Chernobyl Children International (CCI) and CCI patron and board member Ali Hewson were awarded in recognition of their achievement in helping the organisation to raise over €100 milloin since the disaster. Prince Albert was due to present the award but his trip had to be cancelled. Instead Ali's husband and U2 frontman Bono presented the award along with President of the Ireland Fund of Monaco Olivia Gaynor-Long. For more details, please click Irish Independent.


Internet sensation Irish soldier weds girl of his dreams
Almost exactly 12 months after his heart-warming proposal became an internet sensation, Kevin Phelan has finally married his girlfriend, lena Murphy. Kevin hit the headlines last October when, having just returned from a six-month mission, immediately dropped to one knee in Dublin's Casement Aerodrome and popped the question to Lena. She said the proposal was a complete shock. The happy couple just tied the knot in a ceremony in St Patrick's Church, Newtown, Co Carlow. Lena looked stunning in white, while Kevin cut a handsome figure in his army uniform. For more details, please click Irish Examiner.


Rugby World Cup Preview: Ireland v Italy
Bringing a knife to a gun fight is never a good option, and is likely to get you shot: plain and simple. That old adage fits Ireland's clash with Italy at London's Olympic Stadium very well. On paper, Ireland have the better 23: a more mobile pack, with more dynamism, and a back line that looks a class above the Azzurri offering. But, to try to throw the ball about early on and overlook the basics against Italy would be perilous. Doing so, and moving the ball wide early and at every opportunity is likely to prove very risky. For more details, pics and video clip please click RTÉ.
Live coverage: RTÉ

October 3

Popular children's author Maeve Friel, RIP
The Londonderry-born "grande dame" of Irish children's literature Maeve Friel has died after a short illness. The 65-year-old had written more than 20 books in her successful career, the most popular of them the Witch-In-Training series and the Tiger Lily trilogy. Her books were translated into 12 languages including Hebrew, Chinese, Polish and Catalan. The Dublin resident's Irrational Developments, a story inspired by protests about water shortages in a small Spanish village, won the 1990 Hennessey Literary Award. For more details, please click Belfast Telegraph.


Ten great reasons to visit Kilkenny
Its got heritage, hurling, and some of the hottest festival tickets in Ireland. Welcome to the Marble City. No doubt about it, Kilkenny is on a roll. From sizzling food to medieval set-pieces, shopping secrets to brilliant bars, this is a city that's easy to get to, fun once you're here, and always hard to leave. Join Henry Shefflin, Travel Editor Pól Ó Conghaile and more for a look at the big hits and hidden gems in one of Ireland's great city breaks. For video clip and pics, please click Irish Independent.
Photo Credit: Andres Poveda/Storied ales at Smithwicks


When the white swallows come back to Tacumshin
Penned in by a shingle bank at Ireland's southeast corner and furnished with reedbeds for roosting, Tacumshin in autumn is a prime staging post for thousands of Ireland's migrating swallows, house martins and sand martins. Eric Dempsey was there the other day, watching an American buff-breasted sandpiper, one of his favourite birds, diverted from its distant route from the Arctic to Argentina. Then his eye was caught by something even rarer and lovelier: a pure white swallow, young and perfectly plumaged – his first in a whole career of birding. For more details, please click Irish Times.
Photo Credit & Related Story: Birds Ireland


Families welcome home the LÉ Niamh and their proud heroes
Proud families gathered on the quayside yesterday to welcome home the crew of LÉ Niamh, who apart from rescuing migrants, assisted in the birth of one and the double resuscitation of an infant who nearly drowned. Yesterday was the first official function as new Chief of Staff of the Defence Forces, Vice-Admiral Mark Mellett. The ex-head of the Naval Service was beaming with pride as he shook the hands of crew members disembarking the ship. "They've done us all proud," he said. For more details, pica & video clip please click Irish Examiner.


100 Best Restaurants in Ireland to include a take-away for first time
However, the location of the fast food eatery is not being revealed yet by food guru John McKenna, who publishes his guide at the start of each year. Neither is the food specialist going to let on whether it is the more traditional type of chipper takeaway or one of its more exotic cousins which is to get a place in the 2016 list. The prestigious guide is now including food karts and takeaways in the roster of those to be reviewed as more and more people say they don't need silverware and fancy tablecloths to have a good dining experience. For more details, please click Irish Examiner.
Photo Credit: Camile in Dublin. Voted the healthiest takeaway in Ireland in 2014


Four on the market... thatched
From a fairytale home in Tipperary to a writer's retreat in Donegal, four properties are available to buy which offer thatched roofs. Pictured is Killoran Cottage in Portroe, Tipperary - a dormer-style thatched cottage which is is definitely on the larger end of the cottage spectrum and is suitable as a full-time family home as well as a retreat or holiday home. The property has been recently renovated yet still maintains many traditional cottage features such as the original 2ft thick walls and wooden ceiling beams. For details and pics of all four properties, please click Irish Independent.


Paul Dunne one shot off lead at Dunhill Links
Wicklow man Paul Dunne is one shot off the lead after day two of the Alfred Dunhill Links Championship in his first tournament as a professional. Dunne carded a 70 at St Andrews to lie one shot behind former Walker Cup team-mate Jimmy Mullen. Having played at St Andrews and Carnoustie before as an amateur, Dunne admitted the pro-am tri-course event is the ideal way to begin his professional career. "There's a comfort level of playing on links courses and once you get out there it does not matter if you are an amateur or a pro," he said. For more details, please click RTÉ.


Bertram Allen pulls out stops to take Longines speed challenge
Ireland's Bertram Allen put in a stunning round of speed and jumping with Quiet Easy to snatch a dramatic victory in Friday night's $130,000 speed challenge at the Longines World Masters show in Los Angeles. Allen drew gasps from the crowd at the second last obstacle when it looked like an exceptionally tight turn might have given him too much to do, but the Wexford rider and his mount made the jump and went on to clear the last and post the winning time. For more details, please click RTÉ.


Rory McIlroy 'motivated' by rivals Jordan Spieth & Jason Day
Rory McIlroy says the exploits of rivals Jordan Spieth - named PGA Tour player of the year - and Jason Day have given him "a sense of hunger again". The Northern Irishman was deposed as world number one after being sidelined with a broken ankle suffered while playing football with friends. McIlroy, a four-time major winner, told BBC Sport: "It's motivating to see what these guys are doing. "You want to work harder, hit more balls, and try to keep getting better." For more details, please click BBC.
Photo Credit: Getty Images

October 2

Brian Friel, RIP
Acclaimed Irish playwright Brian Friel has died aged 86 after a long illness. Friel is best known for plays such as Translations, Dancing at Lughnasa and Philadelphia, Here I Come. He was born in Killyclogher, Co Tyrone in 1929. He worked as a teacher in Londonderry before moving to Co Donegal in the 1960s. In 1992, Friel won three Tony Awards for Dancing at Lughnasa. The play was later made into a film starring Meryl Streep. Taoiseac Enda Kenny said the world had "lost one of the giants of the theatre". For a link to Mr Friel's obituary and a video clip, please click BBC.
Photo Credit & Related Story: Belfast Telegraph


Irish 'among most tolerant' in Europe
Gender, disability, gay or transgender, different race or religion — it is all the same to the vast majority of Irish people even when it comes to being the Taoiseach, work colleagues or someone having a relationship with a son or daughter. The only issue where the Irish discriminate more than any other nation is when it comes to where a person lives. A third believe that your address can militate against you getting a job — three times more than the EU average. For more details, please click Irish Examiner.
Photo Credit & Related Story: Journal Ireland


Six 6 things you never knew about Irish beer
Beer…That's the word on everyone's lips this month, as the Smithwick's Homebrew Challenge kicked off around Ireland and amateur brewers are preparing their special recipes for a Christmas ale. Meanwhile, here are half a dozen conversation starters over a pint or two at the local this weekend. For example, did you know Beer is one of the oldest drinks around and Irish people have been brewing away on the Emerald Isle for about 5,000 years? For more details, please click Journal Ireland.


IFTA televison awards shortlist revealed
Chris O'Dowd, Sharon Horgan, Brendan O'Carroll and Imelda May are among the names shortlisted for this year's Irish Film and Television Academy Gala television awards, alongside programmes as diverse as a documentary on Brendan Behan, a live Vincent Browne broadcast from The George bar in Dublin, and a Gay Byrne interview with Stephen Fry. The shortlist features nominees in 23 categories from entertainment, comedy, soap and performance to factual, current affairs and news across all Irish broadcasters.For more details, please click Irish Times.
Photo Credit & Related Story: RTÉ


VIDEO: 60 Minutes to explain hurling to America
60 Minutes Sports, part of the long-running US news broadcast 60 Minutes, is set to explain the sport of hurling to an American audience with the help of President Michael D Higgins. Featuring interviews with President Higgins, and former players such as Donal Óg Cusack, the show will feature footage from RTÉ Sport's coverage of the All-Ireland championship. The full programme on "Ireland's national obsession" will be broadcast on Tuesday 6 October. To read this news item and watch the video clip, please click RTÉ.


Corkman can't resist Allure of top cruise line job
What a challenge! A Corkman gets to sample all the food and drink being served on the world's largest luxury cruise liner and he get's paid for it. Derek McKnight, a married father of three from Schull, Co Cork, has just been appointed food and beverage manager on Royal Caribbean's Allure of the Seas — a leviathan which can carry 6,296 passengers. The ship's amenities range from three fine dining restaurants and eight themed speciality restaurants to a 3,000-seater, three-tier dining room, serving on average 80,000 meals a day. For more details, please click Irish Examiner.


The £58k lunch: Titanic menu is sold at auction in US
The Titanic's last lunch menu has been sold at a US auction for $88,000 (£58,166) - although the tale of money behind it beats even the selling price. The menu was saved by Abraham Lincoln Salomon who was among a handful of first-class passengers who boarded the lifeboat, dubbed the Money Boat or Millionaire's Boat by the Press because of unfounded rumours one of them bribed the seven crew to quickly row away from the sinking ocean liner. For more details, please click Belfast Telegraph.


Belfast's James Street South crowned best restaurant in Ireland
Niall and Joanne McKenna's fine dining flagship was singled out as Ireland's best restaurant in the 2016 Georgina Campbell Awards. The restaurant critic said: "Many fans would, and do, travel great distances for the pleasure of a meal at Niall and Joanne McKenna's famous Belfast restaurant, and a meal here is always sure to be a memorable occasion." The McKennas' other venues, Hadskis and James Street South Bar + Grill, were also named two of Ulster's best restaurants in Food and Wine Magazine's Restaurant of the Year Awards. For more details, please click Belfast Telegraph.


A hole-in-one and a share of the lead, it's been quite a pro debut for Paul Dunne
It was a day to remember for Paul Dunne as he shot a hole-in-one en route to a share of the lead on his first round as a professional. The Greystones man has gone into a three-way first-round lead of the Alfred Dunhill Links Championship alongside felloe pro debutant Jimmy Mullen. Dunne rose to prominence after heading into the last round of the The Open as leader at St Andrews – one of three courses, alongside Carnoustie and Kingsbarns, hosting the Alfred Dunhill – earlier this year. For more details, please click Journal Ireland.

October 1

Almost 1m pledged for proposed Seamus Heaney arts centre in home village
Almost £1 million has been pledged by Northern Ireland's Stormont ministers towards the construction of a Seamus Heaney arts centre in his home village. It will be constructed in Bellaghy, Co Londonderry, as a tribute to the area's most famous son. The internationally-renowned poet died in August 2013 aged 74. Deputy First Minister Martin McGuinness said "The new Seamus Heaney Arts and Literary Centre in Bellaghy is a fitting way to celebrate the contribution of a literary giant." For more details, please click Belfast Telegraph.


Researchers in Ireland discover Earth-like glaciers on Mars
Researchers at University College Dublin (UCD) and The Open University (OU) have found evidence that water once flowed beneath a glacier on Mars. This discovery suggests that Mars had glaciers more similar to those found on Earth than previously thought. Dr Colman Gallagher of UCD's School of Geography and Earth Institute and OU planetary science researcher Dr Matthew Balme, report that they have found direct evidence of melting and significant flows of liquid water beneath a glacier on Mars. For more details, pics and video clip please click Breaking News Ireland.


Nine Irish colleges in world's top 5%
The latest university league tables show mixed results for Irish third-level colleges but the country still has nine in the top 5% in the world. The rankings compare some of the world's 18,000 higher-education institutions on a range of factors, and has been expanded this year to list the top 800 colleges instead of the top 400 of previous rankings. Trinity College Dublin remains Ireland's top-ranked institution. For more details, please click Irish Examiner.


Aer Lingus unveils website it says will "transform" the online booking process
The new aerlingus.com is a smarter, "more personalised" iteration of a website that now clocks four million monthly visits, the airline said. The website accounts for 80pc of bookings across its network, it added, and generates "in excess of €1 billion" in annual revenue. The new "smart website", designed by an in-house team in conjunction with external agencies, sees the airline get a jump on Ryanair which is set to launch the latest upgrade of its own website and app in October. For more details, please click Irish Independent.


Gregans Castle Hotel is 'something very close to perfection'
Gregans Castle Hotel in Ballyvaughan, Co Clare, has won the 2016 Georgina Campbell Hotel of the Year award. "We don't look for perfection and we certainly don't expect to find it but, occasionally, something comes pretty darn close," Ms Campbell said yesterday. Gregans Castle, a second-generation, family-run hotel, is nestled in the heart of the Burren. Thoughtfully looking out onto its unique surrounding landscape, the hotel offers a quiet haven of discreet opulence, warm hospitality, and caring service," said Ms Campbell. For more details, please click Irish Examiner.


Offshore community to develop distillery in Cape Clear
A Gaeltacht island off Co Cork is set to become the first offshore community in the country to develop a whiskey distillery. The facility will provide Cape Clear with sustainable jobs and a tourism spin-off. The West Cork island's co-op has just lodged a planning application for a €7m distillery and visitor centre, and it hopes to start construction sometime next year.The ultimate aim to have Cape Clear whiskey available in every airport duty-free shop in the world which would raise the profile of the island globally. For more details, please click Irish Examiner.


Cork's 'ghost' signs in pictures and video
If you've ever walked casually around Cork city, chances are you've seen something that's out of place and belonging to another time - a 'ghost' sign. Breaking News Ireland has just compiled a list of the city's best examples, including Arnott's Porter, pictured. Cork and its locals have long had a fondness for stout. Arnott's Porter was produced in St Fin Barre's Brewery and as a direct competitor of the larger Lady's Well Brewery, of Murphy's Stout fame, until the end of the 1900s. For more details and pics , please click Breaking News Ireland.


Derry inventor engineers a £1m win on Lottery
Anne Canavan scooped £1m in the EuroMillions Mega Friday Draw along with an exclusive luxury holiday for herself and her four children on the tropical island paradise of Song Saa Island in Cambodia. Now Anne plans to use some of her winnings to fund her latest invention, the Snotblot - an intriguing-sounding wristband that stores tissues within reach to stop runny noses becoming an issue for children and adults. For more details, please click Belfast Telegraph.
Related Story: Someone in Ireland won €3 million on the Lotto last night


Northern Ireland bakery finding fans afar
Graham's in Dromore has been supplying customers in Northern Ireland, Britain and the Republic with its cakes, buns and bread for many years. Recently, the six-decade-old family firm decided it was time to test the overseas biscuit market. Sales Director Tim Graham said "We were encouraged by an Invest NI trade specialist to approach Irish Providence Food in Chicago, a company with an extensive network of contacts. For more details, please click Belfast Telegraph.
Photo Credit & Related Story: Syncni

September 30

Living standards back to where they were in 2007
That's according to the Economic Social and Research Institute (ESRI which also said that the economy is now growing twice as fast as the Republic's nearest European rival Spain and unemployment should plunge to 8% by the end of next year. Kieran McQuinn, associate research professor at the ESRI, said people are also spending cash again as homes start to feel the effects of the recovery. Spending is up across the board including big-ticket items like cars as well as day-to-day retail sales. For more details, please click Breaking News Ireland.


Two hundred new jobs for Dublin
Management consulting firm Accenture is to create 200 jobs over the next 12 months at a new centre for innovation in Dublin. The facility will be used to research and pilot technologies for its clients. The company is seeking professionals with R&D and design expertise in cognitive computing, internet of things, advanced analytics, security, and digital marketing to fill the roles. Accenture already has a network of technology labs around the world, including locations in San Jose, Washington DC, in Sophia Antipolis in France, Beijing and Bangalore. For more details, please click RTÉ.
Photo Credit: Accenture


Was life easier for the women who are 'Older than Ireland?'
'I think there's a lot of pressure on young women these days," says 104-year-old Bessie Nolan from Drimnagh in Dublin. "I think we had it better back when I was young - we had a great time, free and easy!" Bessie is one of 30 centenarians who have taken part in a new Irish documentary, Older Than Ireland. The name refers to the fact that each participant has been around longer than the Irish State, and it's a poignant look at how things have changed in the last 100 years - and also how much has stayed the same. For more details, please click Irish Independent.
Photo Credit: Frank McGrath


Tayto and tea? Welcome to Hozier's backstage contract demands
He has the music credentials to rival any rockstar - but Hozier's backstage demands are far from rock and roll. Waiting backstage for the Take Me To Church musician were homegrown favourites including Tayto crisps, Dairy Milk chocolate and Barry's tea bags, as revealed on the show's Instagram page. "Behold. The fuel of my kinsmen fills the Hozier band-room," the photo was captioned. To read this news item, please click Irish Herald.


Dublin firm reboots 'Danger Mouse' revamp
Robert Cullen is as animated as the cartoons he creates. He is the creative director of Boulder Media, the Dublin animation company behind the reboot of the 1980s children's television favourite, Danger Mouse. The first of 52 new episodes starring the debonair secret agent rodent just aired on the BBC's children's channel, much to the delight of children in the UK and Ireland — and many parents as well who remember the original. For more details and video clips, please click Irish Examiner.


View the finalists for this year's Hennessy Portrait Prize
Hennessy and the National Gallery of Ireland announced the 12 finalists chosen for the Hennessy Portrait Prize 2015. The finalists were selected from hundreds of entries from artists living in Ireland, and Irish artists abroad. On Tuesday, 17 November 2015, one artist will be announced as the winner of the Hennessy Portrait Prize 2015 and will receive a prize of €15,000. The winning artist will also be awarded a commission worth €5,000 to produce a portrait for inclusion in the National Portrait Collection. For more details and to view the portraits, please click Irish Times.
Featured portrait by Eoin Heaney from Co. Dublin


Winner of Francis McManus short story award announced
The winner of the Francis MacManus Short Story Competition 2015 is Eleanor O'Reilly for her story Stoppin' the Silence. Dolores Walshe won second prize for her story Small Yellow Sun and Kathryn Burke's story Irish Gothic: Waiting For Samhain has won third prize. The competition for original short stories for radio was established in 1986 in memory of the RTÉ Radio broadcaster and novelist Francis MacManus (1909-1965). Since its foundation, it has been a source of encouragement and support for new and emerging writers. For more details, please click RTÉ.


Explorer Ernest Shackleton's cabin donated to Ireland
Explorer Sir Ernest Shackleton became renowned for his voyages of endurance around the Antarctic. Now the cabin he died in is making an epic journey of its own, to the place of his birth in Athy, Co Kildare. It will form a permanent exhibition at the Athy Heritage Centre museum in 2016. According to Kevin Kenny, a committee member of the Shackleton Society in Athy,"There have been a series of happy coincides connected with getting the cabin to Ireland which ties in with tales of Shackleton's own life." For more details, please click BBC.
Photo Credit & Related Story: Shackleton Centenary


Daniel O'Donnell could soon be laughing all the way to the bank
That's because The Donegal crooner's new TV series, Daniel and Majella's B&B Road Trip has caught the eye of television stations from the UK and other European countries - as well as the USA, South Africa, New Zealand, Australia and Canada - who have shown interest in buying it. Daniel is currently cutting a dash on the BBC's Strictly Come Dancing; he and his professional partner Kristina Rihanoff, impressed the judges during their debut performance waltzing to When Irish Eyes are Smiling. For more please click Belfast Telegraph.

September 29

Pope Francis - the world's latest rockstar?
Perhaps. The Pope has put together an album of music described by the musical experts at Rolling Stones as 'prog-rock'. The soon to be released album entitled "Wake Up!" contains 11 tracks of Vatican approved music which accompanies Pope Francis delivering spine tingling speeches and hymns. The album is to be released on November 27 and deals with all the main issues such as peace, dignity, environmental concerns and helping those in need. For more details, please click Breaking News Ireland.
Photo Credit & Wake Up Track: Rolling Stone


Variety predicts the most Irish Oscars ever
The industry bible predicts that Lenny Abrahamson's Room and John Crowley's Brooklyn will both get best picture nominations. It further suggests that Paddy Breathnach's Viva will register in the race for best foreign language picture and Michael Fassbender is in the frame for his turn as the title character in Steve Jobs. Whither Saoirse Ronan, the star of Brooklyn? Well, Variety has her just outside the nominations for best actress — their sixth most likely nominee in a race that admits five. For more details and trailers, please click Irish Times.


Letterkenny named as Ireland's Tidiest Town for 2015
The Co Donegal town was today named best of the 862 towns and villages in the country that entered this year's SuperValu National TidyTowns competition. Clonegal Co. Carlow claimed the award of Ireland's Tidiest Village. Other winners included Listowel, Co Kerry receiving the award for Ireland's Tidiest Small Town, Westport Co. Mayo received the award of Ireland's Tidiest Large Town, while Letterkenny was also declared as Ireland's Tidiest Large Urban Centre. For more details, please click Breaking News Ireland.
Photo Credit: Doc Brown's Travel Pictures


Ireland's Swipe TV beats gunging record
Swipe TV has beaten the world's gunging record with presenters Simon Mulcahy and Claire O'Reilly gunging 70 children - as well as Ray D'Arcy, Nuala Carey and Blathnaid Treacy - in three minutes. The number beats the record previously held by the BBC's Blue Peter, but the result is awaiting official verification from the Guinness Book of World Records. The event marked the launch of Swipe TV's new app. which offers a secure online experience for 7 - 12 year olds, with a mix of original content that is 100% fun and safe for kids to enjoy, with no ads and no in-app purchases. For more details, please click RTÉ.


First trainees in almost 30 years taken on at Waterford Crystal
They were part of a group of nine who have just completed a year-long training programme jointly run by Waterford Wexford Training Services and Waterford Crystal in in traditional disciplines of crystal-blowing, cutting, sculpting and engraving. Last Friday, the trainees were presented with City and Guilds Accreditation at the Waterford Training Centre and the eight who were offered employment with Waterford Crystal officially began their apprenticeships yesterday. For more details, please click Irish Examiner.


How Sam Neill had to ask Jimmy and Liam for help with an Ulster accent
Hollywood star Sam Neill may hail from Northern Ireland, but he has just confessed to having a little difficulty mastering an Ulster accent for a recent TV drama - despite help from Liam Neeson and Jimmy Nesbitt. The veteran actor, who was born in Omagh, has spent most of his career playing Americans, Englishmen or Australians. But in the hit series Peaky Blinders he spoke with a Belfast accent that The Age newspaper described as "brutal". For more details, please click Belfast Telegraph.


Irish Army officer chosen to retrace steps of explorer Ernest Shackleton
Lieutenant Sinéad Hunt from Dublin has been selected as one of just three people selected to retrace the steps of Antarctic explorer Ernrst Shackleton. The trio will retrace the legendary voyage from Antarctica to South Georgia and subsequent trek across that island with Frank Worsley and Kerryman Tom Crean. From there, the plan is for the expedition team to disembark and cross South Georgia to Stromness, on skis where possible, before rejoining the ship. For more details, please click Irish Examiner.


Reunion marks 60 years since nurses started their training
TRoyal Victoria Hospital where they trained for three years is now undergoing major changes for the 21st century - but as they reminisced the women said they "felt like it was yesterday". The retired nurses, some who have worked across the world, met up at the Stormont Hotel in east Belfast, where they said that they had a real sense of camaraderie that got them through some tough times in training. The milestone anniversary brought together 13 of the original 25 student nurses who began their careers back in 1955. For more details & video clip, please click Belfast Telegraph.


Co Derry teenager wins sheepdog contest
Shannon Conn from Magilligan is part of a duo that has clinched the top title in sheepdog contest One Man and his Dog. Shannon was part of the Ireland team, along with sheep farmer John Maginn. The teenager and her nine-year-old Collie dog, Bill, have been crowned Irish junior champions. Shannon's dad, Loughlin, said that he is extremely proud of her. "It is a joint competition. Shannon was picked as the young handler to compete with John. The joint points went forward to put Ireland in the top spot. It is a great achievement." For more details and video clip, please click BBC.

September 28

Speculation of papal visit to Ireland during 2018 conference
Speculation about a papal visit to Ireland in 2018 is mounting after Pope Francis confirmed that Dublin will host a high-profile Vatican event that year. The city has been chosen as the venue for the next World Meeting of Families, which takes place every three years. A spokesman for the Catholic Church in Ireland said a papal visit was a "possibility" but not yet confirmed. If it goes ahead, it would be the second papal visit to the Republic of Ireland since Pope John Paul II visitedin 1979. For more details, please click BBC.


Meet the winemakers producing the nectar of the Gods in the land of Guinness
When picturing a winery, the first images to come to mind might be a French château or a sun-kissed Australian valley. Something a long way from a sodden Irish field. Yet a handful of ambitious – maybe foolhardy – producers are trying their hand at making the nectar of the Gods in a land renowned for pints of the black stuff. David Llewellyn (pictured), probably best known for his cider and other apple products, has been selling wine made from the nearly 1,000 vines on his farm at Lusk in north County Dublin for the past decade. For more details & pics, please click Journal Ireland.


Paintings from Dublin and Limerick galleries to be auctioned
Paintings worth more than €1 million that have been on loan to Dublin's Hugh Lane Gallery and Limerick's Hunt Museum have been taken off public display and shipped to London to be sold at auction. The paintings – by leading Irish artists Sir John Lavery, Jack B Yeats, Sir William Orpen and Walter Frederick Osborne – are owned by an unnamed family who acquired them in the late 1990s in London. The family, who wish to remain anonymous, then loaned the paintings to the galleries. For more details, please click Irish Times.


Twin tech doctors clinch €3.6m in EU funding
Twin brothers, whose passion for computers began at the age of 10 when they took their computer apart and worked out a way to make it faster. Now, 24 years later, Steven and Alan Davy have won €3.6m for projects that will have a significant impact on Europe's fishing, farming, and health sectors. They studied computer science at Trinity and at Waterford Institute of Technology, but ended up working together at the Telecommunications Software and Systems Group at WIT where they both completed PhDs. For more details, please click Irish Examiner.
Photo Credit & Related Story: Education Matters


Bride counts her blessings as dad given last rites walks her up the aisle
Paddy Watson was watching son Liam play in the Antrim hurling semi-final between Loughgiel and Cushendall on September 13 when he began to feel unwell. Paddy collapsed with the coronary just a few minutes after half-time and immediately the crowd snapped into action, calling for an ambulance. Luckily the Dunloy clubhouse had its own defibrillator and medics including the Cushendall club doctor Eddie McCormack were able to save Paddy's life as son Liam watched on. For more details and pics, please click Belfast Telegraph.


Tranquil beauty spot goes medieval in latest Game of Thrones shoot
A lesser known beauty spot in Co Down is being prepared for worldwide fame as it plays its part in one of television's biggest dramas,. Picturesque Corbet Lough, close to Banbridge, is being transformed into the homestead of House Tully. The set being built includes the impressive front section of a castle, including a drawbridge on the bank of Corbet Lough. A series of tents are dotted around the land nearby, indicating a possible battle camp. For more details, please click Belfast Telegraph.


A perfect view from the Hill of Howth on offer for €3.5 million
It's hard to imagine a house for sale in Dublin at the moment with better views than Bramley Hill, located high up on the Hill of Howth on Danesfort Avenue, a private roadway off the Old ­Carrickbrack Road, a turn off beyond Howth Golf Club. Step through the front door into the limestone-tiled entrance hallway and immediately you are looking out at a spectacular panoramic view south across Dublin Bay towards Dun Laoghaire. On a sunny day in early autumn, the vista of sea and sky is magnificent. For more details, pics & video clip, please click Irish Independent.


Forget Claddagh rings and Connemara crosses…
Ireland's new designers are creating utterly original, expressions of pure joy. That's according to reporter Bert Archer who had been in Kilkenny, talking to the CEO of the Design and Craft Council of Ireland, an organization that supports and promotes some of Ireland's top craftspeople and their handiwork. Flipping through the pages of their catalogue, he saw many gorgeous items from all over the nation…but two photos — one of a couple of shelves and another of a low table — were like bolts out of the green. To read this feature article, please click BBC.


Rugby World Cup: Irelamd see off Romania 44-10
Ireland moved back to the top of World Cup Pool D after a bonus-point win over Romania in front of a tournament record attendance of 89,267 at Wembley. Tries from Tommy Bowe and Keith Earls helped Ireland lead 18-3 at half-time, with Simon Zebo excelling. Earls's second touchdown after the break saw him equal Brian O'Driscoll's Irish record of seven World Cup tries. Bowe then got his second try with Chris Henry and Rob Kearney also crossing before Ovidiu Tonita's late reply. For more details, please click BBC.
Related Story & Video Clips: Irish Examiner

September 27

Will Pope Francis try the Belgian-style craft beer brewed in his honour?
A specially brewed craft beer has been tapped up in the Philadelphia seminary he's staying in. It started out as a lark inspired by the frenzy over Pope Francis' visit to Philadelphia: a limited-run beer for the local bars with a playful name and a label showing the pontiff raising a gold-hued goblet of the stuff. Holy Wooder, a powerful Belgian-style tripel, was already a hit with the downtown happy hour crowd when the seminary hosting Pope Francis this weekend called to say it wanted some, too. For more details, please click Journal Ireland.


Nature to reveal one of its most spectacular sights
A total eclipse of the moon will occur in the early hours of Monday morning and Irish skywatchers will have an excellent chance of seeing it. The moon will be totally covered by the shadow of the Earth for more than an hour. The sight will be all the more spectacular as clear or mostly clear skies are forecast for most of the country. In addition the moon will be high up in the south-west sky and therefore further away from light pollution. For more details, please click Irish Times.
Photo Credit: Yoshikazu TSUNO/AFP/Getty Images


President Higgins shares stage with football star Kaka
President Michael D Higgins shared a stage with Brazilian football star Kaka at a United Nations conference on world hunger today. Mr Higgins was the key note speaker at a sidebar session at this weekend's landmark UN Summit on sustainable development in New York. At the Mobilising Generation Zero Hunger event in the UN conference centre, Mr Higgins sat beside Kaka, who is a UN ambassador against world hunger, at the top table. For more details, please click Irish Independent.


Tony O'Reilly: one of the most powerful figures in Irish life
Tony O'Reilly was many things – a rugby superstar in the 1950s, a driving force of economic development in Ireland in the 1960s, a possible political contender on many occasions, a media mogul for nearly 40 years both in Ireland and abroad, a patron of the arts and the founder of one of the most important bulwarks against the advance of the IRA – which is what makes him arguably the most interesting non-elected public figure in Ireland over a period of about 60 years. For more on this feature article, please click Journal Ireland.


Beloved Game of Thrones actor spotted on set in Belfast
The actor was photographed looking swarthy in full costume, with a sword on his hip and his famous locks tied back in a ponytail while surrounded by crew on a hilltop in Northern Ireland. Snow was dramatically killed off in the season five finale but rumours have been flying around that the character was not gone for good. Harington has been spotted in Belfast in the past few weeks, and these latest photos have added fuel to the fire that he will make an appearance in season six of the HBO fantasy series. For more details, please click RTÉ.


Michaelmas: Time to cook the festive goose
The Feast of Michael the Archangel or Michaelmas, on Tuesday may not ring many clear bells in the autumnal countryside of Ireland these days. The day was once almost as popular as Christmas, especially for feasting. Times and customs have changed and its significance may now be more confined to the hallowed portals of the Law Library within the historic Dublin building known as the Four Courts. That's because the feast date marks the beginning of a new law term and it remains a traditional date for renewal of land contracts, settling accounts and such. For more details, please click Irish Independent.
ED. NOTE: To read our article, please click Celebrating St Michael's Day in old Ireland


Why cider is like the forgotten child in Ireland's drinks family
While Ireland's resurgent whiskey industry and burgeoning craft brew scene are being lavished with attention, cider is a bit like the forgotten child in the family. Overseas, the craft cider movement has even been outstripping the much-vaunted boom in microbreweries, but in Ireland the industry remains in its infancy. "I think Ireland has a reputation as a good drinks producer – whether we like it or not we owe Guinness for that…" Cider Ireland chair Emma Tyrrell said. For more details, please click Journal Ireland.


Rugby World Cup Preview: Ireland v Romania
After Romania's performance against France on Wednesday night, we can be certain there will no underestimating the Oaks this Sunday by Joe Schmidt's Ireland. Slated to be beaten out the gate by France, with the bookmakers slapping a -48 handicap on the eastern Europeans, Romania proceeded to show just why they've won the European Nations Cup four times. Using a superb scrum and all-around forward game, Welshman Lynn Howells' team ensured that France were denied. For more details, please click RTÉ.
Live Coverage: RTÉ


Barry McGuigan leaves AP McCoy in hedge during donkey derby
Twenty time champion jockey AP McCoy was beaten to the punch on his shock return to racing after boxing champ Barry McGuigan triumphed in a chaotic donkey derby. The Grand National winner's famed horsemanship counted for nothing when his mule steered him into a hedge during a madcap charity event in his hometown of Moneyglass, Co Antrim.b"They are as stubborn as they say they are," McCoy said after managing to cling on to his mount to stagger in third. For more details, please click Belfast Telegraph.
Photo Credit: Colm Lenaghan/Pacemaker Press

September 26

Newry to host first NI commemoration ceremony of the Great Hunger*
The event in Newry, Co Down, will remember the tens of thousands who died during the Great Hunger which took hold in 1845. An official ceremony will take place at the city's Albert Basin and will culminate in the laying of wreaths. There will also be a minute's silence for the dead and those who emigrated. The first commemoration took place in Dublin in 2008. Since then, the location of the annual event has rotated in sequence between the four provinces. For more details, please click BBC.
*ED.NOTE: We are supporting the campaign to abolish the word famine. Famine implies no food; there was plenty of food in Ireland but it was inaccessible to most of the Irish people. For more details & to sign a petition, please click Petition


Trinity unveils WWI memorial
A memorial was unveiled in Trinity College Dublin this morning to commemorate the 471 students, staff and alumni of the college who lost their lives in military service in World War I. Standing at the Hall of Honour, at the entrance of the 1937 Reading Room in the college's Front Square, the piece is a sculpture by artist Stephen Burke. Three thousand members of the Trinity community joined the armed forces during the war. Family members of the deceased attended the ceremony, along with ambassadors from the countries where they died. For more details, please click RTÉ.
Photo Credit & Related Story: Irish Times/Peter Murtagh


Fifty people picked to watch the Winter Solstice in Newgrange
Fifty lucky winners have been chosen to witness the annual Winter Solstice inside the Newgrange Chamber in Co Meath this year. A lottery for the places takes place every year. More than 30,000 people applied this year from all around the world with winners for 2015 from California, South Africa, Australia, Cork and Antrim. To read this news item and many others - as well as watch a video, please click Breaking News Ireland.
Photo Credit & Related Story: Newgrange


"Not Enough Water to Drown a Man"
'After two days march, without anything remarkable but bad quarters, we entered into the barony of Boireann, of which it is said, that it is a country where there is not water enough to drown a man, wood enough to hang one, nor earth enough to bury him.' This quote from Edmund Ludlow, Cromwellian General in 1651 leads the introduction to This is the Burren, Carsten Krieger's excellent photo book on one of Ireland's most beautiful and fascinating habitats. For more on this review and photo gallery, please click Irish Times.


Bridge from 1700s and WWII hangars given listed status
An 18th century bridge and three World War Two aircraft hangars are among nine structures in the north west which have won listed status. Environment Minister Mark H Durkan announced he was listing three structures in the village of Claudy - two historic houses and the bridge. "The two rural houses protected are an important remnant of a fast disappearing part of our heritage, and the bridge, with raised cutwaters, is a particularly good example of a bridge from the 18th century," he said. For more on this story please click Belfast Telegraph.
Photo Credit: GeoLocation/Cumber Bridge


This Limerick property could be snapped up for just €1
But it probably won't be. The eight-bedroom piece of real estate in Kilmallock, Co Limerick will go under the hammer on Thursday with no reserve. Auctioneer Patrick Convey said that this is "very unusual" adding that he has only ever seen one other property go on auction with no reserve during his 10 year career. "It's not something that usually happens. It could go for as little as €1 but we'd be very disappointed, although that could technically happen." For more details, place click Journal Ireland.


The moment this Kerry lad picked his car over a date on national TV
TG4 launched an new dating show last night called 'Pioc do Ride'. And it's certainly got a premise we've never seen before. It features three guys, three cars and one girl - and she must choose her date based on the car he drives. And there's a twist, the guy the girl picks can then decide to take her up on the offer of a date - or choose a €250 voucher to get his car done up instead. Which led to this agonising moment between Liam Antaine O Cathasaigh from Lispole and his potential date, Corey Hanna from Derry. To watch what happens, please click Breaking News Ireland.


World's first Baby Day to take place in Belfast
Replay Theatre Company has organised more than 80 events including theatre, film, dance, music, art and science. Anna Newell, Replay's artistic director, said "There are events for adults, teens and the tiniest of them all. BabyDay is a day for celebrating our tiny citizens and to help others see the world through their eyes and the wonder in that." For more details, please click Belfast Telegraph.
Photo Credit & Related Story: Ireland's Baby


Farrell to attend Irish premiere of The Lobster
Colin Farrell is set to attend the Irish premiere of his new, critically acclaimed film The Lobster in Dublin next month. A smash hit at the Cannes Film Festival this year winning the Jury Prize, The Lobster is a surreal, romantic drama starring Colin Farrell and Rachel Weisz, with a supporting cast including Ben Whishaw, John C.Reilly, Olivia Colman and Ashley Jensen. The film will make its Irish debut in Dublin's Light House Cinema on October 8. For more details and video clip, please click RTÉ.

September 25

1916: who did what?
An Irish school teacher, a Scottish trade unionist, an aristocratic woman and a British officer were among the main players in the 1916 Rising. In this special feature, the Irish Times has compiled profiles of each player, including Lt General John Maxwell, pictured. He is best remembered for his role as "military governor" of Dublin; from May 2nd-9th, he tried the rebel leaders by secretive field court martial – a trial without either defence lawyer or jury. Their subsequent executions helped win sympathy for Irish independence. For more details, please click Irish Times.


Touching tribute to 'pride of Parnell Street' Patty Duffy, RIP
Writer Sebastian Barry has paid a touching tribute to 'the Pride of Parnell Street, Patty Duffy', as she was laid to rest following 40 years behind the counter of Dublin's oldest newsagents. Barry met her 20 years ago and was so struck by her he wrote her into his play based on the street. She was the third generation of her family to have worked in Lucky Duffy's newsagents, which has traded on the busy city thoroughfare for 111 years. Her funeral took place in St Mary's Pro Cathedral yesterday. For more details, please click Irish Herald.


One Irish pub still celebrated Arthur's Day yesterday
Is this the only pub in the world still celebrating the day, Journal Ireland asked, after it was axed in 2014? Er, no. Some Irish pubs are still coyly celebrating it. Reader James Gannon sent in this photo from Spells Bar in Ballaghaderreen, Co Roscommon, which was advertising a cheeky Arthur's Day event. The difference between the Brazilian event and Spells' event is that Spells definitely knows that Arthur's Day is no more. For more details, please click Journal Ireland.
To read our article, please click Arthur's Day - "a Celebration of Substance"


First Cork to US flights in 50 years set to depart next year
Cork Airport is to operate its first scheduled transatlantic flights in 50 years, with Norwegian Air set to offer flights to Boston three times per week. Official confirmation of the new service is expected early next week, just days before CityJet begins its 18-flights-a-week service from Cork to London City Airport. It is believed that the Norwegian Air flights could begin in the first half of next year. Informed sources say there is potential for the service to be expanded in 2017, possibly to New York. For more details, please click Irish Examiner.


Humble spud is set for a €1m makeover
Agriculture Minister Simon Coveney has launched a new €1m marketing campaign to boost potato consumption amongst Irish consumers, with a three-year drive by An Bord Bia designed to dispel fattening myths surrounding the potato. Despite Irish culinary tastes embracing pasta and rice in recent times the potato never did lose its top spot as Ireland's preferred carbohydrate. But the future of the spud was beginning to worry Bord Bia, with shoppers under 45 accounting for just 33pc of potato sales. For more details, please click Irish Independent.


Luxurious accommodation in the heart of the country
Apart from the roadside sign in this quiet part of Co Kildare, you could easily miss its long, sweeping driveway. That would be a great pity for what you find at the end of the road is a world that is dedicated to peace and relaxation amidst some of the most natural countryside you'll find anywhere on the island of Ireland. The Moyvalley Hotel is simply luxurious accommodation at its very best. For more details, please click Belfast Telegraph.


Ancestral home of Henry Ford in West Cork to open to public
More than 4,000 visitors are expected to view the traditional stone-built, single-storey cottage which is believed to date from the 1700s or earlier, and in which Ford's grandfather, great-grandfather, and great-great grandfather were born. The four-room dwelling near Ballinascarthy had been in a very poor state until Ford descendant and farmer Vivian Buttimer and his family took it in hand a few years ago. For more details, please click Irish Examiner.
Photo Credit & Related Story: Irish Examiner


Missing Jack Russell returns home - after nearly four years
Siobhan McCormack from Kildare was heart-broken when her dog Oscar disappeared from her garden in January 2012. After nearly four years she had completely given up hope until she received a call from a woman in Ballydehob this week who confirmed she had found long-lost Oscar. "It will be four years in January. He just went out to go to the bathroom one day and he just vanished. There was no sign of him he was completely gone." For more details, please click Irish Independent.


Rory McIlroy well placed in PGA tour finale
Rory McIlroy and Paul Casey are well placed after the opening round of the Tour Championship in Atlanta. Swede Henrik Stenson shot a seven-under 63 to lead by two shots from Englishman Casey, with Northern Ireland's McIlroy one stroke further back. World number one Jason Day finished on one under. The Tour Championship is the last of the four FedEx Cup play-off events, with a field of 30 having been whittled down from the 125 who competed in the first. McIlroy is 11th in the FedEx Cup standings, and needs to win and hope the five main contenders finish down the field. For more details, please click BBC.
Photo Credit & Related Story: RTÉ

September 24

Next year's Tidy Towns to get trees as part of 1916 commemorations
All of the Tidy Towns winners since the competition's inception in 1958 will receive seven oak trees in remembrance of the seven signatories of the Proclamation. The initiative, which is part of the Government's 1916 commemorations, will feature in just over 40 towns, as some places such as Glenties, Co Donegal, Rathvilly, Co Limerick and Virginia, Co Cavan have won the competition more than once. Sessile Oaks have been chosen as they are national symbols. For more details, please click Irish Times.
Photo Credit & More Details: Wikipedia


Stunning Northern Ireland skylines mark the dawning of autumn equinox
Fiery morning skies marked the dawn of the autumn equinox, as Northern Ireland said goodbye to the summer. The spectacular display made for one last glorious burst of sunshine as autumn arrived. Forecasters are predicting mixed conditions and chillier nights as the shorter days arrive, with daytime temperatures rising towards the weekend, but accompanied by colder nights. For more details, and photos, please click Belfast Telegraph.
Related Story: Journal Ireland/7 of the best places in Ireland to take a break this autumn


Rare sighting of basking sharks breaching off Malin Head
Every now and then we see videos of basking sharks pretty much doing as their name suggests - slowly making their way through the ocean, seemingly not in a hurry to do much else other than feed. And while they're an amazing watch, we have never seen basking sharks quite like this before. Bren Walsh of Wild Atlantic Way Climbing captured this rare footage of basking sharks breaching the water of the coast of Malin Head. Sharktrust.org says that while it is not known for sure why basking sharks engage in this activity, it's likely to do with courtship. For more details & video clip, please click Breaking News Ireland.


Corporate training firm to create 110 jobs in Dublin
NIIT Limited, which has its headquarters in India, says it chose Ireland because of the creative and technical talents of workers as well as their multilingual skills The positions will be rolled out over the next five years. The new roles will include high-end engineers, creative writers, and digital media professionals. Other roles will be for trainers, multilingual customer service support, and project managers. For more details, please click Breaking News Ireland.
Photo Credit & Related Story: RTÉ


Cheaper to buy than rent in 80pc of Ireland
A survey of 54 areas around the country has found that it is now cheaper to buy than to rent a typical three-bed home. Figures compiled by Daft.ie show that monthly mortgage repayments on a typical three-bed house were less than it could be rented for in most parts of the country. Finance Minister Michael Noonan has called on the Central Bank to review its lending restrictions, claiming that they are stopping first-time buyers purchase a starter home. For more details, please click Irish Independent.


'Inspiring' woman who raised €300m is honoured
Loretta Brennan Glucksman didn't visit her 'spiritual home' until she was in her 40s, but when she did, she fell hard. "It's as hokey as it sounds," she said, "My Hungarian Jewish husband brought me to Ireland in 1987. It was instant, like a Walt Disney thing. I felt the roots." The grand-daughter of a Brennan from Donegal and a McHugh from Leitrim, Loretta grew up in an Irish neighbourhood in Allentown, Pennsylvania. For more details, please click Irish Independent.


'Put the kids to bed early'. Mrs Brown to go LIVE
Comedian Brendan O'Carroll has revealed his delight after BBC One bosses gave the go-ahead for a live episode of Mrs Brown's Boys later this year. The live show will be one of the centrepieces of the channel's Autumn schedule, though it's bound to keep the censors in the Beeb fairly busy. Brendan said "This is very exciting. When I heard the BBC were letting us go fully live I thought: 'They've lost their minds!' He also warned that anything could happen during the live broadcast. For more details,& video clip, please click RTÉ.


Something is brewing down on the farm…
Taking a tongue-in-cheek look at Irish farming life, Macra na Feirme has launched a new calendar. And the shots are all about putting the glamour back into sheer hard work. Created in partnership with St Patrick's Mental Health Service's 'Walk In My Shoes' campaign, the limited-edition calendar will be on sale at the Macra stand of the Ploughing Championships in Ratheniska, Co Laois, this week. To read this news itsm and many others, please click Irish Independent.


Top 10 rugby union rivalries - Ireland make the list twice
Ireland v England: A fixture which has 'history' - and not all of it on the field. The complicated relationship between the two countries often finds its most eloquent expression on the rugby field, and there is no scalp that the Irish prize more highly. "England is the one match we all love and it is the one, being Irish, you get excited for," Rob Kearney suggested, back in 2012. "It's something we have built into us as Irish people." For more details, please click Irish Independent.

September 23

'Historic day' as landmark Marriage Bill 2015 introduced
Members of Marriage Equality gathered outside Leinster House before entering the Dail gallery to "witness history unfold." Grainne Healy, chair of the group, said "This is a momentous occasion, and it's great the Minister is going to introduce the legislation today. t's the end of a long journey - and for those of us in Marriage Equality - it took us 10 years to get here." To read this news item and watch a related video, please click Irish Independent.


Fifteen facts about the Irish flag and 1916
Number one on the list is the fact that although the 1916 Easter Rising made the Irish tricolour famous, it was actually first flown publicly in Waterford City in 1848. On March 7th of that year, Thomas Francis Meagher, a leader of the Young Irelanders, flew the flag from the Wolfe Tone Confederate Club at 33 The Mall, Waterford City. The Thomas Francis Meagher Foundation is to present a national flag to each post-primary school in the country. For more facts, please click Irish Times.


Government launches €30m rural renewal scheme
The Village and Town Renewal Scheme, which was announced this morning at the National Ploughing Championships, will channel the €30m through local authorities to revitalise towns and villages across the country. The scheme has been set up to make them better places to live and work. Money from the scheme will be spent on public amenities, the renovation of derelict buildings, environmental initiatives that help support economic activity, and other projects. For more details, please click RTÉ.
Photo Credit: D & D's Travel


The happiest place to live in the UK is in Northern Ireland
A study by the Office for National Statistics (ONS) found people living in Fermanagh and Omagh rated themselves the happiest on a scale of zero to 10. Residents said they were 8.3 when asked "Overall, how happy did you feel yesterday? Where 0 is 'not at all happy' and 10 is 'completely happy'." Glenn Everett, ONS director of well-being, said "Overall, people are generally rating their lives higher than they did four years ago." For more details, please click Belfast Telegraph.


Life with The Dubliners recalled in poetry collection
John Sheahan, the fiddle player who toured the world with legendary folk band The Dubliners for almost 50 years, has written a book of poems recalling some of his favourite memories. Speaking to RTÉ TEN Sheahan revealed that Fiddle Dreams is a collection of poems and lyrics reflecting his memories with Ronnie, Luke and Barney. The poem, The Long Note, recalls the manner in which Luke Kelly would play with the possibilities of a song's delivery, keeping the musicians on their toes. For more details, please click RTÉ.


Tea pouring world record in the bag at the National Ploughing Championships
It's been all go at the National Ploughing Championships in Ratheniska, County Laois. Not only has there been a lot of ploughing, the world record for most cups of tea poured in an hour was also broken. Budget supermarket Lidl put its "tea team" of 12 tea-pouring specialists up for the challenge. The record they had to beat – set by a team from Burco Water Boilers in April – was a whopping 1,608. But the Lidl team smashed it. They'd made 1,848 cuppas by the end of the 60 minutes – an improvement on the previous record of 240 cups. For more details & video clip, please click Breaking News Ireland.


The guitarist who gave Ireland a taste of real rock 'n' roll
Bob Geldof is of the opinion that the Irish showband phenomenon was the antithesis of anything remotely connected to creativity or individuality. If you had the nerve to argue the toss with him, then you'd only have to say two names to make him rethink: Van Morrison and Rory Gallagher. Admittedly, two people out of hundreds is a small percentage, but Geldof might – perhaps reluctantly, and not without some swearing – have to concede the point. For more details, please click Irish Times.
Photo Credit & Related Video: Rory Gallagher storms UK music video chart


Mystery man seeks 'older active lady' at matchmaking festival
The Roscommon man, who does not wish to be named, has pinned his open love letter on the wall of the Hydro Hotel in Lisdoonvarna and is hoping a lovely lady in her 60s might become his best friend to share the rest of his time with. He is looking for an active lady who is willing to commit to a lasting relationship so they can take care of each other as they get older. His offer includes the prospect of winter travel as well as sharing his "nice home and car" in Britain. For more details, please click Irish Examiner.
ED. NOTE. To read our article, please click Making a match in Lisdoonvarna


Donald Trump seeks to save his Irish golf course from the waves
Billionaire businessman Donald Trump wants to install €10m sea defences along a stretch of the west coast to stop his Doonbeg links course in Co Clare being washed away. Doonbeg Golf Resort will seek planning permission to put in place 200,000 tonnes of large boulders to prevent further erosion of the course along a 2.8km stretch at Doughmore beach. Last year, the resort lost substantial ground at the 6th, 9th and 10th holes after two winter storms. For more details, please click Irish Herald.
Photo Credit: GolfAdvisor

September 22

Remains of 6,000-year-old first settlers found in Co Kerry
Archeologists have uncovered what they believe to be the remains of the first settlers in the south-west, dating back almost 6,000 years old. The remains of what are thought to be two people, one adult and one adolescent, were discovered following excavations at a neolithic structure near Milltown, Co Kerry. Analysis of the human remains reveal they were cremated post-mortem but further analysis will reveal if the bones found belong to more than two humans. For more details, please click Irish Examiner.


Ireland's oldest library needs help to fix famous books
The first-ever public library in Ireland is crowdfunding to conserve three important books from its collection. Bram Stoker, Jonathan Swift and James Joyce all used the library, which has been open since 1707, and has books dating back to the 1400s.Three of its most important books need conservation work and the library is trying to raise funds so this can be carried out. For more details, please click Journal Ireland.


Seamus Cashman on writing The Sistine Gaze: "I too begin with scaffolding"
The poet and Wolfhound Press founder explains the inspiration for his book-length poetic response to Michelangelo's frescoes, which explores art, poetry, faith and genius. He writes "I owe Michelangelo an irrepayable debt for giving me a muse who led me into this ekphrastic epic, and through it. And though the writing, reading and research I undertook with The Sistine Gaze took me six years, that work and the 'Gaze' filled my time with great satisfaction and pleasure. I am glad now that it is done and on its way to find readers who might venture into a long, long poem." To read more about the book, please click Irish Times.
ED. NOTE: We were delighted to see the Irish Times give this exposure to Mr Cashman's new book. Thanks to him, Bridget's book - The Traditional Irish Wedding was first published.


Ploughing Championships under way in Co Laois
Described sometimes (and entirely inaccurately) as the 'Electric Picnic for farmers', the event takes place once again at Ratheniska in Co. Laois, and up to 200,000 visitors are expected to descend on the 800 acre site over the next three days. There are over 1,500 stands at the event – and, with an election on the horizon, expect more than a scattering of politicians pressing the flesh and shoring up the rural vote alongside the usual exhibitors. For more details & video clips, please click Irish Journal.
Photo Credit & Related Story: Irish Times/Eric Luke


Michael Flatley to retire after Broadway debut
Michael Flatley will be hanging up his dancing shoes after making his long-awaited debut on Broadway with Lord of the Dance: Dangerous Games. The show features holographs, dancing robots and acrobats accompanying Flatley's team of Irish dancers. Mr Flatley will be making limited appearances during his Broadway stint and will feature at the end of each evening's performance during its two month run from November. He said it had always been on his wishlist to perform on Broadway. "That's the last dream" he said. For more details, please click RTÉ.


Jamie Oliver says these 14 "hero" foods can help you live to 100
Do you eat them? Celebrity chef Jamie Oliver is on a mission to find the world's healthiest, most-enduring communities. In his new show, Jamie's Super Food, he travels around the world visiting regions where people live longest and stay healthy well into old age. On the show, he reveals the 14 ingredients, which he calls "heroes" that he says he encountered frequently on his journeys from Japan to Costa Rica. Both areas have some of the highest percentages of people living to be 100. For more details, please click Journal Ireland.


Derry Halloween celebrations leading world poll
The NI city's Halloween celebrations are doing 'spook-tacularly' well in a global online poll — and are currently in top position ahead of New Orleans, Paris and even Dracula's homeland, Transylvania. The competition to find the best city to celebrate the annual witching season is being run in association with USA Today, although it accepts votes from around the world and Derry is up against 19 cities synonymous with the festival and is in top place. For more details and pics, please click Belfast Telegraph.


Ireland's Michelin-starred restaurants celebrate upturn
More tourists and increased consumer confidence are some of the reasons cited by Ireland's Michelin-star restaurants for the "significant upturn. " Eamonn O'Reilly, owner of Dublin sister restaurants One Pico and the Greenhouse, which was awarded a Michelin star last Wednesday, said an increase in the number of restaurants opening had put pressure on the market. "You have to be on top of your game now. It's definitely a lot more competitive, that's for sure." For more details, please click Irish Times.
Photo Credit: Eric Luke


Special event marks Dublin's All-Ireland win
Thousands of supporters turned out on O'Connell Street for a special event to honour the victorious Dublin team after their win over Kerry in Sunday's All-Ireland SFC final. The event, hosted by Lord Mayor Críona Ní Dhálai, saw the Sam Maguire paraded in the city before heading out to Parnells GAA club, the club of team captain Stephen Cluxton. Earlier in the day, Sam Maguire visited Crumlin and Temple Street Children's Hospitals on what is his traditional trip before the victory parade on the capital's main thoroughfare. For more details & video clip, please click RTÉ.
Photo Credit, More Pics & Related Story: Journal Ireland

September 21

People who were alive in 1916 open up to film-maker Alex Fegan
The cliché "bursts into the room" was coined for people like Alex Fegan. Formerly a solicitor, now a creator of cracking populist documentaries, the endlessly jolly Dubliner brims over with anecdotes and good cheer. He is just the sort of person to whom you would feel happy telling stories. In 2013 he got publicans of all stripes – solid, wary, eccentric – to open up in The Irish Pub. Now he has drawn out 30 of the nation's centenarians for a film titled (rather deliciously) Older Than Ireland. For more details, please click Irish Times.
Photo Credit & Related Story: IFTN/Five minutes with Alex Fegan


On this date over 400 years ago, thousands of Spanish troops invaded Kinsale
At 6pm pn 21 September, 1601, Spanish forces invaded the Co Cork harbour town of Kinsale in response to a plea for help from Irish insurgents. What followed was one of the greatest siege dramas in world history – an epic confrontation that deserves to rank alongside The Alamo and Rorke's Drift. The Spanish troops held out for 100 days – enduring a crippling siege, ravaged by hunger and dysentery, and shivering through the harshest winter in living memory – before sailing home undefeated. For more details, please click Journal Ireland.


Irish film Room gets major Oscar boost
A film by Irish director Lenny Abrahamson inspired by the case of Josef Fritzl has won the top prize at the Toronto International Film Festival. Room won the People's Choice Award at the festival and is now likely to feature heavily in Oscar speculation ahead of next year's Academy Awards. The award was previously won by 12 Years A Slave, The King's Speech, and Slumdog Millionaire, which all went on to grab Best Film at the ceremony. For more details & trailer, please click Journal Ireland.


Game of Thrones breaks Emmy Awards record
Game of Thrones, which is filmed in Northern Ireland, smashed the record for the most award wins in one night as it collected a dozen Emmys, three more than the previous best, which was achieved in 2000 by The West Wing. The epic fantasy series was named outstanding drama series and show-runners David Benioff and DB Weiss were joined by members of the cast on stage as they collected their award. For more details & photos, please click RTÉ.
Photo Credit: Getty Images


Acclaimed Belfast poet Michael Longley lauded at Ulster Tatler Awards
One of Northern Ireland's best loved poets Michael Longley was honoured with the prestigious Lifetime Achievement at the Ulster Tatler Awards 2015. Since the 1960s Belfast man Michael Longley has published ten collections of poetry which received remarkable accolade. His poetry is admired and cherished by many and his work has received international acclaim on both sides of the Atlantic with The T.S.Eliot Prize, The Queen's Medal for Poetry and the coveted Griffin Prize to name but a few. For more details, please click Ulster Tatler.


Irish students win at EU Contest for Young Scientists in Italy
Three Irish students have picked up prizes at the EU Contest for Young Scientists (EUCYS) in Milan. Eimear Murphy and Ian O'Sullivan, who are both aged 17 and from Coláiste Treasa in Kanturk, Co Cork, picked up the Intel ISEF prize for their project examining the effects that parental alcohol consumption can have on their adolescent children. And there was another Irish winner - Mark O'Dowd from Glanmire Community School in Cork took the Expo Milan 2015 prize. For more details and pics, please click RTÉ.


Statue for Cobh's humble hero Sonia O'Sullivan
Olympic silver medallist and former world champion Sonia O'Sullivan was honoured in her native Cobh yesterday when a statue was unveiled in her honour. However, instead of basking in the limelight, the unassuming athlete sourced an umbrella for two soaked children. Sonia thanked the people of the Cork town for turning out in their droves amid torrential rainfall for the unveiling. For more details and video clip, please click Irish Examiner.
Photo Credit: Journal Ireland/Clare Keogh


Dublin grind down Kerry to win 25th All-Ireland
A strong first half proved far more than half the battle for determined Dublin who braved the difficult Croke Park conditions to hold on for a third All-Ireland title success in five seasons, their second at Kerry's expense in that period, as they prevailed by 0-12 to 0-09. Jim Gavin's side built up a four-point half-time lead after a strong finish to the opening half when they outscored holders Kerry by six points to one. For more details and video clip, please click RTÉ.


All Ireland champions party the night away on 'day to be proud'
Bringing the Sam Maguire trophy to the Boar's Head the morning after is standard tradition and true to form the Dubs arrived with Sam in hand. One onlooker said "The team were happy to pose with passers-by on the way to work for photos – I don't know how they weren't exhausted." The party was in full swing at The Gibson Hotel in Dublin last night as the county's senior footballers celebrated winning their third All-Ireland title in five years. For more details, pis & video clip, please click Irish Herald.
Photo Credit: Caroline Quinn

September 20

NI comedian Jimmy Cricket honoured with papal knighthood
Veteran comedian Jimmy Cricket has been awarded the Roman Catholic Church's highest honour by Pope Francis. The Rochdale-based comic has tweeted that the Pope has made him a papal knight for services to charity. The 69-year-old said he was "thrilled" to receive the honour that he will officially receive at a later date. Born in Cookstown in Co Tyrone, the comedian, whose real name is James Joseph Mulgrew, became a household name in the 1970s.For more details, please click BBC.
Photo Credit & Related Story: Belfast Telegraph


"My father dreamt I'd sing for the Pope...'
An acclaimed Northern Irish singer will be fulfilling her late father's dream by singing for the Pope on his first visit to the United States. Margaret Keys from Londonderry will sing for Pope Francis as part of the World Festival of Families being held in Philadelphia next week. She said the event will be particularly poignant as it is something her late father, Bill Keys, had always hoped she would do. For more details & video clip, please click Belfast Telegraph.


Take us to church: the perfect ecclesiastical backdrops
Do you know a filmmaker on the hunt for the perfect location? Are you a band looking for a setting for your next music video? Or maybe you're a fashion editor in search of the perfect ancient backdrop to contrast with hot new Irish fashions in your next autumn winter spread. Well read on, because this book is for you! Abandoned Churches of Ireland by Tarquin Blake might pitch itself as a must read for those interested in Irish architecture and history, but it's also a locations goldmine. For more details, please click Irish Times.


Cork students at EU Young Scientists final in Milan
Three Cork students are among 173 contestants from 39 countries taking part in this year's EU Contest for Young Scientists (EUCYS) in Milan this weekend. Eimear Murphy and Ian O'Sullivan, (pictured), from Coláiste Treasa in Kanturk won a place at the contest by scooping top prize at this year's BT Young Scientist and Technology Exhibition in January. Meanwhile, Mark O'Dowd from Glanmire Community College was selected to take part in a one-off food science exhibition which is being held to co-incidence with Expo 2015 running throughout the year in Milan. For more details, please click RTÉ.


Belfast Meccano bridge sets Guinness World Record
Engineering students from Queen's University Belfast have set a new world record with a 100ft footbridge made from Meccano. The temporary Meccano bridge has been built across Belfast's Clarendon Dock. Representatives from Guinness World Records were on site to confirm it has set a record for the world's largest ever Meccano construction. The bridge was designed and built by a group of third year civil engineering students and school children. For more details and video clips, please click BBC.


€7.4m winning Lotto ticket sold in Dun Laoghaire
The winning ticket for last night's Lotto jackpot was sold in Dun Laoghaire, Co Dublin. There was only one winner of the top prize, which was worth almost €7.4m. The winning ticket was sold last Tuesday at Supervalu, Killiney Shopping Centre, Rochestown Avenue in Dun Laoghaire. The numbers drawn were 7, 26, 34, 39, 41, and 42. The bonus number was 31. More than 41,000 players won prizes in last night's draw. To read this news item and many others, please click Breaking News Ireland.
Photo Credit & Rekated Story: Journal Ireland/ Mac Innes Photography


All-Ireland Final: Dublin v Kerry
For many, the meeting of Dublin and Kerry represents the definitive September showdown and a reminder of some classic encounters that gripped the nation. The counties have met in 13 All-Ireland finals and it's the Kingdom who lead the way 8-5 as things stand. The rivalry in the eyes of most observers began when the sides met in the 1975 decider, but our look back starts with the 1955 final when Dublin were viewed as the "stylish new kids on the block". For more details and video clips, please click RTÉ.
Photo Credit & Related Story: Irish Herald
Live coverage: RTÉ


Ireland crush Canada in Rugby World Cup opener
Ireland played the role of lean, green machine for 40 minutes and finished with enough of a flourish to put up an impressive total on the scoreboard as they beat Canada 50-7 at the Millennium Stadium in Cardiff in their opening Rugby World Cup Pool D clash. Tries by Sean O'Brien, Iain Henderson, Jonathan Sexton, Dave Kearney, Sean Cronin, Rob Kearney and Jared Payne and eight successful kicks at goal saw Ireland rack up a half-century of points. For more details and slide show, please click RTÉ.


NI's Jonathan Rea crowned World Superbike champion
The Co Antrim man was crowned World Superbike champion after finishing fourth in Sunday's opening race at Jerez. The 28-year-old had gone into the Spanish round with a massive 144-point lead and needed only to finish in the top nine to be sure of the title. However, it was the first time in 21 races that the Isle of man-based Rea had finished outside a rostrum position. In securing the title, he becomes Northern Ireland's first motorcycling world champion since Joey Dunlop and Brian Reid in 1986. For more details, please click BBC.

September 19

Thomas Kent 'the Forgotten Volunteer no longer'
The State Funeral for executed rebel Thomas Kent brings his legacy as the "Forgotten Volunteer" to an end, the Bishop of Cloyne said today. Descendants, dignitaries and hundreds of those who gathered for the service at St Nicholas Church in Castlelyons, Co Cork, have been told he was a man of conviction, motivated by the ideals of patriotism, freedom and self-sacrifice. In the eulogy, he was remembered as a religious man with a strong belief in social justice. For more details, video clips and picks, please click Breaking News Ireland.
To watch a live broadcast: Breaking News


Last living child of 1916 rebels celebrates 102nd birthday
Father Joseph Mallin, a Jesuit priest, celebrated the milestone last Sunday in Hong; he is also thought to be the oldest Irish priest in the world. Fr Mallin is the son of executed 1916 leader Comdt Michael Mallin, who went out on Easter Monday, 1916, to command the fighting in St Stephen's Green, with Countess Markievicz as his deputy, and never returned. As chief of staff of the Irish Citizen Army, and second in command, Mallin served under James Connolly. For more details, please click Irish Examiner.


Trinity scientists make major breakthrough in treating Alzheimers
Alzheimer's disease is characterised, in part, by the build up of toxic material in the brain called amyloid-beta. Research assistant professor in genetics at Trinity College Dublin, Dr Matthew Campbell (pictured), said cells lining the blood vessels had junctions holding them tightly together. "We discovered that amyloid-beta could move between the junctions. If we can find ways of removing this toxic material in Alzheimer patients, it could lead to a novel way of developing drugs for the disease." For more details, please click Irish Examiner.
Photo Credit & Related Story: Bright Focus Foundation


Belfast's streets thronged with crowds for Culture Night
Over 50,000 people thronged the streets and squares of Belfast's Cathedral Quarter last night as Culture Night 2015 got under way. There were over 250 free events taking place from the afternoon through to 11pm - and quite a few more running late into the night. Over 100 venues took part in the one-day festival that brought magic and spectacle to the city, with a host of outdoor street performances as well as events, talks, tours and exhibitions. For more details, video clip and photos, please click Belfast Telegraph.
Photo Credit: Kevin Scott
Related Story: Culture vultures spoilt for choice in Dublin


Ireland cheapest country in Europe for holiday rentals
Research conducted by HomeToGo took into account the prices of one million holidays rentals across Europe this month and found Ireland is overall quite reasonable. A one week stay for four adults will set you back on average €484 if you are booking for the high season. This compares to an average of €969 if you want to stay in Switzerland. The research also shows rental prices fall about 29% in the low season in resort towns while there is little change in prices in cities in the low season. For more details, please click Journal Ireland.
Photo Credit: Doire Farm Cottages


Irish designer Costelloe debuts new collection
Irish designer Paul Costelloe debuted his Spring/Summer 2016 womens wear collection at London Fashion Week yesterday evening with sixties silhouettes and high hemlines ruling the runway. Costelloe entitled the show New Reflections and it saw the established designer experiment with lower necklines and higher hemlines than would be typical of his pieces. The addition of jumpsuits, platform runners and shorts to the collection brought the timelessness of Costelloe's designs into the now. For more details & photos, please click RTÉ.


Hundreds prepare for Liffey Swim
Four hundred participants will swim through central Dublin this afternoon as part of the 96th annual Liffey Swim. Swimmers from as far afield as the US and Australia are taking part, with the age range going from swimmers in their teens to those in their 70s. he 2.2 kilometre course starts beside the Guinness brewery at 2.30pm (men's) and 3.30pm (women's), with the finish line at Custom House Quay. For more details, please click Breaking News Ireland.
Photo Credit & Related Story: Irish Herald


Rugby World Cup: Cardiff turns green as Irish invade in force
The wait is nearly over and as Ireland's World Cup campaign begins this afternoon, the green hordes spread from Bristol and across the Severn River will gather in Cardiff hoping for a win against Canada. Cardiff had a distinctly Irish air last night as the trickle of supporters turned into a flood ahead of this afternoon's match and the on/off rainfall helped the deluge of Irish supporters to acclimatise, while that delightful UK tradition of abandoning work at lunchtime on a Friday meant that Cardiff's city centre was already buzzing yesterday afternoon. For more details, video clips and pics, please click Irish Examiner.
Live Coverage: RTÉ


Dublin school kids turn tables on their Kerry principal
Schoolchildren in a North Dublin suburb have turned their Kerry principal's office blue. Jerry Crogan, from Cahirciveen in West Kerry, walked into his blue office just before the bell rang out for class. The pupils in Holy Trinity SNS in Donaghmede (assisted by a few staff members we suspect!) converted Mr Grogan's office to a shrine to the boys in blue ahead of tomorrow's All-Ireland clash between Kerry and Dublin. However, Mr Grogan is well used to it. For more details, please click Irish Independent.



Mon, Oct 5, 2015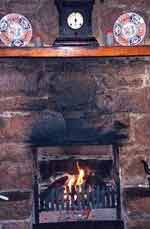 From Bog Land to Turf Fire
Ireland contains more bog land, relatively speaking, than any country in Europe, except Finland. For people in rural areas, turf cut from the bog is still a natural source of heat. Turf cutting begins in spring and then the turf is spread and rickled . Rickled means to pile the turf up in small mounds. By summer, the turf is dry and it's time to bring it home. Everything has to be prepared before the winter comes, or even earlier, because the rain would wet the turf too much. It has to be dry and in the shed before Autumn. Then and only then, can an irish country family look foreward to the cozy warmth of "a turf fire in the cabin."

Resources: The Atlas of the Irish Rural Landscape
Image: Spirited ireland

Click for More Culture Corner.
---
---
Local Time in
---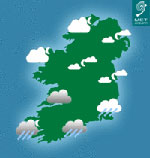 The Weather
Up the minute forecasts provided by Ireland's official source for all weather-related news. Please click Met Eireann.

---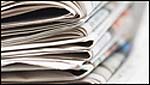 Links to the latest news from Ireland
Here you will find all the stories making headlines throughout the Republic of Ireland and the six counties to the north. This is not intended to be an all-inclusive list. These are the main sources we check every day to bring you those headlines we think you will enjoy reading.

BBC Northern Ireland
Belfast Telegraph
Breaking News Ireland
Irish Emigrant
Irish Examiner
Irish Herald
Irish Independent
Irish News
Irish Times
Irish Post
RTE
The Irish World
The Journal Ireland
Inside Ireland


---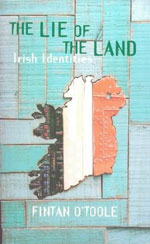 Lie of the Land
by Fintan O'Toole
A regular contributor to the irish Times and The Guardian, O'Toole applies his eagle journalistic eye to the state of ireland at the end of the 20th century. It's a riveting read as O'Toole examines with in-insight, humour and a bit of the blarney, the repercussions of a booming economy which has thrust ireland into the ranks of the richest European countries.
Click here for Lie of the land.

---