Traditions, folklore, history and more. If it's Irish, it's here. Or will be!
"People will not look forward to posterity who never look backward to their ancestors."
-Edmund Burke
---
Quotes

Library: Books, Movies, Music

Prints & Photos

Poetry

---
---
Shops Ireland
---
Bunús na Gaeilge
(Basic Irish)

---
---
---
Himself/Herself
Write to Us
Readers Write..
Links/Link to Us
---
Advertise with us
---
Awards & Testimonials

Submissions Guide

---

Todays' Irish News



Yes, there are many news items not included here. We deliberately avoid: politics, death, disaster and other mayhem.

Sunday, March 1, 2015


The Irish Times is missing
As of February 26, the Irish Times requires payment for access to its news coverage. Since we don't embrace the idea of our readers paying for news stories, we are no longer covering this news source. If they change their policy, we will resume coverage.



---
Bishops to be granted the freedom of Derry city
The race is on to grant the freedom of the city to two retired bishops - one Protestant, one Catholic - before Derry City Council ceases to exist at the end of March. There was an all-party agreement to rush through an SDLP proposal to bestow the city's highest honour on Catholic Bishop Edward Daly and Church of Ireland Bishop James Mehaffey. It will be one of the council's last acts before the new Derry and Strabane super council takes over on April 1. For more details, please click
Belfast Telegraph
.
Photo Credit & Related Story:
Derry Journal/Martin McKeown
.
It's official- They can graze their sheep on Stephen's Green
Lord Mayor Christy Burke conferred the Freedom of Dublin on soccer legend John Giles and homelessness campaigner Brother Kevin Crowley last night. The ceremony took place at the Round Room at the Mansion House. A statement from the Council said the Capuchin Day Centre CEO and Ireland player-turned-pundit and were being honoured (respectively) "in recognition of their work in the fields of social justice and sport". The two become the 79th and 80th people to receive the honour. For more details & photos, please click
Journal Ireland
.
Photo Credit: Colm Mahady/Fennells
The remarkable story of Ireland's Comer brothers
Former plasterers from Glenamaddy, Co Galway, Luke Comer and his brother Brian have a simple philosophy for buying property and it has helped them to build a €2bn empire across three continents. The Comers are the ultimate example of builders who rode out the crash by following their own golden rule of investment. "You want to be running in with your cash and spending money when everyone else is running out," says Luke. For more details, please click
Irish Independent
.
Award-winning pics taken by Irish amateur photographers
Irish amateur photographers got to show off their skills by entering the Irish Photographic Federation (IPF) Print & Projected Image Competition this year. The national final was held in Kilkenny and saw members of camera clubs from around the country vying for the award. The event, which was held in association with Canon Ireland, saw Hugh Wilkinson from Creative Photo Imaging Club in Northern Ireland named overall winner. Hugh was awarded the prestigious award for his image Hard Times, shown, which was taken on his Canon 1DX. For more details & photos, please click
Journal Ireland
.
Revealed: The key to the perfect bacon sandwich
New research delved into the bold breakfast favourite and found that untoasted white sliced pan, smoked bacon and lashings of brown sauce* are the key to achieving bacon sandwich perfection. The study found while a quarter of pork lovers choose white bread to make a bacon buttie, 21pc would choose a white bap. Healthier option brown bread hardly got a look in with only 6pc revealing it as their favourite option for a bacon sandwich. For more details, please click
Irish Independent
.
* Brown sauce is one of the most common condiments in Irish & British cuisine. One of the most popular is HP sauce.
News Archive: 50 years ago, Roger Casement's remains were repatriated
Half a century ago, Roger Casement's remains were repatriated from London to Dublin, where he received a state funeral almost 50 years after his execution. This RTÉ News footage shows Roger Casement's remains lying in state at the Church of the Sacred Heart, Arbour Hill in Dublin. Mourners lay wreaths and file past the coffin as it rests on the catafalque. Following his state funeral, he was buried in Glasnevin Cemetery on 1 March 1965. For more details and to watch the video clip, please click
RTÉ
.
Six Nations preview: Ireland v England
England have had a clear edge on Ireland in recent meetings between these two old foes; in the last four encounters, the Red Rose have a clean sweep. But there can be no doubt that Ireland have been closing the gap and a win against England appears to be approaching soon. Defeats of 20-9 and 30-9 in a 2011 World Cup warm-up clash and the 2012 Six Nations have been followed by narrow defeats of 12-6 in the 2013 Six Nations and 13-10 last year in the same competition. And in each of those four games Ireland have steadily improved, slowly beginning to unravel how to cope with the physicality and direct nature of England's strategy. For more details, please click
RTÉ
.
Photo Credit & Related Story:
Irish Herald
.
Padraig Harrington leads Honda Classic in Florida
Padraig Harrington and Rory McIlroy's careers have followed very different trajectories in recent seasons, but the Dubliner has upstaged the world number one in spectacular fashion at the Honda Classic by soaring to the top of the second round leaderboard while McIlroy has failed to make the halfway cut. Harrington, who won this tournament 10 years ago, carded a second-round 66 which took him to seven under par overall, one shot ahead of American Patrick Reed. For more details, please click
RTÉ
.
NI's Carl Frampton retains super-bantamweight title
Carl Frampton successfully defended his IBF super-bantamweight title with an impressive fifth-round stoppage of American Chris Avalos in Belfast. The Northern Irishman got the better of some rugged exchanges in the early rounds, although the challenger also landed with some hurtful shots. However, Frampton rocked Avalos with a right hand at the start of the fifth and the referee called it off shortly after with the challenger unable to defend himself. For more details, please click
BBC
.
Photo Credit, Gallery & Related Story:
Belfast Telegraph
---
Past Two Weeks
February 28

Father Ted makes me proud to be a Catholic
The Vice-President of the United States, Joe Biden, caused a little merriment over on Ireland's shores last night when he tweeted: "Father Ted is one of the reasons I'm proud to be a Catholic." "He inspired so many to stand up for civil rights," he added, signing "vp" to let his followers know it was from Biden himself. Mr Biden was actually referring to the recent passing of Father Ted Hesburgh of the University of Notre Dame, a well-known religious figure in the area, a member of the first US Civil Rights Commission - known simply by his Christian name as 'Father Ted'. For more details, please click Breaking News Ireland.


Dublin's St. Patrick's Festival 2015 officially launched
The programme for 2015 was officially launched in the stunning surroundings of the Dining Hall at Trinity College Dublin by CEO Susan Kirby, Chairperson Judith Woodward, Lord Mayor of Dublin Christy Burke, and Minister of State Michael Ring, TD. The theme of the parade this year 'Celebrate Now' will see leading street theatre and pageant companies draw inspiration for their artistic creations from Ireland's present, embracing 'nowness' and savouring the moment. For more details, please click St Patrick's Festival.


A love poem to the weather women
Poet Paul Durcan is to release a new collection which includes a poem called 'The Azores High' - a steamy paean to the women who bring Ireland the forecasts. A cross between a send-up and a love poem, it celebrates the special allure of the weather women, particularly of Jean Byrne, who the 70-year-old poet describes as "the doyenne" of them all, "in her body-hugging, all-black, belted silk dress, slit with a slash of lavender-pink". For more details, please click Irish Independent.


1960s storyteller James Boyce gains new audience online
Telling a great story is at the heart of what journalists try to do, and, in the 1960s, few did that better than BBC News NI's roving reporter James Boyce. Decades before computer graphics and social media, Boyce trekked all over Northern Ireland, finding quirky, historical and often downright strange tales. He immersed himself in every story he covered, but it's been many years since any of them aired on TV. Now, Boyce's reports, along with many other old clips, are available for a new generation of viewers to revel in. For more details, please click BBC.


Molly Sterling to represent Ireland in Eurovision contest
The 16-year-old schoolgirl from Nenagh, Co. Tipperary, won Eurosong last night with her track Playing with Numbers, which was co-written by Greg French. Speaking about her win, Sterling said: "It's an unbelievable feeling! I can't believe that it happened, it's amazing. I just want to make everyone proud and Greg has worked so hard on this. I just love performing and I can now do it in an international scale – it's mind-blowing." For more details and to watch Molly performing her song, please click RTÉ.
Photo Credit & Related Story: Irish Independent


Two Irish snappers shortlisted for world's biggest photography awards
Ian Thuillier will compete in the Sony World Photography Awards 2015 'Low Light' category for his impactful and eerie photograph of a carnival ride taken on a beach in Bray, Co. Wicklow. And in the 'Enhanced' category, Lisa Griffin, from Tipperary, is shortlisted for her dreamlike portrait of model Janice Snowden wearing an ornate headpiece. The shortlisted images to be shown at Somerset House, London 24 April – 10 May and the overall winners will be revealed 23 April. For more details, please click Irish Post.


What's the real story behind Dublin's The Lady on the Rock?
She's white and half dressed, reclining on a rock, and you can see her in many windows across Dublin. The Lady on the Rock is a familiar sight in homes around the capital and while art teacher Linda Keegan from St Michael's Holy Faith School in Finglas was fascinated with the statue, she knew next to nothing about her. So, with her fifth year art class, she set about to discover the history, and re-imagine the statue at the same time.
For more details and video clip, please click Journal Ireland.
Photo Credit: Jessie Ward/Flicker


One of world's 10 toughest endurance races to take place in Donegal
Two years ago the seeds for what would become The Race were put in place. Derry native David Burns and his friend, Limerick-born Maghnus Collins — two veterans of endurance races around the world — came up with the idea of creating a new challenge set in Ireland. Having become familiar with the likes of the Marathon des Sables, the 4 Deserts Race Series and the Ultra-Trail du Mont-Blanc, Burns audaciously set about instigating an Irish equivalent that would merit being mentioned in the same breath as these arduous contests. For more details, please click Journal Ireland.


Six Nations: Ireland Women defeat England
Ireland Women claimed only their second ever victory over England in a tight Six Nations clash at Ashbourne RFC Captain Niamh Briggs' last-gasp penalty was the match-winning score, completing a fine comeback for Tom Tierney's side from an 8-3 half-time deficit. Katy Mclean and Briggs traded penalties before England number 8 Harriet Millar-Mills touched down. Irish scrum half Larissa Muldoon sniped over to reply in the 50th minute and the hosts won out thanks to Briggs' reliable right boot. For more details, please click RTÉ.

February 27

U2's 'travelling pastor' Jack Heaslip, RIP
U2 joined around 100 mourners at the funeral of their 'travelling pastor' Jack Heaslip, who passed away at the weekend. U2's relationship with the pastor dates back to the 1970s, when he worked as a guidance counsellor in Mount Temple Secondary School which they all attended. When the band was on tour he helped the hundreds of staff and crew members - who were away from homes and families - cope with the challenges of isolation and long-distance travel. For more details, please click Irish Herald.
Photo Credit & Related Story: Church Leaders


Connacht 'most satisfied region' for quality of life
A quality-of-life survey has named Connacht as being the most satisfied region in Ireland and Munster was the least satisfied. Over 1,200 people living in Ireland completed the VitalSigns 2015 report from philanthropic organisation The Community Foundation for Ireland.The survey also revealed that the 75+ age group is the most satisfied with life in Ireland, the least satisfied age group being 45-54 year-olds. To view the top ten most important issues out of a list of 115 options, please click Breaking News Ireland.
Photo Credit: Trip Advisor


Hospitality company Airbnb to create 200 Dublin jobs
The new jobs are in customer experience, human resources, finance, 'trust and safety' and IT. The company also will lease 'The Warehouse', a planned 40,000 square foot contemporary office space at Hanover Quay, Dublin. Airbnb currently has over 1,000,000 listings in 190 countries. Europe accounts for almost six out of every ten listings on Airbnb, while Ireland represents about 4,500 listings alone. For more on this news item, please click RTÉ.
Photo Credit: PointsGuy


Jack and Emily most popular baby names in NI
Jack has been the most popular name for boys over the past 15 years, holding the top spot on 13 occasions. Emily was joint first with Grace in 2013 for the most popular name for girls. Grace fell back to second spot in 2014. The figures, compiled by the Northern Ireland Statistics and Research Agency (NISRA), showed that 285 babies were named Jack and 261 named Emily. James and Daniel also made the top 10 boys' names in 2014, and also featured among the top 10 a decade ago. For more details. please click BBC.
Photo Credit: Sweet Dreams Infant Care/For illustration purposes only


Kenneth Branagh premieres Cinderella in Belfast
Sir Kenneth Branagh is returning to where his successful career began to showcase his latest production, Disney's Cinderella, at a special preview for Northern Ireland cinema-goers. The Academy Award and Golden Globe-nominated actor, screenwriter and director will be in the audience for a charity screening of the story that has captivated children for generations. "I am delighted to be able to come to Belfast to introduce the film before it opens at the end of March," he said. For more details, photos and video clip, please click Belfast Telegraph.


Performers to battle for Eurovision slot
Considering its dismal performances since the turn of the century, it's easy to forget Ireland is still the most successful country in the history of Eurovision, with a total of seven wins and 44 finals. Now, five acts who want to right this wrong will do battle on tonight's Late Late Show. The hopefuls are Alex Saint and the MJs, Erika Selin, Kat Mahon, Molly Sterling, and Nikki Kavanagh, and the winner will be selected by a combination of public and regional jury votes. The 60th Eurovision Song Contest takes place in Vienna, Austria, on May 23. For more details, please click Irish Examiner.


Tayto sandwich pop-up shop opening on Wicklow Street in Dublin
But for a limited time only. As part of the 'More Than Just a Crisp' campaign, the pop up shop will be located on Wicklow Street and will open on Thursday March 5th until Sunday March 15th. Mr. Tayto will be serving up four different sandwiches for €2 each - The Cheese and Onion Classic, The Salt and Vinegar Sarnie, The Smokey Bacon Butty and "for the posh sandwich brigade", a Prawn Cocktail Treat. To read this news item and view a commercial for the campaign, please click Breaking News Ireland.


Coastal manor in Malahide on offer
Myra Manor was developed in the mid 2000s at the height of the Celtic Tiger years and during a trend in this location for top end gated schemes. Myra comprises a couple of dozen large individual detached houses. The current owners bought No. 12 as a shell in 2008 for a price in the region of €3.5m. They went on to spend a further €400,000 on fixtures and fittings. Now they are building a new house a few miles away, and are preparing, with a certain amount of regret, to leave the very comfortable home that they have created in Myra Manor. For more details, photos & video clip, please click Irish Independent.


Rory McIlroy recovers from early wobble
A late run of form gave Rory McIlroy slight hope as his love-hate relationship with the Honda Classic continued on Thursday on his PGA Tour debut for the season. The 25-year-old won the tournament in 2012 but a year later walked away midway through a disastrous first round. He returned to Palm Beach in 2014 and went to a play-off - which he lost - but Thursday saw him end the day eight shots off the pace being set by the clubhouse leader, with two birdies on the last two holes of the day keeping him afloat. For more details, please click RTÉ.

February 26

€2.9m jackpot winner has just 24 hours to claim prize
The mystery winner purchased their ticket on November 29 - and they had 90 days to claim the prize from the date of purchase. However, the deadline expires at 5.30pm tomorrow. And if the jackpot is unclaimed, the money will go back into promoting the national lottery, and helping raise money for good causes. The ticket was bought in Tesco in Claremorris, Co Mayo. It was a €3 Quick Pick ticket and was purchased just hours ahead of the Saturday draw. The National Lottery are asking people in the area to re-check their tickets. To read this news item, please click Irish Independent.


IT firm Kainos to create 400 jobs in Northern Ireland
Belfast-based digital technology company Kainos Software Limited is creating 400 new jobs in Belfast and Derry. The new posts offer an average salary of £30,000 (€41,000) a year will contribute £12.5m annually in salaries to the local economy. Kainos currently employs over 700 staff in Northern Ireland, England and Poland. It provides digital technology to over 150 customers worldwide in healthcare, government and the financial services markets. To read this news item and many others, please click RTÉ.
Photo Credit & Related Details: Wikipedia


Three thousand groups to take part in Cork St Patrick's parade
Up to 3,000 community arts, sports. and music groups from across Cork and beyond will take part in this year's St Patrick's Day Parade, the centerpiece of what will be a four-day celebration of the county's cultural diversity. Cork's St Patrick's Day festival will commence on Saturday, March 14, where St Patrick's St will be transformed into a hub of food and free entertainment, with the city's main thoroughfare closed from 10am to 6pm to host music, street theatre, and a market. For more details, please click Irish Examiner.
Photo Credit: Gerard McCarthy


NI students smash world record for biggest simultaneous science lesson
More than 1,000 Northern Irish school children have smashed the record for the world's biggest ever simultaneous science lesson. On Tuesday students travelled from 29 schools across the region and gathered in Belfast's Odyssey Arena as part of the Northern Ireland Science Festival. The event saw 1,339 local year 7 and 8 students take part in the 'crimatography' experiment, which involved solving a crime using science. For more details & video clip, please click Belfast Telegraph.
Photo Credit & Related Story: Irish News


Ireland just got its first Harley Davidson hearse
It's the latest vehicle added to Massey Bros Funeral Directors' collection, and it's the first such bike in Ireland.. Massey Bros said that the hearse and a biker's funeral plan have been introduced in response to "unprecedented demand" from the families of motorbike fans. "Over the years we have looked after many biker funerals and have always tried to customise them as much as possible," said Peter Maguire of Massey Bros. Traditionally, a biker funeral would include a cavalcade of bikers following the hearse and, perhaps, flowers in the shape of their motorbike. We decided to go one step further…" For more details, please click Journal Ireland.


Happy ending as swans rescued, cleaned, and released
A herd* of swans found drenched in oil by the Dublin Society for the Prevention of Cruelty to Animals (DSPCA) have been released back into the wild after two weeks of cleaning. It takes a few hours to thoroughly clean each swan, according to DSPCA spokesperson Gillian Bird. "The detergent we use strips the contaminant, but it also strips the swans' natural oils, which they need. Before we release them, we have to wait for them to preen themselves to get those oils back," she said. For more details and video clip, please click Irish Independent.
*ED. NOTE: Herd is one of many terms for a collection of swans


VIDEO: Singing Cork barman has super talented family
Yesterday, the world was made aware of the amazing pint pulling/singing talent of John Horgan, the barman from the Crossroad's bar in Knockavilla, Co. Cork. The video has racked up well over 300,000 views on Facebook and has been seen as far away as Dubai and Australia. Well, the apple doesn't fall far from the tree as far as the Horgans are concerned, it appears. John's daughter is also a super talented singer and here she is singing 'There Were Roses', written by Tommy Sands. To watch the video as well as a link to her dad singing, please click Breaking News Ireland.


Galway punter turns €1 into €206,262
A Galway punter won €206,262.19 after his ambitious 17-fold football accumulator came in. The Paddy Power mobile customer successfully picked all the winners in 17 games across the Champions League, Championship and League One. He had Norwich midfielder Bradley Johnson to thank after his 85th-minute winner against Blackburn Rovers secured his windfall. Unusually, bar Bradley Johnson's last-gasp effort at Ewood Park, there was very little late drama for this punter as 16 of his 17 teams were ahead by the 52-minute mark. For more details, please click Breaking News Ireland.


NI skier proves you're never too old to compete
A skier from Northern Ireland has just competed in his first official international race - at the grand 'old' age of 45. Dominic McAleenan, who's originally from Banbridge, Co Down, competed for Team Ireland against skiers who were 25 years younger in the FIS Nordic Ski World Championship in Falun in Sweden last week. He finished in 120th place out of 130 competitors in his best ever sporting achievement, having only skied competitively since 2011. It was a 1.4km cross-country sprint race and the youngest of the competitors was only 16. For more details, please click Belfast Telegraph.

February 25

Don Keogh, the Irish-American who brought Coca Cola to Ireland, RIP
Don Keogh has passed away today aged 88. The Irish-American businessman was a huge supporter of Ireland who encouraged American corporate investment into the country. He was the operating officer of Coca-Cola and brought the drinks company to Ireland in the 1970s. Taoiseach Enda Kenny said "Don Keough was one of Ireland's finest sons and the establishment of Coca Cola plants in Wexford, Drogheda, Athy and Ballina are testament to his commitment to Ireland. We have lost a true friend." For more details, please click Journal Ireland.


"Life expectancy for all groups in Ireland is at an all-time high"
That's according to a study by leading think-tank the Economic and Social Research Institute (ESRI), Trinity College and the National University of Ireland Maynooth, which is being discussed today at a special conference. Professor Richard Layte, of Trinity and the ESRI, said it is the first study of its kind in Ireland. "The good news is that life expectancy for all groups in Ireland is at an all-time high," he said. "The bad news is that the gap between groups has increased." For more details, please click Breaking News Ireland.


Irish scientist first to produce car-strength biofuel from whiskey
A Cork-born scientist - Martin Tangney - has become the first in the world to produce biofuel capable of powering cars from residues of the whiskey industry. Professor Tangney, Director of the Biofuel Research Centre at Edinburgh Napier University, has just unveiled the first samples. There are also plans to locate a production facility capable of producing several million litres of biofuel a year at the Grangemouth petrochemical plant in central Scotland. To read this news item and many others, please click Irish Independent.


Yeast behind velvety stout may have Silk Road origins
There is nothing more Irish than the pint of plain but a DNA analysis of the yeast used to brew stout shows its origins are actually in India. The same study also showed that yeast used to brew the perfect lager can also be pressed into service to produce excellent stout. A research effort to build a comprehensive family tree of yeasts is under way, involving researchers from Trinity College Dublin and University College Dublin. And,it isn't all about the beer. For more details, please click Irish Times.


SpongeBob an Scannán' to hit the big screen as Gaeilge
Fans of TG4's long-running SpongeBob Squarepants series will not have to switch to English following an announcement that the much anticipated film based on the underwater invertebrate is to be distributed to cinemas in both Irish and English. SpongeBob an Scannán: Spúinse as Uisce is being dubbed in Dublin by Macalla Teoranta, the team who dub the popular SpongeBob TV series that has been broadcast on TG4 in Irish since 2000. 'Spúinse as Uisce' is the first film to be released in Irish and English by a Hollywood company. For more details, please click Irish Times.


Sara Baume named Hennessy New Irish Writer 2015
Sara Baume, whose acclaimed debut novel Spill Simmer Falter Wither was published last month, has been named Hennessy New Irish Writer 2015 at tonight's 44th annual Hennessy Literary Awards in Dublin. Baume was born in England in 1984 and grew up in Cork, where she still lives, after studying sculpture in Dublin. Joseph O'Connor, reviewing her novel in The Irish Times, said "It is the most powerful debut novel I have read in several years." For more details, please click Irish Times.
Photo Credit: Dara Mac Donaill/The Irish Times


Preserving the Irish oak tree for future generations
A group of West Cork tree-lovers with an eye to the future are ensuring their descendants will one day experience the beauty of an Irish oak forest. About 1,000 trees are to be planted next month over six- and-a-half acres of countryside around Gullane Lake on the Cork side of Clonakilty — bringing the number of native Irish species planted there to 4,500 over the past three years. The trees now spread across five acres of county council lakeside property — soon to be six-and-a-half — and will be a priceless legacy for future generations. For more details, please click Irish Examiner.


Penneys to create more than 300 jobs
Irish clothing retailer Primark, branded as Penneys in Ireland, will open 54,000 sq ft of selling space at a new store in Liffey Valley, Dublin, where it will create 280 jobs next year. It has also announced a major investment package for its city centre head office on Jervis Street, where 36 positions will be filled this year. Paul Marchant, chief executive, said: "Combined, these initiatives will create 316 jobs in Ireland, which demonstrate our belief in the growth prospects of the Irish economy." For more details, please click Irish Independent.
Photo Credit: Demotix


Cricket World Cup: Ireland secure incredible victory over UAE
Ireland were bailed out by a giant slice of fortune and big innings from Gary Wilson and Kevin O'Brien as they beat the United Arab Emirates in a thriller at the Gabba. After their stunning opening win over the West Indies in Pool B at the World Cup, Ireland looked to be deep in trouble this time against supposedly inferior opposition. But 80 from man of the match Wilson and a spectacular 25-ball innings of exactly 50 from the destructive O'Brien spurred Ireland to a two-wicket victory For more details, please click Irish Independent.
Photo Credit & Related Story: RTÉ

February 24

Eight random news stories you would only ever find in Ireland
As a nation, the Irish really love their random news stories, and they're well aware that some of it sounds like spoof news - which is probably why Waterford Whispers' is such a popular website. While they love to keep up with events and promote their local heroes, sometimes it gets a little odd. Right next to a serious story you might find something about the oldest cow in the country (no, really!). Here are eight actual stories that have been published in Ireland.To read the stories, please click Breaking News Ireland.


Government's travel schedule for St Patrick's Day unveiled
Fourteen of the 15 cabinet ministers will be travelling abroad on trade missions, taking in 15 countries on five continents. The Taoiseach and three other ministers will be travelling to the United States, with others going to Japan, South Korea, New Zealand, China and Brazil. All 15 junior ministers also be involved in international travel, with Michael Noonan the only minister staying behind. Foreign Affairs Minister Charlie Flanagan said "Last year as an immediate consequence of our ministerial visits, €5m was gained at a cost of €300,000 for the entire event." For more details, please click Breaking News Ireland.


Irish to be made first language on Northern Ireland council logo
Mourne and Down District Council has agreed to have the Irish version of its name appear above the English name on its new logo. SDLP and Sinn Fein are also backing plans to implement the policy throughout Northern Ireland. It could see three new nationalist super councils - Fermanagh and Omagh, Derry and Strabane, and Mid Ulster - adopting the same policy for their logo for corporate stationary and vehicles. For more details, please click Belfast Telegraph.
Photo Credit: Irish Language Association of Australia - for illustration purposes only


450 new jobs to come with €26m Liffey Valley expansion
The large investment will see a new Penneys store, six new restaurants, an upgrade to the cinema and new civic space. As well as the 450 positions in the various shops and restaurants, 225 construction jobs will be created during the development phase. Brian Moran of Hines Ireland - the company behind the development - said there was plenty of room to expand at the site. "The land around Liffey Valley includes about abother 20 acres of development land," he said, "so over time our plan is to add incrementally to that" For more details, please click Breaking News Ireland.
Photo Credit & Related Story: RTÉ


The Irish peer who outlived curse
The 8th Marquis of Waterford, who has died aged 81, was an Irish peer and a noted player in the Duke of Edinburgh's polo team. That Lord Waterford reached the age he did might have surprised the superstitious, for some believed his family to be the object of a particularly malevolent curse. He himself inherited the title at only a year old, when his father, the 7th Marquis, died aged 33 in a shooting accident in the gun room at the family seat, Curraghmore, in Co Waterford. For more details, please click Irish Independent.


Spectacular Dalkey home is the stuff of Tudor fairytales
Tudor House off Castle Street in Dalkey, Co Dublin is thoroughly "un -Tudor" in the sense of what the Irish have become accustomed to; there are no rustic timber beams spread hen-foot on white- washed gables, no high apex rooflines or jutting porch covers. This particular early-Victorian fairytale Tudor tribute is decidedly less Anne Hathaway's and totally full-on Hampton Court. Built in 1845 by the wealthy surgeon Richard Parkinson, it was constructed using stone from Wolverton Keep - one of Dalkey's seven historic castles. For more details and photo gallery, please click Irish Independent.


Expats tune into relatives' funerals online
At least two Irish funeral services are being watched online every week by mourners living outside Ireland. Funerals Live was set up almost a year ago to enable emigrants and relatives living in far-flung countries to take part in the grieving process in the event of a family bereavement, without having to travel back to Ireland. Alan Foudy, the Co Clare-based entrepreneur behind the venture, said the service has proved so successful, he now intends to launch it in the UK in the coming months.For more details, please click Irish Independent.
Photo Credit & Related Story: Int'l Business Times/Reuters


Top Irish YouTuber details rise to stardom
Based in Athlone in Westmeath, Seán McLoughlin is Ireland's most successful YouTuber. He runs the gaming channel JackSepticEye which, this week, topped one billion total views. More than 3.2m people from all over the world subscribe to his channel, with his videos routinely getting millions of hits. Speaking at the YouTube Irish Creators Day, run by Google Ireland, the gamer said he had no great business plan in mind before he uploaded his first video onto YouTube. For more details, please click Irish Examiner.


Tote Ireland to sponsor Curragh handicaps
In a great announcement for Irish racing. Tote Ireland will sponsor four historic Premier Handicaps taking place at the Curragh Racecourse this year. The Irish Lincolnshire, the Rockingham, Irish Cambridgeshire and the Irish Cesarewitch. The four Tote Premier Handicaps boast a total prize fund of €400,000. The partnership between Tote and the Curragh was launched by former champion jockey-turned-trainer Johnny Murtagh, who rode to victory a grand total of nine times in the Irish Lincolnshire, Irish Cambridgeshire and Irish Cesarewitch. For more details, please click Sports News Ireland.

February 23

Belfast street named after physicist who proved Einstein wrong
Fifty years ago, Stewart Bell proved Albert Einstein wrong. Bell's Theorem, more formally known as 'On the Einstein-Podolsky-Rosen paradox', demonstrated that Einstein's views on quantum mechanics - the behaviour of very small things like atoms and subatomic particles - were incorrect. Now, Belfast City Council has named a street after him. The street in Belfast's Titanic Quarter has been named Bell's Theorem Crescent. He is regarded as one of the 20th Century's greatest physicists, and was believed to have been in line for a Nobel Prize in Physics when he died in 1990 from a stroke. For more details, please click BBC.
Photo Credit: Queen's University Belfast


The story of the Iron 12 - six of whom were Irish
As a piece of Western Front drama the story of the Iron 12 is unsurpassed. The story has many epic elements: battles, escape, flight, solidarity, fortitude against all odds, humanity, endurance, courage, betrayal, death and tragedy. Even sex has a part to play. If it was scripted and cast in Hollywood, it would scarcely be believed. The executions of 12 men, 11 British soldiers, six who were Irish, one Liverpool-Irish, and a French civilian, were committed in cold blood and almost certainly after some judicial or quasi-judicial process. For more details, please click Irish Times.


Stephen Rea honoured at Irish Theatre Awards
Stephen Rea, Sinead Cusack and the plays Ballyturk and Our Few and Evil Days were all honoured at last night's Irish Times Irish Theatre Awards. Belfast-born Rea received this year's Special Tribute Award for his contributions to Irish theatre. Speaking to the Irish Times before the ceremony at the National Concert Hall in Dublin., Rea admitted he was nervous about receiving the honour. "You kind of scroll back through your life and wonder what you've done that allows them to, without embarrassment, offer you this thing…." For more details, please click RTÉ.


Dublin city centre is to get a new distillery
The St James Distillery is set to bring 20 new jobs to the capital when it opens next year. Animal nutrition giant Alltech is behind the venture, with the Irish-led company set to invest €5.7m in it. The facility will occupy the old St James' Church in James Street, close to the Guinness Storehouse. Founded in 1707, the former Church of Ireland church was de-consecrated in 1961. It is also home to a graveyard where up to 300,000 people are buried. Alltech boss Pearse Lyon's distiller grandfather is buried in the cemetery. He said "When I saw the church, I thought why not have a distillery, not a brewery close to Guinness…" For more details, please click Irish Herald.
Photo Credit: Fountain Resource Group


Gradam Ceoil: Accordionists roll back the years
Two generations of accordion players were among the six recipients of the TG4 Gradam Ceoil 2015 (Traditional Music Awards), announced at a media reception in Cork City Hall last night. The main award, Gradam Ceoil TG4 went to Galway virtuoso Máirtín O'Connor whose accordion-playing and range of compositions have been dazzling audiences for over 30 years and who was presented with his award by Pól Ó Gallchóir. Mr O'Connor, who has five solo albums to his name as well as collaborations with the likes of De Danann and Midnight Well, was also part of the first Riverdance orchestra in 1995. For more details, please click Irish Examiner.


Apple building data centre in Galway
Apple has announced that it is to build a data centre in Athenry, Co Galway.
It is the tech giant's first data centre outside the US along with another opening in Denmark at the same time. Apple's planning to turn a greenfield site in Derrydonnell just outside Athenry into its largest data centre in Europe. It is expected that the facility will also be run on renewable energy. The firm is investing €850m building the complex in Athenry where 300 jobs will be created in the various phases of development - with 100 of those working in the finished project. For more details, please click Breaking News Ireland.


'Thousands of jobs' for Ballykelly
That's according to Martin McGuinness. What he was referring to is the redevelopment of a former army base in Ballykelly, Co Derry. Shackleton Barracks a 14 acre site, is being demolished to make way for the Department of Agriculture's new base. Up to 700 civil service staff will be relocated to the town. The Northern Ireland Executive recently sought suggestions from the private sector for developing the rest of the site. The deputy first minister said he was hopeful they would be the 'big job' creators. For more details, please click BBC.


How small NI town made designer JW Anderson think big
London Fashion Week favourite JW Anderson explained why his home town in rural Northern Ireland helped him think big. Impatient for success all his life, he said sleepy Magherafelt's very smallness spurred his immense ambition. "When you come from a small town, you want things to be big," he said. Jonathan has made his name at London Fashion Week with avant-garde clothes that play on gender identity. For his latest collection at the weekend there was a distinct 1980s disco vibe. For more details and pics, please click Belfast Telegraph.
Related Story: Irish designers wow on London catwalk


Fiona Doyle Shatters Third Irish Record in Two Days
Fiona Doyle is on fire this week at Canadian Intervarsity Swimming Championships, she has broken two more IRISH SENIOR RECORDS on Day 2 in Victoria. Following a new Irish SC Record and Gold medal win in the 100m Breaststroke on Thursday she took to the pool on Friday for the 200m Breaststroke. A morning prelim swim of 2:23.64 (SC) saw her secure the top seed for the final and a new Irish Record breaking her own previous mark of 2:24.17. For more details, please click Swim Ireland.

February 22

27 statues: A glorious history of the Irish at the Oscars
With an Irish animation studio once again featuring in this year's list of Oscar nominations, and a Northen Irish short film up for an award too, Journal Ireland thought it would look back at previous Irish success stories at the awards. So, here is every single one of Ireland's Academy Award winners down through the years, including Daniel Day Lewis who is the only performer so far to have won three Oscars for Best Actor. The list also includes George Bernard Shaw who won for Best Adapted Screenplay in 1938. To read details about all 27 winners with accompanying photos, please click Journal Ireland.
Photo Credit of George Bernard Shaw: AP/Press Association Images
Related Story: Irish Times/And the Oscar goes…to Ireland


Ireland's intimate association with the Oscars' statuette
If you were under the impression that Ireland had little association with the Oscars beyond My Left Foot, Once and the quotes of one Mr Wilde, you'd be very much mistaken. Ireland's first and most lasting contribution to the Academy Awards is at the ceremony's very heart: the Oscar statuette was designed by Dublin- born Cedric Gibbons, an art director with Metro-Goldwyn-Mayer, who also became Ireland's first winner. Although his first Oscar (for art direction on The Bridge of San Luis Rey) was the only award he received individually, Gibbons was nominated for 38 Academy Awards and received 11 Oscars. For more details, please click Irish Times.
Photo Source: Pinterest


Nation gets animated for Oscars
Irish movie-lovers will be rooting for Cartoon Saloon when the Kilkenny-based animation studio takes on the giants of Hollywood at the 87th Academy Awards ceremony with its feature film, Song of the Sea. The animated film has already won the award for the Best Animation or Mixed Media Film at the 19th Satellite Awards, which is held by the International Press Academy. Producer Paul Young and his fiancée, jewellery designer Yvonne Ross, had just landed in Los Angeles to receive the prize when they learned that they had also been nominated for an Academy Award. For more details, please click Irish Examiner.
Related Story: Designer to make a big splash on Oscars red carpet


Stephen Fry Presents Carrie Fisher with Oscar Wilde Award
Stephen Fry, who has portrayed Oscar Wilde on screen, presented actress Carrie Fisher with her award at the US-Ireland Alliance's 10th annual Oscar Wilde Awards. Steveb Colbert also won an award. Both Fisher and Colbert's great-great grandfathers hailed from Ireland. The awards "honour the creative Irish and introduces people in the entertainment world in Ireland to those in the US". The ceremony took place at director JJ Abrams' Bad Robot production company in Santa Monica on Thursday with Abrams the MC on the night. The Awards are considered to be one of the best events in the pre-Oscar calendar. Every year t For more details, please click RTÉ.
Photo Credit & Related Story: Irish Herald


Day-Lewis one of best biopic Oscar winners
Daniel Day-Lewis has been named in a list of the best ever Oscar-winning performances in a biopic by Rolling Stone. The Wicklow-based actor got the nod for his Academy-award winning performance in Lincoln. The magazine credits his Oscar-winning performance — at No 8 on the list — for giving a picture of Lincoln which "inspires both awe and genuine love". Day-Lewis won his first Oscar for his portrayal of Christy Brown in My Left Foot. Robert De Niro at the top for his iconic Raging Bull performance. For more details, please click Irish Examiner.


An Irish man's trip to the Oscars as an unexpected nominee
Did you know there are not one, but two red carpets at the Academy Awards? One for celebs and one for 'plebs'? At least, that's how Belfast man and Dublin dweller Michael Creagh remembers it. In 2011 Creagh found himself walking that very carpet outside the Kodak (now Dolby) Theatre in Hollywood, nominated for an Oscar for his short film The Crush. Amid a whirlwind of personal difficulties, money worries and ambition, he was honoured at the world's highest wattage awards show for his first ever film, rubbing shoulders with the great and good of Tinseltown. And what happened once he got there? For more details, please click Journal Ireland.


The final dismantling of an Irish Versailles
Tony Ryan, co-founder of Ryanair, who died in 2007, was a train driver's son from Tipperary; he was a risk-taker and lover of the finer things in life, in which he indulged and enjoyed until his death at his beautiful Lyons Demesne in Co Kildare. A collection of some 80-100 pieces acquired by Ryan are being sold by auction on March 24 through Adams Blackrock. "He was probably Ireland's foremost collector of Irish art and furniture," says Bryan Greene of Adams Blackrock. For more details, please click Irish Independent.


Paul Costelloe debuts new collection at London Fashion Week
Irish designer Paul Costelloe debuted his Autumn/Winter 2015 collection at London Fashion Week. This collection flows seamlessly from Costelloe's 1950s/60s inspired Spring/Summer 2015 collection with some darker hues and some fabulous coats and jackets. Costelloe's designs transcend age and we could see a woman of any generation falling in love with a piece or ten from his latest collection. To read this news item, view more photos and watch a video clip, please click RTÉ.
Photo Credit: Getty Images


World Superbikes: Rea wins first race at Phillip Island
Jonathan Rea made a winning debut for Kawasaki as he clinched victory in the first race of the World Superbike series in Australia. The Northern Ireland man beat Aprilia's Leon Haslam to the flag after a thrilling final lap at Phillip Island. In the second race of the day, Rea was runner-up to Londoner Haslam so the pair share the lead on 45 points after the opening WSB round. Rea had sealed first place on the grid with the fastest time in a curtailed Superpole on Saturday. For more details, please click BBC.

February 21

John Malone: The US billionaire buying up Ireland
American billionaire John Malone says he buys land because, reprising the Mark Twain adage, they are not making it anymore. But it's mostly because he loves being out on the land on horseback. The 73-year-old chairman of cable television and communications giant Liberty Media recently surpassed Ted Turner, founder of news channel CNN, as the largest landowner in the United States. In the past two years Malone has turned his attention to Ireland. He has bought three Dublin hotels and a fourth in Limerick city. And he is refurbishing Humewood Castle in Co Wicklow, pictured. For more details, please click Irish Times.


President Michael D Higgins to become 'champion' for women's rights
The president has accepted a United Nations invitation to be a global champion for the rights of women and girls. Addressing a conference in Dublin today to mark the 20th anniversary of the UN Beijing Platform for Action on women's rights, the President said he was to be one of ten world leaders involved in the UN HeforShe campaign, which seeks to engage men in the campaign for gender equality. The UN Declaration and Platform for Action on gender equality was adopted by 189 countries, including Ireland, in Beijing in September 1995. IFor more details, please click Irish Times.
Photo Credit: Nick Bradshaw


China lifts ban on Irish beef
China has formally lifted a ban on importing Irish beef, Taoiseach Enda Kenny has revealed at the Fine Gael party conference in Castlebar. The announcement comes shortly after the lifting of a ban on Irish beef exports to the United States after more than 15 years. Describing it as a fantastic breakthrough for the sector, Mr Kenny told his party conference it meant Ireland would be the only European country to be approved for both the US and Chinese markets. To read this news item and view video clips, please click RTÉ.


Dramatic Derry clifftop estate a magnet for high society
The wealthy and flamboyantly eccentric Earl Bishop of Derry, Fredrick Augustus Hervey (1730–1803), chose the beautifully dramatic headland of Downhill in Co Derry to build his grand country house. He spent a fortune on the finest architects and designers, and had the grounds beautifully landscaped with follies and iconic features. He filled the house with artwork by European masters like Rubens, Raphael, Murrillo and Tintoretto, and it became one of the key venues for high society in the 18th century. For more details and pics, please click Journal Ireland.


Storm washes Armada wreckage on to Sligo beach
Fears have been expressed for the security of the three Spanish Armada shipwrecks off the coast of Co Sligo, following the discovery of two separate remnants, apparently washed up on Streedagh beach by recent storms. Donal Gilroy from the Grange and Armada Development Associati (GADA) said the discoveries underlined the fragility of the wrecks, described by one expert as "the best archaeological site for this time of maritime archaeology in the world". About 1,100 sailors died when three Spanish galleons were wrecked in violent storms off Streedagh in 1588. For more details, please click Irish Times.
Photo Credit: Ciaran McHugh Photography


McGahern, the banned book and the censored interview
One morning, 50 years ago feature writer Joe Kennedy caught a plane to London to talk to John McGahern. His novel, 'The Dark', had been banned by the Censorship of Publications Board and he was in the UK because he had lost his teaching job at St John the Baptist boys' primary school in Clontarf as a result. He was looking for work, anything ranging from laboring on the sites to supply-teacher freelancing. Joe and John had known each other in Drogheda, where John had taught, and Dublin, and he had promised Joe an exclusive interview. For more details, please click Irish Independent.


Belfast's St Patrick's Day celebration officially launched
Lord Mayor of Belfast Nicola Mallon is promising a carnival-like atmosphere with lots of street performances, a variety of musicians, pipe bands, eye-catching floats, carnival dancers, as well as many more festival treats. Speaking at the launch surrounded by traditional St Patrick's costumed characters, she said "This is a celebration of culture, life in the city, and a celebration of creativity and talent." For more details and video clip, please click Belfast Telegraph.


Pub in Dublin offers 20% off lunch to put away your phone
A Dublin gastropub has issued an interesting – and possibly rewarding – challenge to their customers. The Old Spot on Bath Avenue in Dublin 4 is promising 20% off Sunday lunch if their customers can put away their phones for the duration of the meal. We all have that friend who can't get their eyes out of their phone, but we think the grub on offer might make them think twice. This idea seems to be catching on after a Galway pub offered a free drink to customers who could put away their phone for a half hour. To read this news item and many others, please click Breaking News Ireland.


The 25 most expensive houses on offer in Northern Ireland
The Belfast Telegraph has researched the market to pinpoint the 25 most expensive homes in the province currently looking for a new owner. And the findings show if you have the financial means and are in the market for a luxurious place to hang your hat, there are plenty of palatial pads to choose from. Pictured is the Grey House in Holywood, Co Down which features uninterrupted views across Belfast Lough to the Co Antrim shoreline. Located in one of Northern Ireland's most sought after residential areas, The Grey House can be yours for £2,950,000. To view all 25 homes, please click Belfast Telegraph.

February 20

'Forty days of Lent have more to offer than 'Fifty Shades of Grey'
That's according to Fr Kevin McNamara – whose Rathmore, Gneeveguilla, Shrone and Knocknagree parish crosses the Co Cork-Co Kerry border. He said Lent was a joyful season, "not negative", and the 40 days should be grasped as an opportunity to renew our lives. He has put up large signs outside his four churches appealing to people: "Whatever about the 50 shades – remember the 40 days!" Fr McNamara has not seen the controversial film but says he used the reference to catch attention. "I am a great believer in the public pulpit," he said. For more details, please click Irish Times.
Photo Credit & Related Story: Killarney Today


Ireland gets its first week-long steam train tour of the modern age
The seven-day train tour is being offered by Steam Dreams - which runs the UK's Cathedrals Express steam train - and hauled by vintage locomotives owned by The Railway Preservation Society of Ireland. The 'Emerald Isle Explorer' embarks on a seven-day circuit of Ireland this June and will take in Galway, Killarney, Limerick, Tralee, Waterford and Kilkenny. Boasting "a very singular Irish ambiance", according to Steam Dreams, the train features the only railway bar in the world serving draught Guinness. For more details, please click Irish Independent.


Was the demise of the Celtic Tiger the saviour of Irish theatre?
In 2005, Irish theatre had one of its worst ever years. Symbolising a growing crisis in the production of new Irish writing, the Dublin Theatre Festival failed to produce a new Irish play for the first time ever; its only premiere was a dance piece called The Bull by Fabulous Beast. This was also the year the Abbey Theatre almost went out of business. It seemed astonishing that, at the height of an economic boom, Ireland was facing serious debates about whether its national theatre was "too big to fail". For more details, please click Irish Times.
Photo Credit: Sasko Lazarov/Photocall Ireland


Galway developer buys 400-acre Kildare estate for €10m
Luke Comer has purchased Courtown Demesne, a classic Georgian mansion on 400 acres of prime development land in Kildare for a sum of about €10.2 million – a 90 per cent discount on its original sale value. The country estate outside Kilcock, which is one of the best-located tracts of land in the greater Dublin area, went on the market in 2006 asking €120 million, equivalent to almost €300,000 per acre. It's unclear whether the historic estate has been acquired for Comer's personal use or as part of the Comer Group. For more details and photos, please click Irish Times.


Oscar-winning actor Jeremy Irons among presenters at 'Oscars of Irish music' awards
The honoraryCorkman, who spends most of his time at Kilcoe Castle, near Skibbereen, is known to be a fan of traditional music and will be among those presenting the Gradam Ceoil TG4 Traditional Irish Music Awards to musicians in recognition of their outstanding achievements across six strands of Irish traditional music. The ceremony will also include a concert featuring an all-star line-up with big names like Máirtín O'Connor, Cathal Hayden, Jimmy Higgins and Brendan O'Regan, as well as Máirtín O'Connor, Donal Lunny and Zoe Conway. For more details, please click Irish Examiner.


Downpatrick band Ash to release first album in eight years
The band's drummer Rick McMurray said: "After a wait of eight years, and a long string of singles, we've gone on to do what we said we would never do again: we've only gone and recorded a brand new album." The band will tour this summer to Dublin, Belfast, Edinburgh and Manchester. Ash were formed in 1992 by vocalist and guitarist Tim Wheeler, McMurray and bassist Mark Hamilton. McMurray added: "We set out to capture the live essence of Ash. We've made a streamlined, blazing guitar record." Cocoon, the first single from the forthcoming album Kablammo, has gone online.To read this news item, please click Belfast Telegraph.
To hear Cocoon, please click You Tube


Ronan O'Gara: I don't know how anyone will beat 'hard' Ireland
Former Munster and Ireland out-half Ronan O'Gara has said Ireland under Joe Schmidt have developed into a "hard" team, competing at a level of consistency not seen for many years. Reflecting on Ireland's 18-11 RBS 6 Nations win over France last weekend, O'Gara told RTÉ Sport it had been a good result after a mixed performance, but that "the standards have been raised so much that we're becoming a very hard nation to please at this stage". For more details, please click RTÉ.


NI lad nets Scottish goal of the month
Eleven-year-old Jay Beatty from Lurgan, Co Armagh has won the Scottish Premiership goal of the month award for January. Jay hit the back of the net at half-time during Celtic's victory over Hamilton Academical. Jay, who has Down's Syndrome, won 97% of the thousands of votes cast to scoop the award. The announcement was made on YouTube by Jay's hero, former Celtic striker Georgios Samaras. For more details, please click BBC.
Photo Credit: BBC
To watch Georgios make the announcement, please click You Tube


Ireland International striker Stephanie Roche off to the US
She will join American club Houston Dash, pending international clearance. Originally from Shankill in Dublin, Stephanie hit the headlines in 2013 when a video of the goal she scored for Peamount United against Wexford Youths went viral. Roche was subsequently shortlisted for the FIFA Puskas Award for goal of the year and earned second place behind Colombia and Real Madrid midfielder James Rodriguez last month. Having spent this season in France with ASPTT Albi, the centre forward has now agreed to move to the US to pursue her career in the National Womens Soccer League. For more details, please click Journal Ireland.

February 19

The world of war from St James's Gate to the fields of Flanders
An exhibition dedicated to Guinness employees who fought in the First World War was opened by broadcaster Gay Byrne in Dublin yesterday. Byrne, whose father fought in the war, launched the Diageo Guinness World War 1 Archive exhibition at The Ireland Fund's Gallery in The Little Museum. The exhibition, which is in place for six weeks, details the experiences of Guinness employees who joined the British armed forces during the First World War, exploring through the letters, images, journals and artefacts, the impact of the conflict on their lives and the contribution of the Guinness company to the war effort. For more details, please click Irish Examiner.
Photo Credit & Related Story: Irish Herald


Fancy living in a little slice of literary history?
Former homes of literary luminaries don't often become available to ordinary punters, unless of course they're for rent and 23 Castlewood Avenue in Rathmines is one such exception. The former childhood home of Ireland's most influential literary son, James Joyce, is seeking tenants. Joyce lived there between the ages of two and five, and according to the commemorative Dublin Tourism plaque on the front door, this is where he wrote his first words. For more details, please click Irish Times.


Mass influx for Ash Wednesday services in Cork
In the beautiful setting of St Peter and Paul's Church, the congregation has temporarily swelled to almost 300 people — all marking the start of Lent with heads bowed, knees bent, and foreheads daubed in ash. A downside to the mass influx yesterday highlighted the lack of youth in the aisles — only three children were in attendance, including 5-year-old Keegan Spillett from Blarney, and the majority of the people in pews were over the age of 50. Marie Finn from Friar's Walk said nowadays people are less concerned about things like fasting, and that religion seems to be fading out of them..." For more details, please click Irish Examiner.
Related Feature: The 11 greatest (priest selfies) from Ash Wednesday


LÉ Aoife gifted to Malta and Irish ships tp be deployed off Somalia
The Irish Government is to gift one of its Naval Service ships to the Maltese to help them cope with the ongoing refugee crisis in the Mediterranean and is planning to deploy Irish ships on EU anti-piracy missions off Somalia. Defence Minister Simon Coveney agreed to give the recently decommissioned LÉ Aoife to Malta following a meeting in Latvia with his Maltese counterpart, Carmelo Abela. "The Maltese authorities require the ship for their armed forces to assist in the patrolling of the Mediterranean Sea to deal with the ongoing difficult refugee crisis in the region. For more details, please click Irish Examiner.
Photo Credit: Pix.ie/Joe Cashin


Ulster Bank creating 350 jobs at Belfast call centre
The new staff will deal with calls from customers of sister companies RBS and Nat West, as well as Ulster Bank customers across the island of Ireland. Ulster Bank's Northern Ireland operations have recently become more integrated with the wider RBS operations in the UK. Ellvena Graham, head of Ulster Bank in Northern Ireland, said "Across RBS, Natwest and Ulster Bank, we have set ourselves an ambition to become number one for customer service and I am delighted that Northern Ireland will play a strategic role in delivering this ambition." For more details, please click BBC.
Photo Credit & Related Story: RTÉ


Luxury hotel planned for Titanic building
The Harland and Wolff headquarters and drawing offices on Queen's Island, Belfast, was the control centre for one of the largest shipyards in the world early in the last century during a golden age for shipbuilding. More than a 1,000 ships were designed and built there, including the Titanic and her sister ship, the Olympia. Now, with aid of a a £4.9 million Heritage Lottery Fund grant, the drawing offices are to transformed into a boutique hotel. For more details, please click Belfast Telegraph.
Photo Credit & related Story: BBC


Enterprise Ireland holds passing-out ceremony for 83 startups
The kind of businesses Enterprise Ireland has been funding and investing in over the past year is pretty varied – albeit 67% of them are "technological" by category – ranging from a smartphone app for helping those with Parkinson's Disease, to a mobile sensor for alerting farmers to birthing activity amongst their cattle, the brilliantly titled Moocall. These businesses will be creating 1,500 jobs in the next three years – something which is not to be sniffed at. Here, you can read about four of the companies at the event and get a quick rundown on their business. For more details, video clips & pics, please click Journal Ireland.


Bono and Willie Nelson team up for film
Country legend Willie Nelson is to star in a new fantasy-adventure called Waiting for the Miracle to Come, with Bono set to serve as executive producer and write songs for the soundtrack for Nelson to sing. Rolling Stone reports that the film will be shot on Nelson's Hill Country ranch in Texas, with Australian filmmaker Lian Lunson writing and directing. Waiting for the Miracle to Come tells the story of a young girl (Sophie Lowe) who finds a letter from her late father with directions to a goldmine in the California desert. There she meets two retired vaudeville stars, played by Nelson and Charlotte Rampling with a story to tell. For more details, please click RTÉ.
Photo Credit: Getty Images


Robbie Keane and LA Galaxy teammates visit Children's Hospital
Republic of Ireland captain Robbie Keane and his LA Galaxy teammates were on hand to visit sick children at Our Lady's Children's Hospital in Crumlin today. Keane and the LA Galaxy also presented a $50,000 cheque to CMRF Crumlin on behalf of the LA Galaxy Foundation and LA Galaxy official nutrition sponsor, Herbalife. Keane, who is from Crumlin, said "It's terrific to come here today and make this donation with my teammates on behalf of the LA Galaxy Foundation and our sponsors Herbalife." For more details, please click Breaking News Ireland.
Related Story: Reception with President Higgins

February 18

The Irish: healthy, wealthy, and wasteful
Irish people are living longer, they are still quite wealthy (relatively speaking), and they generate a lot of waste That's according to the latest Central Statistics Office latest publication entitled Measuring Ireland's Progress 2013. The report takes existing data and strings it together in the form of tables and interactive graphs, using numbers to paint a picture of how Ireland has progressed — or not, as the case may be — and how the country fares against its European neighbours in various categories. For more details, please click Irish Examiner.
Photo Credit & Related Story: Irish Times


Green Fields of France: 'subtle reminder' of Irish war dead
Singer-songwriter Eric Bogle said he wrote The Green Fields of France as a response to the anti-Irish sentiment in Britain during the IRA bombing campaign of the 1970s. Bogle revealed he chose the name "Willie McBride" for the 19-year-old who features in the song because of its "Irish connotations". The song is part of a trilogy of enduring classic first World War songs written by Bogle - the other two being The Band Played Waltzing Matilda and All the Fine Young Men. For more details and video clips, please click Irish Times.
Photo Credit: Hulton Archive/Getty Images


Nine things Irish people really should give up for Lent
Chocolate, crisps and beer? Nah, here's what the Irish as a nation really should disown for the next 40 days. First on the list is moaning. Whether it's about the weather, the bankers, the potholes, The Late Late Show, the price of petrol, austerity… there's nothing the Irish like better that a good auld moan.* For the entire list of things with accompanying videos and pics, please click Breaking News Ireland.
*Fair warning: The first video contains serious amounts of swearing. Something else the Irish should be giving up, except in this case.


Clonakilty's Inchydoney named Ireland's best beach
Inchydoney beach has been named the best in the country for the second year in a row. The west Cork strand came out on top in ratings by TripAdvisor's online reviewers. Derrynane in Caherdaniel, Co Kerry is in second place, and is one of four Kerry beaches in the top ten. Galway got two spots, including Kilmurvey Beach on Inis Mór, in the Aran Islands. To read this news item and many others, please click Breaking News Ireland.
Photo Credit & Slide show of all 10 beaches: Trip Advisor
Related Story: Irish Examiner


'I've no secret - I've done the best I can'
Clare native Kathleen Hayes Rollins was born in 1902, and emigrated to Syracuse, New York when she was 19 years old. She celebrated a monumental 113 years two days ago. "I get so tired of people asking me about my secret. I've got no secret," she said on the day of her birthday party. "You live and you do it the best you can." "You can't go through life thinking you're better than the other guy," she insists is her favourite piece of advice. The spirited woman now lives in The Centers at St Camillus nursing home, where the staff describe her as "remarkably lucid". Though Kathleen is hard of hearing and uses a wheelchair to get around, she is still "clear of mind" and partakes in daily activities.For more details, please click Irish Independent.


Dublin acting academy rebranded and relaunched
He's been busy shooting a Hollywood movie around Dublin, but renowned director Jim Sheridan (pictured) took a little time off to officially open a new academy for budding stars of the silver screen. The Sheriff Street native was joined by Jack Reynor, Peter Coonan, Kieran O'Reilly and Brian Gleeson at the launch of the new Bow Street Acting Academy for Screen Acting. The school, which has produced over 120 leading lights, has rebranded and relocated to a new venue in Smithfield from its original location in the Docklands. For more details, please click Irish Herald.
Photo Credit & More Photos from Opening: Getty Images/Phillip Massey


Countdown to Red Bull Crashed Ice Belfast spectacular
The atmosphere at Stormont is a little bit frosty today as the finishing touches are put to a massive 3,000 square metre course installed for the Ice Cross Downhill World Championship being hosted up on the hill this weekend. On Friday and Saturday around 40,000 people are expected to watch daredevil skaters negotiate a bridge next to the iconic Lord Carson statue before making a final sprint to the finishing line. This is the first time, the event will be held in a non-winter sports country. For more details, photos and video clips, please click Belfast Telegraph.


Ryder Cup 2016: Darren Clarke named as captain
The Northern Irishman, who played in five Ryder Cups and was a vice-captain in 2010 and 2012, was chosen ahead of Miguel Angel Jimenez and Thomas Bjorn by a five-man selection panel at Wentworth. Clarke said: "I am naturally extremely proud to be selected as European Ryder Cup captain for 2016. The Ryder Cup has been a massive part of my life and my career, so to have the chance to lead Europe next year is a huge honour. Clarke was appointed to succeed 2014 skipper Paul McGinley after a five-man selection panel met at the tour's headquarters on the outskirts of London. For more details, please click RTÉ.
Photo Credit & Related Story: Journal Ireland/ Andrew Redington


Irish Open 2015: Sergio Garcia & Ernie Els play Royal County Down
Rory McIlroy announced the addition of the duo to the Royal County Down field on his Twitter account on Tuesday. McIlroy's charitable foundation will be the tournament's official host. The Northern Irish star has already convinced Rickie Fowler to commit to the 28-31 May event. Lee Westwood and defending champion Finland's Mikko Ilonen will also be in the field along with Northern Irish major winners Graeme McDowell and Darren Clarke. For more details and video clip, please click BBC.
Photo Credit: Getty Images

February 17

Irish scientists identify key molecule in fight against Alzheimers and MS
Irish scientists have identified a potent molecule that may be able to halt the progress of deadly diseases such as Alzheimers and multiple sclerosis. Research scientists at Trinity College in Dublin have also found that the molecule's anti-inflammatory properties can stop a variety of other serious conditions in their tracks, among them diabetes and gout. For more details, please click Irish Examiner.
Photo Credit & Related Story: Irish Times/Nick Bradshaw


Time capsule offers Cork children glimpse of the past
As time capsules go, 15 years is not long below ground. But already-dated currency, technology, and books amazed children who were not even born when their school preserved some of its history at the turn of the millenium. The paint-tub was buried in front of the school that opened in 1953 but which is now overcrowded and soon to be demolished. For most of the 180 pupils, a floppy disk drawn from the capsule brought the biggest laugh and, for some, confusion. For more details and video, please click Irish Examiner.


Kathleen, 113 is on course to make Irish history
A 113 year-old Irish woman, currently living in New York, is on course to become the oldest person in Irish history in just over a month. Clare-native Kathleen Hayes Rollins Snavely was born in Feakle in 1902. She emigrated to Syracuse in 1921. The longest-living person ever born in Ireland was Annie Scott, who was born on March 15, 1883. Annie died in 1996, aged 113 years and 37 days. Kathleen will make history again in 36 days when she surpasses that age. For more details, please click Irish Examiner.


Lotto jackpot winner has just 11 days to claim prize
A Lotto winner could miss out on a jackpot of €2.9 million if they don't come forward in the next 11 days. Could it be you? The mystery winner purchased their ticket on November 29 - and they have 90 days to claim the prize from the date of purchase. The ticket was bought in Tesco in Claremorris, Co Mayo. It was a €3 Quick Pick ticket and was purchased just hours ahead of the Saturday draw. The numbers drawn were 7, 8, 18, 28, 35, 39 and the bonus number was 37. For more details, please click Irish Herald.


Ireland: Young fertile, and the lowest divorce rate in EU
Ireland had the highest proportion of young people in the EU in 2013. The Central Statistics Office said we also had the highest fertility rate in the region, and the lowest divorce rate, at 0.6 per 1000 people. The "Measuring Progress" report shows Ireland also had the second biggest average primary school classes. To read this news item (which includes more stats) and many others, please click Breaking News Ireland.


NI researcher attempting to solve WW1 mystery
Jason Burke, a researcher from the community project - East Belfast and the Great War - is asking for the public's help to trace the relatives of a Royal Irish Rifles soldier. Soldier Arthur Mulligan is believed to have lived at 9 Utility Street, off Donegall Road in south Belfast. Two bibles containing photos of him, other soldiers and a number of delicate items have been given to Mr Burke in the hopes of reuniting them with their rightful owners. Mr Burke said he had been given a "treasure trove of information" and told BBC News NI how the 100-year-old items came into his possession. For more details, please click BBC.


Flipping great: Celebrating Pancake Tuesday
Pictured are Campbell College Year 8 pupils Ethan Shields, Sam Gibson, Michael Patterson and Josh Thomson who helped prepare a feast of pancakes as the school introduced their international boarding community to the tradition of Pancake Day with an annual pancake toss followed by freshly-made pancakes. Elsewhere, Chef Dean Butler from the Causeway Hotel on the north coast did a dramatic pancake toss on the basalt columns of the Giant's Causeway. For more details about Pancake Day, please click For more details, please click Belfast Telegraph.
ED. Note: To read our article, please click Shrove Tuesday Pancakes


Boogaloo and Graham all set for the Oscars red carpet
When he walks down the red carpet at the Oscars later this week, Northern Ireland's brightest new star is guaranteed to have the best bodyguards in Tinseltown. Boogaloo and Graham star Riley Hamilton may be mixing it with the Hollywood A-list - but his granddad will be at the nine-year-old actor's side. And when your granddad is former world kickboxing champion Billy Murray, not even the biggest bad guy from the big screen is going to stand in your way. For more details, please click Belfast Telegraph.


On yer bikes Belfast!
The Coca Cola-sponsored public cycle share scheme will initially include 300 bikes and 30 docking stations all around the city centre. Belfast City Council said it expects the public bikes will be used by residents, tourists, students and commuters. Initial work has begun on the docking stations, with kiosks due to be installed in March 2015. There will be 30 docking stations when the scheme is launched but the council hopes to extend the scheme beyond the city centre boundary. For more details and video clip, please click Belfast Telegraph.

February 16

Ireland – no country for Renaissance men?
The Renaissance was hugely influenced by classical texts, which had little (good) to say about Ireland. Yet Petrarch was a big fan. It was Petrarch who rediscovered the forgotten Cosmography of the first-century Roman geographer Pomponius Mela which focused exclusively on the country's marvels and said of its pastures " so luxuriant and sweet that cows would "burst from overgrazing" if they were allowed to feed all day." A nd it was Petrarch who encouraged Italians to read The Topography of Ireland by Gerald of Wales. To read this feature article, please click Irish Times.


'Nothing too special at all … they are just cliffs'
Every year, people descend on Ireland's green shores to take in its cities, countryside, culture and rich history. While most of the country's top sights draw an overwhelmingly positive response, some visitors are more tough to please – that's if reviews on that great free-for-all of touristic mudslinging, TripAdvisor, are anything to go by. Here is what some of the world's toughest critics have been saying about Ireland's most popular attractions (spelling mistakes and all). Please click Journal Ireland.


New CEO for Are Lingus
Aer Lingus has announced that Stephen Kavanagh is to be its new chief executive. Mr Kavanagh has worked at the airline since 1988, most recently as Chief Strategy and Planning Officer. He will take over from Christoph Mueller, who is leaving at the end of the month to become CEO at Malaysia Airlines. Mr Kavanagh is a graduate of University College Dublin and has had a number of roles in Aer Lingus' operations and commercial departments before being appointed an executive in 2006. He also worked on the airline's stock market flotation. For more details, please click RTÉ.


Brendan O'Carroll to be St Patrick's Day Grand Marshal
Mr O'Carroll said: "In asking me to be Grand Marshal of the Dublin Parade, St Patrick's Festival have honoured my family and honoured all of us working in Mrs Brown's Boys who try to bring a little piece of Dublin humour around the world." He continued: "I attended the Dublin Parade in all weathers for over 50 years, from sitting on my sisters' shoulders to having my own children sitting on mine..."To read this news item, please click RTÉ.


Irishman still in the running for Mars One mission
An Irish astrophysicist is among a shortlist of hopefuls who are still in the running to become the first humans to travel to Mars. Dr Joseph Roche, who works for Science Gallery and Trinity College Dublin, was this morning named on the list of 100 candidates in the third round selection process for Mars One. Over 200,000 people applied to take part in the privately funded one-way mission to the red planet. They have been whittled down through a screening, medical and interview process to 100. For more details, please click RTÉ.


NI's first Science Festival "stellar mix of silly and serious"
The festival kicks off on February 19 and is is billed as a "stellar mix of the silly and the serious" and is about as far as you can get from those dry textbooks at school. 100 events will be taking place over 11 days and include the opportunity to take on a role in CSI Belfast, delve into the mind of a zombie, or train as an astronaut. During the day, the festival features activities for young people, parents and schools, while in the evening there will be a mix of debates, talks, theatre, comedy, music and film for adults. For more details, please click Belfast Telegraph.


Rise in number of Irish humanist ceremonies
The number of humanist ceremonies taking place in Ireland is on the rise, with more than 100,000 people attending such events last year. But what exactly is humanism, and why is it becoming so popular? At the most basic level, humanists are people who base their interpretation of existence on the evidence of the natural world, and not on belief in supernatural elements such as a theistic god, miracles, or an afterlife. For more details, please click Irish Examiner.
Photo Credit & Related Deatails: Humanist Association of Ireland


Food app helps supply nearly half a million meals for the homeless
Innovative new app Foodcloud only partnered with Tesco last summer, but already the union has resulted in more than half a million meals for homeless people in Ireland. The idea for the app first formed when co-founders Iseult Ward and Aoibheann O'Brien were studying at Trinity College Dublin. The duo discovered about a million tonnes of food was going to waste each year and decided to do something about it. The Foodcloud app connects businesses with charities — allowing retailers with surplus food to donate it to organisations feeding those most in need. For more details and video clip, please click Irish Examiner.


Cricket: Cricket World Cup 2015: Ireland stun West Indies in Nelson
Ireland caused the first shock of the World Cup with a four-wicket triumph against West Indies in their opening Pool B match in New Zealand. Lendl Simmons (102) shared 154 with Darren Sammy (89) as the Windies recovered from 87-5 to post 304-7. But Ireland's Will Porterfield and Paul Stirling put on 71 and Stirling (92) then shared 106 with Ed Joyce (84). Niall O'Brien added 79 not out as Ireland won with 25 balls left, their fourth World Cup win over a Test team. It is the fifth successful World Cup chase in excess of 300 and three of them have been by Ireland. For more details, photos and video clips, please click BBC.
Photo Credit & Related Story: RTÉ

February 15

Fr Piotr - one of 100 foreign priests ministering in Ireland
It was not the type of ministry he expected to be doing when he landed here, but Polish priest Fr Piotr Delimat is now running a Kerry parish. Fr Piotr, or Fr Peter, as he's known in Ballybunion, is "on loan" from the Archdiocese of Krakow. He initially came to Ireland expecting to be working as a chaplain to the Polish community in a bigger town, but instead was asked to take up the duties of Fr Noel Spring, parish priest of Ballybunion, for the next few months. For more details, please click Irish Independent.


VIDEO: Irish aid saves 30 kids in Ukraine
Cardiac surgeons have thanked the people of Ireland for funding lifesaving surgery on children living close to the frontline of Ukraine's bitter civil war. The team of renowned US and Argentinian paediatric specialists was flown to Kharkiv, just two hours from the conflict zone, by Adi Roche's Chernobyl Children International (CCI) following an emotional appeal last December from parents of children dying from heart diseases. Their plight touched the hearts of Irish people who donated some €150,000 to fund the mercy mission. For more details and to watch the video, please click Irish Examiner.


Ancient artefacts uncovered at Tullaghoge
An archaeological bid to discover more about the hilltop where Ulster chieftains were crowned 700 years ago has uncovered artefacts dating back more than 7,000 years. Tullaghoge Fort in rural Co Tyrone was the place leaders of the dominant O'Neill clan came to be crowned from around the 14th Century to just before the arrival of the planters at the start of the 17th Century. Targeted excavation work around the earthen mound hoped to find and preserve buried artefacts from that period - but it ended up unearthing a lot more. For more details, please click Belfast Telegraph.


Early school leaver is Trinity's new student president
Lynn Ruane from Tallaght left school after she did her Junior Cert exams. "I was eight months pregnant when I did my Junior Cert and I left school after that," Lynn said. "I got into TCD through the Trinity Access Programme and I'm currently in my third year studying philosophy, political science, economics and sociology," she added. The Dubliner said she was "shocked" when she won the election on Thursday night. "I couldn't believe it, I'm the complete opposite of the type of person who is normally the SU President." For more details, please click Irish Herald.


Carlow farmer turns most French of delicacies decidedly Gaelic
In Ireland, they're more of a pest than a delicacy, but one Carlow producer hopes to turn the humble snail into the country's latest cash crop. Enter Eva Milka, the entrepreneur behind the island's first edible-snail farming business, Gaelic Escargot. She told TheJournal.ie the idea was born from "a passion for food" and in particular, escargot, a dish most-commonly associated with garlic- and butter-soaked French cuisine. For more details and photos, please click Journal Ireland.


Call the male midwife...
Dan Oakes hesitates when people ask him what he does for a living. As the first male midwife to graduate from Dundalk Institute of Technology (and one of around 30 in Ireland) his answer tends to provoke a strong reaction. "It either shuts down all further conversation instantly, or people are completely fascinated and want to talk about nothing else," he says. There are still those who think it strange that a man would want to be a midwife. And there are few places more overwhelmingly 'female' than a maternity hospital.For more details, please click Irish Independent.


Fr Ted Crilly knickerfest gets recreated
'Ireland's largest lingerie department' is to be recreated on the Aran islands in time for this month's Tedfest. Up to 500 die-hard Father Ted fans are expected to descend on Inishmore for the annual celebration of the classic sitcom. And event organisers said a special shipment of mannequins and women's knickers will also be ferried out to the far-flung isle for what they anticipate will be this year's festival highlight, namely lingerie orienteering. For more details, please click Irish Independent.
Photo Credit/Video Clip: YouTube


Six Nations: Ireland hold on to beat France
Ireland remain unbeaten in this year's Six Nations after a gritty victory over a disappointing France in Dublin. Man-of-the-match Jonathan Sexton, who had been out for three months with concussion, kicked four first-half penalties as Ireland led 12-6 at the break. With both sides engaged in a torrid battle at the breakdown there was little flair on display and fans had to wait until well into the second half for the first clear-cut try-scoring opportunity. For more details, please click BBC.
Photo Credit & Related Story: Irish Times/NPHO/Dan Sheridan


Golf: Ryder Cup 2016: Darren Clarke would 'love' to be Europe's captain
Darren Clarke says he wants to be Europe's 2016 Ryder Cup captain at Hazeltine National in Minnesota, USA. The Northern Irishman, who has won the cup four times as a player, expects an announcement on the new captain to be made next Wednesday, 18 February.Clarke is the favourite for the coveted role, ahead of Spain's Miguel Angel Jimenez. "If it's Miguel, I would be delighted for him, but I would love to do the job," Clarke said. "To be the captain is huge, but he is only there to steer the players. It's not about the captain, it's about the team." For more details and video clip, please click BBC.
Photo Credit & Related Story: ESPN

February 14

WATCH: Grafton St shoppers reveal their most romantic texts
RTÉ's John Murray Show sent a reporter to Dublin's Grafton Street to ask the public about their most romantic texts ahead of Valentines' Day tomorrow and he came back with some lovely stuff. Grabbing a mix of Irish and some tourists, reporter John Bela Reilly manages to get some cracking answers. Who'd have thought we are such a mushy bunch! We particular love the guy who is obviously buying flowers for his partner for tomorrow. To watch the video, please click Breaking News Ireland.


Marriage is still in fashion with Irish couples
He's 34 and she's 32, they met at work and they plan to have two children who they'll call Jack and Emily. They are the typical Irish couple embarking on married life together in 2015. They will probably tie the knot over the August bank holiday weekend, and most likely in a Catholic church - although they are tempted to join the growing trend for a civil ceremony. While every couple writes their own love story, official records do paint a telling picture of Irish attitudes to love and marriage - tracking what has changed and what's stayed the same over the decades. For more details and video clip, please click Irish Independent.


Say it with flowers? What blooms signify to your Valentine
Oscar Wilde famously wore a green carnation to signify his Irishness, although some ascribe a different meaning to that buttonhole – from 'lost in fascination' to 'envious of love' deciphering potential meanings from the Persian origins and the Victorian version and craze of floriography (the art of sending messages through symbolic flowers). Whatever Oscar's intended meaning, the act of wearing his green carnation speaks volumes of the significance of a flower to make itself a message. For more details, please click Journal Ireland.
Photo Credit: FTD


"You see that road over there, well don't take that one
And you see those cars going over the bridge? Well don't folly them." Not a word of a lie, these were some of the directions we got from an elderly Dubliner who was attempting to tell us how to get on the correct road to Cork. This video perfectly sums up what it's like asking for directions in Ireland If you've ever found yourself lost without a sat nav, a phone, or a map in Ireland, you'll definitely be able to relate to this video. To watch, please click Breaking News Ireland.


The crack with 'craic'
This feature aricle by Frank McNulty is all about the nation's favorite word. He writes " I used to lament the Gaelicisation of that fine old Anglo-Scottish word "crack". Seeing it spelt as "craic" would set my teeth on edge, as it did the teeth of this paper's late, great lexicographer Diarmaid Ó Muirithe. But, well, it must be the mellowing of age, or something. In any case, I find myself growing increasingly tolerant on the matter. There's no denying that, even if the word led a worthwhile existence during its many years in Britain, it has found this island a vastly more congenial place to live…" To read the article, please click Irish Times.
Photo Credit: Irish American Mom


Fairy tales: Finding fairy bushes across Northern Ireland
It's not a normal task to be set when arriving in the newsroom. Go and find out what you can about fairies and Fairy Thorns - of course - it was Friday 13th. Throughout the countryside there are thorn bushes growing all alone in the middle of fields Some people believe that the bushes are the homes of the fairies, and, if anyone tries to cut them down or damage them, it is likely they will die young, or become seriously ill. For more details, pics and video clip, please click BBC.
Photo Credit: Celtic Myth Pod Show


Kerry legend Eugie drives YouTube wild
The Irish Examiner have released a video of Eugene (Eugie) O'Sullivan, a cattle drover from Kerry who was celebrating his 90th birthday on Monday, and it's brilliant. Donal Hickey of the Examiner found Eugie in top form at the surprise celebration as he asked him his views on some of the burning issues of the day. The drover seemingly has no grá for the drink or fags, saying: "Waste of time. The fags, I wouldn't look at them things. Robbery, robbery." For more details and to watch the video clip, please click Breaking News Ireland.


Six Nations Preview: Ireland v France
They come into this clash with a host of factors in their favour but history says that France can never be taken lightly by Ireland. The aggregate score in the last four Six Nations clashes is a single point in France's favour, while before Paris in 2014, Ireland had not beaten France since 2009. Results have improved but wins remain rare. The French themselves know little enough about when and why the mood will take hold, but when it does they are a rugby force to be reckoned with. Against that, it must be said that some confidence is justified. For more details, please click RTÉ.
Photo Credit & Related Story: RTÉ


Champion showjumping stallion cloned
A showjumping stallion has been cloned in Ireland. This is the first known case in the country. Two cloned foals were born at Hartwell Stud in Co Kildare in 2012 after DNA was taken from champion showjumper Cruising. The retired grey died last year at Hartwell Stud which did not reveal details of the clones until now. The cloned stallions will be the first to take up duties in Ireland when they begin work at the stud later this year. According to the Irish Field newspaper, Hartwell Stud said that tissue samples were taken from Cruising's neck in 2011 when the horse was aged 26. For more details, please click RTÉ.

February 13

Cartoons for the Cause
Before the actual shooting of Ireland's revolutionary period began, to paraphrase Declan Kiberd, there was a preliminary war in which the weapons were all ideas. They were deployed in poetry and plays, songs and speeches. But among the skirmishers in this intellectual conflict, there was also a monthly satirical magazine called the Lepracaun. First published in 1905, it lasted 10 years, during which time it formed the cartoonist wing of the nationalist movement. For more details, please click Irish Times.


Queen's scientists to play leading role in building world's biggest solar telescope.
The Belfast University is at the forefront of a consortium of UK universities and businesses that will build cameras for the world's biggest solar telescope. Costing $344m (£226m), the Daniel K Inouye Solar Telescope (DKIST) will be launched in 2019 in Hawaii. Its 4m wide mirror will be able to pick up unprecedented detail of the surface of the star - like examining a £1 coin located in Dublin from a telescope in Belfast. The scientists want to observe the build up of magnetic energy on the surface of the sun that can lead to solar flares and explosions that affect Earth. For more details, please click BBC.


A world first: There are now more female than male solicitors in Ireland
In a first for any legal profession in the world, female Irish solicitors now outnumber male solicitors practising in the country. At the end of 2014, there were 4,623 female solicitors and 4,609 male solicitors. Just 92 years ago, the first woman solicitor was admitted to the profession and The Law Society said "since then the race to equality has been incredible". "Women currently dominate the State's senior appointments in law and justice. Last year saw the appointment of the first female Garda Commissioner, Nóirín O'Sullivan, and the third female Minister for Justice, Frances Fitzgerald," Kelly said. For more details, please click Journal Ireland.


Shed manufacturer to create 100 jobs in Galway
100 jobs are to be created in Tuam, Co Galway, between now and the end of 2017 as Steeltech Sheds plans to relocate to a new base there. The company says the new jobs will be created as it expands its market into the UK and mainland Europe. The firm's main operation in Galway is currently based on the Headford Road. This centre will be moved to the former Cola-Cola plant base in Tuam. Steeltech Sheds currently employs up to 100 staff at bases nationwide including Cork, Dublin, Carlow and Athlone. To read this news item, please click RTÉ.
Photo Credit: Steeltech Mayo


Rolo voted most romantic advert of all time
The vintage slogan "Do you love anyone enough to give them your last Rolo?" has been voted the most romantic ad of all time. Manufacturer Nestle axed the slogan in 2003 after concluding it was too sentimental, but its popularity has lingered long enough for 18pc of readers of Marketing magazine to vote it their favourite. "Rolo's slogan is so ingrained in the public psyche that you could ask someone on the street today and they would find it just as current as it was in the 1990s," Marketing editor Rachel Barnes said. To view a list of the top ten adverts, please click Irish Herald.
To watch the commercial, please click YouTube


Irish mammy is nearly given heart attack by birthday surprise
Brothers Jay and Paul O'Callaghan wanted to do something really special for their mother's 60th birthday, so they came up with a cunning plan. The lads live in Canada and were hoping to surprise their mum, Mary, for her special day - which is actually today. The brothers started planning their gift last September and developed a WhatsApp group to plot with the rest of their family, including their dad, Declan. The guys used their other brother Simon to lure her to his house. Little did Mary know that her two boys had returned home and were hiding in a huge box in the back garden. To watch the video, please click Breaking News Ireland.


The most read books in Northern Ireland's libraries
The latest data reveals that Private Down Under by James Patterson and Michael White is Northern Ireland's most borrowed book for 2013/14. Runner-up is Goldilocks And The Three Bears - a gripping account of a home invasion aimed at the under-threes - and in third place is Mistress by James Patterson and David Ellis. Also in the top 10 are crime novels The Dying Hours by Mark Billingham; The Kill Room by Jeffrey Deaver and Never Go Back by Lee Child. For more details, please click Belfast Telegraph.


Kevin Babington wins at Nations Cup in Florida
Tipperary's Kevin Babington produced Ireland's first win at this weekend's US Nations' Cup show in Ocala, Florida, with a victory in Thursday's Grand Prix Qualifier. A capacity crowd at the four-star venue saw the 46-year-old pull into the lead when 35th of 59 riders to jump, piloting the Irish Sport Horse Mark Q, which Babington owns jointly with Deirdre Bourns. A time of 69.44 seconds proved impossible to beat, despite the best efforts of the strong international field that followed. For more details, please click RTÉ.


Positive starts for Padraig Harrington & Shane Lowry in California
JB Holmes who lost out to Jason Day at Torrey Pines, fired a 64 to grab a share of the lead with compatriot Justin Hicks. Fellow Americans Jim Furyk, Brandt Snedeker, JJ Henry, Chesson Hadley and Dudley Hart also managed 65s, while the best placed Europeans were England's Brian Davis, Germany's Marcel Siem and Ireland's Padraig Harrington, all on four under par. Another Irishman, Shane Lowry, was three under, England duo Ian Poulter and Greg Owen were one under, while Ireland's Paul McGinley was another three shots adrift after the first round. For more details, please click RTÉ.



Sun, Mar 1, 2015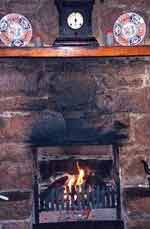 From Bog Land to Turf Fire
Ireland contains more bog land, relatively speaking, than any country in Europe, except Finland. For people in rural areas, turf cut from the bog is still a natural source of heat. Turf cutting begins in spring and then the turf is spread and rickled . Rickled means to pile the turf up in small mounds. By summer, the turf is dry and it's time to bring it home. Everything has to be prepared before the winter comes, or even earlier, because the rain would wet the turf too much. It has to be dry and in the shed before Autumn. Then and only then, can an irish country family look foreward to the cozy warmth of "a turf fire in the cabin."

Resources: The Atlas of the Irish Rural Landscape
Image: Spirited ireland

Click for More Culture Corner.
---
---
Local Time in
---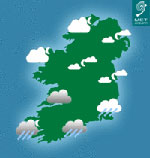 The Weather
Up the minute forecasts provided by Ireland's official source for all weather-related news. Please click Met Eireann.

---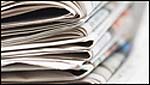 Links to the latest news from Ireland
Here you will find all the stories making headlines throughout the Republic of Ireland and the six counties to the north. This is not intended to be an all-inclusive list. These are the main sources we check every day to bring you those headlines we think you will enjoy reading.

BBC Northern Ireland
Belfast Telegraph
Breaking News Ireland
Irish Emigrant
Irish Examiner
Irish Herald
Irish Independent
Irish News
Irish Times
Irish Post
RTE
The Irish World
The Journal Ireland
Inside Ireland


---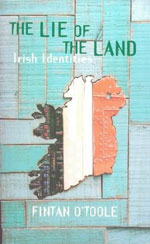 Lie of the Land
by Fintan O'Toole
A regular contributor to the irish Times and The Guardian, O'Toole applies his eagle journalistic eye to the state of ireland at the end of the 20th century. It's a riveting read as O'Toole examines with in-insight, humour and a bit of the blarney, the repercussions of a booming economy which has thrust ireland into the ranks of the richest European countries.
Click here for Lie of the land.

---