Traditions, folklore, history and more. If it's Irish, it's here. Or will be!
"People will not look forward to posterity who never look backward to their ancestors."
-Edmund Burke
---
Quotes

Library: Books, Movies, Music

Prints & Photos

Poetry

---
---
Shops Ireland
---
Bunús na Gaeilge
(Basic Irish)

---
---
---
Himself/Herself
Write to Us
Readers Write..
Links/Link to Us
---
Advertise with us
---
Awards & Testimonials

Submissions Guide

---

Todays' Irish News



Yes, there are many news items not included here. We deliberately avoid: politics, death, disaster and other mayhem.

Sunday, April 26, 2015

---
Revamped St Mel's Cathedral has mass appeal for tourists
It was almost razed to the ground by a fire that ripped through the historic cathedral shortly after Christmas midnight Mass in 2009. But now, just four months after its grand re-opening, thousands of tourists from all over the country are flocking to St Mel's Cathedral in Longford, bringing a major boost to local businesses and sparking a rare rise in Mass attendance. The revamped Cathedral is attracting retirement groups, schools tours and bus loads of visitors from across the country. For more details, please click
Irish Independent
.
Northern Ireland gets its first pagan priest
Northern Ireland has officially recognised a pagan priest and church for the first time. The Order of the Golden River, established in 2009 and headed by Patrick Cranberry, was recognised as an official church by the Northern Irish General Registry Office at the end of last month. Mr Cranberry said he had originally applied for official recognition only in order to legally marry people of his faith. For more details, please click
Independent UK
.
Photo Credit & Related Story:
Navize
Ireland's greatest visitor attractions: Inishowen
The Irish Times is on the hunt for Ireland's greatest visitor attractions, and they've asked their readers to help, by recommending great ways to spend a day in Ireland. Catherine Devlin has a few ideas . . . Come to Inishowen, and we will give you a day to remember. In the morning the new Wild Atlantic Adventure Centre will take you on a gentle trek on one of our beautiful horses across Tullagh Beach. Here you will see some of the most impressive scenery the Wild Atlantic Way has to offer. For more details, please click
Irish Times
.
Photo Credit:
Tullagh Bay Equestrian Centre
The swallows are back from Africa: Summer in Ireland has officially begun
Billy Flynn, an ecologist for the Irish Wildlife Trust said he usually spots the first swallows between 6 and 16 April and it is only in the last week that people have started seeing them around. Swallows travel in families, with the younger birds following their parents when they migrate for the cold months. What is incredible about them, Flynn explained, is that young swallows are still able to make the journey themselves, even if their parents have died or got lost before they had a chance to show them. For more details, please click
Journal Ireland
.
Photo Credit: Shutterstock/Critterbiz
Irish-based scientists to receive €30m in funding
A number of new scientific research projects are to share a total of €30 million in funding under Science Foundation Ireland's Investigators Programme. The 23 projects span a range of disciplines deemed to be a priority by the Government, including materials science, data management, medicine and pharmaceuticals, food and nutrition, agriculture and veterinary research. The researchers are based at a number of institutions and the 100 research positions will be supported over the four to five years of the funding round. For more details, please click
RTÉ
.
Brown Bag Films wins award for ANYA
Oscar-nominated Dublin animation company Brown Bag Films were among the winners at last night's Short Film Awards at the Limerick Film Festival for their short animated film about a Russia orphan. Brown Bag won the Best Overall Short Film and Best Sound for ANYA, which charts 20 years in the life of a Russian orphan. The film was created in conjunction with To Russia With Love to help raise funds to continue their work with abandoned and orphaned children. For more details and video clip, please click
RTÉ
.
Retiring jockey AP McCoy saluted at Sandown
AP McCoy missed out on a winner but was saluted by a sell-out crowd as the 20-time champion jockey ended his racing career at Sandown. The Northern Irishman came third on 5-2 favourite Box Office in his final race, won by 9-1 shot Brother Tedd. McCoy had earlier finished third on Mr Mole behind winner Special Tiara in the AP McCoy Celebration Chase. An emotional McCoy said: "It's amazing. I've been so lucky all my life. I'll never forget this day." For more details, please click
BBC
.
Photo Credit Gallery & Related Story:
Belfast Telegraph
NI's Madeline Perry ends international career by winning Irish Open
Northern Ireland squash star Madeline Perry rounded off her international career by clinching her sixth Irish Open title in Dublin on Saturday night. Perry announced that she would be retiring from the professional circuit earlier this month. The former world number three clinched her latest national open title by defeated Guyana's Nicolette Fernandes 11-8, 11-6, 11-9 at Fitzwilliam. "I was desperate to win it and end on a high," said the Co Down woman. "I don't think I've played that well for a long time. For more details, please click
BBC
.
Photo Credit: Getty Images
Rory McIlroy overtakes Padraig Harrington as Ireland's richest sportsperson
The Sunday Times richlist has revealed that Rory McIlroy has overhauled Padraig Harrington to become the richest sportsperson on the island. His Open Championship win at Hoylake and US PGA triumph at Valhalla have catapulted the Co Down golfer above three-time major winner Padraig Harrington on Ireland's sporting richlist. According to the figures in the Sunday Times, the world number one has amassed a fortune of €52m, just €1m ahead of the Dubliner. For more details, please click
Irish Independent
.
---
Past Two Weeks
April 25

Scots role in Ireland's 1916 Rising to be examined
The role played by Scots in one of the most famous episodes in Irish history is to be examined by a new group being launched next week. MSPs, academics and writers are expected to attend the event at the Irish Consulate in Edinburgh for the launch of the 1916 Rising Centenary Committee (Scotland). The group is also planning a series of seminars and exhibitions over the next 12 months and wants to embrace both the Nationalist and Unionist traditions in Ireland as its marks the key anniversary next year. For more details, please click The National.


'Tourism mecca' Munster wins at inaugural awards
Rewarding innovation in tourism initiatives at home and abroad, the inaugural Irish Tourism Industry Awards, held last night in Dublin, identified a dozen winners from over 330 entries. The Fab Food Trail, operating in Cork, Kilkenny, and Dublin, was dubbed best urban experience; Kerry County Council was named best local authority for tourism innovation; and Shannon Airport took home the award for best international access initiative. Eamonn McKeon, chief executive of the Irish Tourist Industry Confederation, said "Outside of Dublin, the tourism mecca of Ireland is Cork and Kerry…" For more details, please click Irish Examiner
.Photo Credit: Lonely Planet


Lisa Bickmore wins €10,000 Ballymaloe Poetry Prize
The winner of the Ballymaloe International Poetry Prize – one of the most valuable prizes in the world for a single unpublished poem – was announced at a special event at the Irish Writers Centre in Dublin last night. The winning poem, Lisa Bickmore's Eidolon, is an extended meditation on separation and love and grief. "I was impressed by many aspects of the poems submitted for the Ballymaloe Prize this year," said the judge, Michael Symmons Roberts. "As I'd expect in a major competition, there were many accomplished, surprising and beautiful poems. For more details and to read the winning poem, please click Irish Times.


HamsandwicH are Ireland's new No 1
Meath band HamSandwicH are Ireland's new No 1 with their new release Stories from The Surface. They top an album chart dominated by Irish artists. The band are one of five Irish acts including a new entry from Mundy, in the new Top 10. Writing on their Facebook page, HamsandwicH said: "We are beyond ECSTATIC to announce that our new album 'Stories from the Surface' is this week's NUMBER 1 in the Irish charts! For more details and a list of Ireland's top ten albums, please click RTÉ.
Photo Credit, song from the album & review: Irish Times


Ireland's ballet boy
It's a long way from Waynestown to Covent Garden. On a sunny Sunday morning this quiet townland in Co Meath feels like more of an arable than an arabesque sort of place. Come September, though, one of its younger residents – 15-year-old Gearóid Solan – will step into the world of Margot Fonteyn, Rudolf Nureyev and Darcey Bussell. The first Irish male dancer in 30 years to be accepted into the Royal Ballet's senior school, Gearóid – a student at Castleknock College, in Dublin, appears to be remarkably cool about his achievement. For more details, please click Irish Times.


World Cup trophy comes to Northern Ireland for the first time
The famous trophy was brought to Belfast for the gala premiere of a film that heavily features Northern Ireland's match against Brazil in the Mexico 1986 World Cup. Shooting for Socrates tells the underdog story of a father and son who are Northern Ireland fans, set against the backdrop of the team's World Cup exploits. One of the driving forces behind the film is footballer David Campbell, who made his international debut in the match in front of 50,000 people in the searing heat of Guadalajara, Mexico. For more details, please click BBC.
Video Clip & Related Story: Belfast Telegraph


Irish actress on 'world's most beautiful' list
Striking brunette Caitriona Balfe is featured in this year's Most Beautiful issue of US magazine People. After hearing the good news, Caitriona took to Twitter to thank the mag for the compliment. "Thank you @people for including me in your #MostBeautiful," the Monaghan native wrote. Caitriona, who stars in World War Two drama Outlander, recently revealed that she has to watch light-hearted movies in order to wind down after a long day of shooting gruesome scenes. For more details, please click Irish Herald.
Photo Credit: The Edge


Here's how much the price of a pint in Ireland has gone up since 1928
If you have imbibed in pubs around Ireland, chances are that you have seen the poster pictured at some point. The poster lists the price of a pint of stout in "old money" and "new money", and documents the price increase between 1900 and 1992 With that in mind, John Geraghty of Publin.ie has decided to calculate the price of a pint of stout from 1900 to the present day in today's money. With the help of data from the Central Statistics Office and an inflation calculator, Geraghty has compiled a thorough list of prices from 1922 – 2015. For more details, please click Journal Ireland.


GAA: Niagara Falls to light up in green and red for Co Mayo
It will be a relatively brief flash – just 15 minutes of the bright red and deep green of County Mayo projected onto the surging curtain of water at Niagara Falls – but it has Ireland buzzing. From 10 to 10:15 p.m. May 2, the falls will be illuminated in the colors of County Mayo, which are seen on every farmhouse, utility pole, clothesline, shop front and street corner in the large, scenic western county when the county's GAA football teams are playing. For more details, please click The Buffalo News.
Photo Credit & Related Story: Manchester Irish Festival

April 24

President Higgins to attend WWI memorial in Gallipoli
President Michael D Higgins along with Britain's Prince Charles and Prince Harry will travel to Gallipoli in western Turkey later today for the centenary commemorations of the World War I campaign there. The failed attempt to force a passage through the straits known as the Dardanelles cost thousands of Irish lives. The soldiers who fought in Gallipoli 100 years ago are revered in Australia and New Zealand where their sacrifice is a cornerstone of nation building. For more details & photos, please click RTÉ.


Ireland is happier than the UK, Germany and France…
but not as happy as the USA, Canada and Switzerland. That's accoaccording to the UN third World Happiness Report was which was published today, ranking Ireland 18th, ahead of the UK, Germany and France, but a distance behind Switzerland, Iceland and Denmark in the top three places. The report issues a score of between one an ten based on polling data taken between 2012 and 2014. For more details, please click Journal Ireland.
Photo Credit: Pinterest


One hundred new jobs for Waterford
Agora Publishing, a US based group of global publishing companies with offices in over a dozen countries, is expanding its operations and is creating a multilingual contact technology services centres in Waterford. One hundred new jobs are expected to be generated over the next three years. The contact centre will provide multilingual customer support via phone, electronic correspondence and click-to-chat to Agora's international and US affiliates' clients. For more details, please click RTÉ.


'Altman the Saltman' - Was this the real-life Leopold Bloom?
Columnist Frank McNally writes "There came to Dublin in the mid-19th century a Hungarian Jewish family called Altman. And I don't know if theirs was an example of nominative determinism – a recurring theme in this column. But in any case, despite early business dealings in both hat manufacture and coal, the family became most famous as importers of salt, leading to an inevitable nickname." For more on this article, please click Irish Times.


Taxi driver wins over €1m on RTÉ gameshow
Taxi driver Martin Burke, from Naas, Co Kildare is celebrating after winning the largest sum ever won on a National Lottery TV game show. Martin, known as Archie to his friends and family, amazingly predicted the win on the show in a poem he wrote last March and two weeks later he got three stars on his scratch card, which he then sent into the show. The Naas man, who has been a taxi driver for 15 years, married his wife Kathleen 36 year ago and they have four children as well as six grandchildren. For more details, please click Breaking News Ireland.
Photo Credit & Related Story: RTÉ.
Video Clip: Irish Independent


1817 time capsule is opened in Derry
Almost 200 years after it was sealed and buried, the contents of a time capsule have been revealed. Specialists have been working for the past fortnight on the lead capsule left in the foundation stone of the historic Gwyn's Institute in Brooke Park in Londonderry to minimise the possible damage to the contents. The small lead box, which was placed in the footings of the former orphanage building in 1839, was opened by conservator Stefanie White. For more details & photos, please click Belfast Telegraph.


Widow of Norbrook tycoon tops Northern Ireland rich list
Lady Mary Ballyedmond and family have topped the Northern Ireland rich list with an eye-watering fortune of £1.4bn. Lady Mary tops the list as she is now deputy chairman of the Newry-based Norbrook Laboratories, established by her late husband. NI actress Roma Downey and her television producer husband Mark Burnett took the second slot on the list with a not too shabby £375m. The list charts the wealth of the 1,000 richest people in the United Kingdom and the 250 richest in Ireland. For more details, please click Belfast Telegraph.


Five NI buildings win architectural excellence awards
A mental health facility in north Belfast and four houses have won regional awards from the Royal Institute of British Architects (RIBA). Martin Hare of the Royal Society of Ulster Architects (RSUA) said the five awards were "unprecedented". "This reflects well on our local architectural talent and confirms our built environment is prospering from some excellent design work," he said. For more details & photos, please click BBC.


Dubliner Adam Rooney nominated for Scottish award
Dubliner Adam Rooney has been short-listed for this year's Scottish footballer of the year, following an exceptional goalscoring season with Aberdeen. The Dons striker is joined by Dundee's Greg Stewart and Celtic pair Virgil van Dijk and Stefan Johansen on the shortlist for the Cheque Centre PFA Scotland player of the year award. "It's a great honour to be nominated by players you play with every week," the former Inverness and Birmingham striker said. "There's no better honour really." For more details, please click RTÉ.

April 23

Ireland to overthrow a king today
Ireland is to overthrow King James II, today - over 300 years after his death. In what is likely to be one of the more peaceful overthrowings of a monarch, an order from 1685 proclaiming James to be King of Ireland is being abolished in the Dáil later today. King James was the last Catholic King of Ireland - he ruled for three years until he was overthrown by William of Orange in the Glorious Revolution. As well as being King of Ireland and England, he ruled Scotland as James VII. He died in 1701. For more details, please click Breaking News Ireland.


Glin Castle on the market for €6.5m
Actor Dominic West and his wife Catherine Fitzgerald have placed her family's ancestral estate Glin Castle on the market for €6.5m. The estate has been held by West's in-laws for more than 700 years and the decision to sell follows years of campaigning for outside investment in the property's future. The Wire actor and his wife Catherine, who is the daughter of the last Knight of Glin, have frequently spoken about the struggle to maintain the castle since the Knight's death in 2011. For more details, gallery and video clip, please click Irish Independent.


Mysterious caves in a Sligo hillside carry secrets from the Ice Age
In the latest edition of the Hidden Heritage series, archaeologist Neil Jackman explores the mysterious Caves of Keash in Co Sligo. These are some of Ireland's most visually striking caves, appearing as black mouths set in the white limestone rock face high on the western shoulder of Keshcorran Mountain. There are 16 caves and you can enter the majority to enjoy a really incredible evocative experience. This edition also includes a visit to one of Ireland's most iconic sites – Dún Aonghasa on Inis Mór. For more details, please click Journal Ireland.


Derry's walls among Irish history sites recreated in 3D models
The city's historic walls have been painstakingly recreated in a 3D model as part of a new Irish history project. The 17th Century walls, which form a walkway around the city, were scanned to produce detailed images and videos. Medieval sculptures at White Island on Lower Lough Erne in County Fermanagh and Navan Fort in County Armagh were also recreated as part of the project. The work has been carried out by the Dublin-based Discovery Programme, which researches Irish archaeology. For more details, pics & video clip, please click BBC.


Ireland's 'Orient Express' launches - with prices to match
Booking are now being taken for an Irish 'Orient Express' that will provide luxury rail experiences throughout the island. The Belmond 'Grand Hibernian' launched its Grand Tours of Ireland - including two, four and six-night itineraries starting from €3,160pp - this week. Four-night journeys are being quoted from €5,420pp. As the prices indicate, the journeys - set to begin in August 2016 - are aimed squarely at the luxury overseas market. They include meals, drinks, entertainment and excursions. For more details and photos, please click Irish Independent.


Anthony Trollope, the British ambassador, and the GPO
Columnist Frank McNally writes " I don't know if the British ambassador, Dominick Chilcott, felt the hand of history on his shoulder on Tuesday night, but even if he didn't, he must have been a little nervous. Speaking at a book launch in the GPO, he had a dying Cúchulainn, complete with raven, behind him. Security was discreet but tight for the event … It's not unknown, apparently, for the place to be taken over by radicals intent on declaring a republic. For more details, please click Irish Times.


The cigarette case that saved a Dublin soldier's life
A cigarette case that stopped a bullet from killing an Irish soldier is one of the many items on display in Dublin to mark the centenary of the Gallipoli campaign. Battered and tarnished, the little silver case is an example of how chance and fate decided who would live or die in the bleak chapter of World War One. But because of that little case, the soldier, who had it in his pocket, went on to marry and have a daughter years later, and that proud daughter was at the launch of an exhibition to re-tell the story. For more details, please click Irish Herald.


Irish stars feature strongly on musical millionaire list
Irish stars U2, Enya and Niall Horan feature prominently in new lists of millionaire musicians. Michael Flatley is also up near the top of the list. But it is Paul McCartney — who has not had a UK number one single in decades — that has topped the only chart that counts — the top 40 musical millionaires. The chart was put together for The Sunday Times. For more details, please click Irish Examiner.
Photo Credit & Related Story: RTÉ


Tall Ships Race returns to Belfast this summer
The city will be the home port before the start of this year's competition, with dozens of the world's finest sailing vessels berthed over the weekend of July 2-5. Crews will travel from Northern Ireland to Norway during the inaugural leg. Belfast lord mayor Arder Carson said: "More than 50 of the world's finest sailing ships, and their crews - from Europe, North and South America and further afield - will be berthed in Belfast for four days." For more details & video clip, please click Belfast Telegraph.

April 22

Famine group to land at Jeanie Johnston after 155km walk
A group of people from Strokestown, Co Roscommon will complete a 155 kilometre commemorative walk to Dublin on Wednesday afternoon in honour of the 1,490 people from there who took the same route in 1847 during the Famine. They began the walk on Saturday and have been retracing steps of the then Canada-bound Famine victims through Roscommon, Longford, Westmeath, Meath, Kildare and Dublin along the tow paths of the Royal Canal. On arrival, Minister for Arts Heather Humphreys will launch the official programme for the inaugural Irish Famine Summer School. For more details, please click Irish Times.
Photo Credit: Alan Betson


Dublin Dance Festival celebrates WB Yeats
The Abbey Theatre presents Liz Roche Company in the first ever commissioned dance work for the Abbey stage, honouring WB Yeats on the 150th anniversary of his birth. As part of the programme, Dublin Dance Festival also presents the experimental dance show, Built to Last, performed by Meg Stuart's company, Damaged Goods/Münchner Kammerspiele. These performances on the Abbey stage will mark Stuart's first visit to Ireland. "What is it that music releases in us?" is the question posited by the renowned dance choreographer. For more details, please click RTÉ.


Kerry the hush-hush star attraction for TV shoot
A 70-strong cast and crew from the reality TV series The Bachelorettes has completed a hush-hush shoot there, which will be shown in the US during the summer. The production team insisted on strict confidentiality from all people, including hotels, transport providers, and locations they dealt with while shooting in Dublin, Clare, and Kerry. They filmed at the Cliffs of Moher and spent several days at the likes of Innisfallen Island, Ross Island, and Muckross House and Gardens, in Killarney. For more details, please click Irish Examiner.
Photo Credit: Kerry Film/Muckross House


200 new jobs for Dublin
The Taoiseach and Tánaiste have made the announcement of the arrival of the online fashion store Zalando. Zalando is establishing a new tech centre and will be hiring in the area of research and development, big data analysis and engineering. Established in Germany in 2008, Zalando now has a presence in 15 European countries selling clothes and shoes to almost 15 million customers. To read this news item and many others, please click Breaking News Ireland.
Photo Credit & Related Story: Irish Times


Legal firm to double its Belfast workforce
The legal services firm Axiom UK is to double its Belfast workforce in a £9m investment. The 97 jobs will be created over the next five years. The new posts in Belfast will include a mix of lawyers, project managers and technologists. Kate Docherty of Axiom said the company had been "delighted by the success of our operation in Belfast and its contribution to our growth globally". The firm began operating in Northern Ireland in 2012 and now employs about 100 people. Axiom is based in the US and employs around 1,200 people. For more details, please click BBC.


Antiques Roadshow Detectives uncover NI man's Dunkirk exploits
A Co Down man has traced the remarkable story of his grandfather's World War Two exploits with the help of Antiques Roadshow experts. When Alan Cook brought his grandfather's bravery medal to the Antiques Roadshow last year at Hillsborough Castle, the war stories were the stuff of family legend but he had little idea of what he was like as a person. "We knew Alfred Cook was the captain of the Medway Queen at Dunkirk and that they'd saved 7,000 soldiers during the course of 10 days going back and forward," he said. For more details, please click BBC.


Entire estate of 46 houses sells for nearly €3 million
Over €25 million worth of property was sold today at the latest Allsop auction. The lots sold at the RDS included an entire 46-house development in Dingle, County Kerry, which went for €2.9 million. The homes, 22 three-bedroom and four-bedroom terraced homes, 14 three bedroom semi-detached homes and ten five bedroom homes, include holiday homes along the Wild Atlantic Way. Twenty-one of the houses are rented out to a holiday letting company and one is occupied by the caretaker, a further 10 are being privately rented. The rest are empty. For more details, please click Journal Ireland.


Cork man opens pub in shipping container
He serves pints in his London shipping container, where customers can exchange football stickers for pints. But for this enterprising Cork man, owning his own sports bar is a dream come true. Carrigaline native Sebastian O'Driscoll moved to London after graduating from college in 2008. Despite working for charities as a programme manager, he harboured other ambitions. "I always wanted to open a bar," he said, and the would-be publican spotted his opportunity in a novel community for start-up businesses. For more details, please click Irish Examiner.


Strong Irish team for ISAF Sailing World Cup
Irish sailors will be out in force at the ISAF Sailing World Cup Hyères in France this week in the revamped world-series, which welcomes the world's finest sailors to competition. This year's Providence Team Ireland comprises Irish Olympian Annalise Murphy in the Laser Radial, World Cup silver medallists and Olympians Ryan Seaton and Matt McGovern in the 49er class, Andrea Brewster and Saskia Tidey in the 49erFX class and three-man Paralympic Sonar sailing team John Twomey, Ian Costello and Austin O'Carroll. For more details, please click RTÉ.

April 21

Prince Charles and Camilla Parker Bowles to visit Sligo
Britain's Prince Charles is to visit Sligo in May, almost 20 years after the first trip to Ireland by the heir to the British throne. Prince Charles, who will be accompanied by his wife Camilla Parker Bowles, may visit Lissadell House and Drumcliffe Church, where the poet WB Yeats is buried. Prince Charles undertook the first official visit to the State by a member of the British royal family since independence when he travelled to Dublin on May 31st, 1995. Details are due to be announced later on Tuesday. For more details, please click Irish Times.
Photo Credit & Related Story: RTÉ


Birth of the cúl: how Ireland became hip in the 19th century
Being subjugated by the Vikings, the Normans and the English for the best part of 1,000 years was not good for the Irish soul. It was quite difficult to hang on to one's Irishness when foreign types were forcing you to speak their language, play their faintly ridiculous sports and become as much like them as possible. Throw in the fact that the English also made it illegal to "look or act in an Irish fashion" and it was a miracle the Irish had any culture left. However, in the second half of the 19th century, things began to change. For more datails, please click Irish Times.
Image Credit: Gerard Crowley


94% of Ireland's beaches pass EU water quality tests
Three quarters of beaches were rated as excellent, however, seven beaches failed the minimum standards. The Environmental Protection Agency measures the levels of microbiological contaminants that cause gastro-intestinal illnesses in the waters at 136 beaches and bathing areas around the country. This year the EU standards are twice as strict as before. Despite that only seven out of 136 bathing areas failed to meet the minimum standard and were classified as poor quality. For more details, please click RTÉ.


Irish child's doodle will appear on the Google homepage
This six year old child's drawing will be seen by millions of people this Friday as it appears on the Google homepage. Harry Kane, from St Gerard's School in Bray, is the winner of this year's Doodle 4 Google competition. He also takes home a €5,000 scholarship towards his future studies, and a €10,000 technology grant for his school. There was a record 5,085 entries to the competition this year, now in its seventh year. The winning entry beat 74 other finalists, all of which can be seen online. For more details, please click Journal Ireland.


Michael Flatley works sell for €120k
Michael Flatley stole the show at Morgan O'Driscoll's Irish and International art auction at the RDS in Dublin last evening. The Lord of the Dance metamorphosised into the Lord of the Salesroom when two of his paintings, The Power and Flight of the Quetzal, sold for €77,500 and €44,000 respectively; the highest value artworks sold at auction in Ireland this year. While Flatley, whose art is made by tap dancing on canvas, was hitting the heights, work by Louis le Brocquy, Dan O'Neill, Tony O'Malley, Camille Souter, William Crozier and Hughie O'Donoghue went unsold. For more details, please click Irish Examiner.
Photo Credit & Video Clip: Journal Ireland


Rank your favourite Fr Ted episodes, in honour of 20th anniversary
To celebrate, we want to find Ireland's favourite episode of the beloved show - a tough task, we know but we've included a clip from each of the 26 episodes (including the Christmas special) to help you decide. So watch each one, get nostalgic and cast your votes. You can upvote more than one but be ruthless. Is your absolute favourite the one with Dougal on the booby-rapped milk float? Or do you prefer the episodes with Father Furlong? What about Spider Baby? Or Mrs. Doyle turning the air blue with her swearing? For more details and video clips, place click Irish Examiner.
Photo Credit & 20 best clips: RTÉ



'I believe it now!' says Waterford man as he receives €350,000 Lotto cheque
A Co Waterford man collected a cheque for €350,000 at National Lottery offices in Dublin this afternoon. The lucky winner, who wishes to remain private, bought a €6 Quick Pick for the Lotto draws on Wednesday, April 8 in Carry Out, Tyrone Road, Lismore Park, Waterford. His six lucky numbers came up in the Lotto Plus 1 draw that evening to win the fantastic top prize of €350,000 - but he didn't find out his good news until he contacted the National Lottery last week. "I read out the numbers over the phone and when I was told I'd won €350,000 I couldn't believe it," he said. For more details, please click Breaking News Ireland.


How hit show Game of Thrones saved an Armagh farm
A farmer whose star animals have been seen by millions alongside the stars of Game of Thrones has revealed how Northern Ireland's burgeoning film industry is helping his farm survive and his rare breeds thrive. Kenny Gracey, from Tandragee, Co Armagh, has reared many of the pigs, sheep, chickens and horses seen on the HBO blockbuster filmed in Northern Ireland. It might be thousands of miles from the glitz of Hollywood and the red carpet of the Academy Awards, but the fields of Forthill Farm are churning out four-legged stars as fast as any LA casting agency. For more details & Pics please click Belfast Telegraph.


Shay Given thrilled with FA Cup final place
Birthday boy Shay Given hopes to consign his unhappy FA Cup memories to history next month, while the Aston Villa and Republic of Ireland goalkeeper remains hopeful that Jack Grealish will nail his colour's to the Ireland mast. Given, who plays second fiddle to Brad Guzan in the Premier League, has been an ever-present in Villa's FA Cup run this season and played an important role in the club's 2-1 semi-final victory over Liverpool at Wembley on Sunday. The Donegal netminder, who turned 39 on Monday, said "It's the best birthday present you could ask for." For more details, please click RTÉ.

April 20

Are the Irish different? Getting to the heart of the national psyche
Are the Irish Different?, a collection of essays by prominent academics and sociologists, edited by Tom Inglis, a professor at University College Dublin, suggests not that the Irish don't talk enough about their collective identity but that they are often found discussing the wrong subjects. Many of these essays cover familiar ground – nationalism, emigration, postcolonialism, Catholicism – but the majority assert that Ireland hasn't even begun to scratch the surface of the Irish condition. For more details, please click Irish Times.
Available on Amazon. Please click Irish


Six pastimes that Irish people excel at
It's been said before and it'll be said again, so at this point there's no point in denying it: some things are just quintessentially Irish. And so, it follows that there are little things and pastimes at which Irish people are uniquely gifted. They used to be known as the island of saints and scholars, whereas nowadays they are more internationally renowned for their hospitality. But that's all small fry when you compare it to the small but unique things. For the complete list with accompanying details and photos, please click Journal Ireland.


Father Ted is twenty years on
Jack yelled his first-ever 'Feck, arse, girls' on 21 April back in 1995. If you live and work in Ireland, you probably still quote the programme every couple of days. Maybe, not even consciously. (When's the last time you uttered a 'go on' – or told someone to be 'careful now'?). Father Ted is part of the fabric of Irish life. At this remove, it's almost difficult to recall how refreshing it was at the time. For more details and video clips,please click Journal Ireland.


Condé Nast Traveller ranks Ballyfin manor 'grandest Irish hotel'
The Midlands manor where Kanye West and Kim Kardashian famously honeymooned has been dubbed the grandest hotel in Ireland by the world's top travel bible. Ballyfin — which hosted Kimye on their Irish honeymoon last May — has been name-checked by the Condé Nast Traveller as the estate to "lord it up in style". The entire castle — which can be rented for a cool €25,000 a night— has been restored to its 18th century glory in recent years and was described as the "grandest house in Ireland" in its latest edition. For more details and pics, please click Irish Examiner.


Kayaker gets up close and personal with huge basking shark in Dingle
One man kayaking in Dingle recently had some unexpected company under the water - a basking shark. Noel O'Leary was taking advantage of the fine weather and kayaking near Dingle harbour yesterday evening when he noticed some movement in the water as a huge basking shark went past him. Noel says the shark "seemed curious with the kayaks" and it came within inches of him. The video footage he filmed is amazing. The camera goes under the water and is faced with the massive mouth of what Noel estimates was a 20ft long shark. To watch the video, please click Breaking News Ireland.


Co Antrim Prison becomes sanctuary for threatened bird
A sanctuary has been created for one of the world's most endangered birds within the confines of Maghaberry Prison in Co Antrim. Life sentence prisoners helped create the habitat for around 20 pairs of breeding lapwings. A combination of swampy short grass because of the clay ground left over from the prison's foundations and the lack of predators like foxes has created the ideal conditions for breeding chicks, retired prison guard and gardener Denis Smyth said. For more details, please click Breaking News Ireland.
Photo Credit, more pics and related story: Irish Examiner


Irish 'karate kid' stuns Britain's Got Talent judges
Tiny Armagh nine-year-old Jesse McParland shocked Britain's Got Talent judges and wowed the crowd with her performance on the show last night. The judges - Simon Cowell, Amanda Holden, Alesha Dixon and David Walliams - are immediately taken by little Jesse, but had no idea what she is about to pull out of the hat. Jesse, from Keady in Co Armagh, just happens to be a double world kickboxing world champion and her intense performance has to be seen to be believed. For more details and to watch the video, please click Breaking News Ireland.


World Superbikes: Jonathan Rea wins both races in Assen
Northern Ireland's Jonathan Rea claimed his second double victory of the season at Assen to move 50 points clear in the World Superbike Championship. Kawasaki's Rea, who has won six of this year's eight races, has 190 points for the season with Aprilia rider Leon Haslam his nearest rival on 140. In the first race Rea, 28, was a second clear of Welshman Chaz Davies with Dutch rider Michael van der Mark third. The second race had an identical 1-2-3 with Haslam fourth both times. For more details, please click BBC.


Bertram Allen third in World Cup jumping final
In his first ever World Cup final, Wexford's 19-year-old Bertram Allen was third overall in Las Vegas on Sunday in one of the tightest finishes ever seen in the competition, Allen losing out by just a point. Starting with one penalty point on his card this evening, Allen and the 11-year-old grey mare Molly Malone had a single fence down to complete the first round on five penalties, equal second with France's Penelope Leprevost and Vagabond de la Pomme. For more details, please click RTE.

April 17

Ireland is the most youthful country in Europe
That's according to new figures from Eurostat which reveal that Ireland has the largest proportion of children under the age of 15, at 22%. France is next on almost 19%, followed by the UK. Ruth Deasy of the EU office in Dublin, says the number of people in Ireland under the age of 30 is exceptional. "Ireland stands out in this study as the most youthful country in the EU, where four out of 10 Irish people are aged less than 30 and this is really quite exceptional," said Deasy. "We also have the largest proportion of under-16s in the EU and by quite a large margin. To read this news item and many others, please click Breaking News Ireland.
Photo Credit & Related Story: Irish Times


Ireland's southern cities bid for culture title
Four cities in the south of Ireland are vying for the title of European Capital of Culture, with three of them making a unique joint bid. The title, which Cork held in 2005, is coveted by cities all over Europe as it attracts thousands of extra visitors and boosts business. Limerick is to compete for the title for 2020, and the cities of Waterford, Kilkenny and Wexford will jointly bid, a first in the event's 30-year history. Under the banner Ireland South East 2020, Waterford City will be its capital and focal point. For more details, please click Irish Examiner.
Photo Credit: Backpacking Through Europe


A warrior for peace - Frank Sheehy-Skeffington
A hundred years ago next month, the pacifist, feminist, and all-round radical Frank Sheehy-Skeffington was arrested under the Defence of the Realm Act for making statements prejudicial to army recruitment. The trial should have been before a jury, but no Irish jury had previously upheld such a prosecution. So the authorities entrusted this one to a magistrate, who didn't disappoint. The man about to be convicted defended himself, with typical verve. He scored a hit with the gallery, if not the judge, when juxtaposing his treatment alongside that of Edward Carson, who had just been made attorney general for England and Wales. For more details, please click Irish Times.


Harry's Shack: There's something magic about being on the beach
The far-sighted Donegal businessman who has turned an anything-but-chic shack on Portstewart beach into what's been rated as Ireland's top restaurant, completed an even more difficult task in his last restructuring job in the wake of one of the world's greatest tragedies, 9/11 in New York. For ex-accountant Donal Doherty, whose Harry's Shack eatery at the entrance to the magnificent Portstewart Strand has become an overnight food sensation, had to help oversee the shedding of 13,000 jobs by British Airways after the Twin Towers terrorist attacks 14 years ago. For more details, please click Belfast Telegraph.
Photo Credit: Laura Hutton/Photocall Ireland


First independent outdoor market in 400 years gets going in Belfast
The first independent weekly outdoor market to be granted a licence in Belfast in 400 years has kicked off in style. As music played and the sun shone over the city centre yesterday, dulse, soda bread, chocolate and cheese were just some of the tasty treats on sale at the new Folktown Market in Bank Square. Surrounded by two of Belfast's oldest churches, Mourne Seafood Restaurant and traditional pubs, the square is steeped in character and heritage. Profits from the initiative will help fund regeneration of the area. For more details & pics, please click Belfast Telegraph.


Northern Ireland's Graeme McDowell shares s lead in South Carolina
McDowell, the 2010 US Open champion, had not shot better than 71 in 12 rounds but recorded six birdies, including one which followed a stunning iron shot to within three feet of the pin on the par-four 12th hole. "It was great to feel comfortable out there today, see my lines, hit my speeds and make a few putts," said McDowell, who has not won on the PGA Tour since taking this title in 2013. Meanwhile, Jordan Spieth struggled on his first outing since winning the Masters. For more details, please click BBC.
Photo Credit & Related Story: Sky Sports


Wexford's Bertram Allen leaps into World final lead
Young Irish rider Bertram Allen sped to victory in the first round of the show jumping Longines FEI World Cup Final when he and the grey mare Molly Malone defeated riders from 18 other nations in Las Vegas with an unbeatable time of 65.45 seconds. The one-round speed class saw the Wexford teenager drawn 32nd to jump of 41 of the world's best riders and horses, but he effortlessly shaved a second off the time of joint leaders Jur Vrieling from the Netherlands and France's Patrice Delaveau. For more details, please click RTÉ.


Martin Kaymer and Luke Donald added to strong Irish Open field
US Open champion Martin Kaymer and former world number one Luke Donald are the latest big names to confirm entries for next month's Irish Open. Kaymer and Donald will join a Royal County Down field which includes Rickie Fowler, Sergio Garcia, Ernie Els and world number one Rory McIlroy. McIlroy's charitable foundation is hosting the 28-31 May event and he has coaxed a host of top stars to compete, including Graeme McDowell, Darren Clarke and Padraig Harrington. For more details, please click BBC.
Photo Credit & More Pics: Zimbio


Northern Ireland's World Cup odyssey in Sweden recalled in new film
"In years to come, when we reflect with the judgement and enchantment that distance lends to these things, we may marvel at the almost impossible feats we achieved…" The words of Danny Blanchflower, Northern Ireland's football captain at the 1958 World Cup finals in Sweden, should resonate with Evan Marshall, the director of a new film documentary about the team. Despite no previous experience in the role, the bookseller has invested thousands of pounds and hours in ensuring the story of Peter Doherty's illustrious side hits the big screen. For more details, pics & video clips, please click BBC.

April 16

Introducing Ireland's Ancient East
Fáilte Ireland have released the promo video for their new venture, Ireland's Ancient East and it promises magic, myth and history for future visitors. The Ancient East initiative has been drawn after the success of the west coast's Wild Atlantic Way. It includes several counties along the eastern half of the country stretching from Newgrange and the Boyne Valley in the north east, through the midlands, to Kilkenny's Medieval Mile, Waterford's Viking Quarter and on to Cork. For more details and to watch the video, please click Breaking News Ireland.
Photo Credit/Gallery/Video: Irish Independent


Mayday festival to celebrate Burren's blooming landscape
While the Irish are proud of their Spring blooms, those in the Burren easily eclipse the rest. Naturally, they hold a festival to celebrate it. Burren in Bloom runs from 30th April to 18th May, with dawn choruses, wolf talks, grassland safaris and treks along Neolithic winterage paths organised by Burrenbeo, a charity working with farmers to keep the prehistoric agricultural landscape intact for the next generation. To read this news item and other stories, please click Irish Times.


Never been inside Newgrange? Here's your chance to take a peek
Never been inside the passage tomb at Newgrange or paid a visit to Skellig Michael? Well, now you can have a peek inside these heritage sites as 3D technology has produced highly detailed models, images and videos. The Minister for Arts, Heritage and the Gaeltacht, Heather Humphreys, today launched the Discovery Programme's new website which features 3D images and models of some of Ireland's most famous heritage sites and ancient monuments. For more details and video, please click Journal Ireland.


Irish language short film set for Cannes
A new Irish-language musical short film is set to represent Ireland at the prestigious Cannes Film Festival next month. The musical is called Bonsoir Luna and tells the story - told through songs in Irish - of Duke, a street artist, and Luna, a blind barista, who fall in love. The film was shot in Dublin and Trinity College student Michael David McKernan plays street artist Duke and Hilary Bowen Walsh, an up and coming theatre actress, plays Luna. Both are fluent in Irish. For more details, please click Irish Herald.


Why the bubbles in Guinness go down instead of up
Members of the Royal Society of Chemistry investigated pints of Guinness with the hope of understanding why bubbles in the stout go down instead of up. The London based research group used a camera which magnified the bubbles to 1000 percent their normal size in order to get a better look at the behaviour. They found that the bubbles rose rapidly at the center of the glass, pulling the surrounding liquid with them and setting up a circulating current, while the outlying bubbles moved downwards. For more details, pics and video, please click Irish Independent.


Edna O'Brien returns with 'greatest' novel
Acclaimed author Edna O'Brien (84) will release her first novel in 10 years next February. And it sounds like her latest work will be just as provocative and compulsive as her previous books. Titled The Little Red Chairs, the book will tell the story of a wanted war criminal who settles in a small Irish village. While ensconced there he meets heroine Fidelma McBride who falls under his spell. For more details, please click Belfast Telegraph.
Photo Credit: Guardian/Sophia Evans for the Observer


The pen proves mightier than the pencil
As one of the longest running and most well-known competitions in Ireland, the Texaco Children's Art Competition is always a huge draw. This year, out of the thousands who applied, the top prize went to 18-year-old Frances Treanor from Monaghan. Her prize-winning work, a self-portrait completed in black ballpoint pen, won the senior 16-18 age category of the contest. "When I was told I had won, I was so shocked. I never thought it would happen," said Frances. For more details, please click Irish Examiner.


Irish tech company announces 100 jobs
An Irish technology company that makes software and hardware to enable devices to have human level vision capabilities has announced 100 jobs in Dublin. Movidius' expansion comes after it raised $40m (€37.5m) in funding from a number of backers. The fundraising is said to be one of the largest venture capital investments ever in Ireland for a technology company. The company plans to hire the new staff over the next two to three years and in particular will be looking for software engineers to fill the roles. For more details & related audio & video, please click RTÉ.


Letter from Titanic owners to officer's family uncovered
It might be the ultimate in poor taste. The letter, dated May 7, 1912, was sent from White Star Lines to Christopher Moody, the brother of 24-year-old officer James Moody, who died after the Titanic hit an iceberg on its maiden voyage the previous month. The company asks for a £20 deposit — the equivalent of €2,900 today — to return his body to England and states that Mr Moody will also have to meet the remaining costs from there. For more details, please click Irish Examiner.

April 15

Conference on exorcisms takes place in Vatican
The Catholic Church's most isolated group of clerics is enjoying a resurgence this week as the Vatican welcomes a week-long conference on exorcism. No Irish Catholic priests are attending and, according to one local expert in the field, it is a healing ministry that is still being neglected by the hierarchy in Ireland. The conference — at the Pontifical University of Regina Apostolorum in Rome — is being attended by around 160 Catholic priests from around the world. For more details, please click Irish Examiner.
Photo Credit & Related Story: Huffington Post


Rebel on roller-skates:Joseph Mary Plunkett
Irish Times contributor Frank McNally writes that the most astoundingly interesting piece of trivia he's heard so far in this decade of centenaries concerns the 1916 leader Joseph Mary Plunkett, and the possibility that, only a few years before his part in the Rising, he had been a roller-skating champion in Algeria. Plunkett was certainly an enthusiastic roller-skater, as were many Dubliners of his era. Also, he did spend time in Algiers – the latter months of 1911 – seeking warm-weather respite from his tuberculosis. For more details, please click Irish Times.


Dublin: Jackie Kennedy's silk maternity dress up for auction
A cream silk maternity dress worn by former US first lady Jacqueline Kennedy in 1960 is to be auctioned in the Republic of Ireland in May. "The dress is empire line, sleeveless and has an oriental pattern in silk," said Stuart Purcell, head of collectables at Whyte's auction house in Dublin. The dress was worn when Jackie was expecting her son, John Kennedy Jr. For more details and photos,, please click BBC.


Cork couples celebrate 55 years of wedded bliss
To celebrate their emerald wedding anniversaries, the 22couples gathered in Frankfield Golf Club. Far from being jaded by such a long time together, each and every one of the couples appeared to be as giddy with excitement at the celebration as they were on the day they first tied the knot in 1960. The brainchild of Douglas Young at Heart senior citizens group, organiser Phil Goodman said the idea was to celebrate an anniversary that was not so commonly marked. For more details, please click Irish Examiner.
Photo Credit & Related Story: Irish Herald


Dublin student meets total stranger who looks like her identical twin
Dubliner Niamh Geaney and her two friends, Terence Manzanga and Harry English are halfway through a fascinating social experiment called Twin Stranger. The three Dublin City University students made a bet to see who could find their closest doppelganger in just 28 days. Back in March, they put out a call for people to submit photos of anyone who looked like them. But, after just two weeks, we think Niamh might have won. For more details, photos and video clip, please click Breaking News Ireland.


Queen's newspaper The Gown celebrates 60 years
Past and present staff of The Gown are gathering today to celebrate the 60th anniversary of the independent student newspaper. It was set up in 1955 by medical student Richard Herman and has been covering events around Queen's ever since. The newspaper is renowned for boosting the profiles of numerous students who went on to high-profile and successful careers in journalism. Among Gown alumni is Ireland correspondent for the Guardian and Observer Henry McDonald and BBC Northern Ireland journalists Maggie Taggart and Mark Carruthers. For more details, please click Belfast Telegraph.


Was he as good as George Best?
Some say that Belfast's Jimmy Hasty was - never mind that he had just one arm! The Dundalk FC centre forward's left arm was amputated following a work accident as a teenager. But he was determined this would not be an obstacle and went on to become one of the most celebrated players in the League of Ireland in the 1960s. In six seasons with Dundalk from 1960, Hasty scored more than 100 goals, becoming only the fourth player in the club's history to achieve the feat. For more details and photos, please click BBC.


Meet the Leitrim man who may be about to win the World Cycle Race
Breifne Earley is the only participant left in the gruelling World Cycle Race which comprises of an 11,184 mile ride through 25 countries. He didn't set out to win it but he may be on the verge of an historic achievement due to his persistence. In March last year he began the World Cycle Race to raise funds for charity. An early leader who raced ahead of the chasing pack meant a swathe of other participants called it quits. The leader was then disqualified leaving Breifne as the last man on two wheels and on the brink of history 11 months on. For more details, please click Breaking News Ireland.


Cricket: John Mooney to captain Ireland A side
John Mooney will captain an Ireland A side against the MCC at Lord's next week, with five of Ireland's World Cup squad named in the panel for the game. North West captain Andy McBrine, his Warriors team-mate Stuart Thompson and pace bowlers, Craig Young and Peter Chase, are also included for the match. Graeme McCarter is also named, along with CIYMS opener Chris Dougherty, Stuart Poynter and Eddie Richardson. For more details, please click BBC.
Photo Credit: Getty Images

April 14

Belfast singer Ronnie Carroll, RIP
Tributes are being paid to the Belfast singer who found fame in the 1960s in the Eurovision Song Contest. Ronnie Carroll represented the UK as a Eurovision contestant in 1962 with Ring-A-Ding Girl and again in 1963 with Say Wonderful Things - coming fourth both times. It was the only time the same singer represented the UK in two consecutive years. Carroll - whose biggest hit was Roses are Red - scored two Top 10 hits in those same two years. Mr Carroll passed away at a Marie Curie facility yesterday surrounded by family and friends. For more details, please click Belfast Telegraph.
Photo Credit & Related Story: BBC


Tourists find value for money in Ireland
According to the latest Fáilte Ireland Visitor Attitudes Survey, Ireland's satisfaction levels among visitors continues to improve with 54% of tourists saying they found good or very good value for money here — up from 51% in 2014. This is a huge improvement on the Celtic Tiger years. For example, while last year only 6% of visitors found value for money to be poor or very poor, in 2007 this figure was 41%. The Fáilte Ireland research comes as the tourism industry prepares for Ireland's largest travel trade workshop — Meitheal — in the RDS in Dublin today. For more details, please click Irish Examiner.


'Ancient East' trail aims to boost tourism
Following the success of the Wild Atlantic Way, Fáilte Ireland wanted to create a similarly enticing tourism proposition for the south and east. Ireland's Ancient East is focused on heritage and history themed along four pillars - ancient Ireland, early Christian Ireland, medieval Ireland and Anglo Ireland The route starts at Newgrange and the Boyne Valley, zig-zags through Clonmacnoise, Glendalough and the Rock of Cashel among others, before finishing in Cork. For more details, photos and video clip, please click RTÉ.


Ashford Castle: from receivership to luxury restoration
Ashford Castle will employ up to 300 people when it opens this week, following a major refurbishment under the UK-based Red Carnation Hotel Group. The former summer residence of the Guinness family sold for €20m in 2013, and it is estimated that the cost of the renovation work has been more than double the purchase price. A 32-seat cinema is perhaps the most modern addition to the property while a traditional billiard room and cigar terrace have been installed.For more details, and photos, please click Irish Independent.


VIDEO: Game of Thrones' most famous lines as Gaeilge
With Game of Thrones returning to our screens tonight for its fifth season, excitement has been building online all weekend. Irish YouTuber Clare Cullen/Clisare has posted this video which should be of interest to Irish fans of the hit fantasy show. In it, she translates some of the show's more well-known lines ('You know nothing, Jon Snuuuhhhh!') into Irish as well as offering some helpful phrases to use while watching, including the most important one - "That didn't happen in the books". To watch the video, please click Breaking News Ireland.


Trinity Week kicks off with celebrations
The annual event is a "long-established celebration of college life" and the age-old tradition continued yesterday as new fellows and scholars celebrated in front of the historic college with Provost Dr Patrick Prendergast and members of the board. Some 11 new fellowships have also been awarded along with two honorary fellowships. Dr Prendergast said that this year, for the first in the college's history, the number of female fellows elected exceeded the number of men. For more details, please click Irish Independent.


Four degrees, five decades and daily dips at the Forty Foot
The Forty Foot and its neighbour, Sandycove beach in south Co Dublin, have been hugely popular with local swimmers for more than 200 years. On a cold, sunny March morning The Irish Times speaks to some of the more senior stalwarts, many of whom have been swimming in the area for more than 20 years. Ranging in age from 73 to 83, these swimmers are proof that swimming can help keep you young in body as well as mind. For more details, please click Irish Times.
Photo Credit: Cyril Byrne


Why settle for just a house when you could buy a village?
An entire village restored by aviation entrepreneur Tony Ryan is back on the market just under a year after his heirs first flagged a sale. The Village at Lyons, a popular wedding venue that neighbours the Ryan family's 600-acre Lyons Demesne Estate in Co Kildare, has been put on sale with an asking price of over €6 million. That represents only a fraction of the amount the Ryanair founder spent developing the complex of cut-stone buildings, some dating back to the 18th century. For more details, please click Journal Ireland.


West Cork's Whiddy Island to feature in TV series
Whiddy, one of West Cork's seven islands, is the first offshore community to feature in a new television documentary series starting this week. The emotional series follows the lives of native islanders across an entire year. Filmed in 2014, the observational documentary is the biggest in-house production undertaken by 3Studios. From Arranmore in Donegal to Inishturk in Mayo and Whiddy, the four-part series captures a way of life that is rapidly disappearing. For more details and video clip, please click Irish Exminer.

April 13

Very strong economic growth predicted for this year
That's according to Business and employers group Ibec which has forecasted very strong economic growth this year with more than half of member firms surveyed saying they expect to award pay increases. Ibec said economic growth this year will be even stronger than 2014, and has revised up its forecast to almost 5.5%. By contrast the latest Central Bank forecast is for growth of 3.8%. While all forecasters expect unemployment to drop below 10% this year, Ibec thinks it will go below 9%. For more details, please click RTÉ.


Do you know more than an Irish primary school student?
The questions aren't as parochial as one might expect. For example, what was Henry VIIIth's last name? Or how about this one: Which artist had a famous blue period between 1901 and 1904? The first question did have us ready to call foul seeing that it was about potatoes - however, after looking up the term, it turns out to be global. So, if you're a gardener or farmer, you might get it. Anyway, good luck! To take the quiz, please click Irish Times.
Photo Credit and, in our humble opinion, a better quiz: The Journal/Shutterstock
ED. NOTE: In the Irish Times, The answers come up with the questions, so be prepared to hide them!


To thee I do wed: A century of marriage in Ireland
Figures released by the CSO recently revealed the state of marriage in today's Ireland. But how has the institution changed in the last century? TheJournal has delved into the archives, crunched 100 years worth of numbers, and come up with everything you could possibly want to know about the evolution of matrimony since 1915. For example, the practice of recording the age of newlyweds only began in 1957. Up until then, it was only legally required to state whether a man or woman was a minor, that is, under the age of 21. For more details, please click Journal Ireland.
Photo Credit: Irish Culture & Customs/The Marrying Season


Forget Game of Thrones: Real castle on offer
The latest Allsop Space auction features a 1,551 sq. m stone residence complete with enough rooftop lookout space to spot any foreign invaders. Ardfry House is built on a small inlet looking out out at Galway Bay just outside the town of Oranmore. The house looks like it's been through some tough battles itself though. It's in need of extensive restoration work and planning permission would be required, although a catalogue accompanying the sale says it has previously been granted. For more details & photos, please click Journal Ireland.


Belfast teen wins culinary gold in Dublin
Belfast teen Ryan Moore from the Antrim Road area of north Belfast is celebrating after being announced overall winner and winning gold in the Culinary Ability Awards at the CATEX catering competition in Dublin. Ryan won for his oriental duck breast served with Asian-style noodles and cardamom and orange duck bonbons set on a sweet chilli glaze. The talented teenager is a trainee with Barnardo's Dr B's Kitchen in Belfast city centre. For more details, please click Belfast Telegraph.


Poetry students to represent Ireland in the US this summer
Galway poet Stephen Murray travels to secondary schools giving writing workshops. From a competition attracting more than 5,000 entries, Stephen put together a team of four young poets who will travel to the US this summer to compete in the HBO-televised slam poetry competition Brave New Voices. It will be the first time Ireland has been represented. Ryan Mangan from Galway, Neasa McCormack from Clare, Melissa Kavanagh from Dublin and Iobhar Stokes from Limerick, were selected for the event, being held in Atlanta, Georgia this July. For more details, please click Irish Examiner.


Historic balcony may be allowed collapse into sea
A landmark viewing stand overlooking the Blackwater River in Youghal is likely to collapse into the sea after Cork County Council reportedly decided it was too expensive to restore. The balcony has existed since time immemorial and local folklore suggests, in past centuries, wives and sweethearts gathered there to wave goodbye or to greet sailors coming and going from Youghal. Legend has it that Moll Goggin herself once waited forlornly for a love who never returned. For more details, please click Irish Examiner.
Photo Credit: Footsteps


What Europe's coins looked like before the Euro
Alessandro Novelli has directed and designed this lovely animated tribute to the coins that were phased out when much o Europe adopted the Euro. From the Spanish peseta to the Dutch Guilder - and not forgetting Ireland's good old Punt - it's a fascinating look at the variety of the currencies across Europe before the introduction of the Euro zone. To watch the video, please click Breaking News Ireland.
Photo Credit & Related Details: Irish Coinage


Masters champion Jordan Spieth "relishing future rivalry with Rory McIlroy"
Spieth, 21, broke several scoring records in his four-stroke victory over Justin Rose and Phil Mickelson to claim the only major McIlroy is yet to win. "He's got four majors, something I can only dream about," said Spieth, who finished six shots clear of McIlroy. "I look forward to getting in the heat of the moment with him a few more times in the near future." Fourth-placed McIlroy said "I didn't quite have enough and it doesn't look like anyone could have kept up with Jordan this week." For more details, please click BBC.
Photo Credit & Related Story: RTÉ

April 12

Titanic priest Father Thomas Byles 'should be sainted'
A campaign is under way to have the Catholic priest who stayed on RMS Titanic instead of fleeing on a lifeboat made a saint. Father Thomas Byles, of St Helen's Church, Chipping Ongar, Essex, boarded the ship at Southampton to attend his younger brother's funeral in New York. But when it sank in 1912 he twice refused to join a lifeboat and instead remained with passengers to pray. The current priest at St Helen's Church said Father Byles should be canonised. For more details, please click BBC.


Famous sons pay tribute to their amazing dads
Bono, Cillian Murphy, Bill Clinton and Colin Farrell are among the men who have all contributed a photo of themselves with their dads, and a piece of writing about their relationship, for the Irish Hospice Foundation book, Sons and Fathers. They join Gabriel Byrne, Neil Jordan, Paul McCartney, Robert Fisk and a host of other men. Bono had wanted his drawing to raise money for the foundation, but a book was decided on, and more famous names were drafted in. For more details, please click Journal Ireland.


The End of Austerity: Ireland's boom towns
Irish towns like Clifden, Tralee, Carlingford, and Kilkenny city, are thriving. CEO of Kilkenny Chamber of Commerce, is cautiously optimistic. "There's general positivity, definitely more money going around, but there are a number of businesses, particularly in retail, that have not seen a significant upturn yet. But the confidence is coming." Kathleen Moran, director of Kilkenny Design Centre, which has been in business for over 25 years and employs 40 people, says innovation has been the key to their survival. For more details, please click Irish Independent.
Photo Credit: Tony Gavin


Rock star Sting makes emotional visit to Co Monaghan
As part of his recent visit to Ireland, he wanted to see the old workhouse where his maternal ancestor died a widowed pauper and is buried in an unmarked grave. The popular musician made the private visit following his participation last year in the American-produced Finding Your Roots programme, which aired late last year in the US. Programme researchers traced Sting's maternal origins to Inniskeen - also the birthplace of poet Patrick Kavanagh. For more details, please click Irish Independent.
Photo Credit: © Brian T McElherron


Hozier the toast of celeb-packed Colorado music festival
Music journalists are always clambering to find the next big things at major festivals like Coachella – which takes place in the Colorado Desert – and this year Ireland'sown Hozier was the name on everyone's lips. He had already appeared on the cover of Billboard's Coachella special, and his appearances at the festival yesterday got numerous media mentions in the LA Times, Hollywood Reporter and Entertainment Weekly who recommended going to see Hozier, saying "he sounds good from everywhere". For more details, please click Journal Ireland.


War reporter seeks to solve mystery of Irish father
Like many children born during "the enormous upheaval of war", as she put it herself, former BBC chief news correspondent Kate Adie was the by-product of a love affair, which led to her birth mother, Babe Dunnett, being forced to give her up for adoption. While Ms Adie ultimately developed a loving relationship with her birth mother, who died last year aged 94, what became of her father, a Waterford man named John Kelly, remains a mystery. For more details, please click Irish Examiner.


VIDEO: Irish kids try to sing the American national anthem
Let's be honest. A certain amount of mumbling goes on at matches around Ireland every time the national anthem is rolled out. So asking Irish kids to discuss and sing America's Star Spangled Banner may have been doomed to failure from the outset. Nonetheless, the brave kids at YouthTuber do their best. All had heard of the anthem, but many struggled to call it by its rightful name, with suggestions ranging from Riverdance and Bar Stangled Spammer to simply the American National Anthem. To watch the video, please click Breaking News Ireland.


On meeting the King of Kilkerrin Castle
Driving through Labasheeda in Co Clare, writer Mae Leonard thought that she could continue along the coast road and ignored the right turn-off for Killimer. A couple of miles later, she found herself confronted by the Shannon, with no way across or around it. To get directions, she knocked on the door of a nearby cottage. The man who answered told her that she was at Battery Point, Kilkerrin – a dead end – and he pointed her back to the main road. She turned away to leave when he surprised her by asking, "Would you like to see my castle?" For more details, please click Irish Times.


World's largest aircraft stops off at Shannon Airport
The world's largest aircraft is at Shannon Airport today. The Antonov 225 landed in the early hours of this morning for a 20-hour rest stop. The An-225 Mriya measures 84 meters (over 275 feet) in length, 18.1m (59 ft, 5 inches) in height, with a wingspan of 88.4m (290ft). Shannon is the only airport in Ireland with a runway large enough to cater for what is being described as "a beast of a plane". Operations manager Niall Moloney said that they expect many visitors today to have a look at the jet. For more details and video clip, please click Breaking News Ireland.

April 11

Ireland celebrates its newest citizens
The Army band of the Second Brigade struck up an interesting medley. The James Bond theme song Live and Let Die was followed by Seán South from Garryowen. Both songs allude to death, but, luckily, no one seemed overly bothered by this as they prepared to start their new lives. Aodhán Ó Ríordáin, Minister of State for New Communities, Culture and Equality, was MC at the event. "It is truly amazing that this tiny island, at the edge of western Europe, facing into the Atlantic Ocean, which is home to us all, has as its citizens people who have come to live with us from every country on this planet." he said. For more details, please click Irish Times.
Photo Credit: Dave Meehan


First ever Famine commemoration to be held in Northern Ireland
The Irish arts minister has confirmed that the 2015 famine commemoration will take place on Saturday 26 September in Newry, Co Down. Irish minister Heather Humphreys said the famine affected all of the island of Ireland. As a result, the commemoration rotates between its four provinces. The first commemoration took place in Dublin in 2008 - in total, there have been eight commemorations - and this year, it falls to Ulster. For more details, please click BBC.
Photo Credit: Getty Images


Families share €10.6m Lotto jackpot
Two lucky families have collected their shared €10.6m jackpot from Easter Saturday's Lotto draw. It's understood the family members from Co Meath combined forces to purchase a four Quick Pick ticket which proved to contain the lucky numbers. One of the winners said they'd only bought the ticket because they had been reminded by a family member to do so earlier in the day. "I might never have bought the ticket if it wasn't for that," they said. "We'll help out our family, pay off our mortgages, get a new car or two, but most of all, we intend to enjoy it," one of the winners told Lotto officials. For more details, please click Irish Examiner.


Gothic curios and astonishing views: The wonders of Tollymore forest
Sir John Hunt, the leader of the team that conquered Mount Everest in 1953, once led an expedition in Tollymore forest in Co Down. Before his quest really got under way, the intrepid explorer slipped, and both of his feet plunged into the freezing waters of the Shimna river. He duly postponed his journey upriver. This episode is not mentioned in any biography; Mal Rogers happens to know about it because Sir John came to change his socks in Mal's house. For more details, please click Irish Times.
Photo Credit: Robert Mayne/Thinkstock


Watch! Cillian Murphy in Aloft trailer
Ahead of its screening at this month's Tribeca Film Festival in New York, a new trailer for the Jennifer Connelly and Cillian Murphy-starring Aloft has been released. Written and directed by Claudia Llosa, Aloft tells the story of Nana Kunning (Connelly), an artist and healer, and Ivan (Murphy), the son she abandoned two decades previously. Aloft, which also stars Mélanie Laurent and Oona Chaplin, has also screened at the Sundance and Berlin film festivals. To watch the trailer and read other entertainment stories, please click RTÉ.


Miracle Irish family who have undergone seven kidney transplants
An Irish family who have undergone seven kidney transplants since 1984 are nothing short of a miracle according to a top transplant surgeon. Throughout the past two decades members of the Murphy Family have been the recipients of seven kidneys due to a rare hereditary disorder MPGN (Membranoproliferative glomerulonephritis). Transplant surgeon David Hickey said: "They have played the World Cup and won." For more details, please click Irish Independent.


People leave the strangest things at Dublin Airport
The list of the most common items left in Dublin Airport's lost & found doesn't throw up many surprises. For the most part it's backpacks, iPads, umbrellas, and so on. However, a number of unusual objects have been left in the airport's halls in recent years – including, according to a spokesperson "An urn containing ashes, a headstone, a 42 inch TV, a satellite dish, large paintings and a toilet and cistern which was left on the departures road." For more details, please click Journal Ireland.
Photo Credit: Ilan Kelman/For illustration purposes only


Deluxe Belfast supercar DeLorean is now a work of art
A full-scale replica of the eye-catching Back to the Future star - made from dozens of aluminium plates printed with photos of the car taken from every angle - is to be unveiled in a unique art project in the city in June. And just as production workers at the former Dunmurry plant used to autograph parts of the original sports cars before assembly, 150 past employees of tycoon John DeLorean will gather to add their own unique messages to the photographic aluminium plates that will form the sculpture. For more details, please click Belfast Telegraph.


Grand National: Bookies face £50m hit as bets flood in for AP McCoy
It's being billed as a race like no other. With the soon-to-be 20-time champion jockey AP McCoy announcing his retirement in February and saying he would quit on the spot if he won, interest in today's 4.15 at Aintree has reached untold levels. Bookmakers are predicting a starting price of around 4-1, something not seen since the heyday of Red Rum 40 years ago. Felim Mac An Iomaire, of Paddy Power bookmakers, said "There is nothing like the Grand National. It's the biggest day of the year for us, nothing trumps it. For more details, please click Belfast Telegraph.
Photo Credit & Picture Gallery: The Mirror

April 10

Skerries makes the top 10 list of beautiful European 'cities'
You wouldn't think that a seaside ttown in north Dublin would be listed among some of the most beautiful cities in Europe - But it is. An article on the Eating Europe Tours web site lists Vienna, Budapest, Barcelona and Amsterdam in the top ten with Skerries also making the cut - albeit with author Auburn Scallon conceding it's a village - a village that boasts some of north Dublin's finest beaches as well as a string of popular restaurants and bars For more details, please click Irish Herald.
Photo Credit, Mre Pics & Related Story: Journal Ireland/Informatique


Annie Russell: A trailblazing Irish astronomer
April 14th marks the anniversary of the birth of this inspiring Irish woman. Her story is one of talent, opportunity and a perseverance that saw her become an international expert on the science of the sun. Yet she left Cambridge without a degree, worked at the lowest rank in the Royal Greenwich Observatory, had to resign after only four years when she married, and saw most of her work published under her husband's name. Yet today, there's a crater on the moon named after her. For more details, please click Irish Times.


Irish novelist Kathleen McMahon set for new book
Irish novelist Kathleen McMahon will publish her new work, The Long Hot Summer, this May, the second book in a two-book deal worth €684,000. McMahon, a former RTÉ journalist, published her debut novel, This Is How It Ends, in 2012 and it spent five weeks at the number one in Irish book charts and was translated into 22 languages. As the story begins in this second book, the much-respected MacEntee clan have put their stamp on Irish society with their bold, fearless and individualistic ways. For more details, please click RTÉ.


All aboard for a quirky jaunt on an Irish bus
Wth all the talk these days of rationalising and cutting back the State-subsidised service, Áine Ryan's memory of a bizarre jaunt through the wild west roads of Mayo and Galway in the late 1990s has been reinvoked. But Áine is not only chortling to herself as she relates this colourful yarn. The service that Bus Éireann's tapestry of rural routes provides has always been much more than an economic contract to keep remote communities connected to their urban outposts. For more details, please click Irish Times.
Photo Credit: RTÉ


Van Morrison to mark 70th birthday with Dublin show
Van the Man will celebrate his 70th birthday in style with an all-seated performance at Dublin's Arena. The legendary singer will treat audiences to a catalogue of his greatest hits - including songs from his ablums Astral Weeks, Moondance and It's Too Late To Stop Now. The Belfast star is performing a series of concerts as part of his birthday celebrations all around the island of Ireland. For more details, please click Irish Herald.


Facebook drive behind huge wave of applications to Irish navy
A life on the ocean wave seems a popular choice for the younger generation, especially considering that 1,225 people applied for 80 recruit places. The Defence Forces press office confirmed the considerable interest which had been expressed in the positions in the three weeks up to the closing date for applications on March 27. Sources within the naval service said they were delighted with the response and believe it may have been down to a Facebook campaign which also featured a video highlighting the activities of the seaborne force, which alone had 2,315 hits. For more details, please click Irish Examiner.


Live like a king in Meath
Viscount Netterville, who lived at nearby Dowth Hall, left 60 acres for the building of an alms house for widows and orphans in 1877, to a design by architect George Coppinger Ashlin. The Netterville Institution, as it is described on the early OS maps, still stands and is known today as Netterville Manor - a classic example of Victorian Gothic architecture. Today, the manor is the headquarters of the poet John Boyle O'Reilly Society of Ireland which spent about a decade restoring every last inch of the five-acre estate, which includes the manor house, the chapel, and the 12th century Dowth Castle. For more details and photos, please click Irish Independent.


Raising a few glasses to Belfast's lost brewery
Glasses will be raised in McEnaney's Pub on Belfast's Glen Road next Friday (today) when former employees of Bass Ireland hold a reunion in a hostelry that is a stone's throw away from the site occupied by the company and its Ulster Brewery until 2008. "More than 100 of ex-workers and friends will be gathering for this nostalgic occasion," explains former executive Peter Rush. "What started out with a handful of us getting together for a drink and a bit of a catch-up has really taken off." For more details, please click Belfast Telegraph.


Grand National 2015: AP McCoy wins Aintree Hurdle
AP McCoy rode his first winner of his final Grand National meeting aboard Jezki (3-1), following a dramatic final flight in the Doom Bar Aintree Hurdle. Three horses were in contention coming to the last, where Ruby Walsh suffered a heavy fall on Arctic Fire. That stopped the momentum of 2012 Champion Hurdle winner Rock on Ruby and allowed McCoy, who is retiring this month, to win by 13 lengths. For more details & Video Clip, please click BBC.
Photo Credit & Related Story: Daily Mail

April 9

Irish people born before 1985 glad they grew up in more innocent times
That's according to a new survey which reveals that the technological developments of the past decade do not appeal to them, with 72pc saying the biggest difference between the two eras is the joy of playing most of the day in the fresh air as opposed to the hours spent on devices inside the house. Cycling or walking to school, rather than being chauffeured everywhere, were seen as the second biggest difference between the Eighties and now. For more details, please click Irish Herald.
Photo Credit: Travelogue/Children in Ennis walking to school


1840 time capsule discovered at city centre park in Derry
The capsule was discovered in the foundations of a building in Brooke Park as part of a planned excavation. The site was originally home to a boys orphanage which was demolished in 1986. The lead cylinder has yet to be opened but it is thought to contain coins and papers from the time. Colin Kennedy, the parks development manager with Derry City and Strabane District Council, said they were very excited by the discovery. For more details, please click BBC.


Exclusive Game Of Thrones sneak preview
It's one of the biggest stars of the blockbuster HBO epic Game Of Thrones - the stunning scenery of Northern Ireland. While scenes have been shot in Iceland and Croatia - and new for Season Five, Spain - the 'motherlode' is quite definitely Northern Ireland, said location manager Robbie Boake. An Armagh castle doubled as the King's Landing brothel, while Attical near Kilkeel portrayed Vaes Dothrak and Shane's Castle is home to the bridge where Brienne of Tarth clashed with Jaimie Lannister. For more details & video clip, please click Belfast Telegraph.
Photo Credit& Related Pics: The Globe & Mail


Titanic Belfast takes over SS Nomadic operations
The vessel is the last remaining White Star ship and the biggest artefact with links to the ill-fated liner. The ship was brought back to Belfast in 2006 and has been restored by the Nomadic Charitable Trust, which is now transferring it to Titanic Belfast. It was originally built to ferry first and second-class passengers to the Titanic from Cherbourg in France, a port too small for what was at that time the largest ship in the world. For more details, please click BBC.


Quirky country house and trainspotter's dream on offer
The former Saintfield Railway Station has been lovingly transformed into the perfect family home and is now on the market for £750,000. Spread over three buildings, the house has its own platform, waiting area and signal room - and even its own subway to take you to the other side of the tracks. The station, part of the old Belfast and County Down Railway, was originally constructed in 1856 and operated for almost 100 years before closing its doors in 1950. For more details and video clip, please click Belfast Telegraph.


NI actors nominated for BAFTA TV Awards
Antrim-born actor James Nesbitt has been nominated in the Leading Actor category in the upcoming BAFTA Awards for his performance in the BBC One series The Missing. He faces competition from Benedict Cumberbatch (Sherlock), Tony Jones (Marvellous) and Jason Watkins (The Lost Honour of Christopher Jefferies). Meanwhile, Belfast actor Stephen Rea has been nominated for a supporting actor award for the BBC show The Honourable Woman, alongside Adeel Akhtar (Utopia), James Norton (Happy Valley) and Ken Stott (The Missing). For more trails, please click RTÉ.


David Bowie writing a musical with Irish playwright Enda Walsh
It's emerged the legendary David Bowie is teaming up with Irish playwright Enda Walsh to write a musical. Titled Lazarus, the production is based on the 1976 film The Man Who Fell To Earth. Fans will be very excited to hear that Bowie is writing brand new songs for the show, as well as re-arranging old favourites. Like the film, the play will centre on Thomas Newton, an alien who explores life on earth – a character that was famously played by Bowie in the film. For more details, please click Journal Ireland.
Photo Credit & Related Story: Broadway


Young Irish golfer portrays Rory McIlroy in new ad
Six year old John Holland from Galway looks set to steal the limelight from Rory McIlroy after portraying him in an ad which will be watched by millions during this week's Masters. John landed a role in a new Nike advertisement in which he plays a younger version of Holywood's world No 1 John's incredible swing will be broadcast across international channels throughout the tournament in Augusta this week and the video has already been viewed over 1.5m times on Youtube. For more details and video clip, please click Irish Independent.


One Direction's Niall Horan links up with Rory McIlroy ahead of Masters
He's used to performing in front of scores of screaming fans but One Direction's Niall Horan admitted he was feeling nervous as he caddied for golf's Number One Rory McIlroy. The pop sensation landed the job as part of the annual Par 3 event, staged the day before the US Masters gets under way. The pop star certainly looked the part as he lugged McIlroy's clubs around the nine-hole course, dressed in all white overalls with the Augusta National logo. For more details and video clips, please click Belfast Telegraph.
Related Video Clip & Live Master's Coverage: RTÉ

April 8

Ireland warms to a hint of summer
After a doleful winter, Ireland has suddenly sprung into summer sunshine and the good news is that there is more warm and bright weather to come. In scenes reminiscent of last summer's record-breaker, barbecues were exhumed from garages, the nation's beaches were crowded, city parks hosted sun worshippers, and ice-cream vendors did a roaring trade as people took to the great outdoors for a few glorious days of sun. For more details & pics, please click Irish Examiner.


Great 18th-century Irish art and crafts that took the boat
There was extensive and sophisticated patronage of the arts in Ireland in the 1700s, but much of the work emigrated. A new show at the Art Institute of Chicago celebrates the Irish as artists, collectors and patrons. Most of the 300-plus exhibits now belong to American collections, both public and private. Some of them left Ireland in the early part of the last century; others departed in recent decades. A portion of Irreland's history went with each of them. For more details, please click Irish Times.
Photo Credit & Related Details: Art Institute of Chicago


Irish Gallipoli exhibition opens
What would you have done if all your friends signed up for a war? That's a question posed by a new exhibition that focuses on four Irish men who fought for the British at Gallipoli in Turkey during the First World War. One hundred and twenty thousand men were involved - Australians, New Zealanders and British soldiers, including many from Ireland. The Irish experience at Gallipoli is now being commemorated in a two-year long exhibition called Recovered Voices at the National Museum in Collins Barracks in Dublin. For more details, please click BBC.
Video Clip: BBC


Irish troops return home from Golan Heights
One hundred Irish troops deployed as part of a UN peacekeeping force in the Golan Heights have returned home. They were met at the gate by the Defence Forces Chief of Staff Lieutenant General Conor O'Boyle and Monsignor Eoin Thynne, the Defence Forces Head Chaplain, while a crowd of family and friends waited in the arrivals hall of Terminal One to greet them. The troops were members of the 46th Infantry Group, which was deployed to the Golan Heights last September, as part of the United Nations Disengagement Observer Force (UNDOF) mission. For more details & video clip, please click RTÉ.
Photo Credit & Video Clip: Irish Independent


Lodges put a spring in their step for parade
Junior Orangemen and women seized the opportunity to bask in the warm spring sun as they rested at the field during yesterday's Belfast Junior Country Orange Lodge parade in Ballyclare. The junior parade - which kicked off at 12.30pm - is one of the first events in the annual Orange parading calendar. The longstanding holiday procession has been held on an annual basis since 1919. Senior officers and juniors representing three Belfast Districts, and a number of other lodges from across Northern Ireland, took part in the colourful parade. For more details, please click Belfast Telegraph.


Cork man wins €350k Lotto top prize with family birthdays
A Cork man took home the Lotto Plus 1 top prize of €350,000 this Easter weekend – thanks to his family's birthdays. The winner - who wishes to remain anonymous - bought his ticket in Centra on Pearse Street, Kinsale, on Saturday last - choosing his numbers based around the birthdates of his family. "I used my family's birthdays to pick the lucky numbers and now those dates are more special than ever," he said after collecting his winnings at the lottery office. For more on this news item, please click Breaking News Ireland.
Photo Credit: Irish Lottery


Global fashion website promotes Belfast as style capital
It's the global fashion website that lets us know what the Duchess of Cambridge, Rihanna and other celebrity style icons are wearing. Now ASOS - or As Seen On Screen - is set to promote Belfast as a style capital, as part of a Tourism Ireland drive. The new tourism campaign encourages ASOS customers to consider a 48-hour stop in Belfast or Dublin for a "weekend break with added FOMO" - fear of missing out. For more details, please click Belfast Telegraph.


McIlroy to tee off with Mickelson and Moore at Masters
World number one Rory McIlroy will be paired with three-time champion Phil Mickelson and Ryan Moore for the first two rounds of the Masters Northern Irishman McIlroy will begin his campaign to complete a career Grand Slam at 15:41 BST on Thursday. Tiger Woods, seeking a 15th major, will play the first 36 holes at Augusta National with fellow American Jimmy Walker and Wales's Jamie Donaldson. Defending champion Bubba Watson is paired with Justin Rose and Gunn Yang. For more details, please click BBC.
Photo Credit: Men's Golf/Andrew Redington/Getty Images


Irishman Bertram Allen breaks into show jumping top ten
Wexford teenager Bertram Allen has broken into the top ten of the world's best show jumping riders. In the official Longines World Rider Rankings, which measure the monthly performances of over 2,000 riders internationally, Allen has reached tenth position for the first time, putting him amongst the global elite of the sport. With two recent World Cup Qualifying competition wins under his belt, the 19-year-old has 2355 points in the Longines rankings, with Germany's Daniel Deusser in the lead with 2825 points. For more details, please click RTÉ.



Sun, Apr 26, 2015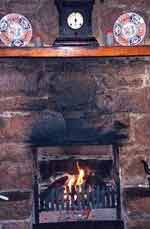 From Bog Land to Turf Fire
Ireland contains more bog land, relatively speaking, than any country in Europe, except Finland. For people in rural areas, turf cut from the bog is still a natural source of heat. Turf cutting begins in spring and then the turf is spread and rickled . Rickled means to pile the turf up in small mounds. By summer, the turf is dry and it's time to bring it home. Everything has to be prepared before the winter comes, or even earlier, because the rain would wet the turf too much. It has to be dry and in the shed before Autumn. Then and only then, can an irish country family look foreward to the cozy warmth of "a turf fire in the cabin."

Resources: The Atlas of the Irish Rural Landscape
Image: Spirited ireland

Click for More Culture Corner.
---
---
Local Time in
---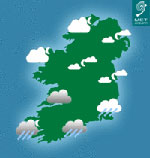 The Weather
Up the minute forecasts provided by Ireland's official source for all weather-related news. Please click Met Eireann.

---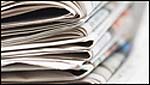 Links to the latest news from Ireland
Here you will find all the stories making headlines throughout the Republic of Ireland and the six counties to the north. This is not intended to be an all-inclusive list. These are the main sources we check every day to bring you those headlines we think you will enjoy reading.

BBC Northern Ireland
Belfast Telegraph
Breaking News Ireland
Irish Emigrant
Irish Examiner
Irish Herald
Irish Independent
Irish News
Irish Times
Irish Post
RTE
The Irish World
The Journal Ireland
Inside Ireland


---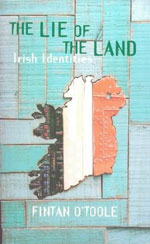 Lie of the Land
by Fintan O'Toole
A regular contributor to the irish Times and The Guardian, O'Toole applies his eagle journalistic eye to the state of ireland at the end of the 20th century. It's a riveting read as O'Toole examines with in-insight, humour and a bit of the blarney, the repercussions of a booming economy which has thrust ireland into the ranks of the richest European countries.
Click here for Lie of the land.

---