Traditions, folklore, history and more. If it's Irish, it's here. Or will be!
"People will not look forward to posterity who never look backward to their ancestors."
-Edmund Burke
---
Quotes

Library: Books, Movies, Music

Prints & Photos

Poetry

---
---
Shops Ireland
---
Bunús na Gaeilge
(Basic Irish)

---
---
---
Himself/Herself
Write to Us
Readers Write..
Links/Link to Us
---
Advertise with us
---
Awards & Testimonials

Submissions Guide

---

Todays' Irish News



Yes, there are many news items not included here. We deliberately avoid: politics, death, disaster and other mayhem.

Sunday, September 21, 2014


---
Pope indicates desire for Church rethink on key marriage issues
In what looks suspiciously like a pre-Synod manoeuvre, Pope Francis this weekend has twice indicated he wants the Catholic Church to seriously reassess key teaching with regard to marriage. With the Synod, the closest thing the Catholic Church ever gets to a parliament, due to meet in two weeks' time to discuss a range of "family" related matters, two very different bodies of church opinion, usually of the Red Hat variety, have become increasingly voluble in recent days. For more details please click
Irish Times
.
Photo Credit: ony Gentile/Reuters
Lourdes pilgrimage a miracle of service and selflessness
Archbishop of Dublin and Primate of Ireland John Charles McQuaid instituted the Irish-based pilgrimage in 1949, and asked some members of the first committee to find some young people to help to carry the sick. Belvedere College was the first school to respond to the call for helpers, and has been doing so since, so the preparatory meetings are held there. Running the pilgrimage requires a small army - about two thousand. For more details, please click
Irish Times
.
Muslims build first Irish mosque in Galway
When Imam Ibrahim Noonan began celebrating the Qu'ran in a housing estate in Galway, his hope was that the temporary mosque in Wellpark would be replaced by a permanent structure. Now, four years after foundation stones were laid on a site opposite Ballybrit racecourse, there's a new minaret on the city skyline – marking the Ahmadiyya Muslim community's first Irish house of prayer. "You can see the height gives a beauty to it, and there's a bit of an echo as well,"says Imam Noonan, looking up at the dome which is also inscribed in Arabic: "There is no greater contentment than remembrance of God in the heart." For more details, please click
Irish Times
.
Singing priest set for first ever professional concerts
Father Ray Kelly, who became an overnight sensation when he sang a unique version of Leonard Cohen's classic Hallelujah to surprise a couple during their wedding, will step up to the mic in Monaghan and Navan. Since Fr Kelly's impromptu performance earlier this year, the video of the special moment has been watched over 36.7 million times on YouTube and he has received requests from thousands of couples to officiate at weddings all over the world. For more details, please click
Irish Herald
.
Photo Credit & Related Story:
Irish Independent
Rewriting history - '1916 leaders did not make last stand at 16 Moore St'
Testimonies from two volunteers cast doubt over the preservation of No 16 Moore Street - a poultry shop where Padraig Pearse, James Connolly, Joseph Mary Plunkett, Sean Mac Dermott and others supposedly retreated to after they abandoned the GPO. Elizabeth O'Farrell, a nurse who helped wounded rebels, places the leaders at No 16 in her account given to the Catholic Bulletin newspaper in March 1917 - a report widely accepted throughout history. But historian Ann Matthews, who has written extensively on the period, suggests that the leaders were probably several houses away. For more details, please click
Irish Independent
.
Prince Harry gives royal seal of approval to redhead festival
The carrot-topped British Royal was sent a VIP invitation for last month's Irish Redhead Convention in Crosshaven, Co Cork. And although he was unable to fly in to join in the ginger-themed fun, the extrovert prince sent the festival's chiefs a letter, expressing his hopes that the colourful carnival was "a great success". In the Kensington Palace-stamped letter, the prince's private secretary, Edward Lane Fox, wrote: "Prince Harry has asked me to write and thank you for your letter of 12th August, in which you invited His Royal Highness to the 2014 Irish Redhead Convention..." For more details, please click
Irish Independent
.
Executioners, Vikings and women at war… Dublin's history unlocked
Dublin's past will take centre stage this month when the Dublin History Festival takes place in the capital. With a variety of events on, it's a chance to learn more about the city's past, and hear from experts about pivotal moments in history. It takes place at Dublin Castle Printworks and venues around the city from 26 September to 8 October, featuring a line up of Irish and international historians. Dublin City Librarian Margaret Hayes said that 4,000 people attended last year's festival. "The Festival allows Dublin City Council to mark significant historical anniversaries and this year, Dublin's involvement in the First World War will be remembered," she explained. For more on this story please click
Journal Ireland
.
For more credit, please click
Collectors Weekly
The magic of an All-Ireland Final
As Donegal prepares to take on Kerry in this year's All-Ireland Senior Football final, one man is setting out to taste that Croke Park magic for the 62nd time. John Murphy, a retired head post master, from Donegal, may be in his 84th year, but age and limited eyesight will not hold him back from an All-Ireland championship game. His is a passion for Gaelic games that was sparked in his childhood back in the 1930s. It began in his birthplace of Mayo. For more on this story, please click
BBC
.
Football Final: Tomás Ó Sé insists Donegal have edge over Kerry
Five-time All-Ireland winner Tomás Ó Sé insists Donegal are slight favourites going into Sunday's All-Ireland Football final clash with Kerry at Croke Park. "To be fair I didn't think Donegal could beat Dublin. I thought Dublin were ahead of nearly everybody that was there but look, that performance by Donegal was unbelievable, and based on that they are favourites." O Sé also downplayed rumours that Kerry talisman Colm Cooper could be in line for a shock return in Sunday's game. For more details, please click
RTÉ
.
Live:
Kerry v Donegal All-Ireland football final
---
Past Two Weeks
September 20

Irish winner of €86.7m Euromillions jackpot yet to come forward
Someone in Ireland is waking up €86.7m better off this morning. It's the fourth Euromillions win in Ireland in the past year. The last one was back in March, when €15m was won in Mayo. Last night's winner is being advised to sign the back of the ticket, keep it in a safe place, and contact Lotto HQ. Eleanor Murphy, information officer with the National Lottery said "It's been a very lucky year for Euromillions players in Ireland." For more details, please click Breaking News Ireland.
Photo Credit & Related Story: Irish Mirror


Yeats 2015: Celebrating the poet's 150th anniversary
The Irish government has allocated 500,000 euros to celebrate the work of poet and Nobel Laureate WB Yeats. Next year has been designated Yeats 2015 by the Irish government. It will be a year-long national and international celebration of the life and works of the poet. Artists and organisations have been invited to apply for a share of the 500,000 euros budget to fund projects to celebrate the 150th anniversary of his birth on 13 June 1865. For more details, please click BBC.
To read our article, please click In Tribute to W.B.Yeats


Heritage Ireland: the church at the crossroads of Dublin's ancient past
In this edition of the Heritage Ireland series, archaeologist Neil Jackman guides us to an ancient tomb in Co Sligo, to evidence of Dublin's medieval history at St Audoen's, and to a peaceful priory in Co Kerry. Pictured is St Audoen's in Dublin city centre which stands by the most ancient road into Dublin. Constructed at the western side of the city, St Audoen's dates to the late 12th century, though it may stand on the site of an earlier church as a ninth century graveslab was found on the site. For more details, please click Journal Ireland.


Eight world-changing things you never knew were invented by Irish people
Irish people been behind some of the most important inventions of our time. And we're talking important items that have can be considered true gamechangers, like portable defibrillators and flavoured crisps. Other inventions on the list include the submarine, perforated stamps, and even the science of seismology. Irish geophysicist Robert Mallet is often credited as the "father of seismology" thanks to his pioneering research into earthquakes. He even coined the words seismology and epicentre. For more details, please click Journal Ireland.


Northern Ireland's shores pass EU clean water tests
Northern Ireland's beaches offer some of the best bathing water quality in Europe, according to Environment Minister Mark H Durkan. His comments come after 16 of 23 bathing beaches were classed as 'Excellent' under the EU Bathing Water Directive and another six as 'Good', meeting the mandatory standard. The only one to fail was Carnlough beach, which yielded a series of poor samples in an unusually wet August that sparked a spate of floods and landslides in the Glens of Antrim. For more details, please click Belfast Telegraph.


Culture Night Ireland: Samba drums set the beat
Who could go straight home from work when the beguiling beat of the samba drum beckoned from a street corner? Or the foot tapping sound of a trad session, or the mesmerising lilt of a flamenco dancer promising a pocket of sunshine on a gloomy grey night. Even the smallest piece of street theatre or the humblest busker offered plenty to hold the attention. With the lure of culture far too strong to resist, a good deal of fast-food was bolted down across the country last night as the nation stayed out to party. For more details and video clip of the Freemason's Lodgeplease click Irish Independent.
Image: Freemason's symbol on the door of the lodge in Dublin


Culture Night Northern Ireland: Thousands flock into Belfast
Belfast city centre was closed off to traffic and opened up to music, art and roller skates last night for the sixth annual Culture Night. The whole of the city centre became an enchanting stage, showcasing the country's very best cultural and sporting offerings. The familiar surroundings of Royal Avenue were illuminated by stilt-walkers, just around the corner in Writers' Square, Belfast Roller Derby had a large crowd looking on enthralled, and Elsewhere, people were enjoying science demonstrations, photographic exhibitions and more. For more details, please click Belfast Telegraph.


Ireland scores 2020 Euro win
International glory may have evaded Ireland in recent years but regardless of how the Boys in Green perform, Ireland will be part of football's biggest competition in 2020. Dublin is among 13 cities chosen to host matches for the Euro 2020 Championships, with three group games and one last-16 match headed for the Aviva Stadium in a sporting spectacular estimated to be worth upwards of €50m. And it won't be just Dublin that gets a piece of the action as there will be fanzones in Cork and other locations with big screens, entertainment, food courts, and other facilities. For more details, please click Irish Examiner.


Shane Lowry leads the way at Celtic Manor
Offaly's Shane Lowry carded a flawless 65 to claim a one-shot lead after the second round of the ISPS Handa Wales Open at Celtic Manor. Nicolas Colsaerts and Joost Luiten lie in second place on eight under, with former champion Thongchai Jaidee and Italy's Edoardo Molinari another shot back. Lowry, who won the Irish Open as an amateur in 2009 and the Portugal Masters in 2012, said "There is still a long way to go in the tournament but I'm really looking forward to the weekend. For more details, please click RTÉ.

September 19

Cities brace for flock of culture vultures
Up to half a million people are expected to flock to thousands of venues nationwide as they open their doors to the public this evening for a free and fun-filled celebration of heritage, culture, arts and music. Started as a small celebration of heritage in Dublin in 2006, Culture Night has morphed into an all-island event which saw more than 350,000 people take part last year. It has also become almost an all-day event, with many activities starting in the early afternoon. For more details, please click Irish Examiner.


US approves new ambassador to Ireland
Kevin O'Malley has been approved by the US Senate to be their new ambassador to Ireland. The Irish-American lawyer from Missouri was nominated for the position two months ago. It is now nearly two years since his predecessor, Dan Rooney, stepped down from the role. Mr O'Malley has dual Irish and US citizenship, and his grandparents were from Westport in Co Mayo. To read this news item and many others, please click Breaking news Ireland.
Photo Credit & Related Story: Irish Times


€117m Dairygold investment to create 115 jobs by 2020
The investment in its dairy processing facilities at Mallow and Mitchelstown in Co Cork. The expansion is also expected to create 400 temporary construction jobs. It is envisaged that the expansion will also lead to a number of additional jobs in farming and indirect activity related to the company's output. Dairygold is a farmer-owned dairy co-operative, which processed over 960 million litres of milk in 2013, exporting to more than 50 countries. To read this news item, please click RTÉ.
Photo Credit: Dairygold


Interactive Dublin website launched
A new interactive website, full of real time and collated data about Dublin, has been launched by researchers at NUI Maynooth, in partnership with Dublin City Council. The Dublin Dashboard will for the first time present citizens, planners, policy makers, businesses and others with a wealth of information on the workings of the capital, all in one place. The data available covers a variety of areas, from transport, housing and planning, to the environment, emergency services and health. For more details, please click RTÉ.
Photo Credit: Music Row Girl


Galway shop customers scoop €500k in EuroMillions syndicate
A syndicate of lucky customers in a Co Galway shop are celebrating after winning half a million euro between them in the EuroMillions Plus draw. The syndicate is run by Mary Moloney, owner of the Post Office and Costcutter shop in Tynagh. The members won the top prize of €500,000 in the EuroMillions Plus draw last Friday, 12 September. "There's been great excitement in the village. The parish priest even announced it at Mass on Sunday!" said winner Mary Moloney. For more details, please click Journal Ireland.


A day in the life of a Dublin bike
Five years ago, if you commuted to work and wanted to go from Dublin's IFSC to Grafton Street's Brown Thomas during your lunchbreak, you would have had very little browsing time, even if you had travelled by taxi. Today, the city is a much smaller (and cheaper) place for the members of the Dublin Bikes scheme, which has just celebrated its fifth birthday. But who uses a city bike and why? Eoghan McNeill followed the journeys of one bike around Dublin for a day. For more details, please click Irish Independent.


Capturing the wild side of the river Dodder
Chasing the images he had seen on David Attenborough documentaries, amateur wildlife photographer Paul Hughes spent years travelling North America in search of the perfect photograph. It was only when he moved back to Ireland after almost a decade abroad that he discovered "a world of wildlife" on his own doorstep in the centre of Dublin to rival any nature scene from his travels. A chance sighting from the Dart of a swan on the river Dodder one sunny afternoon in 2008 prompted Hughes to disembark with his camera to explore the area around Lansdowne Road station. For more details and photos, please click Irish Times.


One third of Irish adults took part in ice bucket challenge
A survey of Irish adults suggests an enormous 1.1 million took part in the ice bucket challenge craze in recent months – 32% of the population aged 15 and over. Results from Ipsos MRBI's omnipoll of 1,000 adults aged 15+ showed that 33% of women and 31% of men had taken part. Exactly half of those between the ages of 15 and 34 participated in the charity-driven social media craze, which dropped to 33% among 35-54s, and only 9% among those aged 55 and over. For more on this news item, please click Breaking News Ireland.


Rory McIlroy buys house in Holywood
He may be the world number one — but golfing's golden boy hasn't forgotten his roots. The four-time Major champion golfer has bought a new house in the Co Down town where it all began. The news broke as McIlroy was photographed with a local estate agent, who was handing over the keys to his new property. The estate agent posted a picture on their Facebook page yesterday stating that they were "delighted to have assisted our local superstar Rory McIlroy with the purchase of his new house in his home town, Holywood," For more details, please click Belfast Telegraph.

September 18

"The man who arguably has done more for Ireland than anyone since Saint Patrick"
That was a quote from Forbes magazine about Chuck Feeney, the billionaire who wants to go broke within his own lifetime by giving all his money away. Mr Feeney traces his family history back to Co Fermanagh where his grandmother was brought up close to the village of Kinawley. A self-made man, he made his fortune when he set up the world's largest duty free goods company in 1960, but has spent the last three decades donating billions of dollars to good causes in Ireland and other countries. For more details, please click BBC.
Related story: Chuck Feeney donates almost £25m to NI education and health


Scottish independence: Ten effects a go-it-alone Scotland could have on Northern Ireland
One of the most obvious changes would be to the Union flag: If Scotland is no longer part of the UK it is likely that the distinctive blue Saltire will disappear from the flag, leaving it just red and white, incorporating the cross of St George, representing England, and cross of St Patrick, representing NI. Another effect would be a different currency. Prime Minister David Cameron has indicated that Scotland may not be able to continue using sterling if it becomes independent. For more details, please click Belfast Telegraph.
Photo Credit: Dan Kitwood/Getty Images


Award for flute virtuoso Sir James
Flautist* Sir James Galway was celebrated by the classical music world with a lifetime achievement honour at the annual Gramophone Awards. The virtuoso, who unusually for a classical musician has achieved a top-three chart hit, was recognised for a career stretching across 50 years in which he has reached a substantial audience. He collected his award and performed at a ceremony staged by Gramophone magazine at St John's Smith Square in London. For more details, please click Belfast Telegraph.
* Sir James has been quoted as saying he plays the flute, not the flaut.


Donegal insurance workers scoop 4.9m euro lotto jackpot
The 13 all work in Malin Head and will take home 375,000 euro (£295,000) each. It comes days before Donegal take on Kerry in the All-Ireland Gaelic football final and many will be hoping the county is on a winning streak Amanda McFadden, who is one of the lucky 13, spoke of their delight. She said that they had celebrated already with a simple cuppa. Most of the group met up for breakfast in a cafe in Carndonagh on Thursday. "We had to go for coffee as nobody would serve us champagne," she said. For more details, please click BBC.
Photo Credit & related Story: Irish Independent


Thirteen Irish craft beers to put on your bucket list
Craft beer is now so popular, even Guinness are doing it. But long before Diageo got on board, small Irish breweries were setting the standard. Here's a non-exclusive list of 13 essential – and most importantly, delicious – Irish craft beers from around the country. There's a wide range of styles (and levels of adventurousness) here – craft beer has something for everyone. For photos and descriptions of each beer, please click Journal Ireland.


Milk-choc digestives are nation's favourite biscuit
That's according to Tesco. The retailer has been looking at biscuit sales over the past five months. Digestives topped the list, with almost nine million sold in the last five weeks. Chocolate chip cookies coming second. Oreos came in third, thanks to a strong performance in Dublin, narrowly beating plain digestives. Honourable mentions went to Bourbon Creams, Ginger Nuts and Custard Creams. To read this news item and many others, , please click Breaking News Ireland.


Bono brings it all back home to Cedarwood Road
Just when the good people of Cedarwood Road thought they had seen the back of busloads of coaches seeking out where Bono grew up, the U2 singer has gone and written a song about it. For the last three decades, fans have turned up outside Bono's childhood home in Glasnevin, despite the fact he has not lived there since the early 1980s. Some come with serious intent, others - such as a group of spoof Hare Krishnas who bowed and chanted outside the house - came to satirise the cult of Bono. For more details, please click Irish Times.


New owner to make Hayes Hotel a 'cultural hub'
The new owner of the famous Hayes Hotel in Thurles has said he wants to turn the landmark property into a "cultural hub" which will recognise its role in GAA history but also become a thriving business. Yesterday, it was revealed that local businessman Jack Halley was the purchaser of the historic business.The Co Tipperary hotel is the place where the GAA was founded in 1884 and has remained an important part of Irish sporting heritage and local business life. For more details, please click Irish Examiner.


Thai Tims choir stays neutral in All-Ireland Football Final
The Thai Tims children's choir is staying neutral when it comes to Sunday's All -Ireland Football final between Donegal and Kerry. In the past, they've backed Katie Taylor, the Irish football team and the Dublin GAA team. In their latest YouTube video, the musical children, part of Thailand's Good Child Foundation, sing their song to the tune of Thin Lizzy's Whiskey in the Jar. For more details, please click Irish Times.

September 17

Culture Night 2014 guide
If you're lucky enough to live in Ireland or you're visiting, keep this Friday night open. More than 900 venues across the country are throwing open their doors for free. This is Culture Night's ninth year, and it has now expanded to 36 regions across Ireland, so there's something for everyone. Several hundred events will happen simultaneously, so it won't be possible to make it to everything. Here are top picks across music, film, theatre, art, technology and heritage, and even then, this is only a small selection of what's on offer. For more details, please click Irish Times.
Photo credit: Frank Miller


Tullamore Dew returns to namesake town
The world's second largest Irish whiskey brand has returned to the town which gave the spirit its name after a 60-year absence. William Grant & Sons has opened its new Tullamore Dew distillery on a 58-acre site on the outskirts of Tullamore at Conminch in Co Offaly, where 1.5 million cases of the spirit will be produced each year. Tullamore Dew global brand director Caspar MacRae said while the brand's short-term future would be focussed on distilling a top-quality product, down the road, they could experiment with small-batch specials. For more details and video clip, please click Journal Ireland.
Photo Credit, More Pics & Related Story: Irish Independent


Ryanair hopes to launch US flights from €10 one-way
"We would love to do transatlantic flights and the business plan is there," a Ryanair spokesman said this morning. "The lowest fares would start from €10 and we would link 12 to 14 European cities with 12 to 14 US cities." Ryanair said it requires the appropriate aircraft to go ahead with the proposal however. "It is entirely dependent on attaining long-haul aircraft at a viable cost and at the moment," the spokesman said. "There is a shortage of available aircraft." Last year, CEO Ryan O'Leary claimed that the €10 fees would not include baggage fees and extras. For more details, please click Irish Independent.


2014 Hugh O'Flaherty award winner announced
In November, an annual memorial weekend will take place in Killarney, Co Kerry, the home place of the late Monsignor O'Flaherty, a Vatican priest, who is credited with helping thousands of Jewish people escape the Nazis during the Second World War. During the weekend, the the annual Hugh O'Flaherty International Humanitarian award is presented. The winner of this year's award is Dr John Beavis, the founder of an organisation dedicated to the relief of suffering and poverty in conflict zones. Dr Beavis is expected to attend the award ceremony in person. For more details, please click Irish Examiner.


All Hallows College on sale for €14m
As an academic institution, and a college of Dublin City University, All Hallows announced last May it was to close and that no new students would be accepted for the 2014/15 academic year. All Hallows came to international attention with the discovery of letters written between 1950 and 1964 by Jackie Kennedy to Fr Joseph Leonard, a priest of the college she had befriended. Initially it was planned to auction the letters to raise funds but this was stopped following intervention by the Kennedy family. For more details, please click Irish Times.
Photo Credit: Cyril Byrne


Home of Westlife's Shane Filan sold for below €1m asking price
Shane Filan's home in Sligo, built for €3m and reported to have been once valued at €10m, has sold for over €800,000. The "sold" notice across the auctioneer's sign has gone up on the stone wall outside the house — Castledale, at Carraroe on the edge of Sligo town. The house, built in 2004, was sold for below the €1m the receiver was originally seeking. Auctioneer David Reynolds of Gunne Sligo said: "It has gone for well over €800,000 but a bit below the €899,000 that was the last listed price." For more details, please click Irish Examiner.


Causeway doubles for Transylvania in new Dracula film
The Giant's Causeway has been transformed into an eerie Transylvanian mountain. And the glorious Italian Garden at Mount Stewart doubles up as the grounds of Dracula's castle. The Universal Pictures $100m production of Dracula Untold, which is released on October 3, was filmed at a host of other well-known National Trust properties, including Mount Stewart and Divis and the Black Mountains. Starring Luke Evans, the movie is based on the original Bram Stoker novel and also explores the origins of Dracula. of more details, please click Belfast Telegraph.


Firm looking for Irish butlers... to serve in the buff
Call it bare-face cheek, but a UK company is targeting young Irish recruits. Butlers in the Buff is recruiting Irish men with open auditions being held on Friday. The company says it is looking for "gorgeous, hardworking men with charm, charisma, and a great bottom!". According to the recruitment literature, "new butlers will don their trademark bow tie, collar, cuffs, apron, and nothing else — using their assets to make parties truly memorable." For more details, please click Irish Examiner.


Rory McIlroy wins PGA of America and Vardon awards
Rory McIlroy's successful summer has led to him being named PGA of America Player of the Year and the Vardon Trophy winner in the US. It marked the second time in three years that the Northern Irishman has picked up two awards. Masters winner Bubba Watson was a distant second to McIlroy for the Player of the Year award. World number McIlroy one could also land the PGA Tour Player of the Year award. That honour will be announced in October. To read this news item, please click BBC.
Photo Credit: Reuters

September 16

Colourful Irish trainer Oliver Brady, RIP
The Monaghan trainer died peacefully in his sleep on Monday evening following a long battle with cancer, confirmed Horse Racing Ireland. He was well known for his celebrations in the winner's enclosure, when he would usually make a rousing speech and lead an impromptu sing-song. Despite all of his health problems, Brady tirelessly devoted his life to his horses and to raising money for the Shabra Charity Foundation which he established with his business partner, Rita Shah. For more details, please click RTÉ.
Photo Credit: Inpho
Video Clip: RTÉ


Women 'to get place in history'
A public park and a national roadway in Kerry are to be named after the paramilitary organisation Cumann na mBan in the county's first major recognition of the role of women in the fight for independence. The decision by Kerry County Council to recognise the women who were active during the War of Independence was described as "the start of equality of commemoration" in a county dominated by monuments to the role played by men during that era. For more details, please click Irish Examiner.
Photo Credit: Irish Volunteers


Culture Night preview
Next Friday, 19 September, is Culture Night 2014 in Ireland when thousands of venues around the country throw their doors open to the public for a celebratory evening of heritage, culture, arts, fun and events of all sorts, for all tastes, for all ages. A full database of what's on in towns and cities around the country is available on culturenight.ie but to give a taste of what's on in the capital, Journal Ireland teamed up with Dublin Bus for a whistlestop tour. For more details, please click Journal Ireland.


Should Ireland have a motto? What should it be?
"Liberté, Égalité, Fraternité" in France, "Unity in Diversity" in South Africa, "In God We Trust" in the US. Country mottos have long been a way to marry patriotism and idealism. Today, the 2014 Better Together campaign launched their national motto competition, searching for a motto for Ireland. The criteria is that the motto be no longer than 60 characters and be "relevant, respectful, clear and positive". That said, which way should Ireland go? For more details, please click Journal Ireland.
ED. NOTE: As illustrated, we thought Ireland already had a motto


Can Northern NI learn from the world's only Manx-speaking school?
As you approach the front gates it is clear this is not an ordinary school. The pupils do not look twice at the camera or recording equipment; TV and radio crews are here all the time. About 70 pupils attend Bunscoill Ghaelgagh, the world's only Manx-speaking school. In the 1980s, just a few dozen speakers of Manx remained. By 2009, a United Nations report incorrectly stated the language was extinct; a claim the UN has since amended. There are now hundreds of speakers, and the number is growing. For more details, please click BBC.


Reserve supplies one in four of new garda recruits
The group of 100 recruits were addressed yesterday by Justice Minister Frances Fitzgerald and acting Garda Commissioner Noirin O'Sullivan as they began their training programme. A breakdown of the group shows that 24 are former reservists while 18 are women, a figure welcomed by the minister and acting commissioner, although it is lower than the overall proportion of females in the force. For more details, please click Irish Independent.


Wild Wicklow-inspired look at London Fashion Week
A camping trip in the Wicklow mountains was the creative starting point for Irish designer Danielle Romeril's London Fashion Week catwalk debut at the weekend. One of London's "ones to watch", Romeril's spring 2015 presentation was an intimate affair on a small set got up like a riverbank, with leggy models brandishing fishing rods. "I had an image of a girl gang who live in the wild and who fish for their supper," said the designer. For more details, please click Irish Times.
Photo Credit: Tim P Whitby/Getty Images


Lorries to be banned from Northern Ireland village
Heavy lorries face being banned from entering one of Northern Ireland's most picturesque villages following complaints from residents. It comes on the back of a long-running campaign by people in Hillsborough to get noisy trucks barred. Situated close to Lisburn, the village centre contains significant amounts of Georgian architecture, as well as the Queen's official residence in Northern Ireland, Hillsborough Castle. For more details, please click Belfast Telegraph.


Hurling/Camogie: Fans hail homecoming heroes
For a split second after waking up, Anna Geary wasn't sure whether she had an ache in her belly or a smile on her face, but then she remembered the O'Duffy Cup was theirs to take back to Cork. "And then I had the biggest smile on my face," she told the cheering crowd of supporters that turned out in Cork City last night to welcome home the winners of the All-Ireland Senior Camogie Final. For more details and video clip, please click Irish Examiner.

September 15

Simple send off for Ian Paisley, RIP
Tributes have been pouring in from all over the world - one sums up perfectly how many people feel about one of the most iconic yet complex figures in Northern Irish history. Eisso Post, Groningen, Netherlands writes: "You can't help but really admire someone who was so convinced, more or less dogmatic, that he was right, and nevertheless decided to make compromises because that was necessary for peace. Nobody expected Ian Paisley to do that, but he did." To read more tributes, please click Belfast Telegraph.


Where the rebels of 1916 awaited justice
In Inchicore, lie twin limestone structures and sandwiched between them, a fading brown bricked hall in very poor repair. This trio of buildings have long since been ignored and neglected by the public at large, and yet 98 years ago, in the week after Easter Week 1916, it was here in the then Richmond Barracks that the leadership of the Easter Rebellion were assigned their fate. For more details, please click Irish Times.


Hitler's last surviving Irish slave
Harry Callan was a seventeen year old civilian merchant seaman when his cargo ship was sunk by the German navy. He was taken prisoner and forced, along with 31 other Irish sailors, to build a giant submarine factory - the Valentin Bunker. This was a secret project that the Nazis hoped would turn the fortune of war back in their favour. Although life expectancy was short, Harry and the Irish stuck together and most survived on that factory site. To listen to this Documentary, please click RTÉ.


RTÉ launches new online Irish language news service
RTÉ is initiating an online news service in Irish today as part of a restructuring of news delivered as Gaeilge. The State broadcaster has announced that the RTÉ.ie news website, and the RTÉ News Now App will feature national, international and regional news in Irish for the first time. The online operations will be based in Nuacht RTÉ's centre in Baile na hAbhann, Connemara, with content produced by both Nuacht RTÉ and RTÉ Raidió na Gaeltachta journalists. For more details, please click Irish Times.
Photo Credit: Raidió na Gaeltachta/RTÉ


First Irish language Garda recruits to begin training
Following complaints to the Language Commissioner in 2010 about the lack of gardaí in Gaeltacht areas and especially those who were unable to conduct their business with the public through Irish, it was decided to recruit gardaí with competence in Irish, in accordance with the Garda Act 2005, and to locate them in Gaeltacht areas. Around 1,000 people applied to the garda training course in Irish last December and January and the first group will begin training today. To read this news item and many others, please click RTÉ.


Which Irish county should you actually live in?
A fun series of choices to determine where you belong - from choosing a food, as in black pudding, supermacs, a 99 or a potato farl to selecting a sport - would it be rugby, hurling, soccer or football? Other catagories include preferred landscape views, U2 songs, movies, and more. To take the test and see which county you shhould live in, please click Journal Ireland.


Ireland's 'Forrest Gump' home after run around world
A Dublin endurance runner dubbed Ireland's answer to Forrest Gump has arrived home after an epic four-year 50,000km run around the world. Former construction worker Tony Mangan set off on his solitary east-west run across five continents, six deserts and 41 countries in October 2010 after running his home town race. He is now planning to recreate the famous "little run" scene from the Oscar-winning movie as he prepares to end his adventure at next month's Dublin Marathon. For more details, please click Irish Examiner.


Fashion stakes rival racing action at Irish Champions Weekend
The style stakes almost rivalled the action on the track as it was standing room only at the Irish Champions Weekend, the richest two-day racing event of the year. Actress Victoria Smurfit was judging the fashion stakes, while designer Louise Kennedy was looking on as Liz Maher from Bagenalstown, Co Carlow, strolled away with a €5,000 personal shopping experience with the designer after the judges on Saturday fell for her well assembled look. For more details, & photos, please click Irish Independent.


Camogie: Cork paint Croke Park red after brilliant comeback
Cork inflicted a second consecutive defeat on Kilkenny to claim their first All-Ireland title since beating the same opposition in 2009. It was a strange game that didn't get going in the first half, although that had much to do with Kilkenny's clear superiority. Cork star Jenny O'Leary admitted that the Leesiders hadn't performed at all in the first half and resolved to change that in the latter period. "I don't know if the occasion got to us or our heads were in our boots but we just said at half time that we'd worked too hard and we weren't going to let it behind us." For more details & Pics, please click Journal Ireland.

September 14

Church he founded pays tribute to Ian Paisley, RIP
The Free Presbyterian Church has paid tribute to its founding moderator Ian Paisley, who has died aged 88. Mr Paisley will be buried in Co Down on Monday, following a private funeral service at his family home in east Belfast. In a statement, the church paid tribute to his "many, many years of faithful Gospel ministry". Mr Paisley was a founder of the Free Presbyterian Church in 1951 after a split with the Presbyterian Church. For more details, please click BBC.
Photo Credit: PaceMaker


Memorial to honour Limerick men who fought in Spanish Civil War
Gerard Doyle, Joe Ryan, Emmett Ryan, Paddy Brady, Frank Ryan and Jim Woulfe all joined the International Brigade in its fight with the Republican side against Franco's Nationalist Army during the 1936-39 conflict. Today, the Cathaoirleach of Limerick City and County Council, Kevin Sheahan will be joined at the official memorial unveiling ceremony by 40 members of the International Brigades Memorial Trust and the men's relatives who are travelling from all over Ireland, UK, USA, Canada and Australia. For more details, please click Journal Ireland.


Disagreeing with Patrick Kavanagh about threshing
Writer Frank McNally can't help disagreeing with Patrick Kavanagh when, in his poem On an Apple-Ripe September Morning, he suggests that "carrying bags" is "the best job at the mill". The mill in question was a threshing mill – one of those old wooden-framed contraptions that were run off the belt-drive of a tractor, and now extinct, having been replaced everywhere by combine harvesters. But Frank worked on such mills himself a few times. And contrary to the poet's view, he would argue that there was no job to compete with being up on the platform, feeding sheafs of wheat and barley down into the jaws of the machine. Fie more details, please click Irish Times.


Irish rate Elvis as most desirable flight companion
Elvis has been voted as the most desirable person to sit next to by Irish passengers when going on their travels, according to a survey by London City Airport, which reveals some interesting stats on pet hates and preferences when it comes to travelling. The survey, which involved a total of 2,500 participants from Ireland, the UK, Spain, Italy and Switzerland, was designed to understand Irish attitudes and behaviours when it comes to travelling and how they differ from European counterparts. For more details, please click Irish Examiner.
Photo Credit: Corbis


Hundreds complete Liffey Swim
Ger Wilkes from Malahide in Dublin has won this year's Liffey Swim and Rachel Lee, a paramedic with the Dublin Fire Brigade, came first in the women's race. In total, 257 men and 111 women took part in the 95th annual event which begins at the Watling Street Bridge near the Guinness Brewery and finishes at Custom House Quay. The event is based on the Jack B Yeats painting of the same name and was first started in 1920.To read this news item and many more, please click Breaking News Ireland.
Photo Credit: Journal Ireland/Jason Clarke Photography
Video Clip: Irish Times


Braveheart: the largest scale movie production in Ireland
At the end of eight weeks of fighting alongside William Wallace on the set of Braveheart, extras from the Irish Defence Forces filmed their final and most epic scenes. The battle scenes in this movie were heralded at the time as the greatest in decades and set a trend for war films from then on. For the Irish film industry, Braveheart brought a new lease of life and highlighted how attractive the country could be as a location. For more details and video clips, please click Journal Ireland.


Rory McIlroy closes in on stunning payday in Atlanta
Rory McIlroy is just 18 holes away from an amazing payday after claiming a share of the lead with Billy Horschel at the Tour Championship in Atlanta. McIlroy and Horschel were among the five players who arrived at East Lake knowing victory would not only be worth the first prize of $1,440,000, but also secure the overall FedEx Cup title and a $10million bonus. And the duo remained firmly in control of their own destiny after Saturday's third round left them tied for the lead on nine under par. For more details, please click RTÉ.


Monaghan's McKenna wins British Rally Championship
Monaghan driver Daniel McKenna has become only the third Irishman to win the British Rally Championship. McKenna and his co-driver Arthur Kierans crossed the final stage finish at Rally Isle of Man ahead of rivals Osian Pryce and Dale Furniss. McKenna follows Irishmen Billy Coleman (1974 champion) and Keith Cronin (2009, '10, '12 champion) in winning the championship. To read this news item and many others, please click RTÉ.


Irish kickboxers win slew of medals at World Championship
Ireland have won 15 bronze. 7 silver and 10 gold so far at the WAKO Junior World Championship and we still have nine finalists to fight today. Yesterday started off with musical forms and Ireland had 2 representatives today in the older cadet divisions, 13-15 age group. JJ Battell and Emily Foley both secured silver for their country. National coach Elaine Small said "to see our athletes perform at the highest level is a testament to the amount of work they put in throughout the year..." For more details, please click Breaking News Ireland.

September 13

Arts Council launches Laureate for Irish Fiction
The role will be awarded to an Irish writer of national and international distinction, and used to promote Irish literature in Ireland and abroad while encouraging "the public to engage with high quality Irish fiction". Sarah Bannan Keegan, head of literature at the Arts Council, says the new role was inspired by existing equivalents. "We already have an Ireland Professor of Poetry, and Children's Laureate na nÓg, so in part it was about completing the puzzle. Nominations will close on October 3rd. For more details, please click Irish Times.


Ireland is world's 14th most connected country
That's according to a report from McKinsey Global Institute which states that Ireland ranks as the 14th most "connected" country in the world, meaning that it punches well above its weight in terms of its links to the broader world marketplace. For a small economy, Ireland benefits from its global reach and outlook, especially when it comes to attracting foreign direct investment FDI in fields such as technology, pharmaceuticals, and medical devices. For more details, please click Bank of Ireland.
Photo Credit & Related Info: IDA/Microsoft's Dublin office


President formally invited to Donegal Orange Order celebrations
President Michael D Higgins has confirmed he has been formally invited to Rossnowlagh in Co Donegal next year to join the Orange Order's July 12 celebrations. In an historic move the Grand Master of the Orange Lodge of Ireland Edward Stevenson issued the invitation verbally at the march in Rossnowlagh this year. It has now been confirmed by President Higgins that a formal invitation has been received but no decision on his attendance has yet been made. For more on this news item, please click Breaking News Ireland.
Photo Credit & related Story: Catholic Ireland


Move over tea — coffee is the new Irish favourite
It's enough to have Mrs Doyle of Father Ted weeping into her tea cosy. It seems the days of tea being the nation's number one hot drink are over, with consumer monitoring firm Kantar World Panel revealing that coffee now accounts for 41% of the market — with tea knocked into second place on 40%. The remaining chunk of the market is divided up between herbal teas and other hot beverages such as hot chocolate. The figures come as the RDS yesterday played host to first day of the inaugural Dublin Coffee and Tea Festival. To read this news item, please click Irish Examiner.
Photo credit & Related Details: Dublin Coffee & Tea Festival


Ten great reasons to visit Waterford
One of them is the humble blaa. Utterly unique, it's the only indigenous Irish yeast roll, and manages to be fluffy, floury and filling all in one bite (it's that dusting of flour that distinguishes it from a bap), and carries hints of sugar and butter that complement all manner of fillings. Pictured for example, is a blaa stuffed with Coolea cheese and spiced beef – served by Hatch & Sons in Dublin, but delivered fresh daily from M&D bakery in Waterford City. To read about all ten reasons to visit Waterford, please click Irish Independent.


'When you marry your best friend, it's easy to be happy'
That's according to James and margaret Hurley who are Ireland's longest married couple. A grandchild of the Tipperary couple got in touch with Catholic Grandparents Association after they launched the search for the longest married coiple as well as the secret to long-lasting love. While there might be couples married for longer, the Hurleys were the longest-married couple who responded to the survey. The Hurleys have been married since 1941, and will celebrate their 73rd anniversary at the end of this month. For more details, please click Journal Ireland.


The harvest is in – and so is the Irish Farmer Calendar 2015
It's that time of the year again - the livestock is bedded down for the evenings, the wellies are off, and the Irish Farmer Calendar 2015 is published. It's only €10 and they're taking orders over at farmercalendar.com, where you can also apply to be in next year's calendar if you are A. some class of a farmer, and B. comfortable posing with livestock. See if you can spot RTÉ's Aengus Mac Grianna's husband Terry Gill in there (Hint: He's Mr July and he's an alpaca farmer). All images bravely taken by photographer Fran Marshall. To see all the photos, please click Journal Ireland.


Rory McIlroy joint second after second round of Tour fChampionship
Rory McIlroy shot successive birdies in his final two holes to move within two shots of leader Billy Horschel after the Tour Championship second round.The Northern Irish world number one, carded a five under 65 at East Lake Golf Club in Atlanta to move into a three-way tie for second with Jason Day and Chris Kirk on six under. Horschel, from the United States, carded a 66 to move to eight under. For more details, please click BBC.
Photo Credit: Getty Images


Snooker: Mark Allen shocks Mark Selby to reach final
Mark Allen came from behind to beat world number one Mark Selby and reach the Shanghai Masters final. The Northern Ireland player trailed 4-1 and 5-2 but came back to win the last four frames for a 6-5 triumph against Leicester's Selby. Allen will now meet either home favourite Ding Junhui or England's Stuart Bingham, who meet in Saturday's second semi-final. World number nine Allen has also beaten Andrew Higginson, Mark Williams and Michael White en route to the final. To read this news item, please click BBC.

September 12

Former Northern Ireland first minister Ian Paisley, RIP
In a statement, his wife Eileen said: "My beloved husband, Ian, entered his eternal rest this morning. Although ours is the grand hope of reunion, naturally as a family we are heartbroken. We loved him and he adored us, and our earthly lives are forever changed. According to Ian's wishes his funeral will be private and attended only by the immediate family, as will be his burial." Born in Ballymena in Co Armagh in 1926, he co-founded Northern Ireland's first Free Presbyterian Church in 1951. He became an MP for North Antrim in 1970 and founded the Democratic Unionist Party in the same year. For more details, please click RTÉ.
Photo Credit & Relatd Story: NewsLetterPA


Rare War of Independence recordings to be made public
Rare recordings of volunteers who fought in the Irish War of Independence could soon be made public for the first time. The unique archive, which includes 112 veteran interviews, was made during the 1960s but has been inaccessible to all but a handful of researchers for over 50 years. The Cardinal Tomas O'Fiaich Memorial Library and Archive in Armagh said it plans to use a Lottery grant to build a specialist listening kiosk and develop an outreach programme in an effort to resurrect the stories in its Louis O'Kane collection. For more details, please click Breaking News Ireland.


Last surviving child of 1916 leader turns 101
Fr Joseph Mallin, who turns 101 today (Tuesday, September 9), is the son of Comdt Michael Mallin who was second in command of the Irish Citizen Army. As Chief of Staff of the ICA, Michael Mallin served under James Connolly and commanded the ICA garrison at St Stephen's Green with Countess Markievicz during Easter Week. While he has no memory of being taken to Kilmainham by his pregnant mother to say goodbye the night before his execution, Fr Mallin was remembered in a final letter written by his father. For more details, please click Irish Times.


Hundreds of properties to throw open their doors this weekend
From castles to cottages, museums to Martello towers, visitors can wander around some of Northern Ireland's best-loved buildings for free or take a sneak peek around properties they've never visited before. It's all part of European Heritage Open Days and this is the 17th year that Northern Ireland has taken part in this European-wide event, which aims to reflect both common and varied European Architectural Heritage. For more details, please click Belfast Telegraph.


Country's smallest school doubles its pupils... to two
Scoil Aoife opened its doors in Tallaght, Co Dublin for the first time last week for a single child, Ella Gilsenan (4), who completed her first week at 'big school' alone. The fledgling community national school could face closure if class sizes don't increase, but progress on that front was made this week when Alex Keogh (4) joined Ella in the junior infant class taught by principal and only teacher Stacey McAuley. For more details, please click Irish herald.


Dublin Bike users receive a goodie bag to mark fifth birthday
The public hire bike scheme was first introduced to the capital in September 2009. Since that date, there have been almost eight million bike journeys on the streets of Dublin. This morning, members received a gift of a saddle cover and a Sam Browne reflector belts to mark the day. Just last week , September 4. 2014 saw the scheme record its busiest ever day with an incredible 13,614 journeys taken. Members have taken over 2.5 million journeys in the last year alone. For more on this news item, please click Irish Independent.


Nudey folk descend on Co Leitrim
The Irish Naturist Association is hosting the International Naturist Congress for the first time with delegates and other attendees gathering at the Lough Allen Hotel to talk shop and meet other naturists. President of the INA Pat Gallagher and his wife Mary have been working on getting the conference to Ireland for the past two years, with the help of Fáilte Ireland. Over 100 people have arrived at the conference already, with many more expected over the weekend. For more details, please click Journal Ireland.
Photo Credit: Lough Allen Hotel


National Geographic: "All-Ireland final the experience of a lifetime"
The hurling clash between Kilkenny and Tipperary last Sunday caused a sensation, with British twitterati exclaiming their amazement at the game. Now, Geographic Magazine, which has 26m visitors to its website every month, has urged visitors to catch a breathtaking All-Ireland. "Attending an All-Ireland is the experience of a lifetime," it wrote, but it warned travellers to "plan ahead as all 82,300 tickets usually sell out". For more details, please click Irish Examiner.


Snooker: Mark Allen edges Michael White in Shanghai Masters
Mark Allen survived a comeback from Michael White to clinch a 5-4 victory in the quarter-finals of the Shanghai Masters on Friday. The Northern Ireland player led 4-1 but Welshman White fought back to take the match into a deciding frame. Allen prevailed to secure a semi-final meeting on Saturday with Mark Selby, who hammered Fergal O'Brien 5-0.World number nine Allen defeated Mark Williams 5-1 to reach the last-eight stage in China. For on this news item, please click BBC.
Photo Credit: Getty Images

September 11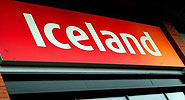 Cork and Dublin firms to create 240 jobs
The Mater Private Hospital in Cork is to recruit up to 150 doctors, nurses and other medical staff over the next two years in a €70m expansion. Elsewhere, a French financial services and software development company has announced 90 jobs over the next two years with the establishment of a base in Dublin. SideTrade provides payment solutions to companies on 65 countries and will offer the jobs in the areas of accounting, financial expertise and customer support. For more on this news item, please click RTÉ.


Work starts on biggest independent Irish distillery
The first sod will be turned this morning on the €25 million Walsh Whiskey Distillery at Royal Oak, Co Carlow – a business that the owners say will create 55 permanent jobs and 70 temporary construction jobs. The distillery, on the banks of the River Barrow, will make Irish pot, grain and malt whiskey under Walsh's brands The Irishman and Writers Tears when it starts operating after a scheduled 18 months of construction. For more details, please click Journal Ireland.


Poetic property on offer
Exciting news from Patrick Kavanagh Country - Billy Brennan's Barn is up for sale. Yes, in what may be another sign of renewed confidence in the Irish property market, the famous outhouse, backdrop to Kavanagh's 1936 sonnet Inniskeen Road: July Evening, has been placed on the market. According to the estate agents, the property comprises "a former residence, out-offices, and the world-renowned [...] barn". The bad news is that they all need "complete renovation". For more details, please click Irish Times.


Gold posy ring from 1680 found in Co Antrim field
The gold 'posy' ring, thought to be the first of its kind found in Northern Ireland, was discovered by amateur treasure hunter Tom Ross in a field near Newtownabbey. Dating back to around 1680, the romantic token is inscribed with poetry in old English – 'I noght on gift bot gifer', which translates as 'Look not on the gift, but the giver'. Because of the poetry inscription there is no room for a hallmark but the ring is thought to be 80% gold. For more details, please click Belfast Telegraph.


Saoirse successfully turns her 12As into a sister act
Saoirse Lonergan scored 12As in her Junior Cert at Loreto secondary school in Fermoy, Co Cork - exactly four years after her older sister Eileen scored 12As. Eileen went on to score an impressive eight A1s in her Leaving Cert. Saoirse said was "over the moon" with her results. "I'm delighted - and it was great to finally have the long wait over - it was fantastic to get the result you were hoping for." For more details on other students, pics and video clips, please click Irish Independent.
Photo Credit: Daragh Mc Sweeney/Provision


Cork hotel & pub scoop top awards in carvery competition
Two Cork eateries have once again given their competitors a roasting, winning the titles of Ireland's best hotel and pub carvery venues respectively in the fifth annual Great Carvery of the Year competition. The Castle Hotel in Macroom won the national hotel title and The Elm Tree in Glounthaune took the pub accolade. Launched in 2010 by Unilever Food Solutions Ireland, the competition is an all-island search for Ireland's best pub and hotel carvery. For more details, please click Irish Examiner.
Photo Credit: Unilever Food Solutions


New Roy Keane autobiography to be released in October
The much-anticipated book, entitled The Second Half, is being ghostwritten by Roddy Doyle, and follows on from the star's initial autobiography, Keane, which was released in 2003. Following the release of the book, an event with Keane and Doyle will be held on 22 October in the RDS. Keane will also be appearing with Doyle at similar events in London and Manchester. For more details, please click Journal Ireland.
To pre-order, please click Second Half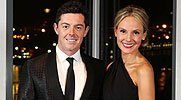 Rory McIlroy chases FedEx Cup glory in Atlanta
McIlroy is fourth in the FedEx standings behind Chris Kirk, Billy Horschel and Bubba Watson with victory for any of the top five at the Tour Championship guaranteeing the payout. McIlroy has finished 22nd, fifth and eighth in the first three play-offs. "Being in the top five was important coming in, you know what you need to do," McIlroy added. I would have liked to be a bit higher on the list but haven't played well enough over the past few weeks. For more details, please click BBC.


Ian O'Sullivan takes gold at Int'l Shooting World Championships
The Limerick man won the Junior Men's Trap event, beating competitors from 34 other countries. He faced Australia's Jack Wallace in the final. After hitting ten targets in a row to begin the gold medal match, O'Sullivan missed his next two but still held on for the top prize. ""It was hard, but I managed to get through," he said. For more details, please click Journal Ireland.
Photo Credit & Related Story: Irish Examiner

September 10

New Dublin housing estate named after 1916 rebel, soldier and doctor
Thornton Heights, which is in Inchicore, is named after Dr Brigid Lyons Thornton, a physician and member of Cumann na mBan. After her implication in the Easter Rising and her release from prison, she continued to work for the welfare of Irish citizens. Of all her achievements, the most remarkable is perhaps her fight against tuberculosis amongst the poor in Ireland and her role in pioneering a BCG vaccination scheme which contributed to ridding the country of the disease. For more details, please click Journal Ireland.
Photo Credit & Related Story: Women's Museum of Ireland


Int'l financial firm to create 338 new technology jobs in Belfast
The worldwide financial consultancy firm, Deloitte has announced plans to invest more than £30m over the next five years and also create 338 positions in technology, finance and consulting with average salaries set at around £30,000. Senior partner, Jackie Henry, said it was a proud day. "This significant investment tells the world in Northern Ireland we have the skills, the wherewithal and the ambition to succeed in globally competitive markets." For more details, please click BBC.


Brick-making tradition revived
Brick making was once a thriving industry in Co Fermanagh, and for the first time in 70 years, Arney brick has is being once again as part of a project to rediscover an all but forgotten tradition. In a series of photos, the process is explained beginning with clay being dug from the land, then fired in large kilnes built in the fields and then being transported by boat to Enniskillen where bricks can still be seen in manyold buildings. For more details and photos, please click BBC.


U2 album given away for free to iTunes users
The first album in five years by veteran Irish rock band U2 has been offered for free to the 500 million users of Apple's iTunes service. The surprise announcement was made at a California event where Apple CEO Tim Cook unveiled the firm's latest iPhone and a new smartwatch. The band also performed live at the event. U2 lead singer Bono described the release of the 11-track album, Songs of Innocence, as "kind of mindblowing". U2's last album, No Line on the Horizon, hit the top spot in the UK charts in 2009 and eventually surpassed the five-million-sales mark worldwide. For more details, please click BBC.
Photo Credit: Getty Images


Weird new Guinness World Records
Former Ireland rugby captain Brian O'Driscoll, champion horse Hurricane Fly, people dressed as St Patrick and the shaving for 179 heads simultaneously are some of Ireland's world record-breakers to make Guinness World Records book. The annual who's who of the world's weird and wonderful will hit shelves tomorrow and reflects on the last 60 years of record-breaking, while also featuring the latest additions to the wacky hall of fame. For more details, please click Irish Times.
Photo Credit: Guinness/Irish Times Gallery


Fishermen save stranded dolphins
Fishermen were praised for helping to save a large number of common dolphins which stranded near Dingle, Co Kerry. Some of the 70-strong pod had come ashore at Béal Bán, in Ballydavid Harbour, when they were observed by Edward Moore, Declan Kennedy and Maurice Lynch who were setting out fishing after dawn. Having raised the alarm, they jumped into the water and managed to get some of the dolphins out to sea before being joined by marine expert, Kevin Flannery. For more details, please click Irish Examiner.
Photo Credit: Arkive/For illustration purposes only


Antrim woman made this t-shirt for her boyfriend, and the internet went crazy
Abbie Bartlett's boyfriend Leon booked a lads' holiday to Ibiza with his mates. She didn't want him to score anyone else over there. So the 20-year-old from Ballymoney, Co Antrim, made him an unusual reminder. Abbie said I was going to make a T-shirt for him to wear. He said 'you wouldn't' and I just replied 'watch me.' He thinks it's hilarious. I was kind of joking when I said he had to wear it everyday but now I think he actually will." For more details, please click Journal Ireland.


Here's why lots of people are tweeting about 'Dublin, United Kingdom'
BandsInTown.com is a website that shows you which musical acts are playing gigs in your town or city, based on your IP location. There's just one problem: it seems to be a little confused about the location of Dublin. Some of the listings show it as in Ireland, but many others… don't. This hasn't gone down too well with some internet users. And here's another annoyance - it also makes any user of the app tweet the, ahem, historically insensitive address when they share the show details. For more on this news item, please click Journal Ireland.


Boxer Carl Frampton honoured at civic reception in Belfast
The reception was organised after his victory over Kiko Martinez on Saturday night, giving the Belfast boxer the IBF super-bantamweight world title. Frampton, from Tiger's Bay in the north of the city, won unanimously on points. Hundreds of fans gathered for the event at Belfast City Hall where they heard Mayor of Belfast Nichola Mallon pay tribute to the boxer: "He's a wonderful role model, both inside the ring and out," For more details & video clip, please click BBC.
Photo Credit & Related Story: Belfast Telegraph/Arthur Allison/Pacemaker Press

September 9

"People still need church"
That's according to Archbishop Eamon Martin, the new leader of the Catholic Church in Ireland, who said he can't work miracles – but pledged to lead his flock through a process of "humble renewal". Archbishop Martin succeeded Cardinal Sean Brady as Primate of All Ireland yesterday, taking over a leadership role which covers the 26 dioceses across the island of Ireland. He becomes the 116th Archbishop of Armagh and Primate of All Ireland in succession to St Patrick. For more details, please click Belfast Telegraph.


Shortlist for Fáilte Ireland 2014 Tourism Towns announced
Ten towns across the country were listed - with six counties dominating the list. Two counties (Kerry and Waterford) have two towns listed each while Cork has three. The format has changed this year with two overall winners to Ireland's top Tourism Town – one for the best large town and one for the best small town. The selected towns have impressed during a series of unannounced inspections from a crack team of independent 'secret shoppers' over the past few weeks. For more details, please click Journal Ireland.


Rediscovered: The lost story of a Belfast World War One pilot
Historian Guy Warner narrates the remarkable story of Jack McCleery, a Belfast World War One pilot whose wartime letters, diaries, notebooks and photographs lay undiscovered for years and are now the subject of a new book: World War One Aircraft Carrier Pioneer: The Story and Diaries of Captain JM McCleery. To learn bout the key role he played in the hazardous development of the world's first aircraft carrier and how he came of age as a World War One pilot, please click BBC.


Hewsons and their Edun fashion brand turns heads in New York
Bono and Ali Hewson's invitation to Danielle Sherman to head up their Edun fashion brand is paying off handsomely. Sherman has helped turn around the fortunes of the brand over the last year and her third collection, shown at New York Fashion Week over the weekend, attracted attention for its ready-to-wear, pared back monochrome shapes, layering, accessories - and its front row faces which included daughter Eve, looking every inch the model herself. For more details, please click Irish Independent.


Damien Rice releasing first album in eight years
The Kildare singer-songwriter has announced that his new album, My Favourite Faded Fantasy, will come out on October 31 in Ireland. The first single from the record, I Don't Want To Change You, will be released later this month. Rice produced the album alongside renowned producer Rick Rubin. He said of making a return to music: "Sometimes you have to step away from what you love in order to learn how to love it again." To read this news item and listen to the title track, please click RTÉ.


Over 40 bands are gearing up for Spirit of Folk 2014
It's been a fantastic season of festivals in Ireland, but it's not over yet. Over 40 bands are gearing up for Spirit of Folk 2014, running from September 19th-21st in Dunderry Park in Co Meath. With 25 acres of wooded parkland and lakeland, the camping festival hosts two stages of live music from the folk, trad and bluegrass genres. Alongside the music, there'll be storytelling and poetry reading, as well as a variety of talks and workshops.For more details, please click Irish Times.


Ahead of the Int'l Sheepdog Trials, a close-up look at sheepherding
Reporter Paul D'Alton went sheep-herding with Con McGarry and his dog, Megan. It was a soft, sodden afternoon on the rolling hills of the Roscommon-Galway border, and as the blanket of mist soaked Paul to the skin, he watched an artist at work. With the poise and deftness of an orchestral conductor, Con McGarry majestically beckons and controls a flock of 360 sheep. It is a remarkable sight: a wave of livestock rolling up and down the green fields, like a long, white ribbon undulating in the wet, foggy gloom. For more details, please click Irish Examiner.


Imagines a world where Ireland doesn't exist
There are no Tayto's and Michael Fassbender is French-German. Welcome to the terrifying place that is the world without Ireland. In this spoof dystopian movie trailer from Irish YouTube channel Plae Pen, we get the chance to imagine what it would be like if our fair isle had never existed. To watch the trailer, please click Breaking News Ireland.
ED. NOTE: Some rough language


Stoats leaving countryside for the bright city lights
The once elusive stoat is more urbanised than previously believed and has been sighted on city and town streets, in university grounds and industrial estates, a research project at NUI Galway has found. Zoology lecturer Dr Colin Lawton said there had been a "phenomenal response" from the public to the project's plea for sightings of the animal. He said the large number of sightings in urban areas was one of the most surprising aspects. For more details, please click Irish Times.

September 8

Vatican accepts resignation of Cardinal Séan Brady
The Vatican has announced that it has accepted the resignation of the leader of the Catholic Church in Ireland. Last month, Dr Brady, who has been the leader of Ireland's Catholics for 18 years, confirmed that he offered his resignation to Pope Francis in July. All cardinals are obliged to offer to resign when they reach their 75th birthday, but the Pope decides whether to accept it. Archbishop Eamon Martin has been announced as Cardinal Brady's successor. For more details, please click BBC.


Over-65s 'the happiest people in Ireland'
That's according to a study by UCC economist Dr Edel Walsh. Dr Walsh examined the details of more than 2,500 people and also found that levels of satisfaction were highest among those lived in a rural area, who have children, and for whom religion is a part of daily life. She said that the study seems to confirm the belief that we are generally happiest during our younger or older years, and less so during the "transitional" ages of our 30s and 40s. For more details, please click Breaking News Ireland.
Photo Credit: Leonie's Blog/for illustration purposes only


'Slash taxes to lure emigrants home to work'
That's the recommendation of business body IBEC whose 2014 Consumer Monitor said the flood of 20 to 35-year-olds risks bringing progress to a grinding halt and the Government must prioritise cutting income taxes to entice these people back to Ireland. But while IBEC's annual snapshot of consumer finances lamented the loss of young people, Ireland's biggest business group still painted a highly positive picture of an economy firmly in recovery. For more details, please click Irish Independent.
Photo Credit: Gary O' Neill


And the tidiest town in Ireland is…
Kilkenny! It may have had to settle for a draw at the All-Ireland Hurling Final yesterday but there's one area where Kilkenny is the clear winner. The city has beaten 848 other entries to be crowned Ireland's tidiest town for 2014 at a ceremony in Dublin. It is the first time in almost two decades that Kilkenny has won the overall prize, having last picked up the trophy in 1985. It is the fourth year in a row that more than 800 towns and villages have taken part in the SuperValu Tidy Towns competition, which has been running for 56 years. For more details, please click Journal Ireland.
Photo Credit & Related Story: Yvette


Hidden adventures and explorations of Dublin
When wandering around the capital city, you're sure to find little gems and unusual items that pique your interest. But there are also parts of the city you might not notice, or elements of Dublin that go not commented on. For Dubliner Karl Whitney, his latest non-fiction book, Hidden City: Adventures and Explorations in Dublin, uncovers some of the different sides to the capital, venturing to places that his contemporaries might not already have gone, including 20 Dublin homes once inhabited by Joyce. For more details, please click Journal Ireland.
Photo Credit: Mark Stedman/Photocall Ireland/Tallaght


Windows to the Past - Pictures of Cork in the 1960s
A book due out before Christmas will show off Cork and its people as they were in the 1960s, all captured by the camera of the late politician and tea merchant Anthony Barry. The project was led by Barry's daughter and grand-daughter, who enlisted the help of a local historian and social media. For Barry's grand-daughter Orla Kelly, the selection of 240 images to include was in many ways easy. Of the 7,500-plus taken by her grandfather, she and her mother Terry agreed early on to focus solely on people in the city. For more details, please click Irish Examiner.


Best selling author Adrian McKinty scoops literary accolade
The Carrickfergus-born writer, who grew up in the town's Victoria Estate, has won the prestigious 2014 Ned Kelly Award in Australia, where he now lives in Melbourne with his wife and their two daughters. He scooped the prize for In The Morning I'll Be Gone, the latest in his Sean Kelly detective series, about a Catholic policeman serving in the RUC. Bestselling Northern Ireland author Adrian McKinty has won a major literary award for his latest Troubles thriller. For more details, please click Belfast Telegraph.


New Queen's Scholars announced
Ten of Northern Ireland's brightest students have won a free university education - for their achievements outside the classroom. Isabel Jennings, from QUB, said: "Each of the Queen's Scholars has demonstrated exceptional leadership and enterprise skills and an outstanding commitment to social responsibility which, alongside their academic strengths, mark them out as the best and brightest young people Northern Ireland has to offer." More than from 150 students were nominated by 83 schools and colleges across the country. For more details, please click Belfast Telegraph.
Photo Credit: Queen's University


Hurling the ultimate winner in thrilling finale
All-Ireland hurling finals have become boundless in their capacity to delight and crush but even as the teams and supporters gathered their senses before leaving Croke Park yesterday, no one was surprised: A draw! Of course. Trust hurling to produce the one unexpected outcome. For the third consecutive year the All-Ireland hurling final finished in a draw, with Kilkenny's haul of 3-22 matched by Tipperary's 1-28. From the first whistle, both teams conspired to transport the crowded house in Croke Park into a kind of dream, with score after brilliant score defining the afternoon. For more details, please click Irish Times.
Photo Credit: Ryan Byrne/Inpho

September 7

How well do you actually know Ireland?
Do you know your way around? Whether you live in Ireland or visit from time to time, take this quiz to find out. Questions include How far is it from Dublin to Cork? By road? How many counties are there along the Border? Which county in Ireland has the biggest population, other than those containing Dublin and Belfast? Are you up to the challenge? To take the quiz, please click Journal Ireland.


Ever wondered how a cask is made?
Ger Buckely, a fifth generation master cooper followed in his father's footsteps and has been making casks since he was a young boy. He says the smell of whiskey reminds him of his childhood, not because of the drinking, he says, but because he spent his time in the distillery learning his craft with his family. "Many people don't know that there is no adhesive, no glue holding a cask together." explained Buckley, who said the tradition of making casks has not changed in thousands of years. For more details & video clip, please click Journal Ireland.
Photo Credit: John Sheehan


Lost Dunluce town reveals plantation secrets
The Dunluce castle development project has been exploring a 17th Century town beside the ruins of the late-medieval castle. The lost town has fascinated archaeologists because the settlement was untouched in the centuries after its decline. The town was destroyed by fire during the Irish Rebellion of 1641/2, and has been buried under a foot (30cms) of earth since the 1680s.For more details, please click BBC.


Culture Shock: Brendan Behan – playwright, novelist, terrorist
In the radio ads for the new production of Brendan Behan's Borstal Boy at the Gaiety Theatre in Dublin, Behan is trumpeted as a "legendary author and revolutionary". But Behan was not a revolutionary. He was something much more interesting and relevant: a terrorist and a child soldier. In the 21st century, when we are so deeply aware of both terrorism and the horror of using children to commit acts of political violence, the story Behan tells in Borstal Boy is a story of our times. For more details, please click Irish Times.
Photo Credit: Hulton/Getty


Standing ovation at premiere of O'Dowd's new film
St Vincent, the new comedy starring Bill Murray, Jaeden Lieberher, Melissa McCarthy, Naomi Watts and Chris O'Dowd, received a standing ovation at its world premiere at the Toronto International Film Festival on Friday. Directed and written by Theodore Melfi, St Vincent tells the story of Oliver (Lieberher), the child of divorced parents who finds a friend in Vietnam veteran Vincent (Murray). Murray's performance has been hailed as the finest of his career, with O'Dowd's turn as teacher Brother Geraghty described as "hilarious" by Deadline.com. To read this news item and view the official trailer, please click RTÉ.
Photo Credit: Getty Images


Where are they now? Ten once-successful Irish bands and what became of them
Ever find yourself glancing through your CD collection (yes, CD) and wonder, "Hey, whatever happened to them?" The Journal has done a bit of research and tracked down what became of ten once-successful Irish bands. Take The Revs for example: The Revs were probably best known for tunes like Wired To The Moon and Death of A DJ. They released three albums between 2002 and 2005, before announcing a hiatus in 2007. Since then, the lead singer has relocated to Lanzarote and set up a band called Rory and the Island. For more details, please click Journal Ireland.


Love boat to Rathlin Island
Ian and Nuala Duncan from Rathlin Island have kicked off married life in style after meeting on New Year's Eve in Ballycastle three-and-a-half years ago. They fell in love and became engaged in August 2011 on a ferry to France. Ian said "My first wife died of cancer and myself and my son moved to Rathlin and renovated a cottage, then I met Nuala. It's very hard for someone to take on an old farmer from Rathlin!" The couple married on August 23 at St Mary's Church on Rathlin and a reception followed at Carrick-a-Rede Hotel in Ballintoy. For more details, please click Belfast Telegraph.


All-Ireland Hurling Final: Kilkenny vs Tipperary
After the massive excitement of the football semi-finals last weekend, attention now turns to the eagerly awaited hurling final between Kilkenny and Tipperary. A huge rivalry has built up between these two teams over the last six years. This will be the fourth All-Ireland final between basically the same core group of players on both panels. They have also contested three league finals in that period. The Cats, without doubt, have had the upper hand in all these recent contests. However, Tipp did beat them in 2010 - stopping the 'drive for five.' For more details, please click RTÉ.
VIDEO: Watch RTÉ's moving intro to the All-Ireland Hurling Final


Belfast's Carl Frampton becomes IBF world champion
Northern Ireland's Carl Frampton outpointed Spain's Kiko Martinez in Belfast's Titanic Quarter to secure the world IBF super-bantamweight title. In front of 16,000 fiercely partisan fans in a purpose-built outdoor arena, Frampton controlled the fight throughout and floored the champion in the fifth round. Martinez demonstrated remarkable durability to make it to the final bell but the judges scored the fight 119-108, 119-108, 118-111 - all in Frampton's favour. For more details, please click BBC.
Photo Credit, related story & more picks: Yahoo UK News

September 6

Ireland's Best Shops 2014 - The winners
Having sifted through almost 28,000 nominations for some 2,700 shops across 10 different categories, the Irish Times has announced the winners across the country. Featured in a special segment are the boutiques, the cafes and tearooms, the salons and the specialist stores that came out on top in reader nominations and in a judges' poll. Competition was fierce, discussions got heated and so it was decided to add a " highly commended" badge in each category. For complete details, please click Irish Times.
Photo Credit: Ralph Doyle/The Burren Perfumery


Heritage Ireland: Waterford's Copper Coast, a medieval abbey and an iconic cathedral
In this edition of Journal Ireland's Heritage Ireland series, archaeologist Neil Jackman guides us to the stunning scenery of the Copper Coast in Co Waterford, the remains of a medieval abbey in Sligo and one of Dublin's most historical and iconic buildings; St Patrick's Cathedral. First up is the Copper Coast. Ireland has a long history of copper mining, and the copper mines at Ross Island in Co Kerry and Mount Gabriel in Co Cork are some of the oldest in north-west Europe. For more details, please click Journal Ireland.


Irish and Indian scientists rewrite Earth history
Irish and Indian scientists have rewritten Earth's history by finding oxygen producing life forms existed 60 million years earlier than thought. They believe these life forms are responsible for adding oxygen to our atmosphere. This laid the foundations for more complex life to evolve. The research was carried out by geologists at Trinity College Dublin and the Presidency University in Kolkata, India. For more details, please click BBC.


Pythagoras would have approved of Dublin's huge harp
Pythagoras's interest in harmony included experimenting with stretched strings and he found that strings whose lengths are ratios of small numbers produce harmonious sounds. The Samuel Beckett Bridge resembles the strings of a great harp and, one can imagine the cables being plucked by some giant. In fact, this is what will happen next Saturday (today) at an event to mark the opening of the Tiger Dublin Fringe Festival. Composer Tom Lane has written a musical piece using the tones produced when the heavy stays are hammered into oscillation. For more details, please click Irish Times.
Photo Credit: Julien Behal/PA Wire


John Lennon's 'Beatle Island', real name Dorinish Island, is still up for sale
With panoramic views of Clew Bay, it's no wonder Lennon fell in love with it. Dorinish Island, which has a price tag of €300,000 is set in a stunning location directly below Croagh Patrick with views out across Clare Island to the Atlantic and back into Westport. There has been huge interest in the island since it went on sale in 2012 and while local estate agent Andrew Crowley from Sherry Fitgerald in Westport is remaining tight lipped, it's reckoned that there have been some celebrities eyeing it up as an idyllic holiday spot. For more details, please click RTE´.


New search for NI explorer who vanished in icy Canadian waters
Setting out to explore the 300-year-old mystery of the Northwest Passage in 1845, Banbridge-born explorer Captain Francis Crozier, two ships and an entire crew disappeared apparently without trace, prompting an unprecedented worldwide preoccupation with finding out what happened. Despite a massive search operation, the two ships were never found. Now, nearly two centuries later, a new Canadian government-led expedition is under way, For more details, please click Belfast Telegraph.


Giant Gran steps out in Limerick
Delivering a giant boost to Limerick's City of Culture celebrations, the biggest street theatre act in the world drew over 60,000 onto the streets as the Giant Gran commenced her three-day, 19k journey through the capital of the Mid-West. It is expected that up to 200,000 will see the 25ft tall gran before she departs the city on Sunday by boat down the Shannon Estuary. Since 1979, French company, Royal de Luxe, has left a gigantic footprint in street theatre in more than 40 cities, where their giants have been greeted by over 18 million people. For more details, and video clip, please click Irish Examiner.
Photo Credit: Journal Ireland


Rory McIlroy 2 shots off the lead at BMW championship
Rory McIlroy finished strongly with three birdies in his last four holes to lie two shots off the lead at the halfway stage of the BMW Championship. The Northern Irishman, who shot a 67 for a six-under total, trails European Ryder Cup team-mate Sergio Garcia, who managed an impressive 64 in Denver. American Ryan Palmer also carded a 64 to sit a shot adrift of Spain's Garcia. Garcia, who was a shot off the lead after the first round, birdied his second hole but his round came to life with an eagle at the seventh. For more details, please click BBC.


Divided clans chasing victory in the All-Ireland hurling final
Throw a sliotar across a field in the vicinity of any of the communities which nestle against the Kilkenny/ Tipperary border and you're likely to hit someone who supports one county but is married to, works with, or is friends with, someone from the other side. It's a common feature of the build-up to matches involving the two counties. Everyone on the road is Kilkenny or Tipp. Even the schools are festooned in both black and amber and blue and gold. For more details, please click Irish Examiner.

September 5

Archaeologists to start digging where former kings were crowned
Tullyhogue Fort, near Stewartstown in Co Tyrone, is on a hilltop with commanding views of several counties. It was here, for centuries, that the O'Neill clan crowned its chief, effectively establishing him as the king of Ulster. The coronation ceremonies were conducted on a great stone chair, called Leac na Rí. It was made up of a large boulder, reputed to have been blessed by St Patrick, with slabs fixed to the sides and rear. Local legend has it that part of the coronation seat ended up in a nearby Church of Ireland church. For more details, please click BBC.


Price slashed for Donegal island
Part of the Donegal Archipelago which includes Tory, Inishdooey has been seeking a buyer since 2011 when it came to the market with an asking price of €1 million. The 96-acre outcrop lies three miles off the mainland and is owned by Falcarragh man Mark McClafferty, who inherited the property from his late grandfather Vin Duggan. At the time the owner considered the asking price to be "a bit steep". Not surprisingly, the price tag has since been slashed by 84 per cent to a considerably more reasonable €175,000. To read this news item, please click Irish Times.


Proud army dad home for historic salute
Brigade Quarter Master Sergeant (BQMS) John Nolan, who is serving with the 44th Infantry Group on the Syrian border was at Haulbowline naval base yesterday to watch his son, James, commissioned as an officer. In an historic break with tradition, he took the passing-out parade salute from his son, as did Thomas Molloy, a Cobh, Co Cork-based Chief Petty Officer, who took the salute from his son, Philip. For more details and video clip, please click Irish Examiner.
Photo credit: Denis Minihane


There's a new star in town for Ireland's largest airshow
The Ulster Aviation Society's Belfast Telegraph Spitfire is to get its biggest outing yet when it takes pride of place among the attractions at the Air Waves Portrush event this weekend. The replica of the World War II icon, the only one in Ireland, will be a huge draw for aviation enthusiasts visiting the Northern Ireland International Airshow 2014 on the north coast this Saturday and Sunday.The society acquired the Spitfire in December 2013 and it is an exact replica of one of 17 funded by Belfast Telegraph readers 70 years ago in a boost to the war For more details, please click Belfast Telegraph.


Quiet Man village visited by thousands every year
Nestled among beautiful emerald pastures and stone walls, Cong and Ireland depend on the romantic postcard from the past that is The Quiet Man. For the uninitiated, the 1952 film is a love letter to Ireland by legendary director John Ford. Filmed in the village and its environs, The Quiet Man plays on every sentimental string about Ireland and its foibles. That now famous brush with Hollywood has turned into an industry - as you enter the village, images of Wayne and O'Hara are everywhere. For more details and pics, please click ABC News Australia.
Photo Credit: Eric Delignieres


London Irish Centre celebrating 60th anniversary
It is safe to say the 500 young people dressed as nuns, bishops, housekeepers and priests in a celebration of Father Ted were not what the founders of the London Irish Centre envisaged when they opened the doors with a view to maintaining the Catholic faith of emigrants who moved to London. The summer Tedfest was lauded as one of this year's most successful events for the oldest and largest Irish community centre in Britain. The Centre will celebrate its anniversary with events marking how it has changed since the Catholic church set up a fund to help those moving to London in the 1950s. For more details, please click Irish Times.


The Irish band that's huge worldwide – but not at home
They sell out in venues around the world; they headline festivals across Europe; their fans will travel miles to see them. They're the biggest contemporary Irish metal band, but they're not a household name in Ireland. Meet Primordial, a Dublin group who have been going since 1987 and have eight studio albums. Their black metal sound has seen them headline gigs around the world, but they've never been huge in Ireland outside the metal subculture. For more details, please click Journal Ireland.


Rory McIlroy shares lead at BMW Championship
Two late bogeys saw Rory McIlroy slip back into a share of the lead after round one of the BMW Championship as he chases a first FedEx Cup title. The world number one came into the third leg of the four-tournament play-off series sitting second in the overall standings and led in Colorado on five under after 15 holes. But dropped shots on two of his last three saw the Northern Irishman record a 67 and drop back into a share of the top spot alongside Jordan Spieth and Gary Woodland. For more details, please click RTÉ.


Horse bought for one euro to represent Ireland at int'l competition
Geraldine Graham, from Lenamore Stables in Co Donegal, bought the mare from a friend who could no longer look after the animal because of its poor health. The horse, renamed Lenamore Lucy Lou, was nursed back to fitness and is now worth tens of thousands of euros. Ms Graham credits her son Kenneth for his patient and sensitive treatment which helped develop the horse into an international showjumper. Later this month, the mare is due to compete in a world contest in Belgium. For more details, please click BBC.



Sun, Sep 21, 2014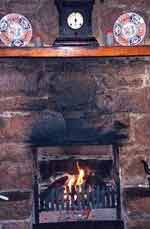 From Bog Land to Turf Fire
Ireland contains more bog land, relatively speaking, than any country in Europe, except Finland. For people in rural areas, turf cut from the bog is still a natural source of heat. Turf cutting begins in spring and then the turf is spread and rickled . Rickled means to pile the turf up in small mounds. By summer, the turf is dry and it's time to bring it home. Everything has to be prepared before the winter comes, or even earlier, because the rain would wet the turf too much. It has to be dry and in the shed before Autumn. Then and only then, can an irish country family look foreward to the cozy warmth of "a turf fire in the cabin."

Resources: The Atlas of the Irish Rural Landscape
Image: Spirited ireland

Click for More Culture Corner.
---
---
Local Time in
---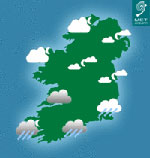 The Weather
Up the minute forecasts provided by Ireland's official source for all weather-related news. Please click Met Eireann.

---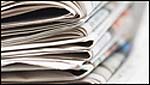 Links to the latest news from Ireland
Here you will find all the stories making headlines throughout the Republic of Ireland and the six counties to the north. This is not intended to be an all-inclusive list. These are the main sources we check every day to bring you those headlines we think you will enjoy reading.

BBC Northern Ireland
Belfast Telegraph
Breaking News Ireland
Irish Emigrant
Irish Examiner
Irish Herald
Irish Independent
Irish News
Irish Times
Irish Post
RTE
The Irish World
The Journal Ireland
Inside Ireland


---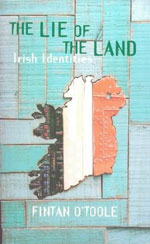 Lie of the Land
by Fintan O'Toole
A regular contributor to the irish Times and The Guardian, O'Toole applies his eagle journalistic eye to the state of ireland at the end of the 20th century. It's a riveting read as O'Toole examines with in-insight, humour and a bit of the blarney, the repercussions of a booming economy which has thrust ireland into the ranks of the richest European countries.
Click here for Lie of the land.

---