Traditions, folklore, history and more. If it's Irish, it's here. Or will be!
"People will not look forward to posterity who never look backward to their ancestors."
-Edmund Burke
---
Quotes

Library: Books, Movies, Music

Prints & Photos

Poetry

---
---
Shops Ireland
---
Bunús na Gaeilge
(Basic Irish)

---
---
---
Himself/Herself
Write to Us
Readers Write..
Links/Link to Us
---
Advertise with us
---
Awards & Testimonials

Submissions Guide

---

Todays' Irish News



Yes, there are many news items not included here. We deliberately avoid: politics, death, disaster and other mayhem.

Tuesday, March 11, 2014

Click here For our Monthly County News

---
Eileen Colgan, RIP
The TV, film and theatre actress played Esther Roche in the RTÉ drama Fair City. She also appeared in many of Ireland's best-known films and TV series, including Angela's Ashes, My Left Foot, Far and Away, Ballykissangel and as the priest's housekeeper, Mynah, in Glenroe. She will also be remembered for her roles as Mrs Mulhall in Strumpet City and Norrie in The Real Charlotte. For more details, please click
RTÉ
.
Photo Credit & Related Story:
Journal Ireland/RTÉ
World-wide broadcast: We Need to Talk About Ireland - what it means to be Irish in 2014
The 90-minute show will be broadcast live and worldwide on St Patrick's Night, Monday March 17, from 9:00pm Irish time. The show will take place in front of a live audience in the Round Room of Dublin's Mansion House, where innovators, thinkers, artists and entrepreneurs will discuss Ireland's past, present and future, with music, comedy, poetry and film all part of the programme. For more details, please click
RTÉ
.
No, it's not Lydia
A Porbeagle shark from the Great White family has washed up on a Kerry beach. The female porbeagle shark was discovered by local photographer Bernard Fitzgerald as he was walking on Aughacasla beach in Castlegregory. The arrival of the shark comes as a tagged Great White shark called Lydia is set to be the first recorded member of her species to cross the Atlantic as she swims within 750 miles (1,200km) of Irish shores. For more details, please click
Irish Examiner
.
Dublin's freedom bell to be restored
It was the first Catholic Church bell to ring in Dublin in breach of the Penal Laws 200 years ago and not it is to be restored as part of a €620,000 tourism investment. The bell at the Smock Alley Theatre, said to have been cracked by a mighty blow from The Liberator Daniel O'Connell, is one of five heritage projects which will share the Department of Tourism fund. For more details and video clip, please click
Irish Times
.
Goeco introduces first Irish-made bike in 40 years
Loved by everyone from Michael Collins to your own Irish granny, the High Nelly bike was a fixture on the Irish roads up until just a few decades ago. This week, President Barack Obama will become the owner of the very first High Nelly manufactured in Ireland in recent times – and the very first Irish-made bike in 40 years. Tomorrow, Paul Manning, son of manufacturer Marty Manning will travel to Atlanta to launch the bike at a ceremony also to be attended by Transport Minister Leo Varadkar. For more details, please click
Journal Ireland
.
New woodlands to mark WWI centenary
Plans to mark the centenary of the First World War by creating four new woodlands and planting millions of trees have been unveiled by the Woodland Trust. More than three million free trees will also be provided for schools, communities and youth groups to help create hundreds of woods that will stand as a legacy to those who died, fought or lost loved ones between 1914 and 1918. For more details, please click
Belfast Telegraph
.
Boston "guardian angel" to fund Alisha's life-saving treatment
"What can we say. There are no words. She is a guardian angel for our little Alisha. Thank you from the bottom of our hearts." That was the reaction of Cork couple John and Michelle Savage after Eileen Tye and her foundation offered to cover all the medical bills associated with Alisha's treatment in a Boston medical centre. For more details, please click
Irish Examiner
.
Photo Credit: Patrick Whitemore
Sisters' joy at saving their own 'woolly mammoth'
Lucy is not such a little lamb. She is in fact twice the size of most newborns, tipping the scales at 18lbs when she arrived last week. The Mayo sheep is not the largest ever in the world but is certainly among the heavyweights. And she will be spared the 'chop' because of her supersize at the insistence of Shauna Tierney, daughter of farmer Declan Tierney, who delivered Lucy on his farm at Caherafort, Roundfort. For more details, please click
Irish Independent
.
Cheltenham Festival Day 1: Bookies expecting €120m in Irish bets
It's a statistician's dream. The event ii attract: 230,000 racegoers; 15,000 to 20,000 of them Irish; £3.8 million (€4.6 million) in prize money; 27 races; four days; and this year another trophy – the Prestbury Cup, awarded to the country which trains the most winners. Last year, Ireland had more winners than Britain for the first time and bookies are offering 5/1 for history to repeat itself.For more details, please click
Irish Times
.
Photo Credit: Dara Mac Dónaill
---
Past Two Weeks
March 10

Put away the winter coat...
There is no denying that it was fierce mild out today, with temperatures reaching up to 12 degrees Celsius in some parts of Ireland. In case you missed the weather report after the news today, you might want to read on. While England enjoyed its hottest day of the year so far today with temperatures of 19 degrees Celsius, warm enough for people to actually go to the beach (That's just rubbing it in), Ireland is getting a bit of the sunshine too. For more details, plase click Journal Ireland.


Ireland 250 acres smaller after floods
Environmental engineers and coastal erosion researchers estimate that in some areas, up to two metres (6ft) have been washed away from vulnerable coastlines through a record succession of violent winter storms. That equates to the loss of 250 acres – or the equivalent of a large farm. ESQ Consulting Engineers said that the frequency of violent storms was directly related to higher levels of coastal erosion. For more details, please click Irish Independent.
Photo Credit & Related Details: Esquire Consulting


Dublin hotel occupancy surpasses pre-recession levels
That's according to a new study from Price Waterhouse Cooper. Last year's occupancy rates climbed to 78.7 per cent from around 67 per cent in 2008. Overall, Dublin ranked fourth in Europe in terms of average hotel bed occupancy. The bounce-back is predicted to continue in 2014, with Dublin set to out-perform some of Europe's most expensive cities. For more details, please click Journal Ireland.
Photo Credit: ebookers


Fyffes merge with Chiquita to create world's biggest banana supplier
Shares in Fyffes have soared over 28% in Dublin trade after the company announced that it will merge with Chiquita to create the world's largest banana supplier. The company will be called ChiquitaFyffes plc and will be listed on the New York Stock Exchange and domiciled in Ireland. Both the Chiquita and Fyffes brands will continue. The merger is expected to be completed before the end of 2014. For more details, please clic RTÉ.
Photo Credit: Fresh Plaza


Liam Neeson to become the voice of Northern Ireland
Hollywood star Liam Neeson has taken a new role promoting his native Northern Ireland as a tourist destination. The actor, who was born in Ballymena, Co Antrim, has agreed to be the voice of the Northern Ireland Tourist Board's latest advertising campaign. Mr Neeson said he was "delighted" to be asked to "promote the treasures of my homeland." For more details, please click BBC.
Photo credit & Related Story: Irish America


Creations a cut above at Irish Hairdressing Championships
More than 250 of the best stylists in the country gathered at the Irish Hairdressing Championship yesterday. Using props and materials, hairdressers styled, crimped and coiffed with purpose. Gerrard Hynes, president of the Irish Hairdressers Federation said the talent surpassed previous years. "I'm seeing a much, much higher standard this year." For more details and photo gallery, please click Irish Independent.
Photo Credit: Leon Farrell/Photocall Ireland


James Nesbitt helps raise £50k for cause "dear to his heart"
The Hobbit and Cold Feet actor teamed up with other well-known faces – including broadcasters Sarah Travers and Fiona Phillips – to raise cash for two Alzheimer's charities at Friday night's Forget Me Not gala ball at Titanic Belfast. All three stars have personal experience of the condition having lost a parent to dementia, with both Ms Phillips' parents falling victim. For more details, please click Belfast Telegraph.


Matriarch of Ballymaloe celebrates her 90th birthday
From past and present, staff at Ballymaloe House gathered last night to help the renowned matriarch of modern Irish cuisine, Myrtle Allen, blow out the candles ahead of her 90th birthday. They also presented her with a portrait of herself painted by the renowned portrait artist, Gentian Lulanaj, who has a studio and gallery on the grounds of Ballymaloe House. For more details, please click Irish Examiner.
Photo credit: Dan Linehan


Bangor's Kelly Gallagher wins Paralympic gold
Kelly Gallagher has won ParalympicGB's first ever gold at the Winter Games with victory in the visually impaired Super-G in Sochi. The 28-year-old from Bangor in Co Down and her guide, Charlotte Evans, were first on the Rosa Khutor course and clocked one minute 28.72 seconds. "It was nerve-wracking but I'm delighted with the result," Gallagher said. For more details, please click BBC.
Photo Credit: Getty Images

March 9

Branagh pays tribute to actor Jimmy Ellis, RIP
Sir Kenneth, who went on to become a star both in front of and behind the camera, said " James Ellis was a great inspiration to me, and many other actors from the North of Ireland." Ellis, who performed alongside a young Sir Kenneth in BBC Northern Ireland's series of "Billy" plays in the early 1980s, died from a stroke in Lincoln Hospital early yesterday. For more details, please click Belfast Telegraph.
Photo Credit, More Pics & Related Story: Daily Mirror


"Irish bailout programme 'tremendous success story"
German Chancellor Angela Merkel has said the Irish bailout programme is a "tremendous success story" and it is important that it can be seen as "completed". Ms Merkel was speaking at Government Buildings where she met Taoiseach Enda Kenny and Tánaiste Eamon Gilmore on Saturday. Chancellor Merkel was in Ireland for the European People's Party Congress. It is the first bilateral meeting between the leaders since Ireland exited the bailout in December. For more details & video clip, please click RTÉ.


Brian Boru, master of psychological warfare
Of all the many kings - mythical and historical- of pre-invasion Ireland, Brian Boru alone is the one known to Irish people and Clontarf is the only battle they have heard of. And he, alone of Irish kings, is the subject of a rude schoolboy rhyme. He's also the subject of other poems and ballads, including one by William Kenealy which is reprinted again and again and learned by generations of Irish schoolchildren. For more details, please click Irish Times.
Image Credit: House of Brian Boru


Is Lydia, the great white shark heading toward Ireland?
A tagged great white shark called Lydia is set to make history as the first of its species to be seen crossing into the north Atlantic. The satellite-tagged 14 foot shark is causing major excitement in scientific circles as she is now swimming just over 1,000 miles off Ireland'shores. Kevin Flannery A leading marine biologist said: "There is no doubt from the current position of the shark, we are seeing a great white heading into European waters for the first time." For more details, please click Irish Independent.


The sights Irish people would miss most
What would YOU most miss seeing if you were to lose your sight in the morning? It's a sobering question but one that has prompted hundreds of Irish people to submit their snapshots to the first Snap-A-Sight contest created by Sightsavers Ireland. A spokesperson aid that the contest was particularly popular among teenagers who were "engaged in a 'language' they would understand – phones and photos". For more details & pics, please click Journal Ireland.


A walk that will set up you up nicely fafter dinner in Kinsale
To an Irishman, the name Kinsale evokes the memory of the most seminal battle in Irish history. To the visitor, it is a heritage town which has a reputation for gourmet restaurants. If you have over-indulged in the latter, a walk by the sea may be just the tonic you need and there is an excellent one along the north side of the harbour - and the fort. For more details, please click Irish Times.


10,000 Canadian visas for Irish people in 2014
That is an increase of 60% on the number of International Experience Class Visas available in 2013. The 6,350 made available last year were snapped up within 48 hours, by eligible 18 to 35-year-olds. Those interested in planning a new life in Canada can attend Expos hosted by WorkingAbroad.net in the RDS Dublin on Saturday 22nd and Sunday March 23 and in Cork on March 26, at the Silver Springs Hotel. To read this news item and many others, please click Breaking News Ireland.
Photo Credit: Irish Alien


Flatley 'Honoured' to Lead Parade
Dance legend Michael Flatley has spoken of his honour after agreeing to lead Cork's St Patrick's Day parade. The multi-millionaire Lord of the Dance and Feet of Flames superstar, who was made a freeman of Cork in 2007 said: "I am truly honoured to be chosen as grand marshal of the Cork St Patrick's Day Parade, in the county my family and I now call home. For more details, please click Irish Examiner.
Photo Credit: Irish Independent


Emotional finale for Brian O'Driscoll
Record-breaking centre Brian O'Driscoll savoured a rousing ovation and a winning finale as he made his last international appearance on Irish soil. Ireland's crushing 46-7 win over Italy was a vital one in Six Nations terms, but all eyes were on the BOD during and after his 140th Test match. O'Driscoll fought back the tears as he admitted he was still getting used to the prospect of looming retirement. For more details and video clip, please click BBC.
Photo Credit, video and related story: Irish Independent.

March 8

Events to mark International Women's Day
It's March 8 - International Women's Day - and thousand of events are being held across the globe to raise awareness of female issues. In Dublin, Ireland's First Lady Sabina Higgins will join the National Women's Council on O'Connell Street as they hold a soapbox on topics such as marriage equality, childcare and reproductive rights. For more details, please click Breaking News Ireland.


Nearly 60% Irish women complete third-level education
Figures released today by Eurostat, the statistical office of the European Union, show 57.9% of Irish women have a qualification beyond secondary school. However, only 16.9% of engineering graduates in Ireland were women. Almost 80% of those qualified in health and welfare were women and women made up 76.2% of those who attained a qualification in education and training. The figures were released to mark International Women's Dayyodsy. For more details, please click RTÉ.


Private memories, public traces: a tribute to Seamus Heaney
When Richard Ellmann, the great biographer of James Joyce, WB Yeats and Oscar Wilde, was dying in 1987, his university, Emory, in Atlanta, decided to establish a series of memorial lectures in his honour. They are now among the most prestigious of such events. Lecturers have included Paul Simon, Margaret Atwood, Denis Donoghue, Mario Vargas Llosa, Salman Rushdie and Umberto Eco. But Ellmann himself knew who he wanted to inaugurate the series: Seamus Heaney. For more details, please click Irish Times.
Photo Credit: Condé Nast Publications


Hidden Ireland: From the Boyne flows the story of Ireland
The Boyne Valley synonymous with the incredible World Heritage Site of Newgrange and the Brú na Bóinne tombs, but for almost every period in Irish history from the furthest reaches of Ireland's prehistoric past to the early modern period, it has a perfect site to encounter the story of Ireland. Pictured is the largest Norman castle in Ireland in Trim, Co Meath, representing the medieval period from 1200 to 1600 AD. To read this feature article, please click Journal Ireland.
Photo Credit: Abart Audio Guides


Cork fishmonger to keep Irishness undercover at tea with the Queen
Cork's Pat O'Connell will be wearing green boxer shorts emblazoned with a shamrock logo when he visits Buckingham Palace on March 25. He will wear the jocks under a classic, tailored Irish suit thanks to one of the country's oldest menswear firms, the 1860-established Fitzgerald Menswear on Cork's St Patrick's St, which came on board yesterday to give him a Buckingham Palace makeover. For more details, please click Irish Examiner.
Photo Credit: USA Today


Pics: 55,000 children take part in National Pyjama Day
Providing support to families caring for seriously ill child at home, this is the 11th National Pyjama Day organised by Early Childhood Ireland and it has raised over €2 million for children's charities. CEO of IHF Sharon Foley said: "National Pyjama Day is one of the biggest fundraisers for the IHF and, thanks to children, parents and childcare professionals all over Ireland, €700,000 has been raised for our Hospice Home Care for Children programme so far." To view the photo gallery, please click Journal Ireland.


Taking the lead – Irish-owned pooches shine at Crufts
Several Irish dog breeders have been picking up some of the top prizes at this year's Crufts in Birmingham. Jean Lawless, from Kilcullen, Co Kildare, and her Belgian Shepherd Groenendael, Champagne Charlie Revloch, won the Open Dog Class and his third Best Male Challenge Certificate. Ms Lawless said: "The atmosphere over here is incredible." For more on this news item, please click Irish Independent.
Photo Credit: Revloch/For illustration purposes only


Six Nations Preview: Ireland v Italy
This will be a great occasion even though in purely sporting terms, it is a disappointment that Brian O'Driscoll will play his final home Test match against a badly weakened team. Ireland will not concern themselves with whether the visiting selection could be stronger and the opportunity to boost their points-difference ahead of a massive clash with France in Paris is more than welcome. For more details, please click RTÉ.


Irish duo lead European bid
Rory McIlroy and Graeme McDowell are amongst four Europeans just one stroke off the halfway lead at WGC-Cadillac Championship after a brutal second day at Doral. McDowell was one of only three golfers to shoot under-par in his second round; and another - Jamie Donaldson - joined the Northern Irish duo at level-par for the tournament, along with Italy's Francesco Molinari. For more details, please click Sporting Life.
Photo Credit & related Story: Golf/Chris Condon/PGA Tour/Getty Images
ED. NOTE: McDowell is pictured at 2013 Championship

March 7

Storms reveal 7,500-year-old 'drowned forest' on Galway coast
Parts of extensive forests dating back 7,500 years that once marked Ireland's Atlantic rim have been spectacularly exposed by the recent storms hitting the west coast. Walking out on to the shoreline at low tide, west of Spiddal, Co Galway. geologist Prof Mike Williams points to the oak, pine and birch stumps and extensive root systems which were once part of woodlands populated by people, wolves and bears. For more details, please click Irish Times.
Photo Credit: Joe O'Shaughnessy


Good day for Irish animals
A new animal Bill has been passed to replace legislation that's 103 years old. The Minister for Agriculture Simon Coveney says it will lead to greater protection of animals. He also said "...this Bill will apply across the board, both to rural and urban areas and to all animals whether they be commercial, domestic or other". The Bill also strengthens laws on animal baiting and dog fighting so that for the first time those attending dogfights will be liable for prosecution before our courts. For more details, please click Journal Ireland.
Photo Credit: Discover Ireland


Sean Penn guest of honour at Dublin human rights awards
The Academy Award winner and charity advocate made his way to Ireland earlier this week to mark the occasion, where he presented an award to women's rights campaigner Noorzia Afridi. The Front Line Defenders Awards honours and protects human rights defenders around the world since its establishment in Dublin in 2001. For more details, please click Irish Independent.
Photo Credit: Mark Condren


Secret tunnel unearthed beneath Carrickfergus Castle
Archaeologists carrying out a major dig at Ireland's best preserved Anglo-Norman Castle were surprised to find parts of an 18th Century tunnel extending into the area where the medieval Great Hall once stood. Although these Victorian features have disturbed earlier deposits, they are also allowing archaeologists to dig deeper into the site and uncover substantial remains of what appear to be medieval walls. For more details, please click Belfast Telegraph.


Iconic logo to disappear from Irish cinemas
The famous Carlton sting – which many people grew up with, as it has preceded films in most Irish cinemas since the 1990s – is being axed as the company behind it rebrands to Wide Eye Media. The Carlton sting, which scared many a child with its loud noises and (literally) in-your-face approach, will appear for the last time tomorrow evening. "It's hard to let something so iconic go," a spokesperson for Wide Eye Media said, "but it's exciting at the same time." For more details and to view both the old and the new logo film intros, please click Journal Ireland.


The Irish Chamber Orchestra & Irish World Academy offer new classical degree
Called ACADEMOS, the full-time two-year Masters in Classical String Performance at the University of Limerick will give students of classical string performance the opportunity to study, train and perform with some of the world's best musicians, composers, and conductors with classes taught by Irish Chamber Orchestra leaders. Graduates will then be able to apply for a place on the PhD Arts Practice at the Irish World Academy. For more on this news item, please click Irish Examiner.
Photo Credit: Tipp Tatler Magazine


Excitement grips Kilrush, Co Clare, after news of €8m lottery win
The €24 mix play that won the €8,302,204 prize was purchased around lunchtime on Saturday in Miniter's shop at Henry St. The ticket was bought for the Saturday and Wednesday draws. The jackpot had rolled over for six weeks to become the largest Lotto win in Co Clare and the third multimillion-euro win in the county since August. Shop owner Mary Miniter was contacted by the National Lottery at 7.40am yesterday and was told the winning ticket had been purchased in her shop. For more details, please click Irish Examiner.


Couple wed in Wild Atlantic Way Philadelphia garden
Roxanne Wilson and Frank Kennedy were the lucky winners of the 'Philadelphia Wedding's Greatest Groom' contest, which meant they got to say "I do" and exchange Claddagh rings in the garden at the world's largest indoor flower and horticultural exhibition. 'The Wild Atlantic Way' features a replica of the Poulnabrone dolmen and has been designed to bring the wild landscape of our western seaboard to life. For more details, please click Irish Examiner.
Photo Credit: James Higgins


Rory McIlroy and Graeme McDowell in contention in Florida
Rory McIlroy trails by two shots in a rain-delayed first round of the World Golf Championships in Florida. The Northern Irishman was one under par after 14 holes and trails clubhouse leader Harry English, one of five on three under, when play was ended early. Graeme McDowell is a stroke further back on level par after 12 holes. For more details, please click BBC.

March 6

"Ireland has turned the corner..."
That's according to European Commission president Jose Manuel Barroso who made the statement in his keynote address at University College Cork where he was being presented with an honourary degree in law. Mr Barroso's address focused on EU economic reform and the changes needed to secure the euro. "I admire and respect the courage and resilience of the Irish people. Families have made big sacrifices. But Ireland has shown it can be done," he said. For more details, please click Irish Examiner.
Photo Credit: Des Barry


St Patrick's Day festivities to rekindle love for Irish cities
Seventeen intimate cultural events are to form a major part of Dublin's St Patrick's Day 'I Love My City' programme. The festival was launched with a flurry of sound and colour in Dublin's Iveagh Gardens yesterday and will visit a series of iconic venues around Dublin's city centre. Susanna Langan, creative director of the St Patrick's Day Festival said "We have increased the number of venues and performers to show what's wonderful about Ireland." For more details, please click Irish Independent.
Photo Credit: Robbie Reynolds


Dublin pub sells its first pint in exchange for Bitcoin
The first pint — a bottle of Kopparberg cider to be more exact — has been purchased in Ireland using bitcoin, with staff at the Baggot Inn in Dublin revealing that it was quickly followed by a flurry of other Bitcoin booze buys, including Guinness as pictured. Chris Healy, marketing and events manager at the Baggot St pub, said the first pint paid for with bitcoin was bought by Michael Rudnicki — and other bitcoin fans then spent €140 between them. For more details, please click Irish Examiner.
Photo Credit & related Story: Irish Independent


Shopfronts of Dublin
As with many other countries, the proliferation of chain stores and franchise brands can make the average Irish town or city indistinguishable from each other. A modest photographic project by Luca Truffarelli for VisitDublin.com captures the spirit of some of the capital's independent businesses; shops, services, restaurants and bars that have carved out a niche for themselves in neighbourhoods around Dublin.To view a collection, please click Journal Ireland.
Photo Credit: Luca Truffarelli/VisitDublin.com


Limerick soundscape records highs and lows of city life
The gurgling Shannon, raucous terrace cheers from Thomond Park, rugby banter in Reddan's pub, a cheery Saturday morning at the Milk Market, and the pealing bells from The Fathers spire loft on a Sunday morning, all form some of the ingredients of an interactive soundmap of the city created by academics at University of Limerick, Mary Immaculate College, and Limerick School of Art and Design. For more details, please click Irish Examiner.
Photo Credit: Trip Advisor


Galway premiere for new play by Enda Walsh
Described as "gut-wrenchingly funny and achingly sad", with "jaw-dropping moments of physical comedy", Ballyturk by Enda Walsh stars Cillian Murphy, Mikel Murfi and Stephen Rea. It will receive its world premiere at this year's Galway Arts Festival. Landmark Productions and the Galway Arts Festival have announced that the play will run at the city's Black Box Theatre from July 10 to 27, with the world premiere taking place on July 14. For more details, please click RTÉ.
Photo Credit & Related Story: Irish Times/Rich Gilligan


Family of foxes to get up close and personal
Patsy Gibbons, who lives a couple of miles outside Thomastown, Co Kilkenny, started off minding Gráinne seven years ago. That number has grown as people around the country are turning to him to care for animals they find injured. Today, Gráinne, Minnie and Henry get a lot of attention from the children living in the area and now primary schools are asking Patsy to bring his fox family along so the students can see them at first-hand. For more details, please click Irish Examiner.
Photo Credit & Related Story: Irish Independet/Dylan Vaughan


Defending Northern Ireland's shores during WWI
Bentra Golf Course is in the seaside town of Whitehead on Northern Ireland's Antrim coast. During World War One it was the site of an airship mooring station - a key location in the fight against German U-boats. Guy Warner is the author of Airships Over Ulster and vice-chairman of the Ulster Aviation Society. For the BBC's World War One at Home project, Guy looks back at Bentra's history. To listen to this podcast and a series of others related to NI during WWI, please click BBC.


Lurgan girls lift Senior Schools' Hockey Cup - again
It was Lurgan's fourth final in consecutive years and after a tough and extended contest they defeated Rainey Endowed in the final at Lisnagarvey Hockey Club. Lurgan kept their eye firmly on the prize throughout the tense match where the only goal in the coveted final was scored by player-of-the-match Julie Morrow in the fifth minute of the first half of extra-time. For more details, please click Belfast Telegraph.

March 5

Open air mass to be held at Galway Racecourse to mark pope's canonisation
The event will take place on Sunday 27 April, the same day the late Pope John Paul II is to be declared a saint at a ceremony in Rome. The mass will be celebrated by Bishop of Galway Martin Drennan. Parts of the canonisation ceremony in the Vatican will be shown on a big screen, along with highlights of the late pope's visit to Ballybrit in 1979, when he made his famous "young people of Ireland I love you" remark. To read this news item, please click RTÉ.


Former president Bill Clinton walks Derry peace bridge with John
Mr Clinton will later honour the former SDLP leader's contribution to peace in Northern Ireland in a speech in the city centre. Mr Hume said he had the "greatest admiration" for Mr Clinton. "I am deeply appreciative for all the work he has done to help Northern Ireland, in spite of all the difficulties during his time in the Oval Office," he said. For more details and video clip, please click BBC.
Photo credit, More Pics & Related Story: Belfast Telegraph


China travel group names Ireland as 'best potential destination'
The fifth annual trip 'Best Tourism Destination' awards ceremony took place last weekend in Shanghai, with Ireland picked ahead of Turkey, Sweden, South Africa, Dubai, Kenya and Queensland in the category. The award was presented at the cremonyto Iris Wang (pictured) on behalf of Tourism Ireland For more details, please click Irish Examiner.


Dublin's first drive-in cinema to launch on St Patrick's Day weekend
Located inside the ferry terminal in Dun Laoghaire, the new Underground Drive In cinema can accommodate up to 80 cars. Manager Paul Ward, said, "We believe that the Drive In cinema will bring lots of people and families to the town over the Bank Holiday weekend. Ticket sales so far have been excellent with people booking from all over the country. " The opening film will be the musical Grease followed later that evening with Jaws. For more details, please click Journal Ireland.
Photo Credit: Indianapolis Museum of Art


Photographer captures rare 'pre-tornado' clouds
It's not quite as spectacular as the natural phenomenon of Aurora Borealis seen inIreland recently, but a dramatic cloud formation known as Undulatus Asperatus – predominantly seen in the American states of Kansas and North Dakota – has now been spotted in the Mayo skies. Murrisk-based photographer Matt Loughrey captured these "tornadic and ominous-looking" clouds late last month from Clew Bay, Co Mayo. For more details, please click Irish Independent.


US premiere for Irish comedy The Stag
The Irish comedy is to receive its US premiere at next month's Tribeca Film Festival in New York. Renamed The Bachelor Weekend for the US market, it will screen in the World Narrative Feature Competition section of the festival. Directed by John Butler, the movie follows a group of friends who head off for a walking weekend in the West of Ireland before the big day. For more details, please click RTÉ.
Photo Credit, More Pics & Trailer: IMDb


80 hairdressers to get short cut to Canada
Hairdressers are in short supply right across the country, with one client of a recruiting service in one province alone arriving in Ireland later this month with 80 jobs to fill. Successful candidates for the jobs, which are in an expanding chain of salons in Alberta, can look forward to a minimum two-year contract with health and dental care included, after just a year of which they can apply for permanent residence. The downside? The winter weather! For more details, please click Irish Examiner.
Photo Credit: Cultural Rites/ Hendrik Slegtenhorst


Historic Belfast building in city centre to become a hotel
The Scottish Mutual building is to be transformed into a 40-bedroom hotel called The Mutual, and in addition, there will be two bars and two restaurants along with 10 serviced apartments. Developers Tullymore House Limited said the development could support up to 180 full and part-time jobs once it is up and running, as well as around 100 jobs during the design, building and fit-out stages. For more details, please click BBC.


Tribute to Brian O'Driscoll is pure class
With the iconic centre set for his final home appearance in an Ireland jersey on Saturday against Italy in the Six Nations, it's understandable that the tributes have been rolling in for Brian O'Driscoll. Dublin firm Target McConnells have gone a step further and covered their office front with this excellent homage to BOD. Judging by the tweets the man himself appears to be as impressed as everyone else who have seen the banner. To read this news item, please click Journal Ireland.

March 4

It's Pancake Tuesday! How do you like yours?
You can have them savoury or sweet, slathered in butter or with ice-cream, cover them in Nutella or a squeeze of lemon. Do you like the 'Irish style' (which are thin) or American style? Whichever way you like them, get your frying pans at the ready – it's Pancake Tuesday aka Shrove Tuesday - that time of year again when the Irish stuff their faces ahead of Lent twhich kicks in on Wednesday. For more details and a link to Bord Bia pancake recipes, please click Journal Ireland.
Click to read our article on Shrove Tuesday.


Irish billionaires' club boasts combined fortune of €18bn
That's according to Forbes magazine which has released its latest list of global billionaires. India-based Pallonji Mistry(pictured) the patriarch of the sub-continent's massive Shapoorji Pallonji construction group, is listed as being worth $12.8bn (€9.3bn) and by virtue of his Irish citizenship is Ireland's richest person by far. Denis O'Brien (55) is listed by 'Forbes' as Ireland's second richest person, with a $6bn (€4.3bn) fortune. For more details, please click Irish Independent.
Photo Credit: Forbes


Consumer sentiment at its highest level in seven years
Irish consumer sentiment rose marginally in February, according to the latest index from KBC Bank Ireland and the ESRI. Although the monthly change was slight, February's reading was the strongest in nearly seven years. The report's authors say the trend in sentiment suggests consumers are increasingly confident that the Irish economy is emerging from the extreme difficulties of recent years. For more details, please click RTÉ.
Photo Credit: Photo Call Ireland


Storms set records for rain, wind and waves
Met Éireann has revealed that the frequent and persistent Atlantic systems at the end of December and into January and February saw more rain dumped on some weather stations than in more than a century. Valentia reported its wettest winter since records began in 1866, while Malin Head reported its wettest winter since 1885. Shannon Airport had its worst winter for rain going back over 68 years of records and Mullingar reported its wettest winter in 63 years. For more details, please click Irish Examiner.
Photo Credit: Light Stalkers/©Crispin Rodwell
Video: boat battles huge waves off Irish coast


The Malachy Collar up for auction
On March 9th, Adam's will hold an auction in its St Stephen's Green, Dublin saleroom. Alongside a selection of period furniture, clocks, glass, china and pictures is a collection of more than 200 lots of silver including two pairs of George II rococo candlesticks. But the most expensive item on offer is the Malachy Collar, a late 20th century, 18ct gold reproduction of the National Museum of Ireland's Gleninsheen Gorget, the Bronze Age collar found in Co Clare in 1932. For more details, please click Irish Times.


Historic lord mayor's pavilion gets new lease on life
The pavilion was built in 1901 after the first elected lord mayor of Cork, Edward Fitzgerald, proposed that Cork should stage an international industrial exhibition in 1902 on the site where Fitzgerald Park stands today. Now, Cork City Council, which is overseeing the €2.3m regeneration of the park has invited proposals from creative, entrepreneurial, or cultural individuals or groups, to take over the building as a cultural, artistic or entrepreneurial space. For more details, please click Irish Examiner.
Photo Credit: P Gurgel-Segrillo


Spring has sprung in Northern Ireland
Spring has sprung early this year, with ladybirds and butterflies spotted taking to the air in the region before the start of March. Sightings of butterfly species such as red admiral, small tortoiseshell and peacock have all increased across the UK this year, the Woodland Trust says. The Trust said the signs of spring are upon us, with frogspawn appearing in ponds, hawthorn buds bursting into leaf, celandine in flower and Holly Blue butterflies seen at Glasswater Wood in Crossgar For more details, please click Belfast Telegraph.


Cork village puts on a happy face and creates You Tube hit
The West Cork village of Baltimore has gone viral courtesy of a YouTube video showing locals bopping to Happy by Pharrell Williams. The video was recorded the Sunday after the last big storm and was uploaded on February 21. In the days since it has clocked up more than 9,000 views and has been retweeted around the world. For more details and to view the video, please click Irish Examiner.


Volvo takes the helm as new sponsors of Cork Week regatta
Volvo has been a major supporter of Irish and international sailing and is attached to the Round the World event which brought the high profile race to Galway. The company's managing director in Ireland, Adrian Yeates, said its support will help the Crosshaven racing week to become the biggest sailing event in the country this year. Like other sporting competitions, Cork Week has struggled to sustain the levels it reached in better economic times. For more details, please click Irish Examiner.

March 3

Order cancelling 1916 Rising to be auctioned in Dublin
"Volunteers completely deceived. All orders for tomorrow Sunday are completely cancelled." The countermand was issued by Eoin MacNeill, commander of the Irish Volunteers, in a last-minute attempt to cancel a mobilisation planned for Easter Sunday 1916. The document, valued at up to €50,000, will be sold at auction in Dublin next month. For more details, please click Irish Times.


Dingle is voted 'most photogenic'
The Dingle Peninsula has been voted the best place in the world to photograph. Ireland topped the list of places to shoot when 24 professional photographers from around the world entered their work. International photography fan site Photo Shelter listed shots from exotic and tropical locations to barren and urban ones – but the Kingdom topped the poll. For more photos and details, please click Irish Independent.
Photo Credit Great Island Photography


Beckett scholar giving manuscripts to Trinity College
Trinity College Library has acquired the Samuel Beckett manuscripts of renowned Beckett scholar Stanley E Gontarski, as well as his working library. The papers are being officially handed over by Professor Gontarski this afternoon. They include several drafts of Beckett's work Ohio Impromptu. The short play was written in 1980, at the request of Prof Gontarski. It was first performed in Columbus, Ohio, in honour of Beckett's 75th birthday. The new acquisition also includes Prof Gontarski's correspondence with Beckett. For more details, please click RTE.
Photo Credit: The New Yorker/© The Richard Avedon Foundation.


"I'll make Queen's University Belfast a powerhouse"
One of the world's most respected cancer specialists has said he wants to make Queen's University "an international powerhouse in higher education" as he takes over at the helm of the institution today. Professor Patrick Johnston is the 12th vice-chancellor in the Belfast university's 168-year history – believed to be the highest paid public post in Northern Ireland. The father of four, who will provide Queen's with its strategic vision for the future, is recognised as one of the world's foremost experts in cancer research. For more details, please click Belfast Telegraph.
Photo Credit: Britannica Kids


Fáilte Ireland study inspires set up of Diaspora Centre
The Government is seeking expressions of interest from potential partners to develop and operate a National Diaspora Centre. A study by Fáilte Ireland concluded that a centre could be viable and self-financing and would be an opportunity to add to Ireland's tourism offering. The study also found that a National Diaspora Centre has the potential to be a major tourism attraction, with particularly strong appeal for the Irish Diaspora. To read this news item and many others, please click Breaking News Ireland.


Host of events to celebrate National Tree Week
The week, which is organised by the Tree Council of Ireland, includes lectures and walks, some of which will look at the damage done by the recent storms. Andrew St Ledger of the Woodland Trust encouraged people to support the week, saying Ireland's native woodlands were the richest land-based habitat for biodiversity on the planet and needed to be protected. For more details about events taking place throughout the country,please click Irish Times.
Photo Credit: Maxwells


Everyone's cup of tea - Tedfest on Inis Mór
An unusual congregation of priests, nuns, and lovely girls, have provided a welcome boost to tourism in the Aran Islands. Tedfest took place over the weekend to celebrate the cult television programme Father Ted. Events included The Craggy Island Cup, a mock wedding and, of course, the famous Lovely Girls Contest, hosted by the son of Fr Ted himself, Rob Morgan. Organizer Peter Phillips said "The locals are very supportive of Tedfest and we generally have free rein over the island." For more details, please click Irish Examiner.


St Bartholomew's bells ringing once again
The historic bells of St Bartholomew's Church in Ballsbridge are back in action – day and night – following the decision of Dublin City Council to drop a noise pollution case. The bells rang out over Ballsbridge for more than 130 years, until they were silenced last year.The bells are controlled by a clock and chime every 15 minutes. The church tried a mechanism to silence the bellss between 11pm and 7am, but it failed twice. So the church decided to silence the bells altogether rather than risk paing fines. For more details, please click Irish Times.
Photo Credit: Dave Meehan


Schools merger seen as a landmark decision
A grammar school in Co Armagh is to amalgamate with two secondary schools to form a non-selective grammar. St Michael's Grammar and St Paul's and St Mary's High Schools in Lurgan are all in the Catholic sector. It is the first such merger and is being considered a landmark decision. It is not the first time a Catholic grammar school has amalgamated with secondary schools. But, in other cases, they became all ability colleges. The new amalgamated school will, instead, be a voluntary grammar school. For more details, please click BBC.
Photo Credit & related Story: BBC

March 2

Archbishop: Church has lost its sense of fun
Archbishop Diarmuid Martin of Dublin has said the Catholic Church "has lost its sense of fun" and he urged his flock to rediscover faith which is less dull and more joyful. The archbishop said Pope Francis had "never lost his sense of fun" and the Pontiff used this to "disarm those who would want to make the church a place for the dull and stolid". For more details, please click Irish Independent.
Photo Credit: Mail Online/Alamy Live News


Give women more influence in church
That's according to former president of Ireland, Mary McAleese who was speaking at a lecture on church governance at the Van Hugel Institute, Cambridge University. She also said Bishops should be encouraged not to be "yes men" but "leaders who can speak freely", who consult with rank-and-file Catholics and then make decisions along with the pope." For more details, please click Irish Times.
Photo Credit: David Sleator


'Lively and fruitful' meeting of priests takes place
Problems presented by the declining number of Catholic priests and "enormous dissatisfaction with the new missal" were among items discussed at a meeting of diocesan representatives of the Association of Catholic Priests near Athlone in Co Roscommon. In all, 31 priests attended, representing three-quarters of the 26 Catholic dioceses in Ireland. For more details, please click Irish Times.
Photo Credit: Alan Betson


Which country consumes the most wine per capita?
When it comes to downing wine, there is an undisputed per capita leader. And it's not one of the wine-producing powerhouses of the world. According to new figures from the Wine Institute show that the Vatican City consumes a massive 74 litres of wine per head every year. That amounts to about 300 glasses of wine a year. The intake in the Holy See is almost double that in France or Italy. While some suggest the number is skewed by the use of wine in Catholic mass, Italian press reckons it is more to do with demographics. For more details, please click Journal Ireland.
Photo Credit: Welmoed


The story of the 1916 Rising told by both sides (with a little Irish dancing)
The story of the Rising is told in an intriguing way in a new play by an Irish director, who uses both nationalist and loyalist viewpoints to give a blended perspective on the event. Written and directed by Joe O'Byrne, "The Rising and by way of interludes World War I", is a two-man play that examines the tumultuous days of the 1916 Rising through the eyes of a pair of men from opposite sides of the divide. For more details, please click Journal Ireland.


Radcliffe honoured for McDonagh play
Daniel Radcliffe has won Best Actor in a Play at the WhatsOnStage Awards in London for his performance in the West End production of Martin McDonagh's The Cripple of Inishmaan. Speaking at the awards, which are voted for by the public, he said: "I am deeply honoured to receive this prestigious award and I accept it on behalf of the whole cast who together helped make this production of The Cripple of Inishmaan a truly joyous experience for me as an actor." For more details, please click RTÉ.
Photo Credit: Getty Images


Rory McIlroy takes narrow lead into Honda Classic final round
Rory McIlroy moved to within touching distance of winning his first PGA tour title since 2012, hitting a one-under 69 to lead the field going into the final round at Florida's Honda Classic. The Northern Irishman mixed four birdies and three bogeys but leads American Russell Henley by two shots. "It's all about not making mistakes, limiting the damage," Rory said. For more details, please click BBC.
Photo Credit & Related Story: RTÉ


Northern Ireland set for first Sunday Windsor Park game
Northern Ireland will play a home game at Windsor Park on a Sunday for the first time when they face Finland in the Euro 2016 qualifiers on 29 March next year. However, there is still likely to be an outcry from some quarters about the historic first. For six decades, no Sunday football was allowed in Northern Ireland for religious reasons. The owners of Windsor Park have also made clear their opposition. For more details, please click BBC.
Photo Credit & Related Story: Belfast Telegraph


Milk Cup future secured with new sponsorship deal
The future of one of Northern Ireland's showpiece sporting events has been secured after it won a major new sponsorship deal with Coleraine's Dale Farm Group. Chief executive David Dobbin said: "The tournament has become one of the world's best known and respected international sporting events at this level, and throughout its existence has been associated with the dairy industry. We are delighted that this association will continue through our sponsorship." For more details, please click Belfast Telegraph.

March 1


Regional round up from Antrim to Wicklow
All the news that probably won't make the national headlines:new book throws new light on saints in Co Cork; pole dancers shimmy their way into Guinness Book of World Records in Co Down; ancient skull found in roots of tree in Co Laois; end of an era with last mayor's ball in Co Sligo; and silent film unveils English GAA first in Co Tyrone. To read these news items and many others - 32 to be exact - please click County News.


Eurovision representative chosen
Collaborative Irish music act Can-Linn featuring lead singer Kasey Smith were last night selected to represent Ireland in this year's Eurovision Song Contest. The group, which features traditional Irish instruments such as the bodhrán and the fiddle, will perform Heartbeat, written by Jonas Gladnikoff, at the ceremony in Copenhagen from Thursday, May 8th. For more details, please click Irish Times.
Photo Credit: Colin Keegan, Collins


Sheridan: It's hard not to favour the Irish in Oscar voting
He is a six-times Oscar nominee himself, and director Jim Sheridan has admitted he finds it hard not to favour the Irish when casting his vote. Along with actress Brenda Fricker, Sheridan is one of 6,000 voting members who decide the fortunes of those seeking a coveted golden statue. He is hoping to see Michael Fassbender (pictured) take home the Best Supporting Actor award for 12 Years A Slave. But he fears that Jared Leto of Dallas Buyers Club could be the one to bag the prize. For more details, please click Irish Herald.
Photo Credit & Video Clip: Collider


Dia duit: Seachtain na Gaeilge launches today
One of Ireland's biggest language festivals officially kicks off today. Seachtain na Gaeilge 2014 runs from 1 – 17 March and there will be thousands of events taking place in every county in Ireland and abroad, in countries as far reaching as Lithuania, Australia, Canada and even Japan. The Seachtain na Gaeilge festival will open officially with an open air concert with the band Seo Linn on Main St, Killarney, Co. Kerry. For more details, please click Journal Ireland.


100 Best Restaurants Guide goes smart casual
Casual restaurants which exhibit flair and creativity have been the most notable innovation of Irish restaurant culture over the last 12 months, according to food writer John McKenna. "Brilliant cooking is found in rooms where the focus is firmly on the ability of the kitchen to offer imaginative, original and unpretentious food, with a minimum of ceremony," he said, speaking at the launch yesterday of John and Sally McKenna's 2014 100 Best Restaurants Guide. For more details, please click Irish Examiner.


Just because it's a wonky shape doesn't mean it's inedible
On Saturday, March 15, 5,000 people in Cork City will find out there's no taste difference between a curved carrot and a straight one in an exercise designed to highlight the huge amount of food wasted in Ireland. Cork Food Policy Council intends to serve 5,000 free plates of vegetable curry to people in the Grand Parade — all made from food which wouldn't conform to supermarket norms. For more details, please click Irish Examiner.
Photo Credit: Clare Keogh


Botanic Gardens top OPW attraction with 550,000 visitors
The most popular fee-paying state attraction last year was the National Botanic Gardens with 550,000 visitors - but the gardens were unable to pay their way through gate receipts. However, according to Minister for State at the Department of Public Expenditure Brian Hayes, many of the sites operated by the OPW Heritage Service do not function as commercial concerns but rather are operated for the public good as part of the celebration of the nation's culture and heritage. For more details, please click Irish Independent.


Whiskey makers in high spirits as US sales take off
Sales of Irish whiskey have surged in the US and it is now the 'darling' of the high-end spirit sector. Exports have witnessed a steady increase in recent years and it is now "a clear leader among all spirit categories", according to the analysis from Anna Power in Bord Bia's North American Office. The Irish company behind Jameson Whiskey confirmed it was a "key performing brand" for parent Pernod Ricard. For more details, please click Irish Independent.


Rory stays ahead at half-way point in Florida
A second-round 66 left Rory McIlroy with a one-shot lead at the halfway stage of the Honda Classic in Florida. The NI golfer endured a shaky start as he bogeyed the 11th and 12th after beginning at the 10th. However, the current world number eight regrouped with birdies on the 16th and 18th to turn in level par before picking up four birdies in five holes from the third on his back nine. For more details, please click BBC.
Photo Credit & Related Story: The telegraph/Getty Images

February 28

Spectacular display as Northern Lights dance over Irish skies
People across Ireland and Britain experienced something rather special as they turned their eyes to the heavens last night - a rare glimpse of the Northern Lights. The bright dancing lights known in the southern hemisphere as the aurora borealis are caused by charged particles colliding in the Earth's atmosphere. For more details and video clip,please click Irish Times.
More photos: Journal Ireland


A Wilde night in Hollywood
Conan O'Brien and YouTube founder Chad Hurley were honoured last night at the US-Ireland Alliance's 9th annual Oscar Wilde: Honouring the Irish in Film Pre-Academy Awards event. Joel McHale presented Conan with his award while YouTube personality Shay Carl presented to Hurley. Conan joked that he is truly Irish unlike previous honourees: "J.J. Abrams, Russian Jew Paul Rudd" and then listed an imagined group of past honourees, including Idi Amin. For more details, please click RTE.
Photo Credit: Getty Images


Stellar line-up at Meteor music awards
Playing to a full house at Dublin's Vicar Street is no mean feat. Yet last night's line-up, including stellar performers such as Villagers, Bell X1 and Little Green Cars, almost made it seem easy. They joined a further four nominated Irish acts; Lisa O'Neill, O Emperor, Mano Le Tough and Girls Names, for what was probably the best instalment yet of Meteor's annual Choice Music Prize. For more details, and video clip, please click Irish Examiner.
Photo Credit & Related Story: RTÉ


Conservation drive started to save Curlew
BirdWatch Ireland has launched a campaign to save one of the country's most endangered and renowned species. The haunting cry of the Curlew is one of the most evocative sounds of the marshes and uplands in summer. And the group say action is needed to ensure it does not become a mere memory. It's reckoned that about 80 per cent of the Curlew breeding population has been lost since the 1970s.For more details, please click Irish Times.
Photo Credit: Mike Brown


One of Belfast's oldest pubs reopens
White's Tavern has reopened following an extensive refurbishment by owners Beannchor. The pub's menu has been overhauled and its walls decorated with pictures, while shelves feature barrels for ageing whiskey, port and fortified wine. The upstairs has also been given an overhaul and will now host gigs with a line-up including the Belfast Trad Collective. For more details, please click Belfast Telegraph.


Resurrected Ripper St to bring Victorian crime back to Ireland
Don't worry, it's all for TV. Dublin's dark alleys and spooky streets will find themselves on film again when Ripper St returns to the capital for its third series. Though the show was cancelled at the end of its second series, a new deal with Amazon has led to its resurrection. The first and second series brought a boost to the value of €20 million to the Irish economy, and this time around it's hoped that the country will benefit again from the spend on local goods and services. For more details & Video Clip, please click Journal Ireland.


Rory McIlroy leads Honda Classic in Florida
The NI golfer shot a first-round seven-under 63 to lead the tournament by one shot. McIlroy, who won this title in 2012 to become world number one, birdied his last two holes to cap a fine bogey-free round to lead American Russell Henley. McIlroy, now ranked world number eight, started Thursday's round in fine form with a 27-foot birdie putt at the second and followed that with tap-in birdie at the par-five third. For more details, please click BBC.


Martyn Irvine wins silver in Columbia
Ireland's Martyn Irvine won a silver medal in the men's 15km scratch race at the World Track Cycling Championships in Cali, Colombia. Defending the title he won last year, Irvine gained a lap with only seven remaining. He held on to finish behind Russian Ivan Kovalev. It was a third World Championship medal for the Newtownards cyclist. For more details, please click BBC.


Documentaries to battle it out for Irish sports film prize
The shortlists for the 11th annual Irish Film & Television Awards have been announced with four documentaries nominated for Sports Film of the Year. Among the quartet is the Ronan O'Gara Documentary 'ROG: The Ronan O'Gara Story', which was hugely popular when it aired on RTE in January, and TG4's film about the life of late Kerry legend Páidí Ó Sé. For more details and video clips, please click Journal Ireland.
Video Grab: The Ronan O'Gara Story

February 27

"Ireland living through atypical patch of fine weather"
That's according to Evelyn Cusack, deputy head of forecasting for Met Éireann. And we have the geology of the planet to thank for that, she suggests. Ms Cusack will give a "whistle stop tour" of the earth's and Ireland's weather in a talk this evening in Dun Laoghaire entitled: "Ireland's Weather: a journey through time". She will also show how the positions of the continents is what gives Ireland the weather patterns the country has today. For more details, please click Irish Times.


IFTA nominations announced
The nominations were announced this morning with Calvary, Byzantium, The Stag, Run & Jump and The Sea nominated in the Best Film category. In the Best Actor category father and son Brendan & Domhnall Gleeson will compete for Calvary and About Time alongside Ciarán Hinds (The Sea) and Andrew Scott (The Stag). The Best Actress category sees nods for Antonia Campbell-Hughes (3096 Days), Jane McGrath (Black Ice), Saoirse Ronan (Byzantium) and Kelly Thornton (Life's A Breeze). For the complete list, please click RTÉ.


Wild Atlantic Way officially launches today
A new tourism initiative to attract more international visitors to the west of Ireland will be officially launched by the Minister of State for Tourism in Dublin today. The Wild Atlantic Way stretches from the Inishowen Peninsula in Co Donegal to Kinsale in Co Cork to link the destinations and attractions along the route together. It's the first ever long-distance touring route in Ireland that showcases the Atlantic coastline. To read this news item and many others, please click Breaking News Ireland.
Photo Credit & Related Story: RTÉ


Stephen Roche named as Grand Marshal of St Patrick's Parade
The Dubliner was chosen by Festival organisers for his outstanding contribution to the sport of cycling."You often hear about the Patrick's Day Grand Marshal, and you'd say: isn't he a lucky guy, and what's he done to be there?," Roche said following the announcement. "It's very flattering, and I'm extremely proud to be the Marshal this year." As Grand Marshal, e will lead the Festival Parade on its route through the capital on Monday, March 17. To read this news item and many others, please click Breaking News Ireland.
Photo Credit & Related Story: Irish Independent


Guinness's new Irish rivals
In modern times, the Irish have had virtually no choice of stout except Guinness, and its much smaller competitors Murphy's and Beamish. Then, in the mid 1990s, a few independent companies entered the brewing scene and changed everything. Inside the Galway Bay Brewery, by way of example, a tiny batch of imperial stout lies in Irish whiskey barrels. When brewmaster Chris Treanor's newest creation is released in late February, it will join a small but growing number of imperial stouts — stronger, more intense stouts — brewed in the country. For more details, please click BBC.


Aldi launches low cost Communion dress line
Price conscious families bracing themselves for the expense of their daughter's First Holy Communion will no doubt welcome the new dress range from Aldi. The budget store has added Communion wear to its product line for the first time ever – at prices as low as €24.99. And the outfit designs on offer are surprisingly attractive for such a low cost. There are two dress options available for purchase, with accessories also on offer including shrugs, head-dresses and handbags. For more details, please click Irish Independent.


Teen sketches her way to first exhibition with Tubridy masterpiece
Sarah Ryan, a 16-year-old from just outside Wexford town, was interviewed by Tubridy on his 2FM show after the Late Late Show presenter admitted he was bowled over by the pencil drawing she had sent in of him. The interview in turn prompted Frank O'Dea, the gallery owner from Balla Bán Art Gallery in the Westbury Mall off Grafton St in Dublin, to offer to showcase some of the teenager's other work. Remarkably, the incredibly detailed, accurate portrait of Tubridy took just a few hours to do — and Sarah doesn't study art.
For more details, please click Irish Examiner.


US policeman tracks down ancestral Belfast with just a single photo
It was a bit of a transatlantic long shot. But that didn't stop an American policeman locating his great-great-grandmother's house using nothing but an old photograph from the 1920s. Tom Decker arrived in Ireland looking for the house in the treasured family image, believing it was in either Dublin or Cork. But his hunt brought him to Beechfield Street in the Ballymacarret area of east Belfast. For more details, please click Belfast telegraph.


Scramble to save heritage ship
Campaigners bidding to save a historical CIÉ ferry which had been set for destruction are appealing for more time to put together plans to save it, after Arts & Heritage Minister Jimmy Deenihan announced a four week postponement of its scrapping. It's hoped 1950s vessel can be turned into a tourist attraction. Built in the Liffey dockyards in the 1950s, the Naomh Éanna has been moored at Dublin's Grand Canal Dock since 1989. For more details, please click Journal Ireland.
Photo Credit: Naomh Éanna Trust

February 26

"Flights to US will cost just €10 on Ryanair"
Ryan air will sell €10 flights to the US when it finally manages to get the long-haul aircraft needed, airline chief Michael O'Leary has said. Mr O'Leary told the Irish Hotels Federation conference in Meath that Ryanair would offer €10 flights to Boston and New York and US$10 (€7.30) seats back to Europe. The airline has a business plan ready for launching transatlantic flights but admits it will be several years before it can get the planes needed. For more details, please click Irish Independent.


Seven Irish universities named in global top 200
That's according to the QS World University Rankings by Subject. The rankings series reveals the top 200 universities in the world for 30 individual subjects. Trinity College Dublin (TCD) remains the Ireland's best-performing institution, making the top 200 in 20 of the 30 disciplines. For more details, please click Journal Ireland.
Photo Credit: Trinity College Dublin


Carrickfergus Castle secrets finally unearthed
From prehistoric flints, slate board games, crockery used by Arthur Chichester and evidence that dogs were eaten – a new archaeological dig has brought 800 years of history at Carrickfergus Castle to life. Excavations started three weeks ago and are, for the first, time probing the oldest section of the castle – the original great hall – where its first occupant, the Anglo-Norman knight John De Courcy, would have dined. For more details, please click Belfast Telegraph.


Burial tomb of Princess Diana's ancestor uncovered
The unmarked mausoleum in Corkbeg graveyard in Whitegate in East Cork was found to contain the remains of Princess Diana's maternal great-great-grandfather, Baron Edmond Roche. During the restoration process, volunteers discovered plaques documentingng a number of Roche family members buried within the mausoleum, most notably Edmond Roche, the 1st Baron of Fermoy. For more details, please click Irish Examiner.
Photo Credit: Diane Cuack


Irish architects making their mark on London
It's not easy for Irish architects to conquer London, what with so much home-grown talent in the British capital but Sheila O'Donnell and John Tuomey have pulled it off with a jaw-dropping brick riot off Lincoln's Inn Fields. The new London School of Economics student centre seems to defy gravity. Standing seven storeys above ground level (with two more below), it's a multi-angular pile, perforated in places like a pigeonnier, with planes running in every direction. For more details, please click Irish Times.
Photo Credit: Dennis Gilbert/VIEW


Inishowen locals scramble to refloat weakened baby porpoise
The one metre long porpoise calf was found by local man Anthony Craig as he was out walking his dog near Moville town centre yesterday afternoon. A number of efforts were then made to refloat the animal — however, it was washed back in several times in an increasingly weakened state. For more details, please click Journal Ireland.
Photo Credit: Dr Trish Murphy
ED. NOTE: It's not looking good - please say prayers to St Francis


Never mind the Oscars, Good Vibrations scoops a Kermode
Good Vibrations has won the best film category at the ninth annual Kermode Awards for those gems of movies that get overlooked by the Oscars. Each year, movie critic Mark Kermode uncovers the best of film throughout the year and then decides who is deserving of one of his own golden gongs in a no-frills celebration of the very best of movie-making talent overlooked by the Academy. For more details, please click Belfast Telegraph.


Prince of tides
Northern Ireland has been hailed as being at the forefront of developing energy generation from the tides by Westminster Energy and Climate Change Minister, Greg Barker; he visited the impressive SeaGen tidal turbine in Strangford Lough in Portaferry for the first time on Tuesday. Designed and developed by Siemens-owned Marine Current Turbine, it generates electricity from two massive underwater propellers and has been installed since 2008. For more details, please click Belfast Telegraph.


Top jockey Johnny Murtagh retiring from racing
He made the announcement that he is to retire from riding to concentrate on his training career. A horse racing legend, he has won three Derbys, four Irish Derbys and five Ascot Gold Cups since landing his first winner, Chicago Style, at Limerick in 1987. "It's the right time to call it a day and put everything into the training." For more details, please click BBC.
Photo Credit & Related Story: RTÉ

February 25

Pope appoints new bishop of Derry
The Auxiliary Bishop of Down and Connor has been appointed by the Pope as the new Bishop of Derry. Bishop-elect Donal McKeown has served as a priest for 37 years. He is a native of Randalstown, Co Antrim, where he grew up as part of a large extended family. He said he felt "energised" by the challenges that lie ahead. For more details, please click BBC.
Photo Credit & Related Story: Dara MacNaill/Irish Times


Ad campaign launched to encourage learning and speaking Irish
Culture Minister Caral Ni Chuilin has launched Liofa le cheile (Fluent Together) to encourage everyone from all walks of life to learn and speak the language. The campaign, which will run on television, radio, outdoor and digital media, will show how Irish is used through daily phrases, names and places. For more details, please click Belfast Telegraph.


President takes lead role in O'Toole story
President Michael D Higgins has the one thing that every Hollywood star wants right now – an Oscar. Visitors to the Aras have been amazed to see the famous gold statuette on his desk. However, the president explained that he is only looking after it for the family of the late actor Peter O'Toole, who died last December. The star received the Honorary Academy Award from Meryl Streep in 2003. For more details, please click Irish Herald.
Photo Credit & Related Story: WWW News - Celebrity Life/Kevork Djansezian / AP


Iconic building to become cultural & heritage centre
The Bank of Ireland is loaning part of its famous building in Dublin's College Green to the State for ten years and will host a Cultural and Heritage Centre to stage exhibitions and other cultural events for the public. The bank will also allow guided access to the House of Lords for visitors to the centre. For more on this news item, please click Breaking news Ireland.


Should hurleys have EU protective status like champagne?
An Irish member of the EU parliament thinks so. Normally, the Protected Geographical Indication status is reserved for food products like certain cheeses, wines and champagne. But Phil Prendergast said hurleys should be treated as a special Irish cultural tool that deserves EU-wide protection. For more on this news item, please click Breaking News Ireland.


Irish adventures in the North-West passage
Once upon a time there were quiet adventurers - people who make little of lots and lightly shake off the stardust that is their due. Máire Breathnach is one of those people, and perhaps it runs in the family. Over three years ago, she and her niece, Sibéal Turraoin, became the first two Irish women to navigate the North-West passage, the ice-bound Arctic route linking the Atlantic and Pacific oceans. For more details, please click Irish Times.
Photo Credit: Sibéal Turraoin


Johnny Depp recruits Shane MacGowan in pub search
According to The Sun newspaper, Depp has called on The Pogues' frontman in his search for a suitable venue in the Islington and Shepherd's Bush areas of London. "It'll be the kind of place for up-and-coming bands and occasionally a big name act will do a low-key gig," a source said. "He loves jamming with Shane and Shane knows London, so has been helping him when it comes to potential venues." For more on this news item, please click RTÉ.
Photo Credit: Depp Impact


Irish teen wins thousands of Facebook fans for videos about Irish mammies and grannies
Cian Twomey, a film student from Cork has been making short videos about Irish mammies, grannies, teenagers and everything in between for several months now. Their popularity and his prolific posting has seen him garner 122,000 thousand 'Likes' on Facebook. He gained 100,000 of those followers in just three weeks. For more details and to watch two of the videos, please click Journal Ireland.


President unveils new cup for decider
President Michael D Higgins has unveiled the Cup that St Patrick's Athletic and Sligo Rovers will be competing for this Sunday. The President's Cup will serve as a curtain-raiser for the SSE Airtricity League season and will be an annual fixture between the league champions and the FAI Cup winners. For more details, please click RTÉ.

February 24

Protest over Irish language rights held in Gaeltacht
The "Slán le Seán" protest, as it was titled, was held in the State's largest Gaeltacht in Connemara to mark the last day in office of the first Irish language commissioner Seán Ó Cuirreáin, who announced his resignation late last year over the State's lack of commitment to providing adequate services in Irish for Irish speakers. For more details, please click Irish Times.
Photo Credit: Joe O'Shaughnessy


President Higgins to attend Royal Albert Hall concert
The president is to be the guest of honour at a special concert at London's Royal Albert Hall entitled entitled 'Ceiliúradh' (Celebration) which will feature world-renowned and emerging artists from Ireland and the UK. as part of his forthcoming State visit to the United Kingdom. When he makes his visit in April, he will become the first Irish head of State to make an official State visit to the UK. For more details, please click RTÉ.


Rev 'Elvis' helps ease suspicious minds on NI peace line
he King of Rock 'n' Roll has visited both sides of the peace line to urge people: "Don't be cruel." Rev Andy Kelso fits in being a professional Elvis impersonator around his day job as a Church of England minister. Accompanied by his teddy bear on Saturday, he walked from the Falls to the Shankill and later staged a charity concert in a bid to promote peace. For more details, please click Belfast Telegraph.


Importance of humble potato examined in 'The Great Spud Off'
The importance of the humble potato to Irish people is examined in Gliondar on RTÉ One tonight with a visit to 'The Great Spud-off' in Co Kerry. To get an idea of what's involved in this contest, take your 'Bake-Off' and 'Cook-Off' shows and throw them into a pot, then mash them up with local rivalry, friendly competitiveness between neighbours and parishes and a love of growing your own vegetables outdoors. For more details & Video Clip, please click RTÉ.


Beer 'cheaper than water' in in many Irish supermarkets
Consumers can buy a bottle of beer for as little as 50c while a small bottle of water can cost over three times that amount. As health campaigners lobby for minimum drink prices in order to discourage the abuse of alcohol, a survey by the Irish Independent found widespread low prices. Dozens of prices for beer, wine, cider and spirits were examined at all the big supermarkets and convenience chains around the country. For more details, please click Irish Independent.
Photo Credit: Fuss Free Chef/For illustration purposes only


Trinity students with no money blagg their way to Sydney in 36 hours
It's official: With ten minutes to spare, i Salim Sebaoui and Kyryll Chulak rom Trinity College Dublin have made it all the way to Sydney, Australia without a cent in their pockets. The pair have been crowned winners of this year's Jailbreak charity challenge, an annual competition during which students compete to get as far away from the country as they can in 36 hours without spending any money. For more details, please click Journal Ireland.
Photo Credit: @kyryll_chulak


Feverish preparations under way country's biggest drama festival
An influx of 3,000 fans is expected to descend on the tiny West Cork village of Rossmore which annually hosts the The 53rd West Cork Drama Festival. "At 11 nights, this festival has the longest duration of any festival in Ireland. It offers top-class entertainment and great comfort to our audiences in our magnificent refurbished theatre," said festival chairman Ger Finn. For more details, please click Irish Examiner.


Dylan likes playing in Cork so much he's doing an encore!
The pop culture icon will be appearing later this year at Live at the Marquee. It will be Dylan's third time gigging at the venue and, according to music promoter Peter Aiken, "he wouldn't keep coming back unless he enjoyed it". Dylan was among three big stars announced for Live at the Marquee recently by Aiken Promotions. Imelda May is back again on June 21 and Lana Del Rey is booked in for July 15. For more details,& videos, please click Irish Examiner.


Fans mark Monte Carlo Rally triumph of legendary Paddy Hopkirk
Rally champion Paddy Hopkirk showed he still has a winning streak when he headed up an eye-catching cavalcade of Minis through the streets of Belfast in his honour. The 80-year-old was the guest of honour at celebrations to mark the 50th anniversary of his stunning win in the 1964 Monte Carlo Rally. For more details, please click Belfast Telegraph.
Photo Credit, Video Clip & Related Story: BBC

February 23

A doctor, not a miracle worker: medical volunteering in Lourdes
When Michael Moran first went to Lourdes with his father as a child, he was mesmerised by the throngs of people who came to pray at the shrine. While intrigued by tales of cures, these days the Belfast doctor finds that the real miracle of Lourdes lies in the solace it brings to those with serious illness and its capacity to change the lives and perspectives of the able-bodied. For more details, please click Irish Examiner.


Want to buy a Dublin church? It's yours for a mere €575k
A former church is up for sale in Drumcondra in Dublin with an asking price of €575,000. The Victorian building on St Alphonus Road on the city's northside has been deconsecrated and is currently used as an artist's studio. Given the proximity to Croke Park, you could always drop in before a match for a quick prayer. For more details & pics, please click Journal Ireland.


Ardglass man buried in coffin he designed and built for himself
Michael O'Shea decided to make his own casket 13 years ago, so that his sons would not be burdened with steep funeral costs. It was after a health scare that Mr O'Shea started to investigate the cost of funerals and felt that DIY might be the way to go. The former art and design teacher designed and built his coffin in his garden shed, across from his house. He died this past week at the age of 81 and his funeral took place in Ardglass on Friday. For more details, plese click BBC.


History lesson: WWI posters try to recruit potential soldiers
The recruitment offices in Dublin during 1915 played on Irish men's emotions as they tried to convince potential soldiers to sign up. Guilt or scare tactics were quite commonly used in recruitment posters commissioned by the Department of Recruiting for Ireland. Other ideas to lure young men to the front used included camaraderie, hero worship and revenge. For more details and poster pics, please click Journal Ireland.
Photo Credit: Chorley & Pickersgill Ltd., Leeds and London/Library of Congress Prints and Photographs Division Washington, D.C.


Students with no money make it to Singapore, San Diego and Abu Dhabi in 24 hours
The students are taking part in the annual Jailbreak charity challenge, which sees teams compete to get as far away from Ireland as possible in 36 hours. They are not allowed to spend any of their own money on the trip. However, each team is raising funds for St Vincent de Paul and Amnesty International Ireland. Some 26 hours into the challenge, the current leaders are a team from Trinity College Dublin in Singapore, 11,217km from Dublin. For more details, please click Journal Ireland.


On offer: the most Tudor-looking house in Ireland?
Standing outside the 2002-built house at Saval Park in Dalkey, Dublin you'd be forgiven for thinking you're in the cashlands of Surrey or Somerset. This boom-era luxury pile has been given the full post-medieval monty by its builder, an Irishman who had hitherto spent many years constructing similar dwellings in southern England but came home in the noughties to take advantage of the local uplift. For more details and video tour, please click Irish Independent.


Bono to write tribute to his father
He penned the hit U2 song Kite about his late father; now Bono is writing about their relationship in a new book that will raise funds for charity. The Irish Hospice Foundation charity helped take care of the singer's father, Brendan Robert Hewson, or 'Bob' as he was affectionately known, when he died of cancer in 2001. Now Bono is contributing one of a series of essays about father-and-son relationships, which will also feature a number of high-profile figures from the world of art, music, literature and film. For more details, please click Irish Independent.


Boyzone son Jay lands Abbey Theatre debut
The 17-year-old son of Boyzone singer Keith Duffy has yet to finish school, but he will appear on stage opposite a string of well-known faces. He will star alongside Domhnall Gleeson and Love/Hate's Laurence Kinlan, Aaron Heffernan and Kelly Campbell, after being lined up to take part in The 24 Hour Plays on March 2. Now in its third year, the one-night-only production will see six playwrights write six brand new short plays to be cast, directed, rehearsed and performed over one chaotic day. For more details, please click Irish Herald.


Laverty wins World Superbike opener
Northern Irish rider Eugene Laverty gave Suzuki its first World Superbike victory since 2010 as he earned a magnificent win in the opening race of this year's series in Australia. The Toomebridge man overcame a slow start to finish nearly three seconds ahead of Marco Melandri. His victory over Melandri will have given him particular satisfaction after his departure from the Italian team at the end of last season to accommodate the arrival of the Italian. For more details, please click BBC.



Tue, Mar 11, 2014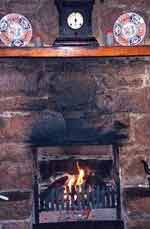 From Bog Land to Turf Fire
Ireland contains more bog land, relatively speaking, than any country in Europe, except Finland. For people in rural areas, turf cut from the bog is still a natural source of heat. Turf cutting begins in spring and then the turf is spread and rickled . Rickled means to pile the turf up in small mounds. By summer, the turf is dry and it's time to bring it home. Everything has to be prepared before the winter comes, or even earlier, because the rain would wet the turf too much. It has to be dry and in the shed before Autumn. Then and only then, can an irish country family look foreward to the cozy warmth of "a turf fire in the cabin."

Resources: The Atlas of the Irish Rural Landscape
Image: Spirited ireland

Click for More Culture Corner.
---
---
Local Time in
---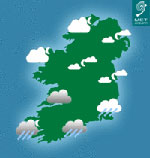 The Weather
Up the minute forecasts provided by Ireland's official source for all weather-related news. Please click Met Eireann.

---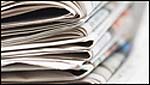 Links to the latest news from Ireland
Here you will find all the stories making headlines throughout the Republic of Ireland and the six counties to the north. This is not intended to be an all-inclusive list. These are the main sources we check every day to bring you those headlines we think you will enjoy reading.

BBC Northern Ireland
Belfast Telegraph
Breaking News Ireland
Irish Emigrant
Irish Examiner
Irish Herald
Irish Independent
Irish News
Irish Times
Irish Post
RTE
The Irish World
The Journal Ireland
Inside Ireland


---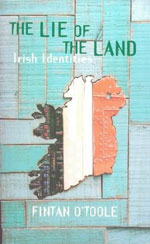 Lie of the Land
by Fintan O'Toole
A regular contributor to the irish Times and The Guardian, O'Toole applies his eagle journalistic eye to the state of ireland at the end of the 20th century. It's a riveting read as O'Toole examines with in-insight, humour and a bit of the blarney, the repercussions of a booming economy which has thrust ireland into the ranks of the richest European countries.
Click here for Lie of the land.

---