Traditions, folklore, history and more. If it's Irish, it's here. Or will be!
"People will not look forward to posterity who never look backward to their ancestors."
-Edmund Burke
---
Quotes

Library: Books, Movies, Music

Prints & Photos

Poetry

---
---
Shops Ireland
---
Bunús na Gaeilge
(Basic Irish)

---
---
---
Himself/Herself
Write to Us
Readers Write..
Links/Link to Us
---
Advertise with us
---
Awards & Testimonials

Submissions Guide

---

Todays' Irish News



Yes, there are many news items not included here. We deliberately avoid: politics, death, disaster and other mayhem.

Friday, December 19, 2014


---
Taoiseach's Christmas message aimed at families with loved ones abroad
Taoiseach Enda Kenny said he wanted to tell these families: "We are working day and night to strengthen our country's recovery and create the jobs that will allow (your loved ones) to come home." He added families with loved ones abroad would be catching up over facebook and Skype but added "Facetime, good as it is, is no substiture for face-to-face". He concludes: "I wish the special blessings of Christmas to you and to all those you love." For more details and video clip, please click
Breaking News Ireland
.
Irish life expectancy increased by almost three years in last decade
That's according to a Department of Health report which reveals that life expectancy in Ireland is now above the EU average. The improvement is largely due to lower mortality and better survival from conditions such as heart disease and cancer. And while women have a higher life expectancy than men, men will have more healthy life years. However, the proportion of life expectancy at age 65 lived in good health is higher for both men and women in Ireland compared with other EU countries. The report also charts the growth in the number of people aged over 65. For more details, please click
Irish Examiner
.
A Protestant Christmas - 'Tis the season to be envious?
In his column, An Irishman's Diary, Frank McNally writes that it's partly the hymns, of which Protestants famously have the best. Consider, by way of evidence, that loveliest of English Christmas carols – voted the all-time favourite in an international poll of choristers some years ago – In the Bleak Mid-Winter. Hymns aside, his notion that Protestants have a competitive edge at this time of year probably also has something to do with the fact that so many of the trappings of Christmas as we know it were introduced into Ireland (via Germany) from Victorian England. To read this feature article, please click
Irish Times
.
Photo Credit: Brian Lawless/PA
Special delivery at the GPO
Santa Claus took time out of his busy schedule to stop by the GPO in Dublin and post his replies to some of the 140,000 children in Ireland who wrote to his workshop in the North Pole. An Post helpers have been assisting Santa for the past 30 years now and say Santa has been busier than ever this year. Thankfully, they are able to report that everything is running on course for December 25." They also advise children who don't receive a reply from Santa not to worry as he has received all their Christmas wishes, whether they posted them in letter boxes, or sent them up the chimney. For more on this news item, please click
Irish Independent
.
Photo Credit & Related Story:
Irish Herald
.
Is this the sweetest, most elaborate Christmas homecoming ever?
Bryan Grieg made the trip home from the US where he is studying in Pennsylvania. He was determined to get home to Co. Down in time for Christmas and wanted to surprise his sister for her birthday. Not only did he pull it off - after travelling for 30 hours through five cities - he managed to make it extra special by setting up an elaborate reveal for his sister. While he may have scared her, she was, of course, delighted to see him. To watch the video, grab the tissue box and then click
Breaking News Ireland
.
CS Lewis letter sells for thousands at auction
An unpublished letter from writer and scholar CS Lewis has made £4,600 at auction in Gloucestershire, more than three times the original estimate. The two-page note, addressed to Mrs Ellis and dated 19 August 1945, finds him dealing with the subject of joy. It was found by its owner in a copy of Lewis's book, A Problem of Pain, bought years before. Auctioneer Chris Albury said "keen interest worldwide" had boosted the guide price from £1,500. The letter was bought by a private buyer from California. For more details, please click
BBC
.
Dubliners say goodbye to the Metro Herald
This was the last time the people of Dublin will see the famous smiling faces of the Metro-Herald's "merchandisers." It was announced on Monday that after nine years, the newspaper would cease publication almost immediately, with today seeing the last ever issue. The Journal.ie took to the streets of the capital to chat to the friendly folks in the yellow jackets, and get the reaction of Dubliners. For more details, photos, and video clips, please click
Journal Ireland
.
Photo Credit: Dan Mac Guill
Time to get on your bike for Cork's new scheme
From the People's Republic to the Pedal Republic — Cork's first public bike scheme went live yesterday, half-finished and six months late. Despite the delays, there was a broad welcome for the scheme, with UCC student Renee Stam, from the Netherlands, among the first to saddle up. "It is great that this system is here in Cork. The bikes are really nice and easy to use. They will be great for travelling between the university and the city centre." It is hoped the remaining stations will be operational by February, with the scheme then providing a total of 330 bikes for rental across the city. For more details, please click
Irish Examiner
.
A talent that runs through four generations of one family
Rosaleen O'Hagan will be bursting with pride when she leads her daughter, granddaughter and great-grandaughter in the same choir at a Christmas carol service. They are all members of the renowned Colmcille Choir in Derry and it's believed they are making musical history as no choir in the area has boasted four generations before. Rosaleen described her choral activities as "a bridge connecting generations". "I love singing alongside my daughter, my granddaughter and my great-granddaughter. I decided to go for it because I may never get the opportunity again. For more details, please click
Belfast Telegraph
.
---
Past Two Weeks
December 18

Ghosts of Christmas past: the deep roots of Irish winter traditions
People gathering to watch the astronomical alignments at Newgrange; star-gazing; the wren boys; decorating homes with holly and ivy: many Irish winter customs go back a long way. "Christmas was the major festival of the year for Christian Ireland and there is a whole nexus of traditions surrounding it," says Críostóir Mac Cárthaigh, an archivist at the National Folklore Collection at University College Dublin. " Holly and ivy were used to decorate the house because of their wintertime colour, and, in the case of holly, the bright red berries." For more details, please click Irish Times.
Photo Credit: Wren Boys in Dublin by Frank Miller


Here are the top 10 toys Irish kids are asking Santa for
Santa asked his elf assistants to crunch the numbers to find out the toys that most Irish kids have asked for in their letters this year. An Post's contact in the North Pole, Nollaig, is the Chief Elf in charge of operations and told them that Santa really enjoyed reading the many thousands of letters he received from Ireland. From those letters, Nollaig has compiled a list of the top 10 toys, and while the top five are relatively new, a few classics found their way on to the list. For more details, please click Journal Ireland.


Annual 'Black Santa' fundraiser gets underway in Dublin
Following on the custom of St Anne's Church in Belfast, the vicar of a Dublin church is to spend the next seven days braving the elements in the name of charity for the annual "Black Santa" appeal. Canon David Gillespie will be collecting outside the front doors of St Ann's Church in Dawson Street for a number of charities including Barnardos, the Simon Community and the Peter McVerry Trust. Canon Gillespie said the appeal has raised around €500,000 over the 13 years it has been running in Dublin.. For more details, please click Irish Independent.
Photo Credit: Collins


Fáilte Ireland says number of visitors back at pre-recession level
The number of tourists visiting Ireland has grown for the fourth year in a row — contributing over €3.5bn to the economy. According to Tourism Ireland, the growth in tourist numbers has come from all markets this year, with the US, Canada, Germany, France, Spain and Australia all turning in record performances. The positive news comes after Fáilte Ireland reported that the number of people visiting Ireland is now back at pre-recession levels — with the last 12 months on a par with the second best year ever. For more details, please click Irish Examiner.
Photo Credit & Related Story: RTÉ


2014 will be remembered as a golden year for Irish music
While the Irish music scene, especially in live terms, has always been vivacious and eclectic, 2014 was the year the business got done. Hozier, pictured, was, of course, the massive breakout success of the year, but while his never-ending victories will no doubt focus a brighter spotlight on Irish acts, there were plenty of other wins for Irish artists. That success has been compounded by a flush of record labels snapping up Irish acts. Even hardened underdogs on the scene caught a break. For more details, please click Irish Times.
Photo Credit & Video Clips: ACL Festival


Visual poem for Dublin is just perfect
The team over at Visit Dublin might be a tourist organisation, but this beautiful reading of the poem 'Dublin' by Louis MacNeice is just perfect for those getting ready to visit home this December. It's also a wonderful reflection on how little the soul of the city has changed since this poem was penned in 1939. Even better, MacNeice wasn't a Dubliner himself, but from Belfast - but knew the city so well. It's Read by modern Dublin poet Stephen James Smith and is certain to make you want to stroll Dublin's streets. To watch the video, please click Breaking News Ireland.


Choir gives passengers on Dublin-bound flight a Christmas surprise
Passengers on an Aer Lingus flight from Brussels to Dublin on December 14th were treated to a festive surprise when a choir that was travelling on the same flight serenaded them with Christmas hymns. The Island of Ireland Peace choir - formerly known as the Waterford-Omagh Peace choir - is a cross-border choir set up in 2006. They treated the passengers to a beautiful performance of 'Silent Night' and 'Oh Holy Night'. To watch the video, please click Breaking News Ireland.


Christmas bonus for group of nurses with a Lotto luck
Christmas has come early for a group of nurses from Wexford General Hospital after they picked up a National Lottery Jackpot of more than €2.8m. The lucky syndicate will share out the winnings equally, with the 17 members taking home just over €170,000 each. Syndicate organiser Joanna Doyle said she thought her husband was "making an eejit" of her when he took down the numbers as they were announced. "It was just unbelievable ... We just stared at the ticket and it took a good 10 minutes before it all set in," she said. For more details, please click Irish Independent.
Photo Credit: Mac Innis


Boxing: Andy Lee ecstatic with homecoming
Newly-crowned WBO middleweight world champion Andy Lee fulfilled another dream today as he raised his world title belt aloft on arrival at Shannon Airport before attending a civic reception in Limerick. Lee had stated his desire to stand on the steps of an aircraft at Shannon and raise a world title belt over his head and that moment arrived this afternoon (Wednesday). The 30-year-old was embraced his mother Ann at the foot of the aircraft. His father Tom had already travelled over to London to meet him following his flight on Monday from the US. For more details & video clip, please click RTÉ.
Photo Credit: Limerick Post

December 17

Up to 65% of Irish people use the internet daily
Daily internet use among Irish people has increased from 25 per cent in 2006 to 65 per cent in 2014, while the percentage of people who have never used the internet has decreased from 42 per cent in 2006 to 16 per cent in 2014. Use of cloud services for storing files is also becoming more widespread in Ireland, with 28 per cent of Irish people now using the cloud, with use highest among 16- to 24-year-olds (40 per cent) and the lowest among 55- to 74-year-olds (9 per cent). For more details, please click Irish Times.


Dublin Bay: World class views "for less than the price of a pint"
Last week, The New York Times compared Dublin to a Christmas card. Now, it has struck out from the capital in a second 'Frugal Traveler' column, introducing some 1.8 million readers to highlights accessible by public transport. "For its vertical limestone cliffs and unspoiled sea views, Ireland's dramatic western coastline may get top billing," writes Ratha Tep. "But visitors to Dublin hoping to catch a glimpse of the rugged beauty of the Emerald Isle needn't spend extra hours and expense traveling west." For more details, please click Irish Independent.


Irish clean up at Brit Comedy Awards
Aisling Bea was named Best Female TV Comic at the ceremony, beating Bridget Christie, Nina Conti and Issy Suttie to take the top prize. The stand-up comedian and actress, who hails from Kildare, is a regular on the likes of 8 Out Of Ten Cats, QI and Never Mind The Buzzcocks. Other awards included Moone Boy which was named Best Sitcom; Graham Norton won Best Comedy Entertainment Programme and Best Comedy Entertainment Personality; and Brendan O'Carroll was the recipient of Writers' Guild Of Great Britain Award for his work on the enormously successful Mrs. Brown's Boys. For more details, please click Journal Ireland.
Photo Creit: Doug Peters


Colin Davidson picks up US-Ireland Alliance Oscar Wilde Award
Belfast artist Colin Davidson will become the first artist from beyond the film and television world to be honoured in a prestigious awards ceremony in the US next year. He will travel to Los Angeles to accept the accolade at the 2015 US-Ireland Alliance Oscar Wilde Awards on February 19, which seek to recognise the contributions of Irish people in film and television. It will be the second honour the Belfast artist can look forward to in the new year as actor Liam Neeson has agreed to sit for him in his role as patron of The Lyric Theatre in Belfast. For more details,please click Belfast Telegraph.


Irish people taste Eggnog and other American Christmas treats
Sure, it wouldn't be Christmas if internet creators didn't take ideas they've already used and run through them all over again. But the lads at Facts don't even have to do a year-in-review - they can just take their 'Irish People Taste American …' series, and add Eggnog. (They've already done regular snacks and soft drinks.) It's pretty good. But watch out for the really rude joke at the end. To watch the video, please click Breaking News Ireland.


Gift of Christmas for a family in Cork who truly deserve it
Co Cork's RedFM radio station ran a major competition this year called 'Christmas Covered', to win a huge array of prizes to cover Christmas and the New Year. Businesses from all over the city teamed up to provide hundreds worth of vouchers covering every type of item you could think of. The criteria for the prize makes it even better - folks had to write an old-fashioned letter to the station nominating the person they felt should get a real magical Christmas. They were looking for a person who deserved it. For more details and video clips, please click Breaking News Ireland.


The who, what, and why of Waterford Whispers
The satirical website has become a national phenomenon in Ireland, and is now a full-time job for founder Colm Williamson. Drawing from the expression "Chinese whispers" but giving it a local flavour, Waterford Whispers has been slowly conquering social network feeds over the past few years. It has about 240,000 followers on Facebook and has become a a megaphone for the public's "generally felt" opinions, and for purely ludicrous ones that are neither here nor there. For more details, please click Irish Times.
Photo Credit: Patrick Browne


Benjy, the gay bull, arrives at his new home
Originally from Co Mayo, Benjy was destined to be put down after showing more interest in breeding with other bulls than cows. He arrived at Norfolk's Hillside Animal Sanctuary on Sunday where he befriended Alex, a one-year-old bullock. Gay and animal rights campaigners launched a joint online appeal to save the two-year-old Charolais bull. It raised £10,000 in weeks, helped by a £5,000 donation from Simpsons co-creator Sam Simon who said it "thrills" him to have helped Benjy." For more details, photos and video clip, please click BBC.


Ireland to face old foes in final World Cup warm up
IThe IRFU confirmed today that head coach Joe Schmidt and his players would face a four-Test programme ahead of the tournament. Ireland's opening game in the Guinness Summer Series will be against Wales in Cardiff on 8 August, followed by successive home appointments at Aviva Stadium with Scotland (15 August) and Wales (29 August), before meeting England on 5 September at Twickenham. For more details, please click RTÉ.

December 16

Here's what Ireland searched for on Google in 2014
Google has released its 14th annual review of the billions of searches made in Ireland this year and, as always, it's a unique perspective on modern Irish life. 2014 was the year the Irish wanted to know absolutely everything about the World Cup, an Ice Queen and Kim Kardashian. Kim was the top trending person in Ireland - likely given a bump by her surprise Irish honeymoon and THAT magazine cover. The World Cup topped the trending searches and the top news stories while Frozen was the most-searched for movie. For more details, please click Irish Examiner.
Photo Credit & Related Story: RTÉ


Irish people spend more per head on Christmas than others in the West
Irish people spend more money over the Christmas period than people in any of the major Western economies, a new study has shown. The report from Price Waterhouse Coopers found that last Christmas Irish people spent almost €965 ($1,200) per person, almost twice as much as Americans. Shoppers in Britain were the second-highest spenders last year, at €854 ($1,065) apiece. Senior economist Richard Boxshall said that PwC can only really speculate on whether the high spend comes from generosity, the high cost of living, or the number of young people in Ireland's population. For more details, please click Irish Independent.


Today's Irish families traveling more at Christmas
Ireland's modern family is rushing all over the country, cramming in as many visits as possible and gifting all the way during Christmas, according to a new survey. The evolution of the traditional Irish family – with extended families, stepfamilies, cohabiting parents and civil partnerships – means that the average Irish person now attends six Christmas celebrations in order to keep the peace and ensure everyone is happy. For more details, please click Breaking News Ireland.
Photo Credit: Irish Rail


Irish American Cultural Institute donates library to university
First editions and rare copies of works of many of the giants of Irish literature will now be more accessible to historians and students, thanks to the generosity of the Irish American Cultural Institute. The institute has donated its library of nearly 4,000 books of Irish interest to Ireland's Great Hunger Institute at Quinnipiac University, Dr. Peter Halas, chairman of the Irish American Cultural Institute, and Christine Kinealy, director of Ireland's Great Hunger Institute, announced in a joint statement.
For more details, please click Courant.


Limerick woman's family plan homecoming treat…
…but she had a bigger surprise for them. Carmel O' Connor returned home to Limerick from Brisbane for Christmas and was met by her excited family at Dublin Airport for the first time in four years. Unknown to Carmel, her parents had planned an amazing homecoming surprise for her in Terminal 2. The O'Connor family arranged for music group Draíocht to welcome their "baby girl" home with a performance at arrivals. A visibly emotional Carmel was delighted with the unexpected show. "I couldn't have imagined anything better," she says. However, she soon proves that one thing could make the occasion even more special. For more details and video clip, please click Breaking News Ireland.


Galway housing development set to create 200 jobs
The project by Burkeway Homes will comprise of a mix of three and four-bedroom semi-detached and detached homes, designed by award-winning architects McCauley Daye O'Connell. Lead architect Therese Pender of McCauley Daye O'Connell said: "Given their reputation for quality, we're thrilled to work with Burkeway Homes on this residential development. Director of Burkeway Homes, Michael Burke said that the Ballymoneen venture will be a landmark residential development in Galway. Phase one of construction will commence at the beginning of the New Year. For more details, please click Breaking News Ireland.


St Mary's signing choir: 'their voice is their hands and their bodies'
It's often assumed that when profoundly deaf children are involved in any kind of musical performance it's mainly for their therapeutic benefit: a worthy attempt at confidence-building or something that might help with their speech development. But watching the teenagers of St Mary's School for Deaf Girls choir perform the traditional Irish song May the Road Rise Up to Meet You in Irish Sign Language (ISL) is to witness something special. Not special in the "special needs" sense. Just special. Hands moving, faces animated, bodies swaying; it's a compelling performance, not least because it is effectively bilingual. For more details, please click Irish Times.


Beer brewing trio launch two new thirst quenchers
Established by a trio of childhood friends with business, bar, and food culture backgrounds, the West Cork Brewing Company has perfected two new beers. The new brews, one pale and one dark, were revealed at the company's launch on Saturday night. They are named Sherkin Lass and Roaring Ruby for the region's coast. The 200l nano-brewing company is situated in the basement of Casey's Hotel in Baltimore and evolved as part of a growing national interest in locally produced craft beers. To read this news item, please click Irish Examiner.


Rory McIlroy wins European Tour Player of Year award
Rory McIlroy has added to his trophy collection for 2014 by picking up the European Tour Golfer of the Year award The world number one from Northern Ireland, 25, won the BMW PGA Championship before back-to-back majors success at the Open and US PGA. McIlroy also won the WGC-Bridgestone Invitational as he topped the Race to Dubai standings and helped Europe to a Ryder Cup victory at Gleneagles. "To be named the European Tour's Golfer of the Year for a second time is a huge honour and one I am extremely proud of" he said. For more details, please click BBC.

December 15

Were your grandparents at O'Donovan Rossa's funeral?
An appeal has been issued to the public for help in identifying members of the cortege in an historic photograph of the funeral of Fenian leader O'Donovan Rossa in August, 1915. Cork-born O'Donovan Rossa was a prominent member of the Irish Republican Brotherhood and was returned for burial to Ireland following his death in New York in 1915. It was at his graveside in Glasnevin Cemetery that an oration, recognised to be one of the most important speeches in 20th century Irish history, was delivered by Pádraig Pearse. For more details, please click Irish Times.


Waterford man first to bring Buddhism to the West
It seems the first Buddhist mission to the West was led by Irish man Charles Pfoundes in 1889, as discovered in recent research by academics in Ireland and Japan. Up to this it was believed the earliest Buddhist mission in the West was to California in 1899. Pfoundes, born Charles James William Pounds in 1840 in or near Waterford city, is believed to be the earliest Irish Japanologist of note. His studies in Japan predated those of Irish/Greek scholar Lafcadio Hearn by more than 20 years. For more details, please click Irish Times.


British University appoints former president McAleese
Former President Dr Mary McAleese has been appointed to a senior academic post in England. She has been named as the Distinguished Professor of Irish Studies at Saint Mary's University in London, the UK's oldest Catholic university. As part of her new job, Dr McAleese will engage in a programme of public conversations and give keynote lectures. She will take up her new role in September of next year. To read this news item and many others, please click Breaking News Ireland.
Photo Credit & Related Story: RTÉ


Tourism earnings set to hit €5 billion for 20014
Foreign earnings from tourism are on track to hit €5 billion this year, according to new figures from Fáilte Ireland. The tourism development body is projecting a 12% increase in earnings and a 9% increase in overseas visitor numbers to 7.3 million for 2014. Spending by Irish people on trips within Ireland is also ahead and is expected to finish up 6% higher than last year at €1.5 billion. Fáilte Ireland's annual tourism industry review shows that all markets showed healthy growth, with increases in air access resulting in record numbers of visitors from the US and a return to increased tourists from the UK and continental Europe. For more details, please click RTÉ.


Wetherspoons set to join Camden Street nightlife district
UK pub chain J D Wetherspoon is planning to open a large hotel and pub on Camden Street in central Dublin. In the company's first move into central Dublin it has bought the Camden Hall Hostel site on the street – one of the city's busiest nightlife areas. The chain said it plans to apply for a pub license, and planning permission to redevelop the site into a 100-room hotel. Chairman Tim Martin said: "We are pleased to have acquired this excellent building in the heart of Dublin. Our aim is to build a pub and hotel on the site and we believe both will be assets to the city." For more details, please click Journal Ireland.


iTunes honour for 2fm's Chris and Ciara
RTÉ 2fm's late night comedy and entertainment show Chris & Ciara has been selected for iTunes' Best of 2014 list. iTunes said: "Never taking themselves too seriously, this night time comedy duo can deftly slip from an impromptu rap-off into reciting hilarious teen poetry. We enjoy their talent and ability to capture the buzz of now." Dan Healy, Head of RTÉ 2fm, said: "It's great to see Chris [Greene] and Ciara [King] getting this kind of salute from the editors of iTunes; people whose job it is to listen to and recognise great radio.To read this news item, please click RTÉ.


Dubliners' 'Christmas dinner for homeless' plan goes viral
When Dermot Richardson and his partner, Katherine McKenna, decided to serve Christmas dinner to the homeless in their community in Tallaght, Dublin, they expected it to be a small affair for 20 or 30 people. But then, Katherine teacher posted what she thought was a private message on Facebook. It turned out to be public. "The next morning, I woke up and it had 1,500 likes and 200 shares. It just went viral overnight. It was an accident, but I don't believe in accidents. It was meant to happen" she said. For more details, please click Irish Times.
Photo Credit: Nick Bradshaw


We're great gas altogether -nine words and phrases that only people from Ireland will understand
Since Jennifer O'Connell has been away from Ireland, there's nothing she misses more – not even Superquinn sausages or spectacular winter sunrises – than the lyrical, versatile, sometimes side-eyed and very often bonkers beauty of Hiberno-English. She says "I'm not talking about the "begobs" and "begorrahs" embraced by American movie directors but never uttered in real life by a single Irish person. No, I'm talking about all the little, unshowy words that we quietly nicked from the English and made our own." For more details, please click Irish Times.
Photo Credit: YouTube


Paul McGinley named Coach of Year
Europe's Ryder Cup captain Paul McGinley capped a triumphant 2014 by winning Coach of the Year at the BBC Sports Personality of the Year awards. The Irishman oversaw a 16-11 win over the United States at Gleneagles in September. "I'm very, very honoured," said McGinley, before paying tribute to the Gleneagles crowd. "I need to thank the people of Scotland. Your support was huge. I had 12 great players, 12 great personalities and a great backroom team and vice captains," the four-time winner of the Ryder Cup added. For more details and video clip, please click BBC.

December 14

Perfect arctic storm heading for Ireland?
Ireland could be hit by an immense arctic weather system bringing the worst winter there since the 'Big Freeze' over half a century ago, according to the latest long-range forecast from Exactaweather.com. Forecaster James Madden fears that a "colossal" area of much colder than normal surface water in the mid-Atlantic will affect the Gulf Stream, exposing Ireland to a prolonged Siberian blast of northerly winds. For more details and video clip, please click Irish Independent. For more details and video clip, please click Irish Independent.


Brits rate Irish accent as more attractive than theirs
YouGov asked British adults to say whether they think each of the 12 main accents of the British Isles are attractive or unattractive. So, it turns out that people from "Southern Ireland" have the most attractive accent. Of course, people in "Southern Ireland" all speak with exactly the same accent no matter where they're from from, right? Leaving that little detail aside for now, the survey found that some 20% of respondents rated it the highest in attractiveness. For more details and a related video - How to do an Irish accent - please click Breaking News Ireland.
Photo Credit: Google Images


Penultimate day of President's visit to China
President Michael D Higgins will visit a tea plantation later today on the penultimate day of his week-long state visit to China at the invitation of President Xi Jinping. After his visit to the plantation this morning, President Higgins and his delegation will return to Shanghai by bullet train. Later in the day, the President will visit the Shanghai Urban Planning Museum. President Higgins, who is on his fourth major visit abroad this year, will return to Dublin tomorrow. To read this new item and for links to other highlights of the president's visit, please click RTÉ.


Dublin gets early Christmas present from The New York Times
The New York Times has given the capital a ringing endorsement in a travel piece. Writer Ratha Tep compared Bewley's on Grafton Street as like "walking into a Christmas card". "It's not much of a stretch to say that, with its ivy-swathed Georgian buildings, winding cobblestones side streets and amiable spirit, the entirety of the city can feel that way too," she added. She also singled out the Christmas market at Stephen's Green, the "dazzling rows of white chandelier-style Christmas lights" on Grafton Street, Temple Bar and the National Gallery. For more details, please click Breaking News Ireland.


Derry's link to the first Protestant cemetery on mainland Spain
The first Protestant cemetery on mainland Spain, the Cementerio Inglés de Málaga, is appealing for donations to help meet its day-to-day running costs. It was was opened in December 1831 and soon received its first body, that of a young Irish revolutionary, Robert Boyd, from Derry who was among the leaders of a liberal uprising against Ferdinand VII. Boyd came from a wealthy family and served as an officer in Bengal with the East India Company's army. For more details, please click Irish Times.


Astronaut Chris Hadfield receives gold medal from Trinity
Former International Space Station commander Chris Hadfield has received an honorary patronage from Trinity College Dublin. He was awarded a gold medal of honorary patronage by the University Philosophical Society in front of a packed Trinity College exam hall on Saturday morning. Cmdr Hadfield is in Dublin to promote his book You Are Here - Around the World in 92 Minutes - a selection of 150 photographs chosen from the 45,000 pictures he took while in space; it includes a picture of Ireland and Britain at night with the Northern Lights shimmering in the background. For more details, please click Irish Times.
Photo Credit & Related Story: Journal Ireland


Riding the crest of a wave in Ballycastle
While Northern Ireland battened down the hatches against this week's "weatherbomb", adrenaline junkie and surfer Al Mennie braved the treacherous conditions to catch a huge wave at Ballycastle. High winds battered the North Coast on Wednesday, causing massive swells and prompting warnings to the public to stay away from the shoreline for the course of the day. But for Mennie, the thrill of the ride proved too tempting to miss and while the rest of Ulster sought out the warmth and safety of their homes, the Portrush-based professional surfer made the most of the opportunity to take to the high waves in winds of up to 80mph. For more details, please click Belfast Telegraph.
Photo Credit: Charles McQuillan /Getty Images


Ireland's Andy Lee claims WBO world middleweight title
Andy Lee became the WBO middleweight champion on a memorable Saturday night in Las Vegas. In the biggest fight of his career, Lee delivered in some style and knocked out the previously undefeated Matt Korobov at the Cosmopolitan Hotel. The 30-year-old, who formerly worked under famous trainer Emanuel Steward, stunned his opponent with a right hand and then moved in to finish the job in the sixth round. For more details, please click RTÉ.
Photo Credit & Related Story: ESPN/Chris Farina/Top Rank


Living large with Ulster's strongest man
Sean O'Hagan's entire body shakes as he attempts the final push. Blood rushes to his face. There is one last gasp for oxygen as his eyes close. The steel log press is torture. Something physically has to give but doesn't. What looks like a large cannon is hoisted over his head and the first exercise is over. Sean is hard to miss. Standing nearly 7ft tall and weighing almost 30st he is one of the biggest men in Ireland - and at 24, he is still years off his prime. Hailing rom the tiny village of Loughbrickland in Co Down, he now trains full-time as a strongman. To read this feature article and view more photos, please click BBC.

December 13

Those Irish names nobody can EVER pronounce
Oh, the trials and tribulations of having an Irish name. Caoimhe, Blathnaid, Daithí, Saoirse, Méabh, Oisín, Áine - while the Irish should rightly be proud of their heritage, those unique names can lead to some mangled pronunciation from both foreigners and natives alike. And who can blame them? Sometimes the spelling looks like the Irish are just making it up for a laugh. In this video from Facts, four Irish people discuss the challenges of having an unpronounceable name. To watch the video, please click Breaking News Ireland.


Good dogs go to heaven, Pope suggests
Trying to console a distraught little boy whose dog had died, Pope Francis told him in a recent public appearance on St. Peter's Square that "paradise is open to all of God's creatures." While it is unclear whether the pope's remarks helped soothe the child, they were welcomed by groups like the Humane Society and People for the Ethical Treatment of Animals, who saw them as a repudiation of conservative Catholic theology that says animals cannot go to heaven because they have no souls. For more details, please click Irish Times.
Photo Credit & Related Story: Philly


St Mels has risen
The countdown is on to Christmas Eve, when midnight mass will be televised live across Europe from the neo-classical cathedral – five years after it virtually burned to the ground. Following a €30m restoration one of the biggest ecclesiastical projects in Europe is nearly complete and planning to open its doors to the pubic in a week's time. Outside the cathedral, workers are busy on muddy sites building walls, laying paths and pedestrian routes; Inside, each of the 2,307 pipes of a a new €600,000 36-stop pipe organ from Italy are being "voiced" by maker Francesco Ruffatti from Padua. For more details, please click Irish Times.


Belfast Black Santa's Christmas charity collection begins
The sight of 'Black Santa' on the streets of Belfast at Christmas is a familiar one - but this year people will be seeing the good Samaritan for even longer. Braving the sub-zero temperatures, the Very Rev John Mann, Dean of St Anne's Cathedral began his annual Black Santa sit-out for charities yesterday. But, this year he will be at the steps of St Anne's Cathedral for 10 days instead of the usual eight to coincide with the unveiling of an Ulster History Circle blue plaque in honour of the city's first Black Santa. For more details, please click Belfast Telegraph.


Kilkee and Loop Head listed on world's Top 100 sustainable destinations
The award caps a remarkable journey for Loop Head, which despite its tiny population has been ranked both as a European Destination of Excellence and 'Best Place to Holiday in Ireland' in recent years. Cillian Murphy, chair of Loop Head Tourism, said: "For Loop Head Tourism being listed in the Sustainable Destinations Global Top 100 is a great honour. All the more so because it has come on the back of a concerted voluntary effort that has taken responsibility for ensuring the long-term sustainability of our community. For more details, please click Irish Independent.


New treatment device for tinnitus launched by Irish company
Commonly referred to as ringing in the ears, the new treatment device for tinnitis is called The Mutebutton and was developed by Neuromod Devices based in NovaUCD, the Centre for New Ventures and Entrepreneurs at University College Dublin. The multi-sensory clinically proven, self-administered treatment is the culmination of over four years of research and development by Neuromod which is aiming to become a leading global provider of non-surgical neuromodulation treatments chronic conditions and plans to create 50 jobs over the next five years in Dublin.For more details please click Irish Examiner.


Make the world better - wear a Christmas sweater
Reindeer and penguins and polar bears were on the loose across Northern Ireland yesterday. A zoo of festive folk popped up throughout the province as people pulled on their seasonal sweaters for Christmas Jumper Day. Charities encouraged people to don a holiday jumper to raise money for good causes. And people were happy to oblige as the colourful sweaters helped protect them against the December chill. For more details and photo gallery, please click Belfast Telegraph.


Familiar Irish faces like you've never seen them before
Photographer Conor Horgan has taken thousands of photographs over the years. As one of Ireland's most sought-after fashion and portrait photographers, he has amassed quite an archive of incredible photos of familiar faces. But not all of them made it to publication – for a variety of reasons (including the fact that one magazine shut down before his commission got to be included). Now he has looked through his archives to find the photos that never made it, from beautiful landscapes to Morrissey and Mary Robinson. For more details and photos, please click Journal Ireland.


Students planning to to restore historic tram carriage
It is a historic piece of rolling stock, but for years it has lain rotting on a Co Armagh hillside. Now there are plans to salvage part of the Newry to Bessbrook tram and restore it to its former glory. Students from the Southern Regional College will spend 18 months restoring the dilapidated carriage, which has been used as a sheep pen in recent years. When it is finished, it will be put on public display near Newry railway station. For more details and video clips, please click BBC.

December 12

President opens Irish art exhibition in Beijing
'The Weathering' features Irish design and craft and is on show in the 798 contemporary art district. The President and Mrs Higgins watched an art class for children during the visit. The President also gave an address to an audience outlining the cultural links between China and Ireland. To read this news item an many other stories, please click RTÉ.
Photo Credit: Irish Foreign Ministry
For more details about the exhibit, please click Craft in Ireland


Google goes native with Gmail as Gaeilge
Gaelgoirs rejoice - tech giant Google has launched their popular email service in Irish. As part of a 15-month project involving staff and Irish speakers in the US, Switzerland and Dublin, Gmail users will now be able to use the service as Gaeilge. Hector O hEochagain was on hand to launch the service and said that it was a fantastic initiative. "Anything that we can do to get people into the Irish conversation, to make it cooler or more relevant can only be great," he said. For more details, please click Irish Herald.


Irish company going public already worth a cool $1.6 billion
Irish aircraft leasing firm Avolon will launch on the New York stock market today – and it has already been valued at $1.6 billion (€1.28 billion) only 4 years after launch.The company, which was founded in 2010, yesterday sold 13.6 million shares for a total of $272 million (€218 million) in its initial public offering. The shares sold for $20 apiece – slightly below the $21-$23 it had previously quoted investors – ahead of the company's trading début today. Avolon was founded by Clare-born leasing entrepreneur Dóhmnal Slattery, now the company's chief executive. For more details, please click Journal Ireland.


Great War Christmas football truce re-enactment planned
A Newtownabbey football club originally formed by home-coming veterans of The Great War is to commemorate the centenary of the famous Christmas truce in the trenches. Ballyclare Comrades will play a goodwill match against a team from Dorsten, Germany, at Dixon Park on Saturday, December 20 - starting at 2pm. The Co Antrim club was set up when three local survivors of WW1 came up with the idea of setting up a football club as a morale booster for returning veterans. For more details, please click Belfast Telegraph.
Photo Credit & Related Story: Chronicle Live


Ireland's most expensive one-bedroom home on offer
If you need a supremely-secure home which is capable of sinking a battleship (or two), then Bartra could be your castle - just so long as you have the hefty €2m to pay for it. Barta Tower at Harbour Road in Dalkey is currently Ireland's most unusual and expensive one-bedroom home. Long owned by the family of the late architect Sam Stephenson, who resided for many years at the adjoining Bartra House, the tower is the most lavishly-restored live-in Martello of the 16 survivors left dotting the east coast from Balbriggan to Bray. For more details, and video clip, please click Irish Independent.


Plaque in honour of first Black Santa unveiled
Belfast's first Black Santa has been honoured at the unveiling of a Blue Plaque at St Anne's Cathedral. Dean John Mann, who currently fills the role of the city's traditional Black Santa, paid tribute to Dean Samuel Crooks who started the charity collection outside the cathedral in 1976. When Dean Crooks began collecting, he wore a distinctive dark cloak, and was immediately dubbed Belfast's Black Santa, an affectionate nickname that has been applied to his successors. For more details, please click Belfast Telegraph.
Photo Credit & Related Story: Belfast Cathedral


Republic of Telly take a pop at 'every Irish video ever'
On Republic of Telly the other night, the two lads who host the show had a bit of a go at 'every Irish video ever' - all those viral clips that try to sum up what it means to be Irish. You know the ones that are hilarious because we can all relate to them because they're talking about Ireland and Irish people and we're Irish. Videos such as Endless Paddywhackery or Sure isn't it Mad Being Irish? To watch the videos, please click Breaking News Ireland.
Photo Credit & Video: You Tube


'It's a jolly job': the postmen who deliver Christmas cheer
Noel Adamson, the postman on the Clontarf route in Dublin for the past 20 years, was born on Christmas Day. He thinks the economy is reviving. "You can see it in the amount of online shopping," he says. "People buying dresses and personal items. And the amount of daddies I used to see round here, pushing prams. They're all gone back to work now. " In Co Clare, Damien Tuohy, whose postal route takes him through three parishes, has observed the same thing. "There's a little bit of an improvement," he says. For more on this feature article, please click Irish Times.
Photo Credit: Cyril Byrne


Topless farmers give One Direction a run for their money
Ireland's farmers are officially cream of the crop —but just in Cork. The charity calendar surged past One Direction to clinch top spot in Cork's Christmas calendar charts. However, the 1D boys' 2015 wallchart is top of the nationwide calendar charts for the fourth year in a row. The farming-themed charity calendar — which features hunky country lads in tongue-in-cheek, topless poses — has topped the charts in Cork's regional table for the first time and is in fourth place nationwide. For more details, please click Irish Examiner.

December 11

Video: New wave record set off Donegal coast
Met Éireann has announced that a significant wave height of 15.7 metres was recorded at 11am. This figure represents the average of the highest third of wave heights over a period. Before this, a significant wave height of 15.2 metres had been recorded back in January. This buoy also recorded an impressive individual wave height of 21.5 metres around the same time, though this is less than the 23.4 metre wave recorded at the start of the year. Iain Miller's stunning video shows just how choppy it was off the Donegal coast yesterday. To view the video, please click Journal Ireland.
Photo Credit & Related Story: Donegal News


'Strumpet City' most borrowed library book in Ireland last year
That's according to figures released by the Public Lending Remuneration service for the Local Government Management Agency. While Fifty Shades of Grey made it onto the top 10 most borrowed list for the first time here in 2013, workers' equality trumped eroticism, with the new edition of James Plunkett's 1969 historical novel Strumpet City the most borrowed title among Irish adults. The novel, with an introduction by journalist Fintan O'Toole, recounts the events of Dublin's 1913 Lockout. For more details, please click Irish Examiner.
Photo Credit & Related Story: RTÉ


Fidelity Investments creating 200 jobs in Dublin
Fidelity Investments made the announcement as it opened its second Dublin office in Citywest. The new employees will be working in technology and business operations roles. The company's Irish operations cover areas including corporate services, research and development, international finance, and risk management. The company has been in Ireland since 1996 and has two offices in Dublin and Galway. The new jobs will see Fidelity Investments employ more than 900 people in Ireland. For more on this news item, please click RTÉ.


Ireland's Moe Dunford lands European Shooting Stars Award
The up-and-coming star was chosen as one of the European Shooting Stars at the 2015 Berlin International Film Festival. He will follow in the footsteps of Daniel Craig, Domhnall Gleeson, Carey Mulligan and Andrew Scott in receiving the prestigious honour. Dunford has received universal acclaim for his performance in the new Irish film Patrick's Day directed by Terry McMahon. Speaking of his selection, Moe Dunford said: "I'm hugely honoured and proud to be chosen to represent Ireland as a Shooting Star in the forthcoming Berlinale in 2015…" For more details, please click RTÉ.


Video: Christmas came early to Tesco customers in Cork
Some shoppers in Tesco's newly-opened Ballincollig store in Cork took part in surveys about their ideal Christmas presents.They didn't know they were being secretly filmed. A number of novelty gifts were given out to those who took part in the survey - and best of all, Tesco treated many customers to their most heartfelt Christmas wishes. For example, a woman mentioned that she'd love to celebrate Christmas with her sister who emigrated to Canada. Tesco presented her with a plane ticket so the family could be together for the festive season. To watch the video, please click Breaking News Ireland.


Could Billy Brennan's Barn be exported to Canada?
The barn, made famous by Patrick Kavanagh's poem 'Inniskeen Road: July Evening' , is currently for sale. And now, according to the Northern Standard, the former dancehall faces the possibility of transatlantic exile. Under a plan dreamed up by a group of Irish expatriates, the barn would be dismantled and shipped to Winnipeg, to be re-erected as the centrepiece of a themed bar. It wouldn't be the first time this sort of thing has happened. The interior fittings of the Ballyporeen pub wherein Ronald Reagan had a pint of Smithwicks in 1984 were later emigrated to California, and a Reagan museum. For more details, please click Irish Times.


Ding dong merrily on high: the mathematics of bell ringing
While the melodic pealing church bells are a staple part of our shared Christmas experience, there is another, entirely different side to bell-ringing, one so complex that it helped create a form of advanced mathematics called group theory. The carols are nice, but the bells are generally rung in non-repeating permutations, says Gary McGuire, a professor and head of mathematics at University College Dublin. It first arose as a very English, very Anglican invention called "change ringing", after the Reformation sacking of medieval church bells. For more details, please click Irish Times.


Was Drombeg's stone circle designed using skills learned in Babylon?
The near-perfect circle of 17 stones is an example of ancient Bronze Age engineering, oriented to the sun. But Ronan Murray, the author of a book based on nine years of research at Drombeg, says the stone circle is much more than that. Gesturing out over the ancient site of standing stones set against the dramatic backdrop of the Atlantic coastline, Murray says, "You can't look at this and not wonder what the significance behind it was." In his book The Secrets of Drombeg, Murray sets out a new theory. For more details, please click Irish Times.


Paul McGinley to lead Irish golf team at Rio Olympics in 2016
Winning Ryder Cup captain Paul McGinley is set to join up again with world number one Rory McIlroy as Ireland golf team leader at Rio 2016. McGinley was among the team leaders announced by the Olympic Council of Ireland on Thursday morning. Holywood player McIlroy, who starred in Europe's win over the US in September, has opted to represent Ireland instead of Great Britain in the Olympic Games. McIlroy praised McGinley's leadership after the victory at Gleneagles. "He has just been the most wonderful captain," said the four-times major winner. For more details, please click BBC.
Photo Credit & Related Story: RTÉ

December 10

NI WW II pilot Terry Bulloch, RIP
He was the eagle-eyed war hero who was the scourge of German U-boat captains in World War II. When it came to hunting down the enemy at sea, no one did it better than legendary Ulster Squadron Leader Terry Bulloch. Known as 'The Bull', the Royal Air Force officer sank more Nazi submarines than any other pilot in the conflict. The airman - who had the reputation of being able to spot the vessels earlier than any other pilot - has died at the age of 98, leaving behind a wartime story of bravery and ingenuity that's worthy of a feature film. For more details, please click Belfast Telegraph.


Allianz to create 100 jobs in Dublin
The health and life insurance company made the announcement at its offices in Park West in Dublin this afternoon. The company said the new roles will be across its entire business and it is recruiting immediately. Positions include claims, helpline and client services, medical services, underwriting and pricing. The investment is supported by the Department of Jobs, Enterprise and Innovation, through IDA Ireland. The company also said today that it has bought four new offices in Parkwest in Dublin. For more on this news item, please clic RTÉ.


Ireland's most watched You Tube videos of 2014
A singing priest, a spider dog, and an ice bucket challenge gone wrong — no, it's not the intro to one of the strangest novels ever; these are the subjects of this year's most popular YouTube videos in Ireland. Singing priest Fr Ray Kelly became a social media sensation when his version of Leonard Cohen's 'Hallelujah' went viral. When he performed the song at a wedding, the Westmeath priest had no idea it would be viewed more than 34m times only four weeks later. His version was so good, in fact, he signed a deal with Universal and is working on his first album. For more details & video clips, please click Irish Examiner.
Related Sory: Ireland's top tweets in 2014


Land earmarked for £100m golf resort near Giant's Causeway sold
The site has been bought by the owner of Randox Laboratories, Peter Fitzgerald. Planning permission was granted on the site near Bushmills, Co Antrim, for a five-star hotel, championship links golf course and 70 golf lodges. It is believed the sale of the 1,200-acre estate is the single largest private property transaction in Northern Ireland this year. The property, which includes Dundarave House, a 19th Century stately home with 19 bedrooms, a farm and shoot business, was bought for an undisclosed sum. For more details, please click BBC.
Photo Credit, More Pics & Related Story: Belfast Telegraph


Joseph O'Connor invites students to apply for MA in creative writing
Author Joseph O'Connor, the Frank McCourt chair of creative writing at the University of Limerick, has set up an MA in Creative Writing and is hoping to get the word out to potential students or others who might be interested. It's a one year full-time course taught by O'Connor himself and Giles Foden. The Arts Council Writer in Residence. They are currently accepting applications for the academic year starting in September 2015. Applicants are asked to send 3,000 words of their fiction and a one-page letter outlining why they would like to work with the above writers at UL. To read this news item, please click Irish Times.
Photo Credit: Eric Luke


The real spirit of Christmas: Cork boy buys gifts for homeless woman's children
The O'Donovan-Campbell family including mum Imelda and son Isaac were out Christmas shopping in Cork at the weekend, and arranged to meet up at a landmark. But when Imelda got to the Brown Thomas store on Patrick Street, Isaac and his dad weren't there. Imelda struck up conversation with a young woman wrapped in a sleeping bag outside the store, and offered to buy her some food since she hadn't eaten in three days. When Imelda returned a few minutes later, she found Isaac had arrived and beaten her to it. He had bought the young woman a burger with his own money. That's not all. For more details, please click Breaking News Ireland.


Video: Son returns home from Canada to surprise his mammy
Don't have the Christmas spirit yet? Perhaps watching this video of a young man surprising his mother might do it. Her son made the trip from Calgary in Canada back to the homestead in Wicklow and surprised her by yelling for a cup of scald - a cup of tea for those not in the know. As with most people, we won't ever get tired of watching these surprise homecoming videos and, with more and more Irish emigrants returning home over the next few weeks for Christmas, hopefully there will be a lot more where this came from. To watch the video, please click Breaking News Ireland.


Irish brothers open UK's first cereal cafe
A set of Irish identical twin brothers opened the doors to the UK's first café specialising in cereal earlier this month. Cereal Killer Café, which was set up by Belfast entrepreneurs Alan and Gary Keery, offers a menu that boasts over 100 types of international cereals. "We have always loved cereal and the light bulb moment came when we were out in Shoreditch one afternoon and wanted to go out for something to eat," Gary said. "We said 'wouldn't it be good if there was somewhere we could just sit down and have a bowl of cereal?' And so the idea was born." For more details & video clip, please click Irish Independent.


Brian O'Driscoll receives honorary degree from Queen's University
One of Ireland's greatest ever rugby players has received an honorary degree from Queen's University Belfast. Former Ireland, and British and Irish Lioetrl.ns captain Brian O'Driscoll was given an honorary doctorate for services to sport. O'Driscoll was capped 133 times for his country and played eight test matches for the Lions over four tours. O'Driscoll is the highest international try scorer of all time in Irish rugby history. For more on this news item as well as more pics and stories, please clic BBC.
Photo Credit: Pacemaker

=
Christmas has arrived at the Mansion House
Christmas came early to the Mansion House in Dublin today with the official opening of the live animal crib. Lord Mayor Christy Burke opened the crib, which is celebrating its 20th anniversary. "I am proud to continue the tradition of having the Live Animal Crib here at the Mansion House. The Crib symbolises the sentiment of the first Christmas in the heart of Dublin and the animals are a welcome gift from the farmers of Ireland to Dublin...." Burke also thanked the Irish Farmers' Association for donating the crib. For more details, photos and video clip, please click Journal Ireland.
Photo Credit: Sam Boal/Photocall Ireland


Water: So potent even St Patrick didn't mess with it
Irish Times columnist Michael Harding first realised the importance of water when he accompanied his granny to Knock in the back of an Austin A7. Her hat got squashed against the roof as yhey went over a humpbacked bridge somewhere in Roscommon. She was terrified, but she was prepared to endure terror just to get her hands on a few bottles of holy water from a tap near the shrine, and to pray at the gable wall where God's mother once appeared on a wet rainy night long ago. His granny used her bottles of holy water to bless her grandchildren going out the door, and her husband coming home, and the Christmas goose going into the oven…to read this article, please click Irish Times.
Photo Credit: Dennis & Jeanette Walkabout/Holy Water Fonts at Knock


Chinese President Xi Jinping accepts invitation for Irish visit
President Michael D Higgins extended the invitation when the two leaders met for talks at the Great Hall of the People in Beijing. It would be the second time President Xi has visited Ireland, following his previous trip to the country in 2012 when he was vice president. President Xi said he recalled with fondness his previous trip to Ireland. He said he was very glad that since that visit bilateral relations between the two countries had gone to the next level in many areas, including trade and other areas of cooperation. No date has yet been set for the visit. For more details, please click RTÉ.


'This honour is for all who lost their lives' says Irish D-Day veteran
One of Ireland's last surviving D-Day veterans remembered his fallen comrades yesterday as he was presented with one of France's highest honours. Pat Gillen, 89, who was among the first wave of troops to land on Sword Beach in Normandy, on June 6, 1944, was presented with the Chevalier de la Légion d'Honneur by Jean-Pierre Thébault, the French ambassador to Ireland, in recognition of his outstanding bravery and military service at a special ceremony in the Mercy University Hospital (MUH) in Cork. Mr Gillen said he was thrilled, but immediately felt unworthy, when told he was to receive the honour. For more details, please click Irish Examiner.
Photo Credit & Related Story: Irish Herald


West Cork students' 'The Clonakilty Christmas Song' an international on line hit
In just one week the song, composed and performed by staff and pupils at Scoil na mBuachailli in Clonakilty, West Cork, has notched up nearly 10,000 YouTube hits, broke into the top 50 of the Irish iTunes charts, and attracted fans from all over the globe. "It's been the most amazing rollercoaster," said headmaster Barth Harrington. "It's only been a week since it first appeared on the Irish Examiner's website, but it seems to strike a chord with people affected by emigration; we've had responses from people all over the world… including Kathmandu, Boston, France, and Britain." For more details and to hear the song, please click Irish Examiner.


The ten best of hidden Dublin
The big names are well-known: the unforgettable vista of the Long Room in Trinity College, the Guinness Storehouse and literary pub crawls through the watering holes from which many of Ireland's most celebrated writers were barred. But there's more. Here are 10 recommendations to give visitors (and curious locals) a more rounded sense of Dublin. One of them is Bull Island's sand dunes - home to Brent geese, oystercatchers, foxes and hares, forming a rambling nature reserve that any child would love to explore. For more details, please click Irish Herald.
Photo Credit & Related Story: Green Neon Light


Dun Laoghaire's controversial library quietly opens its doors
The building which has courted controversy and strong reactions in the Dublin seaside town of Dun Laoghaire has quietly opened its doors to the public. Dun Laoghaire Rathdown's four-storey €36.6m LexIcon library and cultural centre near the harbour's seafront has reading rooms, a children's library, a 100-seater performance space and a local history section. It also houses the first municipal gallery in Dun Laoghaire Rathdown as well as a cafe. For night owl readers it has a 24 hour book return service with a self-service book sorter. "The LexIcon embraces the modern concept of what a library should be , a key community space where all are welcome," county librarian Maireád Owens said. For more details, please click Irish Times.
Photo Credit & Related Story: Eric Luke/Irish Times


A once crumbling Co Down mansion is now favoured location for film crews
When Lord Dunleath moved into Ballywalter Park, his childhood home was so unhabitable that neighbours joked going to bed there was like climbing between sheets of wet cardboard. And a fire in 1973 was so serious, the house came within a whisker of being lost. But the stately home on the Ards Peninsula in Co Down has undergone a startling transformation over the past few decades, changing from a crumbling semi-derelict structure to a welcoming mansion that has become a popular location for film and television shoots. In fact, a new Frankenstein drama is to be filmed there next year. For more details, please click Belfast Telegraph.


Padraig Harrington buoyed by Indonesia Open victory
Padraig Harrington's belief that his game has turned a corner was vindicated in spectacular fashion at the Indonesia Open on Sunday and the three-time major winner heads into 2015 with a renewed sense of optimism. Harrington, who saw off nearest pursuer Thanyakon Khrongpha of Thailand by two shots to win his first full-field tournament since landing the 2010 Johor Open, soared from number 385 in the world rankings to 260 after his victory in the Asian Tour event. For more details, please click RTÉ.

December 8

Tribute to 'King of the road' Mick Barry , RIP
In the pantheon of the greatest sport figures, Mick Barry rightfully belongs. The greatest road bowler in the history of the sport died at the weekend following long illness. He was 95. In all sport, you'll get arguments when it comes to nominating "the greatest", but with some sportsmen, there is simply no room for argument. Mick Barry was a class apart. He dominated his sport like no other. Over his long and illustrious career all the superlatives have been used and all have been fully justified. He truly was the 'King of the road'. To read this tribute, pleas click Irish Examiner.


"This will be the biggest funeral in Kerry, maybe ever"
That was said by one of the locals as hundreds gathered in Kilgarvan, Co Kerry, for the removal of the remains of former Independent TD Jackie Healy-Rae. From early afternoon on Sunday, long queues formed outside the family pub in the small rural village where his remains were in repose. The queue stretched about 300 metres into the Kerry countryside before doors opened to the public at 4 pm. Cars were parked on the roadside and a minibus ferried mourners to the village. There was a palpable affection among mourners for the colourful and controversial former politician who died on Friday after a long illness. For more details, please click Irish Times.
Photo Credit& Related Story: Irish Independent


President Higgins starts a week long state visit to China
President Michael D. Higgins began his state trip today with a visit to the Great Wall, and is due to host one of several IDA and Enterprise Ireland trade dinners in Beijing. The visit is heavily aimed at promoting trade links with China, and as a recognition for the growing mutual relationship between the second largest economy in the world, and Ireland as an important link to the European single market. The president will take in three cities, and meet Irish people living there. To read this news item on line as well as many others, please click Breaking News Ireland.
Photo Credit & Related Story: RTÉ


Ireland's Gleeson and Scott win at British Independent Film Awards
Brendan Gleeson and Andrew Scott, Irish performers of different generations, have taken the two male acting prizes at the Moët British Independent Film Awards. Gleeson won best actor for his performance as a priest condemned to die in John Michael McDonagh's controversial Calvary. Andrew Scott, the charismatic Dubliner best known for his role as Moriarty in Sherlock, won his award for the role of a conflicted activist in the heart-warming drama Pride. That film also took the top award for best British Independent Film of 2014. For more details, please click Irish Times.
Photo Credit& Related Story: RTÉ


Ray D'Arcy going 'coming home' to RTÉ
Ray D'Arcy will present a new show on RTÉ Radio One from February, having left Today FM after a 15-year spell. "I'm really looking forward to joining RTÉ in 2015," he said. "I'm excited about the upcoming challenges in both radio and television. To be honest, it feels a little bit like coming home." D'Arcy's move back to RTÉ — where he first sprang to fame on Jo Maxi and The Den — will see him take over the slot being vacated in the new year by Derek Mooney, while also returning to RTÉ television. For more details, please click Irish Examiner.
Related Story: Journal/12 of Ray D'Arcy's best moments in broadcasting so far


Fairytale of New York' voted best Christmas song in UK poll
Nearly one in four of 2,000 adults surveyed in the poll by Blinkbox Music chose Shane MacGowan's classic 1987 single as the their favourite Christmas song. The enduring yuletide classic invariably tops seasonal polls and has just been named by royalties body PPL as the UK's most played Christmas song last year. The festive ballad also recently topped another poll to find the best Christmas song to drive along to. Despite its continued appeal and reputation as the best Christmas song ever produced, Fairytale of New York only reached number two in the UK charts when it was released in 1987. However, it did top the Irish charts. For more details, please click Irish Independent.
Photo Credit & Related Story: The Sun
You Tube Video: Fairy Tale of New York


Santa Dash raises sackfuls of cash
Tens of thousands of Santas have taken to the streets around the world - proving that it doesn't have to be Christmas Day for Father Christmas to put a smile on a child's face. In Belfast yesterday shoppers were stunned by the fun-running figures in red and white as they raised money for the Northern Ireland Children's Hospice. With beards in full flow and fur-trimmed outfits on display, the Santa Dash took runners along some of Belfast's busiest shopping streets. For more details and photos, please click Belfast Telegraph.


Robbie Keane the hero as he bags extra time winner in MLS cup final
Robbie Keane scored the winner in extra-time to hand Landon Donovan the perfect retirement present as the Los Angeles Galaxy beat the New England Revolution 2-1 to claim the MLS Cup. The Irishman was named the MLS MVP last week and lived up to that billing with a dramatic winner in a contest when he was not at his best. Gyasi Zardes had put the Galaxy ahead, but Chris Tierney grabbed the equaliser to take the final to extra-time where Keane netted his 20th goal of the season. Victory gave the Galaxy a record fifth Cup, beating the Revolution in the final for a third time. For more details, please click Irish Examiner.
Photo Credit: Video Clip & Related Story: Journal Ireland/AP/Press Association Images


NI's Colin Turkington wins Driver of the Year award
Northern Ireland's Colin Turkington has won the National Racing Driver of the Year award after regaining the British Touring Car Championship. The 32-year-old from Portadown picked up the prestigious honour at the annual Autosport awards on Sunday night. "British Touring Cars is never easy, never straightforward, and it always goes down to the last round," said Turkington at the awards ceremony in London. This is his second BTCC title in five years with eight victories and 434 points. For more on this news item. please click BBC.

December 7

Apprentice Boys of Derry stage Lundy's Day parade
More than 1,000 people have taken part in the annual Lundy's Day parade in Londonderry. The event commemorated the 17th century siege of the city and was organised by the Apprentice Boys of Derry. Accompanied by 30 bands, the marchers made their way through the city centre before attending a service of thanksgiving at St Columb's Cathedral. Afterwards, in keeping with tradition, an effigy of Lt-Col Robert Lundy, known as Lundy the Traitor, was burned. For more on this story please click BBC.


Winter's first snow warning for Northern Ireland
The first snow warning for Northern Ireland this winter has been issued by the Met Office. Bitterly cold conditions on Sunday will see showers move east across all counties, along with westerly winds. Many of these showers will be falling as rain and sleet for low level areas, but hills and mountains are more likely to have a covering of snow. Snow depths of 2-5cm are possible above 250m, with some temporary accumulations below this. For more on this story please click BBC.
Photo & Related Story: Belfast Telegraph


National Museum of Ireland 'not facing closure or fees'
The National Museum of Ireland has denied that its visitor facilities are facing "imminent closure" or that entry charges are to be introduced. It follows media reports that members of its board discussed the possibility of shutting its four sites or charging visitors to solve financial problems. The museum has seen a 40% cut in its state funding since 2008. In a statement on Friday, the board said it remained "committed to the principle of free entry". It confirmed the board of the National Museum "had discussed a number of options for cost saving in the context of addressing the financial pressures facing the Museum in 2015". For more on this story please click BBC.


Jackie Healy-Rae, former Independent TD for Kerry South RIP
The former Independent TD for Kerry South, Jackie Healy-Rae, has died at the age of 83. Mr Healy-Rae died on Friday afternoon at Kerry General Hospital in Tralee, it is understood he had been ill for some time. His son Michael succeeded him as TD for the constituency. Another son, Danny, and a grandson Johnny, are members of Kerry County Council. Mr Healy-Rae had four sons and two daughters. For more on this story please click BBC.
Photo Credit & Related Story: Belfast Telegraph


Ulster 24 - 9 Scarlets: Ulster win crucial European Champions Cup Pool 3 match against Scarlets
Ulster delivered their first win of their European Champions Cup campaign at a vital time in their bid to avoid early elimination with their try bonus victory moving them off the bottom of Pool Three and setting them up nicely for Sunday week's return fixture at the Scarlets. For more on this story please click Belfast Telegraph.


Charities count the cash after Rory McIlroy's goodwill drive
We know him as 'Wee Mac', the mercurial golf prodigy from Holywood who dominates putting greens around the world. But this week Rory McIlroy had other green stuff on his mind - raising thousands of dollars in New York for the children's charity that's close to his heart. Ivan Little reports. Thousands of miles - and a world - away in New York City, the thoughts of Rory McIlroy have been concentrated this week on Newcastle and the charity project that he's dedicated himself to helping: the Daisy Lodge cancer centre on the edge of Tollymore Forest. For more on this story please click Belfast Telegraph.


Rocket fans launch flying toilet
A group of rocket enthusiasts may be potty but they ended up flushed with success after launching a portable toilet. The levitating lavatory roared skywards, made an arc, then, slowed by parachutes, almost landed on a spectator's pick-up truck 2,000 feet away. Michiana Rocketry club members planned the project for more than two years. The club is trying to increase awareness of rocketry as a hobby and prove it is possible to turn a porta-potty into a rocket and launch it successfully. For more on this story please click Breaking News Ireland.


Your guide to surviving the 12 Pubs of Christmas
It's that time of year again. The evenings have closed in, the decorations are going up and far-flung friends and family are about to make their annual migration back to the homeland. Up and down the country, plans are being made for Christmas parties, work drinks, reunions with old friends on Christmas Eve, shindigs with former schoolmates and any other excuse to hunker down in your favourite pub and wait out the holiday season. One of our newer festive traditions is the infamous 12 Pubs of Christmas, having exploded in popularity in the last few years. For better or worse - it seems to be here to stay so here's our definitive guide to surviving (and enjoying) the 12 Pubs this December. For more on this story please click Breaking News Ireland.
Related Story: The Journal


Ho ho ho... it's holly!
Peter Dowdall celebrates the prickly berried plant that takes centre stage at Christmas —and its relatives. We all like to overindulge at Christmas — it's a time to kick back, put the feet up and enjoy too much of a good thing. It's all about traditions at this time of the year, and from a gardening point of view, the most important is berried holly. We use it in wreaths, garlands and simply in vases about the house. The bright red berries contrasting so vividly with the dark green foliage make it one of the foremost symbols of the festive season in this part of the world. And, as you are settling down to enjoy a plate piled high on Christmas day, so too for the birds, who will be tucking into a feast of Holly berries. For more on this story please click Irish Examiner.

December 6

What Irish Times critics are wishing for this Christmas
What would you like in your stocking?
You have €20 to spend on a Kris Kindle gift. What would you buy?
If money was no object, what would you like to receive? From tickets for a play to a lifetime supply of chocolat The Times critics tell us what they want for Christmas. To read more please click Irish Times.


It's official: Irish women are better drivers than Irish men
That's according to the Central Statistics Office (CSO). Conor Faughnan of the AA said that there was "no surprises" in the latest figures. He pointed out that the myth that women were worse drivers than men had been repeatedly shown to be false. "Young men tend to have a poorer record which can colour the overall performance of men. Speeding was the most common offence among Irish drivers last year. It was followed by driving while using a mobile phone and failing to wear a seatbelt. For more details, please click Irish Herald.


Dublin actor Andrew Scott signs up for new James Bond movie
Originally from Churchtown, Co Dublin, Andrew Scott has been named in the cast of the new James Bond movie, which director Sam Mendes says will be called Spectre. Scott is best known for his maniacal performances in the BBC1 drama series Sherlock, and he is now to play one of the Whitehall staff, Denby. Details of the film were unveiled at Pinewood Studios, the traditional production base for the movies and which is being used for rehearsals ahead of the start of filming next week. For more details, please click Irish Examiner.


Hidden Kerry – uncovered
There is far more to Kerry than Killarney, Breda Joy discovers on her odyssey round the kingdom, from the beheading of the Earl of Desmond in 1593 to a special birthday celebration for Big Bertha the cow in 1992. Ladies View, Killarney: "With the likely charge of the opus being an alleged 'Killarney book' at the back of her mind, Breda Joy made it her business to roam far and wide into hinterlands where guesthouse signs and rental cars are as scarce as the proverbial hens' teeth. For more details, please click Irish Times.


Chocolate maker Lir back in the black
Licensing deals with Diageo to produce Baileys and Smirnoff chocolates helped Lir Chocolates swing back into profit last year. The luxury chocolate maker recorded pre-tax profits of €108,398 in the eight months to the end of December according to new accounts, bouncing back from a pre-tax loss of €292,390 in the prior 12-month period. That's according to accounts just filed with the Companies Office. They show that the firm increased gross profit by 10pc on a pro-rata basis. The figures show that gross profit last year totalled €4.336m for the eight-month period compared to €5.89m for the prior 12-month period. For more details, please click Irish Independent.


Fashion event: Model behaviour at Stormont... for once
Amid the grandeur of the Great Hall at Stormont, 240 guests turned out at the For the Love of Fashion event, and there was as much glitter and glam on show in the audience as there and was on the catwalk. Spectators were treated to the talents of local designer Geraldine Connon, hairdresser Shane Bennett and make-up artist Oonagh Boman, who opened Ireland's first school of make-up in Belfast in 1998. Geraldine's couture designs have won her international acclaim, while Shane's achievements include winning Northern Ireland Hairdresser of the Year three times. For more details, please click Belfast telegraph.


Generations nurse fond memories of Temple St
WITH Temple Street Children's Hospital due to move to the new national children's hospital at James's Street in a few years, a part of Dublin's history is coming to an end. When it opened in 1872, Temple Street catered for the city's poorest children . It went on to become one of Ireland's best known children's hospitals and to forge an international reputation. Now, with a new national children's hospital planned for James's Street, a part of Dublin's history is coming to an end. To mark the unique place Temple Street has in the hearts of Dublin families, historian Dr Barry Kennerk has produced an illustrated book with 80 pictures on life at Temple Street. including many from the archives. For more details, please click Irish Independent.


Fivemiletown clock restored to former glory
The clock in Fivemiletown has been a distinctive landmark on the courthouse building in the Co Tyrone town's main street since 1903. It was commissioned to celebrate the coronation of King Edward VII and Queen Alexandra the previous year. After years of constant use, the effects of the weather and a car bomb that exploded in 1972, gear wheels became rusted, the frame distorted and the hands finally stopped turning. It was only when the clock was covered in purple masonry paint that local people decided that it was time to give the clock a new lease of life. For more details, please click BBC.


Spectacular Killiney home hits the market for just €1.5m
Battleford is, by any measure, a very large house. With just over 5,000 sq ft of floor space, and occupying a site of an acre of mature Killiney real estate, the house is five times the size of the average Dublin semi. Located behind wooden gates on a private laneway off Church Road and a few doors along from St. Matthias Church, this house bears little resemblance to the original dwelling that it replaced back in the Tiger years. Back then, in the heady days of 2007, the same property was on offer for €4.75m. For more details, please click Irish Independent.

December 5

Other newspapers have already forecast a white Christmas...
…but the Irish Times says it wouldn't be so irresponsible. Snow is forecast, for some at least, with occasional flurries forecast for this weekend. Met Éireann said some "bitterly cold and rather blustery" weather is expected on Sunday and scattered showers in the west of the country would be wintry in nature "with snow on western and northern hills and possibly some sleet on lower levels". Met Éireann forecaster John Eagleton said the country was not facing a "serious snow situation" but that there would be a "good dusting left on the hills in the west and north". For more details, please click Irish Times.
Photo Credit: Bryan O'Brien
Related Story & Video Clip: A White Christmas?


Game Of Thrones generates millions in publicity for Northern Ireland
The hit TV series generated more than £8.6m worth of publicity for Northern Ireland this year. Tourism chiefs, who capitalised on the global success of the HBO show for their best digital media campaign, hope to exploit the links even further and boost visitor numbers by at least 6% next year. Niall Gibbons, chief executive of Tourism Ireland, said: "The campaign cost us £200,000. If we were to buy the publicity, that would have cost us £8.6m. "It allowed us to sell Northern Ireland to an audience who wouldn't have heard of it before." For more details, please click Belfast Telegraph.


Preview: Van Morrison is set to open up
Stop. The. Presses. Van Morrison graces the stage of Dublin's Olympia theatre on December 10th in two guises: that of performer and that of public interviewee. Subtitled Lit Up Inside (the title of his recently published book of selected lyrics, the evening is in two parts. The second part is the gig with a four-piece band; the first segment sees Morrison being interviewed by Scottish writer Ian Rankin across a Q&A session that lasts up to 30 minutes. Interspersed with the conversation will be readings of Morrison lyrics by poet Michael Longley, and an overview of his career by Dr Eamonn Hughes. For more details, please click Irish Times.


The Script show their smash hit 'Superheroes' isn't just a song title
Band members Danny O'Donoghue, Mark Sheehan, and Glen Power were on their tour bus on the M40 heading out of London when a crash unfolded before them. Mark said: "I just heard the [bus] driver say 'Oh my God' and we saw this girl spinning out of control on the motorway. It was in the fast lane too. Then she hit the dividing barrier and the car literally flipped around some more." The band jumped out of their bus and ran to the rescue of girl and they were recounting the incident on Manchester radio station Key103 just a few hours later. For details, please click Breaking News Ireland.


A fitting swansong for one of NI's most famous art spaces
Belfast artist Brian Ballard has chosen Ormeau Baths Gallery in Belfast as the venue to show 50 years of the best of his work. Mr Ballard said that he wanted to "give something back to Belfast" to mark his successful art career. The show - called Ballard at the Baths - will be the last ever exhibition to be held in the listed Victorian building when it closes this Saturday at 4.30pm. It was confirmed recently that the Ormeau Baths Gallery with its Victorian architectural splendour has found a new buyer. For more details, please click Belfast Telegraph.


Festive Fota fills up with fun for the miracle kids
Take one sumptuous regency mansion, stuff it full of magical Christmas cheer, add in more than a sprinkle of goodwill and, hey presto — you have the perfect festive recipe for kids who deserve nothing less. For two days, Fota House has thrown open its doors to children who have spent more time grappling with doctors and hospitals than any child reasonably should. Leading the charge is John Looney, chair of Cork City Hospital's Children's Club. For the past 16 years, he has driven the Fota House Christmas experience, enabling hundreds of children to enjoy a truly unique day out. For more details, please click Irish Examiner.
Photo Credit: Larry Cummins


US photographer launches book of Irish photos
An American photographer based in Ireland has published a book featuring images of the Irish landscape to raise funds for survivors of the Boston Marathon bombing. Alanna Scully, from West Springfield, Massachusetts, had packed in her day job and travelled to Ireland in 2013. She was touring Killarney when she heard about the bombing. "I was shell-shocked, feeling that I should be at home volunteering and helping in some way," Alanna said. For more details and photos, please click Breaking News Ireland.


Rugby World Cup: All-Ireland bid to stage 2023 event announced
An all-Ireland bid to host the 2023 Rugby World Cup was formally announced by the Irish Rugby Football Union at an event in Armagh on Friday. The Northern Ireland Executive and Irish Government pledged their support. "Ireland will put together a winning bid that will be impossible to resist," said Taoiseach Enda Kenny. Northern Ireland First Minister Peter Robinson added: "Northern Ireland has demonstrated that whatever the event, whatever the occasion, we deliver." For more details, please click BBC.
Photo Credit & Related Story: RTÉ


Another Kilkenny hurling legend bows out
JJ Delaney has announced his Kilkenny hurling retirement this morning after a career that saw him win nine All-Ireland senior medals. The Fenians defender becomes the latest Cats legend to retire on the back of the departures of Tommy Walsh, David Herity, Brian Hogan and Aidan Fogarty. Delaney joined the panel in 2001 and also won 10 Leinster senior hurling medals, 8 National hurling league medals and 5 Walsh Cups. He claimed seven Allstar awards in 2003, 2004, 2006, 2008, 2011, 2012 and 2014. Delaney was also Hurler of the Year in 2003. To read his official statement, please click Journal Ireland.
Photo Credit: Donall Farmer/INPHO

December 4

Have the Irish discovered the secret to living longer?
It would seem so according to o comprehensive study of European countries health systems. The 'Health at a Glance' report produced by the Paris-based Organisation for Economic Co-operation and Development shows over the past two decades Irish people have increased their life-span by more than any other EU nationality, living almost five years longer than the previous generation. People are feeling well too as more than 80% when asked about their health said they felt either good or very good. For more details, please click Irish Examiner.
Photo Credit & Related Story: Irish Times/Getty


How a Cork mathematician's zeroes and ones changed the world
Professor of mathematics George Boole died 150 years ago, on December 8th, 1864. following a drenching as he was walking between his home and Queen's College, Cork. He was just 49. His work has had a growing influence in recent decades, in computer science and digital technologies of all kinds. A biography, The Life and Work of George Boole, by Desmond MacHale of UCC gives a well-drawn portrait of Boole not just as a man of science but as a social reformer, religious thinker and family man. For more details, please click Irish Times.


€3bn a-growing: Limerick's most successful exports are in it for the long haul
John Collison, who, at 24, saw the value of his online payments Stripe company soar to $3.5bn this week, says there are no plans to cash in. "I'm a very boring person." John is rationalising why neither he nor his brother, Patrick, have any intention of selling their multi-billion dollar online payments company Stripe any time soon. €3bn valuation? €150m in funding? All very nice. Despite the business being about electronic money, cashing in isn't the point. But making a new global service that changes how people trade is. For more details, please click Irish Independent.
Photo Credit & Related Story: Forbes


The millions continue to roll in for Ireland's best known night spot
Copper Face Jacks, owned by former garda, Cathal Jackson and housed in the Jackson Court Hotel on Dublin's Harcourt Street - has amassed a massive cash pile of €46.29m over the years as a result of its enduring popularity. Now, new Figures lodged by the night-club's firm, Breanagh Catering Ltd show that the firm's cash increased by €3.32m to €46.29m at the end of January 31 last. During the same period - boosted by Dublin's All-Ireland final football win in September 2013 - the firm's accumulated profits increased by €4.53m from €54.74m to €59.27m. For more details, please click Irish Herald.
Photo Credit, More Pics & Related Story: Journal Ireland


Irish drama Glassland selected for Sundance Fest
Starring Jack Reynor as a young taxi driver on the fringes of the criminal underworld, Glassland has been selected to screen in competition at the prestigious 2015 Sundance Film Festival. The film, which was written and directed by Gerard Barrett, also stars Toni Collette, Irish actor Michael Smiley and fast-rising British star Will Poulter who impressed in Wild Bill and The Maze Runner. Glassland will screen as part of the World Cinema Dramatic Competition at Sundance, which takes place in Utah from January 22 to February 1. For more details, please click RTÉ.
Photo Credit & related Story: click Irish Times


U2 to tour world in 'intimate' arenas
He may be laid up after a bike accident but it hasn't stopped Bono from announcing a new U2 world tour. The lead singer of the world's top touring act announced details yesterday of a 44-show 19-city tour across the US, Canada and Europe. "We are going to try to have a completely different feeling from night one to night two and have some fun playing with the idea of innocence and experience," Bono said. The band also confirmed that they will play arenas for the first time in a decade. Billboard.com reported yesterday that staging will be in the middle of the arenas, spanning the length of the arena floor, with a giant double-sided screen running above the stage. For more details, please click Irish Examiner.
Photo Credit & Related Story: RTÉ


How NI people splash their cash
People in Northern Ireland spend the most money in the UK on looking good, according to a government survey of weekly spending habits. The Office for National Statistics family spending report, published on Tuesday, analyses how households in 13 regions across the UK spent their money over a three-year period. About 1,200 people in Northern Ireland were surveyed between 2011 and 2013. While some of the figures might be expected, it also came up with some surprising details. For more details, please click BBC.
Photo Credit: ThinkStock


Dublin civil servant wins €500,000 EuroMillions prize
A public servant from South inner City Dublin won the top prize of €500,000 in last night's EuroMillions Plus draw. She had bought a €6 Quick Pick in the Spar on Thomas Street, Dublin 8 yesterday, and claimed the prize today. "I checked the numbers on Teletext last night and was very happy," she said as she collected her cheque at National Lottery offices. "I plan to buy a house." The winner wishes to remain anonymous. This is the second top prize to be claimed today. Pictured are the Foleys from Co. Galway who picked up a cheque for €350,000, their Lotto Plus 1 top prize win from last Wednesday's Lotto Plus 1 draw. To read this news items and many more, please click Breaking News Ireland.


Robbie Keane wins Major League Soccer's MVP award
Republic of Ireland striker Robbie Keane has been named Major League Soccer's most valuable player. The 34-year-old captained LA Galaxy to the Western Conference title, and his 20 goals in 33 games also helped the club reach Sunday's MLS Cup final against New England Revolution. Keane joined Galaxy in 2011, linking up with David Beckham initially. The Irishman has scored 61 goals and provided 41 assists in 100 MLS and play-off appearances, and led the side to MLS Cup titles in 2011 and 2012. He says he hopes to play for "another four years" and added: "It is very simple for me because I love what I do." For more details, please sick BBC.
Photo Credit & Related Story: RTÉ

December 3

Jack Kyle remembered
Irish rugby legends have paid tribute to the one considered the greatest of them all as they joined friends and family of the late Jack Kyle, RIP, at a special thanksgiving service. Ireland and Lions stars Willie John McBride and Mike Gibson hailed Kyle's qualities as a player and a man after attending the emotional event at Fisherwick Presbyterian Church in Belfast. They also heard of Kyle's life and achievements off the pitch — about a man who, after hanging up his rugby boots, eschewed the prospects of a glittering medical career in the UK to work as a surgeon in Zambia for over 30 years. For more details, please click Irish Times.
Photo Credit & Related Story: Irish Independent


Winners of Irish Heritage photo competition announced
National Heritage Week was in August, and the Irish people were asked to send in their photos of historical monuments and heritage sites, with this year's theme being family. The photo competition results have been announced and The overall winner (in the Adult category) was Derry Ann Morgan from Co Meath, for the shot pictured of two generations at a traditional Irish country market. John O'Byrne from Co Kildare came out on top in the Youth category with this photo of his dad "out in the shed, rebuilding an old bicycle, trying to preserve a bit of history. To view all the winning photos, please click Journal Ireland.


'Why can't we speak Irish?'
Three students from St Murdedach's College, Ballina – Aaron Hannon, Christopher Hunt and Paul Flynn – have entered a project called, "Why Can't We Speak Irish?", for this year's BT Young Scientist Exhibition. The project aims to find out why the majority of Irish people "do not, and cannot, speak their native language".The idea came from the three of them comparing and contrasting their experiences of learning Irish in, for example, Gaeltacht summer colleges. Says Aaron Hannon: "We also found that there were a lot of common beliefs among people about the Irish language which we wished to dispel." For more details, please click Irish Times.


150 new jobs for Dublin
Software firm Calypso Technolgy is setting up a 'managed services centre" in the city and is looking for skilled workers to fill the roles. It is hiring people to work in areas such as technical analysis, quality assurance and application support. The firm provides software for financial markets and employs more than 700 staff in 20 cities around the world. To read this news item and many others, please click Breaking News Ireland.


"Connector" to get €150k for jobs creation tip
ConnectIreland is expected to announce that for the first time ever it is making the maximum award possible to an Irish 'connector' - who introduced the investor to its job creation team. The ConnectIreland scheme was set up as part of the government's 2012 Action Plan for Jobs, which aimed to get 100,000 people back to work by 2016, and ensure two million were at work by 2020. Hollywood actor Martin Sheen, dancer Michael Flatley, footballer Robbie Keane, and actor Saoirse Ronan (pictured) are among ambassadors for the scheme. For more details, please click Irish Independent.


Irish consumers to spend over €100 a head an on food and drink this Christmas
A survey carried out by Webloyalty found that a good, old-fashioned Christmas-themed present is still deemed an essential buy, with almost half of respondents saying they had to buy a box of chocolates such as the old staples Roses or Quality Street. A third said Christmas tins of biscuits are a must-have, while just over a quarter said seasonal alcoholic beverages such as Baileys and eggnog are on their list. And, the traditional turkey dinner is the most common feast, with more than three out of four people planning to spend up to €20 per person. For more details, please click Irish Examiner.


"Ireland a leader in ocean mapping"
That comment was made at a special conference in Dublin where scientists from the US, Canada and the EU are discussing the "Galway Statement" - a major project which will map the terrain as well as plant and fish life in the Atlantic Ocean. Craig McLean (pictured) of the US National Oceanic and Atmospheric Research Laboratory said Ireland is one of the leading countries in the world in ocean mapping. "All of the submerged lands of Ireland have been mapped- and very few nations have done that so far." For more details, please click Breaking News Ireland.
Photo Credit: Okeanos Explorer


Hidden gem in west Belfast
It's the big Belfast tourist attraction many have never heard of, yet Colin Glen is pulling in the crowds; last year it attracted more than 220,000 visitors from across the globe, including Thailand, Africa, USA and Canada. Now with the glen celebrating its 25th anniversary since being reborn from an industrial waste dump, chief executive Colin O'Neill has revealed ambitious plans to create a continuous green oasis running from the M1 motorway up into the Belfast Hills. For more details, please click Belfast Telegraph.


Ireland's top plus-size model lands feature on Vogue Italia's website
Dubliner Louise O'Reilly said she was delighted when she was contacted by the Italian edition of the style bible. Louise was featured on the Vogue Curvy section of the website, with a selection of photos of the blonde beauty and a corresponding interview about her career, her style influences and her hopes for the future. "I've known about it for a while but I didn't get excited in case it didn't happen," she said. It has been a fantastic year for Louise as she also won Best International Blog at the Cosmopolitan Blog Awards for the second year running. For more details, please click Irish Herald.
Photo Credit & related Story: So Sue Me/Lee Malone



Fri, Dec 19, 2014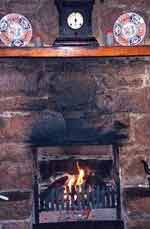 From Bog Land to Turf Fire
Ireland contains more bog land, relatively speaking, than any country in Europe, except Finland. For people in rural areas, turf cut from the bog is still a natural source of heat. Turf cutting begins in spring and then the turf is spread and rickled . Rickled means to pile the turf up in small mounds. By summer, the turf is dry and it's time to bring it home. Everything has to be prepared before the winter comes, or even earlier, because the rain would wet the turf too much. It has to be dry and in the shed before Autumn. Then and only then, can an irish country family look foreward to the cozy warmth of "a turf fire in the cabin."

Resources: The Atlas of the Irish Rural Landscape
Image: Spirited ireland

Click for More Culture Corner.
---
---
Local Time in
---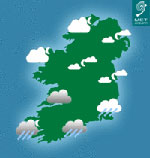 The Weather
Up the minute forecasts provided by Ireland's official source for all weather-related news. Please click Met Eireann.

---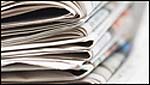 Links to the latest news from Ireland
Here you will find all the stories making headlines throughout the Republic of Ireland and the six counties to the north. This is not intended to be an all-inclusive list. These are the main sources we check every day to bring you those headlines we think you will enjoy reading.

BBC Northern Ireland
Belfast Telegraph
Breaking News Ireland
Irish Emigrant
Irish Examiner
Irish Herald
Irish Independent
Irish News
Irish Times
Irish Post
RTE
The Irish World
The Journal Ireland
Inside Ireland


---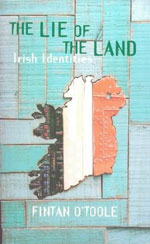 Lie of the Land
by Fintan O'Toole
A regular contributor to the irish Times and The Guardian, O'Toole applies his eagle journalistic eye to the state of ireland at the end of the 20th century. It's a riveting read as O'Toole examines with in-insight, humour and a bit of the blarney, the repercussions of a booming economy which has thrust ireland into the ranks of the richest European countries.
Click here for Lie of the land.

---