Traditions, folklore, history and more. If it's Irish, it's here. Or will be!
"People will not look forward to posterity who never look backward to their ancestors."
-Edmund Burke
---
Quotes

Library: Books, Movies, Music

Prints & Photos

Poetry

---
---
Shops Ireland
---
Bunús na Gaeilge
(Basic Irish)

---
---
Did You Know?
---
Himself/Herself
Write to Us
Readers Write..
Links/Link to Us
---
Advertise with us
---
Awards & Testimonials

Submissions Guide

---

Todays' Irish News



Yes, there are many news items not included here. We deliberately avoid: politics, death, disaster and other mayhem.

Sunday, February 7, 2016


---
more than three quarters of Irish adults are Godparents...
And More than one in five adults has three Godchildren or more. In theory Godparents provide spiritual guidance, but in reality it seems they also provide a constant stream of presents. A survey of more than 1,000 shoppers by gift voucher firm One4All shows the average spend on gifts is between €30 and €50 per gift, with most people forking out up to €200 a year on a single Godchild. Has consumerism overtaken religion? For more details, please click
Breaking News Ireland
.
Video Grab:
You Tube/Catholic Baby Baptism
The Annals of the Hundred Islands
What will the capital look like years, centuries, even millenniums from now? Dublin in the Coming Times invites the people of the city to imagine how their home will change. Sebastian Barry begins the series imagining the Dublin of the future. He begins: One thing we cherish most in these dark times is the numbers we have kept from our little wars and plagues. What keeps us safe is the seas that heretofore we deemed disastrous. To read more, please click
Irish Times
.
Photo Credit: Photograph: Steve Bloom/Image Bank/Getty
Ireland's top 30 family hotels
Young and old are well-catered for in this selection of Ireland's top family hotels. From Amber Springs Hotel in Co Wexford (Few hotels can rival their investment in kids) to Treacy's West County Hotel in Co. Clare (which has a leisure centre with a dedicated children's pool), here is a comprehensive list of accommodations that are family friendly. To view the list with accompanying photos and details, please
Irish Independent
.
Photo Credit: Psrknasilla Resort & Spa
Galway's lost community of Claddagh
Claddagh, a fishing village in the outskirts of Galway city, was a thriving and vibrant community in the 19th century – but one that was very much distinct from the rest of Galway and Ireland. A curious community, the people of Claddagh defied the rapidly changing culture of the 19th and 20th centuries. Here is the story of how the Claddagh people lived and worked, before the village was eventually swallowed up by Galway city 80 years ago. To read the story, please click
Irish Post
.
Michael Collins museum to open on Easter Saturday
A museum dedicated to the memory of Michael Collins and other revolutionary icons from West Cork will open in Clonakilty on Easter Saturday, March 26. The county council has completed the refurbishment of a Georgian-built house in the town's Emmet Square, where Collins lived as a young man. The museum will commemorate his life and those of Tadgh Astna O'Donovan and Jeremiah O'Donovan Rossa. For more details, please click
Irish Examiner
.
Hundreds attend Ballymena jobs rally
Hundreds of people have attended a rally in Ballymena calling for investment to bring new jobs to the town. Almost 2,000 people will lose their jobs when Michelin and JTI Gallaher close within the next two years. Liam Neeson, who is originally from Ballymena, has lent his voice to the campaign. A message from the Hollywood actor was played to the crowd on a big screen on Saturday. He told them "this is the start of the fight back". For more details and photos, please click
BBC
.
Ciara Mageean breaks Irish indoor 1500m record
Ciara Mageean has set an Irish indoor 1500m record of 4:08.66 in finishing third at the Karlsruhe international meet in Germany on Saturday night. The 23-year-old Portaferry athlete broke Sinead Delahunty's 16-year-old Irish record of 4:11.06, posted in New York back in January 2000. Mageean finished behind winner Axumawit Embaye of Ethiopia(4:08.22), with Germany's Konstanze Klosterhalfen. Mageean beat her indoor personal best set five years ago by nine seconds. For more details, please click
BBC
.
Six Nations: Ireland women open Six Nations defence with victory
The Ireland Women launched their RBS 6 Nations title defence with an ultimately comfortable 21-3 victory over Wales at Donnybrook. Two second-quarter tries - Sene Naoupu from her own searing break and Sophie Spence via a close-in rumble - had Tom Tierney's side leading 15-3 at half-time. A brace of penalties from captain Niamh Briggs widened the margin in wet conditions, but poor execution robbed Ireland of further tries ahead of next week's crucial trip to France. For more details & pics, please click
RTÉ
.
Cricket: Ireland secure T20 series win over Papua New Guinea
Ireland moved 2-0 ahead in the three-game T20 series against Papua New Guinea thanks to a seven-run win in a rain-affected encounter in Townsville. Frequent showers reduced the game to 11 overs a side and Ireland posted 96-5 with crucial knocks from Andrew Poynter and William Porterfield.George Dockrell and Max Sorensen each took three wickets as PNG fell short of their target on 89-9. The final game in the series takes place in Townsville on Tuesday. For more detail, please click
BBC
.
---
Past Two Weeks
February 6

Amateur photos show Ireland's a stunner in all seasons
Trident Holiday Homes has collated the winners of its annual photography competition in a calendar of 12 images. Over 800 entries were received its the sixth annual competition, Trident says, with the winners receiving a seven-night holiday in Ireland. One winner, Una Hogan, described her feelings about her shot of Roundstone in Connemara, which features for the month of December. For more details & photo, please click Irish Independent.


Irish movie Brooklyn heading for the small screen
Film industry publication Screen Daily, which broke the story, says that Brooklyn's Oscar-nominated producers, Finola Dwyer and Amanda Posey, are developing a series which would focus on the boarding house where Saoirse Ronan's character Eilis lived in the big screen adaptation of author Colm Tóibín's bestseller. The boarding house scenes were many viewers' favourites Julie Walters stealing the show as landlady Mrs Keogh. For more details, please click RTÉ.


This Irish Trad band will make you proud to be Irish
This Irish Trad band is making waves across the shores with their flamboyant fast paced music with a traditional curve and a modern feel. The Young Irelanders are a new Irish traditional band touring America at the moment and releasing an album in Ireland in the summer. The band is made up of eight members who play a wide range of instruments from bodhrán to brass. For more details and video clip, please click Breaking News Ireland.


The Irish Cream Liqueur that originated in Essex
The drink's recipe, a combination of Irish whiskey and cream, was devised by the Irish division of Gilbeys at their head office in the new town of Harlow in Essex. In 1962, the company moved from London to a spacious new premises in the Essex new town of Harlow.And by 1971, Gilbeys, now a division of the International Distillers & Vintners (ID&V), were looking for a uniquely Irish drink to catch the imagination of the modern consumer. For more details, please click Irish Post.


Irishman defeats 600,000 to crack code
A Dublin man is one of just three people in the world who managed to come out on top of the toughest code breaking challenge in the world. David McBryan from Dublin and living in Edinburgh, fought through five layers of the challenge set by Britain's national intelligence and security agency to fend off 600,000 people to come closest to fully solving the puzzle. For more details, please click Irish Examiner.
Photo Credit & Related Story: The Irish News


Elderly Irish woman waltzes with Bruce Springsteen
Co Sligo native Evelyn Raftery got the birthday present of a lifetime this week when she managed to wangle her way on stage with Bruce Springteen for a waltz. Evelyn Raftery, originally from Fatima Avenue in the town of Sligo, who turned 89 yesterday, got up on stage with the Boss after he read her daughter's sign asking would he dance with her mother. For more details and video clip, please click Breaking News Ireland.


Manure proves to be a cash cow for Leitrim students
Cousins Linda and Clare Dolan have devised a way of turning cow manure into odourless fuel briquettes and set up a business, Mure, through the Foróige Network for Teaching Entrepreneurship (FNTE). The fifth-year students from St Clare's Comprehensive School in Manorhamilton, Co Leitrim, who come from a farming background, will represent Ireland at the Network for Teaching Entrepreneurship's (NFTE) global showcase celebrating youth entrepreneurship in New York this March. For more details, please click Irish Examiner.


Cricket: Ireland ease to win against Papua New Guinea
Ireland kicked off their preparations for next month's World Twenty20 with a comprehensive five-wicket win over Papua New Guinea in the first T20 international at Townsville. William Porterfield's side reached the victory target of 93 with 47 balls to spare on the back of Surrey wicket keeper-batsman Gary Wilson's 45 off 33 deliveries. For more details, please click RTÉ.


Six Nations: The 'Battle of Balmoral' revisited
In March 1914, in the compact surroundings of the Balmoral Showgrounds in Belfast, the Irish team had home advantage, and in front of a partisan crowd they felt they had every chance of defeating the Welsh. Such was the demand for tickets that special trains were laid on for day trippers from Dublin. The game marked an important moment in the lives of two young Irishmen, Jasper Brett and Vincent McNamara. For more details, please click BBC.
Photo Credit: Getting with the Times

February 5

What elections in Ireland are like...
...according to comics Foil, Arms and Hog. Polling day is February 26 and unless people in the Republic of Ireland turn off the phone, disconnect the doorbell and throw the radio out the window, the national airwaves, social media and the doorstep will be a political battleground. For an idea of what they are in for, the three imps that are Foil, Arms and Hog have made avery funny video offering a preview of the next few weeks. For more details, please click Breaking News Ireland.


Van Morrison describes becoming a Sir as "amazing" and "exhilarating"
The Belfast legend was introduced as Sir Ivan Morrison as he stepped forward to be dubbed a knight by the Prince of Wales at Buckingham Oalace. He received his knighthood for services to the music industry and tourism in Northern Ireland. The Northern Ireland musician has collected many awards, but there appeared to be a sense of wonder about his one. For more details, please click BBC.
Video Clip & More Pics: Belfast Telegraph


Two NI construction firms create close to 100 jobs
Two Northern Ireland construction firms have announced expansion plans that could create almost 100 jobs. The Dowds Group which specialises in mechanical and electrical services is creating 46 jobs. The Ballymoney-based firm is being assisted with a £192,000 grant from Invest NI. Meanwhile, Thornton Roofing, a Toome-based firm, plans to add 50 jobs as part of an £8m expansion. For more details, please click BBC.


Postcard pretty thatched cottage in Clare on offer
Thatch Cottage at Tullagower near Kilrush, in West Clare is for sale because the owners have finished restoring it and are on the look out for another property. Located within reach of the sea, its hard to imagine a residence looking more like an Irish holiday home. Impeccably refurbished, the 150 year old cottage features exposed beams, vaulted ceilings, flagstone flooring and exposed stone accent walls and more - and it can all be yours for €169,000. For more details & photos, please click Irish Independent.


Owners of Whelan's and the George merge to create a pub empire
Twelve of Dublin's most well-known nightspots are to come under the control of the one entertainment group. The Mercantile Group and Capital Bars Group have today merged their businesses bringing their various respective venues under the control of one central operator. The new enlarged group will be known as the Mercantile Group. The merger is expected to be completed "imminently". For more details & photos, please click Journal Ireland.


Meet the Irishman working on some of the world's biggest war crime cases
Aonghus Kelly has been living away from Ireland for 12 of the last 14 years. He writes: "To paraphrase Dickens, it has been the best of times and the worst of times. I am currently working as a defence lawyer at the Khmer Rouge Court in Phnom Penh in Cambodia, but since leaving home I have lived in New Zealand, Bosnia, and the UK..." To read this article which is one of several Emigration Series contributions, please click Irish Times.


Northern Ireland vet's work praised by Prince Charles
A Ballygowan vet's charity work has been give a royal seal of approval after a meeting with Prince Charles. Simon Doherty met with the Prince of Wales as he visited Bath in England. Simon was praised for his work with the charity 'Send a Cow' which sends livestock and other help to some of Africa's poorest areas. Mr Doherty called the meeting a "fantastic experience". For more details, please click Belfast Telegraph.


Shane Lowry shares lead in Arizona
Offaly man Shane Lowry matched world No 4 Rickie Fowler and Japan's Hideki Matsuyama stride for stride to earn a three-way tie at the top of the Waste Management Phoenix Open leaderboard. He scorched out of the traps, carding five birdies in his first nine holes. his opening six-under-par 65 was studded with enough class to give Lowry real hope that he can stay in the mix over the weekend. For more details, please click RTÉ.


Sonia O'Sullivan could be awarded World Championship golds
That's because, according to reports, the Chinese athletes who denied her glory 23 years ago in Stuttgart were forced to take illegal performance-enhancing drugs. The Cork woman may receive the medals retrospectively as a huge controversy brews over the success of Chinese athletes at that time. O'Sullivan came fourth in the 3,000m and took silver in the 1,5000m, with only Chinese competitors ahead of her in both races.nFor more details, please click RTÉ.

February 4

NI baker Paul McErlean, RIP
A former Antrim gaelic footballer in the 1940s and '50s, Mr McErlean was also one of Northern Ireland's leading home bakers. His company, McErlean's Bakeries, was a highly successful business with outlets in west and north Belfast. One of his proudest moments was when Bill Clinton bought bread in a McErlean's bakery on the Falls Road. For more details, please click Belfast Telegraph.


Search is on for mystery millionaire
A Dublin shop is ramping up its efforts to track down a customer who purchased a winning ticket in November and who is now running out of time to collect their prize. The €1m winning ticket for the Daily Million draw was purchased on Monday 9 November 2015 in the Bus Stop Kiosk in Nutgrove Shopping Centre, Rathfarnham. However, time is ticking away for the mystery millionaire as Friday marks the last day that the prize can be collected from Lotto HQ. For more details, please click Irish Independent.


More than one hundred new jobs being created for Belfast Int'l Airport
One hundred and fifteen jobs are being created by six businesses at Belfast International Airport. Eighty-five are full-time positions while the remaining 30 are part-time. The jobs are across a wide cross-section of aviation support activities, including on-site food outlets, taxi operations and private charter services. It brings the total number of new jobs announced at the airport in the past two months to 298. For more details, please click BBC.


Ireland remains fastest growing economy in the euro zone
New forecasts from the European Commission show that Ireland will continue to remain the fastest growing country in the euro zone this year. The Commission said the Irish economy will grow by 6.9% for 2015 on the back of improving public finances and sustained employment growth. For 2016 and 2017, a moderation in GDP growth is expected to continue towards "more sustainable rates" of about 4.5% and 3.5% respectively. For more details, please click RTÉ.


Limerick boyhood pals remember 'Wogie' as 'one of the lads
"Wogie", as he was affectionately known by his former school pals, spent the first 15 years of his life in Limerick. Best friend Jim Sexton and former classmate Mick Neville said, despite winning worldwide fame, Wogan always remained their "pal Terry, from Limerick". Both recalled how the BBC veteran, like them, grew up dreaming of emulating their comic boyhood heroes. For more details, please click Irish Examiner.


Historic tourist attraction Westport House on offer
The owners of Westport House in Co Mayo have put the 18th century mansion up for sale for €10 million. Owners, the Browne family, will also be putting the surrounding 183-hectare estate up for sale as a going tourist concern. The family said it had delayed their decision to sell last year to see whether the Government would opt to buy the property. For more details, please click RTÉ.
Photo Credit & related Story: Irish Mirror


History and fashion in great Irish gardens
Often, when we think of formal gardens in country house estates on Ireland, we might have a picture in our heads of the terraced Italianate gardens in Powerscourt estate in Co Wicklow or maybe the expansive parklands of Belvedere House in Co Westmeath. However, we rarely consider how these gardens emerged from the landscape or when the tradition – or fashion – for formal gardens or managed landscapes began. For more details, please click Irish Times.
Photo Credit: Carmel Byrne


Cork Leaving Cert student to hold court in California
Christina O'Donovan is the only European to be invited to participate in a prestigious legal competition in California later this year. A student at Coláiste na Toirbhirte, Bandon, Christina has been invited to participate in the Gladiator Stand-Up Mock Trials. The invitation arrived on foot of her outstanding performance last October at the prestigious Empire Mock Trials World Finals at the US district court for the eastern district of New York in Brooklyn. For more details, please click Irish Examiner.


Rory McIlroy makes solid start in Dubai
Rory McIlroy posted a four-under-par round of 68 as he began the defence of his Dubai Desert Classic title. The NI Irishman bogeyed his opening hole, the 10th, at Emirates Golf Club but recovered with six birdies and just one further bogey. "Overall it was a decent day, a decent score, especially looking at the conditions this afternoon..." McIlroy said. For more details, please click BBC.

February 3

Interference singer Fergus O'Farrell, RIP
Tributes have been paid to Fergus O'Farrell, the singer with acclaimed Cork band Interference, who has passed away at the age of 48. Formed while Fergus was a student at Clongowes Wood College, Interference are best known for the track Gold from the film Once and the musical love story's subsequent stage show. Interference also earned widespread praise for their performances on RTÉ2 music series Other Voices. For more details and video clips, please click RTÉ.
Photo Credit & Related Story: RTÉ - The Fergus O'Farrell Story


Taoiseach dissolves the Dáil and sets election date
After a courtesy announcement in the Dáil chamber at 9:30am Irish time, at 10:35am the Dáil was officially dissolved when the proclamation was signed at Áras an Uachtaráin. Mr Kenny said "To those members of the house that are not seeking re-election, I wish you every success and happiness in the future. I wish all other members well in their endeavours to return to the house." For more details and photos, please click Breaking News Ireland.


Presbyterian Church elects new moderator
Rev Frank Sellar, who is based in east Belfast, has been selected to take up the most senior role in the Presbyterian Church of Ireland. Rev Sellar, of Bloomfield Presbyterian Church, was chosen as Rev Ian McNie's successor on Tuesday night. He was nominated by all but one of the church's 19 presbyteries, made up of senior church figures. He said he was "humbled that the wider church has trusted me with this responsibility". For more details, please click BBC.
Photo Credit & Related Story: Belfast Telegraph


Rare 'mother-of-pearl' clouds spotted
The unusual Northern Lights-like patterns are known as nacreous formations. Also known as 'mother-of-pearl' clouds, they occur higher up in the atmosphere when temperatures drop to -80C and the small amount of water vapour condenses into fragile clouds. Bren Whelan of Wild Atlantic Way Climbing managed to capture a stunning timelapse of the event over Lake Foyle in Donegal. To watch the video, please click Breaking News Ireland.


Great Irish tenor's Dublin home on offer for €3.6m
A landmark house in Booterstown, south Dublin, where tenor John McCormack once lived, is for sale for the first time in 40 years. Glena is an original, inside and out, with a Céad Mile Fáilte inscribed in tiles in the entrance porch, beautiful stained glass windows, an oratory, and an oak-panelled diningroom with a plaque inset in the wall, thought to have been given by McCormack to his wife Lily. For more details & photos, please click Irish Times.


Sligo ice cream makers scoop top prizes in Italy
Two Irish artisan ice cream makers from Co. Sligo have won awards at prestigious Italian artisan food event. Now in its 37th year the expo took place from January 23 to 27 in Rimini, Italy. Michael O'Dowd the owner of Gelati at Bayside, Enniscrone came top in the Best Ferrero Rocher category and Neil Byrnewho runs Strandhill's Mammy Johnston's whipped the competition to win the Best Honeycomb variety. For more details, please click Irish Post.


Meet The blacksmith whose work graces NI heritage sites
Owen Mort drom Co Tyrone was always interested in working with metal - but having trained as a mechanical engineer he ended up working as a shipyard welder in Belfast. He had finished a 24 hour shift welding wind farms when he saw an advertisement that would change his life. Thanks to a £15,000 heritage lottery fund grant, he was able to retrain as a blacksmith. Now his work can be found at Dunluce Castle and and Scrabo Tower. For more details & video clip, please click BBC.


Niall O'Brien leads Ireland to victory over Papua New Guniea
Ireland's quest for Test status moved a step closer after they completed a 145-run win against a determined Papua New Guinea side on the final day of their ICC InterContinental Cup clash in Townsville. O'Brien now has 50 dismissals in the InterContinental Cup – well clear of his nearest challenger, Mohammad Shahzad of Afghanistan. For more details, please click RTÉ.


Derry City football legend Mark Farren, RIP
Mark played for Derry from 2003-2012 and scored 114 goals in 209 appearances. He later went on to play for Glenavon. In 2008, the popular footballer was diagnosed with an aggressive brain tumour and in 2011 it was thought he had conquered the disease. However the devastating illness returned and on Wednesday, Derry City announced his sad passing. For more details & video clip, please click Belfast Telegraph.
Photo Credit & Related Story: RTÉ.

February 2

Unemployment rate falls to 8.6%
New figures from the Central Statistics Office show that the seasonally adjusted unemployment rate for January was 8.6%, down from 8.8% the previous month. The rate had stood at 10.1% the same time last year. The CSO said that the seasonally adjusted number of unemployed people stood at 186,700 last month. Employment has increased strongly since the jobless rate hit a high of 15.1% in early 2012 when the Republic of Ireland was in the middle of a three-year bailout. For more on this news item, please click RTÉ.


Photo exhibition to show impact of 1916 Rising on Dublin
As part of the 1916 commemorations, the National Photographic Archive is launching an exhibition of photographs made in the wake of the Easter revolution. Curator of the exhibition Sara Smyth said it is a good starting point for people to learn more about the 1916 Rising. "It will give you a sense of the different groups who were involved in the build-up to the Rising, and also then to the absolute devastation that parts of the city centre saw," she said. For more details, please click Breaking News Ireland.


Limerick school re-enacts 1916 walk
Staff and pupils from one of the country's oldest primary schools have taken a stroll down memory lane to celebrate their centenary anniversary. St Patrick's National School in Limerick celebrated the historic occasion with a special re-enactment walk yesterday. Dressed up in period costumes, teachers and pupils walked from the original girls' primary school behind St Patrick's Church on the Dublin Road, which had first opened in 1865, to the present school building, which opened exactly 100 years ago. For more details, please click Irish Examiner.
Photo Credit: Brian Gavin/Press 22


Storm Henry footage shows off Wild Atlantic Way at its wildest
As most people in Ireland were taking cover from Storm Henry yesterday, others were out filming the storm battering the country, including Roger Holmes, from Letterkenny who braved the elements at Malin Mor in Co Donegal to video the huge waves hitting the pier and rocks during the storm. Watching along with him were five Indian tourists, a couple from Vermont and an Italian riot policeman who comes to Donegal "to get away from it all". To watch the video, please click Breaking News Ireland.


Centra to open 16 new stores and create 480 jobs
The convenience store retailer, which recorded record sales of €1.54bn last year, said it will invest €16m in the expansion. Centra has attributed its strong growth to the success of its new health strategy, which has reportedly added around €6m in sales for the company since it was launched last July. 'Live Well' is designed to help people make healthier choices on-the-go. For more details, please click RTÉ.


Irish mammies still rule the roost
Half of Irish adults still speak to their mums five times a week and half still go to their parents' home every week for a Sunday lunch. That's according to research conducted by iReach Market Research on behalf of belVita Breakfast as part of the launch of their Irish Mammies campaign today. As part of the campaign, the public are being encouraged to share their favourite breakfast time mammy-isms. Notable lines include: "It's fierce wet out there" and "Have you got your big coat on?" For more details, please click Irish Mirror.
Photo Credit: Mrs Brown's Boys DVD offer


Dublin's Aidan Turner is the sexiest man alive
That's according to a new poll in Glamour magazine's UK edition. Famous for that topless scything scene in the BBC's reboot of seventies TV drama Poldark, Aidan topped the poll with a very impressive 340,000 vote; his fellow Irishman Jamie Doran takes the number two spot. The new poll represents something of a change of the guard with one-time favs Brad Pitt at No 91 and George Clooney at 95. For more details, please click RTÉ.


Man's best friend even more tuned in than we first thought
They yawn when we do, show sensitivity when we cry and are dab hands at wounded innocence when accused of being naughty. Our canine pals can even have their moods influenced by music, according to Queen's University psychologist Deborah Wells, one of the world's foremost experts in dog behaviour. She recently conducted an experiment where she exposed dogs in an animal shelter to different genres of music, with surprising results. For more details, please click Belfast Telegraph.


Cricket: Ireland remain in control against Papua New Guinea
A century stand between Kevin O'Brien and Andy McBrine has put Ireland in a strong position going into the final day of their InterContinental Cup clash with Papua New Guinea in Townsville. The pair came together with Ireland on 129 for 5 - an overall lead of 230 - sharing an unbroken 6th wicket partnership of 115 in 139 balls.The final day starts with all results still possible. Ireland will be favourites to claim the nine wickets needed to secure the full 20 points on offer. For more details, please click RTÉ.

February 1

Books of condolence open for Terry Wogan, RIP
Books of condolence have opened for the Limerick-born broadcasterbwho died yesterday. Limerick City Mayor Liam Galvin said "These books of condolence afford Limerick people at home and abroad the opportunity to convey their sympathies to the family of the late Terry Wogan, a true son of Limerick and a broadcasting institution whose passing will be mourned by millions." For more details, please click RTÉ.
Photo Credit & Related Story: RTÉ


Rainbow clouds spotted on windy St. Brigid's Day morning
These rare nacreous clouds give off an array of pastel colours and are formed high up in the atmosphere. The colours are displayed by crystals formed at temperatures of around -85 degrees and are often associated with high winds in the atmosphere. People have been sharing photos of the clouds in Dublin, Belfast as well as parts of Britain. For more details & video clip, please click Journal Ireland.


Cork to get 130 new jobs
The jobs are being created in a customer service centre for Sky which has awarded the contract to Abtran. Abtran currently has more than 2,000 staff in Cork and Dublin, while Sky already employs 900 people in Dublin. Michael Fitzgerald, CEO of Abtran said "Abtran places our clients' brand and customers at the centre of everything we do, making services easier and more accessible..." For more details, please click Breaking News Ireland.


NI photographers excel at Dublin awards ceremony
Ramsay Cardy, Niall Carson and Jonathan Porter have made their mark at the Press Photographers Association of Ireland awards. Ramsay in particular shone with several of his images being placed at the Press Photographers Association of Ireland awards in a number of categories including News. Daily Life and People, Sports Action and Reportage. For more details, please click Belfast Telegraph.


Phonetic Irish language newspaper shone briefly
In ways appearing more like Welsh than Irish, the 'letiriú shímplí' spelling system was the brainchild of the newspaper's editor Shán Ó Cuív. At a time when there was a renewed interest in the language, particularly through the classes and other work of the Gaelic League, he believed the traditional rules for writing Irish may not have been helping those efforts. For more details, please click Irish Examiner.


Ireland's newest fast food feast: The Breakfast Box
Tthis addition to the takeaway trend has taken the internet by storm. Ricardo's in Co Wicklow put their own spin on the fast food feast - creating the surefire hit Ricardo's Breakfast Box. So, what do you get? Well, judging from the photo. the box is filled to the brim with all the ingredients for a morning fry - including a generous helping of rashers, pudding, sausages, eggs, tomatos and toast. For more details, please click Irish Mirror.


New York gets a taste of Northern Irish cuisine
The Big Apple certainly knows a thing or two about good food. But recently, the city was given a lesson in how Northern Ireland does it. Chefs Stephen Toman from Ox in Belfast and Ian Orr from Browns Restaurant in Derry cooked up a storm to introduce New York natives to NI cuisine. The pair joined Tourism Minister Jonathan Bell as he launched NI's Year of Food and Drink 2016 in the United States. For more details, please click Belfast Live.


Donegal's getting a whiskey factory
Donegal, cliffs, Gseltacht, Wild Atlantic Way. Whiskey - It's a tourism combination made in heaven. Donegal is getting its first whiskey distillery in 174 years; the Sliabh Liag Distillery in Carrick. It is to be constructed on the slopes of the Sliabh Liag sea cliffs - a spectacular location. The distillery is still in the planning stages, but the people behind it, James Doherty and Margaret Cunningham have already launched their first whiskey called The Silkie, pictured. For more details, please click Journal Ireland.


A revealing interview with Padraig Harrington
In his most revealing interview ever, Padraig shares his thoughts on Dermot Desmond, Tiger Woods, his biggest regret in life, his doggedness, his moods, his marriage to Caroline, the death of his father, and how he can't keep winning Majors every year. Undoubtedly, Padraig Harrington is one of the most fascinating figures in Irish life, sporting or otherwise. For more details, please click Irish Independent.
Photo Credit: Tom Pennington/Getty Images

January 31

Veteran broadcaster Sir Terry Wogan, RIP
Limerick born Sir Terry Wogan has died after a short illness, his family has confirmed. In a statement, they said: "Sir Terry Wogan died today after a short but brave battle with cancer. He passed away surrounded by his family. While we understand he will be missed by many, the family ask that their privacy is respected at this time." For more details, video clip, and links to tributes as well as Sir Terry's obituary, please click BBC.
Photo Credit & Related Story: Irish Times
Related Story accompanied by photo: Irish Examiner/12 of his wittiest quotes


Irish Church looks at Pope Francis and the Family
A special conference on Pope Francis and the Future of the Family in Ireland was held on Saturday in Dublin. Sponsored by the newspaper The Irish Catholic, the speakers included the Primate of All-Ireland and Archbishop of Armagh Eamon Martin, and Apostolic Nuncio Archbishop Charles Brown. The conversation looked at the Synod process on the Family. For more details and audio clip, please click Vatican Radio


What could Ireland's Euromillions winner buy?
Ireland's third ever largest Euromillions winner scooped a colossal €66 million on Friday night. Winning such a large amount of money is sure to change the lucky punter's life for ever and they can now start deciding what they want to spend their newfound wealth on. To assist their decision the Irish Mirror has put together a list of ten things the winner could splash the cash on. For more details & photos, please click Irish Mirror.


Supermacs - integral to memories of growing up in the country
That's according to Elaine McCahill who says "It's not hard to understand why Irish people who live abroad would love to be able to get that taste of home. The fast-food joint is intrinsically linked to Irish life and that's why emigrants in New York got so emotional to see the revered Snack Box up on a screen in Times Square." For more details, please click Irish Independent.
Photo Credit: Doug.ie


Do you know a woman who should propose this Leap Year?
Tourism Northern Ireland wants to help. 2016 is a Leap Year and on Leap Day, February 29, tradition dictates that women can get down on bended knee and propose marriage to their partners. To celebrate this tradition, Tourism Northern Ireland is launching a competition to find the country's most romantic proposal idea and help make it happen for one lucky lady and her unsuspecting partner. For more details, please click Belfast Telegraph.


18th century home in Westmeath on offer for €900k
Originally built as a chartered Protestant boys' school in the 1750s, the house has been brought back to life by Irish artist Roy Lyndsay, who only recently finished restoring it one room at a time since acquiring it 21 years ago. The Tyrone born artist, who is known for his Irish folk and sports themes, particularly horse racing, came across the near derelict Farragh in 1995 when he and his son were taking a walk. For more details & photos, please click Irish Independent.


Foam hurleys firm inundated with calls from around the world
With hurling being broadcast around the world. a Galway based company has found itself receiving orders not only from expats but from foreigners eager to try it out with their children. Owner owner Christy Moran said "We started four years ago when my daughter Ciara had the idea and we've grown from there. We're selling all over the world now." For more details, please click Irish Independent.


Final-hole birdie keeps Paul Dunne in contention
Paul Dunne sank a nerve-jangling, downhill birdie putt on the final green to sit just four shots off the lead going into the final round of the Farmers Insurance Open. The Greystones man posted his third consecutive under-par round in his first professional start on the PGA Tour with a one-under-par 71 on the South Course at Torrey Pines Golf Club in San Diego. For more details, please click RTÉ.


Cricket: Ireland edge day one against Papua New Guinea
Niall O'Brien top-scored with 63 as Ireland made a solid start to reach 232-5 in their Intercontinental Cup encounter with Papua New Guinea. O'Brien hit four boundaries in his 168-ball innings on day one in the Australian venue of Townsville but lost his wicket shortly before the close. A weather-hit opening day saw 21 overs being lost to a combination of bad light and rain. For more details, please click BBC.
Photo Credit & Related Story: RTÉ

January 30

One lucky person in Ireland scoops more than €66m in EuroMillions
One lucky person in Ireland has won half of the EuroMillions jackpot. The numbers, which were drawn on Friday evening, are 1, 5, 23, 29 and 32. The Lucky Stars are 1 and 7. The first prize jackpot is €132,376,632. The Irish winner's share will amount to €66,188,316. It is not known yet where the winning ticket was sold or what county the winner is from. To read this news item and many others, please click Breaking News Ireland.


Every Irish person abroad is going to want a bag of Tayto as Gaeilge
Fancy making your crisp sanger* a little bit more patriotic? Well look no further than Mr Tayto's St Patrick's Day offering: Cáise agus Oiniúin crisps, in a tricolour bag. If you're a fan of sending care packages to loved ones abroad (or receiving them), these will win serious brownie points. All we need now is a 1916 bottle of Cavan Cola and we'll be away. To read this news item and many other stories and articl;es, please click Journal Ireland.
*Short for sandwich


Ireland named 'best travel destination' at China awards ceremony
The annual awards are organised by Travel & Leisure magazine, a bilingual travel publication with a circulation of about 550,000. Ireland was one of nine destinations listed in the "best travel destination" category during 2015 along with Canada, Mauritius, Maldives, Austria, Switzerland, Finland, Norway and Denmark. In 2015, Ireland had more than 8.6 million overseas visitors. For more details, please click Irish Examiner.


Storm Gertrude throws Bumper the bunny onto the roof
The pet rabbit was thrown onto the roof of Woodbank House, a residential care home in Omagh, Co Tyrone, on Friday morning after Storm Gertrude blew his hutch over in high winds. He was a hare's breadth from disaster - but managed to hold on until rabbit rescue arrived. David Doherty, the fire service's district commander for Omagh, said the rescue was "something a wee bit different on a Friday morning". For more details,video clip & pics, please click BBC.
Photo Credit & Related Story: Belfast Telegraoh


Northern Ireland celebrates Ulster Fryday
The aroma of a cooked breakfast was more intense than ever on Friday morning as Northern Ireland held its inaugural "Fryday". The celebration of the traditional Ulster Fry was part of a tourism drive to promote local food and drink in 2016. Hotels across the region joined the initiative including the Europa Hotel in Belfast which held a special breakfast for local producers who supply the home grown ingredients used on its menu. For more details, please click Belfast Telegraph.
Photo Credit: PA/Hastings Hotels


Planning your dream wedding? Check out these 10 stunning Irish venues
Susan Gallagher, Creative Director of wedding inspiration site One Fab Day, predicts that this year will be a big one for artisan food, craft beer, and classic Downton Abbey-esque style. More and more couples will be booking their weddings from abroad as young emigrants hope to return home to get hitched. With all this in mind, One Fab day have updated their guide to the Best Wedding Venues in Ireland, featuring new additions from around the country. For more details, please click Irish Mirror.
Pictured is King's Inns, Co Dublin, Ireland's oldest law school


Items most often left behind in Irish taxis
The most random items left behind have been named by Hailo Ireland which did a survey to find out what they are. As might be expected, top of the list is are mobile phones, followed by umbrellas, keys, glasses and hats. However there are a few others that are a bit more unusual, including a cooked chicken, a box of lobsters, a signed Pink Floyd album and bizarrely a set of false teeth. For more details, please click Breaking News Ireland.


Jonathan Rea named Irish Motorcyclist of the Year
Jonathan Rea has been named Cornmarket Enkalon Irish Motorcyclist of the Year at the annual awards dinner in Belfast. Rea won the World Superbike series for the first time after dominating the championship on his Kawasaki. William Dunlop was National Road Racer of the Year, with Ian Hutchinson top International Road Racer following his hat-trick at the Isle of Man TT Races. For more details and video clip, please click BBC.


Late rally gets Dunne back in contention at Torrey Pines, San Diego
Paul Dunne is five shots off the leaders at the Farmers Insurance Open at the halfway stage, with Shane Lowry two further back. The Greystones golfer shot a one under second round to keep himself in contention. Dunne is tied for 18th on four under, two shots ahead of Shane Lowry and England's Greg Owen. For more details, please click RTÉ.


January 29

The forgotten heroines of the Easter Rising
Ireland was lucky to have several outstanding women medical pioneers in the early twentieth century. This was mainly due to Irish medical institutions being among the first to accept women entrants. But there were also lots of ordinary women versed in first aid who responded to the crisis. For every man and boy who picked up a gun in the Rising and the subsequent guerilla war, a girl and woman packed a first aid kit or applied a bandage. For more details, please click Irish Times.


Game of Thrones trees uprooted by Storm Gertrude
Trees at the Dark Hedges, the now-famous Game of Thrones film location, have been uprooted by Storm Gertrude. The Roads Service says three trees have fallen down on the Bregagh Rd in Armoy, Co Antrim. The enchanting tunnel of trees features in the HBO blockbuster Game of Thrones and has become a must-see tourist destination. For more details, photo gallery and for links to related stories about the storm, please click Belfast telegraph.


Guinness sales soar in Ireland
Ireland is back in love with its most famous stout, with more than one in every three pints sold in pubs being a Guinness. Diageo confirmed that Guinness sales were up 5 per cent in Ireland over the six months to the end of December, giving it a market share in the Republic of 34.5 per cent. Stout sales in Britain and Northern Ireland rose by 4 per cent. Indeed the company reported net global sales of the stout, one of Ireland's most significant exports, up 9 per cent over the period. For more details, please click The Irish News.


Childhood memory inspires return of grey partridge to NI
A boyhood memory prompted David Sandford to try to reintroduce a native bird that died out in Northern Ireland decades ago. David, a cereal farmer, tends 210 acres of land by the shores of Strangford Lough. When he was a child, the distinctive call of the grey partridge echoed in the fields around his home. However, the bird disappeared when changes to the way crops were farmed affected its habitat and food sources. For more details, video clip & photos, please click BBC.


Armagh city receiving grant to restore and enhance built heritage
The £1.98m grant from the Heritage Lottery Fund will see the repair and re-use of up to 30 buildings within the city's conservation area. The buildings have not yet been identified but Upper English Street and Russell Street (pictured) are among the areas set to benefit from the funding. Lord Mayor Darryn Causby said "Armagh has a rich built heritage and the funding will help restore and enhance this culture for future generations." For more details, please click BBC.


Video: Stunning fusion of Irish and Ulster Scots music
A celebration of Irish and Ulster Scots music has been performed in the new Belfast Waterfront Hall at the showcase event for local and international business representatives. Taking part were Carrickfergus Grammar School choir, conducted by Edward Craig, Voices of Ireland, Titanic Drums and the Damhsa Irish dancers. To watch the video clips, please click Belfast Telegraph.


Watch mad footage of the junction at Rosslare Harbour
The junction at Rosslare Harbour in Co Wexford is well-known for being badly signposted but this old video really drives home the manoeuvres people have to pull to get into the right lane. Michael Fortune filmed this clip over a three-hour period in 2007 as part of an art project but it has been doing the rounds in the last few days after Michael posted it to his Facebook, saying he had had many requests from people to do so. To watch the video, please click Breaking News Ireland.


Paul Dunne makes impressive start on his PGA tour debut
The Co Wicklow man carded an impressive three-under-par 69 to lie just three shots off the lead at the Farmers Insurance Open in San Diego. Dunne, at the tournament thanks to a sponsor's invite, shot a sole bogey to sit in a 19-way tie for 15th which also included Patrick Reed and Phil Mickelson. Offaly's Shane Lowry also made a solid start at Torrey Pines, going round in a one-under 71. For more details, please click RTÉ.


See inside this Cork man's hurling 'Man Cave'
Meet Donal O'Cathain - Donal who emigrated from Cork to the United States. And like all expats, he experiences homesickness from time to time, so what does he do? Instead of moving home to Ireland, he moved a little bit of Ireland into his home - with the help of US TV show, Man Cave. Donal wanted to turn his unused basement into a Cork GAA themed Irish pub, and the American makeover show did just that. For more details, video clip and pics please click Breaking News Ireland.

January 28

Irish actress Bairbre Dowling, RIP
Born into a theatrical family in Dublin on March 27,1953, Bairbre was the daughter of actors Vincent Dowling and Brenda Doyle. As a child in Dublin she trained as a dancer but also worked as an actress from an early age. Beginning her film career in 1963 in Francis Ford Copolla's first feature film Demential 13, she later became well known for her work as Josie Tracy in one of Ireland's longest running television series, The Riordans. For more details, please click Irish Independent.
Photo Credit & Related Story: The Sun


Irish kids discuss what they know about the 1916 Rising
This year everyone in Ireland is commemorating the events of 1916. It is a vital part of Irish history and plays an important role in the story of how Ireland became a Republic. But what do the young people of Ireland in 2016 know about the Easter Rising? The people at Youth Tuber have released a video with kids of today discussing 1916 - What the Rising was, why it happened and how we should celebrate it? To watch the video, please click Irish Examiner.


Man behind Humans of Dublin wants to get people talking again
When Peter Varga started Humans of Dublin, it was just meant to be a small-term project for the photography course he had started. 18 months on, he has no plans to stop photographing pictures of Dubliners and sharing their stories with the world. The project has helped Varga make a name for himself but more than that, he says it has changed his perspective on life and helped him appreciate how important human connections are. For more details, please click Journal Ireland.


Tough Choice as Irish acts vie for Song of the Year
Ten acts have been shortlisted for the Choice Music Prize Irish Song of the Year 2015 award, with Hozier, Kodaline and Gavin James among the nominees. Hozier is nominated for Someone New, with Kodaline getting the nod for Ready and James gets it for Bitter Pill. Voting is open until February 28 at choicemusicprize.ie. The winner will be announced on Thursday March 3; the Irish Album of the Year will also be revealed. For more details, please click RTÉ.
Video clips: Journal Ireland


U2 bassist proud to be part of music programme
Adam Clayton said that he's "proud" to be part of the national music education programme, to which U2 have donated €2m raised from their recent Irish concerts. The U2 bassist, Taoiseach Enda Kelly and Minister Jan O'Sullivan gathered today along with students from Music Generation to cement their commitment to the programme. As well as U2's €2 million paycheck for the programme. The Ireland Funds also donated €1 million, which ensures the programme will be funded to 2020 and beyond. For more details, please click RTÉ.


The end of an era as Boyers set to close
From Sunday dinners with all the trimmings to unique clothing brands, shoppers and staff will carry fond memories of Boyers when it closes its doors this week. On Sunday, it will become the second department store to stop trading in less than 12 months on North Earl Street on Dublin. Banners on the entrance to the shop this week read, "After more than 100 years we're saying goodbye and thank you", as its closing down sale wraps up. For more details, please click Irish Herald.
Photo Credit & Related Story: Irish Mirror/Collins Photos Dublin


"We won't be quitting work" say €13.7m Lotto winners
A delighted Co Mayo family who have collected their €13,793,435 Lotto jackpot say they won't be quitting their jobs. The lucky family, who do not wish their identity to be revealed, declared themselves 'really thrilled, and completely surprised' by their win. "We play Lotto all the time, and have had some small wins, but this is tremendous, and very unreal," said the lucky wife at National Lottery offices in Dublin. For more details, please click Breaking News Ireland.


Euro 2016: New anthem recorded for Northern Ireland invasion of France
The as-yet untitled tune for the Euro 2016 finals was written by Vincent Soye - who also penned the 1986 Mexico World Cup fans favourite 'Come on Northern Ireland' with his late brother Maurice. Now three decades later, Vincent has been recording the new track in a recording studio near Ballynahinch with a choir of dedicated Northern Ireland fans. For more details & pics, please click Belfast Telegraph.


NI man wins one of the world's most unusual sporting challenges
Mark Alcorn, originally from Coleraine, secured a podium finish in Australia's 35th annual cockroach race. The event in Brisbane traces its origins back to when one region claimed their cockroaches were faster than another region's. Thousands have turned up at the spectacle on Australia Day ever since. Mark explained: "It's quite a big thing here for Australia Day and some of my friends were going along. It sounded like a bit of fun." For more details, please click Belfast Telegraph.

January 27

Tributes paid to Wonderful Life singer Black, RIP
His death was confirmed on his Facebook page on Tuesday (January 26) when a statement was released, which read: "We're deeply saddened to announce the death of Colin Vearncombe (aka Black) earlier today, Tuesday 26th January 2016. Colin never regained consciousness following a road traffic accident sixteen days ago. He died peacefully surrounded by his family who were singing him on his way." For more details and video of his hit song,please click RTÉ.


Irish WWII veteran receives France's highest military honour in Dublin
Canon Robert William Marsden, 91, was presented with the honour on Tuesday, January 26 by the French Ambassador to Ireland Jean-Pierre Thébault. The Dublin native was recognised for his courage and role with the Royal Inniskilling Fusiliers, with whom he served in Normandy in 1944. Commending Mr Marsden for his active service in France during the war, Mr Thébault said: "He demonstrated exceptional acts of courage, he put his life at risk like thousands of Irish people." For more details, please click Irish Post.


Facts about legendary explorer Sir Ernest Shackleton you may not know
Among the list of facts is that he was born to Anglo-Irish parents on February 15, 1874 in Co. Kildare, Ireland; he was destined to become a doctor, according to his father, but instead joined the merchant navy when he was 16 and qualified as a master mariner in 1898; and he's regarded as one of the most inspirational leaders of the 20th century, despite never actually achieving his dream of reaching the South Pole. For more details and photos, please click Irish Post.


It's official: Trinity researchers confirm you're only as old as you feel
Research from Trinity College Dublin's longitudinal study on ageing (Tilda) has found that negative attitudes to ageing affect both physical and cognitive health in later years. The study found that older adults with negative attitudes towards ageing had slower walking speed and worse cognitive abilities two years later, compared to older adults with more positive attitudes towards ageing. For more details, please click Irish Times.
Photo Credit: Irish Corner/Eyes on Ireland


The things that make Irish men utterly irresistible
This morning brought the disappointing news that Irish men have been ranked the ugliest in the world by an international dating site. Pay them no mind. Irish men are paragons of decency and, in general, are good honest lads. To prove the point, Journal Ireland has put together a group of exhibits - from their sense of humour to their greatest love of all, their mam. For more details and video clips, please click Journal Ireland.
Photo Credit & Contradictoy Related Story: Her Ireland


19 of the most romantic places in Ireland
Valentine's Day is right around the corner and if you're lucky enough to live in Ireland or you are planning a visit within the next couple of weeks, here's a selection of some of the most romantic places on the island, including Caherciveen (pictured). This historical pocket of Co Kerry features pubs and cafés around each corner and the old market town marks the western entrance to the spectacular Ring of Kerry.For the full list, accompanied by photos, please click Irish Mirror.


New flight from Boston to Knock to start this Summer
Ireland West Knock Airport is set to welcome its first flight from Boston this summer as it celebrates its 30th anniversary. The flight, which is set to touch down at the Mayo airport in July this year, will come to Knock as the Archdiocese of Boston makes its first Diocesan pilgrimage to the Marian site. It will be the first transatlantic service operated by Aer Lingus from Boston to Knock. Last year, the airport launched a charter programme from New York. For more details, please click Irish Independent.


100 jobs to be created in Dublin by Credit Suisse
The investment bank is to create about 100 jobs this year as it opens a new trading floor in the International Financial Services Centre, Dublin. Taoiseach Enda Kenny, who opened the new trading floor said "It represents a strong endorsement of Ireland's reputation as a leading location for international financial services." For more details, please click Breaking News Ireland.
Photo Credit & Related Story: RTÉ.


Cork third class students use Lego to recreate Easter Rising
A big bualadh bos* is in order for the third class students of Sunday's Well Boys National School and their teacher Michael O' Connor after they epically recreated the 1916 Easter Rising using Lego. In what must have been a painstaking process, the boys and their teacher from the Cork city school released a stop frame video entitled 'Lego 1916 The Movie' on YouTube yesterday - and we must say it's a fantastic effort! For more details & vidoe clip, please click Breaking News Ireland.
* Round of applause

January 26

Taoiseach invites British PM to visit for 1916 centenary
Taoiseach Enda Kenny has invited the British Prime Minister David Cameron to Ireland as part of the commemoration of the centenary of the 1916 Rising. Mr Kenny announced the invitation after a meeting with Mr Cameron in Downing Street. Mr Kenny said "I've invited the Prime Minister to come over himself at some time during the course of the year, if that's appropriate, and obviously he'll consider that in due course." For more details, please click Irish Herald.


Memories and stories Rising rebels passed on to their families
Family stories humanise and contextualise the rebels, and offer universal reference points: a mother's fierce protectiveness of her child, a son's respect for his father, and a family's collective grief at a loved one's loss. 'To Speak of Easter Week offers a representative cross-section of experience. From a son's memory of his father, to a great-grand-son's awareness of his family's sacrifice, it traces the emotional inheritance as well as the political consequences of the 1916 Rising into the 21st century. For more details, please click Irish Times.


Rave reviews for Carney's Sing Street at Sundance
Sing Street, the new film from Once director John Carney which is set in 1980s Dublin, has received rave reviews at the Sundance Film Festival in the US. Variety said the movie is "a heart-melting adolescent romance that gives teenage garage bands everywhere a better name" while The Guardian's four star review said "it's been a long time since I've seen a Sundance premiere's fade to black bring on such rousing cheers." For more details, please click RTÉ.


Cargo firm creates 100 jobs at Belfast International Airport
Worldwide cargo handling business Swissport is creating 100 new jobs in an expansion of its operations at Belfast International Airport. wissport said the jobs will include positions in passenger check-in as well as baggage and freight handling. The expansion will bring its workforce at Belfast International to about 350, making it the biggest employer at the airport. For more details, please click BBC.
Related Story: RTÉ/160 technology sector jobs for Galway, Cork


Happiness is... living near your local pub
A British beer campaign group was quick to raise a toast to s newstudy which found that regulars with a local pub nearby are "significantly" happier, have more friends, better life satisfaction, and actually drink more moderately than those who have to travel further afield for their tipple. Also, researchers found that the smaller the pub, the less alcohol you consume and the longer your conversations. For more details, please click Irish Examiner.
Photo Credit & Related Story: Video grab from The trailer for The Irish Pub film


Irish photographer sells picture of potato for €1m
Kevin Abosch sold the 162x162cm print to a European businessman, who had inquired about buying it when he saw it in the photographer's home in Paris. Mr Abosch told the businessman, who wants to remain anonymous, that the price was non-negotiable at €1 million. He photographed the potato at his Dublin home in 2010 and made three prints of it. For more details, please click Irish Times.


It's National Take-Away Tuesday in Ireland...
...And of you're lucky enough to live on the Emerald Isle, or you are visiting, here are 17 chippers you MUST put on your bucket list. In recognition of National Takeaway Tuesday, the Irish Mirror lists Ireland's best, ranked in no particular order. Plus JUST EAT are dishing up a whopping 20% discount for online orders and orders through the app all day today. For more details, please click Irish Mirror.
Photo Credit: Henry & Rose


Meet the Irish entrepreneurs behind clean eating
As the health food industry continues to boom, it seems that clean eating is no passing fad. On the contrary, it appears to be a solid sector for the young entrepreneurs who are making a name for themselves with quinoa, green juices and avocados. Pictured are Jack Kirwan and his brother Theo are the brains behind Sprout & Co. The business started off selling cold pressed juices and cleanses, and the brothers recently opened their first standalone café on Dublin's Dawson Street. For more details, please click Irish Independent.


Michael Conlan named Belfast Telegraph Sports Star of the Year
From a world-beating boxer to Euro 2016 finalists, there have been plenty of stunning highs for Northern Irish sport in 2015 - and last night the region's stars lined the red carpet to celebrate. Boxer Michael Conlan was named Sports Star of the Year after he made history by becoming the first man from the island, north or south, to win the World Amateur boxing title. Buoyed by his record-breaking success, he promised there would be more to come in 2016. For more details, photo gallery and video clip, please click Belfast Telegraph.

January 25

1916 Centenary: Thomas Clarke spent lifetime building toward rebellion
Born in England on March 11, 1858, to a Leitrim father and a Tipperary mother, he spent his first years in South Africa, where his father, a British soldier, was stationed. In 1865, the family returned to Ireland, and Tom grew up in Dungannon, Co Tyrone. He was radicalised by the anti-Catholic discrimination he witnessed and the poverty of the Gaelic population, and, in 1879, he was sworn into a Fenian association, the Irish Republican Brotherhood (IRB). For more details, please click Irish Examiner.
Photo Credit & Related Story: RTÉ/Lalor Roddy as Thomas Clarke in the mini series Rebellion


NI toddler in world first kidney transplant using 3D printing
A two-year-old girl from Northern Ireland has become the first in the world to have a life-changing kidney transplant using 3D printing. Lucy Boucher from Co Antrim suffered heart failure as a baby. This resulted in her body, including her kidneys, being starved of oxygen. Lucy faced the a lifetime of dialysis treatment due to her kidney failure but that all changed when she was referred to experts at Guy's and St Thomas' and Great Ormond Street Hospital. For more details, please click Belfast Telegraph.


Facebook building a new €200m data centre in Co Meath
Two thousand construction jobs will be created and it is expected around 150 jobs will be announced on a long-term basis once the centre is operational by the start of 2018 at the latest. Facebook founder Mark Zuckerberg (pictured) says it will be one of the most advanced and energy efficient data centres in the world. He also said they are glad to be investing further in Ireland and the community in Clonee. For more details, please click Breaking News Ireland.
Photo Credit: Tax Justice


Two Irish lads, Storm Jonas, and a nice cup of tea
Over the weekend, Storm Jonas dumped loads of snow up and down the eastern coast of the US. It meant Irish expats have had to deal with a lot more snow than they're used to. And, judging from these two lads in Washington DC whose first thought was to, of course, have a cup of tea, outside, in the snow storm, it's not much of a bother. To watch the video, please click Breaking News Ireland.


Favourable Eurovision draw for Ireland's Nicky Byrne
Ireland's Eurovision entrant Nicky Byrne has been given a boost with today's news that Ireland has received a favourable draw in the Song Contest's semi-final. The big plus from an Irish perspective is that votes from the UK and Australia, two countries with a large Irish population, could prove crucial for Byrne at this stage of the competition. Ireland "the Queen of Eurovision" as it was described in Stockholm this morning, was drawn first out of the pot, and landed a slot in the first half of the second semi-final. For more details, please click RTÉ.


Baby Zoe touches down in the US
Premature baby Zoe Ireland Drake has arrived safely in Tennessee after an anonymous donor pledged the remaining €30,000 needed for her special medical charter flight home. Her mother, Jenny, unexpectedly went into labour on a transatlantic flight when she was just 25 weeks pregnant last October. Jenny said the family were thrilled to be home. "Zoe did great on the flight. Please thank the Irish people again for taking us in as their own," she added. For more details, please click Irish Independent.
Photo Credit & Related Story: Irish Herald


Belfast Lough lighthouse huge lamp may shine as tourist draw
It was one of Ireland's tallest lighthouses, and for more than 100 years it has stood at the entrance to Belfast Lough, guiding ships safely to shore. Now there are ambitious plans to save Mew Island Lighthouse's old optic - which could well be the biggest ever built - and install it in Belfast's Titanic Quarter, where it would form the focus of a new lantern room telling the story of lighthouses. For more details, please click Belfast Telegraph.


Lovely Leg' competition is Father Ted come to life
Easr River, a clothing and interiors store in Listowel, Co Kerry, is currently running a Lovely Leg competition, for the ladies of Listowel. It's judged by Andrew Morrissey of Radio Kerry. Gotta say it's going to be a tough contest. Any Lady who would like to enter the competition, should post a photo of her leg on Facebook. A number of people have already uploaded photos. For more details, please click Journal Ireland.


Faugheen wins at Leopardstown
Faugheen warmed up for the defence of his Cheltenham Champion Hurdle title with a comfortable victory in the Irish Champion Hurdle at Leopardstown. The eight-year-old who is odds-on favourite to retain his title in March, won by 15 lengths under jockey Ruby Walsh. The win for the 3-10 favourite gave trainer Willie Mullins a sixth consecutive win in the race after Hurricane Fly's five successes. For more details, please click BBC.

January 24

What did God do before the world was made? The Pope has given an answer
Pope Francis has written his first book for children, replying to 30 probing letters from children around the world. Chicago-based Loyola Press, a Jesuit imprint, came up with the idea and got the go-ahead from the pontiff. "Dear Pope Francis" will be published on 1 March in English. Out of 259 letters from 26 countries, written in 14 languages, thirty letters written by children aged six to 13, were chosen for the pope to answer. For more details, please click Journal Ireland.


Irish parents splashing more than ever on Christenings
Welcoming a new baby already comes at a huge expense, but new research has found that Irish parents are contributing to their financial blip by spending more than ever before on their child's Christening Day. New research has found that a third of Irish parents are spending up to €500 on the Christening party with many admitting to splashing €200 alone on a new outfit for themselves. For more details, please click Irish Independent.


Epic' concert to mark 1916 on Easter Sunday
RTÉ has announced details of A Nation's Voice, a free concert in Collins Barracks on Easter Sunday which will feature the premiere of One Hundred Years a Nation, a major new work performed by a 1,100-strong choir and the RTÉ National Symphony Orchestra. Composed by Shaun Davey with text by writer Paul Muldoon, One Hundred Years a Nation will be broadcast live as part of A Nation's Voice on RTÉ One, RTÉ Radio 1 and www.rte.ie/1916 on Easter Sunday, March 29. For more details, please click RTÉ.


€13.7m Lotto jackpot ticket sold in Belmullet, Co Mayo
There was one winning ticket for last night's Lotto jackpot worth over €13.7 million.The National Lottery have said the winning ticket was sold in Carey's, Main St., Belmullet, Co Mayo. It was a €10 Quick Pick and was purchased yesterday. The winning numbers were: 10, 12, 13, 19, 43 and 45. The bonus number was 05. The jackpot has been rolling since last November and is the largest prize won since a €12.1 jackpot in June 2014. For more details, please click RTÉ.


'Extremely rare' book by Patrick Pearse has €3,750 price tag
His last book was published just a few weeks before the Rising – a collection of short stories in Irish. It was published in Dundalk, Co Louth, in early 1916 by William Tempest of the Dundalgan Press under the author's Irish name, P Mac Piarais. One hundred years later, an "extremely rare" copy of the book has turned up in the spring 2016 catalogue from De Búrca Rare Books in Blackrock, Co Dublin. For more details, please click Irish Times.


A day in the life of four Irish up and coming ballet dancers
Melissa Hamilton has been dancing since the age of four. She's been a member of the Royal Ballet Company, London, since 2007 and is currently a First Soloist. For the 2015/16 season, however, Melissa chose to take a leave of absence to work as a Principal with Semperoper Ballett Dresden which began in October. "The main thing to explain is there is no daily routine, because our demands and aims are different every day," says Hamilton, from Dromore, Co Down. For more details, please click Irish Examiner.


Ten Northern Ireland foods every one should try
Think of Northern Irish food and what springs to mind - an Ulster Fry? Tayto crisps? Comber spuds? Think again. The tourist board has launched "Northern Ireland's Year of Food and Drink" - encouraging everyone to shout about NI's tastiest produce during 2016. Pictured are Abernethy Dulse and Seasalt Butter. Abernethy Butter is churned by hand in Dromara from a cream that comes from cows who graze on the lush grass of the Lagan Valley. For more details, please click Belfast Telegraph.


Newfoundland: The most Irish island in the world
The residents of Newfoundland don't like being called 'Newfies' or Canadians, but you can call them Irish. And the town of Tilting, on its little-brother island of Fogo, is 'Irish on the rocks' - unless their ancestors came from Devon, but those ones are easy to spot because they talk like people from Devon. The Irish talk like they came from Dungarvan. Their accents were preserved by the salt Atlantic air, in tiny isolated communities along the shore. It was a long time before they got roads. For more details, please click Irish Times.


Rory McIlroy three shots off the lead in Abu Dhabi
World number three Rory McIlroy is three shots off the lead heading into Sunday's final round of the Abu Dhabi Championship after a two-under-par 70. The Northern Irishman mixed five birdies with three bogeys to go 10 under for the tournament. American Rickie Fowler, ranked sixth in the world, tops the leaderboard after shooting 65. To read this news irem in full, please click BBC.



Sun, Feb 7, 2016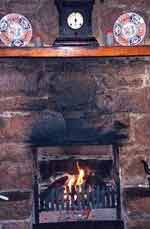 From Bog Land to Turf Fire
Ireland contains more bog land, relatively speaking, than any country in Europe, except Finland. For people in rural areas, turf cut from the bog is still a natural source of heat. Turf cutting begins in spring and then the turf is spread and rickled . Rickled means to pile the turf up in small mounds. By summer, the turf is dry and it's time to bring it home. Everything has to be prepared before the winter comes, or even earlier, because the rain would wet the turf too much. It has to be dry and in the shed before Autumn. Then and only then, can an irish country family look foreward to the cozy warmth of "a turf fire in the cabin."

Resources: The Atlas of the Irish Rural Landscape
Image: Spirited ireland

Click for More Culture Corner.
---
---
Local Time in
---
The Weather
Up the m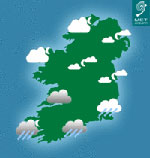 inute forecasts provided by Ireland's official source for all weather-related news. Please click Met Eireann.

---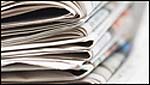 Links to the latest news from Ireland
Here you will find all the stories making headlines throughout the Republic of Ireland and the six counties to the north. This is not intended to be an all-inclusive list. These are the main sources we check every day to bring you those headlines we think you will enjoy reading.

BBC Northern Ireland
Belfast Telegraph
Breaking News Ireland
Irish Examiner
Irish Herald
Irish Independent
Irish News
Irish Times
Irish Post
RTE
The Irish World
The Journal Ireland
Inside Ireland
The irish Mirror

---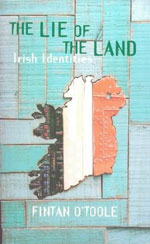 Lie of the Land
by Fintan O'Toole
A regular contributor to the irish Times and The Guardian, O'Toole applies his eagle journalistic eye to the state of ireland at the end of the 20th century. It's a riveting read as O'Toole examines with in-insight, humour and a bit of the blarney, the repercussions of a booming economy which has thrust ireland into the ranks of the richest European countries.
Click here for Lie of the land.

---