Traditions, folklore, history and more. If it's Irish, it's here. Or will be!
"People will not look forward to posterity who never look backward to their ancestors."
-Edmund Burke
---
Quotes

Library: Books, Movies, Music

Prints & Photos

Poetry

---
---
Shops Ireland
---
Bunús na Gaeilge
(Basic Irish)

---
---
---
Himself/Herself
Write to Us
Readers Write..
Links/Link to Us
---
Advertise with us
---
Awards & Testimonials

Submissions Guide

---

Todays' Irish News



Yes, there are many news items not included here. We deliberately avoid: politics, death, disaster and other mayhem.

Friday, October 31, 2014


---
Did Halloween begin on 'magical' ancient site?
On a high hill top in the mists of ancient Ireland thousands of years ago, a druid set light to a huge bonfire and the feast of Halloween was born. In the 17th Century, historian Geoffrey Keating wrote of the feast of Samhain, the pre-Christian forerunner of Halloween, and the fierce fire on a hill in Meath. Now Irish archaeologists digging at Tlachtga - the Hill of Ward- have found evidence of intense burning at the site dating back to 500 AD. Could this be where the first Halloween bonfire was lit? For more details, please click
BBC
.
Photo Credit:
Bishop's Hill Arts Council
/For illustration purposes only
Thirteen of Ireland's most haunted places
Tonight is oiche shamhna – the Irish word for the night when the boundary between life and death vanishes. Irish legends were telling of vampires, banshees and werewolves centuries before Hollywood ever heard of them. It's said that the people of Ossory, an ancient kingdom, could change themselves into wolves and were drawn by Cambrensis in the 12th century, while the original beautiful female vampire (dearg-diulai) rose from her grave to seduce living men and drain them of their blood. She still haunts Strongbow's Tree in Co Derry. For more details, please click
Irish Times
.
Celts were zombie chameleons and nine other things you may not know about Halloween
Halloween as we know it is a pretty modern concept. The spooky celebration is (like all good things) actually originally Celtic. On Samhain, as the Celts called it, the realms of the living and the dead would overlap, allowing the dead to roam the earth. The living were pretty spooked by all the spirits wandering around, so they had the bright idea of dressing as the dead (so as to hide among them). The spirits were fooled and so the first Halloween costumes were born. For more facts, seven more to be exact, please click
Irish Times
.
Photo Credit:
Culture Northern Ireland
Dublin's Ghostbus comes back from the dead
The new purpose-built ghostbus replaces a vehicle affectionately known as "Molly" that was on Dublin's streets for more than 40 years. Transport and Tourism Minister Paschal Donohoe was on hand to launch the new bus which will travel more than 400km through haunted streets this month alone. "The Ghostbus Tour is an exceptionally entertaining thing to do in Dublin, at any time of year. Not surprisingly, however, the Halloween period lends itself to a heightened interest in the tour, which takes people to some of the eeriest places in Dublin," he said. For more details please click
Irish Herald
.
Related Video:
Irish Independent/ BusTour
Photo Credit:
Trip Advisor
House of horrors raises the spirits
Ghosts, goblins and ghouls have been attracting thousands of visitors to a south Dublin estate this week. The haunted house in Bayview estate, in Killiney, has become an annual fixture attracting thrill seekers from far and wide. Electrician Ken Carraher has transformed his entire front garden into a spooky marquee crammed full of moving witches, skeletons, zombies and giant spiders. This is the 15th year in a row that the suburban home has been transformed into a Halloween spectacle, with Ken spending a month each year wiring and setting it up and family and neighbours pitching in to assist. For more details, please click
Irish Independent
.
Related story from Derry. Please click
Belfast telegraph
Someone in the Aras has insane pumpkin-carving skills
Someone in Aras an Uachtarain - the Official Residence of the President of Ireland. -is really getting into the Halloween spirit and showing off their mad pumpkin-carving skills. And, just in case you didn't know - the harp, not the shamrock is the official emblem of the Irish state. To view the full size photo and read to read more Irish news, please click
Journal Ireland
.
ED. NOTE: To read our article, please click
The Harp - Emblems of Ireland
VIDEO: Pumpkin sculptor's elaborate creations for Halloween
Brook Valentine is an illustrator with more than one talent, and this time of year her spooky work could be seen at a doorstep near you. Based in Newtownards, Brook has been self-employed for over two years and has spent a lot of time perfecting her skill with a scalpel. Specialising in paper cutting, this time of year means something else for the illustrator.For more details, please click
Belfast Telegraph
.
12 ways to make the most of your pumpkin
Some people have very limited horizons when it comes to their pumpkin utilisation over Halloween. But these gaudy gourds have so much more to offer than just a scary face. There's soup, seeds, stress relief and many other novel uses for pumpkins you may not have considered, as in entertaining exotic pets. All is explained in a series of fun videos to perhaps give you inspiration for next year. To watch each video please click
Breaking News Ireland
.
Stone the crows ... birds behind theft of pebbles from graves
Over recent weeks decorative stones were taken from a number of graves at Ballee Cemetery in Ballymena, Co Antrim. A woman who visited the cemetery believed vandals were targeting her mother's grave and she had even contacted councillors urging them to increase security at the graveyard. But after careful detective work, including video surveillance, the unlikley culprits - crows - were caught in the act. It initially appeared that the crows were swallowing the small white stones, but in fact, they were storing them in their beaks. Fo more details, please click
Belfast Telegraph
.
---
Past Two Weeks
October 30

Forecasters predicting big freeze in Ireland this winter
Ireland is set for its coldest winter in years, with sub-zero temperatures, polar gales and heavy snowfall predicted to plunge the country into an Arctic freeze within weeks. James Madden, forecaster with Exacta Weather, said December could be as bitter as four years ago, the coldest in over 100 years in Ireland, while January could turn out to out to be one of the worst winter months on record. "As we progress throughout November, it is going to become gradually colder across many parts of Ireland..." For more details, please click Irish Examiner.


Dubliners marvel at 'snow' in Temple Bar
The famous tourist destination was covered in a white 'snow' like material this morning and it left residents of the capital wondering why? Rumour has it An Post were behind the whole thing in order to film a special ad for the Christmas season, but the company would not confirm this. "There is SNOW way that we can confirm or deny that this is down to us. We do start cooking our An Post Christmas magic early so watch this space", said An Post. For more photos and public reaction, please click Breaking News Ireland.


Ireland's 'poet of the people' to be honoured
Paul Durcan is perhaps Ireland's most famous living poet, and next month will see him honoured for his contribution to Ireland's literary landscape. In recognition of his work, his energetic live readings, and wry, humorous observances on Irish life, he will be presented with the Bob Hughes Lifetime Achievement Award at this year's Bord Gáis Energy Irish Book Awards. The Board of the Bord Gáis Energy Irish Book Awards said that "few poets have managed to reconcile popular success with the careful cultivation of their art as successfully as Paul Durcan". For more details and video clip, please click Journal Ireland.


100 jobs promised for Athlone
US medical devices company has announced that it is to create 100 jobs at its plant in Athlone, Co Westmeath. Teleflex Incorporated said it will create the highly-skilled positions over the next three years, as it expands its existing operation. Teleflex provides medical devices for critical care and surgery. It first moved to Athlone in 2007 and currently employs more than 150 people there in customer service, finance, IT and human resources. The Athlone office provides support to the company's operations in Europe, the Middle East and Africa. For more details, please click RTÉ.


Ireland's last seaweed spas
Have you ever looked at a mound of brown-green, slimy seaweed and thought, gee – I wonder what it's like to sit in a tub filled with that stuff? Probably not. Few people do. The Irish, however, have been making the most of seaweed since the 12th Century, when monks would harvest a type of seaweed known as dillisk from the rocky coastline and distribute it among the poor for nourishment. Later, it was used to replace chewing tobacco, to eliminate parasitic worms and – apparently – quell "women's longing". For more details, please click BBC.


70 years on, hero from Co Down to get Russian medal
He's waited more than 70 years for official recognition for his vital part in a pivotal World War II campaign, But this Friday, 91-year-old navy veteran Tommy Jess from Co Down will finally receive the Russian Ushakov medal for his role in the Arctic Convoys. Three years ago Tommy received a letter from the Russian Embassy to say they would like to confer the medal on him - but just months later he got another letter saying it was being withdrawn because the British Government won't allow us'. That was later overturned in the House of Commons. For more details, please click Belfast Telegraph.


Jean Butler feared Riverdance dress would fall off
A new RTE documentary Insiders: Riverdance gives a fascinating glimpse behind the scenes of the seven-minute performance that put Irish dancing on the global map. But while audiences watched the stunning dance unfold, the costume designer of the iconic sexy off-the-shoulder dress worn by Jean Butler was praying the tiny lace costume wouldn't come undone. "I didn't know if the dress was going to stay on me or fall off me and to complicate matters even further the floor was like an ice skating rink. It was very, very slippery," Ms Butler said. For more details, please click Irish herald.
Photo Credit & related Story: The Guardian


Taylor Swift: She's tried Irish dancing and Ireland is one of her favorite places
"It's definitely on my mind, I love Ireland, it's one of my favourite places. I am really looking forward to coming back, it's been too long." And she's even given Irish dancing a go in her time but wouldn't rate her skills. Taylor was chatting to Spin 103.8 producer Rachael Ryan from the Fully Charged show and even gave a cupla focail a whirl during the interview. The American songstress was not convinced and speculated that 'Conas ata tu', a direct translation of 'how are you', was actually something dirty. For more details, photos and video clip, please click Irish Mirror.


Snooker: is this the greatest comeback in history of Ulster sport?
Belfast snooker player Joe Swail is no stranger to setbacks - but his unrelenting resilience has made him just as familiar with comebacks. Once again the 45-year-old has lived up to his reputation after Joe, currently the world number 71, took on and beat the world number two, former world champion Neil Robertson, in the International Championship in China. Just two years ago it looked as if the career of the determined Belfast cueman - was over. For more details, please click Belfast Telegraph.

October 29

National Geographic to offer Irish history tours
Nature and travel bible National Geographic has identified Ireland as home to some of the most important prehistoric monuments in the world. And to show just how important they are, the adventure department of the magazine is bringing holidaymakers to Ireland. "In the company of local archaeologists, authors and historians, we will uncover the stories of Neolithic and Bronze Age civilisations - and the mysteries of their legacies - as we make our way from Stonehenge in England to Ireland's Bend of the Boyne, the Aran Islands and more," reads the itinerary for the trip. For more details, please click Irish Herald.


Ireland moves up in World Bank's 'Doing Business' survey
Ireland is ranked 13th in the World Bank's annual survey Doing Business, up four places on last year. The survey compares business regulations for domestic firms in 189 economies. Ireland scores well in areas such as trading across borders, paying taxes, and protecting minority investors, but sees lower scores for enforcing contracts and resolving insolvency. Finance Minister Michael Noonan welcomed the continued strong performance by Ireland in the report saying "it is reflective of the ongoing reforms being implemented in Ireland's business and regulatory environment as we continue to improve our competitiveness." For more details, please click RTÉ.
Photo Credit: The Hindu
Related Story: Journal Ireland/Best small country in the world to do business


Ireland's territorial waters to be remeasured down to the centimetre
Ireland is recalculating its claim to potentially oil and gas rich Atlantic waters - down to the very centimetre. For the first time in almost 60 years the exact measurements of the country's territorial waters, including part of the disputed Rockall Bank, are being taken from 50 specially selected points. Operation Baseline will help chart more accurate maritime maps and be used to cement claims to the continental shelf up to 350 miles from shore. Over the last few weeks the Air Corps winched geographers on to some of the most inaccessible headlands and islands on our shores to mark co-ordinates first given to the United Nations in 1959. For more details, please click Irish Mirror.


'Grá' tops the search list on English-Irish translation site
According to the latest figures, visitors to to focloir.ie, the English-Irish dictionary translation site have doubled. The site is run by Foras na Gaeilge which provided data on its operations to tuairisc.ie — including the most-searched-for words that visitors want translated. From September 15 last year to October 14 this year, the word 'love' was the most searched for on the site, sought on 2,661 separate occasions. Next up was 'hello.'For more details, please click Irish Examiner.


Ancient Irish trees being brought back to life
In a quiet corner of Kilbarry, Co Cork, lie no ordinary trees. They are oaks. Moreover, these are no ordinary oaks. They contain the precise DNA of the last remaining aboriginal native sessile and common oaks around Ireland. In the US, where they were grown, they were grafted on to root stalks before being sent on to Holland and imported back to Ireland. They represent the cutting edge of an international campaign to help save Ireland's forests. For more details, please click Irish Times.


Cork Jazz Festival 'most successful in a decade'
That's according to organizers including Mark Hogan who said "It's actually world renowned at this stage as one of the top 10 jazz festivals in Europe currently," he said. Gigs at the Everyman Palace Theatre and Cork Opera House were sold out and an eclectic range of artists performed at venues like Triskel Christchurch and CIT Cork School of Music over the Bank Holiday Weekend. The Jazz Festival is worth in the region of €20m to the local economy and organisers say planning is already underway for the 2015. For more details and video clip, please click Breaking News Ireland.


New tenants vow to respect long history of Belfast's oldest pub
The oldest pub in Belfast, White's Tavern, has new tenants - BCD Events - who have promised to respect the heritage of the venue. but they want to attract a new type of customer to a revamped upstairs bar, which will feature a new nightclub called Sore Feet. Jim Crawford and Micheal Boyle, directors of BCD, have around 12 years' experience managing pubs and clubs and have already put their stamp on the pub, introducing a new food menu as well as the upstairs bar.. For more details, please click Belfast Telegraph.


Lights, camera, fashion: Ireland's favourite style stars
When it comes to looking good in the workplace, television is notoriously unforgiving. Strictly forbidden are bad-hair days, casual Fridays or anything that could be described as "scruffy". The industry demands expert grooming, perfectly positioned accessories and confident smiles. Yesterday, it was revealed that RTE spent some €366,500 on clothing allowances and wardrobe items for its staff and contributors last year alone. And while men can pull on a suit and keep makeup to a minimum - women's sartorial choices are rarely so straightforward. So let's then applaud Ireland's biggest female television stars. For more details, please click Irish Independent.


Roy Keane winning book sales war with Brian O'Driscoll
It was the sporting clash of the year, and now Roy Keane has claimed an early victory - as his book has sold three times more than Brian O'Driscoll's autobiography during their first week on sale. The former Irish rugby captain's autobiography 'The Test' hit the shelves last Thursday, and sold 3,261 copies in it's first three days of sale. Roy Keane's controversial tale 'The Second Half' was released on October 9, and managed to shift 10,742 copies in the first three days of it's release. For more details and video clip, please click Irish Independent.

October 28

Diary reveals Temple Street hospital's part in 1916 Rising
Temple Street hospital was on the periphery of fierce fighting during Easter Week 1916 and the nuns who ran it struggled to cope as it cared for adults and children injured in the fighting. A four-page account is contained in the archives of the Sisters of Charity, who ran the hospital at the time, and is in the form of a diary, although the author is unknown. It begins on Easter morning, when the nuns could hear the start of the fighting. For more details, please click Irish Times.


1930s seance photographs go on display
hotographs of a 1930s séance that appear to show ghostly faces in a white mist are on display for Halloween at the Public Record Office of Northern Ireland. The pictures were among the records of Lieutenant Colonel E J Gordon Tucker. Alan Robertson, PRONI, said: "These photographs show 'spiritualist manifestations' surrounding people who were involved in a séance. They appear as 'faces' surrounded by white mist known as 'ectoplasm'. This was considered to be the spirit taking form in the material world." For more details and photos, please click BBC.


President Higgins meets Hobbit & Lord of The Rings star Ian McKellen
On his first official visit to Wales, President Michael D Higgins and wife Sabina met Mr McKellen at an event to celebrate the 100th anniversary of poet Dylan Thomas' birth. President Higgins read from the Dylan Thomas poem Elegy at the Dylathon at Swansea's Grand Theatre, which saw several well-known figures from the arts recite all of Thomas' writings over a 36-hour period. McKellen recited a number of the Welsh poet's works including Do Not Go Gentle into that Good Night. For more details, please RTÉ.
PhotoCredit: Fennell Photography


Belfast poet Michael Longley shortlisted for TS Eliot Prize
Longley has been shortlisted for The Stairwell, of which John McAuliffe wrote in his Irish Times review in August: "Michael Longley's readers will love the lyrical annotations of wild places and the quick articulate raids on the classics of his new collection. Eight years and two collections after his Collected Poems ended by declaring, "I am writing too much about Carrigskeewaun", he is still uncovering new reasons to return [to Mayo, his "home-from-home-land." Professor of Poetry for Ireland from 2007 to 2010, Longley previously won the TS Eliot Prize in 2000 for The Weather in Japan. For more details, please click Irish Times.
Photo Credit: Brenda Fitzsimons


Buskers: banned from Temple Bar but allowed on city streets
That's if new bylaws are approved by Dublin City Council. The new rules would require buskers to pay to perform on the city's streets and would set time limits on performances as well as banning the use of knives, swords, saws, axes and flames. Complaints from the public and businesses mainly relate to loud continuous noise, obstruction of premises, disturbing city residents at night and intimidation by some performers seeking donations. For more details and video clip, please click Irish Times.
Photo Credit: Brenda Fitzsimons


Photo of buttermilk cartons goes viral
Mega-retailer Tesco has found itself under the social media spotlight after a picture of two of its cartons of buttermilk went viral over the weekend. The image, taken in a Tesco supermarket in Ireland shows the exterior branding of the two cartons which, when viewed with a certain squint (and frame of mind, it has to be said) look suspiciously like what can politely be called 'a gentleman's undercarriage'. A link to the product on Tesco's Irish website meanwhile proves that it's not a photoshop job. To read this news item and many others, please click Breaking News Ireland.


Could this the smallest horse in Ireland?
A tiny new arrival has made its debut at Leahy's Farm in Cork. Born to doting mother Snowy, the newborn miniature horse could be the smallest in Ireland, measuring just 19in in height. The pint-sized foal is a Falabella miniature, one of the smallest breeds of horses in the world which are often, incorrectly, classed as ponies. Even fully grown, Falabellas very rarely measure more than 32in. The breed is considered intelligent, easily trainable, and friendly towards children. For more details and video clip, please click Irish Examiner.


Ruth Doyle's gift to the world of accessories
Her gift is a wooden handbag, made from hardwoods, mainly oak, to create sleek and linear shapes that are ultra light to carry. The 24-year-old from Straffan, Co Kildare won the 'Most Commercial Collection' at the Limerick School of Art and Design school graduate show last May. This week, as Ruth officially graduates, her wooden handbags. costing between €200-€305. are creating quite a stir. The protptype was developed with her boyfriend, Colin Trant, an engineering technology graduate she met when they were both commuting to colleges in Limerick. For more details, please click Irish Independent.


Dublin City Marathon won by Kenyan runners
The 35th annual Dublin City Marathon has been won by Eliud Too from Kenya in two hours, 14 minutes and 46 seconds. Fellow Kenyan Esther Macheria was the first woman to cross the finish line. About 4,000 runners from 47 countries joined over 10,000 Irish entrants, 1,000 volunteers and countless spectators on the city's streets. To read this news item,for more photos and links to audio & video clips, please click RTÉ.

October 27

Many Irish 'ghost stories' are untrue… except these
Author and photographer Tarquin Blake loves ghost stories. But when he set out to write a book about Irish ghost tales, and photograph the locations, he hit upon one small problem: "99% were purely fictional. "They were about non-existent people and non-existent townlands" he said. So he decided to find the ones that had truth to them, for his latest book Haunted Ireland. "My concept was to find stories where there was something physical I could go photograph," he explains. "Also that the story could be backed up with historical fact or contemporaneous accounts from the time that could be verified..." For more details, please click Journal Ireland.


Dublin lost its time zone –and 25 minutes– after 1916 Rising
Months after the Rising, the House of Commons introduced Greenwich Mean Time in Ireland and abolished Dublin Mean Time, which was 25 minutes behind. So, when British clocks went back an hour for winter 1916 at 2am on Sunday, October 1st, Irish clocks only went back by 35 minutes to synchronise time in both countries. The change was made permanent and prompted fierce opposition. Countess Markievicz, one of the rebel leaders in the 1916 Rising and the leading woman in the Irish struggle for independence, complained bitterly in a previously unpublished letter which has come to light. For more details, please click Irish Times.


President Higgins to commemorate Dylan Thomas in Wales
President Michael D Higgins is making his first visit to Wales since taking office. The two-day visit to Cardiff and Swansea will see the President participate in events to honour the work of one of Wales' most famous literary figures - Dylan Thomas, who was born 100 years ago today. As part of the centenary celebrations, President Higgins will officially open a new exhibition at the Dylan Thomas Centre in Swansea this evening. President Higgins will also attend Swansea's Grand Theatre for the final session of the 'Dylathon' - a 36 hour marathon of non-stop readings and performances of Thomas' works during which he will read from 'Elegy'. For more details, please click RTÉ.


Belfast set to get Chinese consulate
Junior first minister Jonathan Bell has confirmed that China will open its first office in Northern Ireland. It follows a visit from a high-ranking politician in China's Communist Party in 2012, Madame Liu Yandong. Mr Bell said the move was "good news for Northern Ireland" and highlighted the developing links between the two countries. "This means a lot for Northern Ireland for a number of reasons - economically, educationally, for attracting investment and trade and for bringing Chinese foreign direct investment into Northern Ireland," he said. For more details, please click BBC.


Hot licks, boogie woogies, and jive-talkin' Janes...
it has to be the Guinness Cork Jazz Festival. For the entire weekend, the city was flooded with thousands of cool-cat revellers, back in town for one of the country's most enjoyable celebrations. Day and night, no matter how faint the tune, there was music everywhere, with the dulcet tones of Ella Fitzgerald and Nina Simone, wafting in the autumn air. Almost every bar and venue in Cork City got in on the act with more than 1,000 musicians performing to an eager audience of tens of thousands For more details, please click Irish Examiner.
Photo Credit: Denis Minihane


Lone sailor lands safely on Inis Mor after 18,000km odyssey
The Irish Coast Guard had been tracking the halting progress of Canadian-Turkish adventurer Erkan Gursoy for the last two weeks as he was buffeted by stormy seas. Mr Gursoy left Vancouver on Canada's west coast last February to fulfil a life-long dream of crossing the formidable Northwest Passage in a boat built by his own hands. Mr Gursoy was beset by numerous difficulties on his arduous voyage including becoming trapped in sea ice off the coast of Alaska for 10 days last July with only hungry polar bears for company. Last night, he was safely back on dry land. For more details, please click Irish Independent.


Derry teenager wins modelling competition
She's may be just 17 but Carla Brolly is heading for success on the catwalk. Carla was crowned the 2014 Face of Exhibit competition winner; She won the Coleraine heat of the contest before taking part in the grand finale event, a modelling masterclass and professional photoshoot, alongside the finalists from each of the other local heats. "I really can't believe I've won the Face of Exhibit contest - I am absolutely over the moon. Looking at the standard of the other girls at the final, I didn't imagine I would win," Carla said. For more details, please click Belfast Telegraph.
Photo Credit: Ink361


Thousands take to the streets for 35th Dublin marathon
More than 14,600 people are starting a journey of 26 miles through the streets of Dublin as part of the city's 35th marathon. About 4,000 runners from 47 countries have joined over 10,000 Irish entrants, 1,000 volunteers and countless spectators to take over Dublin city and its surrounds. Maria McCambridge, the winner of the women's race last year, will defend her title. Also among the participants this year is 83-year-old John Collins from Limerick who is running his 30th consecutive marathon. You can follow the race with the irish Times Dublin marathon live blog. for more details, photos and a link to the live blog, please click Irish Times.
Photo Credit: Dara Mac Dónaill
Marathon in pictures: Irish Independent


Graeme McDowell and two fellow pros launch GolfBeer Brewing Co
The Northern Ireland player has teamed up with fellow professionals Keegan Bradley and Freddie Jacobson, in a new venture, GolfBeer Brewing Co, in the US. The PGA Tour players hope thirsty golfers will enjoy sinking their signature craft beers: G-Mac's Celtic Style Pale Ale; Bradley's New England Style Lager, and Jacobson's Scandinavian Style Blonde Ale. "For me as a golfer and a restaurant owner, GolfBeer is the perfect marriage, bringing together two of my favourite things," said McDowell. For more details, please click Irish Examiner.
Photo Credit: Robert Madrid

October 26

Zombies take on goths in Dublin
Vampires, zombies and all things gory joined shoppers on the streets of Dublin today (Saturday) to kick off the second annual Bram Stoker Festival. Events included a dance off between Goths versus zombies which saw the two bloodied and dressed up groups battling it out at the junction of Grafton Street and St Stephen's Green. Another highlight of the festival is the much-hyped exhibition "Blood" at Trinity College Dublin's Science Gallery which seeks to explore "the mythical, cultural and medical aspects of this unique connective tissue." For more details abd video clip,, please click Irish Times.


Jonathan Rhys Meyers: 'Being Irish is special'
Jonathan Rhys Meyers paid tribute to Ireland as he accepted an Irish Post Legend Award in London. The Hollywood star revealed he will always have a special place in his heart for his native land. The Cork actor, who has starred alongside some of the biggest names in the movie business, spoke of his love for the peace and quiet of the Irish countryside where he grew up on a farm. "There was something about Irish country people, something about the land that really made me very proud," he said. For more details, please click Irish Post.
Photo Credit: Malcolm McNally


LT Meade: The Irish JK Rowling of her day remembered 100 years on
Imagine if JK Rowling's name rang no bells in people's minds 100 years from now. Rowling: so ubiquitous, influential and popular – the thought seems absurd. But this is exactly what happened to the Cork-born writer LT Meade, who died 100 years ago today. Like the creator of Harry Potter, Meade was a bestselling phenomenon who wrote across audiences and inspired devotion among her readers. She's probably the most prolific author Ireland has ever produced, publishing about 280 books and dominating the market for girls' books in the latter decades of the nineteenth century. For more details, please click Irish Times.


Rare Francis Harwood sculpture of Homer rediscovered in Ireland
Sotheby's representative in Ireland, Arabella Bishop, said a marble bust of Homer by Francis Harwood, one of the most celebrated British sculptors of the 18th century had come to light and is "a rediscovery, having remained in a private collection in Ireland since the 1950s". The previously unrecorded sculpture, dated 1757, is the earliest known version of Harwood's depiction of the ancient Greek poet. There are only two other extant versions: one in the collection of the Victoria & Albert Museum in London, the other in Castle Ashby in Northamptonshire. For more details, please click Irish Times.


A day in the life of Dublin city with disposable cameras
The project is the brainchild of 23-year-old filmmaker Rebecca Bermingham, and has won accolades at the Clones and Belfast Film Festivals. Bermingham left disposable cameras across the city and invited members of the public to snap pictures of themselves, all while secretly filming them from perches on "pub and chipper roofs". Bermingham said she wanted the piece to be an "observational documentary" on the city: "We always believed that the way into the heart of a city is through its people so we were determined that the reflection of Dublin on screen was created, in part, by Dubliners. For me, it shows a Dublin full of life and diverse people." To watch the resulting video, please click Journal Ireland.


Richard Harris clan honour star in his hometown of Limerick
Among those who have flown in to attend the second Richard Harris Film Festival are his sons, Jared and Jamie Harris, and Richard Harris's grand daughter, Ella Harris. A spokesperson for the festival said: "It is appropriate the festival starts on a night when Munster are playing a big game at Thomond Park. "Richard loved rugby and Thomond Park and in the 1951/52 season was a member of the Garryowen team which won the Munster Senior Cup at Thomond Park. "A photograph of the team with Richard stands in Myles Breen's famous rugby pub in Shannon Street. For more details, please click Irish Examiner.


Pumpkin growers small in number but producing giant fruit
Irish pumpkin growers may be small in number, but they are producing some very big pumpkins this year. Virginia Pumpkin Festival, which began last Friday, runs the national giant pumpkin competition. Festival spokeswoman Margaret McKeon-Boyle said many pumpkin growers liked to keep their pumpkins under wraps until the last moment in case they split, or some other crisis befell them. But she said organisers had heard that some very big pumpkins were Cavan-bound this week. For more details, please click Irish Times.
Photo Credit: Dara Mac Dónaill


Ireland thrash Scotland to claim Hurling/Shinty title
Ireland have turned around a nine point deficit from last weekend's test to prevent Scotland from winning a first Hurling/Shinty test International Series since 2008. Westmeath's Eoin Price was the star of the show as he bagged 2-5 in a man of the match performance, outshining the likes of Tipperary's 'Bonner' Maher and Cork's Conor Lehane. Ireland led by just a point after a half an hour, yet a late first half goal put them ahead 1-6 to 0-4 at the interval. Ireland emerged from the dressing rooms with the bit between their teeth though as Eoin Price's two goals insured a 16 point win. For more details, pleaase click Journal Ireland.
PhotoCredit: ©Russell Pritchard / Presseye


Joseph Murphy on the verge of making Irish equestrian history
The Mullingar man and his Cruising gelding Electric Cruise are on the verge of making Irish equestrian history after securing second place following the cross country phase of the four-star event in Pau, France today. Murphy, for good measure, is also in fourth place with Sportsfield Othello. The Pau three-day event is one of only six four-star events in the world and Murphy went clear this afternoon with Electric Cruise to pull himself up from tenth place after dressage and into serious contention for a win. For more details, please click RTÉ.

October 25

21 people recognised for bravery at Farmleigh House
It was a day to remember split-second decisions that forever changed people's lives. Garda Mark Irwin remembered the moments "like a scene from a movie", while teenager Brian O'Sullivan vividly recalled seeing a father struggling in the water as he tried to hold up his two children, making him jump in to help without a second thought. These two were among the 21 people recognised at the National Bravery Awards at Farmleigh House in Dublin yesterday, for their outstanding acts of courage and their life-saving efforts. For more details, please click Irish Times.
Photo Credit: Alan Betson


Record year for North American visitors
The number of overseas visitors to the Republic in the first nine months of 2014 was over 9 per cent higher than the same period last year, the Central Statistics Office has said. Over 5.9 million people visited the State between January and September, an increase of 9.3 per cent on last year. The number of visitors to Ireland between July and September increased by 7.9 per cent, with a total of 2,440,400 visiting the State during the summer period. The number of summer visitors from North America increased by 18.1 per cent to 490,000, while visits from Britain increased by 2 per cent to 922,600. For more details, please click Irish Times.
Photo Credit: Eric Luke


The 100 most expensive homes sold this year
Sales of homes worth more than a million euro have surged in the first 10 months of the year, with the number sold up by more than 60pc. Some 288 €1m-plus properties, ranging from country estates to apartments in upmarket parts of Dublin city, have changed hands between January and October. Property experts said that most million-euro buyers were ex-pats living abroad who planned to return to Ireland over the coming years. Pictured is Deepwell on Rock Hill in Blackrock, Co Dublin, which at almost €8m is the most expensive property sold so far this year. For more details and photos, please click Irish Independent.


Co Down school honours WWI poet
As part of their investigations into their First World War connections, School Reporters from Rockport School found out about their past schoolmaster Willoughby Weaving. A war poet, he served from 1914-15 in the Royal Irish Rifles and published several poems after he was injured and returned home. Willoughby's poems dealt not only with his experiences during WW1 but with Irish landscape and nature. The Ulster History Circle have awarded Rockport School with a 'Blue Plaque' on his behalf. To watch the video, please click BBC.


Video teaches bartenders how to deal with under-age customers...
and it's intentionally hilarious. Agreed, it is a serious enough enough issue — but that didn't stop the actors tasked with depicting an 'under-age drinker' situation for a new training scheme from having a bit of fun with their scene. The video forms part of a new 90 minute online course aimed at teaching people working in Irish bars how to deal with thorny customer care situations. It starts out with the proper, diplomatic way to deal with a prospective drinker who a staff member might suspect to be under-age…but, fair warning, expletives follow. To watch the video, please click Journal Ireland.


Eat your heart out, Molly Malone...
Ireland's favourite mammy has been immortalised in a bronze statue to mark the release of Mrs Brown's Boys D'Movie on DVD. Mrs Brown was installed near her Moore Street market stall with a cart that Molly Malone would be proud of. It was unveiled by the Moore Street Market Trader's Association to mark the occasion. Unfortunately for fans, Brendan O'Carroll couldn't be at the launch as he and the cast are in Scotland filming the Mrs Brown's Boys Christmas specials. For more details, please click Irish Herald.
Photo Credit: ©Colm Mahady/Fennells Photography


Independent Irish publishers launch inaugural event
Ghostbusting, professional drinking and a love poem to the chipper were among the varied topics at an evening of readings by emerging authors in Dublin last night. The inaugural Bring Your Own Stories event at the Martcade in Rathmines was organised by Liberties Press as part of the Dublin Independent Publishers Collective. "We loved the idea of local, independent publishers joining forces to present local talent that can often get lost in a sea of bigger, multinational publishers," said Ailish White, publicity manager at Liberties Press. For more details, please click Irish Times.


Tesco expands empire with 4th new store this year
It was a special day for a special little boy yesterday as supermarket chain Tesco created 104 new jobs by opening its latest Irish store. Olympic sprint legend Derval O'Rourke cut the ribbon to officially open the 32,000sq ft outlet in Ballincollig, Co Cork. But nine-year-old Bob Murphy, from the town's Westcourt estate had the honour of being the first person through the door. His mother, Joanne said he had been watching closely the construction of the Ballincollig outlet over the last few months. "He is very brand-orientated and Tesco is his brand, and I just thought he would really like to be first in, so I wrote to Tesco, and they were so accommodating." For more details, please click Irish Examiner.


Red carpet treatment the world's oldest cat
Tutti Frutti, the oldest cat in the world, has just celebrated her 24th birthday in style. The wise old black and white moggy from Newry is set to become a TV star having spent the past few days shooting a US film based on pet-friendly businesses across Northern Ireland. And, like any star, she has been given the red carpet treatment, at the Hilton Hotel in Templepatrick, where she enjoyed being pampered in the new spa complex. Tutti Frutti also enjoys the lap of luxury at home, where she has her own en suite room. For more details, please click Belfast Telegraph.

October 24

Ireland – no country for Renaissance men?
The ancients did not have much to say about Ireland but for a long time what they did say carried more weight than anything experience might have taught. A case in point is the massive Geography by Strabo (63? BC - 24? AD), rediscovered in the early fifteenth century and for many centuries thereafter a firm bestseller. Strabo said that Ireland was so cold it was impossible to live there. The Renaissance was hugely influenced by classical texts, which had little (good) to say about Ireland. Yet Petrarch was a big fan and Lough Derg was a popular pilgrimage spot. For more details, please click Irish Times.
Photo Credit: David Sleator


The craziest things the Irish paid for during the Celtic Tiger
In his engaging new autobiography, rugby legend Brian O'Driscoll reveals that, at the height of the country's ruinous Celtic Tiger spending frenzy, he splurged "a ridiculous" amount on a hot tub - a monstrosity so large it had to be lifted by crane into his yard. Of course, the rest of the big spenders are hardly in a position to scoff. An entire generation fell victim to the same spendthrift instincts that convinced O'Driscoll to join the hot-tub club. For more details, please click Irish Independent.
Photo Credit: Haute Water - for illustration purposes only


Festival keeps spirit of Bram Stoker alive
The shadowy Dublin laneways are sure to stir this weekend and those venturing out after dark might do well to keep the garlic close as the Bram Stoker Festival returns. The capital's streets will be transformed into scenes from the Dublin writer's frightening world of vampires, with events running from Friday to Monday for all the family. Organisers say the Festival aspires to honour the memory of Stoker and to encourage a spirit of enquiry about the creator of Dracula. For more details, please click Irish Independent.


Priest challenges tap-dancing colleague with a bit of Irish dancing
First one priest takes to the stage only to be challenged by the other. Father David Rider of Hyde Park, New York, and Father John Gibson of Milwaukee, were recorded back in April but it's only now that their YouTube hits are going up. In the video Rider is seen warming up the crowd with a lively tap-dance routine, only to be pushed aside by Gibson's fast-footed Irish dancing. Soon they are battling it out, trying to impress the crowd. To watch the video, please click Breaking News Ireland.


Minister for Arts, Heritage and the Gaeltacht visits set of new Irish film
The Minister for Arts, Heritage and the Gaeltacht, Heather Humphreys, visited the set of Sing Street, the new film from Begin Again and Once director John Carney, in Synge Street CBS Schools, Dublin yesterday. Set in 1980s Dublin, Carney's Sing Street is semi-autobiographical and tells the story of Cosmo, a teenager who forms a band. Ms Humphreys said "I'm delighted to see a strong number of exciting Irish feature films currently in production and it was a pleasure to experience first-hand the creative Irish work and expertise being invested in Sing Street." For more details, please click RTÉ.


Award winning War poet helps launch Poppy Appeal
Twelve year old Amy Campbell is pictured posing in a mock World War One trench at the Somme Heritage Centre at Conlig in north Down where the Northern Ireland Poppy Appeal for 2014 was launched yesterday. Amy read her competition-winning poem 'The War' at the event which was attended by the Mayor of Ards, Philip Smith, along with representatives of the Royal Navy, Army and Royal Air Force. The schoolgirl also symbolically presented the mayor with the first poppy of the year. For more details, please click Belfast Telegraph.


Dig at church unearths burial vaults
Archaeologists working on a church in Cork have discovered three burial vaults dating back to the 1600s, pottery and coins from that period and a 300-year-old underground central heating system copied from the Romans. The discoveries have been made at the 1250-built St Mary's Collegiate Church in Youghal — the longest constantly used church in the country. Archaeologist Caroline Desmond said they moved onto the site after subsidence was noticed in the aisle. Excavations began six weeks ago and they discovered vaults underneath the aisle. For more details, please click Irish Examiner.


Co Down teenager celebrates £390K National Lottery win
Sixteen year old Callum Fitzpatrick, from Ballymartin, Co Down, said he "burst into tears" when he matched five numbers and the bonus ball in last Saturday's draw. As one of Northern Ireland's youngest ever lottery winners, he had to celebrate with a glass of orange juice rather than the traditional champagne. "I really couldn't believe it as the first five numbers that were drawn out were all mine," he said. The A level maths student still plans to go to college and study accountancy. For more details, please click BBC.


Is there a bigger turnip anywhere in Ireland today?
That's what farmer-cum-shopkeeper Patsy Herlihy, from the Cork/Kerry border area, would like to know. Bigger than a football and weighing just over 7kg, or 15.5lb, he pulled the specimen pictured from his garden at Gullane, Gneeveguilla. Patsy believes good growing conditions, lasting well into the autumn, have resulted in a bumper crop of his purple-top turnips. "Normally, growth slows down in August and September but we've growth into October this year. If I hadn't pulled this turnip, it might have got a lot bigger." For more details, please click Irish Examiner.

October 23

Dublin ambulance log from 1916 gives vivid account of Rising
A log kept by Dublin Fire Brigade's ambulance service during the 1916 Easter Rising has come to light after almost 100 years. The hand-written duty log book, described by the auctioneer as "probably the first substantive written record of the events of the Rising, compiled as they happened" will be sold in Whyte's auction of historical memorabilia in Dublin next month. According to Stuart Purcell of Whyte's: "The vendor's grandfather worked in Dublin Corporation and rescued the log from a skip as it was being dumped in an office clearance". For more details, please click Irish Times.


Lie-flat beds, HD screens and touch-button massages...
Welcome to the new Aer Lingus Business Class which, according to details just unveiled, "will provide an unrivalled customer journey" and "the best shot of sleep" on direct flights to San Francisco, New York, Boston, Chicago and Orlando, the airline said. Due to roll out on its A330 aircraft from January next year, the new Business Class boasts snazzy new features that should see it combine with US Customs and Border pre-clearance at Dublin Airport to steal a march on transatlantic competitors. For more details, a virtual tour of the cabin and a launch video, please click Irish Independent.


Spectacular cliff path one step closer to reopening
A huge 20-metre steel bridge has been lowered off a sheer cliff edge to form one of the first sections of the Gobbins cliff path on Islandmagee. Built in 1902, the Gobbins Cliff Path was a major feat of engineering that once attracted more tourists than the Giant's Causeway, but it fell prey to the elements and had to be closed in 1954. Now it's hoped that the restored path will welcome its first visitors in the New Year. John Glass of McLaughlin and Harvey which is carrying out the cliff path reconstruction said "The Gobbins path will be an excellent tourist attraction for Northern Ireland..." For more details & photos, please click Belfast Telgraph.
Video Clip: Belfast Telegraph


Maureen O'Hara's Cork estate on offer
Legendary Irish actor Maureen O'Hara has placed her beloved west Cork home, Lugdine Park just out side the town of Glengariff, on the market for €2.3 million. The house, though a little dated and relatively modest by international celebrity standards, is set in one of the most picturesque locations in the country. Surrounded by woodland, it overlooks Glengarriff Bay and its own private island in the foreground with the Cork/Kerry mountains in the distance. In 2012 the 94-year-old star of the silver screen left west Cork for the last time to be nearer family in the US. For more details, video clip and photos, please click Irish Times.


Calvary composer up for world award
Irish composer Patrick Cassidy is among the nominees for the Discovery of the Year Award at the World Soundtrack Awards for his score for the film Calvary, which was recorded with the RTÉ Concert Orchestra. Commenting on working with director John Michael McDonagh on Calvary, Cassidy said: "John did not want the score to sound ethnic because, although the film is set in Ireland, the story is universal." He continued: "I did, however, use quite a lot of voices, which I felt would convey tenderness and a sense of spiritual goodness." For more details, please click RTÉ.


Moon Boy creator Chris O'Dowd accepts freedom of Roscommon
Chris O'Dowd sounded amazed. Freeman of Roscommon? "I was not aware Roscommon had enslaved me", he told the sea of familiar faces gathered in King House, Boyle to see the honour bestowed. The star of Broadway and Hollywood, who was once more familiar locally as a goalie on the Roscommon minor football team, has a clear case of Stockholm syndrome, he insisted, captivated by his captor. "I am a sick man and Roscommon is to blame". On the night his gracious acceptance speech was like a love letter to his home town - with a little bit of slagging thrown in. For more details, please click Irish Times.
Photo Credit: Brian Farrell


Cecelia Ahern's latest novel shoots to top of the book charts
The Dublin novelist's popularity shows no signs of abating and her 11th novel is in the top 10 in both Ireland and the UK. "Amazing news today; The Year I Met You is number 1 in Ireland and number 5 in the UK. Thank you, thank you everybody," Cecelia said. The daughter of former Taoiseach Bertie Ahern, Cecelia has already written her 12th novel. "I love it. I can't tell you anything about it but I wrote it in six weeks. "I have always felt compelled to write. Putting things on paper is my way of sorting things out," she said. For more details, please click Irish Herald.
Photo credit: Fantastic Fiction


End of an era as iconic Royal Hotel closes its doors
It's one of Northern Ireland's oldest hotels. But now the revolving doors of the Royal Hotel in Bangor are to be closed for the last time. The seaside hotel, which overlooks the picturesque marina, has been synonymous with Bangor over two-and-a-half-centuries and has gathered some very famous names in its guest book, including Van Morrison. The Royal Hotel was built 241 years ago in 1773 and then rebuilt in 1932 by the O'Hara family - who ran it until it was taken over by the Donnagan family in the early Nineties. For more details and photo gallery, please click Belfast Telegraph.


Northern Ireland lead Republic in FIFA rankings
Northern Ireland have soared 28 places in the rankings to 43rd after a superb start to their qualifying campaign yielded three victories. Meanwhile, the Republic of Ireland have risen one place to 61st following the side's Euro 2016 qualifiers against Gibraltar and Germany. The team routed Gibraltar 7-0 but no ranking points were awarded for the victory as FIFA has yet to admit the British overseas territory to its organisation. For more details, please click RTÉ.

October 22

Trinity €600m plan to break back into world elite
Trinity College Dublin has set itself an ambitious target to be among the top 20 universities in Europe and the top 50 in the world with state-of-the-art buildings and student residences, more international students and building its reputation for world-leading research among the key planks of the college's Strategic Plan 2014-19, being launched today by Taoiseach Enda Kenny. TCD Provost Dr Paddy Prendergast said the aim was to secure Trinity's future as "one of the great universities". For more details, please click Irish Independent.


Two Irish hotels take top slots in travel magazine poll
The awards, which are chosen by Condé Nast Traveler readers, saw Irish resorts beat those in France, Italy, Greece, Switzerland and Britain. The magazine's Best Resorts in Europe: Readers' Choice Awards 2014 put Sheen Falls Lodge in Kenmare, Co Kerry, at the top spot, closely followed by Ashford Castle in Cong, Co Mayo. Kildare Hotel at the K Club came in fourth place, followed by Powerscourt Hotel in Enniskerry, Co Wicklow, which came eighth. The reader nominations follow a slew of recent similar accolades for Irish hotels and tourist regions. For more details, please click Irish Examiner.
Photo Credit: Trip Advisor


Groupon to create 100 jobs in Dublin
The e-commerce giant today announced that it is expanding its Irish base, with the establishment of an international engineering and marketing centre in Dublin. The company said it was seeking highly-skilled staff for the new research and development hub, bringing its total Irish workforce to 200 within the next two years. It is hiring experienced professionals for roles in software engineering, data analysis and digital marketing. The US multinational, which was established in 2009, serves 500 markets in 48 countries. For more on this news item, please click RTÉ.
Photo Credit & Related Story: Daily Media


Ireland's Supermac's has a new ad campaign - in Times Square
Irish purveyor of cheese-and-curry chips Supermac's has started a brand new ad campaign targeted at a different audience - New Yorkers. The fast-food chain has set up an enormous billboard in the heart of the big apple at tourist hotspot Times Square. And it is huge, taking up the height of a skyscraper. The giant billboard claims "Next Supermac's 2,963 miles … and totally worth it!" and urges potential tourists to "come for the scenery and stay for the food". For more on this news item, please click Breaking News Ireland.


Irish film Patrick's Day claims hat trick at awards in US
Patrick's Day, the new film from Irish writer-director Terry McMahon, has won three awards at the Woodstock Film Festival, including the Maverick Award for Best Feature Narrative. The film also won the Haskell Wexler Award for Best Cinematography (Michael Lavelle) and the James Lyons Award for Best Editing of a Feature Narrative (Emer Reynolds). Patrick's Day stars Kerry Fox, Waterford actor Moe Dunford in his first major film role, Catherine Walker and Philip Jackson. For more details, plwase click RTÉ.


Meath Street: outpost of a disappearing Dublin
The foreigners say it's European. The old-timers say it's declining. The guide books say it's the real Dublin. And the artists say it's, like, far too dear to get a flat in the area. Whatever Meath Street is, it's not boring. In just a few hundred metres bustling with personality, you will find ancient churches abutting secular Steiner schools; charity shops alongside with three bookmakers and a casino; two greengrocers, a fishmonger's, a chicken shop – and enough butchers' to feed a small pride of lions. You will also find a street in transition. For more details, pics & video clip please click Irish Times.
Photo Credit: Alan Betson


Co Down record label puts musician on track for award
It's a David and Goliath story. A Co Down musician is hoping to grow his small independent record label internationally after one of its artists was nominated for a prestigious Music of Black Origin (MOBO) award. Lyte Records, founded by 30-year-old David Lyttle, from Waringstown, released renowned jazz artist Jason Rebello's latest album Anything But Look. It has landed Rebello a nomination in the best jazz act category at the 2014 MOBO Awards, which is scheduled to take place at the SSE Arena, in Wembley, London. For more details, please click Belfast Telegraph.


Happy ending for stranded puppies
The story of four puppies stranded in a Cork mineshaft ended happily today. Three of the puppies were rescued earlier and this afternoon members of the Toe Head Coast Guard revisited the mine to check if the remaining dog had made its way out. In an update posted to facebook the rescue crew said, "we tried to gain entrance to the mine from lower down the hill but it had collapsed so we lowered the owner and one of our climbers down. The dog came straight up to his owner and all were hauled out safely." So all's well that ends well. To read this news item and many others, please click Breaking News Ireland.


VIDEO: UCC students making a song and dance over graduation
Just when you thought you'd seen the last of all those 'Happy' videos, UCC students pull another one out of the bag. Those attending today's conferrings at the university got a bit of a surprise when a group of graduates burst into a Pharrell Williams- inspired rendition of hit song 'Happy'. And it should come as no surprise that the participants were Drama and Theatre Studies graduates, who broke into the high-energy routine immediately after their ceremony. For more details and to watch the video, please click Irish Examiner.

October 21

Hospitable Ireland is 'the real deal'
That's according to Lonely Planet which has declared Ireland one of the best countries in the world for 2015. Ireland receives the accolade in Lonely Planet's Best in Travel 2015, the collection of the world's hottest trends, destinations, and experiences for the year ahead. According to the book, the country is "the real deal", saying: "Ireland is stunningly scenic, its traditions — music, dance, whiskey, and beer — firmly intact and the cosmopolitan, contemporary Irish are just as friendly and welcoming as their forebears were known to be." For more details, please click Irish Examiner.
Photo Credit & Related Story: Irish Independent


Tech firm announces more than 500 jobs for Donegal
The jobs are being created at Randox Laboratories in Co Donegal. The company has announced it is expanding its facility in Dungloe over the next six years. It specialises in developing tests for conditions like Alzheimers, kidney disease and some forms of cancer. Dr Kieran Richardson, Research and Development Manager at Randox, told Highland Radio News that while some of the jobs will require specialised qualifications and experience, many others will be filled from within the local community. To read this news item and many others, please click Breaking News Ireland.


Irish 'have the best phone etiquette in the world'
That's according to a study by travel firms, Expedia and Egencia, which found that Irish people are more at ease with acceptable mobile phone use than other nationalities. The companies said that this could explain why Irish people are also the least tolerant in the world when it comes to people being rude with their phones. Making calls on a speakerphone while travelling is considered the biggest faux pas. Playing music, games and videos without headphones is considered the second most offensive type of behaviour. For more details, please click Irish Independent.


Irish Stock Exchange worth €207m a year to the economy
Economic consultants Indecon have carried out a major study on the benefits of Ireland having its own stock exchange. Over 2,000 people are employed in the securities industry in Ireland with a further 97,000 jobs supported by ISE listed companies. The study also found that the Irish Stock Exchange was the third biggest exchange in the world in 2013 for debt listings, while it is also the second biggest exchange in Europe in 2013 for volumes of new debt listings. It is also the fourth biggest exchange in the world in 2013 for fund listings. For more details, please click RTÉ.


13 Irish answers to the meaning of life
What is it to be alive in the 21st century? What is the meaning of life? What will your legacy be? Do you believe in the afterlife and does that affect how you live in this world? These questions were put to Irish people from varying walks of life, not all well-known but all thinkers – writers, poets, philosophers, academics, journalists and teachers, religious and charity workers, and self-proclaimed show-offs, among others. Their answers are in a new book - Taken from Saol – Thoughts from Ireland on Life and Living by Catherine Conlon. To read some of what they said, please click Irish Times.


Moynsha House in west Limerick up for sale
The Irish home of the late business tycoon, Patsy Byrne, has come on the market in Abbeyfeale in West Limerick with a guide price of €1.65m. The completely renovated eight-bedroomed Georgian residence boasts well-proportioned, elegant reception rooms and sits on an elevated site overlooking the River Feale. The house is being sold, along with 70 acres, and is located near Patsy Byrne's beloved Duagh village, where he was born before making his fortune in London. For more details, please click Irish Examiner.
Photo Credit: My Home Ireland


VIDEO: Surprise wedding prank on the streets of Dublin
This poor girl was just sitting outside in Dublin minding her own business when - all af a sudden - her wedding happened all around with a groom she had never met. The surprise wedding prank was filmed for RTÉ's The Fear and despite the mortification you feel for the unassuming bride, it's actually quite uplifting. We just can't believe she went with it - she even allowed complete strangers to put her in a wedding dress , while they sang at her. Fair play to her now, in fairness. To watch the video, please click Breaking News Ireland.


Rugby legend Brian O'Driscoll: I knew I wanted to marry Amy...
Rugby legend Brian O'Driscoll says he knew he wanted to marry Amy Huberman after just eight weeks together. The former Leinster and Ireland star he engineered a meeting with the actress after seeing her on TV. O'Driscoll details their first meeting in his new book The Test - and he said he knew Amy was the woman for him. "People say: 'When you know, you know'. Genuinely." To read this news item and many others, please click Breaking News Ireland.


A Kerry senior and minor footballer keep heir promise to Donal
Donal Walsh's battle with cancer was a nationwide story last year due to the teenager's bravery when dealing with the illness. Before he died Barry-John Keane and Cormac Coffey, clubmates of Walsh at Kerins O'Rahilly's, promised they would win the senior and minor All-Ireland titles to honour his memory. Both Kerry teams kept up their end of the bargain and Keane and Coffey brought the trophies to Walsh's grave to pay their respects. To read this news item, please click Journal Ireland.

October 20

More than 800 people join family at special service for Ian Paisley, RIP
The family and guests heard Rev David McIlveen call him "a faithful preacher, a people's politician and a distinguished leader". "Dr Paisley's life has cast an influential shadow over at least three generations: as a faithful preacher of God's word, as a people's politician and as a distinguished leader in church and state." Baroness Paisley said that her 58-year marriage was "not a dictatorship, but a partnership". "Ian was often referred to as 'the big man', and he was certainly that! He was a big man with a big heart," she said. For more details, please click BBC.


Tricolour from Easter Rising could sell for up to €50,000
The home-made flag, assembled from panels of green, white and orange cloth, and painted with the slogan "Sinn Fein go deo" (Sinn Féin forever) was reputedly flown over one of the buildings occupied by the Irish Volunteers during the Rising. It was recovered from Dublin Castle Yard, where it had been dumped by British troops. The flag is expected to sell for up to €50,000 in a sale of historical memorabilia by Whyte's auctioneers in Dublin on November 8th. For more details, plese click Irish Times.
Photo Credit: Adams


Arts Council announces longlist for Irish laureate award
The longlist for the inaugural Laureate for Irish Fiction has been announced, with 34 writers eligible for the award. Launched by the Arts Council over the summer, the award of €150,000 over three years is also supported by UCD and New York University (NYU). It aims to find a writer who has made a significant contribution to Irish literature and with an internationally recognised body of work. Eligible writers include stalwarts such as Anne Enright(pictured), Roddy Doyle and William Trevor, as well as newer names such as Eimear McBride and Donal Ryan. For more details and the complete list, please click Irish Times.


Marine scientist discovers new sponge species off Irish coast
Christine Picton was investigating coral reefs at the edge of the continental shelf off the west coast of Ireland when a sample collected by a remotely operated underwater vehicle (ROV) turned out to be rather unusual. Christine said it was a tiny thin encrusting sponge found growing on a piece of coral in a canyon. It was only later, when it was compared to other specimens, that it was found to be new to science. "Most people are not aware that coral reefs can be found off the west coast of Ireland," she said. For more details, please click Belfast Telegraph.


Irish teen Fiona donates hair to to make wig for Keeva
Fifteen year old Fiona Murphy donated her ponytail to the Rapunzel Foundation, an Irish charity that supports alopecia sufferers like eight-year-old Keeva Murphy. Keeva, from Mohill in Leitrim travelled to Dublin with her parents to watch Fiona donate over 14in of hair to be used in the making of a Freedom wig, which will be ready in time for her communion next year. "I had really really long hair and some people have diseases that don't allow them to have hair like mine, which is why I decided to give it away to someone that really wants it, like Keeva," said Fiona. For more details and video, please click Irish Independent.


Kilkenny animator joining staff of hit US comedy South Park
David O'Reilly has established himself as an internationally acclaimed animator, whose previous works include inserts for films, a music video for U2, and an episode of the Cartoon Network series 'Adventure Time'. Having moved to LA three years ago, David was asked to create the fictional Alien Child video game that appeared in the Oscar-winning film Her. He has since released his own game, Mountain, and created a series of critically acclaimed short films. Now, joining the writing team of South Park is a dream come true for him. For more details, please click Irish Examiner.
Photo Credit & Related Story: Animation World Network


Winning Streak presenter Sinead Kennedy ties the knot
Winning Streak presenter Sinead Kennedy married her boyfriend of eight years, naval officer Conor Kirwin, over the weekend. Family and close friends gathered at St Michael's Church in Sneem, Co. Kerry to watch the happy couple exchange their vows. Sinead looked stunning in a floor length gown which was draped with silver embellishments around the neckline. Conor looked dapper decked out in his navy uniform. Sinead is expected back on Irish screens this weekend For more details,photos, and please click RTÉ.


12 words and phrases that have a totally different meaning in the Irish Midlands
Ah the Midlands. Home to Joe Dolan, Electric Picnic and a load of peat. It's also home to some distinctive words and phrases which might leave non-Midlands folk scratching their heads… Like Snobby wedder. What it usually means: The weather isn't great today/the weather isn't being kind too us today. What it means in the Midlands: I know you saw me waving at you on the street, are you ignoring me? For the rest of the list and accompanying photos, please click Journal Ireland.
Photo Credit: Spam Friday/Getty Images


Spooky Dublin pub prank will chill you to the bone
Having been invited into a 'new', happening pub, unsuspecting customers were in for a bit of a shock. They take their seats and are greeted by a kindly barman, however they also meet the foreboding regular 'Ralf'. Ralf plays the part of the awkward drunk guy perfectly, warning the unsuspecting victims that they "shouldn't be here." After telling the people they are all "doomed" Ralf is made to sling his hook by the bar staff and then the lights go out …To watch what happens next, please click Breaking News Ireland.

October 19

Memorial service for former first minister Ian Paisley, RIP
A memorial service for Northern Ireland's former first minister Ian Paisley is to be held in Belfast today. October 19. Mr Paisley died on 12 September at the age of 88. The founder of the Democratic Unionist Party was buried following a private service at his family home in east Belfast. At the time, his family said there would be a memorial service so that the public could pay their respects. Sunday's memorial service will be held at 15:00 BST at the Ulster Hall in Belfast and will be broadcast live on BBC Two Northern Ireland. For more details, please click BBC
.Photo Credit: Irish Independent


Dublin the fifth friendliest city on earth
That's according to readers of Condé Nast Traveler, the prestigious US travel magazine. "Dublin is a "vibrant city" that's a "bibliophile's dream", one reader said. Another commented: "Apart from being "green, lush, and very walkable," it's also "the kind of place you stop in for a drink in a local pub, only to end up chatting with the locals for the next five hours." Lists of the world's friendliest and unfriendliest cites were culled from Condé Nast Traveler's annual Readers' Choice Survey For more details & video clip, please click Irish Independent.
Photo Credit & More Details: BBC


Exhibition sheds new light on Oscar Wilde's life in Reading Gaol
Documents found in the Reading Prison archives have revealed a photograph of an inmate thought to have been admired by Oscar Wilde. The image shows Henry Bushnell, who was imprisoned in Reading Gaol while Wilde served a two year sentence after being convicted for engaging in homosexual acts in 1895. It was uncovered by the University of Reading's Professor Peter Stoneley, who has researched the archives to "shed new light" on the men who helped Wilde through his imprisonment and inspired The Ballad of Reading Gaol. For more details, please click Irish Post.


Online archive of Irishmen's WW1 experiences launched
The Lord Mayor of Dublin, Christy Burke, launched the fully searchable online database which holds a collection of 453 letters from 56 different servicemen, as well as images. At the outbreak of the war, Monica Roberts of Stillorgan, Co. Dublin, established the 'Band of Helpers for the Soldiers' with her friends to send small gifts to the men of the Royal Dublin Fusiliers and the Royal Flying Corps. Roberts included letters with her presents and usually the soldiers wrote to thank her. For more details, please click Irish World.


Tribute paid to Irish troops who lost their lives in Lebanon
Deputy Chief of Staff Operations Major General James visited the personnel of the 45th Infantry Group deployed to the United Nations Interim Force In Lebanon yesterday where he presented the troops with medals in recognition of their work there for the Irish Defence Forces. Tribute was also paid to the 47 Irish troops who lost their lives in Lebanon over the past three decades. Addressing the troops on parade, he said that the area has suffered more than its fair share of violence, but the Irish Defence Forces, on behalf of the Irish people have stood steadfast as a beacon of light and hope to so many. For more details, please click Journal Ireland.


Irish wake tradition flourishing
Ask anyone about death and the Irish and they will say that they do it well. So well that, assuming death arrives after a full life, some who like a good, uncontrived celebration say they prefer funerals to weddings. The tradition of the wake is flourishing. They may not cover the mirrors or stop the clocks any more, but the traditional removal to church on eve of burial is vanishing in favour of keeping the person at home for a last night, laid out in an open coffin or on a bed, surrounded by family, friends and a steady flow of sympathisers often queuing out of the door and down the street. For more details, please click Irish Times.
Photo Credit: McGinty's Wake/The Film Company of Ireland and the Irish-American Press


We visited Tullamore, Ireland and drank all their whiskey
Editor of online site Complex writes "Too much of anything is bad," Mark Twain said. "But too much good whiskey is barely enough." How Twain came to that conclusion without, to my knowledge, ever having visiting Ireland remains a mystery. Unlike Twain, however, I have and finally have the authority (and the liver damage) to officially concur. Here's the story of one Complex editor getting really drunk for three days on Irish whiskey. For more details, please click Complex.


An Irishman;s Diary: Dublin's lesser known parks
Located in the middle of Dublin, beside the Four Courts, Chancery Park is a small but perfectly formed example of everything that's good and bad about the city. Well, maybe not everything. But a lot. On the plus side, it's a charming little garden – a railed-off refuge from the busy streets around it, with a fountain, a pool, and manicured shrubs. Its Art Deco trimmings wouldn't be out of place in Paris, or Vienna, or any of the better kept cities of Europe. The downside is that you've probably never been in it. For more details, please click Irish Times.


Downton Abbey's Lady Mary shows her support for Munster
Actress Michelle Dockery showed her support for Munster in yesterday's European Champions Cup clash with Sale by donning the team's full strip.* Michelle, whose father, Michael Francis Dockery, hails from Athlone, plays Lady Mary Crawley in the bespoke soap and she proudly showed her allegiance to Ireland during yesterday's match, which Munster won by one point. She certainly didn't scare the horses but what would the Dowager Countess think? To read this news item and many others, please click RTÉ.
*ED. NOTE: The terms "kit", "strip" and uniform are used interchangeably in Association Football

October 18

Pope Francis allows Sistine Chapel to be rented out for private corporate event
The event is a concert to be amid the splendour of Michelangelo's frescoes which will be attended by a select group of about 40 high-paying tourists who have signed up to an exclusive tour of Italy organised by Porsche. The proceeds to go to charities working with the poor and homeless. The Vatican would not divulge how much it will earn from the event, but the five-day tour of Rome arranged by the Porsche Travel Club costs up to 5,000 euros per head, meaning an overall price of 200,000 euros.For more details, please click The Telegraph.
Photo Credit: Alamy


Daniel O'Connell: 'The Nelson Mandela of his age'
Irish political giant Daniel O'Connell has been remembered as the Nelson Mandela of his day, as the newest of London's blue plaques was unveiled in his honour. The commemoration to O'Connell stands in Albemarle Street. The Kerry man was known as The Liberator for his battle for the right of Catholics to sit in the British Parliament. The plaque marks his former home in the capital's Mayfair district. Outside the house, Prof Martin Daunton of English Heritage, which issues the honours, said "His campaign for Catholic emancipation and his principled opposition to slavery was - and still is - admired around the world." For more details, please click BBC.
Photo credit & Related Story: Irish Independent


WWI soldiers, including 9,000 Irish remembered at Ypres ceremony
The names of the 600,000 soldiers who died in the killing fields of Flanders were remembered last night in a huge display of lights 85km long. The Ypres Salient - the area around Ypres in northern Belgium which was the scene of some of the worst fighting in the first World War - covers an area smaller than Co Louth. The dead of 30 nations are buried there, including Ireland which lost at least 9,000 men in the fighting. Some 8,400 torch bearers formed a human chain from the coast at Nieuwpoort to the memorial to the missing at Ploegsteert where Belgium's King Philippe and his wife Mathilde lit a candle for those who died. For more details, please click Irish Times.
Photo Credit: Journal Ireland/AP/Press Association Images


Heritage Ireland: This may be the most stunning location for a castle
Spectacularly positioned on the cliffs overlooking the North Atlantic, Dunluce Castle has to be one of the most picturesque heritage sites on the island. The earliest parts of the castle are thought to date to the 14th century, but the majority of visible remains date to the 16th and 17th centuries, when it was the fortress of the MacQuillans and later the MacDonnells, who were descended from a powerful Scottish clan. These families were embroiled in near constant conflict to control the area of North Antrim known as 'The Route' which extended between the Rivers Bann and Bush. For more details, please click Journal Ireland.


Behind the facades: an alternative history of Dublin
While working as a tour guide in Dublin city centre, covering 2,000 years of Irish history, Lisa Marie Griffith began to see the city's iconic buildings as a gateway to the past. Through the buildings it was possible to build a narrative, to describe past events and to draw a picture of the people who walked the streets in different eras. Seeing these buildings through the eyes of tourists gave her a fresh perspective, which became the basis for Stones of Dublin: A History of Dublin in Ten Buildings. For more details, please click Irish Times.


Hozier breaks U2's 27-year Irish Number One run
Hozier has denied U2's new album, Songs of Innocence, the top album position in Ireland, breaking the veteran band's 27-year No 1 run of first week Irish number one albums. In a sign of the changing of the guard, the Bray singer's self-titled debut stays at the top of the Irish charts for the fourth week leaving Songs of Innocence at No 2, the first time U2 have not debuted at No 1 in Ireland since the release of The Joshua Tree in 1987. In the UK, Songs of Innocence is set to debut at U2's lowest chart position for 30 years this Monday. For more details, please click RTÉ.


Eight Oscar Wilde gems for modern life
October 16th marks Oscar Wilde's 160th birthday. Quite apart from being one of Ireland's greatest writers of all time, and his infamy for one of the most shocking trials of the era, Wilde was also famous for his ability to condense pearls of wisdom into short and snappy one-liners. That, of course, was all in the late 1800s - but Wilde's advice is still perfectly applicable to modern life. Here's eight we feel apply just as well now as they did in the late 1800s. For example, I have the simplest tastes. I am always satisfied with the best. To read the other seven, please click Breaking News Ireland.


Co Louth bakery creates largest soda bread loaf on record
McCloskey's Bakery in Drogheda debuted the enormous loaf, on Dublin's St. Stephen's Green this morning. The traditional, if slightly larger than usual, loaf took 3.5 hours to bake and weighed in at over 250kg - Nearly 50 lbs. The loaf was created in celebration of Ireland's National Bread Week, which launched on Monday. President of the Flour, Confectioners and Bakers Association Patrick McCluskey said that soda bread has a huge significance in Irish culture. For more details please click Irish Independent.


Ryanair revs up Irish HQ with custom-made jet engine table
The budget carrier has been furbishing its new headquarters in Swords, north Dublin, creating a working environment not dissimilar to the famous Google offices. Among the fittings that have been included in the office is a large slide, a pool table, giant chessboard, computer games and a jet engine covered with a glass top as the centrepiece for an impressive meeting table. It is understood the company has spent more than €5m fitting out the new headquarters out and staff moved in early this year. For more details and photos, please click Irish Independent.

October 17

Fáilte Ireland targets far flung regions in bid to boost visitor numbers
Ireland is an increasingly popular destination for tourists from India, China, South Africa, and the Middle East and today, a group of 45 of the most prominent travel agents from those countries as well as South Africa have arrived in Ireland and are being pitched to by members of Ireland's tourism industry. The drive to grow visitor numbers from these regions takes place as Fáilte Ireland hosts a workshop for these target markets in the Grand Hotel, Malahide. Martina Bromley, head of sales with Fáilte Ireland, said the countries targeted will be the fastest-growing markets for Irish tourism in the next decade. For more details, please click Irish Examiner.
Photo Credit & Related Story: Gentlemen Marketing Agency


WWI Irish-Australia database goes online
A database of Irish-born people who served with the Australian forces in the World War I has gone online today. The database is publicly available and will allow Irish and Australian people to trace the records of their relatives who served in the war. The project was compiled by the Australian University of New South Wales in partnership with University College Dublin. The database will be publicly available and will allow Irish and Australian people to trace the records of their relatives who served in the War, known today as "Anzacs". For details of yesterday's launch and a link to the database, please click Merrion Street.
Photo Credit: RTÉ.


10 ways to be Grand – The Irish woman's guide
"Irish women say they're 'Grand' about a million times a day". Comedian Tara Flynn has taken this as the starting point for her new book: You're Grand – The Irishwoman's Secret Guide to Life. And just in case you are, a) under any illusions, or b) a tourist, "Grand simply means the bare bones of fine. "Irish women have been around for ages," she says "Some would say almost as long as Irish men,. We've learned a lot in that time, but, until now, we haven't shared it. Perhaps being shushed by priests/foreign invaders/the wind for too long has taken its toll." For more details, please click Irish Times.


Meet the people making poetry cool again in Ireland
The Lingo Festival is all about breaking down barriers when it comes to the spoken and written word, and this weekend its events in Dublin will see a range of wordsmiths performing their own work or chatting about their favourite poems. One of the organisers behind Lingo is poet and writer-in-residence at DLR Lexicon in Dun Laoghaire, Colm Keegan. "About a year ago a bunch of poets got together and decided we wanted to do the festival. The scene was amazing and a little bit underground. There was so much going on, it was time to shine a light on it." For more details, please click Journal Ireland.


Connemara corners and Norway's fjords to host 'pop-up' film project
The Cinémobile, Ireland's 'pop-up' picture house on wheels, is twinning with four other countries to bring independent film to some of northern Europe's farthest corners. Connemara community halls, Norwegian fjords and Scottish islands are among the 27 venues chosen for some 28 films which will be "swopped" between Ireland, Iceland, Finland, Scotland and Norway and shown free to audiences. John Michael McDonagh's Calvary, Dieter Auner's Dreams of a Clown and Risteard Ó Dómhnaill's The Pipe are among the Irish features, documentaries and shorts selected. For more details, please click Irish Times.
Photo Credit: David Sleator


Open House weekend in Dublin
Organised each year by the Irish Architecture Foundation, the hugely popular event gives Dubliners and visitors to the capital a once-off opportunity to poke their noses into the buildings they've always wanted to explore - but can't usually get into. The doors will be thrown open to a diverse range of built gems and oddities, but it's often the houses which prove most popular. This year's list features historic and grand city abodes and estate homes of one-time Dublin-based aristocracy and high society members. Pictured is Farmleigh House in Dublin's Phoenix Park which is where guests of the nation are welcome to stay. For more details, please click Irish Independent.


U2's Bono: "Why I always wear shades"
U2 frontman Bono has revealed he has suffered from glaucoma for many years, prompting his continual use of dark glasses. The star said he has had the condition - a build-up of pressure in the eyeball which can damage the optic nerve and lead to blindness if not treated - for around two decades. Many had assumed his ever-present sunglasses - even indoors - were a rock star affectation, but he explained they are to help with his vision problem. He commented "I have good treatments and I am going to be fine." But "You're not going to get this out of your head now and you will be saying 'Ah, poor old blind Bono.". For more details, please click Belfast Telegraph.
Photo credit: Front Page Mag


Irish women's pursuit team finish with record
Ireland Women's Team Pursuit Team finished with an Irish record in eighth place at the 2014 UEC Track Elite European Championships in Baie-Mahault, Guadaloupe last night. The newly formed quartet qualified for the finals in the opening rounds, securing vital qualifying points towards the Rio Olympics. In the seventh/eighth place final the Irish team finished with their fastest time of 4.50.218.In the Men's Scratch Race Javan Nulty and Martyn Irvine were in action, with Nulty finishing in 17th place in his senior debut, and Irvine finishing in 28th place.For more details, please click RTÉ.


Irish Roller derby team does the nation proud
John O'Shea's last minute equaliser in Gelsenkirchen wasn't the only significant Irish sporting event in the last week. The soccer team refused to be rolled over and another Irish team is aiming to do 'wheelie' good on the international scene. The All-Ireland Men's Roller Derby team played their first ever fixture on home soil defeating Scotland by 194-111 in a thrilling encounter at the home of the East Coast Cyclones in Co. Wicklow. For more details, video clips and photos, please click Irish Examiner.

October 16

New cancer treatment shows substantial benefits for patients
A pioneering cancer treatment, essentially surgery without a scalpel, is showing substantial benefits for patients, including increased life expectancy, a new Irish study has shown. An analysis of outcomes for 881 patients who underwent radiosurgery at Dublin's Beacon Hospital between 2006-2014 showed an average 15-month increase in the life expectancy of 86 patients with secondary brain tumours, when compared to conventional radiotherapy treatment. The study, conducted by the hospital's consultant radiation oncology team is led by Professor John Armstrong. For more details, please click Irish Examiner.
Photo Credit & Related Details: Beacon Hosital, Dublin


One Young World summit gets under way in Dublin
The three-day event, described as "a platform to give brilliant young people a catalyst to drive change in the world" will see attendees present on and discuss a broad range of topics on major issues facing the world. The founders of One Young World - David Jones and Kate Robertson - explained why Dublin was chosen as the host of this year's event: because "whether it was from the North or whether it's from the great recession, its story is one of a triumph, it's one of society, it's one of communal values, it's one of people...pulling through," Ms Robertson said. For more details, please click Irish Times.
Photo Credit & Related Story: Journal Ireland/Mark Stedman/Photocall Ireland


The Irishman who destroyed the Houses of Parliament - and lived to tell the tale
Guy Fawkes remains as infamous as ever in Britain, four centuries on, even though his attempt to blow up the Houses of Parliament failed. But strange to say, almost nobody now remembers the Irishman Patrick Furlong who, 180 years ago today, succeeded in destroying the Houses of Parliament, albeit by accident. There was no gunpowder involved on that occasion. The agent of destruction was fire, started in furnaces under the House of Lords. Even so, without meaning to, Furlong and an accomplice achieved what Fawkes and Company could not. By nightfall on October 16th, 1834, the Palace of Westminster was in ashes. For more details, please click Irish Times.


Five NI sites make 'rock star list'
Five of Northern Ireland's most popular tourist attractions have made it onto a list of the top 100 geological sites in the UK and Ireland. They include Northern Ireland's most famous landmark, the Giant's Causeway, and the Marble Arch caves. The rocky shore of Portrush, Co Antrim, and Slieve Gullion mountain, Co Armagh, are also on the Geological Society of London's list. And Loughareema, a "disappearing" lake in Co Antrim, was included in the top 100 as well. For more details, please click BBC.


New British-Irish travel Visa Scheme will boost tourism
Britain's Secretary Teresa May and Ireland's Justice Minister Frances Fitzgerald have launched a new British-Irish Visa Scheme at the Irish Embassy in London. They signed a Memorandum of Understanding allowing international visitors to travel freely within the Common Travel Area using a single visa issued by either Ireland or Britain. Travellers from China and India will be the first to benefit from the landmark scheme, which is hoped will provide an economic tourism boost for both islands when it comes into effect later this month. For more details, please click Irish Post.
Photo credit: Malcolm McNally


The £11.5m plan to make HMS Caroline a tourist mecca in Belfast
The last surviving warship from the Battle of Jutland is to be transformed into a heritage visitor attraction in time for the battle's centenary in 2016. Plans to restore HMS Caroline are full steam ahead thanks to a £11.5m Heritage Lottery Fund grant awarded to the National Museum of the Royal Navy and the Department of Enterprise, Trade and Investment. Pictured is Captain John Rees, NMRN's chief of staff and chairman of the HMS Caroline Project Board, who said the ship was a key piece of the jigsaw that can turn the Titanic Quarter into a world-class maritime heritage destination. For more details & video clip, please click Belfast Telegraph.


Hozier debuts at No 2 in US Billboard 200 chart
Hozier has debuted at No 2 in the US Billboard 200 chart with his self-titled debut album. With first-week sales of 57,859 copies, the Bray singer has become the second highest-charting new artist of 2014 in the US. Elsewhere, Hozier entered the Canadian Album Chart at No 2, the Belgian Album Chart at No 3 and UK Album Chart at No 5. He also secured Top 15 chart positions in Denmark (No 9), Holland (No 11) and Germany (NO 14). Hozier enjoyed his third week at No 1 in the Irish album charts last week. For more on this news item, please click RTÉ.
Photo Credit & Related Story: Irish herald


Tipperary family win the 'Sam Maguire of Farming'
Thomas Dwan and his parents Edmund and Ann won the the National Dairy Council & Kerrygold Quality Milk Award for their 105-cow farm in Bohernamona, near Thurles, Co Tipperary, which produces milk on a very eco-friendly farm. The family were presented with their €5,000 prize by Kilkenny hurling legend Henry Shefflin, at an awards ceremony in Dublin's RDS. They were selected from 15 short-listed dairy farms after a rigorous judging process by experts, including UCD Professor Patrick Wall. To read this news item, please click Irish Indepenendent.


World's fastest growing watersport to beam Sligo into 50 million homes
Heard of SUP? You soon will, as the sport is set to showcase Sligo in millions of households around the world. A cross between surfing and kayaking that sees participants standing on large boards to propel themselves through waterways and waves – is reported to be one of the fastest growing sports on the planet. SUP, short for Stand Up Paddle boarding, has been growing apace in Ireland, and is now offered by adventure companies throughout the country - but it's set to receive a major boost in early 2015. That's when 'Facing Waves', a US TV series beamed into over 50 million homes in 25 countries around the world, will go live with an episode recorded in Sligo. For more details, please click Irish Independent.

October 15

Budget 2013 - the end of austerity?
Arriving in Leinster House yesterday morning, it didn't take long to realise that this was going to be a lot different to previous years. Government backbenchers were running around with smiles on their faces as more of the Budget measures to be announced by Michael Noonan and Brendan Howlin began to leak into the public domain. Even if there were arguments to be made against the Budget measures – and of course there are plenty – the government wasn't listening. This was the day austerity officially ended and the next general election campaign began in exactly the way the government would have wanted it to. For more details, please click Journal Ireland.
Photo Credit: RTÉ.


Extra funding for 1916 commemoration
The Department of Arts Heritage and the Gaeltacht has been given an additional €4m to roll out an "integrated plan" to commemorate 1916. The allocation is on top of a €22m capital programme announced earlier this year for major commemorative projects in 2015, including a new interpretative centre at the GPO in Dublin. The department received an budget allocation of €274m for 2015 which, it pointed out, was first increase for current expenditure in six years. Arts Minister Heather Humphreys said: "Securing significant funding for the Commemorations programme... will support a comprehensive national programme of events... " For more details, please click Irish Examiner.
Photo Credit: Easter Rising 1916


Paralympian Kelly Gallagher & partner honoured at Buckingham Palace
Northern Ireland's Winter Paralympic hero Kelly Gallagher has been warded an MBE following her historic victory. Gallagher, a visually impaired skier, and Charlotte Evans, her sighted partner, became the first Britons to win an Olympic or Paralympic title on snow when they came first in the women's visually impaired Super-G event in Sochi, Russia, earlier this year. peaking after the investiture ceremony hosted by the Princess Royal, Gallagher said: "We've been really lucky to win a Paralympic medal but to be honoured in this way is incredible." For more details, please click Belfast Telegraph.


Moneygall's growing cottage Industry as Obama's ancestral home
Although its population of roughly 320 people is smaller than the typical entourage of an American president on a foreign state visit, Moneygall has wholeheartedly embraced its most famous great-great-great-grandson. American flags and Irish tricolors line the village's main street, which is crammed with as much Obamiana as the place can take. For example, There's the Obama Cafe and Gift Shop, which sells T-shirts reading "Is Feidir Linn" (Gaelic for "Yes We Can"), hurling sticks with the president's face and reproductions of Shepard Fairey's famous Obama portrait superimposed over pictures of Moneygall - amd more.. For more details, please click NBC News.


Richard Flanagan wins 2014 Man Booker Prize
He is descended from Irish convicts transported to Tasmania during the Great Famine, and now, Richard Flanagan has won this year's Man Booker Prize for his majestic sixth novel, The Narrow Road to the Deep North. It is an intensely satisfying triumph for the gifted 53-year-old as well as for literature and the art of storytelling; for readers who have been presented with a serious winner worthy of their attention and for a judging panel who, despite the various omissions along the way, ultimately chose probably the finest novel in English this year.For more details, please click Irish Times.
Photo Credit: Ulf Andersen/Chatto & Windus/PA Wire


Ireland's Hozier Wins international music award
Hozier's international success is continuing, just days after he knocked it out of the park on Saturday Night Live. The Wicklow lad has now won a pan-European award given to artists who 'break borders' with their work. The European Border Breakers Awards (EBBAs) are given to ten artists from around Europe. The awards are designed to reward artists whose work breaks the language barrier and achieves success across Europe. A press statement said. This year's other winners include Germany's Milky Chance and Norwegian DJ Todd Terje. For more details, please click Journal Ireland.


Top model Georgia Salpa planning big fat Irish wedding
The Spain-based beauty will seal the deal with her partner of three years, Joe Penna, at a ceremony in early summer 2015. A source close to the well-known clothes horse said they're in the final stages of firming up details for their big day - with no expense spared to ensure it's an affair to remember. Her lavish wedding ceremony is expected to take place in Ireland after she confirmed that they have been looking at some of the five-star hotels around the country. For more details, please click Irish Independent.


Germans stunned by Irish recovery
It isn't a bad way to celebrate your 100th appearance for your country. On one of those classic nights of Irish football defiance, John O'Shea nipped past big Mats Hummels to score a goal against Germany that was 94 minutes, and as many years, in coming. Just like that, Ireland got their first ever competitive result on a German football field and left the reigning world champions perplexed while the Irish bench was overjoyed; Roy Keane hugged more Irish players last night than he ever did in his playing days. For more details, please click Irish Times.
Photo Credit & Related Story: Irish Herald


Northern Ireland defeat Greece 2-0
NI produced a heroic performance to defeat Greece and begin a qualifying campaign with three successive wins for the first time. Beating the top seeds keeps Northern Ireland two points clear at the top of Euro 2016 qualifying Group F. Michael O'Neill's side now head to Romania with plenty of confidence and momentum as they seek to qualify for a European Championship for the first time and for their first tournament since the 1986 World Cup finals. For more details, please click BBC.



Fri, Oct 31, 2014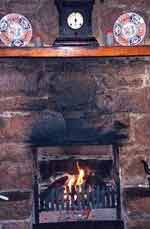 From Bog Land to Turf Fire
Ireland contains more bog land, relatively speaking, than any country in Europe, except Finland. For people in rural areas, turf cut from the bog is still a natural source of heat. Turf cutting begins in spring and then the turf is spread and rickled . Rickled means to pile the turf up in small mounds. By summer, the turf is dry and it's time to bring it home. Everything has to be prepared before the winter comes, or even earlier, because the rain would wet the turf too much. It has to be dry and in the shed before Autumn. Then and only then, can an irish country family look foreward to the cozy warmth of "a turf fire in the cabin."

Resources: The Atlas of the Irish Rural Landscape
Image: Spirited ireland

Click for More Culture Corner.
---
---
Local Time in
---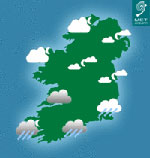 The Weather
Up the minute forecasts provided by Ireland's official source for all weather-related news. Please click Met Eireann.

---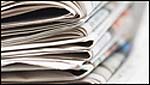 Links to the latest news from Ireland
Here you will find all the stories making headlines throughout the Republic of Ireland and the six counties to the north. This is not intended to be an all-inclusive list. These are the main sources we check every day to bring you those headlines we think you will enjoy reading.

BBC Northern Ireland
Belfast Telegraph
Breaking News Ireland
Irish Emigrant
Irish Examiner
Irish Herald
Irish Independent
Irish News
Irish Times
Irish Post
RTE
The Irish World
The Journal Ireland
Inside Ireland


---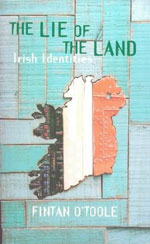 Lie of the Land
by Fintan O'Toole
A regular contributor to the irish Times and The Guardian, O'Toole applies his eagle journalistic eye to the state of ireland at the end of the 20th century. It's a riveting read as O'Toole examines with in-insight, humour and a bit of the blarney, the repercussions of a booming economy which has thrust ireland into the ranks of the richest European countries.
Click here for Lie of the land.

---