Traditions, folklore, history and more. If it's Irish, it's here. Or will be!
"People will not look forward to posterity who never look backward to their ancestors."
-Edmund Burke
---
Quotes

Library: Books, Movies, Music

Prints & Photos

Poetry

---
---
Shops Ireland
---
Bunús na Gaeilge
(Basic Irish)

---
---
---
Himself/Herself
Write to Us
Readers Write..
Links/Link to Us
---
Advertise with us
---
Awards & Testimonials

Submissions Guide

---

Todays' Irish News



Yes, there are many news items not included here. We deliberately avoid: politics, death, disaster and other mayhem.

Saturday, January 31, 2015

---
Ireland's heroine Maude Gonne and the secret you may not have known
Actress, activist, feminist, mystic, Maud Gonne was the muse and inspiration for the poet W B Yeats, who immortalised her in some of his most famous verses. After the Free State was established in 1922, Maud Gonne remained a vocal figure in Irish politics and civil rights. Born in 1866, she died in Dublin in 1953. But for many years in her youth and early adulthood, Maud Gonne lived in France. Of this part of her life, much less is known. There is one one long-secret and bizarre episode, however, that has now been established as almost certainly true. For more details, please click
BBC
.
Dublin Mansion House marks 300 years
It has been 300 years since Dublin's Mansion House, the home of the city's Lord Mayor, was bought for a song at just £3,500. Even in today's money – between €350,000 and €500,000 – that's not a bad deal for an opulent townhouse with baroque forecourt, classical facade and its own (long since gone) wooded grounds. At an anniversary reception there last night, Lord Mayor Christy Burke and several of his predecessors gathered to consider the rich history instilled in the bricks and mortar of the capital's most famous city centre abode. For more details, please click
Irish Times
.
Photo Credit:
Panoramio
Related Story:
Five things you might not know about Dublin's Mansion House
Shortlist for Poetry Now Award announced
The award, now in its 20th year, is presented for the best single volume of poetry by an Irish poet.The five shortlisted poets are: Theo Dorgan (pictured) for Nine Bright Shiners; Martina Evans for Burnfort, Las Vegas; Kerry Hardie for The Zebra Stood in the Night; Vona Groake for X; and Peter Sirr for The Rooms. The winner of the €2,000 prize will be announced on March 21st at DLR Lexicon in Dún Laoghaire, Co Dublin, as part of the Mountains to Sea DLR Book Festival. For more details, please click
Irish Times
.
Photo Credit: Dara Mac Dónnaill
A Poem for Ireland - full shortlist unveiled
Ireland's Best-Loved Poem of the Past 100 Years shortlist was unveiled on The Works on RTÉ One this evening (January 30) and the winner of RTÉ's Poem for Ireland will be revealed after a public vote on March 13. The list includes When all the others were away at Mass by Seamus Heaney (pictured), Christmas Childhood by Patrick Kavanagh, A Disused Shed in Co. Wexford by Derek Mahon, Dublin by Louis MacNeice, and Easter 1916 by William Butler Yeats. The winning poem will be decided by public vote, To view the complete list of ten poems and how to vote, please click
RTÉ
.
Rolling in it – the richest counties in Ireland
The richest households in Ireland (after debt) are to be found in the south-east of the country, according to the Central Statistics Office's Household and Finance Consumption Survey 2013 which was released today. The average net household wealth in counties Carlow, Kilkenny, Wexford, Waterford and South Tipperary is €259,000, some €20,000 greater than the next wealthiest region, the mid-west (counties Clare and Limerick). On the other end of the scale, the households with the least net wealth on average are in the west of the country (Galway, Mayo and Roscommon) For more details, please click
Journal Ireland
.
Photo Credit:
Rootsweb
The UK will be voting in Ireland's Eurovision semi-final and people are delighted
The semi-final draw for Eurovision 2015 has taken place and that means Ireland will perform in the first half of the second semi-final. That puts Ireland in the company of countries like Norway and Portugal. The one stand-out piece of news is that the UK will be one of the three countries that will vote in Ireland's semi-final and from all the comments, most people are very happy about it. For more details and video, please click
Journal Ireland
.
Photo Credit & Related Story:
Journal Ireland/Lina Arvidsson
What would be the first thing you would do if you were leader of the country?
A delegation of potential young Irish leaders travelled to the European Parliament in Strasbourg this week to debate with over 600 students from all over the European Union, as part of a programme with Euroscola and Rotary Ireland. But, before they left, Independent.ie caught up with them to see what they would do first if they became Taoiseach. To watch the video, please click
Irish Independent
.
McIlroy extends lead in Dubai as McDowell gives chase
Rory McIlroy picked up where he left off at the Omega Dubai Desert Classic on Saturday, picking up two shots in his opening four holes to move two clear. The Irishman had produced a superb round of 64 on Friday to move on to 14-under overnight, a lead of one shot, and he continued that momentum with birdies on the first and third holes to increase his advantage. McIlroy led countryman Graeme McDowell by two, with the former US Open winner also picking up two shots in four holes to move on to 14-under. For more details and video clip, please click
Breaking News Ireland
.
Photo Credit & Related Story:
BBC
Darragh Kenny takes top two places in Wellington
Offaly-born Darragh Kenny fielded two horses in last night's speed class at the five-star show in Wellington Florida, and brought them home in the top two places. The Irish rider first stopped the clock at the Palm Beach Equestrian Centre in 57.87 seconds with Toffolon Partners LLC's Irish Sport Horse Gatsby to take the lead in a 51-strong field. Later in the start list Kenny brought out Oakland Ventures LLC's gelding Picolo and managed to clip three-quarters of a second off his previous time to claim both first and second places. For more details, please click
RTÉ
.
---
Past Two Weeks
January 30

Anne Enright named as first Laureate for Irish Fiction
Taoiseach Enda Kenny made the announcement at a ceremony at the Arts Council and, speaking at the event, he said: "The Laureate for Irish Fiction is awarded on the basis of literary accomplishment and excellence, and is the highest honour that the Irish State can bestow on a writer in this genre. Anne Enright's eloquent and powerful writing, fiercely individual voice and unyielding commitment to her craft combined to make her the pre-eminent choice." During her laureateship, Enright will have a particular focus on nurturing the short story form at home and on the translation of Irish work into other languages for publication abroad. For more details, please click Irish Times.


Watch: Tribute to Luke Kelly on the anniversary of his passing
Today is the 31st anniversary of Luke Kelly's death at the age of 43. To mark the passing of one of Ireland's greatest ever singers, RTÉ has put together a video tribute which includes a clip from RTÉ's series The Humours of Donnybrook. In the clip, Luke explains how he met Patrick Kavanagh in The Bailey pub in Dublin. During the encounter, Kavanagh told him he had a song for him. To watch this clip and several others, please click RTÉ.


Michael Fassbender stars as Steve Jobs in biopic
The film, which will be directed by Danny Boyle, is still without a title, but Fassbender has been confirmed to play the lead role of the Apple co-founder. Fassbender will be joined on screen by Kate Winslet as former Macintosh marketing chief Joanna Hoffman, Seth Rogen as Apple co-founder Steve Wozniak and Jeff Daniels as former Apple CEO John Sculley. The past few months have been busy for the German born Irish actor Fassbender, as he only recently wrapped filming The Light Between Oceans with Rachel Weisz and his rumoured new girlfriend Alicia Vikander. For more details, please click Irish Herald.
Photo Credit & Related Story: Goss


Waterford Castle hotel sells for more than €6m
A Waterford-born businessman who has lived in Australia for the last 30 years has emerged as the successful buyer of Waterford Castle, paying over €6m for the luxury hotel, set on an island on the River Suir just below the city. The hotel castle's buyer is a 50-year old business investor Seamus Walsh, who saw off interest from home and away to secure the historic four-star castle hotel, golf course, and 43 luxury lodges — which at one time had individual price tags of €850,000 — all on over 300 acres. For more details, please click Irish Examiner.


Video: Timelapse of a snowy drive in the Donegal mountains
Plenty of folks think this whole "snow" stuff just doesn't exist. Apart from the heavy snow in Dublin yesterday evening, it's been mostly confined to high ground. Enter photographer David Porter, who took a spin from his snow-less house in Donegal up the road to a winter wonderland - and recorded it all in timelapse. To read this news item and many others, please click Breaking News Ireland.


World's 10 most amazing places you won't believe exist...
..and one of them is in Northern Ireland. Just a few years ago there wasn't even a sign to say where they were. Now the Dark Hedges at Stranocum have been rated one of the 10 most amazing places you won't believe exist on Earth. The intertwining avenue of 18th century beech trees has been featured by travel search engine Skyscanner among its top 10 list of places which are out of this world. It sits alongside Antelope Canyon in Arizona, northern Lake Baikal in Russia and The Door To Hell, a geyser in Turkmenistan. For more details and photos, please click Belfast Telegraph.


Wind power meet 42%s of Northern Ireland's energy needs on January 7th
It may not seem like an important time and date, but 2.45pm on January 7 marked a major milestone for energy in Northern Ireland, as power generated from wind reached its highest point ever. The massive 556MW of electricity generated was enough to power almost half the homes in Northern Ireland. According to Northern Ireland Renewables Industry Group (NIRIG), this January has seen the highest levels of wind energy ever recorded in the region. The record set just over three weeks ago provided 42% of electricity needs at that moment, enough to power 361,400 homes. For more details, please click Belfast Telegraph.


West Cork on radar of cruise ships
"You couldn't buy this type of publicity," said James Fogarty, a senior official at Cork County Council, beaming in delight at the latest issue of the bible for cruise ship company executives. The council has been helping to spearhead a drive to get more cruise ships to anchor at Bantry and Glengarriff and the latest issue of Cruise Business Review, which is the bible for cruise company executives, should do wonders for that effort. Two journalists working for the globally distributed publication came to Ireland to do a feature on what sights the country had to offer. A large proportion of the several pages they produced highlight the West Cork region in particular. For more details, please click Irish Examiner.


Rory McIlroy: Conditions too easy in Dubai
Bernd Weisberger made the most of lower than predicted winds to fire a flawless 64 and take a one-shot lead into the second round, with 18 players within three shots of the Austrian. One of those is McIlroy, whose 66 was enough to leave him six under, two off the lead, as he chases victory after finishing second in his last three events. The wind normally poses some challenge in Dubai but still conditions led to low scoring and McIlroy, who started on the 10th, admitted he would have liked more of a test. "I'd be disappointed if I didn't shoot anything below 68 today, especially with the conditions and 66 is a nice start," he said. For more details. please click RTÉ.

January 29

Many roads impassable as snow falls across much of ireland
Many households across the country have woken up to blankets of white on Thursday as snow and ice swept over the country overnight. Met Éireann had predicted up to 3cm of snow in some areas, with Connacht, Ulster and Leinster due to be the worst affected. A status yellow snow and ice warning is in place for most of the country, while an upgraded status orange snow and ice warning has been issued for Cavan and Monaghan. For more details, please click Irish Times.
Photo Credit: Niall Carson/PA.
Photo Gallery: Irish Independent


Belfast poet Michael Longley earns poet keys to the city
The award winning poet has written evocatively for more than half-a-century, taking inspiration from Greek mythology, the military career of his father, the city of Belfast, the Troubles, Sligo and nature. His work has won some of the top literary prizes in the world, including the Queen's Gold Medal for Poetry, the Wilfred Owen Medal, the Whitbread Prize, and the TS Eliot Prize. The 75-year-old received a CBE from the Queen in 2010 and is now expected to become a freeman of Belfast. For more details, please click Belfast Telegraph.


When Irish was still the greatest little language in the world
A widespread claim among speakers of Irish well into the nineteenth century held that the language possessed such a tremendous antiquity that it had been spoken by Adam and Eve. If the idea of the first humans of the biblical account of the world's origins passing their days chatting in Irish in the Garden of Eden strikes us as incongruous, that only demonstrates the distance Ireland has traveled in the past 200 years in its relationship to the language. For more details, please click Irish Times.
Photo Credit: Rod Tuach


Stephen Colbert to receive Oscar Wilde Award
American television host, satirist and author Stephen Colbert is to be honoured by the US-Ireland Alliance at its 10th annual Oscar Wilde Awards in California next month. Colbert said of the honour: "My great-great grandfather sailed from Limerick with but two goals: 1) get a job digging the Erie Canal, and 2) party in L.A. I am proud to fulfil his dream." Irish painter Colin Davidson will also be honoured at the awards this year, with singer-songwriters Gavin James and Megan O'Neill performing at the ceremony. The awards ceremony will take place on February 19 with Abrams the MC on the night. To read this news item. please click RTÉ.


Limerick man foils attempt to break seal on emergency exit door during flight
The bravery of a quick-thinking Co Limerick man prevented a major emergency aboard a flight from Hong Kong to Heathrow last weekend. The Kilcornan native, who wishes to remain anonymous, was returning home from holidays last Saturday morning when the frightening incident occurred just 15 minutes into the 12-hour flight. The heroic farmer had to wrestle an "agitated" passenger to the ground after he apparently tried to break the seal on an emergency exit door. "The man wasn't very co-operative with the flight attendants and wouldn't stay in his seat," he said. For more details, please click Breaking News Ireland.


Drinkers across the world are falling out of love with Guinness
But the iconic stout is making a comeback in its home country. Guinness continues to fall out of favour with international drinkers – despite the iconic stout making a comeback at home after half a decade in the doldrums. Multinational drinks company Diageo, which owns the Guinness brand, today said its worldwide Guinness sales went down 4% for the last six months of last year when compared to the same time in 2013. However, Guinness sales in Ireland were up for the first time in more than six years, according to Diageo's half-yearly update today. For more details, please click Journal Ireland.
Photo Credit: ceasol


Research company to create 200 Dublin jobs
An international clinical research company is to open a new innovation hub in Dublin creating 200 jobs. Icon, which provides outsourcing roles for the pharmaceutical, biotechnology and medical devices industries, is to establish the centre with a focus of bringing in faster access to large volumes of data from drug trials. The announcement was made as the Government launched its latest phase in its Action Plan for Jobs which is targeting full employment in the country by 2018. For more details, please click Breaking News Ireland.
Photo Credit & Related Story: RTÉ


Belfast Harbour handled record 23m tonnes of cargo in 2014
The performance is 46% above the low point of the recession in 2009. Trade sectors which grew well in 2014 included stone exports which were up 18% and steel which was up 38%. The level of new car imports also rose by 10% to 48,000, its highest level since 2007. Roy Adair, Belfast Harbour's chief executive, said that surpassing 23m tonnes was "a major achievement" driven by an ongoing investment programme. He also said the increased activity reflected a pick-up in the economy across the island of Ireland. For more details, please click BBC.


Rory McIlroy happy with strong start in Dubai
Rory McIlroy declared himself satisfied with his day's work after an opening 66 left him one shot off the lead midway through the first round of the Dubai Desert Classic. The world number one has finished second in his last three events and was returning to the scene of his first professional win six years ago, where he has secured four consecutive top-10 finishes. The Irishman is clearly comfortable around the lay-out and, after starting on the ninth, got off to a flying start with birdies on his first two holes and another on the 18th got him to the turn in 34. For more details, please click RTÉ.

January 28

The Flying Enterprise saga - the 'Chilean Mine Rescue' of its time
It began on Christmas Day, and for the next 14 days the sea saga off the south-west coast of Ireland was to grip the whole western world. In the dying days of 1951 and the first ten of 1952, eery day, the radio and newspaper reports became longer, more detailed and more excited as everyone — from small boys to grandparents — kept watch to learn what might be the fate of the stricken freighter Flying Enterprise and its heroic skipper, Captain Kurt Carlsen. For more details, video clip and photos, please click Journal Ireland.


Ireland's brightest and most inspirational rising stars
For a small country, Ireland punches above its weight when it comes to success stories. And the future looks like more of the same. This compilation of 20 young people Under 20 highlights amazing achievements from those still in their formative years. Many of the teenagers and young adults on this list won't be leaving the sphere of public attention anytime soon. The list is alphabetical and begins with Bertram Allen, a 19-year-old showjumper who ranks 19th in the qorld. For more details, please click Journal Ireland.
Photo Credit: Cathal Noonan/INPHO


Rave reviews for 'Brooklyn' at Sundance Film Festival
John Crowley's Brooklyn, an adaptation of Colm Tóibín's popular novel concerning a woman torn between rural Ireland and the titular New York borough, has premiered to largely ecstatic reviews at the Sundance Film Festival in Park City, Utah. Saoirse Ronan stars as the young protagonist. Domhnall Gleeson is the man she leaves behind. The Hollywood Reporter was particularly effusive. "Colm Toibin's superior novel ... has been turned into a beautiful and moving film," Todd McCarthy wrote in that trade paper. For more details, please click Irish Times.
Photo Credit & Related Story: RTÉ


Hozier to duet with Annie Lennox at Grammys
Hozier is set to take to the stage at this year's Grammy Awards for a special duet with Annie Lennox. Grammys CEO Neil Portnow said, "Throughout the years, the Grammy Awards has paired musical icons with new, upcoming artists to give fans remarkable performances that can only be seen on our stage. This year is no different and once again promises to bring together unique musical worlds in innovative ways that blend genres and create new artistic boundaries." Hozier's hit Take Me To Church is nominated in the Song of the Year category, For more on this news item, please click RTÉ.


Charming renovated school house in west Cork on offer
The former national school at Union Hall in west Cork was built in 1885 and for more than 100 years, children were trained - and restrained - there until the school finally closed in 1987. Set on an acre of grounds with lawns, mature trees, flowers and shrubs, it is surrounded by gently irregular countryside not far from the little fishing village of Union Hall which is about 1.5km away. For a comprehensive description and accompanying photos, please click Irish Independent.


Leitrim couple stage elaborate wedding entrance
Winter is a bit of a slow season on the viral wedding video circuit. But one Leitrim couple decided to have their wedding celebrations at the end of December so we have one piece of wedding entertainment to tide us over. Edel Shanley and Johnny Conroy (along with a band of merry helpers) made this madcap entrance video featuring a lorry, a tractor and all manners of hi-jinx to entertain their guests at the reception - and now it's on YouTube for your amusement. For more details, please click Breaking News Ireland.


Counting Irish hares at Belfast International Airport
For years now the Irish hare - one of the few species unique to Ireland - has been happy to make its home on the runways despite the usual noise of landing planes. Dr Neil Reid, a conservation biologist with Queen's University, is conducting the study. "They don't seem to mind about vehicles, their main concern is probably that there's fewer foxes round here and the grass is cut less often than the rest of the countryside, which does them a lot of good." For more details, please click BBC.


Irish musicians smash longest concert record
The longest concert by multiple artists lasted for 372 hrs 10 minutes and was conducted by Rí Rá, an Irish pub in Las Vegas from October 1 to 17, 2014. The assault was led by Dubliners Dave Rooney and Dave Browne of the Black Donnellys who were joined by a host of artists including Liam Reilly of Bagatelle and George Murphy of You're A Star fame. 372 hrs and 10 mins of total time beat the previous record of 360 hrs. In 2011 Dave Browne broke the Guinness World Records for Longest Continuous Guitar Playing with a 114 Hour stint on his instrument. To read this news item and many others, please click RTÉ.


The girl who touched Rory McIlroy's heart gets cancer all-clear
Seventeen year old Amy Uprichard had been battling with myeloid leukaemia. Now, she, her family and medical team have received the news they had been waiting for after she received a stem cell transfusion from her sister. "I got results last week to say that my bone marrow is clear and my blood is 100% donor. Everything is looking good and hopefully it will stay that way" she said. For more details, please click Belfast Telegraph.

January 27

Ireland's oldest man Michael Lambert, RIP
Mr Lambert who was from Ballintubber in Co Roscommon was born on 5 October 1907 in a thatched cottage, which was next to the house that he later built with his wife Mae on the outskirts of Ballymoe. He became Ireland's oldest man last November following the death of another Roscommon man, Luke Dolan, aged 108. Mr Lambert and his wife had ten children and 22 grandchildren and were married for more than 60 years. Mr Lambert attributed his good health in his later years to giving up smoking more than 50 years ago. For more details, please click RTÉ.
Photo Credit & Related Story: Roscommon Herald


St Brigid: The many lives of an extraordinary saint
By the time of the Norman invasion, more "lives" had been written about Brigid (Bridget in English, Bríd in modern Irish) than about any other Irish saint but they were mainly hagiographies intended to promote her reputation rather than biographies in the modern sense. According to one "life", when Mel, the bishop of Ardagh, was professing her, he became so intoxicated with the grace of God that he mistakenly read the wrong text from his book and consecrated her with episcopal orders. If he did, and even if a fiery column then arose from her head to signify divine approval, as also reported, she didn't use her new powers. For more details, please click Irish Times.
Photo Credit: Detail of stained glass by Harry Clarke


France honours Irish D-day veteran
Michael d'Alton was given the Legion d'Honneur on board the French navy ship Somme in Dublin Port in recognition of his role at Omaha beach on June 6, 1944. The former sub-lieutenant, who steered a landing craft tank to Normandy, joins an elite band of Irish men to receive an award created by Napoleon, and France's highest honour, civil or military. "I think the fact that this award is being awarded to me is indicative of the fact that there were tens of thousands of others who landed on the beach in France that day and other days, it's on their behalf," he said. For more details, please click Irish Examiner.
Photo Credit & related Story: Irish herald


Irish emigrants returning home for work can expect competitive salaries
More irish emigrants are returning home confident of securing employment as the professional recruitment market rebounds, according to Morgan McKinley. Not only are they returning home with hopeful prospects of getting a job, but they are also expecting to earn competitive salaries, with the recruitment consultancy stating that salary increases now back on the agenda in most areas. Increases are anticipated to increase by 5% to 10% for specialist positions in a range of sectors including life sciences, IT, accounting and finance, legal, insurance, science and engineering. For more details, please click Journal Ireland.
Photo Credit: Shutterstock


Shortlist for Irish Song of The Year announced
Delorentos, The Script and Hozier are among the acts nominated for the 2014 Meteor Choice Music Prize Irish Song of the Year. Ten Irish songs go to a public vote starting today with the overall winner revealed at the 10th Meteor Choice Music Prize Live Event at Dublin's Vicar Street on March 5. To see the complete list of songs and for a link to where you can cast a vote for your choice, please click RTÉ.
Photo: Pictured are Delorentos who were nominated for Show Me Love
Videos of all ten songs: Journal Ireland


Gradam Ceoil showcases the eclectic best of Irish traditional music
Over the past 17 years, TG4's annual Gradam Ceoil Awards have made it their business to train a spotlight on a handful of those who have pushed the envelope in a variety of ways. This year, the list of recipients is eclectic. Genius is an overused word, but it sits lightly on the shoulders of Galwegian accordionist and tune composer Máirtín O'Connor, who will receive the Gradam Ceoil TG4 Traditional Musician of the Year Award. For more details, please click Irish Times.


Country pub comes to the heart of Limerick city
Publican Paddy Kelly has turned back the clock to the days when rural pubs catered for the grocery and haberdashery needs of communities. At his premises, Charlie Malone's, in Wolfe Tone St, customers can buy anything from a side of cured bacon to a pair of wellington boots. Paddy, who hails from Bulgaden, Co Limerick, said: "I used to love the old country pubs which traded in all kinds of things other than drink, so I decided to go back to those days." For more details, please click Irish Examiner.


Baby seal rescued frpm Dublin Bay
Local photographer David Comerford spotted this stranded seal pup lying on a pipeline near Sutton, off Bull Island on Dublin's northside late last night. He wasn't sure whether it was injured or not — and due to the lateness of the hour, couldn't get through to a vet or anyone else for advice. David stayed for a few hours, and was back on the scene before sunrise this morning. The little fellow was still lying in the same spot "and had a clear injury to one of its flippers". He's been in contact with the Irish Seal Sanctuary, who have been co-ordinating the response this morning, in co-operation with a local veterinary centre. For more details, please click Journal Ireland.


Rory McIlroy and Carl Frampton share Sports Star of the Year award
A brave teenage cancer sufferer who touched the heart of Rory McIlroy has described how it was an "absolute honour" to collect the Belfast Telegraph Sports Star of the Year award on behalf of the world's number one golfer. Amy Uprichard had shot into the spotlight when Rory gave her a good luck kiss ahead of her bone marrow transplant when he officially opened a cancer respite centre in Newcastle, Co Down. Rory won the Sports Star of the Year award jointly with champion boxer Carl 'The Jackal' Frampton - the first time the judges couldn't separate two winners in the awards' 20-year history. For more details, please click Belfast Telegraph.

January 26

Government unveils new credit card sized passport card
A new passport card has been unveiled by the Department of Foreign Affairs which will be accepted for travel within the EU and the European Economic Area. Minister Charlie Flanagan announced details of the new Irish passport card today which will be available from mid-July to all Irish citizens who are over 18 and hold an Irish passport. The new credit card sized document will be valid for five years at most, or the remaining validity of a person's passport book, and will cost €35. Mr Flanagan said: "The passport card will be particularly useful for young people who use their passport booklet as identification, especially on nights out." To read this news item and many others, please click Breaking News Ireland.


Belfast to Dublin Airport €300m rail link planned
Train passengers from Northern Ireland could be set to travel directly into Dublin Airport on a new €300m service planned by the Republic's rail operator. Irish Rail chief executive David Franks said attracting rail users from Northern Ireland would be a big part of the ambitious scheme. The new line would allow intercity trains to travel direct to Dublin airport from Cork, Galway and Belfast. Dublin Airport is Ireland's biggest, offering 161 routes from 53 airlines. More than 21 million people used it last year, 570,000 of them from Northern Ireland. For more details, please click Belfast Telegraph.
Photo Credit & Related Story: Irish Independent


Incredible drone montage of the west coast just released
Videographer and drone pilot Raymond Fogarty spent plenty of time taking footage of the new Wild Atlantic Way route down the west coast over the last year. The end result was finally published today, and it's absolutely beautiful. Last year, he did a video of Cork from the air year after he bought himself a drone. It caused a little controversy at the time, with people asking what kind of permissions one needs to send a tiny aircraft over the city. Since then, Raymond has stepped into the big leagues, producing this incredible montage for Fáilte Ireland as an official tourism advert. To watch both videos, please click Breaking News Ireland.


Limerick among most affordable cities in world to buy a house
That's according to the annual Demographia International Housing Affordability Survey which found that out of hundreds of cities surveyed across the world, Limerick came joint top, with the median house price calculated to be just twice the median household income. Demographia publishes an annual list of housing affordability focusing on 378 cities in nine countries linking median household income to median house prices. Overall, the most affordable major metropolitan area was Detroit, Michigan, while the most unaffordable is Hong Kong at 17.2. For more details, please click Irish Examiner.


Press Photographer of the Year Awards 2015: Holy Gust blows away the judges
God moves in mysterious ways, but he must also have a wicked sense of humour. A photograph called The Holy Gust capturing the moment the wind caught the robes of a laughing Archbishop Eamon Martin has come second in the Press Photographer of the Year Awards 2015. Margaret McLaughlin from Londonderry was runner-up the Daily Life & People category for the playful image, and third in the Nature and The Environment category for Fresh Fish. Out of more than 2,200 photographs, the top 100 were exhibited at a weekend event in Dublin organised by the Press Photographers Association of Ireland. For more details and photo gallery, please click Belfast Telegraph.


Controversial Dublin library scoops national award
Dun Laoghaire Rathdown County Council scooped the award for Best Public Building at the LAMA (Local Authority Members Association) awards last night. The awards recognise innovative projects in infrastructure, community development, recreation and social impact initiatives. The state-of-the-art LexIcon library opened in December and boasts more than 80,000 books, journals, periodicals and other items. It also houses more than 60 computers, 100 study spaces, an auditorium, civic area, a floor dedicated to local studies, a cafe and ornamental pond. The 6,500 square foot library is one of the country's largest. For more details, please click Irish Independent.


The Edge's first guitar to be sold at Dublin auction
A classical guitar that launched one of the most successful careers in Ireland's musical history has turned up at auction. The "learner's classical guitar" was originally bought by the late Gwenda Evans, a Malahide primary school teacher in the 1970s for her son David. He later joined a band called U2, styled himself "The Edge" and became one of the best-known rock guitarists in the world. But, according to Whyte's auctioneers in Dublin, "he left his first guitar behind at his mother's house". For more details, please click Irish Times.
Photo Credit: Brenda Fitzsimmons


Hurricane Fly wins record fifth successive Irish Champion
Hurricane Fly clinched a record fifth Irish Champion Hurdle by beating old rival Jezki at Leopardstown on Sunday. The 11-year-old, trained by Willie Mullins and ridden by Ruby Walsh, has won all 10 of his races at the course. Neck-and-neck with Jezki going the last, Hurricane Fly jumped the better to go clear and extend his remarkable world record of Grade One wins to 22. Arctic Fire, the other Mullins entry, overtook AP McCoy's mount Jezki in the run-in to take second place. Winning jockey Ruby Walsh said "He didn't travel with the same fluidity as he has done in the past, but I suppose when the going got a little bit tougher going to the second-last he started to pick up." For more details, please click BBC.
Photo Credit: INPHO


Irish crew sought to sail the world - no experience needed
The world's longest ocean race, a tough and thrilling 40,000-mile challenge, is on the hunt for Irish crew, and the best part — no experience is required. Understandable, then, that the organisers are confident they won't have to resort to a press-gang, opting instead for a series of recruitment events. Among those with no sea-legs in the 2013-14 edition was 40-year-old Meath garda Conor O'Byrne, who circumnavigated the globe on the DerryLondonderryDoire yacht, spending more than 11 months at sea. He said he had harboured a 20-year desire to sail around the world to test himself against nature's elements. For more details, please click Irish Examiner.

January 25

Violinist Jennifer Pike conducts master class for Belfast students
Teaching is a two-way street according to leading violinist Jennifer Pike. The former BBC Young Musician of the Year was speaking after conducting a master class for three teenage students in Belfast. She said: "Teaching really teaches you a lot, because it forces you to analyse things. I find it helps me in that way. It forces you to think very carefully, so I do enjoy it." For most of the time, however, Jennifer is extremely busy performing as a soloist with major orchestras. For more details, please click BBC.


Michael Dunlop named Adelaide Irish Motorcyclist of the Year
Road racer Michael Dunlop has edged out short circuit star Jonathan Rea to win the Adelaide Enkalon Irish Motorcyclist of the Year award for the first time. Dunlop became the first rider to win four races at the Isle of Man TT in successive years in 2014 and was a double winner at the North West 200. Dunlop was also named International Road Racer of the Year, with Rea chosen as Short Circuit Rider of the Year. For more on this story please click BBC.


Readers' Pictures: Winter wonderland snow images 2015
Belfast Telegraph readers have been busy snapping away as winter brings the first snows of 2015. Some wonderful shots of Ireland in the snow from just this past week. To view them all please click Belfast Telegraph.




To find out what a cow is feeling just touch its nose
There haven't been enough studies done into how animals express positive emotions, but the scientists at World Animal Protection (WAP) are changing that. Cows are people too. Well, not really, but you understand the sentiment behind what we're saying. They have emotions and, like people, we're sure they'd appreciate being happy more often than being sad. To read more on this story please click Irish Examiner.


Aer Lingus board 'set to accept IAG takeover bid'
Owner of British Airways and Spain's Iberia in new offer - believed to be about €2.50 a share - for Irish airline IAG has returned with a third bid for Aer Lingus and this time the board of the Irish airline looks set to recommend acceptance of the offer to shareholders. Discussions are understood to be continuing this weekend after the Aer Lingus board discussed the higher offer, believed to be about €2.50 a share, at a meeting on Friday. If the board does recommend the bid, the Government, which holds a 25.1 per cent stake, will have to decide whether to accept or reject it. For more on this story please click Irish Times.


Go Walk: The Nore Valley, Kilkenny
Here, people and place have co-existed harmoniously for centuries as the rich, verdant landscape bequeathed the necessities for untroubled living. Rolling countryside, stay-awhile villages, prosperous farms, wooded hillsides and unhurried rivers combine to make Kilkenny a mountain- and coastline-free county of, otherwise, huge variety. And the city, which was founded in 1207, has rarely had a dull moment since, with Normans, planters, Jacobites and latterly tourists coming in landslides to sample its riches. And now I have arrived to celebrate my 100th walk for the Irish Times with a long promised treat – tagging the meandering Nore Valley Walk upstream from Bennettsbridge to the beating heart of the medieval city. For more on this article please click Irish Times.


Daring rescuers save climbers stuck on frozen Carrauntoohil
A trio of climbers became trapped on a narrow ledge about 210m from the summit Three mountain climbers who were left dangling on a snow-covered ledge near the summit of Ireland's highest peak planned to celebrate their dramatic rescue last night with a pint. For more on this story please click Irish Independent.


Dublin Zoo plans Valentine's picnic for couples with mating calls and talks on 'exotic romantic rituals'
Adventurous couples seeking an alternative Valentine's Day should look no further than Dublin zoo, which has planned early morning picnics designed to capture the sights and sounds of the zoo's residents getting jiggy. For more on this story please click Irish Independent.


10 things to do in Dublin this weekend
This time last month, it was Christmas. Take a moment, if you like, to process that information. Yep, the weeks are flying in, and hey, we're even beginning to notice a slight stretch in the evening. So, don't waste any more time. Grab your coat – we've got your weekend sorted… For more on this story please click Irish Herald.


January 24

Dublin is the second best place in the world for North Americans to live
A new study has put Dublin as the best place in Europe - and second in the entire world - for US citizens to live in. The Republic of Ireland capital came second in a study comparing 450 places for 'liveability' for North Americans, losing the top spot to Toronto.
The study, compiled by consultancy firm ECA international, measures factors including climate, health services, housing, isolation, social life, safety, and air quality. For more details and a list of the top twenty cities, please click Breaking News Ireland.
Photo Credit: Condé Nast Traveller


Irish scientists develop test which can detect heart attacks almost instantly
Thousands could be saved thanks to a newly developed €13 blood test which can detect heart attacks almost instantly in those with acute chest pains. Currently it can take upwards to six hours to properly diagnoses a heart attack, during which a sufferer is more likely to undergo another attack or suffer further cardiac damage, but the newly developed H-FABP test aims to cut that time down to less than 30 minutes. The system has been successfully used in a trial at Manchester Royal Infirmary in the United Kingdom and has now been made available in Ireland. For more details, please click Irish Independent.


Ireland's top press photographers awards for amazing photos
Talented photographers working around the country have been awarded for their great work. The Press Photographers Association of Ireland (PPAI) has been handing out gongs to the best snappers from publications, and the winning photos are incredible. More than one hundred photographers entered the awards this year and Alan Betson of the Irish Times claimed the title of Press Photographer of the Year 2015. His winning photograph is pictured. To view some of the other prize winner pics, please click Journal Ireland.
Photo Credit & Related Story: Irish Times/Alan Betson


Charity no laughing matter for Brendan O'Carroll
Funny man Brendan O'Carroll was feeling a bit embarrassed about being named National Philanthropist of the Year by the Community Foundation for Ireland yesterday. "If this was an award for best TV sitcom, I would know exactly what to say," said Brendan. As well as the Saint Vincent dePaul (SVP), Brendan supports Irish Autism Action, Debra Ireland, the Grace Nolan Foundation, and Our Lady's Children's Hospital, Dublin. Brendan, said the SVP had been very good to his mother, a widow with 11 children. "Every Friday night Uncle Vincent and Uncle Paul called up to the house to see if she was all right," he said. For more details, please click Irish Examiner.
Photo Credit: Jason Clarke Photography


Design matters: A guide to who's who in the Irish design world
We eat off it, sleep in it, wear it, sit on it and work with it. When we're sick it is part of the apparatus of making us well again and it's impossible to imagine our lives without it. Design matters. Here's a Who's Who round up of just some of the people shaping our lives for the better. It doesn't have the sexiest name in the world, but industrial design is at the heart of making our lives easier, and sometimes, as in the case of medical equipment design, it is, literally, lifesaving. For more details, please click Irish Times.


Belfast Fashion Week: A palette of citrus bursts on the catwalk
The 19th FashionWeek season runs from March 19-22, showcasing the best of Northern Irish designers, independent boutiques and international high street names. In terms of trends, expect bright yellows and lime greens to brighten the catwalk. There will also be some welcome returns, according to event director Cathy Martin. "An eclectic mix of vintage prints and fabrics inspired by fashions of the 1970s will also abound, with full-flared trouser silhouettes and belted-in waists everywhere," she said. For more details, please click Belfast Telegraph.


A new chapter in Derry history
An ancient building that predates Derry's walls has been discovered along with musket balls, a small cannonball and a number of intact wine bottles. The building, believed to have been burnt down during a rebellion known as the O'Doherty rising, in 1608, had stone foundations, a cellar and upper floors made of timber. The earliest find was a shard of medieval pottery dating to AD 1200-1400. Only a small part of the building has survived. Environment Minister Mark H Durkan, has described it as highly significant. For more details & photos, please click BBC.


WWI trench system unearthed in Cork
Archaeologists at a military camp in North Cork have discovered one of the largest and best preserved First World War underground bunker and trench systems ever built in Britain and Ireland. Details of the find by a team from Queen's University Belfast show the underground bunkers, built around 1915, could have accommodated sleeping quarters for up to 300 troops. Academics specialising in archaeology and geology started out on their mission after acquiring historical maps which showed huge fortifications were built at Lynch Camp, Kilworth, shortly after the outbreak of the war. For more details, please click Irish Examiner.
Photo Credit: Foteca Gilardi/Getty


Battle of Waterloo: Soldier's medal found 200 years on
A Battle of Waterloo medal awarded to a Co Down soldier who was wounded fighting against Napoleon has been found almost 200 years on. Private Peter McMullen was wounded by French cannon fire but was saved by his heavily pregnant wife who ran onto the battlefield and dragged him to safety. Pte McMullen was a member of the 27th (Inniskilling) Regiment of Foot. His medal, found in England, is to be presented to the Inniskillings Museum in Enniskillen, Co Fermanagh. where it will be put on display in May. For more details, please click BBC.

January 23

Watch: Dramatic rescue of Irish fishermen moments before their boat sinks
Irish vessel the Iuda Naofa started taking on water about 48 miles north of the Isle of Lewis on Monday morning and made a distress call to the coastguard. A rescue helicopter was sent to the scene and dropped a salvage pump to clear water from the boat, but it was soon swamped and started to sink. A large wave crashes into the sinking vessel, sending four of the stranded crew into the sea. The coastguard managed to reach all of the crew stranded in the water. To watch the video, please click Irish Examiner.


Seamus Heaney: "If I described myself as an Ulsterman…
… I'd have thought I was selling a bit of my birthright" In one of his last interviews, the Nobel Prize winning poet spoke to the BBC's Mark Carruthers for his book, Alternative Ulsters, Conversations on Identity. "For a long time the name Ulster was used by people of a unionist persuasion as a kind of signal that for them, Ulster was British. Ulster in that case stood not so much for the six counties bounded by the border, but for a Northern Ireland affiliated to the UK…" Mr. Heaney said. To read more from the interview, please click Irish Times.


TripAdvisor reveals its Top 10 Irish hotels
Harvey's Point in Donegal was the big winner in the TripAdvisor's 2015 Travellers' Choice awards, bagging the top spot for a third year in a row. As well as taking TripAdvisor's 'No.1 in Ireland' title, Harvey's Point ranks as sixth best hotel in Europe and 18th best hotel in the world in the 2015 awards. Hoteliar Deirdre McGlone reacted to the news: "The entire team is absolutely delighted at this hat-trick of successes." For more details and a list of the top 10, please click Irish Independent.


Dublin-based billing software firm to create 100 new jobs
Founded in in 2010, Brite:Bill is looking to hire recruits on foot of winning a lucrative contract in North America. The company said it is looking to hire a mix of specialised talent across all areas of its business with an immediate requirement for software developers, system architects and project managers. The new recruits will be hired over the next two years with half coming on board this year. Some 75 will be based in its new Dublin headquarters with the remainder in its North American offices. For more details, please click Irish Times.


Archive material provides glimpse of past
Archive material can ignite the imagination and the digitisation of thousands of broadcasting clips by the BBC has opened up new windows of opportunity for viewers and listeners. BBC News NI Live has been serving up some tasty cuts of video since its launch earlier this month, including a review of the meals on wheels service in Lisburn, Co Antrim, more than 40 years ago. Elizabeth Hanna was delighted to see the clip of her grandmother Mary McWilliams with reporter Malcolm McCallister. She said it had brought back fond memories of her relative, who she visited regularly. For more details & video clip, please click BBC.


You have to see Miss Ireland's 'Celtic Warrior' costume
The Miss Universe contest is currently taking place in Miami, Florida and, on Wednesday night, it held it's most extravagant segment - the National Costume Show. The costumes are supposed to reflect the national identity of the participant's native country and it's a given that they're going to be totally insane. As proof, check out the costume that Miss Ireland - Lisa Madden - wore. Celtic warrior chic at its finest. For more entails and photos of other contestant costumes, please click Breaking News Ireland.


US makes call for 'Shebeen on wheels'
From caravan to bar-avan — it's the traditional Irish pub on wheels that's about to storm America. An enterprising cabinet maker in Galway has converted a battered old caravan into an authentic Irish pub. And such has been the reaction to John Walsh's Shebeen-for-hire, that he's branching into sales and is about to deliver one to Boston. John Walsh from Clarinbridge, runs Clinical Cabinets, which designs and makes laboratory, healthcare and workspace furniture. But he always longed to get involved in the pub business. For more details, please click Irish Examiner.
Photo Credit, more photos & related Story: Journal Ireland


Watch: Crisp sandwich taste test - from the classic to the simply weird
Who needs a fancy, mouth-watering, professional crisp sandwich café when you can whip up anything your heart desires at home? Well, the folks at Facts decided to do just that, channelling their inner child to make crisp sandwiches out of anything and everything they could find. The possibilities are endless. Just wait for 'The Experimental'. "It's like a party in your mouth, but instead of a party, just … pickles." nd as for the Simply Crispy Café in Belfast - they're doing well enough, it seems. To watch the video, please click Breaking News Ireland.


Natalya Coyle on winning her Pentathlon bronze medal
Modern pentathlete Natalya Coyle won the bronze medal at last weekend's Hungarian Indoor Open, achieving her and Ireland's first ever individual medal in an international pentathlon event. The medal represents a significant double for Coyle as the Dubliner also formed the other half of a duo with Eanna Bailey that won Ireland's first and only medal in a team World Cup event in the US in February 2013, when they took silver in the mixed relay. To listen to the audio clip, please click RTÉ.

January 22

The new Canadian ambassador to Ireland...
...who famously thwarted a gunman's attack on the Canadian parliament in October, yesterday presented his credentials to President Michael D Higgins at a ceremony in Áras an Uachtaráin. Kevin Vickers, who was the sergeant-at-arms in Canada's House of Commons at the time, shot Michael Zehaf-Bibeau after he killed a soldier and stormed Parliament Hill in Ottawa on October 22nd. During yesterday's ceremony, Mr Vickers, who is a descendant of Irish emigrants, spoke about his Irish heritage and the links between Ireland and Canada. For more details & video clip, please click Irish Times.
Photo Credit: Aidan Crawley/EPA


Irish entrepreneur makes CNN's list of 'tech superheroes'
Entrepreneur Jane Ní Dhulchaointigh who is originally from Kilkenny, has been named on CNN's list of seven "tech superheroes" to watch in 2015. The 35-year-old invented a material called Sugru, a moldable glue that sticks to anything from glass to wood and which then turns into a strong, flexible rubber overnight. "This self-setting material allows people to 'hack their products' – modifying, fixing and generally making regular objects better. Added to that, Sugru is waterproof, adhesive and heat-resistant," CNN said. For more details, please click Irish Times.
Photo Credit & Related Story: The Telegraph


Mrs Brown wins again at UK TV Awards
Brendan O'Carroll's Mrs Brown's Boys won for the third year in succession at the UK's National Television Awards in London's O2 on Wednesday night. The series won Best Comedy, beating Benidorm, Outnumbered and The Big Bang Theory to the award. The sitcom also won the award last year and was named Best Situation Comedy in 2013. To read this news item which includes a complete list of winners, please click RTÉ.
Photo Credit: Getty Omages
Related Story: Irish Herald


Rick O'Shea: an unversed choice for RTÉ's new poetry show
Earlier this month, O'Shea was announced as the new presenter of the Poetry Programme on Radio 1. It was not a job he had applied for. "I was asked by RTÉ if it was something I was interested in. I thought about it for about four seconds and said yes. They know I'm interested in arts programming in the long term." But, as this interview will reveal, he can't name a poem by Seamus Heaney. So, as he delves into the written word, can his popularity win over younger audiences? To read the details of this interview, please click Irish Times.
Photo Credit: Eric Luke


Proposal for Ireland's most expensive house shot down
An Bord Pleanala overturned a decision to allow a Cypriot company permission to renovate and extend Walford and build four other homes on the grounds of the 1.8-acre property on Dublin's Shrewsbury Road. The decision came after local residents, including David McCann, the boss of banana giant Fyffes, mounted a vigorous campaign against the proposals. The ruling overturns an earlier decision made by Dublin City Council to allow the redevelopment of the Edwardian era property. Walford became the most expensive dwelling in the country when it sold for €58m in 2005. It remains the highest price ever paid for a house in Ireland. For more details & Video clip, please click Irish Independent.


NI Tourist Board to be renamed
The Northern Ireland Tourist Board is be renamed following a review of the sector, enterprise minister Arlene Foster has announced. The board will become Tourism Northern Ireland and it will soon have a new chairman and chief executive. Re-branding was suggested in a recent review of the board, which made a total of 33 recommendations. Ms Foster said: "Tourism Northern Ireland will have a much greater presence at local level, developing strong relationships and increasing its knowledge of the needs of local tourism partners." For more details, please click BBC.


Trailblazing Sperrins mountain bike course pedals off with top awards
the course has won several accolades at the annual Northern Ireland Mountain Bike Awards. Of its eight categories, Davagh lifted four including favourite trail section and two for the hospitality services at the nearby Shepherd's Rest pub. The gruelling Davagh Enduro, organised by Draperstown mountain biker Michael Regan, won best event. Craig McCullough from Outdoor Concepts, the adventure company which manages the Davagh trail said "People keep coming back and it wins awards because it has some of the best trails in Northern Ireland." For more details and photos, please click Belfast Telegraph.


For the love of cod: Northern Ireland's dedication to the fish supper
The ultimate comfort food, it's been estimated that people in the UK go through 382 million portions of fish and chips each year, with a fifth of the population visiting a chippy at least once a week. In Northern Ireland the chippy industry is certainly holding its own. Fish City in Ballynahinch, Co Down was named regional winner of the National Fish & Chips Awards this week. For more details, please click Belfast Telegraph.
Photo Credit & More Pics of Fish City: Trip Advisor
Related Video of Fish City owners:: Newsletter


Seven surprising facts about how Irish people watch telly
Despite the growing popularity of Netflix and streaming services, Irish people still love their telly – and there's proof. TV ratings body Television Audience Measurement Ireland (TAM) has released figures that give an insight into just how the Irish watch telly. Some of the more surprising facts include watching around three and half hours of TV a day. Around 90% of this is live telly, while the remainder refers to "time-shifted" programmes, or shows that were recorded to watch later. Interestingly, this figure does not include watching DVDs, online players or Netflix. For more details, please click Journal Ireland.

January 21

Ireland's Great Hunger did not discriminate
The famine of 1845 targeted both the Irish Catholic poor and the Protestant poor in the north of the country, historian Dr Francis Costellohas stressed. The pioneers of a new cross-community project in Belfast are out to shatter myths and raise awareness about the shadow cast by the famine across Ulster. Sharing the Past is an initiative that brings together people from the city and from Larne to look at how the potato blight affected everyone. Dr Costello said that by 1846 one in five people in Belfast had been affected by some sort of contagion linked to the famine. For more details, please click BBC.


Cork dairy hub vision could create 4,000 jobs by 2020
Academics will deliver a report next Monday showing that Cork is ideally poised to become "a leading dairy industry hub of global significance" with potential to increase dairy exports by €450m and create 4,000 jobs by 2020. The authors — Declan O'Connor, lecturer and researcher at Cork Institute of Technology's department of mathematics and Michael Keane of University College Cork — will state that with proper planning and investment, dairy farming in the region can reap significant rewards as a result of the end of the 30 years of EU milk quotas. For more details, please click Irish Examiner.


Co Antrim B & B named second best in the world
Shola Coach House in Portrush was singled out among the elite hostelries in the Travellers' Choice Awards, which honour the most outstanding places to stay. The awards take into account the quality and quantity of traveller reviews and opinions and traveller ratings specific to each award category. Packing a coach-load of wow factor, the property at Gateshead Road drips with character and boasts four individually-styled bedrooms, an enclosed stone secret garden and sumptuous interiors in every nook. For more details, please click Belfast Telegrsph.


Brian Gleeson's horror flick to debut at US Slamdance festival
Brian Gleeson's movie, Darkness at the Edge of Town will be the first independently-funded Irish feature film to be shown at the Slamdance Film Festival in the US. "It's very surreal to be heading to Utah and we've already had to extend our trip because our film has been accepted to the San Francisco Indie Fest off the back of it, which is incredible," director of the film, Patrick Ryan said. Brian won't be making the trip but his co-star Sam Monaghan is looking forward to it. "It's a great chance to show what huge talent we have here in Ireland." For more details, please click Irish Herald.


RTÉ 2fm presenter Hegarty hails Irish acts at Eurosonic Festival
RTÉ 2fm presenter Dan Hegarty says that Irish acts at this Eurosonic Music Festival in The Netherlands were one of the biggest draws of the whole week. Derry teenager Soak and Gavin James were among the acts representing Ireland at Eurosonic, the biggest music festival in Europe. Hegarty, presenter of 2fm show The Alternative, said: "The Irish accounted for themselves very well at this year's festival. Trying to get into the venues where Soak and Gavin James were playing proved very difficult, which is always a good sign. For more details, please click RTÉ.


Stars go Gaga for Irish web design company
Avalanche Designs, founded by Kerry man CEO Aidan O'Carroll counts stars such as One Direction, Lady Gaga, and Miley Cyrus among its famous clients. And he has made one family's dream come true by giving them the chance to meet One Direction. Aidan even got Harry Styles to ring the family and deliver the good news personally. Apart from One Direction, Aidan also creates websites for stars such as Bruno Mars, Chris Brown, and 5SOS. The company got its big break when it was chosen from more than 50 firms worldwide to design a website for Irish-American rapper Macklemore. For more details please Irish Examiner.


Ad for Cork's Shakey Bridge is pure dacent
Leesiders will be familiar with the 'Shakey Bridge' that spans the river close to the city centre. Some lad called Mossy has cheekily put the the bridge up for sale on DoneDeal, and it's hilarious as he recalls his oul fella charging lads to jump off it in order to stay cool in summers gone by. "This is one of the shakiest bridges in the world, pure shakey. I had 20 people jump on it once and the bridge was very shakey. The bridge has huge earning potential too, one summer back in 1989 the old man made 17 punts and a pair of L.A gear runners,.." For more details and video clip,please click Breaking News Ireland.


Racehorse saved through technology developed by Irish scientists
Filly Annagh Haven's jaw was rebuilt following the removal of cyst. The bone repair technology, called HydroxyColl, allows lost or damaged bone to be regrown. It was developed by researchers in the Advanced Materials and BioEngineering Research Centre, a collaboration involving Trinity College Dublin, University College Cork and the Royal College of Surgeons in Ireland. The filly's successful return to the track was a research highlight presented on Tuesday at an industry day marking the centre's first year in operation. For more details, please click Irish Times.


Seamus O'Connor earns top-10 finish in Snowboard Slopestyle World Championships final
The Irishman earned the top-10 finish in Kreischberg, Austria this morning, marking a significant turning point in his young career. Seamus has been working on a number of new routines with coach Sam Wilkinson since reaching the semi-finals of both the men's slopestyle and halfpipe at the 2014 Sochi Olympics. While O'Connor could only finish 10th, his achievement still promoted the Olympic Council of Ireland to declare that he had consolidated his position as one of the word's best young snowboarders. For more details, please click Journal Ireland.
Photo Credit & Related Story: Irish Independent

January 20

'Hobby Horse Man' Colum Quinn, RIP
Tributes have been paid to Colum Quinn, who had a long association with the carousel at Barry's Amusements in Portrush. The Antrim grandfather had worked at the seaside attraction since the 1950s. Colum's brother Thomas Quinn said that the outpouring of grief from the public had been overwhelming. "He was one of those fellas who had a knack with people. He had great success with the carousel because people warmed to him. He liked to see generations of people come back with their own children and when people said it was some of the happiest times of their lives being on the horses." For more details, please click Belfast Telegraph.


New Mount Stewart chapter as house and gardens are reunited
One of N I 's most famous stately homes and gardens is to be united with its historic demesne for the first time in more than 50 years. Mount Stewart estate on the Ards Peninsula was first divided in 1957, when the gardens were taken over by the National Trust. The world famous house and most of its contents have been owned by the conservation charity since the last chatelaine of the house and last surviving child of the 7th Marquess, Lady Mairi Bury signed it over in 1977. For more details, please click Irish News.
Photo Credit & Related Story: The Telegraph


UCC ranks as world leaders with their green credentials
University College Cork has, for the second year in-a-row, come second in the world in the Universitas Indonesia Greenmetric World University Ranking as well as placing second in the 'Urban' campus setting category. Up against 360 other universities from around the world, UCC was recognised for its efforts towards campus sustainability and an environmentally friendly university. They are now leading the field of Urban campuses, having been ranked in second place last year as well, ahead of the University of Nottingham and Northeastern University in the USA. For more details, please click Irish Examiner.


Amateur photographer captures 'once in a lifetime' fireball photo
Amateur photographer Graham Harkness was taking photographs of the beautiful night sky over Dalkey, Dublin when he managed to capture the shot professional astronomers can only dream of. The talented Harkness had perched himself in Dylan's Park, Dalkey right on the coast. and pointed his camera out over the Irish Sea towards Dalkey Island at around 10.30pm in order to get as many stars in his picture as possible, but little did he know the rarity of what he was about to catch. For more details, please click Breaking News Ireland.


Hotel makes a prize-winning drama out of saying I Do
Hotel Doolin in North Clare has commissioned a five-part drama based on the relationship of two strangers who meet for the first time at the hotel. The film, which was shot on location at Hotel Doolin over five months, is set around two people visiting the area for the annual Doolin Writers Weekend and then again at the Folk Fest and Craft Beer Festival. The first episode, entitled "Say I DOolin" and produced by filmmaker James Skerrit, was published on Monday January 19 on YouTube and new episodes will appear every day this week until Friday. For more details and to watch episode one, please click Irish Examiner.


Dripsey Castle House to become €2m family home
Originally standing on a demesne of 1,400 acres, and including the remains of Carrignamuck, or Dripsey Castle, a tower house built by Cormac Laidir McCarthy in the 15th century. The Georgian manor house was built by John Colthurst and his wife Jane Bowen in the late 18th century and was latterly owned by the O'Shaughnessy family who set up Dripsey Woollen Mills. On the market for just six months before being sold at the end of last year it was purchased by a UK-based buyer with Cork connections. It's believed it will be restored to a family home. For more details, please click Irish Examiner.
Photo Credit & More Photos: Daft.ie


Oscar fever down on a farm in Co Armagh
The short film Boogaloo and Graham starring two chickens owned by farmer Kenny Gracey in Tandragee won a nomination for this year's awards. You could say that Kenny plays host to a whole cast of Hollywood hopefuls. The Doctor Doolittle of NI's film world has his own menagerie of movie star animals with a list of credits to their names. Game of Thrones, Dracula, Robot Overloads, The Survivalist ... the Gracey clan have squawked, clucked and moo-ed their way through them all. For more details, please click BBC.
Photo Credit: Awards Watch


Irishman wins 100km South Pole race
Keith Whyte from Ennis, Co Clare has taken his sport to the extreme as the winner of the 100km Antarctic Ice Marathon in temperatures of -30 degrees. The Antarctic Ice Marathon is the only marathon run in the interior of the Antarctic and is organised by Polar Running Adventures. In total, 24 athletes from around the world took part in the event, which took place last Thursday. Keith finished the race in nine hours, 26 minutes and two seconds, almost two hours ahead of his nearest competitor, another Irish runner, living in Switzerland, Kevin McGeeney. "It was actually my slowest time but to be nearly two hours ahead of second place, I was delighted with that," he said. For more details, please click Irish Herald.


Water polo legend Tommy Kirk, RIP
The world of sport has taken a big hit with the passing of a true Corinthian. Tommy Kirk began a life-long love affair with water polo as a child during the war years when he walked through the doors of Templemore Avenue Baths in Belfast. He joined the famous old Donegall club, which was heavily family-orientated. They enjoyed a fair bit of success at junior and underage level but the big one, The Irish Senior Cup, always eluded them. That is until 1978, when at the age of 41, the tough defender picked up his first winner's medal. For more details, please click Belfast Telegraph.

January 19

Heavy snowfalls due as coldest days of the year loom
Forecasters have warned that the sub-zero snap holding NI in its icy grip is set to last for at least another week, with the coldest days of the winter yet to come. As temperatures were forecast to dip as low as -6°C in some parts of Northern Ireland - such as Katesbridge in Co Down - last night, another wintry blast was following closely behind today. The Met Office issued a yellow weather warning for snow, sleet and rain to sweep in this evening. For more details and photo gallery, please click Belfast Telegraph.
Photo Credit & Related Story: Irish Independent


Memories take flight as Ireland's gateway celebrates 75 years
From Pope John Paul to T2 and Ryanair to the Beatles, here's a look back at the most memorable moments in Dublin Airport's 75-year history. It opened for business on Friday, January 19, 1940; a single flight took off that morning, on a grass runway, destined for Liverpool's Speke Airport. As the propeller-driven Aer Lingus Lockheed 14 took to the skies, Éamon de Valera was Taoiseach and World War II was in full swing. That meant that, for five years, the airport was "effectively mothballed." For more details and photos, please click Irish Independent.
More photos and video clip: Journal Ireland


Jobs boost for Shannon, Dublin, Kilkenny and Tralee
California-based Amax is establishing its European manufacturing facility at Shannon in Co Clare, which it says will bring 100 jobs to the area over the next five years. Meanwhile, Sector Alarm Corporation, is creating 45 new jobs in three offices in Dublin. Also, Foreign exchange company TransferMate has announced 25 vacancies at its Kilkenny centre, and 20 new jobs will be created following the launch of Irish TV's new Munster regional hub in Tralee, Co Kerry. For more details, please click RTÉ.
Photo Credit & Related Story: Breaking News Ireland
Irish TV's new Munster regional hub in Tralee, Co Kerry


Swan counters out in force to track movements of migratory birds
More than 300 people took part in the all-Ireland swan census over the weekend. Once every five years, this census tracks numbers of whooper swans and Bewick's swans. These two migratory species visit Ireland every winter but have experienced mixed fortunes in recent years. The number of Bewick's swans has been falling: just 80 were recorded in the last census in 2010, compared with thousands a few decades ago "In contrast, whooper swans are continuing to increase, with more than 15,000 birds recorded in 2010." said Niall Hatch, development officer with BirdWatch Ireland. For more details, please click Irish Times.
Photo Credit: Cyril Byrne


'Leprechauns' cave' given planning permission
The project is the mastermind of Carlingford native Kevin Woods, who had already developed the site beside Carlingford Lough. However, Louth Councy Council said he needed planning permission, so he applied for retention of the underground cavern at Ghan Road, Carlingford. The Trip Advisor page for attractions in Louth has ranked it as the number one attraction, ahead of St Peter's Church, home to the head of St Oliver Plunkett, and Dundalk Stadium. For more details, please click Irish Times.
Photo Credit & Gallery: Trip Advisor


Waterford bridge to be named after patriot who raised tricolour
One of the last major infrastructural projects to be unveiled in Ireland in recent years is to be named after the patriot who first raised the green, white and orange tricolour which became the Republic of Ireland's national flag. The bridge, which spans the river Suir outside Waterford and was opened in 2009, will be named the Thomas Francis Meagher Bridge, in honour of the man who played a key role in the 1848 rebellion before being transported abroad and ending up as a friend of President Lincoln and governor of Montana. For more details, please click Irish Examiner.


Historic Navigation House rescued from wrecking ball
It was destined for the wrecking ball - but now, Navigation House on the banks of the Lagan Canal has won a new lease of life. Once the home of the Lagan Canal manager in the days when coal lighters plied Northern Ireland waterways, it will now be the new headquarters of the Lagan Canal Trust. The Trust, which hopes to reopen the disused Lagan Navigation, has found the perfect headquarters in the house which sits beside Lisburn's four Union Locks, the only staircase lock on the island of Ireland. For more details, please click Belfast Telegraph.


Title beckons as McGregor downs Siver
Conor McGregor booked his place in a UFC title fight against Jose Aldo with a second-round TKO over Dennis Siver in Boston. McGregor took control of the bout two minutes into the first round, landing combinations and wriggling out of Dennis Sivers attempts at take-downs. McGregor sensed victory with Siver's face reddening and sent the German down with 3:25 remaining in the second round. McGregor is now expected to fight Jose Aldo for the UFC featherweight title in Las Vegas. For a blow by blow description and video clip, please click Breaking News Ireland.
Photo Credit & Related Story: RTÉ


Ireland win series after Scots game is abandoned
Ireland clinched the tri-series in Dubai after their game with Scotland was abandoned without a ball bowled. There had been hopes for a 20 over title decider and indeed there had been a toss which had seen Ireland opt to bowl first. However just before play was due to commence, further rain left the officials with no option but to call the game off - the first time there has been a no result in an ODI in the UAE. The final table saw Ireland victorious with five points, ahead of Afghanistan on four and Scotland on three. For more details, please click RTÉ.

January 18

Dublin voted fifth best shopping city in world
Readers of Conde Nast Traveller have voted Dublin in fifth place in a new poll of the planet's top 24 shopping destinations Bustling Barcelona tops the rankings, with Philadelphia, Hong Kong and Chicago in second, third and fourth places respectively. The Irish capital comes out ahead of more celebrated shopping Meccas like London, New York and Paris. with travel bible singling out the city centre's fashionable 'Creative Quarter' as a must-see, heaping praise on the area's eclectic mix of shops, cafes, galleries and restaurants. For more details, please click Irish Independent.
Photo Credit & Video Clip: Dublin Fashion


World Vision Ireland working to develop Ebola vaccine
World Vision Ireland, non-governmental organisation, has partnered with Innovative Medicines Initiative to support its Ebola Plus vaccine programme. World Vision Ireland's health programmes coordinator for east and west Africa Magnus Conteh said that the vaccine will have a huge impact on areas affected by Ebola. "Our focus is on the well-being of children, as well as addressing the needs of the disadvantaged communities in these poor countries," he said. For more details, please click Breaking News Ireland.


Return of Sean Quinn 'worth millions'
The return of Ireland's one-time richest man to part of his old empire after bankruptcy has attracted dozens of big clients back to do business, his colleagues have said. Entrepreneur Sean Quinn's three-year hiatus ended last month when he emerged as a consultant at the former headquarters of his manufacturing plants on the Irish border. And the local businessmen and former directors in the defunct Quinn Group who back his quiet reappearance have claimed the prospect of the old boss walking the factory floor drove a string of deals in the last month. For more details, please click Breaking News Ireland.


Uncovering another Ireland… by cycling 1000kms along an old railway line
Artist Pamela De Brí hopped on her bike two years ago to travel 1000km along the old Midland Great Western Railway network. Along the way, she met and interviewed the people who make their homes in the old railway buildings along the old line; photographed the long-abandoned parts of the route; and discovered much about an Ireland that she knew little about. The result are displayed in her new exhibition, 'Midland – Lár Tíre: Cycling the MGWR from past to present', at the National Photographic Archive in Temple Bar's Meeting House Square. For more details, please click Journal Ireland.


Top secrets of success from homegrown inspirations
The Irish Independent asked some of Ireland's most accomplished figures in the worlds of arts, politics, sport, culture, entertainment and business to share with them what they believe made them the successful people they have become. Contributors include chef Rachel Allen, singer Saron Corr, author Colum McCann and Dr Rhona Mahony (pictured) who is, Master of Holles Street Maternity Hospital; she had just one word of advice: Courage. To read the more than twenty contributions, please click Irish Independent.


Éilís Ní Dhuibhne to receive the Irish PEN Award
The bilingual author of 24 books is to receive the award for Outstanding Contribution to Irish Literature 2015. Speaking today, Éilís Ní Dhuibhne said: "It's a great honour and a great delight to receive this award from Irish PEN and to find myself in such illustrious company as Edna O'Brien, Maeve Binchy, Jennifer Johnston and Frank McGuinness." The Award will be presented at the Irish PEN annual dinner on Friday, February 20th, at the Royal St George Yacht Club, Dún Laoghaire. For more details, please click Irish Times.


NI's Jamie Dornan subtitled on TV
Entertainment broadcaster E News did not think viewers would be able to make out what The Fall and Fifty Shades of Grey star was saying, so used subtitles over an interview with him. The Co Down man is not the only casualty. The BBC was accused of being 'anti-Irish' last year when Castledawson blacksmith Barney Devlin - the inspiration for Seamus Heaney's poem, The Forge - was subtitled on the Countryfile rural affairs programme, and pop singer Nadine Coyle's voice is regularly accompanied by subtitles in America. For more details, please click Belfast Telegraph.


The 17 definitive hipster baby names in Ireland
What do you do when you have a baby and really want to be cutting edge with the name choice? Well, worry no longer, Journal Ireland is here to help. According to the 200 most popular baby names in Ireland for boys and girls under three in 2014, they have got some interesting ones coming on the radar here. (If you already happen to have a child with one of these names, count yourself lucky; they're likely to be the only kids in their class with the moniker and you're on the cutting edge when it comes to baby names. You cool cucumber, you) For more details, please click Journal Ireland.
Photo Credit: PA Archive/Press Association Images


The perfect home for horse lovers?
For anyone looking for a base from which to pursue equestrian activities, Hollywood House in Glenealy, Co Wicklow is a property that will appeal. With 100 acres of its own - much of it laid out in paddocks - and adjacent Coillte forestry land ideal for riding out, plus numerous stables, a stable yard and a groom's cottage, a horse-lover would rarely have to venture beyond the immediate hinterland. With the current owners moving to a smaller home, the vast 18th century estate is on offer for just €3.5m. For more details and photos, please click Irish Independent.

January 17

Irishman Paddy Sherlock sings at 'Charlie Hebdo' editor's funeral
Irish musician Paddy Sherlock, who has been based in Paris for the last 25 years, was asked to play and sing at the funeral of Charlie Hebdo editor Stéphan Charbonnier (Charb) on Friday."I sang at the end – we played him out with Dirty Old Town, following the coffin like a New Orleans funeral. It was beautiful – there was a lot of feeling and raised fists." "Two days ago, Pelloux called me in tears. He said you have to come and play that song, Dirty Old Town. It is a sacred song. Charb loved it…" For more details, please click Irish Times.
Photo Credit: Thomas Ohrasser


Irish Times Irish Theatre Awards: And the nominees are...
Recognising the best performances and productions in Irish theatre in 2014, shortlists have been announced across 13 categories. Among the most nominated productions are: Landmark's Ballyturk, by Enda Walsh; the Abbey Theatre's Our Few and Evil Days, by Mark O'Rowe; and the Lyric Theatre's Punk Rock, by Simon Stephens. Each has been nominated for six awards. Among the actors nominated are Cillian Murphy, Aoife Duffin, Marie Mullen, Ciaran Hinds and Aisling O'Sullivan. For more details, please click Irish Times.
Photo Credit: Pictured is a scene from Ballyturk


The famous Irish designer who almost lapsed into obscurity
Angular steel tubing, Japanese-inspired lacquer screens, barely-there lighting stands, geometric designs woven into rugs; a villa named E-1027, built overlooking a bay in France. These are what obsessed the Irish designer Eileen Gray, as she broke new ground in the Modern movement, and stunned the architecture and design worlds with her work. Given the recent retrospective of her works in two of Ireland's museums, the books, documentary, and gasps at the €20 million sale of one of her chairs, you may be led to believe that Gray has had consistent support in the design world. For more details and photos,, please click Journal Ireland.
Photo Credit: PA Archive/Press Association Images


Watch! Auditions in Dublin for new girl group
EMI Records boss Ellis Rich, who gave Simon Cowell his first music gig, was in Dublin today on the hunt for a new international girl band to be called Office Girls. TEN was there to check out the auditions. Rich, who has worked with Lady Gaga, Celine Dion, Taylor Swift and Britney Spears, told TEN that he was "blown away" by the Irish talent. The search for a singer aged between 16 to 24, who works in the office, retail or hospitality sectors, have already taken place in London, Glasgow, Manchester. Watch and see if there's a new Saturdays or Girls Aloud in the making. To watch the video, please click RTÉ.


Priest's photographs of Titanic go on display for first time in NI
Frank Browne: Through The Lens is an exhibition of more than 100 photographs taken by the famous Titanic passenger Fr Browne - often described as the "father of photo journalism" - who was ordered off the liner by his superior at Cobh. The free exhibition, which opened yesterday, includes striking images taken by Fr Browne during his time serving as a chaplain in the First World War as well as a range of pictures from his world travels. In 1912, he earned worldwide fame when his Titanic photographs were published by a host of newspapers. For more details, please click Belfast Telegraph.
Photo Credit & Gallery: BBC


There's gold in them there stills
There seems to be a bit of a gold rush going on in Ireland of late. Not for the metal variety. The gold in this case is in liquid form, aka whiskey. After almost a century in retreat, the Irish distilling industry is undergoing a big revival. And although it seems a contradiction in terms, the latest green shoot was this week's official opening of a museum – The Irish Whiskey Museum – in Dublin's College Green. With cameo roles involving Queen Elizabeth I, among others, the whiskey story is told over three storeys of the architectural kind. For more details, please click Irish Times.


Michael Flatley meets one of his biggest fans and then is made honorary Cork man
Dance superstar Michael Flatley got a Rebel passport and found a new dance partner after meeting one of his biggest fans yesterday. Mr Flatley, who jetted in to Cork Airport at 11am ahead of the Cork Person of the Year awards ceremony to be made an honorary Cork man, took time out to meet Irish dancer Kerri Hourigan, 14, from Douglas, in the arrivals area. Kerri, who is recovering from spinal surgery and is under doctor's orders not to dance for six months, said meeting her hero was the best day of her life. For more details, photos and video clip please click Irish Examiner.


Irish takeover begins in Boston ahead of Conor McGregor's primetime showdown
Boston has always had an Irish heart, but it's beating a little bit faster this week. Somewhere in the region of 2,000 fans are expected to touch down in the City of Champions before Sunday night, all sharing single-minded purpose. They're not here for a holiday; they're here for the latest phase of an invasion. And everywhere you look, the face of their leader is staring back at you. From the side of buses, from taxi roof signs, from the bins on the street corners — you name it, it's got a picture of Conor McGregor on it. For more details, please click Journal Ireland.
Photo Credit Related Story: CBSBoston/Jared Wickerham/Getty Images


Stephanie Roche lights up the Late Late Show
Stephanie Roche appeared on RTÉ's Late Late Show and spoke with host Ryan Tubridy about her memorable week, which saw the Ireland international come runner-up in the FIFA world goal of the year award, and meet soccer legends Cristiano Ronaldo and Lionel Messi in the process. Indeed the picture snapped of Ronaldo and Messi 'eyeing up' the 25-year-old Dubliner went global and Roche said a lot of her friends texted her directly after the awards saying "don't be too disappointed – you had two of the best footballers in the world eyeing you up!" For more details and video clip, please click RTÉ.

January 16

First direct flight from NY to Knock announced
It will be the first ever transatlantic service operated by Aer Lingus – from the US to the airport – and the first official chartered pilgrimage to Ireland's National Marian Shrine. Rector of Knock Shrine, Father Richard Gibbons said, "It's important to note that Ireland West Airport Knock was built specifically to welcome pilgrims to Knock Shrine as well as to develop the economic life of the West." The Diocesan pilgrimage from the Archdiocese of New York to the shrine will take place from August 8-16. For more details, please click Journal Ireland.
Photo Credit & Related Story: Irish Independent


Medical devices company to create 250 Galway jobs
Zimmer plans to create 250 jobs in Co Galway over the next five years and develop a new facility in Oranmore. The company makes orthopaedic surgical products, such as replacement knees and hips and implants. A sales division will also be based at the new operation. The IDA and the Department of Jobs have welcomed the announcement, saying it further confirms Galway's status as a medical devices hub. The company will start recruiting staff in the coming months. For more details, please click RTÉ.


Northern Ireland short film nominated for an Oscar
The film, Boogaloo and Graham, has received an Oscar nomination in the live action short category. Directed by Michael Lennox, it is set in 1970s Belfast and is about two young boys who discover the facts of life with the help of their pet chickens. Director Michael Lennox said: "It is really overwhelming and such an honour for all the cast and crew involved to be recognised by the Academy." Written by Ronan Blaney and produced by Brian Falconer and, it stars Belfast actor Martin McCann and Charlene McKenna. For more details, please click BBC.


Irish animated film 'Song of the Sea' gets Academy nod
Irish animated film Song of the Sea will compete against some of the biggest players in the movie business after being nominated for an Oscar. It is the second film produced by Kilkenny's Cartoon Saloon to have received an Oscar nomination — the first was in 2010 for The Secret of the Kells. Song of the Sea will be vying for the award of Best Animated Feature with How to Train Your Dragon 2, The Boxtrolls, Big Hero 6, and The Tale of the Princess Kaguya, and its presence among the nominees means animated blockbuster The Lego Movie misses out entirely. For more details and trailer, please click Irish Examiner.


Wicklow's Hozier nominated for a Brit 2015 award
The nominations for the Brit Awards 2015 have been announced, and Wicklow native Hozier is in the running for the International Male Solo Artist gong. He is up against Beck, Jack White, John Legend and Pharrell Williams to pick up the award. Sam Smith leads the way with nods in five categories, including Best Male Solo Artist, British Breakthrough Act and British Single for Stay With Me. Ed Sheeran and George Ezra follow shortly behind him with four nominations each. For the full list of nominees, please click RTÉ.


Hatching plots in a Tipperary thatched cottage
In this first person account, retired Irish American doctor Bill Patterson says he didn't expect to find himself at this point in his life - writing historical fiction novels. "The inspiration for my debut novel came from the cottage itself. It was built about 300 years ago but its origins were long forgotten, its records lost or destroyed. The old place deserved a fitting history so I resolved to invent one…" …"I began writing on April 1st, 2013, the irony of which I'm sure is not lost on the reader. A month later I found myself with 300 pages of manuscript. To read this feature article, please click Irish Times.


Interview with Ruairi McSorley about 'mad craic' of internet stardom
The UTV clip of the 18-year-old from the small village of Park in Co Londonderry sharing his thoughts about his 'mather'(mother) making him go to school despite the snow and on the chill in the air he adds in his strong accent, "Oh God you wouldn't be long getting frostbit," has become an overnight internet sensation. "I didn't know we were going to be on the television at all. We just jumped out of the car when we saw the UTV van and asked them could we scowl about the snow and they said that would be 100 per cent," he said. For more details and several video clips, please click Belfast Telegraph.
Photo Credit & Extended video clip: Breaking News Ireland.


Galway pub offering free drinks if people put away their phones
The pub, whiskeys, in Loughrea, is cracking down on the bad habit of using your phone instead of actually engaging in real-life social interactions when out with friends. After observing a group of girls sitting at the bar, bar man Gary Kilcar noticed that three of them were on their phones for extended periods of time, ignoring the fourth member of their group. And he had an idea - offer people a complimentary drink if, as a group, they put their phones away for 30 minutes at a time. For more details, please click Breaking News Ireland.
Photo Credit & Related Story: Diablo


Watch: Rory McIlroy sinks hole-in-one in Abu Dhabi second round
Rory McIlroy made the first European Tour hole-in-one of his career as he closed the gap at the top of the leader board in the Abu Dhabi Golf Championship. McIlroy landed the ace on the 15th, to move up to 10 under par and third place. The world number one had started the day strongly with two birdies and reached the turn in 35, before back-to-back birdies on 10 and 11 followed by his sensational 15th hole put him within three shots of runaway leaders Martin Kaymer and Thomas Pieters. For more details and video clip, please click Irish Times.
Photo Credit: KARIM SAHIBKARIM SAHIB Getty Images

January 15

Rathlin islanders take strandings in stride
What is it like to live on a small island cut off from the mainland for days by the weather? It is something that the people of Rathlin Island, six miles off the north Antrim coast, have had to get used to over the years. The island's 125 residents were stranded for four days from Friday, as high winds meant Rathlin's ferry service was unable to sail to Ballycastle. Michael Cecil, chairman of Rathlin Development and Community Association, said while the islanders were used to being cut off from Northern Ireland for a day or two, four days was out of the ordinary. For more details, please click BBC.
Photo Credit & Related Story: Belfast Telegraph/Stephen McCauley McCauley MultiMedia
Storm Rachel update: Irish Independent


Today's best snowman and where you can buy one of your very own
You may have noticed it snowed in Ireland today, and many went a bit wild for the five minutes that it stayed around. While some have reacted with child-like wonder to the white stuff, others have been taking advantage of the abundance of the snowfall. People like Aoife, Shannon and Ciara who sent us in some photos of their 'Kim Snowdashian', which we think is the greatest man-made construction since the pyramids. However, if your dusting of snow today was so pathetic that you couldn't participate, fear not for Tommy from Athlone can save the day. For more details & Photos, please click Breaking News Ireland.


Record year for producing Irish film, TV drama and animation
Outlining its performance last year and its priorities for 2015, the Irish Film Board (IFB) reported that production activity for the independent film, television drama and animation sector is now at record levels for the third year running. The IFB has invested just under €10m, generating production expenditure of over €42m in relation to IFB funded projects last year. The news of a record year for Irish film, TV and animation comes as five films and co-productions are being showcased at the Sundance Film Festival next week. For more details, photos and video clip, please click Irish Examiner.
Film clip from Grasslabd: RTÉ


Jim Sheridan's The Secret Scripture begins shooting in Ireland
Ferndale Films has announced that principal photography on Jim Sheridan's film adaptation of 'The Secret Scripture' has begun in Ireland and is due to wrap on 6th March. Adapted from Sebastian Barry's Booker Prize shortlisted 2008 novel of the same name, the script was written by Sheridan and the late Johnny Ferguson. The Secret Scripture tells the story of a one-hundred year old women who recounts the diary of her extended stay at a mental hospital. The film is expected to be released late this year. For more details, please click IFTN.
Photo Credit & Related Story: IonCinema


Irish publishers: Relatively good year in 2014
That's according to the Nielsen BookScan Irish Consumer Market report which cites a "vast improvement" on the 2013 figures. Sales increased by roughly 10 per cent in a market that was broadly static. The rate of decline in the market also slowed considerably in comparison to 2013. Children's literature and young adult genres helped to buoy the overall figures, with sales rising by 11 per cent last year. Jeff Kinney's Wimpy Kid series, the Minecraft series and David Walliams's Awful Auntie were the top earners for the genre. For more details, please click Irish Times.
Photo Credit: Dave Meehan


Back to work for Amy Huberman as she represents Irish Film Board in style
It's back to work for Amy Huberman after giving birth to her second child in November. Amy was a guest of honour alongside actresses Sarah Greene and Tara Lee during a press conference where the Irish Film Board highlighted new film titles coming through for the year to come. And she appeared as a double threat as she spoke about the airing of her upcoming screenplay, which she wrote and will star in. For more details and photo gallery, please click Irish Independent.
Photo Credit & related Story: Irish Times Mark Stedman/Photocall Ireland


Domhnall Gleeson nervous about acting with dad
Domhnall Gleeson says that sharing a stage with his father Brendan and brother Brian in The Walworth Farce is a "halfway house between horror and hilarity". "It's been strange and fun wearing a dress. Rehearsing has been brutal because it's been so technical, but I mean that in a good way." Domhnall is set to return to Canada to resume filming of the film adaptation of Colm Toibin's book, Brooklyn, when The Walworth Farces closes in February. To read this news item and for a link to an intreview with the Gleesons, please click RTÉ.


Belfast's best busker?
Belfast busker Gavin Ferris isn't your usual street musician banging out tunes on a tired old guitar. He has developed a sophisticated percussive guitar sound that makes him really unique. The former banjo player uses a Co Antrim-made Catherwood instrument with a special microphone inside to build rhythm and percussion into his music with a crisp, clear quality. The Belfast busker has been playing guitar for 11 years and adopted this particular style around five years ago after watching others on YouTube. For more details and video clipplease click Belfast Telegraph.


McIlroy and Fowler locked together in Abu Dhabi
Rory McIlroy and close rival Rickie Fowler are neck and neck after an entertaining opening round of the Abu Dhabi HSBC Golf Championship. The duo's careers are becoming increasingly intertwined, with Fowler finishing in the top five of all four majors last year but McIlroy winning two of them and coming out on top in their singles match at the Ryder Cup. And although the world number one began his year with a birdie on his opening hole, the tenth, he dropped back to level par just before the turn as Fowler moved into the ascendancy. For more details, please click RTÉ.



Sat, Jan 31, 2015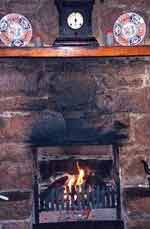 From Bog Land to Turf Fire
Ireland contains more bog land, relatively speaking, than any country in Europe, except Finland. For people in rural areas, turf cut from the bog is still a natural source of heat. Turf cutting begins in spring and then the turf is spread and rickled . Rickled means to pile the turf up in small mounds. By summer, the turf is dry and it's time to bring it home. Everything has to be prepared before the winter comes, or even earlier, because the rain would wet the turf too much. It has to be dry and in the shed before Autumn. Then and only then, can an irish country family look foreward to the cozy warmth of "a turf fire in the cabin."

Resources: The Atlas of the Irish Rural Landscape
Image: Spirited ireland

Click for More Culture Corner.
---
---
Local Time in
---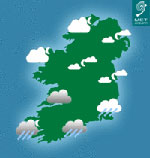 The Weather
Up the minute forecasts provided by Ireland's official source for all weather-related news. Please click Met Eireann.

---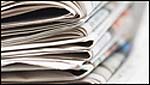 Links to the latest news from Ireland
Here you will find all the stories making headlines throughout the Republic of Ireland and the six counties to the north. This is not intended to be an all-inclusive list. These are the main sources we check every day to bring you those headlines we think you will enjoy reading.

BBC Northern Ireland
Belfast Telegraph
Breaking News Ireland
Irish Emigrant
Irish Examiner
Irish Herald
Irish Independent
Irish News
Irish Times
Irish Post
RTE
The Irish World
The Journal Ireland
Inside Ireland


---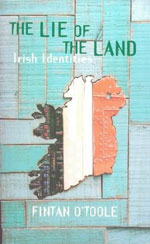 Lie of the Land
by Fintan O'Toole
A regular contributor to the irish Times and The Guardian, O'Toole applies his eagle journalistic eye to the state of ireland at the end of the 20th century. It's a riveting read as O'Toole examines with in-insight, humour and a bit of the blarney, the repercussions of a booming economy which has thrust ireland into the ranks of the richest European countries.
Click here for Lie of the land.

---