Traditions, folklore, history and more. If it's Irish, it's here. Or will be!
"People will not look forward to posterity who never look backward to their ancestors."
-Edmund Burke
---
Quotes

Library: Books, Movies, Music

Prints & Photos

Poetry

---
---
Shops Ireland
---
Bunús na Gaeilge
(Basic Irish)

---
---
---
Himself/Herself
Write to Us
Readers Write..
Links/Link to Us
---
Advertise with us
---
Awards & Testimonials

Submissions Guide

---

Todays' Irish News



Yes, there are many news items not included here. We deliberately avoid: politics, death, disaster and other mayhem.

Wednesday, October 1, 2014


---
Stage school legend Billie Barry, RIP
The legendary stage school teacher passed away peacefully at a Dublin nursing home on Tuesday morning. Ms Barrie ran the Billie Barrie stage school in Dublin for 50 years with some of her students going on to worldwide fame. In a statement her family say she will be sadly missed by companion Jim, her four children, seven grandchildren and five great-grandchildren. Funeral arrangements will be announced later. To read this news item and many others, please click
Breaking News Ireland
.
Photo Credit & More Stories:
Irish Independent/Arthur Carron
Best year for Irish tourism industry since boom
According to Fáilte Ireland, most tourism businesses enjoyed a busy and profitable summer, with almost three-quarters upbeat about the future. The results indicate that the recovery in tourism is now apparent across the country, with all regions reporting strong accommodation increases on last year. The south-west in particular enjoyed an exceptionally strong year with many businesses in the region specifically citing the Wild Atlantic Way as a positive factor for the improvement. For more details, please click
Irish Examiner
.
PwC to create more than 800 jobs in Northern Ireland
Financial services firm PricewaterhouseCoopers has said it will create over 800 jobs in Northern Ireland by 2019. The announcement was made at a news conference in Belfast by Stormont's first and deputy first ministers, Peter Robinson and Martin McGuinness. 300 of the positions will be aimed at qualified accountants as well as graduates who will be trained in the workplace. The other 500 jobs will create a pool of workers who can be seconded to PWC's global businesses and contracts over the next five years. For more details on this news item, please click
RTÉ
.
One in three children born in Northern Ireland will live to 100
A record-breaking number of people are already surviving beyond their 100th birthday, with 233 centenarians living in NI last year.That is a 276% increase in the number of people reaching the milestone birthday in the past 30 years, according to the Office for National Statistics. Among the reasons for the marked rise in life expectancy are people avoiding cigarettes, drinking moderately and leading a healthy lifestyle. Advances in medical treatment and technology and improved housing, living and nutrition standards are also crucial in the number of people living to 100 and beyond. For more details, please click
Belfast Telegraph
.
Photo - for illustration purposes only:
Kinship Care
Dubliner lands leading role in WWI film
Actress Sarah Bolger will star opposite French actor Gerard Depardieu in a film called It's Showtime, Siberia. Depardieu is set to play a Russian prisoner-of-war commander, Jamie Campbell Bower, known for his roles in Harry Potter and Twilight stars as a music conductor, and Sarah plays a musical prima donna. The movie revives the true story of how soldiers who were imprisoned in Siberian prisoner-of-war camps during WWI performed one of the most successful ever Central European stage musicals - The Czardash Princess. For more details, please click
Irish Herald
.
Burial vault found in Youghal church
Archaeologists have found a stone burial vault beneath a floor they were preparing for restoration in a church in east Cork. The vault — believed to date from the 1700s — was discovered in the 900-year-old St Mary's Collegiate Church in Youghal. Crisscrossed by protective pine beams between it and the floor, it was unearthed by Daniel Noonan, who runs an archaeological consultancy agency, working with John Kelly of David Kelly Partnership. During excavations, the archaeologists also found evidence of centuries-old heating systems. For more details, please click Irish Examiner.
'Unbelievable' Irish dancer treats wedding guests to stunning performance
The guests at a wedding in Abbeyfeale, Co. Limerick last Saturday were treated to an amazing display of Irish dancing by young Kerryman David Geaney. The 19-year-old from Dingle is a five time World Irish Dancing Champion and is currently dancing with Celtic Steps, a traditional Irish music, song and dance show. In a video uploaded by one of the wedding guests, Nick Edmonds - who declared the performance "unbelievable" - David puts on an absolutely stunning live performance - and an encore. To view the video. please click
Breaking News Ireland
.
Photo Credit & Related Story:
Kerryman/Marian O'Flaherty
Robbie Keane double helps LA Galaxy go top after emphatic win
Republic of Ireland striker Robbie Keane struck twice as LA Galaxy moved to the top of the MLS Western Conference on goal difference above Seattle Sounders after a crushing 4-0 win over the New York Red Bulls on Sunday. Keane bagged a brace, beginning the scoring in the eighth minute and ending it in the 82nd, with goals from Landon Donovan and Gyasi Zardes in between. For more details and video clip, please click
RTÉ
.
Will Roy Keane meet Jack Reacher?
Having named numerous characters and places after former Aston Villa players and bosses in his Jack Reacher bestsellers, author Lee Child has said that the club's assistant manager, Roy Keane, could yet be immortalised in an upcoming book. At the recent Mountains to Sea book festival in Dún Laoghaire, Villa diehard Child was asked if there was the possibility that Republic of Ireland assistant manager Keane could share page space with Reacher. He replied: "Absolutely, why not? And [with] probably some scathing references to prawn sandwiches!" For more details, please click
RTÉ
.
---
Past Two Weeks
September 30

How the stage was set for armed revolution in Ireland
From the early 1900s the development of the Abbey Theatre was accompanied by challenging alternatives. They included breakaway groups such as the Theatre of Ireland and provincial initiatives such as the Ulster Literary Theatre and the Cork Dramatic Society. In Dublin the Irish Theatre Company, which occupied the Hardwicke Street Hall, appropriated the Abbey's original idea of cosmopolitan theatre and mounted plays by radical young nationalist intellectuals. And Gaelic League enthusiasts attempted to create a travelling company to produce plays in Irish for country audiences. For more details, please click Irish Times.
Photo Credit: Hulton Archive/Getty Images


Irish priest Association calls for right to marry
The Association of Catholic Priests wants men who left the priesthood to get married to be re-admitted, and for the church to allow married men to be ordained.They are among the measures being put forward to address the chronic shortage of Catholic Priests. Fr Gerry O'Connor, a Redemptorist Priest at Cherry Orchard in Dublin, said "We're facing a situation where there will be very few priests in the future unless something dramatic changes in terms of an upsurge in vocations, but there's absolutely no sign of that happening whatsoever. To read this news item and many others, please click Breaking News Ireland.


Now the President's a Freeman, too
President Michael D Higgins returned to his childhood, as he gave a rousing, humorous and deeply personal address when conferred a Freeman of his native Limerick. Close on 1,000 people listened in awe as the President reminisced on his early years in Limerick; he recalled with great humility the difficult economic times during his early childhood when his father, a publican, faced unemployment and the family had to move between a number of rented flats. Describing some of the pubs and snugs, the smell of bacon from Shaw's bacon factory and going to The Markets' Field to watch his first soccer match, he said Limerick has featured in much of his poetry.For more details, please click Irish Independent.
Photo Credit: Alan Place/FusionShooters.


Pub owner defends Irish-only bar staff policy
Charlie Chawke owns nine pubs, including the Orchard Inn in the Rathfarnham area of Dublin, bought for a record €22m in 2005. He believes his business' winning formula includes having Irish staff at the bar counter and when greeting customers. However, he insisted he has nothing against hiring foreign nationals, claiming that it is important to tourists and other customers to have an "Irish welcome". "They should be met by someone Irish when they enter the pub," he said. "And we have lovely Irish people that'll meet you and seat you and greet you and have a lovely Irish smile.". For more details, please click Breaking News Ireland.


Northern Ireland enjoys driest September since records began
This September looks set to go down in history as the driest September since records began 104 years ago.Early figures - which do not include the 29th or 30th - show that just 6.5mm of rain fell. That is just 7% of what we expect to see during the ninth month of the year. The previous record was set in 1986 when just 9.7mm of rain fell. It follows a very wet August when Northern Ireland had more than 115% of normal rainfall for the month. Statistics also show that the mean temperature was up by 1C at 13.4C, with about normal sunshine amounts - 118 hours or 104% of the average. For more on this news item, please click BBC.
Photo Credit: Kenneth Wood


Linguists receive grant to study Irish language
UC Santa Cruz researchers are working hard to document the Irish language. Even though it is an official language of Ireland and has considerable government support, it is highly endangered. Only 1.5% to 3% of the population regularly use it in their community, and its future is in doubt. But one unusual feature of the Irish language is that every consonant comes in two varieties--one where the tongue is raised and pushed forward, and one where it is raised and retracted. So, one important goal of the researchers is to document this contrast. For more details, please click Santa Cruz.


Boston Mayor Marty Walsh is positive about Irish economy growth
The first Irish-American Mayor of Boston in 20 years Marty Walsh departed from Shannon Airport this morning following an 11 day visit. Speaking ahead of his flight Mayor Walsh said that while there was a limited social and family side to his visit, the hectic 11 day schedule was dominated by business meetings in Shannon, Galway, Donegal, Derry, Belfast and Dublin. "As much as I enjoyed the family, this trip was really focussed on the business connections and the Government connections, making connections with other mayors ..."he said. For more details and video clip, please click Breaking News Ireland.
Photo Credit: MassLive


Bombardier boosted by one of its biggest orders to date
Forty C-Series jets will be bought by leasing company Macquarie AirFinance in a deal worth about $3bn (£1.84bn), based on current prices. The company also has an option to buy 10 more. Bombardier now has 243 firm orders for the C-Series, edging closer to the company's target of 300 by the time the plane enters service in late 2015. The wings for the aircraft will be made in Belfast, supporting 800 jobs. Bombardier is one of Northern Ireland's biggest employers with about 5,000 permanent employees and about 1,000 temporary and contract staff working at its Belfast base. To read this news item, please click BBC.
Photo Credit: AIN


Is that really Rory McIlroy?
Tsk, Tsk. While it was a superb victory worthy of wild celebration, no one expected to see Rory McIlroy dressed up in nothing but a small kilt as part of Europe's exuberant partying after clinching the Ryder Cup. Or Graeme McDowell to be taken home by the police. But that's what happened when they joined their ecstatic team-mates in celebrating Europe's convincing win. Posting a picture of himself and team-mate Lee Westwood with two police officers, G-Mac wrote: "Not saying @WestwoodLee and myself got in any trouble last night..... #sorryofficer." For more details, please click Belfast Telegraph.

September 29

Prince Charles honours police force
The prince told the annual remembrance event, which is held in a different venue each year: "We are drawn together from across the UK to demonstrate our deep respect for these brave men and women. They will never be forgotten and through us, their exceptional legacy will always be remembered." Sgt Joe Holness, who founded the commemoration, said it was a special day to remember those that have made the ultimate sacrifice. "It is a day that is as profound now as it was 11 years ago when this event first started," he said. Home Secretary Theresa May also attended the event at the Waterfront Hall in Belfast. For more details, please click BBC.


Unpublished photo of young Oscar Wilde comes to light
The photograph shows Wilde, then unknown and aged 23, during a house party at Ashford Castle in Co Mayo in October 1878. Wilde, dressed in tweed and wearing breeches is seen on the extreme right of the group seated on the balustrading next to the front steps. The photograph is contained in an album that belonged to castle owner Lady Ardilaun and will go under the hammer at a sale of country house antiques and collectibles organised by Adam's Fine Art Auctioneers at Slane Castle in Co Meath next month. For more details, please click Irish Times.


Irish university experiment takes farming to new frontier
Limerick Institute of Technology has created Irish space history after an experiment that could deliver a breakthrough to successfully growing crops in extreme conditions on Earth was loaded on the International Space Station. The project, which was chosen along with eight other global winners will explore over the next 28 days how the clover-like payload reacts in space and whether or not it can be used as a natural fertiliser for crops there. This is the first time an Irish institution has been a leader and principal investigator in an experiment to the International Space Station. For more details, please click Irish Examiner.
Photo Credit & Related Story: LIT


Trinity professor to receive €1.2m research fund
Shane O'Mara, a professor of brain research at Dublin's Trinity College is to receive €1.2m in funding over six years to study the systems that support memory in the brain. Professor O'Mara is the first Irish based recipient of a Senior Investigator Award - a joint scientific funding initiative between Science Foundation Ireland, the Health Research Board and the Wellcome Trust Biomedical Partnership. The scheme aims to support exceptional, world class researchers investigating important questions in health and disease. For more details, please click RTÉ.
Photo credit & related Story: TCD


Irish filmmakers among Fingal winners
The winners at the third annual Fingal Film Festival were announced at the Radisson Blu Hotel, Dublin Airport on Sunday night, with Irish filmmakers among those honoured. Best Irish Language Film went to Gavin Fitzgerald and Sibéal Eléna Davitt's Huggy Bear, while the award for Best Student Film went to I've Been a Sweeper, directed by Ciarán Dooley from Dublin Institute of Technology. Rory Conway's Shoot won the award for Best Animation, with James Fitzgerald's Skunky Dog winning Best Short Film. For more winners and video clips, please click RTÉ.


Shop that sold winning €87m EuroMillions ticket revealed
The Centra on Church Road, Ballybrack was the lucky shop that sold the €6 Quick Pick on September 19th. A syndicate of winners who wish to remain anonymous picked up their €86.7 million winnings last Friday. "We're on top of the world," they said. The prize is the third biggest win in National Lottery history and it's the fourth jackpot win for Ireland in just over a year. Ireland has now being called one of the luckiest places in Europe to buy a EuroMillions ticket. To read this news item and view a related video, please click Irish Times.


Is Ireland a nation of TV bingers?
Yes, according to the eircom Household Sentiment Survey which estimates 1.4 million people now watch back-to-back episodes of their favourite shows. However, the survey also found that 91% of TV viewing is still "live" rather than on demand. Also, half of all 16-34 year olds watch live or 'catch-up' TV on portable devices. When asked about how they would like to see technology working for them in the future, a third would like a driverless car and nearly half said they'd like a robot to help with housework. To read this news item and many others, please click Breaking News Ireland.
Photo Credit & related Story: Journal Ireland/Shutterstock


Ryder Cup 2014: Rory McIlroy hails captain Paul McGinley
Rory McIlroy hailed the influence of "fantastic" captain Paul McGinley after Europe surged to a commanding Ryder Cup victory at Gleneagles. The world number one said the Irishman's meticulous attention to detail had helped set up Europe's eighth win in 10 Ryder Cups."He has just been the most wonderful captain," said McIlroy. McGinley's side led 10-6 going into the final day and Europe needed four points to retain the trophy they claimed two years ago, but they won five matches and halved three more to seal a comfortable victory. For more details, please click BBC.


Fairytale ending for never-say-die Rebels
Cork's dominance of women's football moved into the realm of fairytale yesterday as they overturned a 10-point second-half deficit to claim an incredible ninth All-Ireland title in 10 years at Croke Park. Eamonn Ryan's Unbelievables were dead and buried in the decider, trailing Dublin 2-10 to 0-6 with 17 minutes remaining, but goals from super subs Rhona Ní Bhuachalla and Eimear Scally helped make the impossible possible. "...these girls are an astonishing bunch — there won't be anything like them again," the veteran Rebels coach said afterwards. For more details, please click Irish Examiner.

September 28

Sacristan stages sit-in to keep popular Drogheda church open
The sacristan at a church earmarked for closure despite increasing numbers of mass-goers is staging a sit-in and refusing to eat until the Dominican Order does a U-turn and decides to keep it open. Declan Hanratty has been the sacristan at the Dominican Church in Drogheda for 10 years and says he will continue his protest until the "decision is reversed." He began when news of its closure was broken to parishioners. Falling vocations as well as an ageing community is behind the decision. For more details, please click Irish Times.
Photo credit: Ciara Wilkinson


In photos: The passionate and inspirational women of the Irish Revolution
Ireland at the end of the nineteenth and in the early twentieth centuries was going through great change, especially where women were concerned. Women were becoming more political. Education, particularly a college degree, was becoming more accessible to both men and women, and not just those from a wealthy background. And it was through education that so many women realised they had a role to play in the future of their country. For more details, please click Journal Ireland.


How Famine hit Leitrim
In their rush to publish local histories during the sesquicentenary of the famine in the 1990s, historians were therefore unaware of the huge archive left by the Society of Friends Relief of Distress Committee. The existence of tens of thousands of letters and application forms in this archive transforms the potential for writing local famine history in two ways: firstly, the Society of Friends correspondence continues until 1850, illustrating the longevity of the crisis. Secondly, the Friends did not adopt the same stringent government regulations, so those not entitled to official relief were supported by local initiatives. For more details, please click Irish Times.


Minister to meet immigrants in New York today
Minister for Foreign Affairs Charlie Flanagan will be in New York today where he'll meet with groups who help Irish immigrants. Minister Flanagan is due to visit the Emerald Isle Immigration Centre in the Bronx, as well as the Aisling Community Centre in nearby Yonkers. Today's meetings pave the way for Minister Flanagan to sit down with Obama's Immigration Advisor on Tuesday when he'll discuss the plight of the undocumented Irish in the United States. To read this news item and many others, please click Breaking News Ireland.


Kodaline surprise 200 fans in An Púcán, Galway
The High Hopes hitmakers played the gig as part of the Guinness Amplify event. Afterwards, Steve from Kodaline said; " Some of our most memorable first gigs were in pubs around Ireland so coming back to play in a pub venue is a nice nod to where we started out." Also commenting was pub owner Conall O'Ciobhain who said; "It was a brilliant night here in Galway. We had no idea we'd be playing host to such amazing musical talent. The crowd were in awe and the night was very special. It will be remembered in Galway for a long time to come." For more details, please click RTÉ.


Five members of this family lived to see 100...
... and they're hoping it's a world record. Five siblings of this family from Loughrea in County Galway lived to see their 100th birthday, which the family hopes is some sort of record. Madge Fanning (Clarke) (pictured above sitting on her mother's knee) celebrated her 100th birthday this year, making her the fifth sibling in her family to reach the milestone birthday. The family believe that this is a new record, with one family in the UK holding the record with four siblings reaching 100. For more details, please click Journal Ireland.


Ryder Cup 2014: Europe take 10-6 lead over United States
Europe lead 10-6 heading into Sunday's Ryder Cup singles after a one-sided penultimate session at Gleneagles. Europe won Saturday afternoon's foursomes 3½-½ to move to within four points of retaining the trophy. Paul McGinley's men lost the morning's fourballs 2½-1½ before making it 7-1 in foursomes matches over two days.However, the US led by the same margin after two days at Medinah in 2012, only for Europe to stage a comeback and clinch a remarkable win. For more details, please click BBC.
Photo Credit & Related Story: RTÉ


All-Ireland Hurling Replay: Power and the glory go to Kilkenny
In the end, Kilkenny did it the old-school way. They took all the frippery and revelry of the drawn game and choked it till its eyes popped out of its head. They squeezed the living daylights out of Tipperary and squeezed again until darkness descended. The thud of drums will win more All-Irelands than the beauty of violins. They won their 35th All-Ireland by 2-17 to 2-14, a scoreline that shows a full 19 fewer scores than the drawn game. For more details, please click Irish Times.
Photo credit, Gallery & Related Story: RTÉ


Shock Manchester United call-up for NI starlet Paddy McNair
Under-fire Manchester United manager Louis van Gaal is set to hand an SOS call to an untried teenager from Northern Ireland in a bid to solve a defensive crisis.t is a day that Paddy McNair has dreamed of for the last seven years, since he was picked out playing for Ballyclare Colts and invited to train at the local Manchester United School of Excellence. "Patrick was only 12 when I first became aware of him," said United's Northern Ireland scout Tony Coulter. For more details, please click Belfast Telegraph.

September 27

Celtic kitten: Ireland's tech start-ups flex their claws
Dublin City Council now has a commissioner for start-ups - Niamh Bushnell, a veteran of new technology-related venture battles in both the Republic of Ireland and New York."Everything I'm seeing is on a par, in terms of companies, talents and innovative ideas, with what I know best - which is the New York tech scene," says the new commissioner. It's all part of a new dotcom boom in Ireland, which has boasted success stories like Peer-to-Peer, Currency Fair and Realex Payments. For more details, please click BBC.


Summer tourism up a sunny 10%
The number of overseas visitors to Ireland grew by almost 10% over the summer, matching an increase in tourism numbers since the start of the year, according to figures released yesterday by the Central Statistics Office. Most of the growth came from the US and Canada, with trips up by18%. Tourism figures have also improved north of the border. According to the Northern Ireland Statistics and Research Agency (NISRA), total overseas visitors to Northern Ireland for the first quarter of 2014 grew by 4%, compared to the same period last year. For more details, please click Irish Examiner.
Photo credit & Related Story: Bryan O'Brien/The Irish Times


Colm Tóibín on work: I start and I finish
"No lunch with anybody. And never drink in the day. Ever." The party persona is real. But it is rare. Tóibín pretends to drink more than he does. He delights in "this great American rule" of wrapping up dinner parties at 9.30pm. His extraordinary output can be explained only by ruthless, austere discipline. "It's a question of finishing everything you start. It's as simple as that." He operates a strict self-incentivisation scheme. "Breakfast? No! None of that eating rubbish. You get down with an empty stomach. So you create this system of rewards – if you do this, you can have that. Otherwise you'd never get any work done." For more details, please click Irish Times.
Photo Credit: Frank Miller


Dingle's Charlotte Peters lands lead role in Hollywood movie
There's nothing better than hearing stories about upcoming talent flying the flag for Ireland Stateside, and it sounds like it won't be long until we see Dingle-native Charlotte Peters' name in lights. The model and actress is currently preparing for a leading role in The Winter's Dreams, which is co-written by Blue Valentine's Joey Curtis. Charlotte admitted that she's more "excited" than "nervous" about living the L.A. dream. When asked about her character in the movie, Charlotte remained tight-lipped, but she did reveal that her role is "very physically demanding." For more details, please click RTÉ.


Librarian wins Patrick Kavanagh poetry award
The award was presented to UCC's head librarian John FitzGerald by President Michael D Higgins at the Patrick Kavanagh Weekend in Inniskeen, Co Monaghan. The €1,000 prize is awarded for a collection of poems by an Irish author or long-term resident of Ireland who has not been previously published in collected form. Mr FitzGerald has been writing poetry for the past four years. He came second in the Patrick Kavanagh Poetry Award last year. He now hopes his prize-winning collection will be picked up by a publisher. For more details, please click Irish Examiner.


Marine ecologist swims with blue sharks off Inis Oírr
Blue sharks are one of the most abundant large predators on the planet, but they've also been fished to extinction and attracted far too many negative headlines. That's the view of marine ecologist Nick Pfeiffer, who swam with and photographed a school – or "shiver" – of five blue sharks west of the Aran Island of Inis Oírr last weekend. A calm Atlantic, bright sunshine and lure of fresh food provided ideal conditions for the close contact. For more details, please click Irish Times.


Inside the Dublin café which runs on trust
While big retailers hire security guards and fit security tags to every shoelace, one café has done away with the register altogether. But rather than having trouble with customers skipping out on their bills, the only problem The Hazel House staff have to deal with under its honest-box system is locals overpaying and refusing to help themselves to change. The honesty-box system is the brain-child of owner and carpenter Niall Fitzharris, who wanted to come up with a way to run the self-service café without leaving his woodworking studio. For more details, please click Journal Ireland.


Europe storm back to take Ryder Cup lead
Europe claimed a 5-3 lead after the first two sessions of the 40th Ryder Cup, despite their star trio of Rory McIlroy, Sergio Garcia and Ian Poulter contributing just half a point. But what a sensational half point it was, and what it could mean to the final outcome given the way it was achieved on a rollercoaster day at Gleneagles. "We knew we weren't playing as hard as we could, (but) half a point is just huge" commented Sergio Garcia. For more details and live coverage of Day 2, please click RTÉ.


Divided they stand (again) for All-Ireland replay
Little Layla Phelan is keeping her options open and judging by her attire, come about 6.30pm today, she'll be celebrating no matter what the outcome. Then again, at six months old, the celebrations are unlikely to be too raucous. Layla, from Grangemockler in Co Tipperary, has split loyalties. Her father Dermot Phelan is from Kilmoganny in Kilkenny, while her mother Katie Lyons is from the Tipperary side. For the moment she's wearing a half-and-half jersey. For more details, please click Irish Independent.

September 26

Oireachtas Irish language festival returns to Connemara
When south Connemara hosted its first Oireachtas Irish language cultural festival four decades ago the main marquee blew down just as a céilí was about to start. No one was injured, new venues were found and The Irish Times praised the organising committee's "Gaeltacht brio" and "improvisational flair". Some 40 years later the occasion will be marked over the weekend in Connemara's Cois Fharraige with festivities that include a concert by 20 of the finest sean-nós singers from home and abroad. For more details, please click Irish Times.
Photo Crredit: Joe O'Shaughnessy


How do you explain the enigma that is 'the Ploughing'?
The papal nuncio is a fan. Russell Crowe knows all about it. National Geographic lists it as one of Ireland's top 10 must-see events. In a country where a very small minority actually plough, how has the National Ploughing Championships grown into one of Europe's biggest outdoor events? The answer lies in the fact that it's about a lot more than ploughing. President Michael D Higgins summed it up well this week when he called it "the most beloved rendezvous in the rural calendar". For more details, please click Irish Times.
Photo Credit: Eric Luke/The Irish Times


What is your favourite Irish poem?
A Poem for Ireland is a major new RTÉ campaign which aims to get the public talking about the Irish poems they feel are the most-loved of the past 100 years. The campaign will run over the course of six months, from its launch today (September 26) to the unveiling of the Irish public's final choice in March 2015. It will be accompanied by a major digital site where the public can nominate, read and vote for poems. The digital site will build in scale and content as the campaign progresses. For more details, please click RTÉ.
Photo Credit: The Epoch Times


London woman seeks help in tracing Northern Ireland war hero
Sarah Warwick said when she was a child, her mother found a metal army trunk in the loft of their London home. Among its contents were photos, books, letters, an x-ray and medical note from August 1943. The items belonged to a man called RC Scott who rose to the rank of major. An MC after his name revealed he had been the recipient of a Military Cross and labels on the photos showed he had been in the Royal Irish Rifles and later the Ulster Special Constabulary. "There are a lot of photos here and it would just be good to put them with his family," Sarah said. For more details, please click BBC.


U2: Larry embraces son on new album cover
U2 have revealed the artwork for the physical release of their new album, Songs of Innocence, and it features intensely private drummer Larry Mullen Jr giving his 18-year-old son a protective embrace. The shot, a return to the band's monochrome eighties look, is a rare act of self-revelation from the media-shy Mullen. U2 say the album cover reflects "the new songs and their inspiration in the early years of U2 as teenagers in Dublin." For more details, please click RTÉ.


Brendan Gleeson & sons to star play together
It has been announced that Brendan Gleeson will star opposite his two sons, Domhnall Gleeson and Brian Gleeson, in a play to be staged in Dublin's Olympia Theatre in January 2015. Written by Ballyturk playwright Enda Walsh, The Walworth Farce tells the story of Dinny, who moves to London with his two sons. The Walworth Farce was originally staged in Galway in 2006. Walsh's play went on to win a Fringe First award at the Edinburgh Fringe and embarked on a worldwide tour between 2009-2010. The New York Times described it as a "galloping gothic comedy". For more details, please click Journal Ireland.


Meet Miss Bikini Ireland hopeful and medical student Elaine O'Connor
Brains, beauty, and an enviable bikini body: trainee doctor Elaine is about to battle it out for the title of Miss Bikini Ireland. The Cork native is bidding to represent her country at Miss Swimsuit USA in Mexico in November, but first up she will have to overcome stiff competition from the 13 other Irish contestants at the final next month. The competition has served to trigger her appetite for success in the competitive field of Irish modelling, but she also has a lucrative and promising career plan for the future....In a few years time, I would love to be combining a career in anaesthetic medicine or Dermatology with modeling." For more details, please click Irish Independent.


Irish rugby stars thrilled with opening night of new Dublin pub
It's the brainchild of four Leinster heroes, and their much-anticipated watering hole has finally opened its doors in the rugby heartland of Ballsbridge. The Bridge 1859 bar, a stone's throw from Leinster rugby's HQ at the RDS - and the Irish team's Lansdowne Road home - is co-owned by Jamie Heaslip, Sean O'Brien and Dave and Rob Kearney. They undertook the renovation of the former Bellamy's pub with Grafton Lounge owner Noel Anderson. "We're absolutely delighted," Noel said. For more details, please click Irish Independent.


Ryder Cup: McGinley counting on experience
European Ryder Cup captain Paul McGinley admits he will worry about making the right decisions over the next three days but is confident his experience will mean he gets more right than wrong. The Irishman raised eyebrows by pairing rookie Stephen Gallacher with fellow wild card pick Ian Poulter, who despite coming alive in this event has not shown the best form this season, in the morning fourballs. But McGinley, whose captaincy so far has been impressive, remains undeterred. For more details, please click RTÉ.
Update & Video Clip: Journal Ireland

September 25

The billionaire who fell in love with Ireland
Growing up in New Jersey, Jim Thompson's childhood revolved around Irish folk songs and traditions. He had always been curious about his roots but knew little about the country that three of his grandparents had emigrated from in the 1800s. He grew up to establish the Crown Worldwide Group in 1965, developing it into the world's largest privately held international relocations company. When he arrived at the Woodhouse Estate in Stradbally, Co Waterford just over two years ago he had no intention of buying a property in Ireland. Two days later he bought the state. For more details and video, please click Irish Times.


Northern Ireland still happiest place in UK
That's according to the Office for National Statistics (ONS) which revealed that the five happiest places in its wellbeing survey were Antrim, Fermanagh, Omagh and Dungannon in NI, and Babergh, Suffolk. In 2013 as well as 2014, people in NI gave higher ratings for each aspect of their personal wellbeing on average than those in any other UK country. The personal wellbeing statistics are used to inform government decision-making, complementing traditional measures of progress and quality of life, For more details, please click BBC.


Final day of National Ploughing Championships
The final day of the National Ploughing Championships at Ratheniska in Co Laois takes place today. Organisers have said attendance numbers reached a record high yesterday, when more than 124,000 people passed through the gates. Yesterday saw welly-throwing competitions, pole-climbing, fashion shows, celebrity cooking, sports stars, music stars and a national brown bread-baking competition and the continuation of the ploughing competition. The event is Europe's largest outdoor exhibition and agricultural trade show. For more on this news item, please click RTÉ.
Photo Credit 7 Related Story: Eric Luke/The Irish Times


10 ways you know you're in rural Ireland
For those who left Ireland's big cities and went to the Ploughing Championships, there's a keen awareness that things change when you're in the country. Here are 10 ways you know you are in the sticks,bincluding tractors parked randomly on main streets, outside the local Centra and outside Mass on a Sunday, the smell of turf; waving - everyone waves or says hello; and people who say they are going "into town" for the "messages" referring to a shopping trip to the nearest point of civilisation. For more details, please click Irish Times.


'From Limerick with love' - a vibrant decade of flares, youth and colour
A new webite featuring 25,000 photographs of life in Limerick during the 1970s has been launched as part of the Limerick City of Culture. 'From Limerick with Love' contains images from the archives of The Limerick Leader newspaper, which celebrates its 125th anniversary this year. The launch of the new site coincides with an exhibition of 125 selected photographs from the archive in Limerick City and County Council offices in Merchant's Quay and the Limerick School of Art and Design (LSAD). For more details and photos, please click Journal ireland.


U2's Bono gets his paws on thoroughbred pooches for Rolling Stone shoot
U2 frontman Bono is well used to being hounded by fans. But he the turned the tables in Dublin this week after getting his paws on a passer-by's two dogs for a Rolling Stones shoot. Liberties native Ann Williams was left gobsmacked after running into the famous foursome doing photographs at the Guinness Storehouse for an upcoming shoot. But she had no idea that her two thoroughbred pooches - mother and son boxers named Holly and Rebel - would end up with starring roles in the session. "Bono just snapped his fingers and the next thing, the two dogs were in the middle of the shoot" she said. For more details, please click Irish Herald.
Photo Credit: Bryan Meade


Meet Ireland's best food producers
Reporter Donal Skehan is a relentless champion of Irish producers and believes that they are among the world's best. Here are just some of his favourites, including Rod and Judie Calder-poot of Highbank Orchard Syrup. sometimes the most wonderful things come into this world by accident. And so it was with this innovative family owned business. They had been producing excellent apple juice from the orchards established by Rod's father, but when the recession hit the question quickly became one of how to add value to their product in order to survive. For more details, please click Irish Independent.


All of Ireland's nine Michelin star restaurants retain status
The recommended spots for fine dining are topped by Restaurant Patrick Guilbaud, at the Merrion Hotel in Dublin, the only two-star establishment in the country. The long line of others to bag the coveted accolade are Thornton's at the Fitzwilliam Hotel, Chapter One and L'Ecrivain, all in Dublin City, plus the Bon Appetit in Malahide. Michelin Guide editor Rebecca Burr said the latest edition highlights what she terms "the richness and variety of Ireland's restaurant scene, ranging from country pubs to classic dining rooms". For more details, please click Belfast telegraph.


Rory McIlroy happy to be a team player on Europe Ryder Cup side
In 2012, Rory said "This week I'm not the number one player in the world. I'm one person in a 12-man team and that's it. It's a team effort. There's 12 guys striving towards the same goal. I'm just part of that." Fast forward two years and the answer is eerily familiar. "I've got a responsibility just to put points on the board and I'm one-twelfth of a team unit here," he said yesterday. For more details and video clips, please click Belfast Telegraph.

September 24

Prince Edward, the Earl of Essex, visits St Patrick's grave
On his two day trip to NI, the Queen's youngest son visited Downpatrick, the medieval capital of Co Down, where St Patrick's remains are buried. Prince Edward saw the granite stone marking the burial spot and signed the visitors' book at Down Cathedral. He then lunched at the St Patrick's Centre before visiting the Downpatrick and Co Down Railway Museum where he he unveiled a plaque commemorating the official opening of the carriage viewing gallery; afterwards, he set off on a restored steam train to Inch Abbey. For more details, please click BBC.


Ireland's Top 10 tourism towns announced
Fáílte Ireland has confirmed the shortlist of ten towns from across the country for its 2014 Tourism Towns Award. Two overall winners will share the ultimate accolade of Ireland's top Tourism Town – for the Best Large Town and Best Small Town – when the winners are unveiled this November. Minister of State for Tourism & Sport, Michael Ring, said: "This award is all about recognising those Irish towns, villages and communities which are putting their weight behind tourism and working hard to make their town even more attractive for tourists. For more details, please click Irish Independent.


Irish feature film wins big at at IndieFEST Awards
"Hit Producer" directed by Kevin de la Isla O'Neill has won eight prestigious Awards of Excellence from the IndieFEST Film Awards. The IndieFEST is an international competition that recognises film professionals who demonstrate exceptional achievement in craft and creativity, and those who produce standout entertainment or contribute to profound social change. Entries are judged by highly qualified professionals in the film industry. For more details, please click RTÉ.
Photo Credit: Hit Producer Trailer


Irish architects' work honoured by prestigious RIBA Gold Medal
The most prestigious award in world architecture, the RIBA Gold Medal, has been awarded to husband and wife team, O'Donnell Tuomey. Sheila and John set up in practice in Dublin in 1988 and since then have been the recipients of a number of national and international awards. At the announcement, RIBA President Stephen Hodder said: "O'Donnell + Tuomey's work is always inventive, striking, yet so well considered, particular to its place and brief, beautifully crafted — and ever-developing. For more details, please click Irish Examiner.


Day one at the Ploughing: curried crickets and blinged-up wellies
The juggernaut that is the National Ploughing Championships has rolled into Ratheniska, Co Laois and it has overlooked nothing including edible insects. There was a minor frenzy at Rentokil's "pestaurant" where the company introduced insects as a food to a curious public. Marie Carberry from Keenagh, Co Longford gamely ate three insects to get a free scorpion lolly. "I had the mealworms, the curried crickets and the plain roasted locust," she said. "You'd try anything at the ploughing." For more details and video clip, please click Irish Times.


Colin to star with vince Vaughn as new True Detective roles revealed
HBO finally put a stop to the casting rumours - days after Farrell confirmed that he had nabbed a role - and revealed that Dodgeball actor Vince Vaughn will be his co-star. Farrell's character, Ray Velcoro, is torn between his masters in a corrupt police department and the mob bosses who own him according to those behind the drama. Vaughn's character, Frank Semyon is a career criminal who tries to move into a more legitimate circle but is in fear of losing his ill-gotten empire when his business partner is murdered. For more details, please click Irish Herald.


Second dolphin takes up residence off Aran island
The French bottlenose which has been sighted off the south coast over the past few weeks is now the second dolphin to take up residence on the Aran island of Inis Oírr. Named Sandy and Clet, Sandy swam out to the southernmost Aran island from the Clare coast last February and stayed when construction work began on Doolin pier. Clet joined Sandy on Monday evening this week, and both were caught on camera by Inis Oírr teacher Cormac Coyne. For more details, please click Irish Times.
Photo Credit: Cormac Coyne


G-Mac: Myself and Rory are closer than ever – but our golf dynamic has changed
Graeme McDowell insists that himself and Rory McIlroy are closer than ever despite their off-course issues. But he still doesn't feel that they should play fourball together at the Ryder Cup this week. The two practiced separately at Gleneagles on Tuesday as Europe captain Paul McGinley got to grips with his possible pairings ahead of Friday's opening day. McDowell and McIlroy have played together at the Ryder Cup six times, winning two matches and halving one. For more details, please click Journal Ireland.


Goalie O'Connor: "Dublin are ready to make history"
Clíodhna O'Connor says Dublin will go into the All-Ireland Ladies Football final against Cork with real belief they can upset the odds - despite having never beaten them in the Championship. Cork are chasing a ninth All-Ireland title in 10 years and the Dubs will stand in their way in the decider at Croke Park on Sunday. It will be the sides' fifth meeting in the Championship with current champions Cork having won all of the previous four. But goalkeeper O'Connor insists that will not put off Dublin. For more details, please click RTÉ.

September 23

Ploughing Championships receives top 10 boost from 'National Geographic'
The three-day national ploughing championships, which President Michael D Higgins has officially opened at Rathaniska, Co Laois, has received a boost from an unexpected source — National Geographic in Washington. It has listed the event as one of the top 10 festivals and events to visit in Ireland, north and south, this autumn, joining the All-Ireland football and hurling finals, walking festivals, and fleadhanna cheoil as 'must-visit' events. For more details & video clip, please click Irish Examiner.
Photo Credit & related Story: Irish Times/Eric Luke


Three Cork teenagers win Google's grand prize for science
Ciara Judge, Émer Hickey and Sophie Healy who are all from Kinsale Community School in Cork, scooped the top honour at this year's Google Science Fair competition in California. As part of their winning research, the trio investigated the use of natural bacteria to assist food production by increasing crop output. The grand prize includes a 10-day trip to the Galapagos Islands with National Geographic Expeditions, an experience at the Virgin Galactic Spaceport and $50,000 in scholarship funding. For more details and video clip, please click Breaking News Ireland.


Some of Ireland's strangest old laws are to be repealed
The Department of Public Expenditure and Reform is looking to revoke around 4,500 pre-independence government regulations. This is the largest repealing measure ever undertaken by the state. The laws listed for removal include: Declarations of war against Denmark in 1666 and against France in 1744; A proclamation of 1817 reserving oatmeal and potatoes for consumption by the "lower orders of people" and An order of 1815 providing that a prayer of thanksgiving be offered for the victory at the Battle of Waterloo. For more details, please click Journal Ireland.


Donegal 'Lucky 13' collect their winnings
Champagne bottles exploded as the Donegal "Lucky 13" collected their €4.9m prize in Dublin yesterday. "We may not have got the Sam Maguire but this is great," said Liam Bradley, who was beaming despite Kerry defeating Donegal to reclaim the All-Ireland title. The group of co-workers from Forward Enterprise in Malin Head, Co Donegal, had been taking part in the weekly Lotto syndicate for over a year before landing the winning numbers last week. For more details, please click Irish Independent.


Portstewart named one of UK's top beaches
The stunning two-mile north coast beach has been ranked among the top 12 beaches in the UK by Rough Guides. "Portstewart Strand is well-known as a place to picnic, play or kick back with a decent book. But there's much more to this two-mile stretch of super-soft sand in the far north of Northern Ireland," the guide reveals. The National Trust, which manages Portstewart Strand, recommends the area as the perfect spot for a refreshing stroll. For more details, please click Belfast Telegraph.
Photo Credit: Chez Nous


Poll: What would you do if you found €3,000?
Workers in Panda's waste centre in Cappagh found €3,000 yesterday. What did they do with it? They told management and set out to find where it came from. Before long, it was in the hands of its rightful owner, who was "very impressed" with their honesty. Would you be as true and pure? What would you do if you found €3,000? Your options are: Keep it, Do everything I could to find the owner, Give it to charity, Hand it into the gardaí or Buy 1,500 scratchcards. To take the poll,please click Journal Ireland.
Photo Credit & Related Story: Panda worker


Aghadoe Heights Hotel & Spa named as country's best five-star accommodation
Aghadoe Heights and Harvey's Point were the big winners at last night's Hotel & Catering Review Gold Medal Awards. The 26th annual Gold Medal Awards, one of the leading independent awards for the Irish hospitality industry, were held at the Double Tree by Hilton Hotel in Dublin. The awards are designed to reward excellence in hotels, guesthouses, restaurant, spas, clubs and catering operations across the country and winners are determined by public vote and industry experts. For more details, please click Irish Independent.
Photo credit & More Pics: PriceLine


The return of the £1m house in Northern Ireland
The sales of two period houses for more than £1m each - at least double the asking price - indicates a rise in the NI housing market. Analysts claimed that the house price recovery would not be felt until the homes at the top of the market were selling; it now seems NI's dearest houses are being snapped up. Estate agent Gerry O'Connor, said "We are selling houses for sums such as £700,000 or £800,000, homes which would have been sitting on the market around two or three years ago." For more details, please click Belfast Telegraph.


Golden night for Kingdom as heroes welcomed home
Even the sky in Kerry was dressed in gold late yesterday as the team train pulled into Casement station carrying two sets of victors home. A rousing reception in Rathmore for local heroes Aidan O'Mahony, Paul Murphy and minor team member Shane Ryan had delayed arrival at the Kerry capital, but the crowds stayed on, basking in the glow of victory and in the warm September sunshine. Former senior manager Jack O'Connor and current minor manager said: "I've been here a few times on the losing times as well as the winning. Tonight is one of the biggest ever..." For more details, please click Irish Examiner.
Photo Credit & related Story: Irish Independent/Don MacMonagle

September 22

People's Climate Picnic marks global day of action
A picnic and a coastal clean-up were among the events organised in Ireland as part of the global day of climate action. More than 600 people attended the People's Climate Picnic which took place under warm sunshine in St Stephen's Green, Dublin, yesterday. It was organised by Stop Climate Chaos, the Climate Gathering and People's Climate Ireland. Ciara Kirrane, co-ordinator of Stop Climate Chaos, said the event was held to send a message to Taoiseach Enda Kenny that people in Ireland cared about climate change. For more details, please click Irish Times.
Photo Credit: Dara Mac Dónaill


More than 200,000 expected to attend ploughing championship
It is already being billed as the biggest ever National Ploughing Championships and the 83rd event hasn't even started. The championships get under way tomorrow at Ratheniska, near Stradbally, Co Laois, and is expected to attract more than 200,000 people over the three days. More than 300 people will take part in the ploughing competitions while 30 competitors from 10 countries have entered in the European Vintage Ploughing Championships;and after a break of 23 years, the national brown-bread baking competition has been revived. For more details, please click Irish Times.
Photo Credit: Eric Luke


Starbucks testing new latte with a Guinnessflavour
Inspired by 'the rise of craft beers' the coffee chain have dreamed up the new Dark Barrel latte, which blends caramel, chocolate and espresso to create a stout-flavoured coffee. According to information from a barista on the Starbucks sub-Reddit, the new latte contains a 'chocolatey, stout-flavoured sauce' that gives a normal coffee that smack of Guinness that's so popular. The product is currently being tested in stores across the US and it's not known if it will make an appearance in Ireland. For more details, please click Journal Ireland.


The Script hit No 1 in UK album chart
Dublin pop rock trio The Script have hit No 1 in the UK with their fourth album, No Sound Without Silence - topping sales for Sam Smith and a new album from Barbra Streisand. This is The Script's third No 1 in the UK album chart following top spots for debut album The Script in 2008, 2010's Science and Faith, and 2012's #3. To read this news item and many others, as well as watch a video of The Script performing and being interviewed, please click RTÉ.


Rare sighting of killer whales off south-west coast
A group of scientists and students aboard an Irish research vessel had the rare pleasure recently of encountering a group of killer whales - properly known as orcas - which are an uncommon sight in Irish waters. The pod of seven orcas was spotted on Friday by researchers aboard the Marine Institute vessel the R.V. Celtic Explorer, which is currently conducting a week-long survey of marine fauna along Ireland's Atlantic margin as part of a programme called Cetaceans on the Frontier. For more details & photos, please click Breaking News Ireland.


17th century Tholsel set to be transformed into tourism hub
Work on restoring a 17th century structure in Fethard, Co Tipperary is expected to start next month. The magnificent building has previously served as an almshouse, the town hall, a fire station, library and, more recently, as the venue for weekly country markets. As a tourist hub, the objective is to promote business and tourism in Fethard and its environs, promote local festivals and events, and also provide tourism information. For more details, please click Irish Examiner.
Photo Credit & More Details: Fethard Business & Tourism Group
ED. NOTE: The term Tholsel (Irish Tólsail) refers to extant and former public buildings in Ireland's towns and cities.


Hugely popular bookshop launches its first online store
The Book Centre has a dedicated fanbase of readers in Waterford, Kilkenny, Wexford and Kildare, and decades of brightening up bookshelves. And now anyone can shop there without having to travel. The Book Centre has taken the leap online – and wants to provide a personal experience to buyers. Maeve Ryan, Managing Director, said "This is a new direction for the company but it is something we have been planning and working on for some time." "The same staff that work in the store will be dealing with the online customers" she added. For more details, please click Journal Ireland.
Photo Credit: Patrick Browne


Rory McIlroy buys up entire Holywood apartment block
The multi-millionaire could easily afford a home in LA's Hollywood Hills, but opted for his own Holywood hills in Co Down. Yesterday it emerged he had snapped up a three-storey building described as having been sub-divided into five apartments. He bought the block and has hired an interior designer to turn it into his dream mansion with views from Holywood across Belfast Lough. Terry Prone, McIlroy's spokeswoman said "Buying the house is like a bricks-and-mortar statement on his commitment to NI, his sense of being rooted in NI." For more details, please click Belfast Telegraph.


Kerry preparing to bring the Sam Maguire Cup home
Kerry are preparing to celebrate their double success in the All-Ireland Football Championship as the minor and senior champions get set to journey home to the Kingdom this evening. The victorious teams will depart Dublin's Heuston Station and will stop in Rathmore, Tralee and Killarney as part of the homecoming. Speaking at their team hotel this morning, man of the match for the senior team Paul Murphy said the win has yet to hit home. "It hasn't sunk in at all. It will probably be later in the week. It's almost a state of shock ..." For more detail, please click RTÉ.
All-Ireland football final photo gallery: BBC

September 21

Pope indicates desire for Church rethink on key marriage issues
In what looks suspiciously like a pre-Synod manoeuvre, Pope Francis this weekend has twice indicated he wants the Catholic Church to seriously reassess key teaching with regard to marriage. With the Synod, the closest thing the Catholic Church ever gets to a parliament, due to meet in two weeks' time to discuss a range of "family" related matters, two very different bodies of church opinion, usually of the Red Hat variety, have become increasingly voluble in recent days. For more details please click Irish Times.
Photo Credit: ony Gentile/Reuters


Lourdes pilgrimage a miracle of service and selflessness
Archbishop of Dublin and Primate of Ireland John Charles McQuaid instituted the Irish-based pilgrimage in 1949, and asked some members of the first committee to find some young people to help to carry the sick. Belvedere College was the first school to respond to the call for helpers, and has been doing so since, so the preparatory meetings are held there. Running the pilgrimage requires a small army - about two thousand. For more details, please click Irish Times.


Muslims build first Irish mosque in Galway
When Imam Ibrahim Noonan began celebrating the Qu'ran in a housing estate in Galway, his hope was that the temporary mosque in Wellpark would be replaced by a permanent structure. Now, four years after foundation stones were laid on a site opposite Ballybrit racecourse, there's a new minaret on the city skyline – marking the Ahmadiyya Muslim community's first Irish house of prayer. "You can see the height gives a beauty to it, and there's a bit of an echo as well,"says Imam Noonan, looking up at the dome which is also inscribed in Arabic: "There is no greater contentment than remembrance of God in the heart." For more details, please click Irish Times.


Singing priest set for first ever professional concerts
Father Ray Kelly, who became an overnight sensation when he sang a unique version of Leonard Cohen's classic Hallelujah to surprise a couple during their wedding, will step up to the mic in Monaghan and Navan. Since Fr Kelly's impromptu performance earlier this year, the video of the special moment has been watched over 36.7 million times on YouTube and he has received requests from thousands of couples to officiate at weddings all over the world. For more details, please click Irish Herald.
Photo Credit & Related Story: Irish Independent


Rewriting history - '1916 leaders did not make last stand at 16 Moore St'
Testimonies from two volunteers cast doubt over the preservation of No 16 Moore Street - a poultry shop where Padraig Pearse, James Connolly, Joseph Mary Plunkett, Sean Mac Dermott and others supposedly retreated to after they abandoned the GPO. Elizabeth O'Farrell, a nurse who helped wounded rebels, places the leaders at No 16 in her account given to the Catholic Bulletin newspaper in March 1917 - a report widely accepted throughout history. But historian Ann Matthews, who has written extensively on the period, suggests that the leaders were probably several houses away. For more details, please click Irish Independent.


Prince Harry gives royal seal of approval to redhead festival
The carrot-topped British Royal was sent a VIP invitation for last month's Irish Redhead Convention in Crosshaven, Co Cork. And although he was unable to fly in to join in the ginger-themed fun, the extrovert prince sent the festival's chiefs a letter, expressing his hopes that the colourful carnival was "a great success". In the Kensington Palace-stamped letter, the prince's private secretary, Edward Lane Fox, wrote: "Prince Harry has asked me to write and thank you for your letter of 12th August, in which you invited His Royal Highness to the 2014 Irish Redhead Convention..." For more details, please click Irish Independent.


Executioners, Vikings and women at war… Dublin's history unlocked
Dublin's past will take centre stage this month when the Dublin History Festival takes place in the capital. With a variety of events on, it's a chance to learn more about the city's past, and hear from experts about pivotal moments in history. It takes place at Dublin Castle Printworks and venues around the city from 26 September to 8 October, featuring a line up of Irish and international historians. Dublin City Librarian Margaret Hayes said that 4,000 people attended last year's festival. "The Festival allows Dublin City Council to mark significant historical anniversaries and this year, Dublin's involvement in the First World War will be remembered," she explained. For more on this story please click Journal Ireland.
For more credit, please click Collectors Weekly



The magic of an All-Ireland Final
As Donegal prepares to take on Kerry in this year's All-Ireland Senior Football final, one man is setting out to taste that Croke Park magic for the 62nd time. John Murphy, a retired head post master, from Donegal, may be in his 84th year, but age and limited eyesight will not hold him back from an All-Ireland championship game. His is a passion for Gaelic games that was sparked in his childhood back in the 1930s. It began in his birthplace of Mayo. For more on this story, please click BBC.


Football Final: Tomás Ó Sé insists Donegal have edge over Kerry
Five-time All-Ireland winner Tomás Ó Sé insists Donegal are slight favourites going into Sunday's All-Ireland Football final clash with Kerry at Croke Park. "To be fair I didn't think Donegal could beat Dublin. I thought Dublin were ahead of nearly everybody that was there but look, that performance by Donegal was unbelievable, and based on that they are favourites." O Sé also downplayed rumours that Kerry talisman Colm Cooper could be in line for a shock return in Sunday's game. For more details, please click RTÉ.
Live: Kerry v Donegal All-Ireland football final

September 20

Irish winner of €86.7m Euromillions jackpot yet to come forward
Someone in Ireland is waking up €86.7m better off this morning. It's the fourth Euromillions win in Ireland in the past year. The last one was back in March, when €15m was won in Mayo. Last night's winner is being advised to sign the back of the ticket, keep it in a safe place, and contact Lotto HQ. Eleanor Murphy, information officer with the National Lottery said "It's been a very lucky year for Euromillions players in Ireland." For more details, please click Breaking News Ireland.
Photo Credit & Related Story: Irish Mirror


Yeats 2015: Celebrating the poet's 150th anniversary
The Irish government has allocated 500,000 euros to celebrate the work of poet and Nobel Laureate WB Yeats. Next year has been designated Yeats 2015 by the Irish government. It will be a year-long national and international celebration of the life and works of the poet. Artists and organisations have been invited to apply for a share of the 500,000 euros budget to fund projects to celebrate the 150th anniversary of his birth on 13 June 1865. For more details, please click BBC.
To read our article, please click In Tribute to W.B.Yeats


Heritage Ireland: the church at the crossroads of Dublin's ancient past
In this edition of the Heritage Ireland series, archaeologist Neil Jackman guides us to an ancient tomb in Co Sligo, to evidence of Dublin's medieval history at St Audoen's, and to a peaceful priory in Co Kerry. Pictured is St Audoen's in Dublin city centre which stands by the most ancient road into Dublin. Constructed at the western side of the city, St Audoen's dates to the late 12th century, though it may stand on the site of an earlier church as a ninth century graveslab was found on the site. For more details, please click Journal Ireland.


Eight world-changing things you never knew were invented by Irish people
Irish people been behind some of the most important inventions of our time. And we're talking important items that have can be considered true gamechangers, like portable defibrillators and flavoured crisps. Other inventions on the list include the submarine, perforated stamps, and even the science of seismology. Irish geophysicist Robert Mallet is often credited as the "father of seismology" thanks to his pioneering research into earthquakes. He even coined the words seismology and epicentre. For more details, please click Journal Ireland.


Northern Ireland's shores pass EU clean water tests
Northern Ireland's beaches offer some of the best bathing water quality in Europe, according to Environment Minister Mark H Durkan. His comments come after 16 of 23 bathing beaches were classed as 'Excellent' under the EU Bathing Water Directive and another six as 'Good', meeting the mandatory standard. The only one to fail was Carnlough beach, which yielded a series of poor samples in an unusually wet August that sparked a spate of floods and landslides in the Glens of Antrim. For more details, please click Belfast Telegraph.


Culture Night Ireland: Samba drums set the beat
Who could go straight home from work when the beguiling beat of the samba drum beckoned from a street corner? Or the foot tapping sound of a trad session, or the mesmerising lilt of a flamenco dancer promising a pocket of sunshine on a gloomy grey night. Even the smallest piece of street theatre or the humblest busker offered plenty to hold the attention. With the lure of culture far too strong to resist, a good deal of fast-food was bolted down across the country last night as the nation stayed out to party. For more details and video clip of the Freemason's Lodgeplease click Irish Independent.
Image: Freemason's symbol on the door of the lodge in Dublin


Culture Night Northern Ireland: Thousands flock into Belfast
Belfast city centre was closed off to traffic and opened up to music, art and roller skates last night for the sixth annual Culture Night. The whole of the city centre became an enchanting stage, showcasing the country's very best cultural and sporting offerings. The familiar surroundings of Royal Avenue were illuminated by stilt-walkers, just around the corner in Writers' Square, Belfast Roller Derby had a large crowd looking on enthralled, and Elsewhere, people were enjoying science demonstrations, photographic exhibitions and more. For more details, please click Belfast Telegraph.


Ireland scores 2020 Euro win
International glory may have evaded Ireland in recent years but regardless of how the Boys in Green perform, Ireland will be part of football's biggest competition in 2020. Dublin is among 13 cities chosen to host matches for the Euro 2020 Championships, with three group games and one last-16 match headed for the Aviva Stadium in a sporting spectacular estimated to be worth upwards of €50m. And it won't be just Dublin that gets a piece of the action as there will be fanzones in Cork and other locations with big screens, entertainment, food courts, and other facilities. For more details, please click Irish Examiner.


Shane Lowry leads the way at Celtic Manor
Offaly's Shane Lowry carded a flawless 65 to claim a one-shot lead after the second round of the ISPS Handa Wales Open at Celtic Manor. Nicolas Colsaerts and Joost Luiten lie in second place on eight under, with former champion Thongchai Jaidee and Italy's Edoardo Molinari another shot back. Lowry, who won the Irish Open as an amateur in 2009 and the Portugal Masters in 2012, said "There is still a long way to go in the tournament but I'm really looking forward to the weekend. For more details, please click RTÉ.

September 19

Cities brace for flock of culture vultures
Up to half a million people are expected to flock to thousands of venues nationwide as they open their doors to the public this evening for a free and fun-filled celebration of heritage, culture, arts and music. Started as a small celebration of heritage in Dublin in 2006, Culture Night has morphed into an all-island event which saw more than 350,000 people take part last year. It has also become almost an all-day event, with many activities starting in the early afternoon. For more details, please click Irish Examiner.


US approves new ambassador to Ireland
Kevin O'Malley has been approved by the US Senate to be their new ambassador to Ireland. The Irish-American lawyer from Missouri was nominated for the position two months ago. It is now nearly two years since his predecessor, Dan Rooney, stepped down from the role. Mr O'Malley has dual Irish and US citizenship, and his grandparents were from Westport in Co Mayo. To read this news item and many others, please click Breaking news Ireland.
Photo Credit & Related Story: Irish Times


€117m Dairygold investment to create 115 jobs by 2020
The investment in its dairy processing facilities at Mallow and Mitchelstown in Co Cork. The expansion is also expected to create 400 temporary construction jobs. It is envisaged that the expansion will also lead to a number of additional jobs in farming and indirect activity related to the company's output. Dairygold is a farmer-owned dairy co-operative, which processed over 960 million litres of milk in 2013, exporting to more than 50 countries. To read this news item, please click RTÉ.
Photo Credit: Dairygold


Interactive Dublin website launched
A new interactive website, full of real time and collated data about Dublin, has been launched by researchers at NUI Maynooth, in partnership with Dublin City Council. The Dublin Dashboard will for the first time present citizens, planners, policy makers, businesses and others with a wealth of information on the workings of the capital, all in one place. The data available covers a variety of areas, from transport, housing and planning, to the environment, emergency services and health. For more details, please click RTÉ.
Photo Credit: Music Row Girl


Galway shop customers scoop €500k in EuroMillions syndicate
A syndicate of lucky customers in a Co Galway shop are celebrating after winning half a million euro between them in the EuroMillions Plus draw. The syndicate is run by Mary Moloney, owner of the Post Office and Costcutter shop in Tynagh. The members won the top prize of €500,000 in the EuroMillions Plus draw last Friday, 12 September. "There's been great excitement in the village. The parish priest even announced it at Mass on Sunday!" said winner Mary Moloney. For more details, please click Journal Ireland.


A day in the life of a Dublin bike
Five years ago, if you commuted to work and wanted to go from Dublin's IFSC to Grafton Street's Brown Thomas during your lunchbreak, you would have had very little browsing time, even if you had travelled by taxi. Today, the city is a much smaller (and cheaper) place for the members of the Dublin Bikes scheme, which has just celebrated its fifth birthday. But who uses a city bike and why? Eoghan McNeill followed the journeys of one bike around Dublin for a day. For more details, please click Irish Independent.


Capturing the wild side of the river Dodder
Chasing the images he had seen on David Attenborough documentaries, amateur wildlife photographer Paul Hughes spent years travelling North America in search of the perfect photograph. It was only when he moved back to Ireland after almost a decade abroad that he discovered "a world of wildlife" on his own doorstep in the centre of Dublin to rival any nature scene from his travels. A chance sighting from the Dart of a swan on the river Dodder one sunny afternoon in 2008 prompted Hughes to disembark with his camera to explore the area around Lansdowne Road station. For more details and photos, please click Irish Times.


One third of Irish adults took part in ice bucket challenge
A survey of Irish adults suggests an enormous 1.1 million took part in the ice bucket challenge craze in recent months – 32% of the population aged 15 and over. Results from Ipsos MRBI's omnipoll of 1,000 adults aged 15+ showed that 33% of women and 31% of men had taken part. Exactly half of those between the ages of 15 and 34 participated in the charity-driven social media craze, which dropped to 33% among 35-54s, and only 9% among those aged 55 and over. For more on this news item, please click Breaking News Ireland.


Rory McIlroy buys house in Holywood
He may be the world number one — but golfing's golden boy hasn't forgotten his roots. The four-time Major champion golfer has bought a new house in the Co Down town where it all began. The news broke as McIlroy was photographed with a local estate agent, who was handing over the keys to his new property. The estate agent posted a picture on their Facebook page yesterday stating that they were "delighted to have assisted our local superstar Rory McIlroy with the purchase of his new house in his home town, Holywood," For more details, please click Belfast Telegraph.

September 18

"The man who arguably has done more for Ireland than anyone since Saint Patrick"
That was a quote from Forbes magazine about Chuck Feeney, the billionaire who wants to go broke within his own lifetime by giving all his money away. Mr Feeney traces his family history back to Co Fermanagh where his grandmother was brought up close to the village of Kinawley. A self-made man, he made his fortune when he set up the world's largest duty free goods company in 1960, but has spent the last three decades donating billions of dollars to good causes in Ireland and other countries. For more details, please click BBC.
Related story: Chuck Feeney donates almost £25m to NI education and health


Scottish independence: Ten effects a go-it-alone Scotland could have on Northern Ireland
One of the most obvious changes would be to the Union flag: If Scotland is no longer part of the UK it is likely that the distinctive blue Saltire will disappear from the flag, leaving it just red and white, incorporating the cross of St George, representing England, and cross of St Patrick, representing NI. Another effect would be a different currency. Prime Minister David Cameron has indicated that Scotland may not be able to continue using sterling if it becomes independent. For more details, please click Belfast Telegraph.
Photo Credit: Dan Kitwood/Getty Images


Award for flute virtuoso Sir James
Flautist* Sir James Galway was celebrated by the classical music world with a lifetime achievement honour at the annual Gramophone Awards. The virtuoso, who unusually for a classical musician has achieved a top-three chart hit, was recognised for a career stretching across 50 years in which he has reached a substantial audience. He collected his award and performed at a ceremony staged by Gramophone magazine at St John's Smith Square in London. For more details, please click Belfast Telegraph.
* Sir James has been quoted as saying he plays the flute, not the flaut.


Donegal insurance workers scoop 4.9m euro lotto jackpot
The 13 all work in Malin Head and will take home 375,000 euro (£295,000) each. It comes days before Donegal take on Kerry in the All-Ireland Gaelic football final and many will be hoping the county is on a winning streak Amanda McFadden, who is one of the lucky 13, spoke of their delight. She said that they had celebrated already with a simple cuppa. Most of the group met up for breakfast in a cafe in Carndonagh on Thursday. "We had to go for coffee as nobody would serve us champagne," she said. For more details, please click BBC.
Photo Credit & related Story: Irish Independent


Thirteen Irish craft beers to put on your bucket list
Craft beer is now so popular, even Guinness are doing it. But long before Diageo got on board, small Irish breweries were setting the standard. Here's a non-exclusive list of 13 essential – and most importantly, delicious – Irish craft beers from around the country. There's a wide range of styles (and levels of adventurousness) here – craft beer has something for everyone. For photos and descriptions of each beer, please click Journal Ireland.


Milk-choc digestives are nation's favourite biscuit
That's according to Tesco. The retailer has been looking at biscuit sales over the past five months. Digestives topped the list, with almost nine million sold in the last five weeks. Chocolate chip cookies coming second. Oreos came in third, thanks to a strong performance in Dublin, narrowly beating plain digestives. Honourable mentions went to Bourbon Creams, Ginger Nuts and Custard Creams. To read this news item and many others, , please click Breaking News Ireland.


Bono brings it all back home to Cedarwood Road
Just when the good people of Cedarwood Road thought they had seen the back of busloads of coaches seeking out where Bono grew up, the U2 singer has gone and written a song about it. For the last three decades, fans have turned up outside Bono's childhood home in Glasnevin, despite the fact he has not lived there since the early 1980s. Some come with serious intent, others - such as a group of spoof Hare Krishnas who bowed and chanted outside the house - came to satirise the cult of Bono. For more details, please click Irish Times.


New owner to make Hayes Hotel a 'cultural hub'
The new owner of the famous Hayes Hotel in Thurles has said he wants to turn the landmark property into a "cultural hub" which will recognise its role in GAA history but also become a thriving business. Yesterday, it was revealed that local businessman Jack Halley was the purchaser of the historic business.The Co Tipperary hotel is the place where the GAA was founded in 1884 and has remained an important part of Irish sporting heritage and local business life. For more details, please click Irish Examiner.


Thai Tims choir stays neutral in All-Ireland Football Final
The Thai Tims children's choir is staying neutral when it comes to Sunday's All -Ireland Football final between Donegal and Kerry. In the past, they've backed Katie Taylor, the Irish football team and the Dublin GAA team. In their latest YouTube video, the musical children, part of Thailand's Good Child Foundation, sing their song to the tune of Thin Lizzy's Whiskey in the Jar. For more details, please click Irish Times.

September 17

Culture Night 2014 guide
If you're lucky enough to live in Ireland or you're visiting, keep this Friday night open. More than 900 venues across the country are throwing open their doors for free. This is Culture Night's ninth year, and it has now expanded to 36 regions across Ireland, so there's something for everyone. Several hundred events will happen simultaneously, so it won't be possible to make it to everything. Here are top picks across music, film, theatre, art, technology and heritage, and even then, this is only a small selection of what's on offer. For more details, please click Irish Times.
Photo credit: Frank Miller


Tullamore Dew returns to namesake town
The world's second largest Irish whiskey brand has returned to the town which gave the spirit its name after a 60-year absence. William Grant & Sons has opened its new Tullamore Dew distillery on a 58-acre site on the outskirts of Tullamore at Conminch in Co Offaly, where 1.5 million cases of the spirit will be produced each year. Tullamore Dew global brand director Caspar MacRae said while the brand's short-term future would be focussed on distilling a top-quality product, down the road, they could experiment with small-batch specials. For more details and video clip, please click Journal Ireland.
Photo Credit, More Pics & Related Story: Irish Independent


Ryanair hopes to launch US flights from €10 one-way
"We would love to do transatlantic flights and the business plan is there," a Ryanair spokesman said this morning. "The lowest fares would start from €10 and we would link 12 to 14 European cities with 12 to 14 US cities." Ryanair said it requires the appropriate aircraft to go ahead with the proposal however. "It is entirely dependent on attaining long-haul aircraft at a viable cost and at the moment," the spokesman said. "There is a shortage of available aircraft." Last year, CEO Ryan O'Leary claimed that the €10 fees would not include baggage fees and extras. For more details, please click Irish Independent.


2014 Hugh O'Flaherty award winner announced
In November, an annual memorial weekend will take place in Killarney, Co Kerry, the home place of the late Monsignor O'Flaherty, a Vatican priest, who is credited with helping thousands of Jewish people escape the Nazis during the Second World War. During the weekend, the the annual Hugh O'Flaherty International Humanitarian award is presented. The winner of this year's award is Dr John Beavis, the founder of an organisation dedicated to the relief of suffering and poverty in conflict zones. Dr Beavis is expected to attend the award ceremony in person. For more details, please click Irish Examiner.


All Hallows College on sale for €14m
As an academic institution, and a college of Dublin City University, All Hallows announced last May it was to close and that no new students would be accepted for the 2014/15 academic year. All Hallows came to international attention with the discovery of letters written between 1950 and 1964 by Jackie Kennedy to Fr Joseph Leonard, a priest of the college she had befriended. Initially it was planned to auction the letters to raise funds but this was stopped following intervention by the Kennedy family. For more details, please click Irish Times.
Photo Credit: Cyril Byrne


Home of Westlife's Shane Filan sold for below €1m asking price
Shane Filan's home in Sligo, built for €3m and reported to have been once valued at €10m, has sold for over €800,000. The "sold" notice across the auctioneer's sign has gone up on the stone wall outside the house — Castledale, at Carraroe on the edge of Sligo town. The house, built in 2004, was sold for below the €1m the receiver was originally seeking. Auctioneer David Reynolds of Gunne Sligo said: "It has gone for well over €800,000 but a bit below the €899,000 that was the last listed price." For more details, please click Irish Examiner.


Causeway doubles for Transylvania in new Dracula film
The Giant's Causeway has been transformed into an eerie Transylvanian mountain. And the glorious Italian Garden at Mount Stewart doubles up as the grounds of Dracula's castle. The Universal Pictures $100m production of Dracula Untold, which is released on October 3, was filmed at a host of other well-known National Trust properties, including Mount Stewart and Divis and the Black Mountains. Starring Luke Evans, the movie is based on the original Bram Stoker novel and also explores the origins of Dracula. of more details, please click Belfast Telegraph.


Firm looking for Irish butlers... to serve in the buff
Call it bare-face cheek, but a UK company is targeting young Irish recruits. Butlers in the Buff is recruiting Irish men with open auditions being held on Friday. The company says it is looking for "gorgeous, hardworking men with charm, charisma, and a great bottom!". According to the recruitment literature, "new butlers will don their trademark bow tie, collar, cuffs, apron, and nothing else — using their assets to make parties truly memorable." For more details, please click Irish Examiner.


Rory McIlroy wins PGA of America and Vardon awards
Rory McIlroy's successful summer has led to him being named PGA of America Player of the Year and the Vardon Trophy winner in the US. It marked the second time in three years that the Northern Irishman has picked up two awards. Masters winner Bubba Watson was a distant second to McIlroy for the Player of the Year award. World number McIlroy one could also land the PGA Tour Player of the Year award. That honour will be announced in October. To read this news item, please click BBC.
Photo Credit: Reuters

September 16

Colourful Irish trainer Oliver Brady, RIP
The Monaghan trainer died peacefully in his sleep on Monday evening following a long battle with cancer, confirmed Horse Racing Ireland. He was well known for his celebrations in the winner's enclosure, when he would usually make a rousing speech and lead an impromptu sing-song. Despite all of his health problems, Brady tirelessly devoted his life to his horses and to raising money for the Shabra Charity Foundation which he established with his business partner, Rita Shah. For more details, please click RTÉ.
Photo Credit: Inpho
Video Clip: RTÉ


Women 'to get place in history'
A public park and a national roadway in Kerry are to be named after the paramilitary organisation Cumann na mBan in the county's first major recognition of the role of women in the fight for independence. The decision by Kerry County Council to recognise the women who were active during the War of Independence was described as "the start of equality of commemoration" in a county dominated by monuments to the role played by men during that era. For more details, please click Irish Examiner.
Photo Credit: Irish Volunteers


Culture Night preview
Next Friday, 19 September, is Culture Night 2014 in Ireland when thousands of venues around the country throw their doors open to the public for a celebratory evening of heritage, culture, arts, fun and events of all sorts, for all tastes, for all ages. A full database of what's on in towns and cities around the country is available on culturenight.ie but to give a taste of what's on in the capital, Journal Ireland teamed up with Dublin Bus for a whistlestop tour. For more details, please click Journal Ireland.


Should Ireland have a motto? What should it be?
"Liberté, Égalité, Fraternité" in France, "Unity in Diversity" in South Africa, "In God We Trust" in the US. Country mottos have long been a way to marry patriotism and idealism. Today, the 2014 Better Together campaign launched their national motto competition, searching for a motto for Ireland. The criteria is that the motto be no longer than 60 characters and be "relevant, respectful, clear and positive". That said, which way should Ireland go? For more details, please click Journal Ireland.
ED. NOTE: As illustrated, we thought Ireland already had a motto


Can Northern NI learn from the world's only Manx-speaking school?
As you approach the front gates it is clear this is not an ordinary school. The pupils do not look twice at the camera or recording equipment; TV and radio crews are here all the time. About 70 pupils attend Bunscoill Ghaelgagh, the world's only Manx-speaking school. In the 1980s, just a few dozen speakers of Manx remained. By 2009, a United Nations report incorrectly stated the language was extinct; a claim the UN has since amended. There are now hundreds of speakers, and the number is growing. For more details, please click BBC.


Reserve supplies one in four of new garda recruits
The group of 100 recruits were addressed yesterday by Justice Minister Frances Fitzgerald and acting Garda Commissioner Noirin O'Sullivan as they began their training programme. A breakdown of the group shows that 24 are former reservists while 18 are women, a figure welcomed by the minister and acting commissioner, although it is lower than the overall proportion of females in the force. For more details, please click Irish Independent.


Wild Wicklow-inspired look at London Fashion Week
A camping trip in the Wicklow mountains was the creative starting point for Irish designer Danielle Romeril's London Fashion Week catwalk debut at the weekend. One of London's "ones to watch", Romeril's spring 2015 presentation was an intimate affair on a small set got up like a riverbank, with leggy models brandishing fishing rods. "I had an image of a girl gang who live in the wild and who fish for their supper," said the designer. For more details, please click Irish Times.
Photo Credit: Tim P Whitby/Getty Images


Lorries to be banned from Northern Ireland village
Heavy lorries face being banned from entering one of Northern Ireland's most picturesque villages following complaints from residents. It comes on the back of a long-running campaign by people in Hillsborough to get noisy trucks barred. Situated close to Lisburn, the village centre contains significant amounts of Georgian architecture, as well as the Queen's official residence in Northern Ireland, Hillsborough Castle. For more details, please click Belfast Telegraph.


Hurling/Camogie: Fans hail homecoming heroes
For a split second after waking up, Anna Geary wasn't sure whether she had an ache in her belly or a smile on her face, but then she remembered the O'Duffy Cup was theirs to take back to Cork. "And then I had the biggest smile on my face," she told the cheering crowd of supporters that turned out in Cork City last night to welcome home the winners of the All-Ireland Senior Camogie Final. For more details and video clip, please click Irish Examiner.

September 15

Simple send off for Ian Paisley, RIP
Tributes have been pouring in from all over the world - one sums up perfectly how many people feel about one of the most iconic yet complex figures in Northern Irish history. Eisso Post, Groningen, Netherlands writes: "You can't help but really admire someone who was so convinced, more or less dogmatic, that he was right, and nevertheless decided to make compromises because that was necessary for peace. Nobody expected Ian Paisley to do that, but he did." To read more tributes, please click Belfast Telegraph.


Where the rebels of 1916 awaited justice
In Inchicore, lie twin limestone structures and sandwiched between them, a fading brown bricked hall in very poor repair. This trio of buildings have long since been ignored and neglected by the public at large, and yet 98 years ago, in the week after Easter Week 1916, it was here in the then Richmond Barracks that the leadership of the Easter Rebellion were assigned their fate. For more details, please click Irish Times.


Hitler's last surviving Irish slave
Harry Callan was a seventeen year old civilian merchant seaman when his cargo ship was sunk by the German navy. He was taken prisoner and forced, along with 31 other Irish sailors, to build a giant submarine factory - the Valentin Bunker. This was a secret project that the Nazis hoped would turn the fortune of war back in their favour. Although life expectancy was short, Harry and the Irish stuck together and most survived on that factory site. To listen to this Documentary, please click RTÉ.


RTÉ launches new online Irish language news service
RTÉ is initiating an online news service in Irish today as part of a restructuring of news delivered as Gaeilge. The State broadcaster has announced that the RTÉ.ie news website, and the RTÉ News Now App will feature national, international and regional news in Irish for the first time. The online operations will be based in Nuacht RTÉ's centre in Baile na hAbhann, Connemara, with content produced by both Nuacht RTÉ and RTÉ Raidió na Gaeltachta journalists. For more details, please click Irish Times.
Photo Credit: Raidió na Gaeltachta/RTÉ


First Irish language Garda recruits to begin training
Following complaints to the Language Commissioner in 2010 about the lack of gardaí in Gaeltacht areas and especially those who were unable to conduct their business with the public through Irish, it was decided to recruit gardaí with competence in Irish, in accordance with the Garda Act 2005, and to locate them in Gaeltacht areas. Around 1,000 people applied to the garda training course in Irish last December and January and the first group will begin training today. To read this news item and many others, please click RTÉ.


Which Irish county should you actually live in?
A fun series of choices to determine where you belong - from choosing a food, as in black pudding, supermacs, a 99 or a potato farl to selecting a sport - would it be rugby, hurling, soccer or football? Other catagories include preferred landscape views, U2 songs, movies, and more. To take the test and see which county you shhould live in, please click Journal Ireland.


Ireland's 'Forrest Gump' home after run around world
A Dublin endurance runner dubbed Ireland's answer to Forrest Gump has arrived home after an epic four-year 50,000km run around the world. Former construction worker Tony Mangan set off on his solitary east-west run across five continents, six deserts and 41 countries in October 2010 after running his home town race. He is now planning to recreate the famous "little run" scene from the Oscar-winning movie as he prepares to end his adventure at next month's Dublin Marathon. For more details, please click Irish Examiner.


Fashion stakes rival racing action at Irish Champions Weekend
The style stakes almost rivalled the action on the track as it was standing room only at the Irish Champions Weekend, the richest two-day racing event of the year. Actress Victoria Smurfit was judging the fashion stakes, while designer Louise Kennedy was looking on as Liz Maher from Bagenalstown, Co Carlow, strolled away with a €5,000 personal shopping experience with the designer after the judges on Saturday fell for her well assembled look. For more details, & photos, please click Irish Independent.


Camogie: Cork paint Croke Park red after brilliant comeback
Cork inflicted a second consecutive defeat on Kilkenny to claim their first All-Ireland title since beating the same opposition in 2009. It was a strange game that didn't get going in the first half, although that had much to do with Kilkenny's clear superiority. Cork star Jenny O'Leary admitted that the Leesiders hadn't performed at all in the first half and resolved to change that in the latter period. "I don't know if the occasion got to us or our heads were in our boots but we just said at half time that we'd worked too hard and we weren't going to let it behind us." For more details & Pics, please click Journal Ireland.



Wed, Oct 1, 2014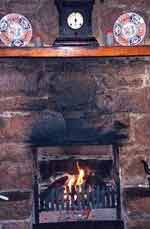 From Bog Land to Turf Fire
Ireland contains more bog land, relatively speaking, than any country in Europe, except Finland. For people in rural areas, turf cut from the bog is still a natural source of heat. Turf cutting begins in spring and then the turf is spread and rickled . Rickled means to pile the turf up in small mounds. By summer, the turf is dry and it's time to bring it home. Everything has to be prepared before the winter comes, or even earlier, because the rain would wet the turf too much. It has to be dry and in the shed before Autumn. Then and only then, can an irish country family look foreward to the cozy warmth of "a turf fire in the cabin."

Resources: The Atlas of the Irish Rural Landscape
Image: Spirited ireland

Click for More Culture Corner.
---
---
Local Time in
---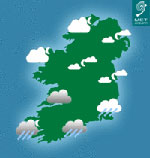 The Weather
Up the minute forecasts provided by Ireland's official source for all weather-related news. Please click Met Eireann.

---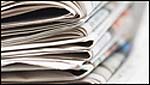 Links to the latest news from Ireland
Here you will find all the stories making headlines throughout the Republic of Ireland and the six counties to the north. This is not intended to be an all-inclusive list. These are the main sources we check every day to bring you those headlines we think you will enjoy reading.

BBC Northern Ireland
Belfast Telegraph
Breaking News Ireland
Irish Emigrant
Irish Examiner
Irish Herald
Irish Independent
Irish News
Irish Times
Irish Post
RTE
The Irish World
The Journal Ireland
Inside Ireland


---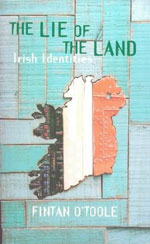 Lie of the Land
by Fintan O'Toole
A regular contributor to the irish Times and The Guardian, O'Toole applies his eagle journalistic eye to the state of ireland at the end of the 20th century. It's a riveting read as O'Toole examines with in-insight, humour and a bit of the blarney, the repercussions of a booming economy which has thrust ireland into the ranks of the richest European countries.
Click here for Lie of the land.

---