Traditions, folklore, history and more. If it's Irish, it's here. Or will be!
"People will not look forward to posterity who never look backward to their ancestors."
-Edmund Burke
---
Quotes

Library: Books, Movies, Music

Prints & Photos

Poetry

Jokes

---
---
Shops Ireland
---
Bunús na Gaeilge
(Basic Irish)

---
---
---
Himself/Herself
Write to Us
Readers Write..
Links/Link to Us
---
Advertise with us

---

Help keep us free
Throughout the site you will see many items available for purchase from well-known merchants such as Amazon. Not interested in what we're featuring? It doesn't matter. Click on any link and then shop for whatever you wish - we will still get credit, if you buy something.
Thanks for your help.

---
One
W.B. Yeats (b. June 13, 1865 - d. Jan. 28, 1939)

Read our small tribute to Yeats, click Tribute.

---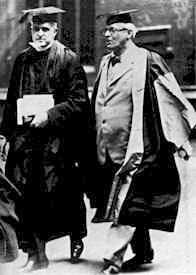 The Fiddler of Dooney
by William Butler Yeats
When I play on my fiddle in Dooney,
Folk dance like a wave of the sea;
My cousin is priest in Kilvarnet,
My brother in Moharabuiee.

I passed my brother and cousin:
They read in their books of prayer;
I read in my book of songs
I bought at the Sligo fair.

When we come at the end of time,
To Peter sitting in state,
He will smile on the three old spirits,
But call me first through the gate;

For the good are always the merry,
Save by an evil chance,
And the merry love the fiddle
And the merry love to dance:

And when the folk there spy me,
They will all come up to me,
With 'Here is the fiddler of Dooney!'
And dance like a wave of the sea.

Photo: Yeats at Oxford to receive an honarary degree.

Easter 1916
by W. B. Yeats

I have met them at close of day
Coming with vivid faces
From counter or desk among grey
Eighteenth-century houses.
I have passed with a nod of the head
Or polite meaningless words,
Or have lingered awhile and said
Polite meaningless words,
And thought before I had done
Of a mocking tale or a gibe
To please a companion
Around the fire at the club,
Being certain that they and I
But lived where motley is worn:
All changed, changed utterly:
A terribly beauty is born.

That woman's days were spent
In ignorant good-will,
Her nights is argument
Until her voice grew shrill.
What voice more sweet than hers
When, young and beautiful,
She rode to harriers?
This man had kept a school
And rode our wingèd horse;
This other his helper and friend
Was coming into his force;
He might have won fame in the end,
So sensitive his nature seemed,
So daring and sweet his thought.
This other man I had dreamed
A drunken, vainglorious lout.
He had done most bitter wrong
To some who are near my heart,
Yet I number him in the song;
He, too, has resigned his part
In the casual comedy;
He, too, has been changed in his turn,
Transformed utterly:
A terrible beauty is born.

Hearts with one purpose alone
Through summer and winter seem
Enchanted to a stone
To trouble the living stream.
The horse that comes from the road,
The rider, the birds that range
From cloud to tumbling cloud,
Minute by minute they change;
A shadow of cloud on the stream
Changes minute by minute;
A horse-hoof slides on the brim,
And a horse plashes within it;
The long-legged moor-hens dive,
And hens to moor-cocks call;
Minute to minute they live;
The stone's in the midst of all.

Too long a sacrifice
Can make a stone of the heart.
O when may it suffice?
That is Heaven's part, our part
To murmur name upon name,
As a mother names her child
When sleep at last has come
On limbs that had run wild.
What is it but nightfall?
No, no, not night but death;
Was it needless death after all?
For England may keep faith
For all that is done and said.
We know their dream; enough
To know they dreamed and are dead;
And what if excess of love
Bewildered them till they died?
I write it out in a verse --
MacDonagh and MacBride
And Connolly and Pearse
Now and in time to be,
Wherever green is worn,
Are changed, changed utterly:
A terrible beauty is born.

Leda and the Swan
by W. B. Yeats

A sudden blow: the great wings beating still
Above the staggering girl, her thighs caressed
By the dark webs, her nape caught in his bill,
He holds her helpless breast upon his breast.

How can those terrified vague fingers push
The feathered glory from her loosening thighs?
And how can body, laid in that white rush,
But feel the strange heart beating where it lies?

A shudder in the loins engenders there
The broken wall, the burning roof and tower
And Agamemnon dead.
Being so caught up,
So mastered by the brute blood of the air,
Did she put on his knowledge with his power
Before the indifferent beak could let her drop?

When You are Old
by W. B. Yeats

When you are old and grey and full of sleep,
And nodding by the fire, take down this book,
And slowly read, and dream of the soft look
Your eyes had once, and of their shadows deep;

How many loved your moments of glad grace,
And loved your beauty with love false or true,
But one man loved the pilgrim soul in you,
And loved the sorrows of your changing face;

And bending down beside the glowing bars,
Murmur, a little sadly, how Love fled
And paced upon the mountains overhead
And hid his face amid a crowd of stars.

Sailing to Byzantium
by William Butler Yeats

That is no country for old men. The young
In one another's arms, birds in the trees -
Those dying generations - at their song,
The salmon-falls, the mackerel-crowded seas,
Fish, flesh, or fowl, commend all summer long
Whatever is begotten, born, and dies.
Caught in that sensual music all neglect
Monuments of unageing intellect.

An aged man is but a paltry thing,
A tattered coat upon a stick, unless
Soul clap its hands and sing, and louder sing
For every tatter in its mortal dress,
Nor is there singing school but studying
Monuments of its own magnificence;
And therefore I have sailed the seas and come
To the holy city of Byzantium.

O sages standing in God's holy fire
As in the gold mosaic of a wall,
Come from the holy fire, perne in a gyre,
And be the singing-masters of my soul.
Consume my heart away; sick with desire
And fastened to a dying animal
It knows not what it is; and gather me
Into the artifice of eternity.

Once out of nature I shall never take
My bodily form from any natural thing,
But such a form as Grecian goldsmiths make
Of hammered gold and gold enamelling
To keep a drowsy Emperor awake;
Or set upon a golden bough to sing
To lords and ladies of Byzantium
Of what is past, or passing, or to come.

He Wishes for the Cloths of Heaven
by William Butler Yeats

Had I the heavens' embroidered cloths,
Enwrought with golden and silver light,
The blue and the dim and the dark cloths
Of night and light and the half light,
I would spread the cloths under your feet:
But I, being poor, have only my dreams;
I have spread my dreams under your feet;
Tread softly because you tread on my dreams.

For more more W.B. Yeats poetry click Yeats Next Page

For more Poetry Click the Poetry Index.

One

Thu, Jul 9, 2015
No matter who does the collecting, the works stand on their own but this is an excellent compilation and well worth adding to your library.
Click here for Yeats.
---
1000 Years of Irish Poetry: The Gaelic and Anglo Irish Poets from Pagan Times to the Present
by Kathleen Hoagland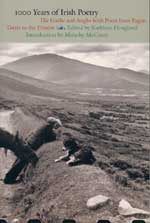 Interested in Irish Poetry?Here's the easy way to collect them all (well, almost all, anyway).
Malachy McCourt says in his introduction, "With the republication of this book, the Irish recover under their roof of stars all the great poets and writers who have been falsely claimed by the saxon crown and its minions - even our reprobates."
Amazon states this is out of stock. They still have used copies for almost nothing (except shipping - chuckle). If you would like a new edition, it was available at Powell's. We can't promise it's still there. Click here for Powell's 1000 Years.
Click here for used at Amazon.