Traditions, folklore, history and more. If it's Irish, it's here. Or will be!
"People will not look forward to posterity who never look backward to their ancestors."
-Edmund Burke
---
Quotes

Library: Books, Movies, Music

Prints & Photos

Poetry

Jokes

---
---
Shops Ireland
---
Bunús na Gaeilge
(Basic Irish)

---
---
---
Himself/Herself
Write to Us
Readers Write..
Links/Link to Us
---
Advertise with us

---

Help keep us free
Throughout the site you will see many items available for purchase from well-known merchants such as Amazon. Not interested in what we're featuring? It doesn't matter. Click on any link and then shop for whatever you wish - we will still get credit, if you buy something.
Thanks for your help.

---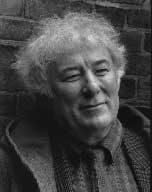 Another Kind of Music
by Paul Simon

I was in the audience at the Abbey Theater in Dublin on June 9, 1991, when Seamus Heaney read from his new book of poems, "Seeing Things." I know the exact date because he kindly inscribed his book for me and dated it. But I wouldn't have forgotten that night, with or without the month and year. Seamus gave a mesmerizing, witty and emotional performance, and it was a rare opportunity for me to hear the sound of his words spoken with their true accent.

Popular culture likes to house songwriters and poets under the same roof, but we are not the close family that some imagine. Poets are distant cousins at most, and labor under a distinctly different set of rules. Songwriters have melody, instrumentation and rhythm to color their work and give it power; poets accomplish it all with words.

Seamus, though, was one of those rare poets whose writing evokes music: the fiddles, pipes and penny-whistles of his Northern Irish culture and upbringing. You can hear it in "Casting and Gathering":

Years and years ago, these sounds took sides:

On the left bank, a green silk tapered cast
Went whispering through the air, saying hush
And lush, entirely free, no matter whether
It swished above the hayfield or the river.

And later in the poem:

One sound is saying, 'You are not worth tuppence,
But neither is anybody. Watch it! Be severe.'
The other says, 'Go with it! Give and swerve.
You are everything you feel beside the river.'

I love this poem and return to it from time to time to hear the "hush" and "lush" of the fishermen casting their rods from opposite banks, like politicians across the Senate aisle. And I like the friendly pep talk Seamus gives himself when self-criticism is about to get the best of him.

It's frustrating to try to capture even a glimpse of the man, his verbal virtuosity, his wit and Irish charm. Recovering from a stroke in the hospital, he greeted his friend and fellow poet Paul Muldoon with, "Hello, different strokes for different folks."

I admire the directness and simplicity of his work, a virtue most writers aspire to but rarely achieve. Seamus and I met through our mutual friend Derek Walcott. I visited him in his home outside Dublin, and we continued our conversations at my place in Manhattan. Obviously, I'm a fan even more of the man than the poetry, though there are few poets I would rank as his equal.

Originally published by the New York Times in the Arts Beat section
Photo Credit: RTÉ

ED. NOTE: Seamus Heaney passed away on August 30, 2013. We believe this tribute by Paul Simon is one of the finest there is and we want to share it with our readers on or aound the anniversary of when Mr Heaney died.


Thu, Jul 9, 2015
1000 Years of Irish Poetry: The Gaelic and Anglo Irish Poets from Pagan Times to the Present
by Kathleen Hoagland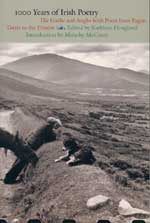 Interested in Irish Poetry?Here's the easy way to collect them all (well, almost all, anyway).
Malachy McCourt says in his introduction, "With the republication of this book, the Irish recover under their roof of stars all the great poets and writers who have been falsely claimed by the saxon crown and its minions - even our reprobates."
Amazon states this is out of stock. They still have used copies for almost nothing (except shipping - chuckle). If you would like a new edition, it was available at Powell's. We can't promise it's still there. Click here for Powell's 1000 Years.
Click here for used at Amazon.