Traditions, folklore, history and more. If it's Irish, it's here. Or will be!
"People will not look forward to posterity who never look backward to their ancestors."
-Edmund Burke
---
Quotes

Library: Books, Movies, Music

Prints & Photos

Poetry

Jokes

---
---
Shops Ireland
---
Bunús na Gaeilge
(Basic Irish)

---
---
---
Himself/Herself
Write to Us
Readers Write..
Links/Link to Us
---
Advertise with us

---

Help keep us free
Throughout the site you will see many items available for purchase from well-known merchants such as Amazon. Not interested in what we're featuring? It doesn't matter. Click on any link and then shop for whatever you wish - we will still get credit, if you buy something.
Thanks for your help.

---
Three
Seamus Heaney (b. April 13, 1939 - present)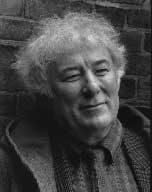 ...was born at Mossbawn, about thirty miles northwest of Belfast, in Northern Ireland.
Thankfully, he is still very much with us.
He won the Nobel Prize for Literature in 1995.
Sadly, he just left us August 30,2013 RIP.
To read a tribute by Paul Simon, please click Tribute



Personal Helicon
For Michael Longley
by Seamus Heaney

As a child, they could not keep me from wells
And old pumps with buckets and windlasses.
I loved the dark drop, the trapped sky, the smells
Of waterweed, fungus and dank moss.
One, in a brickyard, with a rotted board top.
I savoured the rich crash when a bucket
Plummeted down at the end of a rope.
So deep you saw no reflection in it.
A shallow one under a dry stone ditch
Fructified like any aquarium.
When you dragged out long roots from the soft mulch
A white face hovered over the bottom.
Others had echoes, gave back your own call
With a clean new music in it. And one
Was scaresome, for there, out of ferns and tall
Foxgloves, a rat slapped across my reflection.
Now, to pry into roots, to finger slime,
To stare, big-eyed Narcissus, into some spring
Is beneath all adult dignity. I rhyme
To see myself, to set the darkness echoing.

Blackberry-Picking
by Seamus Heaney

Late August, given heavy rain and sun
For a full week, the blackberries would ripen.
At first, just one, a glossy purple clot
Among others, red, green, hard as a knot.
You ate that first one and its flesh was sweet
Like thickened wine: summer's blood was in it
Leaving stains upon the tongue and lust for
Picking. Then red ones inked up and that hunger
Sent us out with milk cans, pea tins, jam-pots
Where briars scratched and wet grass bleached our boots.
Round hayfields, cornfields and potato-drills
We trekked and picked until the cans were full
Until the tinkling bottom had been covered
With green ones, and on top big dark blobs burned
Like a plate of eyes. Our hands were peppered
With thorn pricks, our palms sticky as Bluebeard's.
We hoarded the fresh berries in the byre.
But when the bath was filled we found a fur,
A rat-grey fungus, glutting on our cache.
The juice was stinking too. Once off the bush
The fruit fermented, the sweet flesh would turn sour.
I always felt like crying. It wasn't fair
That all the lovely canfuls smelt of rot.
Each year I hoped they'd keep, knew they would not.

FOLLOWER
by Seamus Heaney

My father worked with a horse-plough,
His shoulders globed like a full sail strung
Between the shafts and the furrow.
The horse strained at his clicking tongue.

An expert. He would set the wing
And fit the bright steel-pointed sock.
The sod rolled over without breaking.
At the headrig, with a single pluck

Of reins, the sweating team turned round
And back into the land. His eye
Narrowed and angeled at the ground,
Mapping the furrow exactly.

I stumbled in his hob-nailed wake,
Fell sometimes on the polished sod;
Sometimes he rode me on his back
Dipping and rising to his plod.

I wanted to grow up and plough,
To close one eye, stiffen my arm.
All I ever did was follow
In his broad shadow round the farm.

I was a niusance, tripping, falling,
Yapping always. But today
It is my father who keeps stumbling
Behind me, and will not go away.

Postscript
by Seamus Heaney

And some time make the time to drive out west
Into County Clare, along the Flaggy Shore
In September or October, when the wind
And the light are working off each other
So that the ocean on one side is wild
With foam and glitter, and inland among stones
The surface of a slate-grey lake is lit
By the earthed lightning of a flock of swans,
Their feathers roughed and ruffling, white on white,
Their fully grown, headstrong-looking heads
Tucked or cresting or busy underwater.
Useless to think you'll park and capture it
More thoroughly. You are neither here nor there,
A hurry through which known and strange things pass
As big soft buffetings come at the car sideways
And find the heart unlatched and blow it open.



For more Seamus Heaney poetry click Heaney Previous Page.

For more Poetry Click the Poetry Index.

Three

Thu, Jul 9, 2015
1000 Years of Irish Poetry: The Gaelic and Anglo Irish Poets from Pagan Times to the Present
by Kathleen Hoagland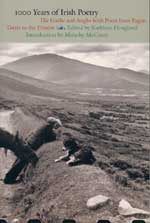 Interested in Irish Poetry?Here's the easy way to collect them all (well, almost all, anyway).
Malachy McCourt says in his introduction, "With the republication of this book, the Irish recover under their roof of stars all the great poets and writers who have been falsely claimed by the saxon crown and its minions - even our reprobates."
Amazon states this is out of stock. They still have used copies for almost nothing (except shipping - chuckle). If you would like a new edition, it was available at Powell's. We can't promise it's still there. Click here for Powell's 1000 Years.
Click here for used at Amazon.