Traditions, folklore, history and more. If it's Irish, it's here. Or will be!
"People will not look forward to posterity who never look backward to their ancestors."
-Edmund Burke
---
Quotes

Library: Books, Movies, Music

Prints & Photos

Poetry

Jokes

---
---
Shops Ireland
---
Bunús na Gaeilge
(Basic Irish)

---
---
---
Himself/Herself
Write to Us
Readers Write..
Links/Link to Us
---
Advertise with us

---

Help keep us free
Throughout the site you will see many items available for purchase from well-known merchants such as Amazon. Not interested in what we're featuring? It doesn't matter. Click on any link and then shop for whatever you wish - we will still get credit, if you buy something.
Thanks for your help.

---
A Tribute to the Queen of the May
by Jane Irwin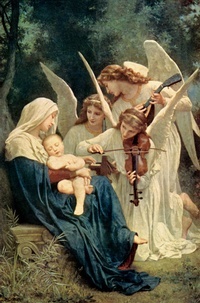 Since May is the month of Mary, it seemed fitting to publish the following poem, contributed by Jane Irwin. She tells us that she remembers her mother writing and reciting poetry - but, she isn't certain if her mom actually wrote the following verses. What she is sure of is that her mother grew up next door to her grandparents, aunts, and uncles who had emigrated from Ireland. To quote Jane: "You'd think she herself was born there, with all the songs and stories."

They were exiles all....
Gathered together from different places on earth.
And each one told of some favorite ruler
Of the land that gave him birth.
Said Pierre of France,
"Now here is a picture of the queen of my land;
Note the exquisite beauty of Marie Antoinette
And the beautiful, well-formed hand."
"Ah! Beauty is nothing," the Scotsman cried,
"It will not save from the hangman's knot.
Just look at this face where goodness is seen, 'Tis Mary, queen of the Scots."
The Englishman smiled and quietly said,
"I too, have a picture to show;
'Tis the noble face of Victoria the Great,
The friend of the high and the low."
But McCormick was the only one there
Who came from the land o' the green.
"Now boys," said he, "I'd like ye to see
The face of Ireland's queen."
"She is noble and good, gentle and true,
This queen of the dear old sod."
And he drew from his bosom the beautiful face
Of Mary, the Mother of God!
Thank you Jane - and your dear mother, Marghreta — for sharing this beautifully crafted tribute with all of us.
Thu, Jul 9, 2015
No matter who does the collecting, the works stand on their own but this is an excellent compilation and well worth adding to your library.
Click here for Yeats.
---
1000 Years of Irish Poetry: The Gaelic and Anglo Irish Poets from Pagan Times to the Present
by Kathleen Hoagland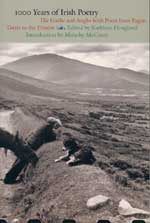 Interested in Irish Poetry?Here's the easy way to collect them all (well, almost all, anyway).
Malachy McCourt says in his introduction, "With the republication of this book, the Irish recover under their roof of stars all the great poets and writers who have been falsely claimed by the saxon crown and its minions - even our reprobates."
Amazon states this is out of stock. They still have used copies for almost nothing (except shipping - chuckle). If you would like a new edition, it was available at Powell's. We can't promise it's still there. Click here for Powell's 1000 Years.
Click here for used at Amazon.