Traditions, folklore, history and more. If it's Irish, it's here. Or will be!
"People will not look forward to posterity who never look backward to their ancestors."
-Edmund Burke
---
Quotes

Library: Books, Movies, Music

Prints & Photos

Poetry

Jokes

---
---
Shops Ireland
---
Bunús na Gaeilge
(Basic Irish)

---
---
---
Himself/Herself
Write to Us
Readers Write..
Links/Link to Us
---
Advertise with us

---

Help keep us free
Throughout the site you will see many items available for purchase from well-known merchants such as Amazon. Not interested in what we're featuring? It doesn't matter. Click on any link and then shop for whatever you wish - we will still get credit, if you buy something.
Thanks for your help.

---
Six
Oscar Wilde (b. Oct. 16, 1854 - d. Nov. 30, 1900)

See our tribute article at Oscar Wilde.

The Ballad of reading Gaol: Summary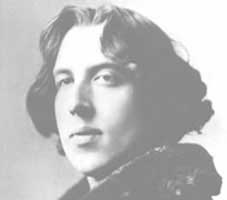 Somewhat confusingly, The Ballad of Reading Gaol is not the work that Wilde wrote while imprisoned for moral (in his case, homosexual) offences in 1895. That work was De Profundis, published five years after his death, in 1905. The Ballad of Reading Gaol was written after his release and he had moved to France, in 1897, though it was published in 1898. His works during this exile were published under the name Sebastian Melmouth, and this is the most famous. He would die in 1900. The poem is written in memory of "C.T.W." who died in Reading prison in July 1896 and it traces the feelings of an imprisoned man towards a fellow inmate who is to be hanged. They are "like two doomed ships that pass in storm", and Wilde creates a solemn funereal tone in his rhyme made sad and familiar by certain repeated phrases ("each man kills the thing he loves", "the little tent of blue/ Which prisoners call the sky"). The narrator's emotions are filtered through an uncertainty about the law that has condemned them although he is certain that they are joined together in sin. There is a longing for the outside, innocence and crucially beauty, the last of which is undermined in the latrine-like cells. The poem seems to offer some limited comfort in the possibility of the thief's entrance to Paradise. It is a work of startling contrasts between light and shade, drawn together with a keen eye and a sense of the beauty in sadness itself.
Note: To our eyes, a very well done summary. This was taken from Bibliomania.com. We definitely recommend it.

Russ' note: This is a bone-chilling poem. So common in school in our early years, it is too often forgotten before it can be understood. To all of you who 'did that' in school, read it again when you are older - it cuts deeper then.


The Ballad of Reading Gaol
In Memoriam
C.T.W.
Sometime Trooper of
The Royal Horse Guards.
Obiit H.M. Prison, Reading, Berkshire,
July 7th, 1896
by Oscar Wilde

IV

There is no chapel on the day
On which they hang a man:
The Chaplain's heart is far too sick,
Or his face is far too wan,
Or there is that written in his eyes
Which none should look upon.

So they kept us close till nigh on noon,
And then they rang the bell,
And the warders with their jingling keys
Opened each listening cell,
And down the iron stair we tramped,
Each from his separate Hell.

Out into God's sweet air we went,
But not in wonted way,
For this man's face was white with fear,
And that man's face was gray,
And I never saw sad men who looked
So wistfully at the day.

I never saw sad men who looked
With such a wistful eye
Upon that little tent of blue
We prisoners called the sky,
And at every happy cloud that passed
In such strange freedom by.

But there were those amongst us all
Who walked with downcast head,
And knew that, had each got his due,
They should have died instead:
He had but killed a thing that lived,
Whilst they had killed the dead.

For he who sins a second time
Wakes a dead soul to pain,
And draws it from its spotted shroud
And makes it bleed again,
And makes it bleed great gouts of blood,
And makes it bleed in vain!

Like ape or clown, in monstrous garb
With crooked arrows starred,
Silently we went round and round
The slippery asphalte yard;
Silently we went round and round,
And no man spoke a word.

Silently we went round and round,
And through each hollow mind
The Memory of dreadful things
Rushed like a dreadful wind,
And Horror stalked before each man,
And Terror crept behind.

The warders strutted up and down,
And watched their herd of brutes,
Their uniforms were spick and span,
And they wore their Sunday suits,
But we knew the work they had been at,
By the quicklime on their boots.

For where a grave had opened wide,
There was no grave at all:
Only a stretch of mud and sand
By the hideous prison-wall,
And a little heap of burning lime,
That the man should have his pall.

For he has a pall, this wretched man,
Such as few men can claim:
Deep down below a prison-yard,
Naked, for greater shame,
He lies, with fetters on each foot,
Wrapt in a sheet of flame!

And all the while the burning lime
Eats flesh and bone away,
It eats the brittle bones by night,
And the soft flesh by day,
It eats the flesh and bone by turns,
But it eats the heart alway.

For three long years they will not sow
Or root or seedling there:
For three long years the unblessed spot
Will sterile be and bare,
And look upon the wondering sky
With unreproachful stare.

They think a murderer's heart would taint
Each simple seed they sow.
It is not true! God's kindly earth
Is kindlier than men know,
And the red rose would but glow more red,
The white rose whiter blow.

Out of his mouth a red, red rose!
Out of his heart a white!
For who can say by what strange way,
Christ brings His will to light,
Since the barren staff the pilgrim bore
Bloomed in the great Pope's sight?

But neither milk-white rose nor red
May bloom in prison air;
The shard, the pebble, and the flint,
Are what they give us there:
For flowers have been known to heal
A common man's despair.

So never will wine-red rose or white,
Petal by petal, fall
On that stretch of mud and sand that lies
By the hideous prison-wall,
To tell the men who tramp the yard
That God's Son died for all.

Yet though the hideous prison-wall
Still hems him round and round,
And a spirit may not walk by night
That is with fetters bound,
And a spirit may but weep that lies
In such unholy ground,

He is at peace- this wretched man-
At peace, or will be soon:
There is no thing to make him mad,
Nor does Terror walk at noon,
For the lampless Earth in which he lies
Has neither Sun nor Moon.

They hanged him as a beast is hanged:
They did not even toll
A requiem that might have brought
Rest to his startled soul,
But hurriedly they took him out,
And hid him in a hole.

The warders stripped him of his clothes,
And gave him to the flies:
They mocked the swollen purple throat,
And the stark and staring eyes:
And with laughter loud they heaped the shroud
In which the convict lies.

The Chaplain would not kneel to pray
By his dishonoured grave:
Nor mark it with that blessed Cross
That Christ for sinners gave,
Because the man was one of those
Whom Christ came down to save.

Yet all is well; he has but passed
To Life's appointed bourne:
And alien tears will fill for him
Pity's long-broken urn,
For his mourners be outcast men,
And outcasts always mourn.

VI

In Reading gaol by Reading town
There is a pit of shame,
And in it lies a wretched man
Eaten by teeth of flame,
In a burning winding-sheet he lies,
And his grave has got no name.

And there, till Christ call forth the dead,
In silence let him lie:
No need to waste the foolish tear,
Or heave the windy sigh:
The man had killed the thing he loved,
And so he had to die.

And all men kill the thing they love,
By all let this be heard,
Some do it with a bitter look,
Some with a flattering word,
The coward does it with a kiss,
The brave man with a sword!

Click for The Ballad of Reading Gaol Part Five

Six
For more Poetry Click the Poetry Index.


Thu, Jul 9, 2015
The Ballad of Reading Gaol
& Other Poems
by Oscar Wilde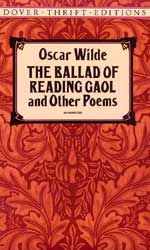 You may think you already have Oscar's Poetry - somewhere (I did). Take a look about, if you can't find it, here's the answer (a very inexpensive answer, as well).
Click here for Wilde Poems.
---
No matter who does the collecting, the works stand on their own but this is an excellent compilation and well worth adding to your library.
Click here for Yeats.
---
1000 Years of Irish Poetry: The Gaelic and Anglo Irish Poets from Pagan Times to the Present
by Kathleen Hoagland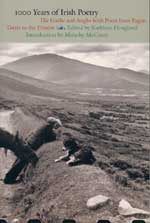 Interested in Irish Poetry?Here's the easy way to collect them all (well, almost all, anyway).
Malachy McCourt says in his introduction, "With the republication of this book, the Irish recover under their roof of stars all the great poets and writers who have been falsely claimed by the saxon crown and its minions - even our reprobates."
Amazon states this is out of stock. They still have used copies for almost nothing (except shipping - chuckle). If you would like a new edition, it was available at Powell's. We can't promise it's still there. Click here for Powell's 1000 Years.
Click here for used at Amazon.