Traditions, folklore, history and more. If it's Irish, it's here. Or will be!
"People will not look forward to posterity who never look backward to their ancestors."
-Edmund Burke
---
Quotes

Library: Books, Movies, Music

Prints & Photos

Poetry

Jokes

---
---
Shops Ireland
---
Bunús na Gaeilge
(Basic Irish)

---
---
---
Himself/Herself
Write to Us
Readers Write..
Links/Link to Us
---
Advertise with us

---

Help keep us free
Throughout the site you will see many items available for purchase from well-known merchants such as Amazon. Not interested in what we're featuring? It doesn't matter. Click on any link and then shop for whatever you wish - we will still get credit, if you buy something.
Thanks for your help.

---
Two
Oscar Wilde (b. Oct. 16, 1854 - d. Nov. 30, 1900)

See our tribute article at Oscar Wilde.

The Ballad of reading Gaol: Summary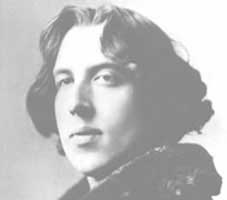 Somewhat confusingly, The Ballad of Reading Gaol is not the work that Wilde wrote while imprisoned for moral (in his case, homosexual) offences in 1895. That work was De Profundis, published five years after his death, in 1905. The Ballad of Reading Gaol was written after his release and he had moved to France, in 1897, though it was published in 1898. His works during this exile were published under the name Sebastian Melmouth, and this is the most famous. He would die in 1900. The poem is written in memory of "C.T.W." who died in Reading prison in July 1896 and it traces the feelings of an imprisoned man towards a fellow inmate who is to be hanged. They are "like two doomed ships that pass in storm", and Wilde creates a solemn funereal tone in his rhyme made sad and familiar by certain repeated phrases ("each man kills the thing he loves", "the little tent of blue/ Which prisoners call the sky"). The narrator's emotions are filtered through an uncertainty about the law that has condemned them although he is certain that they are joined together in sin. There is a longing for the outside, innocence and crucially beauty, the last of which is undermined in the latrine-like cells. The poem seems to offer some limited comfort in the possibility of the thief's entrance to Paradise. It is a work of startling contrasts between light and shade, drawn together with a keen eye and a sense of the beauty in sadness itself.
Note: To our eyes, a very well done summary. This was taken from Bibliomania.com. We definitely recommend it.

Russ' note: This is a bone-chilling poem. So common in school in our early years, it is too often forgotten before it can be understood. To all of you who 'did that' in school, read it again when you are older - it cuts deeper then.


The Ballad of Reading Gaol
In Memoriam
C.T.W.
Sometime Trooper of
The Royal Horse Guards.
Obiit H.M. Prison, Reading, Berkshire,
July 7th, 1896
by Oscar Wilde

II

Six weeks the guardsman walked the yard,
In the suit of shabby gray:
His cricket cap was on his head,
And his step was light and gay,
But I never saw a man who looked
So wistfully at the day.

I never saw a man who looked
With such a wistful eye
Upon that little tent of blue
Which prisoners call the sky,
And at every wandering cloud that trailed
Its ravelled fleeces by.

He did not wring his hands, as do
Those witless men who dare
To try to rear the changeling Hope
In the cave of black Despair:
He only looked upon the sun,
And drank the morning air.

He did not wring his hands nor weep,
Nor did he peek or pine,
But he drank the air as though it held
Some healthful anodyne;
With open mouth he drank the sun
As though it had been wine!

And I and all the souls in pain,
Who tramped the other ring,
Forgot if we ourselves had done
A great or little thing,
And watched with gaze of dull amaze
The man who had to swing.

For strange it was to see him pass
With a step so light and gay,
And strange it was to see him look
So wistfully at the day,
And strange it was to think that he
Had such a debt to pay.

The oak and elm have pleasant leaves
That in the spring-time shoot:
But grim to see is the gallows-tree,
With its alder-bitten root,
And, green or dry, a man must die
Before it bears its fruit!

The loftiest place is the seat of grace
For which all worldlings try:
But who would stand in hempen band
Upon a scaffold high,
And through a murderer's collar take
His last look at the sky?

It is sweet to dance to violins
When Love and Life are fair:
To dance to flutes, to dance to lutes
Is delicate and rare:
But it is not sweet with nimble feet
To dance upon the air!

So with curious eyes and sick surmise
We watched him day by day,
And wondered if each one of us
Would end the self-same way,
For none can tell to what red Hell
His sightless soul may stray.

At last the dead man walked no more
Amongst the Trial Men,
And I knew that he was standing up
In the black dock's dreadful pen,
And that never would I see his face
For weal or woe again.

Like two doomed ships that pass in storm
We had crossed each other's way:
But we made no sign, we said no word,
We had no word to say;
For we did not meet in the holy night,
But in the shameful day.

A prison wall was round us both,
Two outcast men we were:
The world had thrust us from its heart,
And God from out His care:
And the iron gin that waits for Sin
Had caught us in its snare.

Click for The Ballad of Reading Gaol Part One
Click for The Ballad of Reading Gaol Part Three

Two

For more Poetry Click the Poetry Index.


Thu, Jul 9, 2015
The Ballad of Reading Gaol
& Other Poems
by Oscar Wilde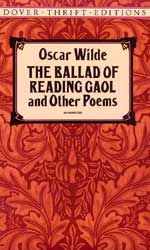 You may think you already have Oscar's Poetry - somewhere (I did). Take a look about, if you can't find it, here's the answer (a very inexpensive answer, as well).
Click here for Wilde Poems.
---
No matter who does the collecting, the works stand on their own but this is an excellent compilation and well worth adding to your library.
Click here for Yeats.
---
1000 Years of Irish Poetry: The Gaelic and Anglo Irish Poets from Pagan Times to the Present
by Kathleen Hoagland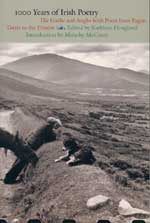 Interested in Irish Poetry?Here's the easy way to collect them all (well, almost all, anyway).
Malachy McCourt says in his introduction, "With the republication of this book, the Irish recover under their roof of stars all the great poets and writers who have been falsely claimed by the saxon crown and its minions - even our reprobates."
Amazon states this is out of stock. They still have used copies for almost nothing (except shipping - chuckle). If you would like a new edition, it was available at Powell's. We can't promise it's still there. Click here for Powell's 1000 Years.
Click here for used at Amazon.